Tourists looked on in shock as the sea began to turn red from the blood of 23 Pilot whales in the Faroe Islands. The barbaric butchering was part of a traditional hunt carried out last Friday.
The pilot whales were slaughtered for their meat and blubber, and it was also reported that an unborn calf had also been cut from the womb of its dead mother.

These regular killings are part of a centuries-old tradition on the Faroe Islands, known locally as a 'grind' or 'grindadrap'. It supposedly helps to feed the population of the remote Atlantic community over the harsh winter months.
People of all ages could be seen observing the bloody animals on the dockside, with many stopping to take pictures of the dead mammals lying on the beach.
The Faroese people claim the practice is both sustainable and regulated by law, however various campaign groups say it is inhumane and are calling for these inhumane acts to be banned.
Sea Shepherd UK, a marine wildlife conservation organisation, documented the killings on 2 August in Hvalvik bay, saying this is the 10th whale hunt on the Faroe Islands this year – with a total of 536 pilot whales losing their lives.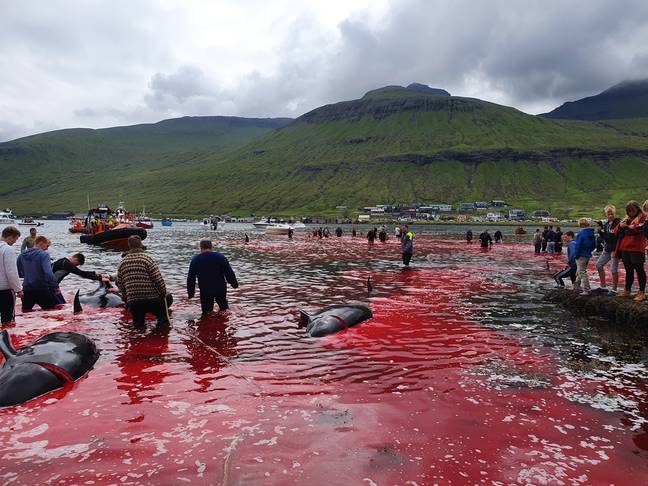 In September 2018, the charity offered the Faroe Islands €1 million (+-$1.1m) in exchange for 10 consecutive years with no whale hunts.
A spokesman for the Sea Shepard said:
"Over the course of the lengthy drive more and more members of the public and tourists could be seen stopping along the coastline to watch the family of pilot whales struggle and resist.

As is often the case, the grind was swiftly becoming a social event, with parents laughing and chatting as children played on the killing beach.

The level of excitement was clearly growing as anticipation of the brutality came closer. Epitomising the social aspect of the grind was the sight of a youth group – possibly a guides or scout group – sat eagerly watching and waiting."
The Faroese often talk about the tradition behind the grindadrap, with specific reference to respect shown the 'sacrificed' whales.
The spokesman added:
Video and photographs from the 10th grind of 2019 clearly show this not to be the case, with images of people and tourists taking selfies with the murdered pod.


Children were playing with fins, kicking and punching the bodies, walking on them and worryingly seen running around the dock carrying the traditional knives that are used as part of the grindadrap."
Join our community of keen travellers, wildlife enthusiasts and adventure seekers.