For many discerning travellers, choosing where to stay for a safari is not just about the destination, it's about the intimate experience on offer.
Safari accommodation comes in all different shapes and sizes, providing options for the needs and wants of every traveller. From well-known established properties that have earned their reputation by consistently offering a top-notch experience for years on end, to hidden gems that haven't been discovered by the mainstream tourist market, to remote properties where the biggest adventure is travelling to the lodge. Africa has it all. With so many possibilities, it's no surprise that many people find it challenging to choose their safari accommodation. After all, it is a decision that can make or break the experience.
While there is no recipe for the perfect safari holiday, as it ultimately depends on personal preferences, we're here to tell you that when it comes to safari accommodation, bigger doesn't always mean better. That's not to say that the larger safari lodges out there aren't worth visiting, but definitely don't overlook the 'smaller' players in the industry.
WHY SIZE DOES MATTER:
Privacy: 'Small' safari lodges usually cater to ten or less people at a time. This guarantees travellers an extremely exclusive and intimate safari experience. The accommodation at these smaller properties is often quite spread out, allowing guests the ultimate level of privacy while enjoying their rooms. It is also possible to enjoy the communal areas of the lodge, such as the pools, bars, and lounges, without too much disturbance from other guests.
Personalised Experience: With fewer people to look after, the staff at these intimate establishments are able to tailor-make each individual's safari experience and offer top-notch service. They get to know each guest on a personal level and treat them as part of the family during their stay. On game drives, guests have the opportunity to get to know their rangers and it's not uncommon for life-long friendships to be born.
Looking for wildlife on a private game drive © Rhino Sands Safari Camp
Exclusive Use: One of the greatest things about small safari camps is that it is possible to book the entire camp out if travelling in a group. This works really well for birthdays, wedding parties, or even just groups of friends or family that want to travel together. Having exclusive use of the property provides an entirely different experience where it almost becomes a 'home away from home' for a while.
Punctilious Presentation: Attention to detail is unparalleled at these smaller camps and personal preferences are always taken into account. From the décor in the rooms, to the presentation of the food, every little aspect is maintained at an extremely high level of excellence and no detail is overlooked.
Romantic: Safaris are romantic by nature. Wilderness, wildlife, dreamy accommodation – what more could one ask for? This level of romance is amped up even more when combined with the privacy and personalised experience on offer at small, intimate safari lodges. With experiences such as private candle-lit dinners, special sundowners, surprise picnics and more on offer, these types of lodges are ideal for celebrating honeymoons, anniversaries, and any other romantic occasion.
Romantic dinner for two overlooking the Shire River © Kuthengo Camp, Robin Pope Safaris
DYNAMITE COMES IN SMALL PACKAGES AT THESE SMALL BUT STUNNING SAFARI LODGES:
Rhino Sands Safari Camp, South Africa
Imagine a classic yesteryear safari, but in the 21st century. This is the inspiration behind Rhino Sands Safari Camp. Specifically designed to bring an authentic safari experience in traditional East African style to South Africa, Rhino Sands is a luxury tented safari camp situated in the Manyoni Private Game Reserve.
Enjoying the private deck and pool © Rhino Sands Safari Camp
With just four individually appointed tents, the camp can accommodate a maximum of eight guests at any given time, ensuring an exclusive experience for each and every guest. While the word 'tent' may conjure up images of camping – there is nothing rustic about the set up at Rhino Sands. The four suites boast custom-built private canvas tents, each located amid beautiful riverine forest, and featuring their own private living area, outdoor shower, and swimming pool. The tents open completely on three sides, allowing guests to immerse themselves in the surrounding wilderness, and they each have a view into the dry riverbed below which is often frequented by wildlife.
Experiences on offer at this luxury safari camp include twice daily game drives (with no more that six people per vehicle), magical alfresco dinners, private dining at the tents, guided bush walks on request, and more.
Surprise candle-lit dinner in the bush © Rhino Sands Safari Camp
Sindabezi Island, Zambia
What happens when you combine an idyllic private island on one of the world's most spectacular rivers, with luxury accommodation and excellent safari service? Two words: Sindabezi Island. Aptly dubbed "the discerning traveller's best kept secret", Sindabezi Island is situated in the mighty Zambezi River, just a quick boat trip away from its sister camp, Tongabezi.
Sindabezi Island is the kind of place that people dream of visiting. It's unique setting, lush green surroundings and unparalleled views over the Zambezi floodplains all contribute to making Sindabezi one of the most exclusive and romantic island destinations in Africa. This truly tranquil camp has just five open-sided thatched chalets on the entire island and offers guests ample opportunity to take in the sights and sounds of the African bush. They also have special rates for guests who wish to book the island exclusively.
Open-sided cottage overlooking the Zambezi River © Sindabezi Island
As the only luxury bush camp in the Victoria Falls region, there are a multitude of experiences on offer that differ slightly from the traditional safari activities. During their stay, guests can take part in sunset cruises along the Zambezi, enjoy romantic dinners on a floating Sampan, and visit the scenic 'Sand Bar' in the evening to name just a few.
Romantic sundowners on the Sand Bar © Sindabezi Island
For those looking to get their adrenalin pumping, there is white-water rafting, microlight and helicopter flights, and, of course, the famous bungee jump off Victoria Falls bridge.
Kuthengo Camp, Malawi
Situated on the lush banks of the Shire River, in Malawi's Liwonde National Park, Kuthengo Camp is the latest addition to Robin Pope Safari's collection of safari properties. Kuthengo means 'the wild' or 'the bush' in the local language, which is fitting as Liwonde has remained virtually untouched for centuries and offers travellers a true wilderness experience.
Accommodating a maximum of ten people at a time, this small and intimate safari camp boasts just four spacious tents (including one family tent), nestled under a canopy of Baobab and Fever Trees. The tents are set apart from each other so that each unit feels like a private oasis tucked into the bush, and they all boast en-suite bathrooms, outdoor showers, and private decks with dazzling views of the surrounding scenery. Each tent also has an eco-friendly air-conditioner.
Tented accommodation on the banks of the Shire River © Kuthengo Camp, Robin Pope Safaris
Due to the unspoiled nature of Liwonde National Park, it is possible to experience the many activities on offer at Kuthengo with complete privacy. Guests can explore this awe-inspiring destination while on day and night game drives or thrilling guided bush walks that truly immerse you in nature. Boating safaris down the Shire River are also a splendid and tranquil way to experience this piece of paradise.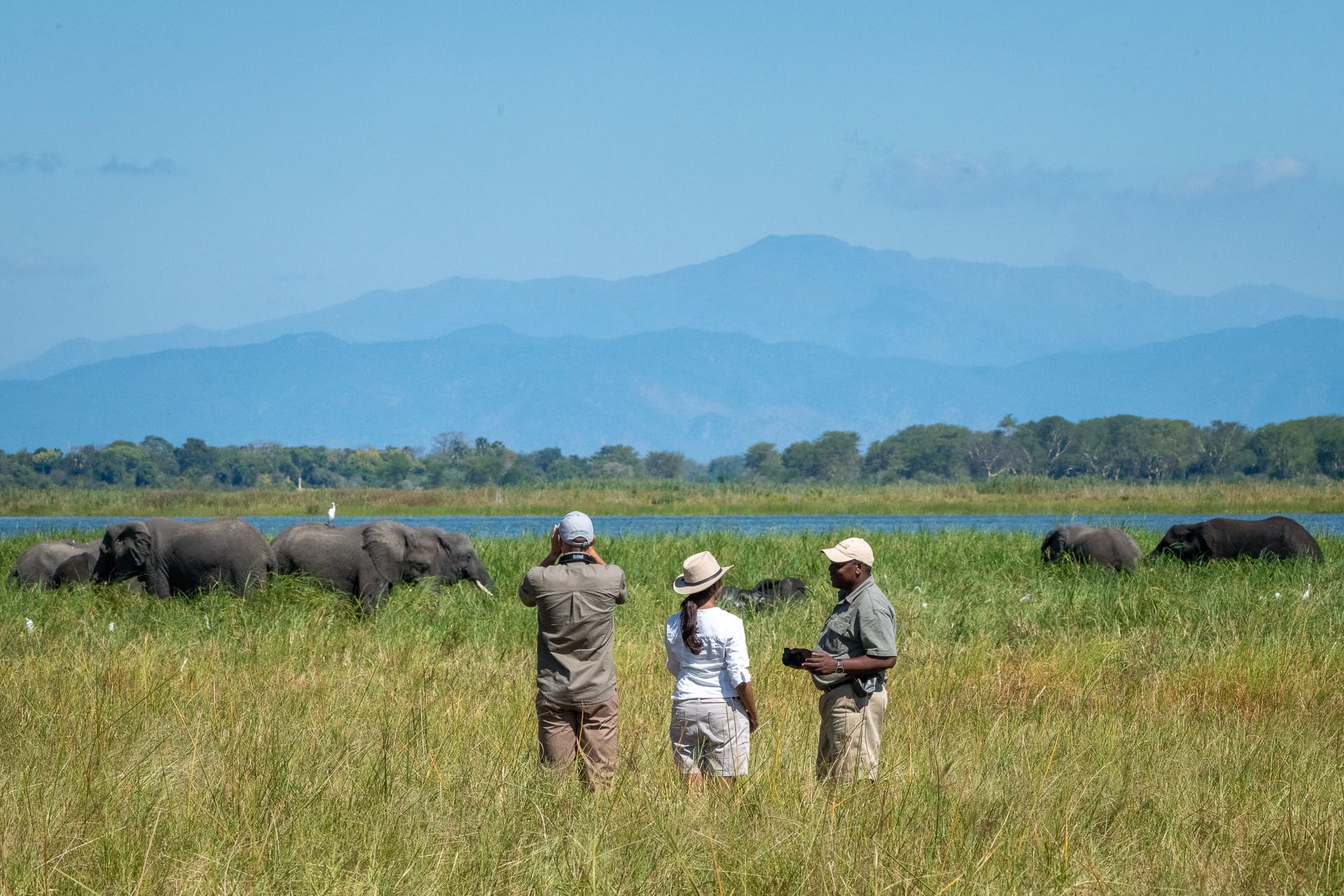 Getting close to wildlife on a walking safari © Kuthengo Camp, Robin Pope Safaris
Little Garonga, South Africa
Offering the ideal blend of luxury and privacy, Little Garonga is an intimate and exclusive extension of Garonga Safari Camp. Located in the Makalali Game Reserve in South Africa, just west of the famous Kruger National Park, Little Garonga offers just three thatched suites, accommodating a maximum of eight people when fully booked. One of the suites is a private villa that can sleep up to four people at a time in two separate rooms, and boasts its own private pool, deck, indoor and outdoor lounges, a huge bathroom and an outdoor shower. The other two suites can sleep two people each, and have their own platform deck with a hammock, as well as small lounge, and indoor and outdoor showers.
Main lodge area ready to welcome guests © Little Garonga
Priding themselves in providing impeccable service, guests at this luxury safari camp will want for nothing. A dedicated host is always available to assist with any desire. There is a strong focus on providing a personalised experience and guests can expect to be treated to a variety of experiences during their stay at Little Garonga.
In addition to the guided game drives and bush walks on offer, there is also a Bush Bath which overlooks the surrounding landscape and is the perfect place to unwind and soak in the views. Another wonderful activity is the Sleep Out Deck, which is a raised wooden platform with a four-posted bed, where couples can enjoy a private dinner followed by a night under the stars, serenaded by the sounds of nature. For the ultimate relaxing experience, there is a massage Sala that overlooks the riverbed where a full-time therapist offers a variety of rejuvenating treatments.
Sleep out deck overlooking a waterhole © Little Garonga
SO, WHAT'S THE CATCH?
With so much on offer at these exclusive safari properties, why would anyone choose to stay anywhere else? Well, privacy comes at a cost. While the lodges might be small, their rates are often quite high. This can sometimes put people off, but those willing and able to fork out a little bit extra for their accommodation won't regret it. If it's an intimate safari escape that you're looking for, you can't go wrong with staying at a small safari lodge.
Cover image © Rhino Sands Safari Camp
Join our community of keen travellers, wildlife enthusiasts and adventure seekers.