Arguably the most beautiful wild cat species on earth, the African leopard is as mysterious as it is beautiful.
Millions of tourists flock to Africa every year in hopes of catching a glimpse of a leopard in the wild. Here's why!
What is the African leopard?
The leopard is one of Africa's Big Five animals and one of only three big cat species found on the continent.
They are an elusive species, which are difficult to spot in the wild and because of this are a very sought after sighting while on safari.
Leopard vs Cheetah
The African leopard is often confused with the cheetah, however these are two very different species. Once you've taken a look at the differences, it will be hard to every confuse them again!
Cheetahs are tall and slender, with solid black spots all over their body. They have long tails with a black tip, and two black lines on either side of their nose. These mimic the lines that tear drops would follow.
Appearance
Size
For what some might consider as a medium sized big cat, the African leopard is actually quite large. An adult male can reach 80cm at the shoulder and more than 7ft. (2m+) in length. Females are slightly smaller and usually max out at around 2.5 ft. (70cm tall).
Leopards are heavy-bodies cats with powerful muscles. The weight of an adult male African leopard can reach up to 200lbs. (90kg) in some areas, and females average around 130lbs (60kg).
Spots
African leopards are characterized by a low-set profile, with a large head, sleek build and a long tail. With a strong argument for being the most beautiful of all big cats, the leopard boasts a golden-brown coat covered with exquisitely designed dark markings. Rather than true spots, these are irregular markings called rosettes.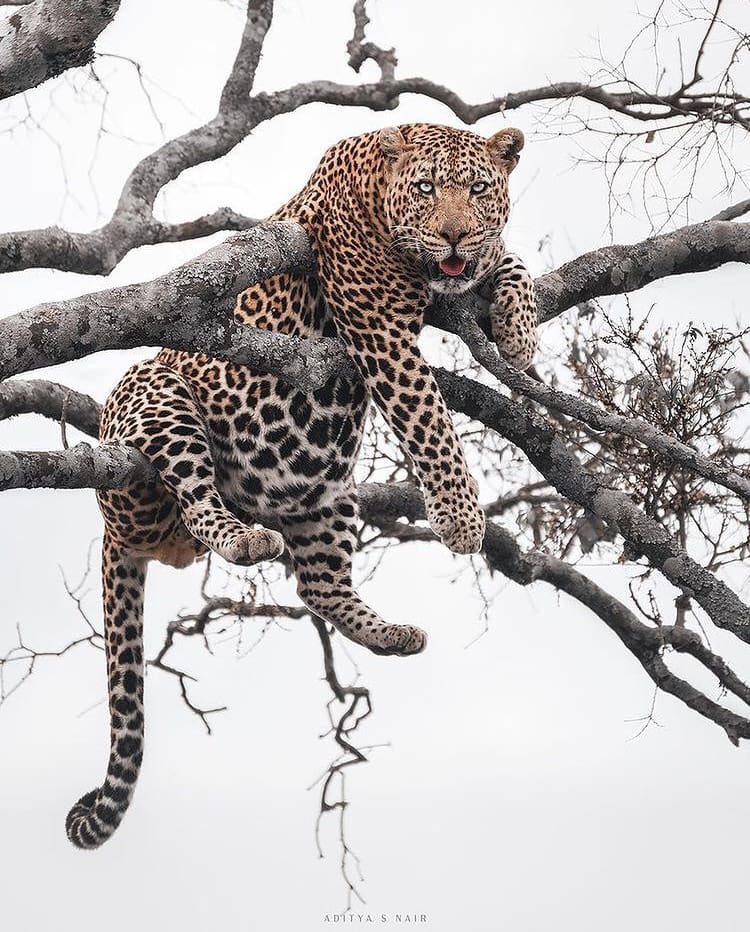 Rosettes differ slightly between geographic locations and tend to be circular in east African leopards, but more square in southern African leopards.
Tail
Leopards have a very long, tubular shape tail which can be up to 3ft. (1m) in length. They use their tails to help them balance while climbing trees, or as a rudder which helps them pivot during high speed pursuits of prey items.
A leopard's tail is also one of its most powerful communication tools. They can frequently be seen wrapping tails around each other, or running them along one another's face. This is often seen in mother and cub interactions. Mother leopards also use their tails as a guide for their cubs to follow when moving through long grass or thick bush.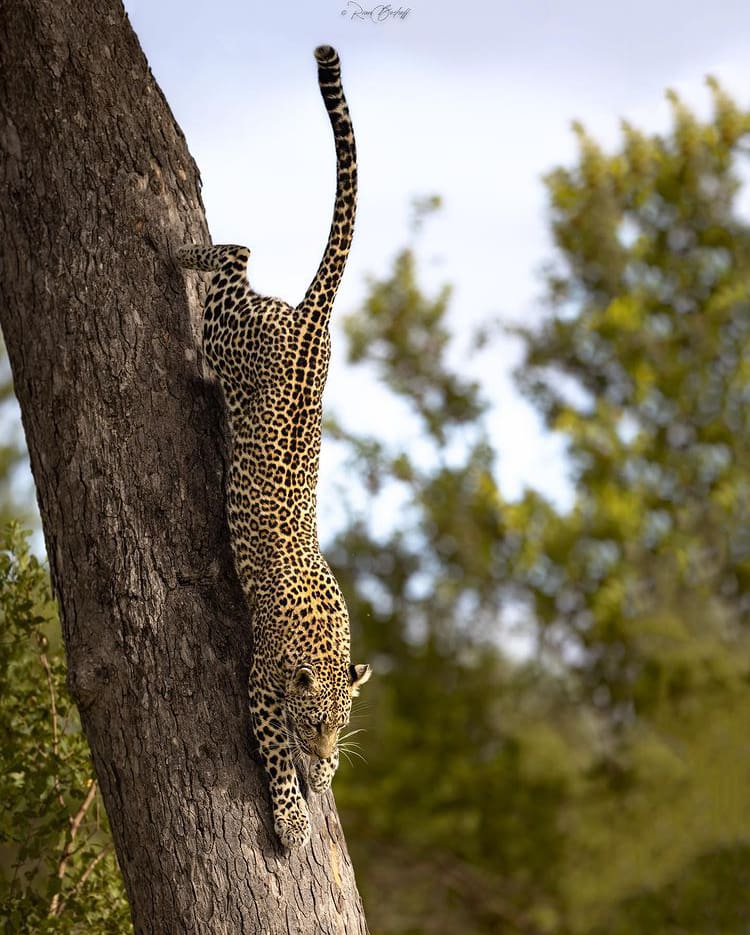 Eyes
Leopard cubs are born blind, and their eyes only open after a couple days. Their highly adapted retina means their vision is roughly seven times better at night than a human's.
Behaviour
Diet
African leopards are carnivores and prey on small to medium sized mammals and reptiles. Their diet mostly consists of Impala, but they will also regularly prey on warthog, baboon, pythons, monitor lizards and even fish.
Hunting
They are ambush hunters and will stalk their prey before pouncing with the utmost precision. Most often, leopards hunt on the ground where they use their golden colour and intricate patterning to camouflage in the long grass while slowly creeping closer to their intended prey item.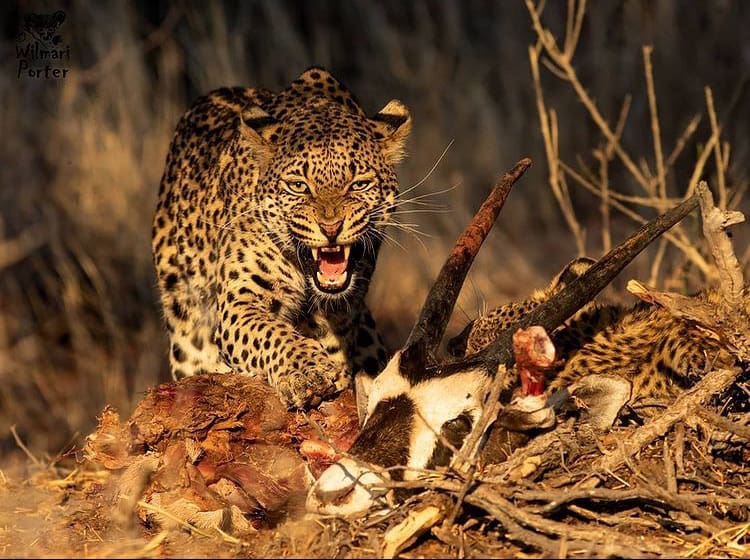 Able to reach speeds of up to 30 miles an hour (58km/h), the cat accelerates with a sudden burst of speed before grabbing and pinning down their victim.
Leopards kill by asphyxiation and, as they're solitary hunters, will always kill their prey before they start to eat them.
Climbing
African leopards are incredible climbers, and they certainly use this to their advantage. With the nimbleness of a common house cat, they're able to athletically move through trees. They will often sleep in a tree as the added height offers and element of safety. They will also hoist their kills up into a tree to ensure its stay out of reach from greedy scavengers and other predators.
They will often times also use the higher vantage point to hunt from. They remain incredibly still while perched on a tree branch, waiting for a prey item to approach before pouncing directly onto them.
Leopards are nocturnal and will predominantly hunt at night, when their incredibly well adapted eyes give them an edge over other animals.
Social Structure
Leopards are solitary cats and will never be seen in pairs except for mating pairs, and mothers with young cubs. Mothers care for their cubs for about two years, until they're able to hunt for themselves. They then move off to find a territory of their own.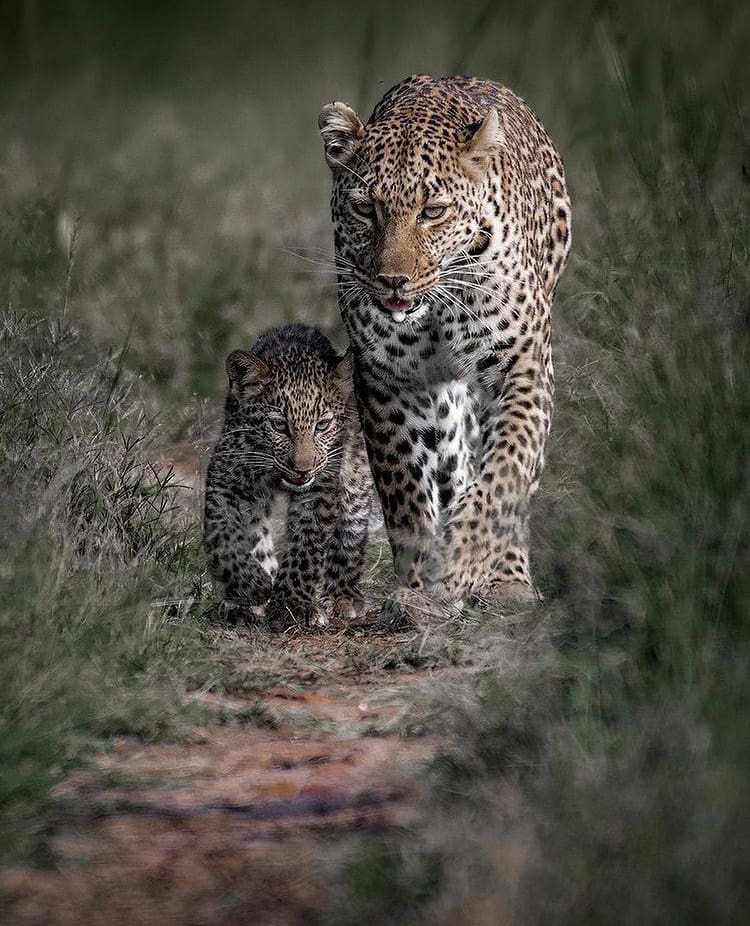 The only time adult leopards come together is to mate. This is often a fiery affair with growls and snarls aplenty. Mating exchanges are brief, only lasting a few seconds. Leopards will mate continually, every 15 minutes, for a five day period before moving back off to go about their lives.
Territory
Both male and female leopards will claim a territory for themselves. When looking for the best location, leopards will consider a number of factors. The most important of all being the abundance of prey items in the area, but also the topographical layout and proximity to a water source.
A male's territory can be quite large, and will overlap with the home range of multiple females. Leopards will only defend their territory against others of the same sex.
Territories are marked with urine sprays and claw marks, and defended with fierce confrontations and fights.
Habitat & Range
Leopards thrive in most habitats, but tend to prefer those with a large number of trees or rocky outcrops. Dense woodlands and riverine forest are prime leopard habitat. However they also do extremely well in open woodland and savanna, and this is where their density is highest in Africa.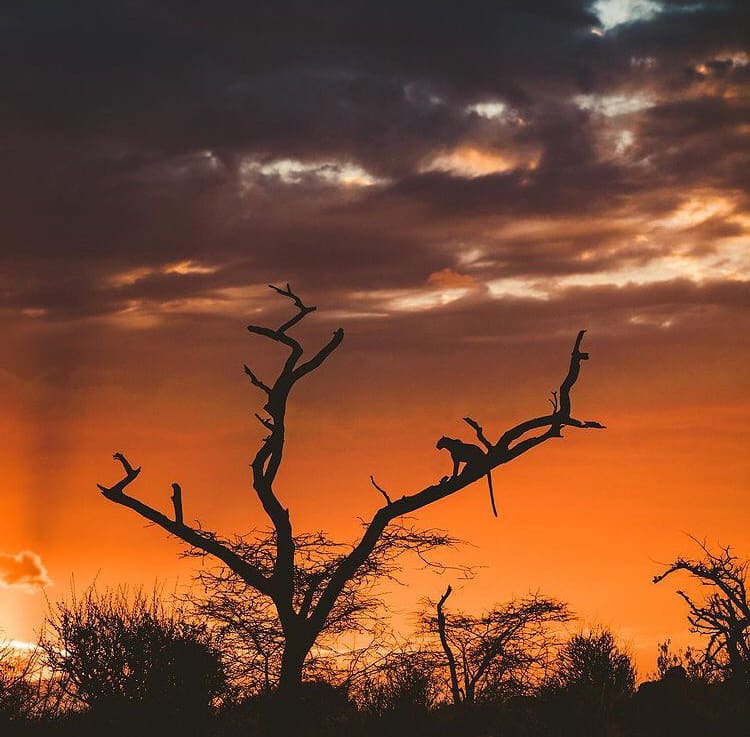 African leopards are one of the most widespread cat species on the African continent. Their habit of climbing and jumping means that they really can't be confined within a normal game fence. However today highest population densities are in sub-Saharan Africa.
They have an extremely wide habitat tolerance and have even been recorded regularly venturing into semi-urban areas.
Conservation
How Many Leopards Are in Africa?
Due to their elusive nature, it is an incredibly difficult tasks to survey the leopard population and determine the exact amount of individuals in a certain area. However conservation organisations work tirelessly at this and recent estimates suggest there are around 700,000 wild leopards currently living in Africa.
Are leopards endangered in Africa?
Leopards are not currently an endangered species in Africa and are listed as 'Vulnerable' on the IUCN red list. This means that they soon become endangered if their numbers begin to decrease.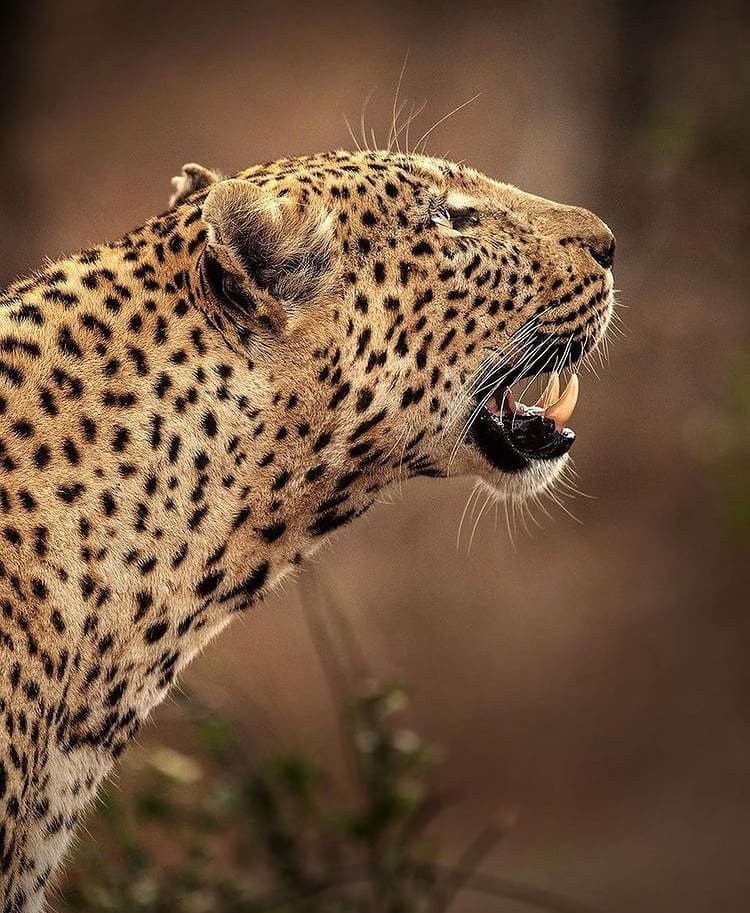 Threats facing leopards in Africa
The primary threat facing African leopards is habitat loss, deforestation and human conflict.
Leopards are often considered a nuisance to farmers and those who live in rural communities. They will regularly move out of national parks and in the process, will come across farm animals and domestic pets who don't stand a chance against an experienced hunter.
Through this, leopards unfortunately find themselves in direct conflict with humans and are often shot by farmers trying to protect their livestock.
Safari
Leopards are extremely hard to spot in the wild. This takes patience, a keen eye and a bit of bush knowledge!
Various safari parks across sub-Saharan African offer guided drives into ideal leopard territory. Here a network of knowledgeable field guides navigate through the bush and communicate any sightings and coordinates. The best way to see a leopard while on safari is with the help of a ranger.
However if you're up for the challenge, a self-drive safari in the right area can also provide some amazing sightings.
Leopard sightings are best in the private game reserves in South Africa, however they are also frequently seen in Botswana, Zimbabwe, Kenya, Zambia and Tanzania.
Here are some of the best places to visit if you're hoping to see African leopards in the wild:
Sabi Sands Game Reserve, South Africa
Moremi Game Reserve, Botswana
South Luangwa National Park, Zambia
Tips for spotting a leopard in Africa
Leopards are extremely elusive, and prefer to stick to densely forested habitats. This does not put the odds in your favour if you're hoping to spot one on your next safari.
Look up! – African leopards love to hang out in the trees, and this is also when they're at their most visible. So be sure to scan the trees as you drive through the bush.
Go on a guided game drive – As mentioned above, safari parks who operate guided game drives will have a network of rangers who communicate with each other and share the locations of previous sightings and animal tracks. Having more eyes on the road is a big help.
Go on a night drive – Leopards are nocturnal and most active during the night. Most private game lodges offer night time game drives with an experienced guide who will definitely try their best to find a leopard!
Look for tracks – Along with looking up, it is also a good idea to look down. As you drive along sand roads, be sure to glance down and look out for fresh leopard tracks.
Facts about the african leopard
Scientific name – The African leopard's scientific name is Panthera Pardus Pardus.
Black leopards – Black leopards or 'the black panther' are the exact same species as the 'regular' African leopard. The difference in colour is purely down to a recessive gene which produces more melanin and therefore a darker colouration.
Strength – Pound for pound, leopards are the strongest of all the big cats. They are able to pull carcases more than their own bodyweight high up into the trees, out of reach of scavengers.
Eye sight – A leopard's eye sight is more than 7 times better than a human's under the cover of darkness.
Purr – Just like domestic cats, a leopard will snarl when upset and purr when happy.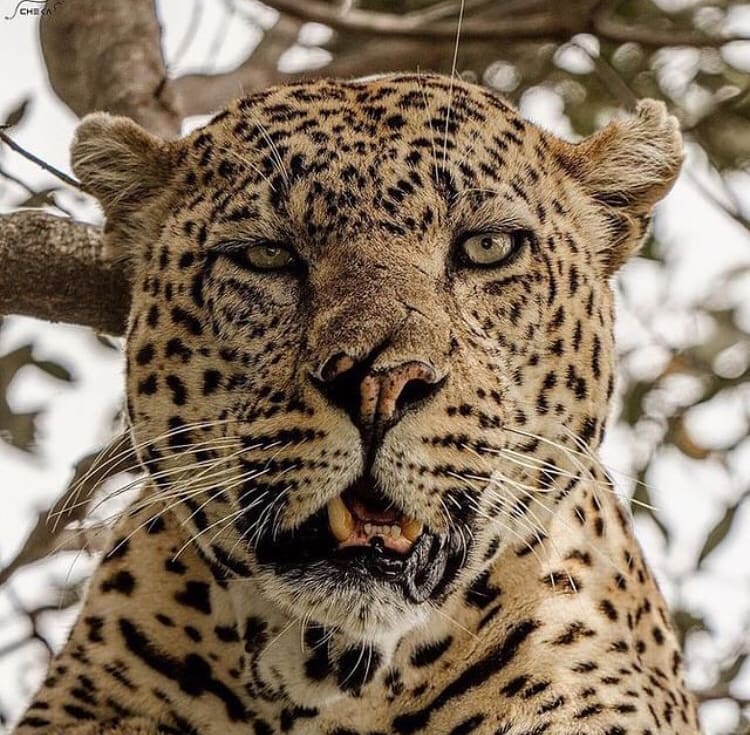 Myths about the african leopard
Jaguars – Contrary to popular belief, leopards and jaguars are two entirely different species. They do look similar to the untrained eye, however they are not at all the same.
Join our community of keen travellers, wildlife enthusiasts and adventure seekers.