Tourists are being urged to boycott elephant riding activities in Thailand, as disturbing images show the horrifying injuries some of these elephants suffer at the hands of their handlers.
Recently shared on social media, the images show elephants with blood dripping from their heads and severe scarring caused by repeated blows with sharp metal hooks. The scarring is clear evidence that some of the elephants have been subject to this abuse for many years.
The images were originally shared in April of this year, but have since resurfaced and gone viral, even catching the attention of Thai officials.
A spokesperson for the Tourism Authority of Thailand told Yahoo news:
Please don't ride the elephants and don't support this business.

We never support tourists riding the elephants.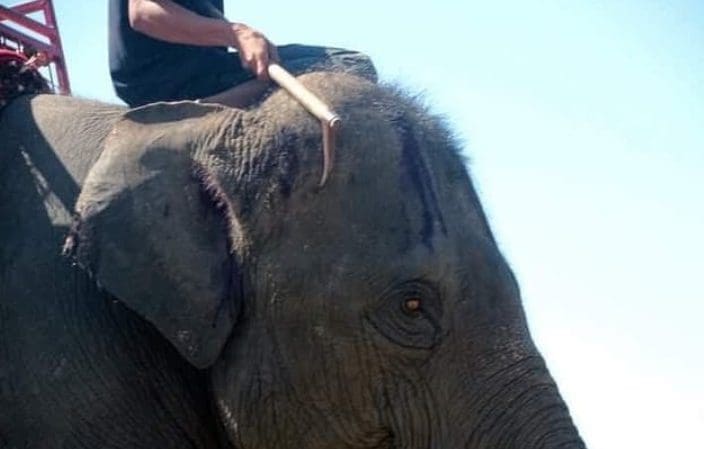 Elephant activities are extremely popular among western tourists traveling to Thailand, with many of them being drawn in by the fact that they can ride elephants, feed and swim with them. However, tourists are being urged not to ride the animals and not to support the businesses who offer these kinds of services.
World Animal Protection estimates that 3000 elephants are currently being used for entertainment throughout Asia, with at least 77 per cent being inhumanely treated.
Many captive elephants are beaten with bull hooks and sharp objects as a form of training. This leads some of the animals to develop a a head swaying behaviour, often misunderstood as a playful tendency, the movement is actually a coping mechanism for isolated elephants.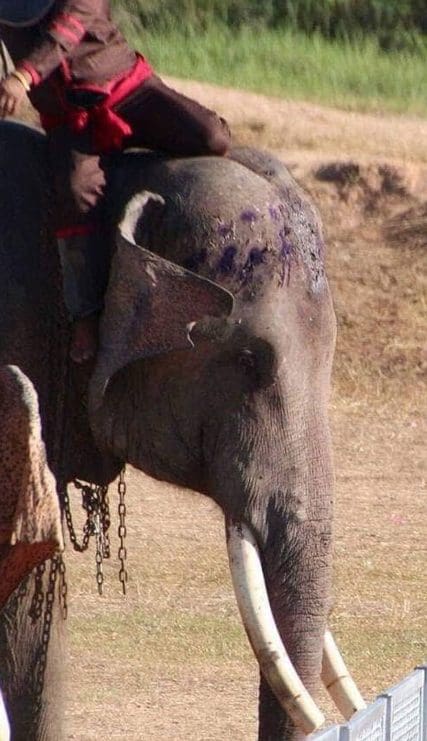 These elephants are taken from their mothers as calves and forced to endure a lifetime of abuse.
At present, there are 3,500 wild elephants and 4,500 domesticated elephants living in Thailand. Wild elephants are protected under national law, however their domesticated counterparts are seen as working animals.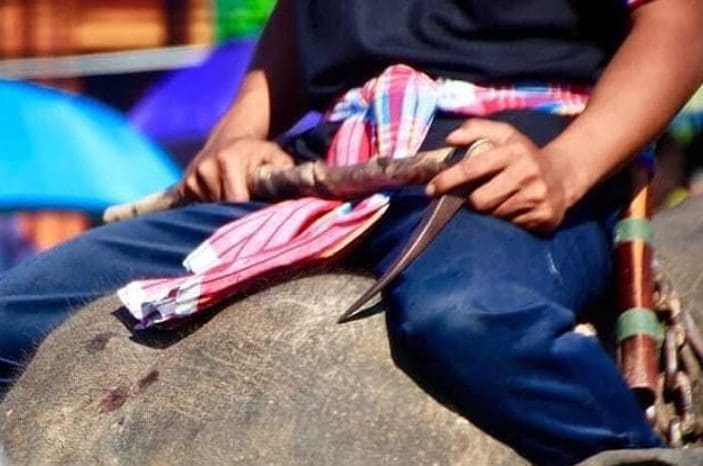 Dr Patrapol Maneeorn, a Wildlife Veterinarian of the Department of National Parks, Wildlife and Plant Conservation, says Thai government agencies are trying to combat the problem through a number of initiatives aimed at eradicating animal abuse. These include 'policy-making, supporting research on wildlife, rehabilitating injured animals, and eradicating the illegal wild animal trade.'
Tourists are being urged to help eradicate the cruelty by boycotting attractions which exploit elephants for entertainment purposes.
Dr Maneeorn continued:
Travel businesses and individual tourists can help government agencies by boycotting businesses that do not take good care of animals.
There are certain sanctuaries in the country fighting to prevent the mistreatment of animals. At Elephant Valley, the animals can roam as they please, opposed to other captive elephants who are constantly being forced to perform for tourists.
Awareness is the first step towards eradicating the vile practices of abusing animals for financial gain!
Join our community of keen travellers, wildlife enthusiasts and adventure seekers.