No matter where you are in New Zealand, you're never far from a hiking trail – there are literally thousands – and with some of the most beautiful countryside anywhere in the world, hikes through New Zealand are the one of the best ways to see the country.
Misty mountains, emerald fjords, ancient fern forests, cascading waterfalls and miles of black and white sand beaches are just a few of the incredible natural attractions on offer. Here are some of the best hikes in New Zealand both on the South Island and the North Island:
The Best Hikes In New Zealand – South Island
Abel Tasman Coast Track
Abel Tasman is the most popular and one of the least strenuous hikes in New Zealand. With endless golden beaches, subtropical vegetation and clear-blue waters where fur seals play, its not hard to see why. Named after the first European to land on the island's shores, the Abel Tasman National Park is a paradise for adventure-loving travellers and home to one of New Zealand's 'Great Walks'.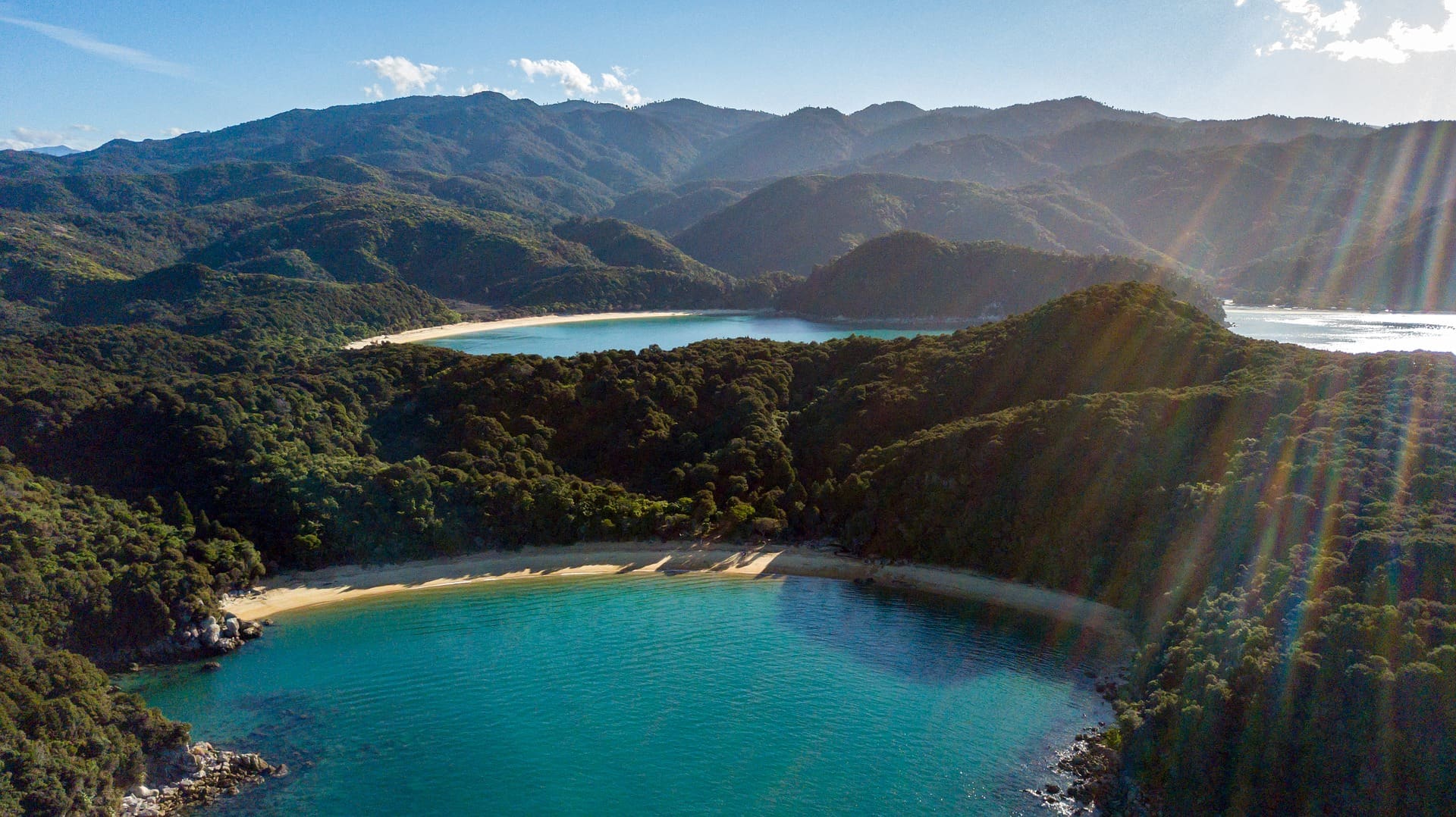 The hike is a two-to-five day one-way track that takes you through fern forests, manuka groves and along empty shorelines, where you can choose to camp at the water's edge.
Other activities include: kayaking, biking, canyoning or lazing on the beach.
Distance: 60 kilometres / 37 miles
Duration: Three to five days
Arguably one of the finest in the world and the gem of all hikes in New Zealand, the Milford Track features forested mountains that ascend out of glacial valleys. Be sure to pack your coat, as this is one of the wettest places on earth with an average annual rainfall of 7 metres (22 ft).
The hike is renowned for its pesky sandflies which can pack a stinging bite, but with views of Mitre Peak – New Zealand's most photographed mountain – coupled in with the 580 metre (1903 ft) Sutherland Falls, The Milford Track is one you don't want to rush no matter how hard the sandflies bite.
Distance: 53 kilometres / 33 miles
Duration: Four days
Routeburn Track
Located in the centre of the South Island, the Routeburn Track is easily accessible from Queenstown and boasts the scenery that New Zealand is famous for; glistening lakes, vast valleys and soaring mountain peaks.
The hike weaves through meadows, alpine gardens and provides rewarding views of vistas over vast mountain ranges and valleys.
Distance: 32 kilometres / 20 miles one-way
Duration: Two to four days
Rakiura Track
Off the Southern Tip of South Island, lies the remote Stewart Island, famous for its deserted beaches, rugged forests and its large population of Kiwis – a flightless bird, commonly seen along the beaches and the national animal of New Zealand.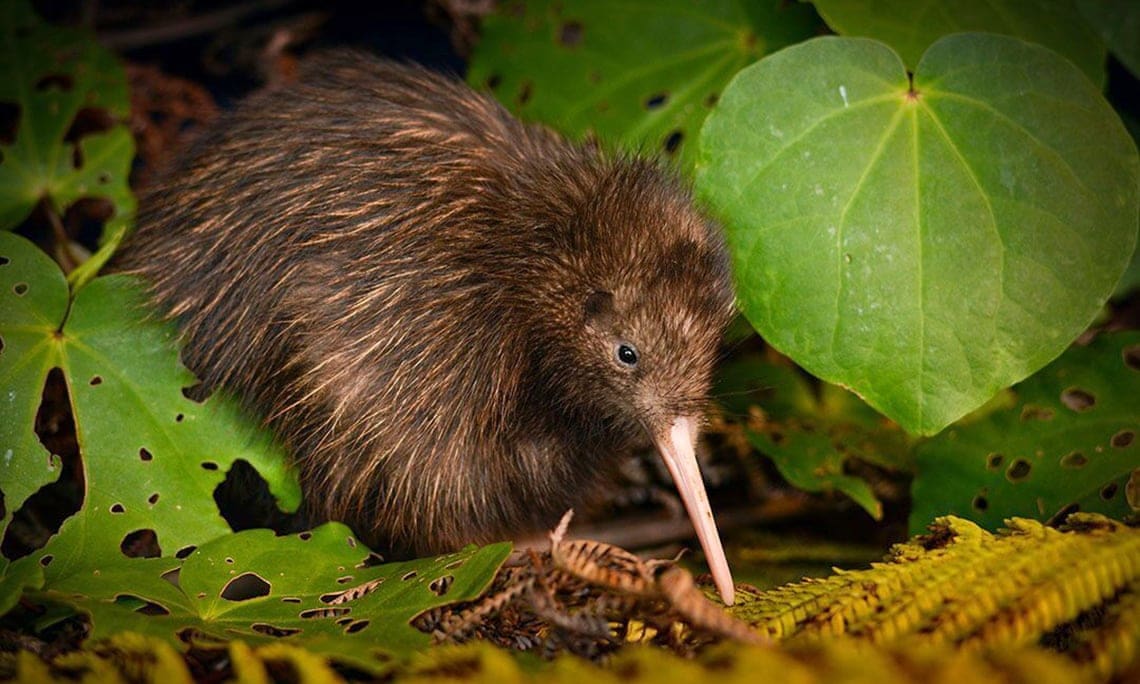 The hike run throughs expansive coastline, crosses forested interior and meanders along the sheltered shores of Paterson Inlet. Various historical sites lie along this track and parts of it cross Maori land, access is courtesy of the land owners.
Distance: 32 kilometre / 20 mile loop
Duration: Three days
Heaphy Track
Yet another remote track, Heaphy is located on the wild, west coast of the South Island and is the longest of all the Great Walks. The winding track runs through vast tussocks and lush palm forests with bridge crossings over all rivers and streams. The full track is a four day trip, but shorter day routes are available incase you're pressed for time.
Distance: 82 kilometres / 49 miles on way
Duration: Four days, with day routes available.
Kepler Track
In the southwest corner of South Island, the circular Kepler Track begins and ends five kilometres from Te Anau and takes hikers through lush beech forests and epic alpine ridgelines. Walkways are made up of gravel, rock and dirt and can be slippery when wet.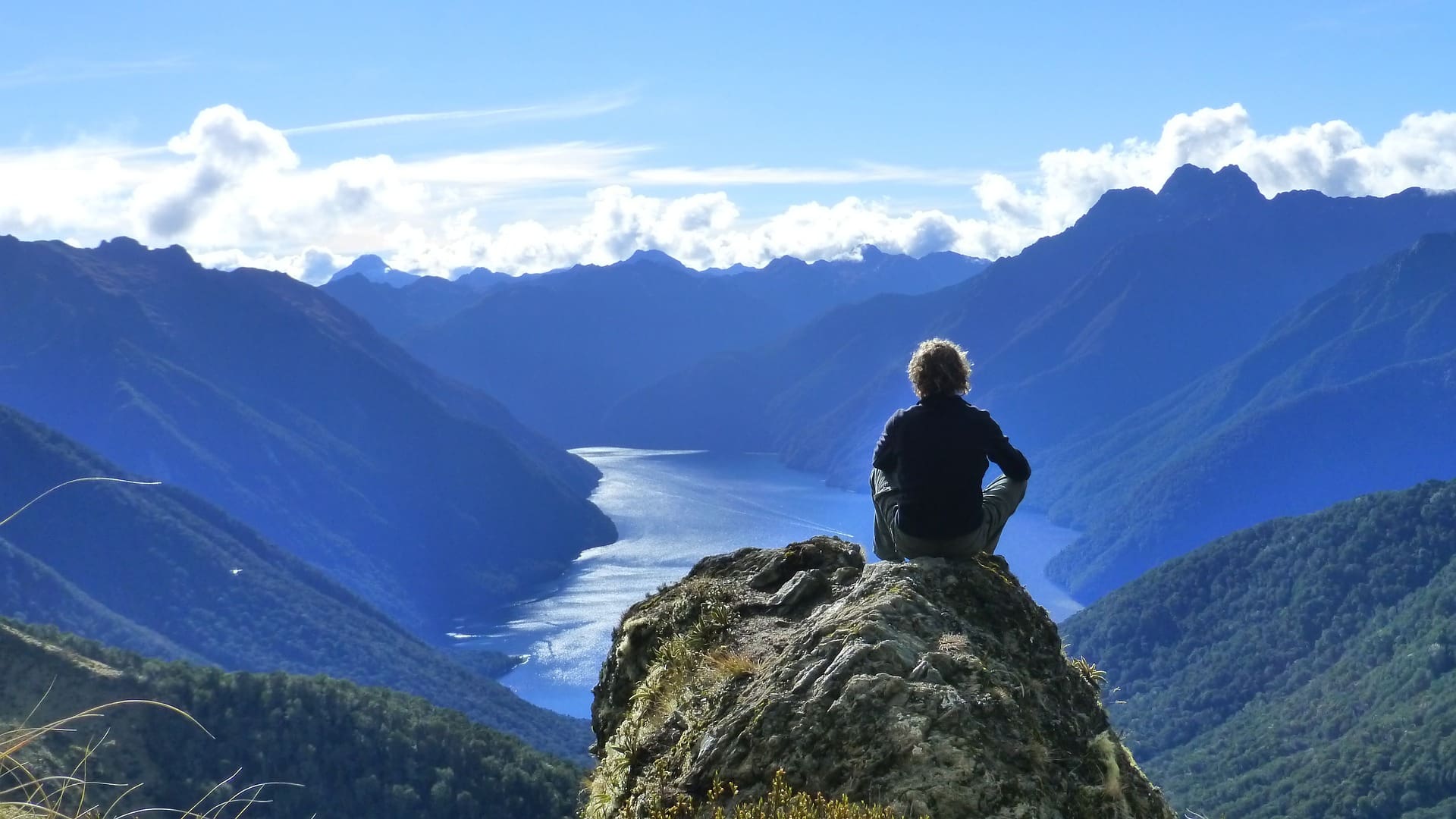 Rivers and large waterways have sturdy bridges to cross over and most small streams are easy enough to step across safely. The track also features hill climbs with steep pathways and panoramic views,
Distance: 60 kilometres / 37-mile loop
Duration: Three to four days
Mount Alfred
The summit of Mount Alfred near Glenorchy in Queenstown offers some of the most incredible panoramic views in New Zealand, with snow-capped peaks, picturesque rivers, lakes and rain forests.
The three hour climb, meanders through a variety of vegetation types and passes through mountain streams and waterfalls, with open glades that boast spectacular scenery providing hints of the views from the summit.
The return journey retraces your steps to the valley below. With a refreshing drink in hand, it's time to savour the moment and a great day in the mountains.
Distance: 1400 metres / 1 mile
Duration: Three to Four hours
Ben Lomond
Ben Lomond is a challenging track with a steep, 1438 metre ascent in elevation, and a path that leads through lush tree lines, alpine tussocks and shrubbery. But the view from the top makes it all worth it.
The 1748 metre summit offers 360 degree views over Queenstown and Lake Wakatipu. And on clear days, you can spot Mount Pikirakatahi/Earnslaw and Tititea/Aspiring in the distance.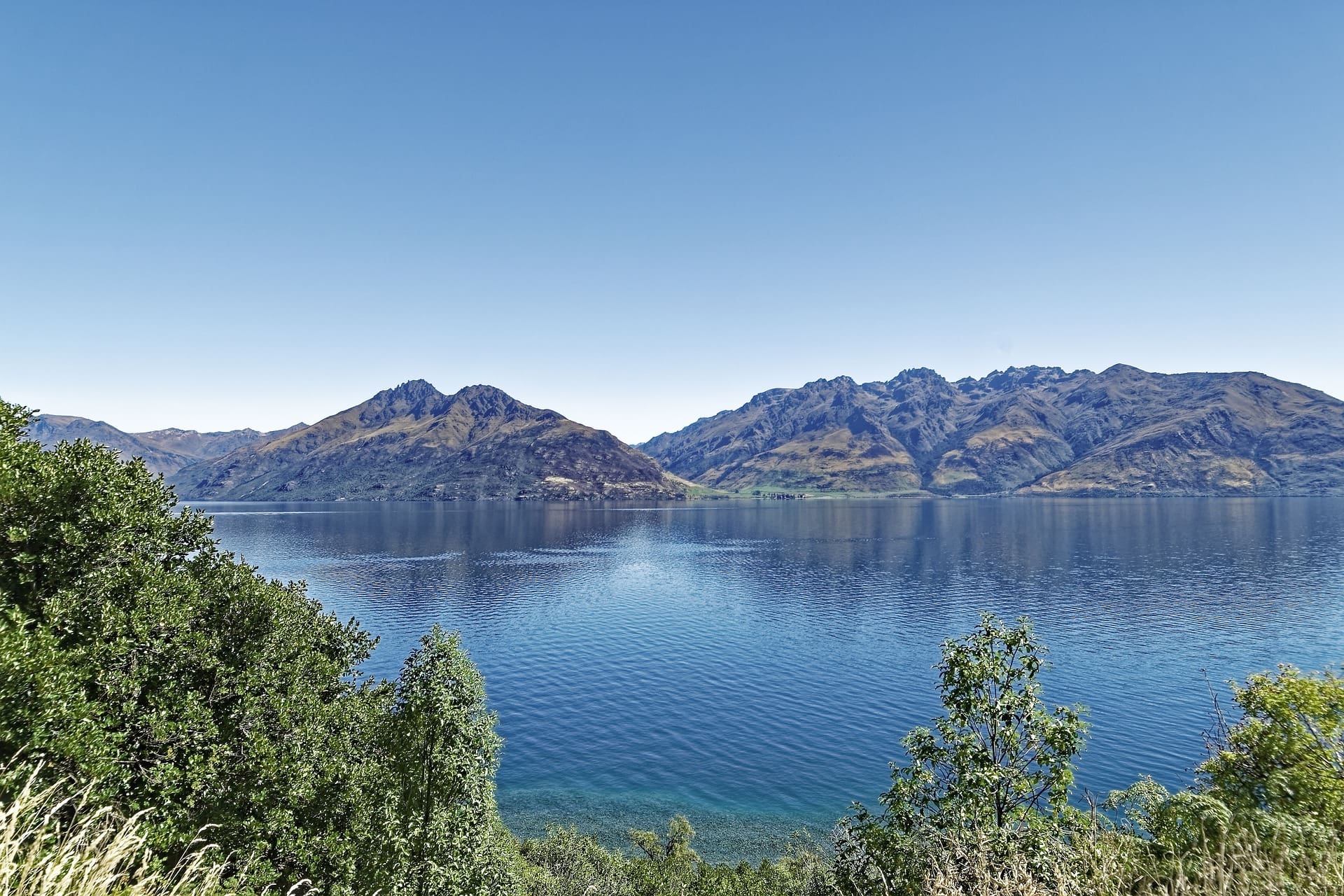 Distance: 11 kilometres / 6.8 miles
Duration: Six to eight hours
Roy's Peak
Roy's peak offers one of the most incredible hikes in New Zealand. Standing between Wanaka and Glendhu Bay, the 16 kilometre day-hike begins with a steep, zigzagging dirt track that leads into alpine meadows and tussock grasslands.
From the peak of Mount Roy, exceptional views of Lake Wanaka and Mount Aspiring/Tititea and the surrounding mountain ranges are on offer.
Distance: 16 kilometres / 10 miles
Duration: Five to six hours
Mueller Hut Route
Mueller Hut is a spectacular hike and a favourite among local New Zealanders. Located in Aoraki Mount Cook National Park, the hike to the hut is no 'walk in the park' with 1000 metre ascent in just over five kilometres.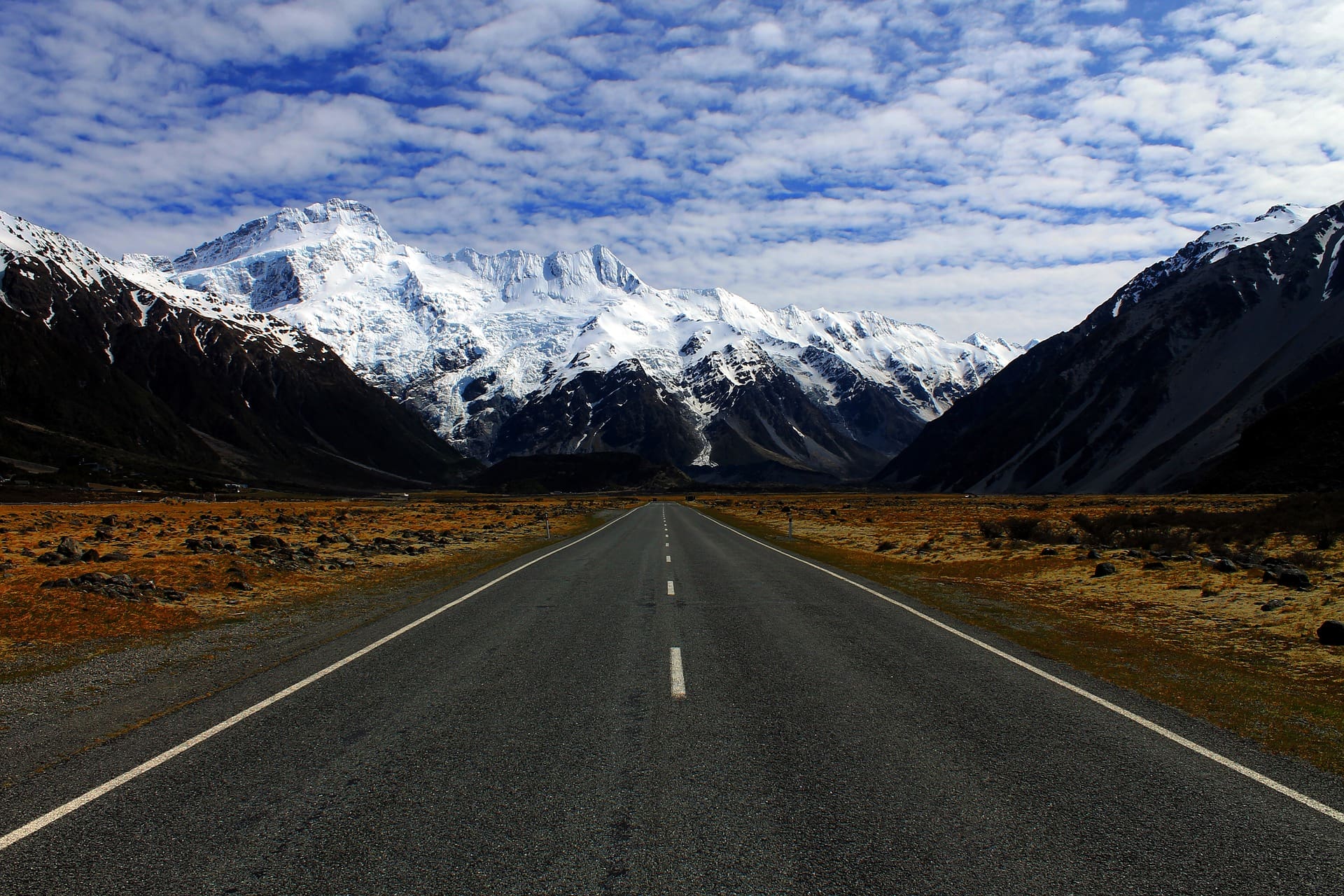 1800 metres above the Sealy Range, Mueller Hut boasts a 360 degree panorama encapsulating picturesque glaciers, icy cliffs, and the vertical rock faces of New Zealand's highest peaks.
The hiking trail steeply meanders through alpine scrublands, up to Sealy Tarns where photographic opportunities are outstanding – with panoramic views of the Hooker Valley, various mountain tarns and Aoraki/Mount Cook.
Distance: 5.2 kilometres / 3.2 miles
Duration: Four to eight hours
The Best Hikes In New Zealand – North Island
Lake Waikaremoana Track
On the North Island's eastern coast, the Lake Waikaremoana track follows along the lake's shoreline and winds through rugged forests and remote beaches before climbing to the top of Panekiri Ridge.
Situated in Te Urewera National Park, the largest unspoilt wilderness area in the North island, the hut-to-hut hiking expedition is one of the easiest hikes in New Zealand.
This three to four day 'Great Walk' welcomes you into the homeland of the Tūhoe people.
Distance: 46 kilometres / 29 miles one-way
Duration: Three to four days
Tongariro Alpine Crossing
One of the most beautiful hikes in all of New Zealand, the Tongariro Crossing is located in the country's oldest national park – Tongariro National Park.
Heralded as one of the best day hikes in New Zealand and showcases some of the regions most dramatic landscapes, with active volcanoes and peaceful beach forests.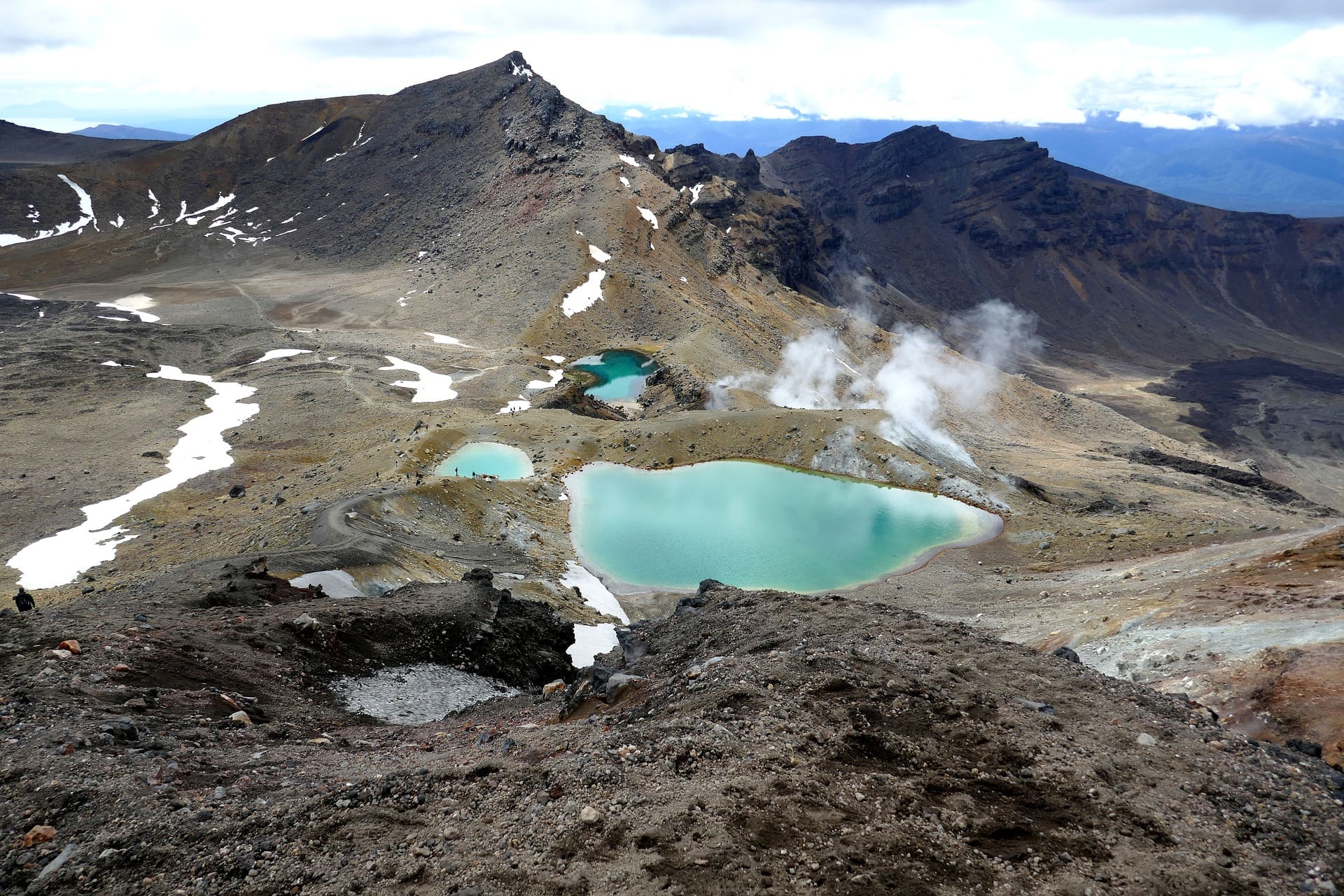 The crossing climbs through Mangatepopo Valley to the saddle between Mount Tongariro and Mount Ngauruhoe, through the South and and Red Crater's before descending down through volcanic scree to the Emerald Lakes.
Distance: 19.4 kilometres / 27 miles
Duration: Six to eight hours.
Buck Taylor Track Loop
In the Waitakere Ranges lies the Buck Taylor Track, a short coastal loop flowing amid towering manuka, wild cabbage, and fern trees large enough to camp in.
This unconventional track runs downhill to a marshy inlet with rolling black sand dunes, leading to a rock tunnel and the black-sand Karekare Beach. Here you may even be able to spot seals on the rocky perches.
Before heading back up on the Zion Hill Track, take a side trip to the 30 metre (100 ft) Karekare Falls for a quick swim or to dip your feet in its shallow pool.
Distance: 6 kilometres / 4 miles
Duration: Three to four hours
Mount Victoria Trails
One of the best near-city hikes in New Zealand, the Mt. Victoria trail is great bushwalk that offers a variety of trail options.
The view from the top offers 360 degree panoramic views of North Island's capital, Wellington, and the surrounding suburbs. If the weather is good, you may even be able to see as far as the South Island or the Tararua range.
Suitable for families, all tracks are well maintained and a bathroom and water fountain are available near the top. Given the close proximity to the city, it can be busy on sunny days, but the views are well worth it. Keep your eyes out for the Kaka (brown parrot) or some Tui.
Distance: 2 kilometres / 1.3 miles
Duration : Two hours
Abbey Caves
The Abbey Caves Loop is a short and relatively easy hiking trail located in the Abbey Caves Reserve near Hikurangi, New Zealand. The reserve comprises of naturally sculptured limestone outcrops, bluffs, enclosed depressions, sink holes and, along the loop, three explorable caves.
The caves are accessible via a steep wooden stile and a series of box steps that lead onto a circular grass walkway. The caves are signposted with waymarks, which help identify the walkway.
Its advised that only experienced cavers should enter underground, as there are risks from rapidly rising water and roofs caving in.
Distance: 1.3 kilometres / 0.8 miles
Duration: One hour
Mount Ruapehu's Crater Lake
Situated in the Tongariro National Park, Mount Ruapehu is the third largest volcano in the park.
Ruapehu's crater holds around 10 million cubic metres of water with a layer of liquid sulphur lining bottom. The lake changes colour from deep greens to pale blues or even a solid dark grey, depending on its temperature.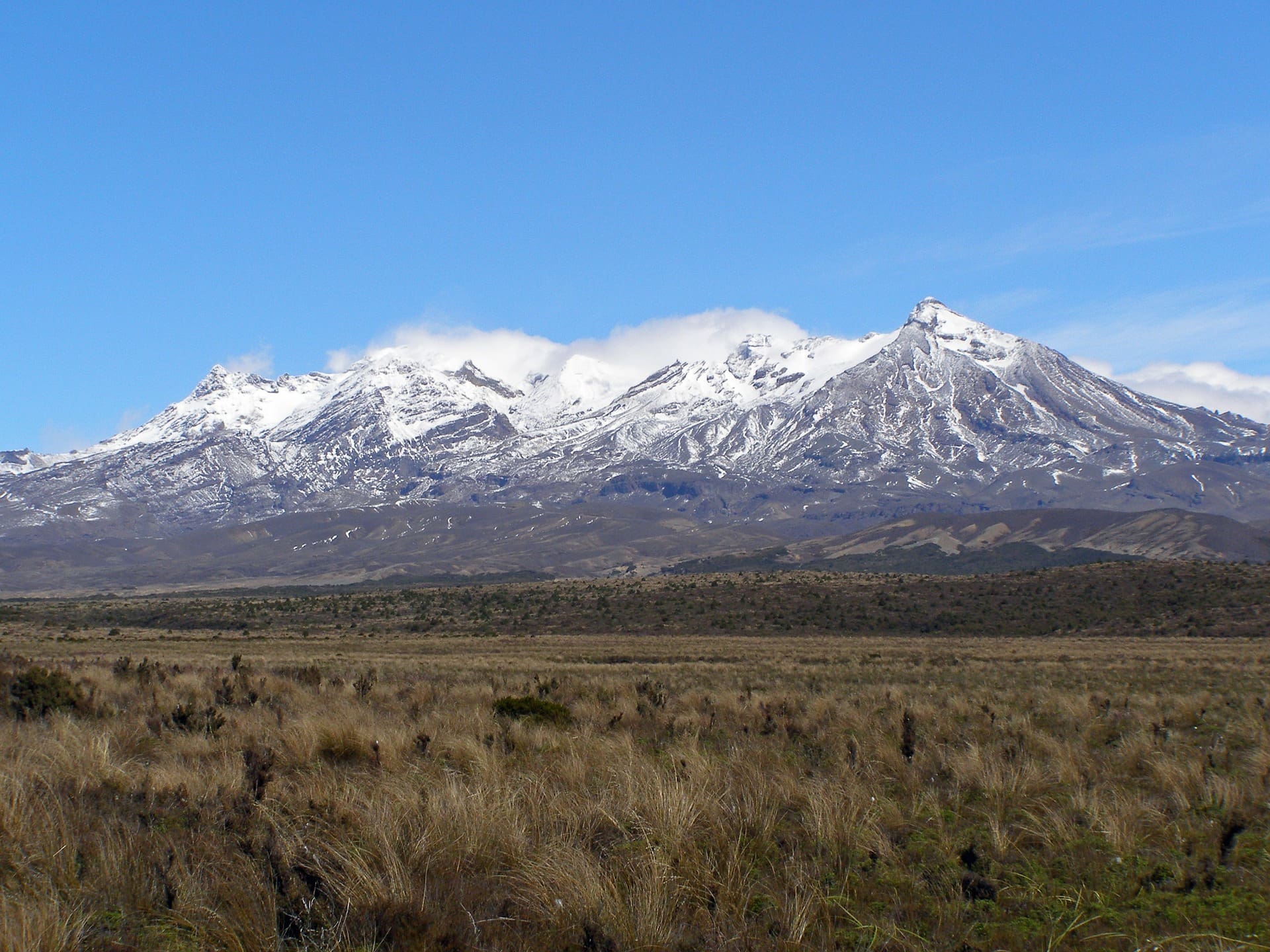 Climbing the crater is only suitable for fit and experienced hikers, capable of making effective judgments about environmental and volcanic hazards. The landscape is comprised of rugged volcanic rock in summer which is covered in ice and snow in winter.
The informal route up to the crater is unmarked, and is in high altitude terrain – the crater lake lookout point is 2672 metres above sea level.
Distance: 10 kilometres / 6.2 miles
Duration: Seven hours
Taranaki Falls Loop
Taranaki Falls track is a roughly six kilometre loop starting from Whakapapa Village in Tongariro National Park. The moderately difficult track crosses through alpine grasslands, beech forests, and landscape shaped by the nearby volcanoes.
Midway through the loop lies Taranaki Falls, which plunges almost twenty meters (65 ft) from a volcanic cliff into a pool. Along with the waterfall, clear days offer amazing views of Mount Ruapehu and Mount Ngauruhoe in the distance.
Distance: 6 kilometres / 3.7 miles
Duration: Two hours
Mangorei Track to Pouakai Range
The Pouakai Range via Mangorei Track is an almost 14 kilometre trail near New Plymouth in Taranaki. This moderately rated hike offers picturesque views and is primarily used for hiking, walking, camping, and backpacking.
90% of the track runs through forest landscape with no mountain views until the end. As you approach the Pouakai Hut, views of the Taranaki ring plain behind you are complemented with the dramatic escarpment of the Pouakai Range ahead.
Distance: 10 kilometres / 6.2 miles
Duration: Four to five hours
Cape Kidnappers Gannet Reserve
Cape Kidnappers is a 17.7 kilometre trail located in Hawke's Bay. This route offers various wildlife viewing opportunities including the region's large Gannet population.
Cape Kidnappers is an extraordinary sandstone headland, named by Captain Cook after an attempt by local Māori to abduct one of his crew.
The trail is predominantly used for hiking, leisure walking, nature trips, and bird watching.
Distance: 17.7 kilometres / 11 miles
Duration: Five hours
Join our community of keen travellers, wildlife enthusiasts and adventure seekers.