South Africa is not always thought of as a pure safari destination given its wealth of other attractions, like the city of Cape Town and the historically rich Johannesburg. However there are hundreds of extraordinary safari destinations in South Africa. Many of which are award winning and considered among the finest in the world.
South Africa offers some of the best safari experiences on the continent, through a mix of private game reserves and national parks. All of which boast a wide variety of biodiversity.
With so many options available, planning a safari in South Africa can seem slightly overwhelming.
How much does a safari cost in South Africa?
South Africa caters for everyone when it comes to safari holidays. Options range from budget-friendly DIY safaris with basic, self-catering accommodation and self-drive routes. To luxury experiences on private game reserves, where guests are waited on around the clock in exclusive 5-star lodges. The former won't cost you any more than a few hundred dollars, while the latter can reach five figures. It really depends on what you're after.
With such a variety of options on offer, it can be really hard to choose where to go, so we've done our bit to help you find the location for your dream safari.
How to choose between the top safari destinations in South Africa?
With such a varied offering, choosing a safari destination will largely come down to a few key factors:
How much money you want to spend
How much time you have in the country
Which route you'll be taking into South Africa
What you'd like to see on your safari
We've created a guide to help you better understand South Africa's incredible safari destinations to help you plan your bucket-list vacation!
Here are the best safari destinations in South Africa:
Kruger National Park
There is no better destination to kick off a 'safari in South Africa' guide than the famous Kruger National Park.
Kruger is a behemoth of a national park, spread out over two million hectares in the northeast of the country. Arguably the most famous destination for a safari in South Africa, the park is home to a wide range of animal species including the iconic 'Big Five'.
Due to its vast size, regions within Kruger vary greatly in typography and landscape, from green forests to woodland and open savannah plains.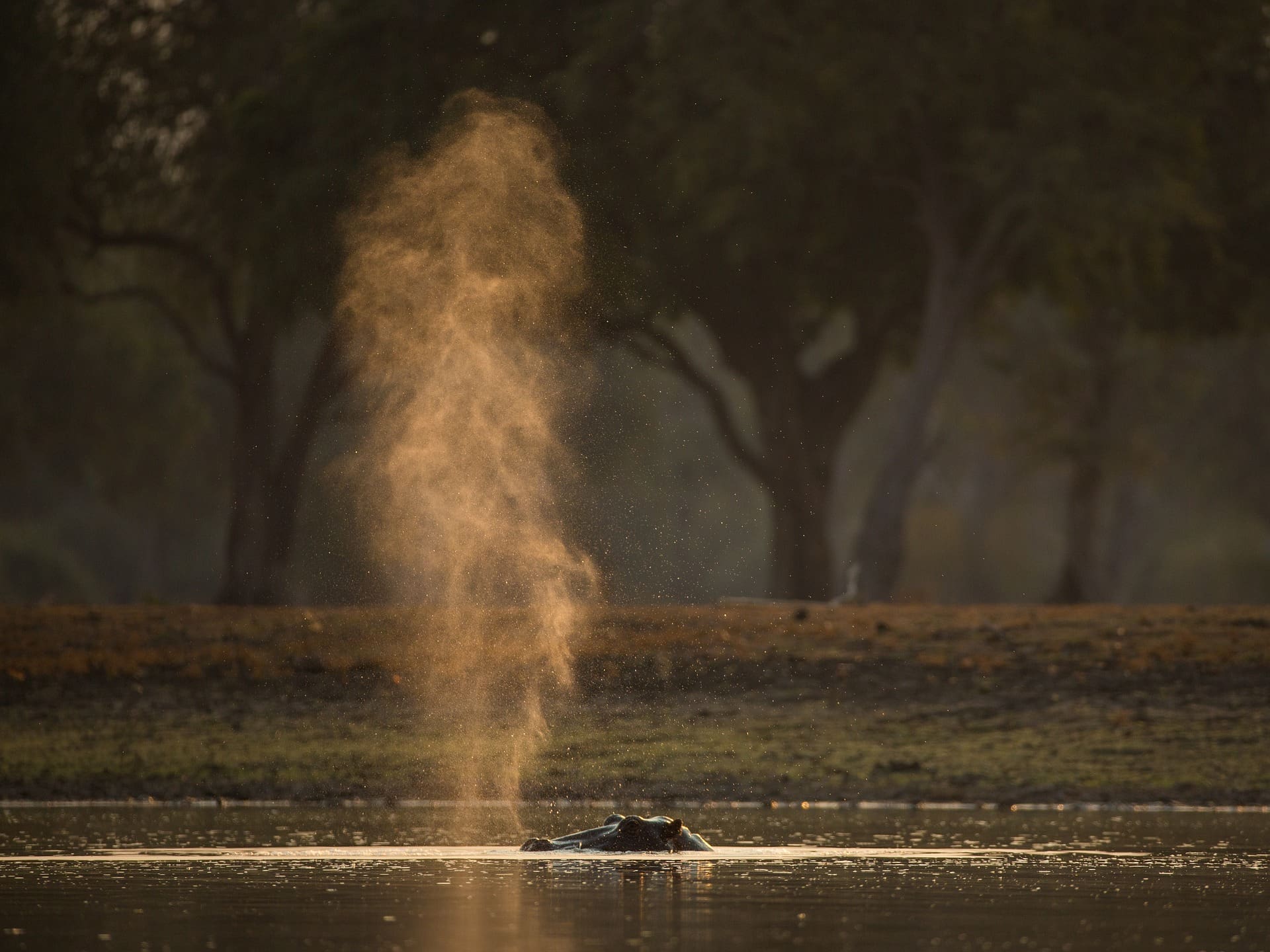 Kruger is a popular destination for self-drive and budget safaris with a wide network of self-catering chalets and campsites. However there are also a few luxury lodges scattered throughout the park should you prefer not to go the DIY route.
Madikwe Private Game Reserve
Madikwe Game Reserve is one of South Africa's premier game reserves. This Big Five reserve is situated about 300 kilometres from Johannesburg and shares many ecological attributes with the nearby Pilanesberg National Park.
Madikwe is a remote safari destination, situated against the Botswana border, near the Kalahari Desert.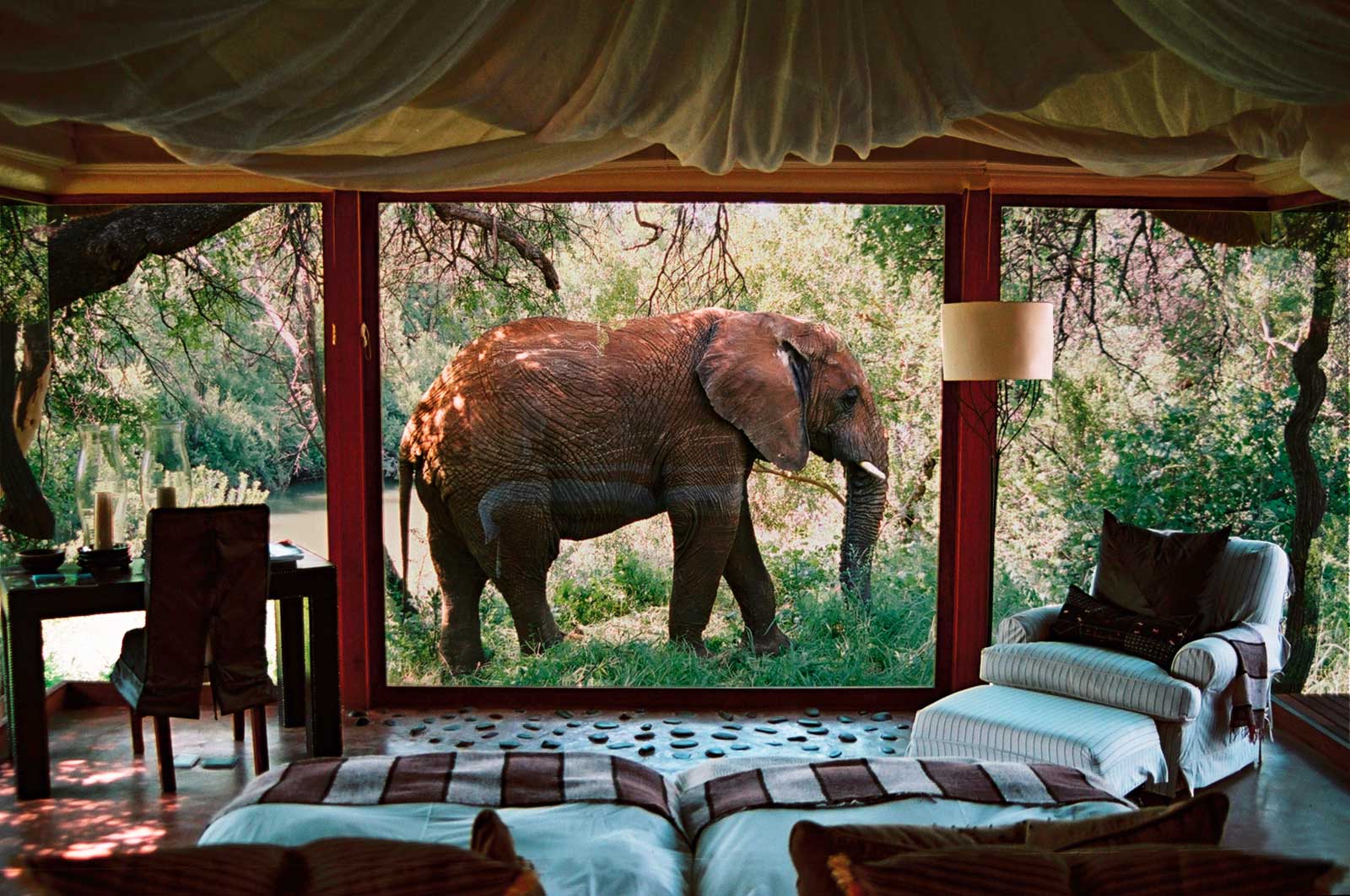 Covering approximately 60,000 hectares, it is the fifth largest game reserve in South Africa and a prime example of successful conservation.
The reserve was forged from unproductive farmland in the early 90's and was stocked with over 8000 individual animals. All of which would have occurred naturally in the region before it was taken over for agricultural use.
The malaria-free game reserve is considered as a luxury safari destination, catering exclusively to the high-end safari goer. There are more than 20 luxury bush camps spread throughout the reserve.
Most of these are five-star rated. Day visitors are forbidden, which means there is a lot less traffic compared to the public national parks, and wildlife sightings are lot more intimate.
Sightings of lion, elephant and rhino are common and leopard and buffalo are also present in Madikwe but are a lot more scarce.
Addo Elephant National Park
As it's name suggests, Addo Elephant National Park is famous for its elephants and here you'll find large family herds and huge tuskers.
The malaria-free national park is located just 25 miles/40 kilometres from Port Elizabeth and is the third largest wildlife reserve South Africa.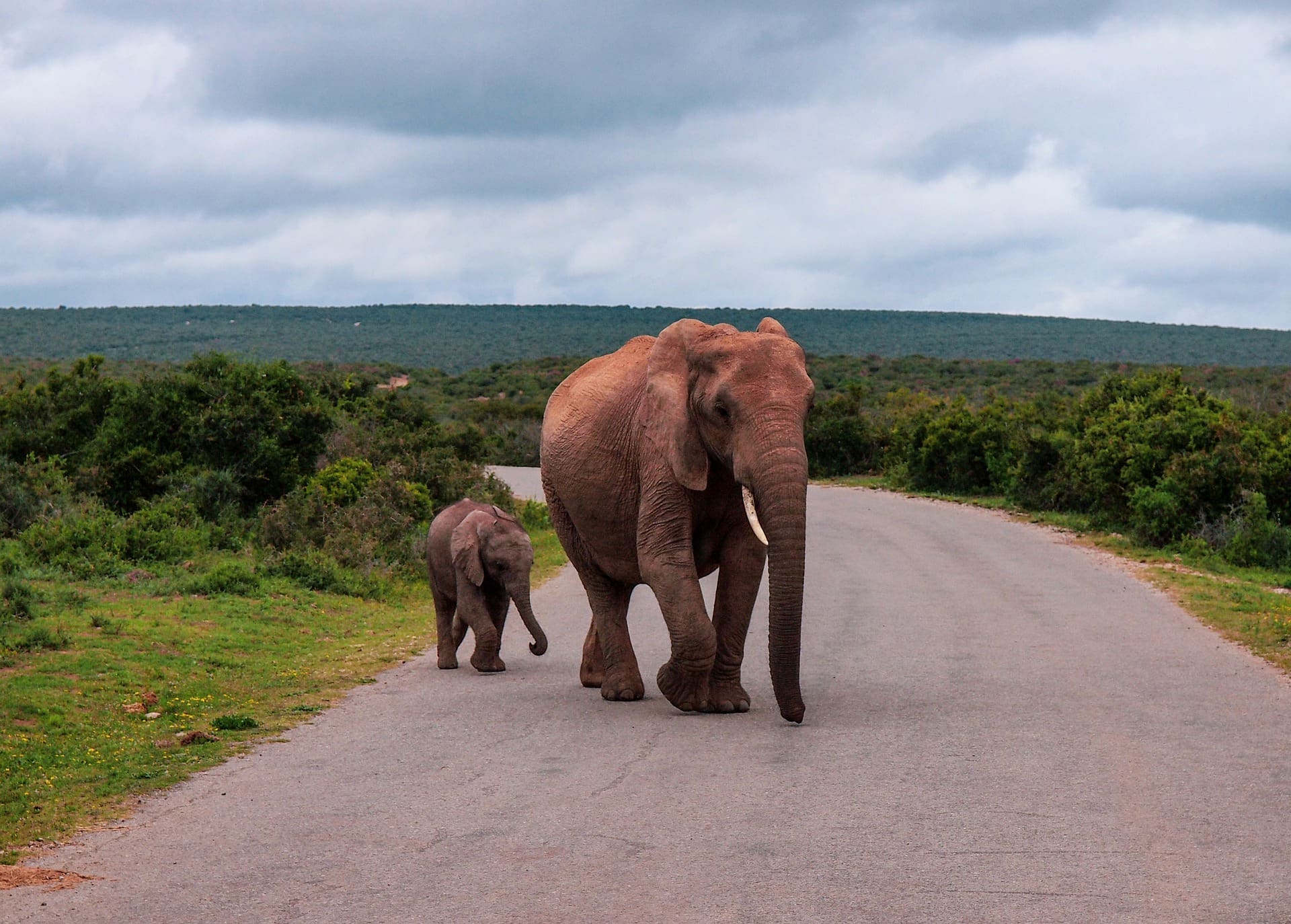 The park's proximity to the city makes it perfect for day trips as well as longer stays and booking is not required for day visits.
Accommodation ranges from basic camping facilities chalets to luxury lodges, and the combination of tarred and gravel roads are suitable for both 2×4 and 4×4 vehicles.
In the centre you'll find an enclosed picnic site where you can indulge in a traditional South African braai (barbecue).
Addo is mostly known for the over 600 elephants that call the park home, but is also home to the other four species that make up the Big Five along with an impressive variety of birdlife.
Mala Mala Game Reserve
Catered primarily to those with deep pockets Mala Mala Game Reserve is an award-winning safari destination in South Africa.
Founded in 1927, the reserve is one of the most established private game reserves in the country and offers some of the best wildlife viewing experiences on the continent.
The 13,000 hectare reserve is sandwiched in between the Kruger National Park and the Sabi Sands Game Reserve and boasts some of the most reliable leopard viewing in South Africa.
Access to Mala Mala is exclusive to the private lodges within its borders and experienced guides take you off-road in 4×4 vehicles for intimate sightings, not possible in public parks like Kruger or Pilanesberg.
This means that not only are you more likely to see big game species, but you'll also get to learn about animal behaviour and how different species interact within their environment.
The reserve has three luxury camps complete with pools, spas and tennis courts.
Pilanesberg National Park
Situated two hours from Johannesburg, Pilanesberg National Park is one of the most accessible safari destinations in South Africa.
Set on the remnants of a volcanic crater, this ecologically rich transition zone between the Kalahari and the Lowveld offers a thrilling big game viewing experience in a malaria free environment.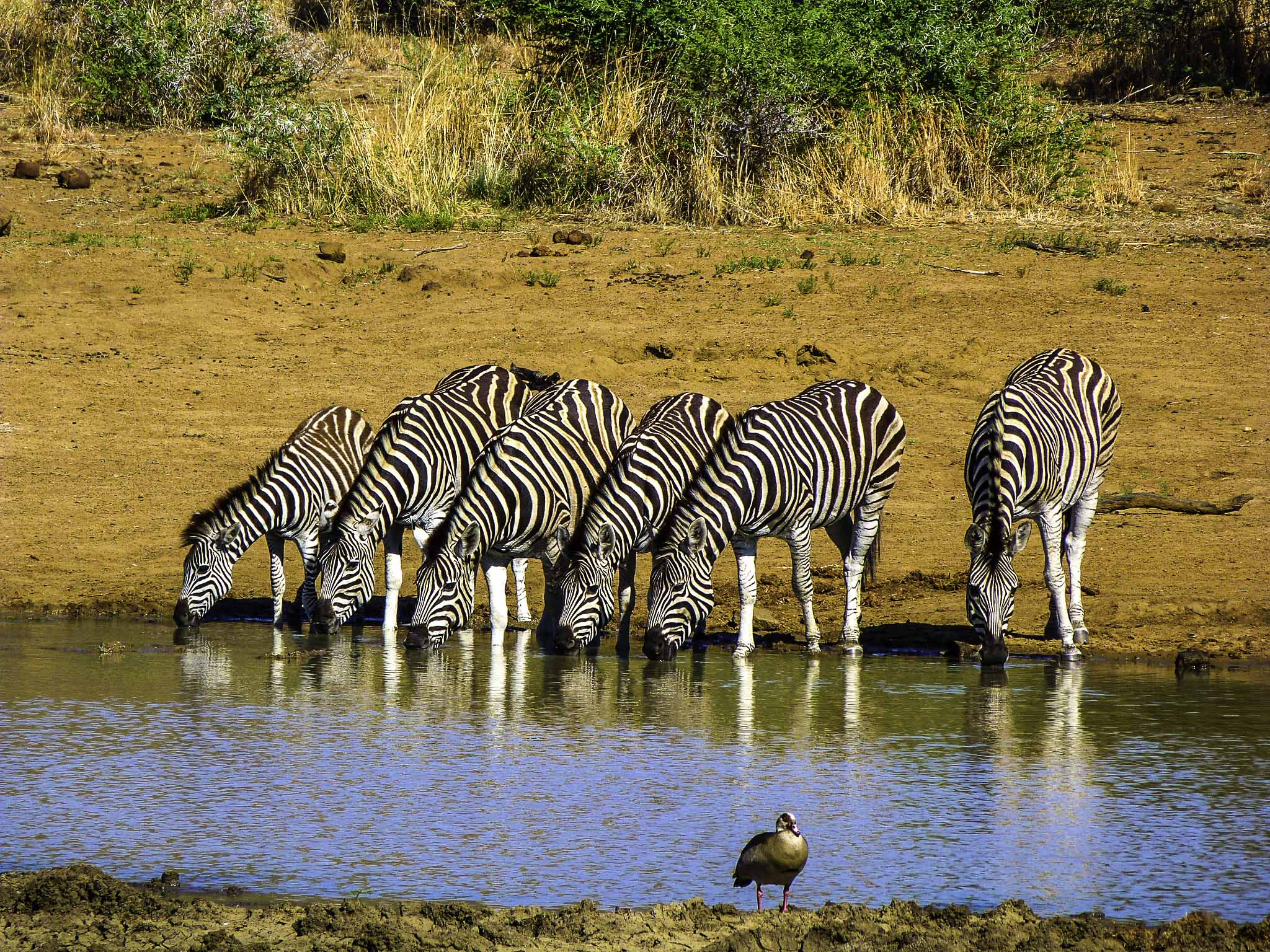 Relatively small in comparison to South Africa's largest national parks, Pilanesberg's vast network of tarred roads, greatly increase your chances of spotting one of the Big Five in their natural habitat.
Sightings of elephant and white rhino are common but big-cat sightings tend to be reserved for a lucky few.
Adjoining the famous Sun City resort, a wide variety of accommodation is available within the park. These range from basic camping facilities all the way up to luxury lodges.
Welgevonden Game Reserve
Set in the heart of South Africa's Waterberg Region, Welgevonden is a 36,000 hectare private game reserve home to over 50 species of African wildlife, including the big five.
The reserve forms part of the Waterberg Biosphere Reserve which was declared by UNESCO in 2001.
Yet another conservation success story, Welgevonden was transformed into a game reserve through the consolidating of a number of private agricultural farms. Internal fences were removed allowing nature to take over and restore the land to its original state.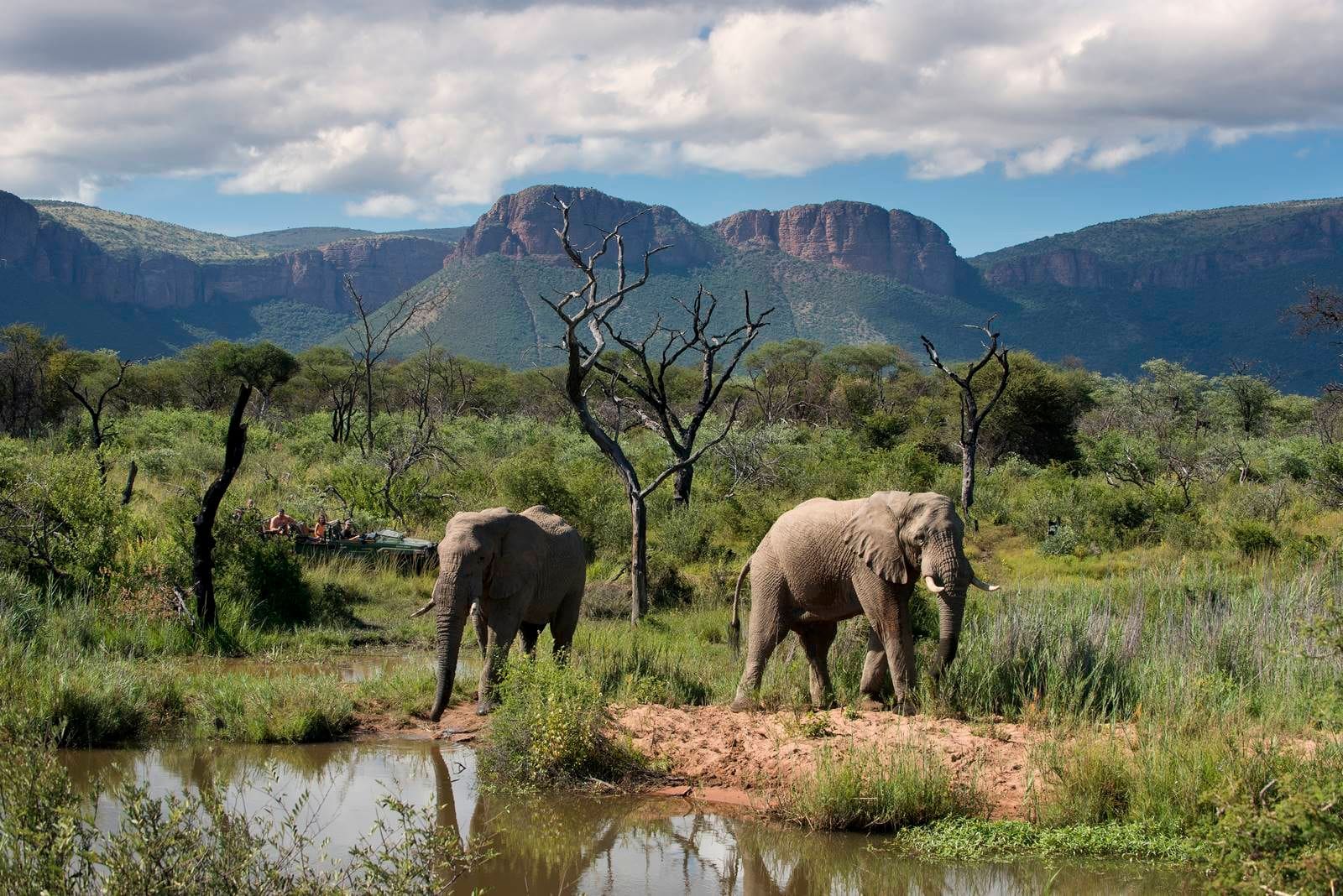 Leopards have always been a natural inhabitant of the area while most of other major game species have been successfully reintroduced into the reserve.
Other notable species include; giraffe, warthog, black-backed jackals, brown hyena and sable antelope
The Waterberg region is known for its vast typography, which ranges from open savannah plains to sheltered rocky outcrops where special encounters are common.
Welgevonden offers an intimate safari experience with a limited amount of visitors allowed in the reserve at a time and exclusive access to guests at one of its handful of luxury lodges.
Sabi Sands Game Reserve
Competition is stiff, but few would argue that Sabi Sands Game Reserve is the most exclusive private game reserve in South Africa – without doubt the most famous.
The 65,000-hectare game reserve forms part of the Greater Kruger and the unfenced border allows wildlife to move freely between the two.
With no day visitors and self-drive safaris forbidden, Sabi Sands provides a much richer safari experience for those who can afford it.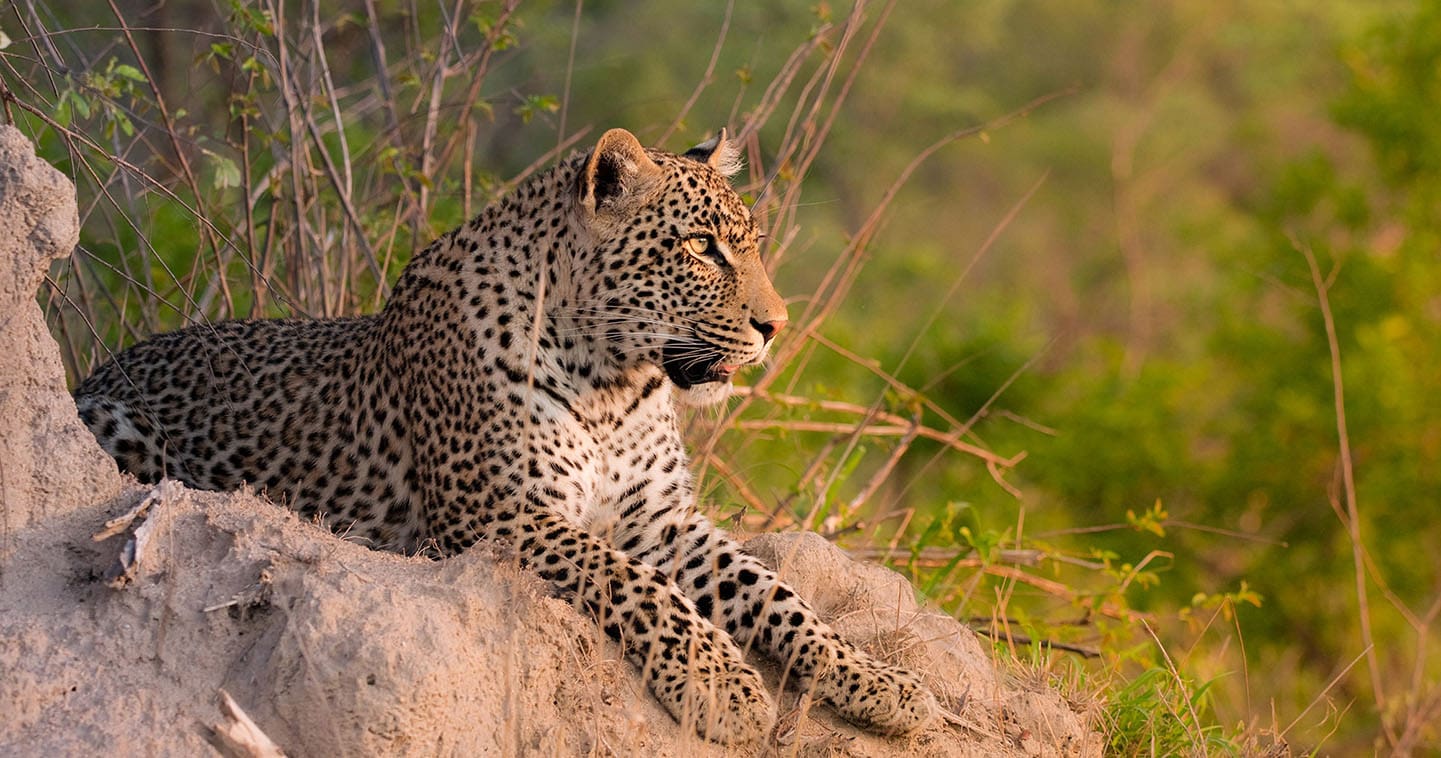 Some of the most luxurious game lodges in South Africa are found within the borders of the Sabi Sands and with the region's incredible wildlife density, the chances of seeing the Big Five is almost guaranteed.
Predator sightings are unparalleled anywhere in Africa and the reserve is particularly well-known for its amazing leopard sightings.
There are a variety of lodges to choose from, ranging from entry level luxury to seriously high-end luxury lodges.
Shamwari Game Reserve
Shamwari Game Reserve is the southern-most big game reserve in Africa and encompasses five of South Africa's seven biomes. This creates an exceptional habitat for a wildlife diversity including the big five and over 275 bird species.
Situated to the east of Addo Elephant National Park, the malaria-free Shamwari Game Reserve forms a natural extension to the world famous Garden Route.
Conservation is at the centre of the reserve's ethos. Guests are able to visit the Wildlife Rehabilitation Centre, where injured and orphaned animals are treated and prepared for return back into the wild.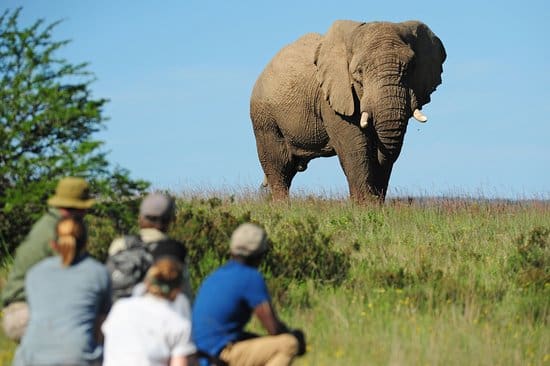 More than 26 species that were previously extinct in the region have since been reintroduced into the reserve including; elephant, rhino, zebra, giraffe and Africa's big cats.
You can encounter the park's residents on guided game drives and bush walks, or on a specialized photographic safari.
Access to the reserve is for lodge guests only and accommodation is spread across a number of camps, manor houses and luxury tented camps with contemporary, colonial styling.
Lion Sands Game Reserve
Nestled in between the Sabi Sands Game Reserve and Kruger National Park, Lion Sands Game Reserve is a 10,000 hectare safari paradise.
Right in the heart of the Greater Kruger, Lions Sands forms part of an ecosystem home to the largest concentration of wildlife in the Southern Hemisphere.
Sightings of the Big Five are common and memorable and a variety of other species will also be spotted. These include zebra, giraffe, hyena, hippo and over 450 species of bird.
With four luxury lodges set on the banks of the Sabi River, Lion Sands is exclusive to overnight guests who are treated to game drives twice a day. One in the morning and one in the late afternoon. With knowledgeable game rangers leading the way, these safaris are not confined to main roads and visitors are able to get up close and personal experiences with nature.
Tswalu Kalahari Reserve
In the transition zone between dry savannah and the Kalahari Desert lies Tswalu Kalahari Reserve, one of South Africa's most unique game reserves.
The landscape is characterised by sweeping vistas and an overwhelming sense of space and is home to 80 mammal species and more than 240 types of bird. You'll also find a plethora of desert-adapted species like gemsbok (oryx) and springbok.
Tswalu is a haven for South Africa's lesser known predators and the reserve provides exceptional sightings of cheetah, aardwolves, African Wild Dogs and if you're really luck even a few of Africa's smaller wild cats.
With a maximum of 30 guests at any any one time, a safari at Tswalu gives you the sense that you're in your own private bush paradise.
All safari groups are assigned a vehicle accompanied by a private guide and tracker. Together you'll search for the some of the area's iconic species, including majestic black-maned lions and black rhino, as well as a healthy variety of rare and endangered species.
In addition to guided safaris, you can take a tour of the many ancient San rock art sites, experience a helicopter safari, or walk through the grasslands with a gang of habituated meerkats.
Hluhluwe-Imfolozi Park
Situated in the heart of Zululand, roughly 280 kilometres from Durban, Hluhluwe-iMfolozi Park is the oldest game reserve in Africa. It sits on the very land where Zulu kings lived and hunted, and put in place the first laws of conservation.
Hluhluwe-iMfolozi is a rhino conservation stronghold, having played a crucial role in early efforts. Today every white rhino in South Africa is descended from its early 20th century population. The reserve is still one of the best game reserves in Africa for rhino sightings.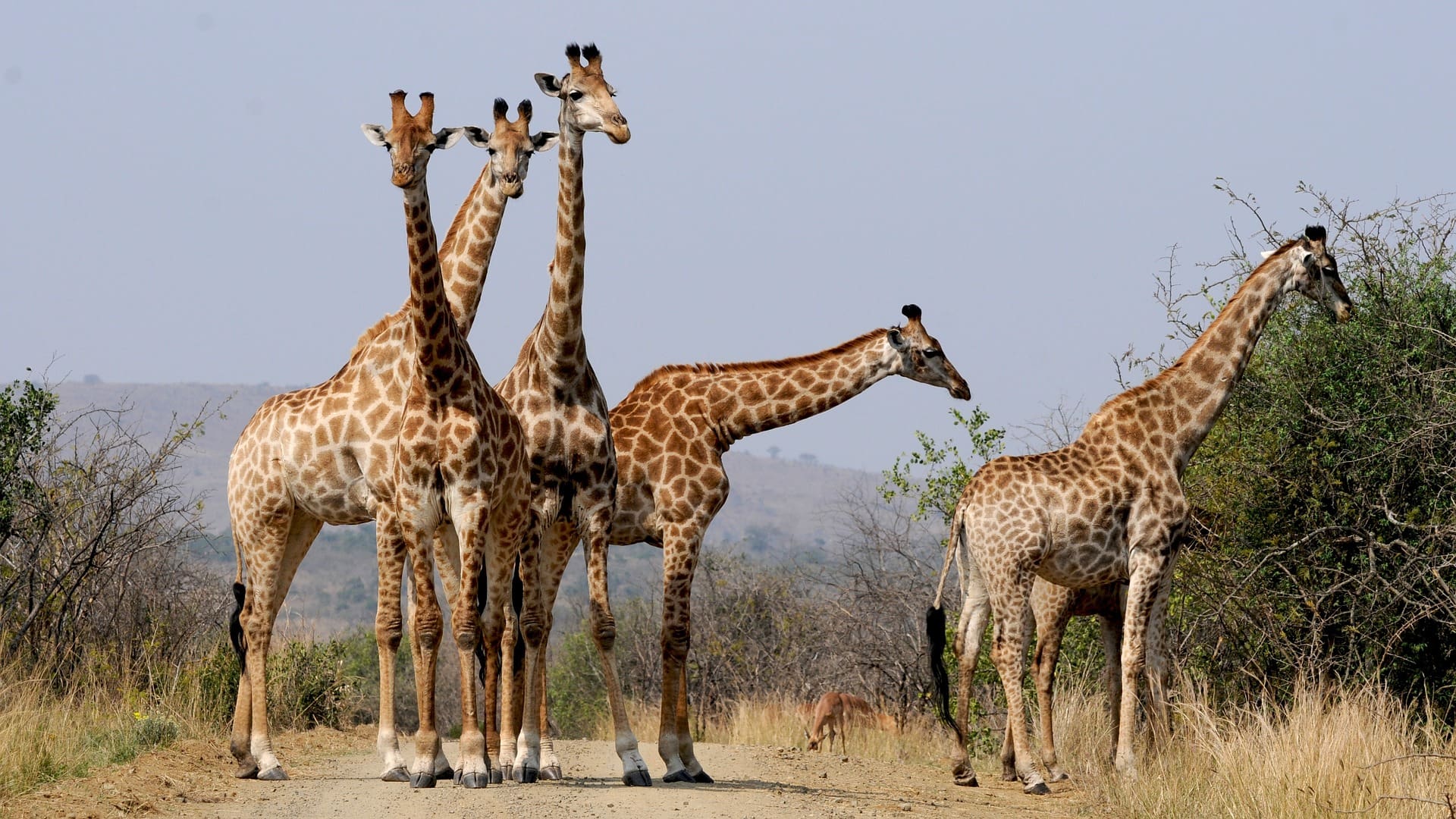 With rolling green hills and vast woodland valleys, the park is also home to the remaining members of the Big Five. Other notable species include African wild dog and nyala.
There are numerous hides scattered around the reserve's watering holes which make incredible vantage points for wildlife viewing.
The park is open to the public and a popular destination for self-drive safaris. Accommodation ranges from tented camps to various luxury lodges.
The reserve is situated in a low risk malaria area so it is advisable to consult your doctor before visiting.
Aquila Game Reserve
Named after the endangered verreaux eagle (Aquila verreauxii), Aquila private game reserve is situated two hours drive from Cape Town. It sits in a valley between the Langeberg and Outeniqua Mountains, in the Karoo.
The 10,000 hectare game reserve came to be in the late 1990's and was originally only home a variety of antelope species.
Today it is home to a host of animals including the big five, wildebeest, zebra, giraffe and various other species who roam the reserve at their will.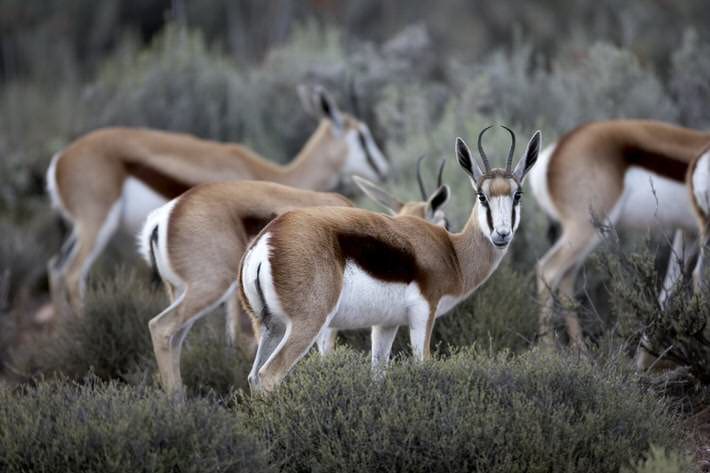 The proximity to Cape Town makes Aquila a great option for a day trip if you're staying in the Mother City. Guests can explore the reserve on a traditional 4×4 game drive or even on a horseback or quad bike safari.
A contemporary lodge and rustic cottages make up the accommodation in Aquila and guests can also enjoy the spacious restaurant, outdoor pool and luxurious spa.
Kariega Game Reserve
Kariega Game Reserve is another malaria-free safari destination in South Africa's Cape. This time on the Eastern end.
There are 2 rivers that run through the 10,000 hectare game reserve, the Kariega and the Bushmans, which allow for unique activities like canoeing and fishing.
The reserve is subdivided into two sections and wildlife is actively managed. On the smaller eastern side, there are no elephant or lion, and buffalo are few and far between.
Visitors can mostly walk around freely without having to worry about dangerous wildlife of predators around. The much larger western side is home to all of the big five, however game density is lower then in the east.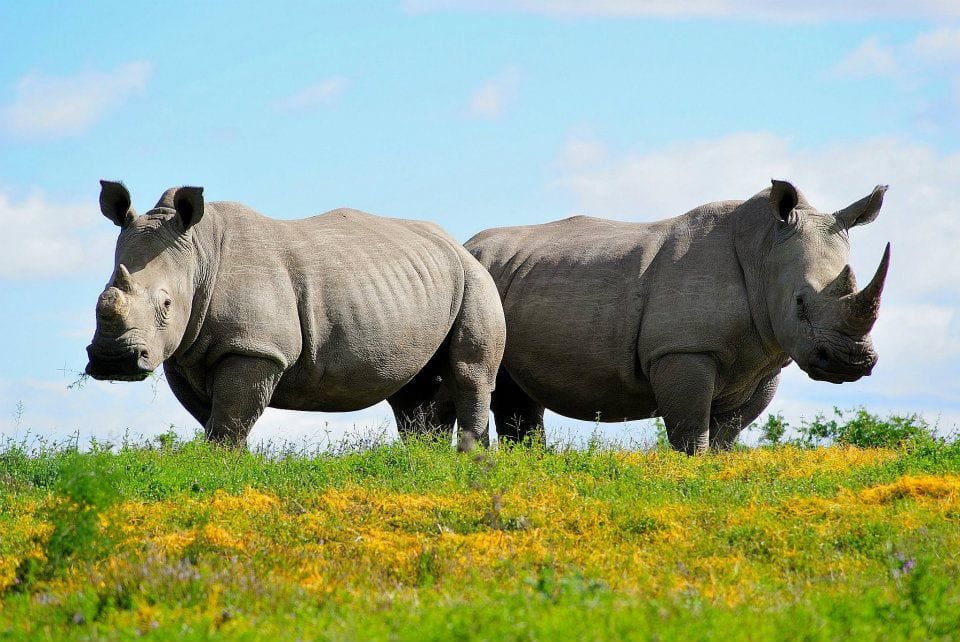 Kariega is the culmination of 15 ex-agricultural farms which have been 'given back to nature'.
The area consists of five different eco-systems: valley bushveld, savannah grasslands, fynbos, riverine forest and acacia woodland. This varied environment is the reason that Kariega is home to such rich birdlife.
Kariega boasts five luxury lodges, catered towards discerning travellers and families. Game drives are hosted twice-daily, and river cruises are a highlight for keen birders, with sightings kingfisher, heron and Africa fish eagles being frequent.
Kgalagadi Transfrontier National Park
The Kgalagadi Transfrontier National Park is one of the more unique national parks in South Africa.
Formed in 1999, Kgalagadi is a joint venture between South Africa and Botswana as the reserve spills over into both countries. It is the world's first transfrontier national park.
Situated in the Kalahari Desert, the park is home to an expansive ecosystem relatively untouched by humans. The endless landscape of rolling red dunes, offers spectacular wildlife encounters, unparalleled anywhere in the world.
The seasonal Auob and Nossob rivers fringed by a band of acacias are the reserves lifeline.
The arid landscape makes for incredible predator sightings. From leopards to massive black-maned lions, notably larger than their counter parts in South Africa's other wildlife reserves.
Small predators thrive here to and you can hope to spot; black-backed jackal, bat-eared fox, Cape fox, caracal, meerkat and yellow mongoose. A vast array of raptors and other dry-country birds are also common.
Besides the big five and charismatic predators, you can expect to see herds of gemsbok, springbok, eland and blue wildebeest, This is a self-drive park but morning and sunset safaris can be booked at a few of the camps.
Kgalagadi is more geared towards self-drive safaris and lower budget getaways, with three main rest camps all equipped with basic amenities. Roads are primarily only accessible by 4X4.
Sabi Sabi Private Game Reserve
Sabi Sabi Private Game reserve is situated within the Sabi Sands Game Reserve but is an incredible game reserve in its own right.
The name Sabi Sabi is derived from the word 'tsave', which means 'fear' or 'danger' in the Tsonga language. This stems from the sheer number crocodile and hippo in the Sabie River.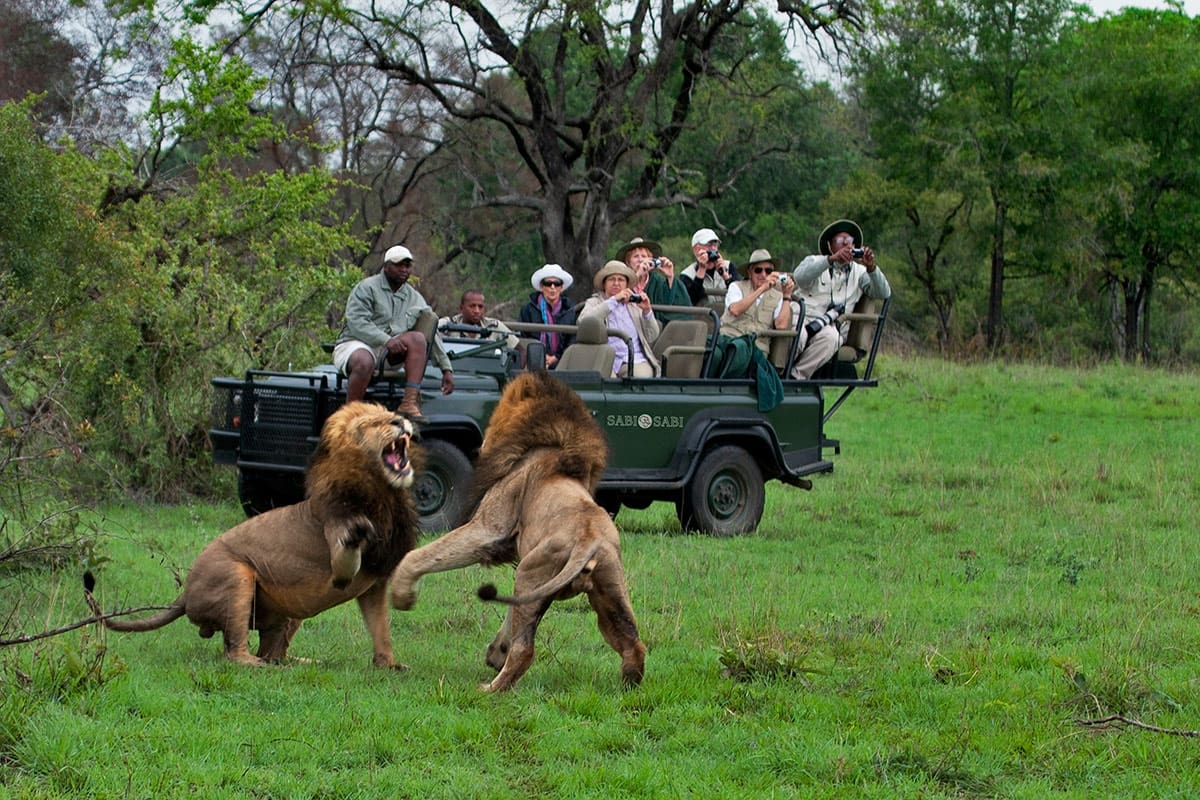 Sharing all the amazing attributes of the Greater Kruger in which its based, Sabi Sabi provides some exceptional predator and big game sightings.
Cheetah and Wild Dog are also common and the laughs of Spotted Hyena ring out through the night.
Sabi Sabi is geared towards the more affluent safari goer, with a single night generally going for around the same price as a week in one of Kruger's rest camps.
Four award-winning luxury lodges make up Sabi Sabi's accommodation offering, all complete with privately guided safaris, walking safaris and three delectable meals a day.
Mapungubwe National Park
A UNESCO World Heritage Site, Mapungubwe National Park, boasts a rich history as it is the land on which the first-ever South African kingdom flourished.
Positioned at the meeting point of two rivers and three countries, Mapungubwe was once home to a powerful tribe which thrived on trading with the Far East and India.
The rise and fall of this great civilisation took place more than 700 years ago. 'The Lost City' is the site where archaeologists excavated the famous golden rhino and multiple other artefacts, symbolising the prosperity of an African kingdom.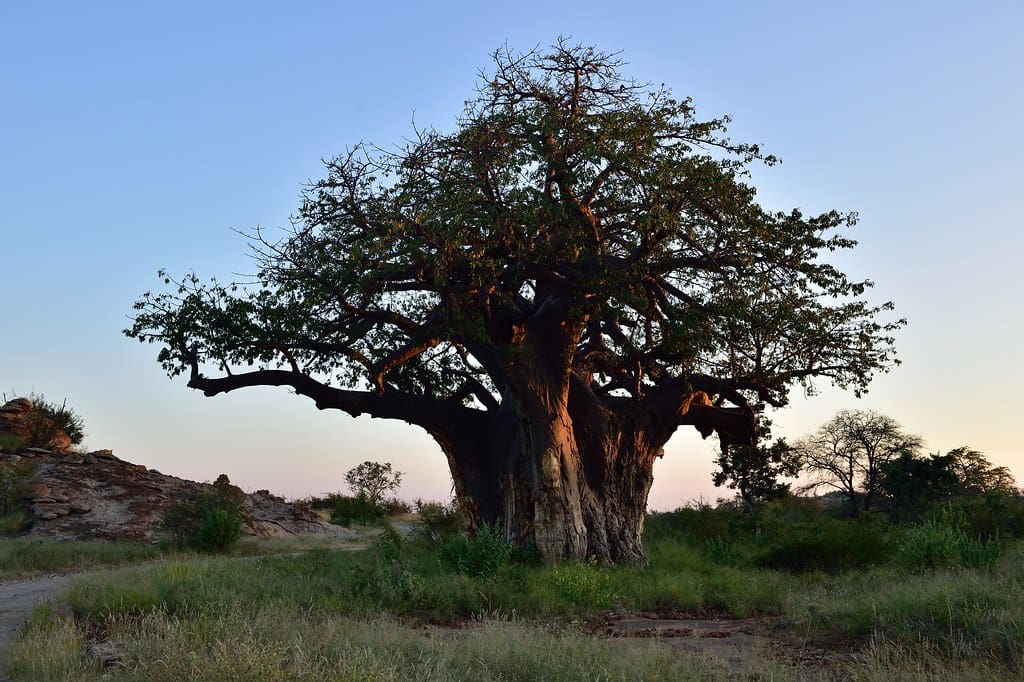 Today a national park, Mapungubwe is home to a variety of wildlife which move freely between the park and its bordering countries; Zimbabwe and Botswana. The reserve boasts a wide array of wildlife including Elephant and Leopard.
Mapungubwe is famous for its giant baobab trees, with one of them having a circumference of 31-metres (1,220 ft). Other scenic landmarks include riverine forest and sandstone formations.
Various riverside picnic sites are the perfect locations to unpack a meal and take in the majesty of the Limpopo River.
The reserve features a variety of basic accommodation options and is open to the public, with self-drivers welcome.
iSimangaliso Wetland Park
Formerly known as the Greater St Lucia Wetland, the iSimangaliso Wetland Park features 200km/120 miles of pristine South African coastline from the St Lucia to Kosy Bay.
The name iSimangaliso means 'miracle and wonder', which is the best way to describe this magnificent wildlife mecca.
This UNESCO World Heritage Site is not the typical safari destination. It hosts 2000 marine, freshwater and terrestrial vertebrate species along with elephant, hyena, hippo, crocodile and 530 varieties of bird.
At 1.3 million hectares, iSimangaliso is the second largest protected area in South Africa after the Kruger Park.
Africa's largest estuarine system, iSimangaliso consists of three major lake systems, most of South Africa's remaining swamp forests and the world's tallest coastal dunes.
Boat safaris on the St Lucia Estuary are great for sightings of hippo, crocodiles and water birds, and seasonal whale watching or turtle tracking excursions are also on offer.
Conventional safaris are provided in the Mkhuze sector, and accommodation ranges from camp sites to fully catered safari lodges.
Kapama Game Reserve
The wide-ranging Kapama Private Game Reserve lies nestled in-between Kruger National Park and the Blyde River Canyon.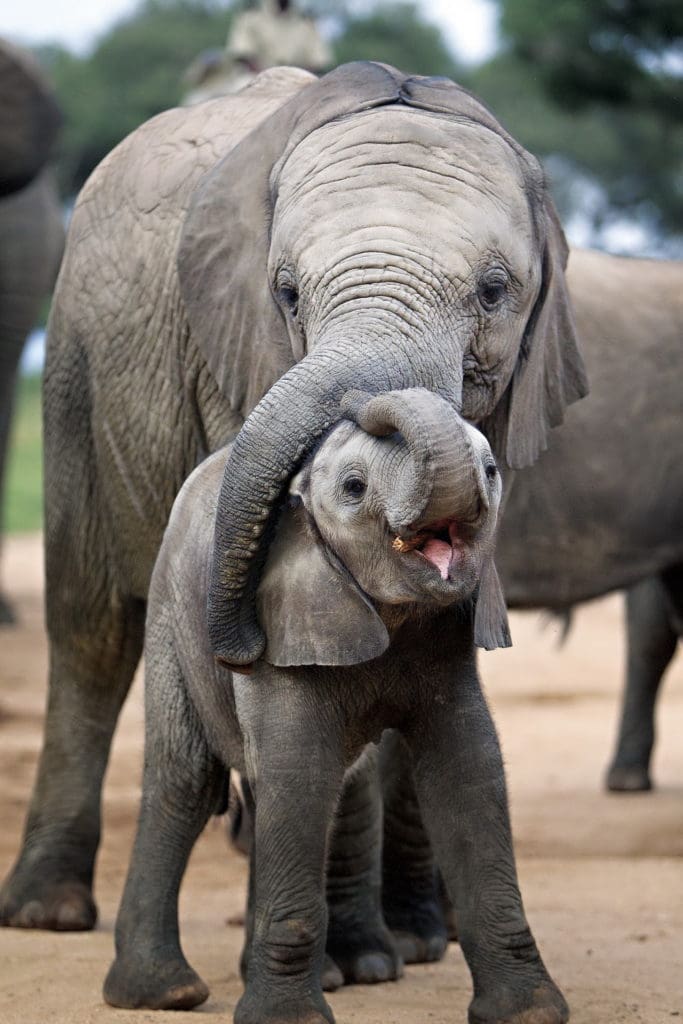 The reserve's untouched bushveld supports an abundance of wildlife, including a variety mammals and of course the iconic Big Five; elephant, buffalo, lion, leopard, and rhino.
Twice-daily guided game drives and walking safaris allow guests up close and personal encounters with Africa's magnificent animals in their natural habitat.
The game reserve features four high-end lodges and luxury tented accommodation, with some units set on the banks of the Klaserie and Kapama rivers.
Kapama also offers a two-day wildlife photography workshop to help you create your very own print-worthy images!
Phinda Private Game Reserve
Between Richards Bay and the border of Mozambique you'll find Phinda Private Game Reserve, consisting of seven varied ecosystems, which support an abundance of wildlife.
Often described as 'Seven Worlds of Wonder' the landscape incorporates a magnificent tapestry of woodland, grassland, wetland and forest, intertwined with mountains, rivers, marshland and pans.
Phinda is especially well-known for its thriving cheetah population and the residence of both species of rhino. Its rare 1,000 hectare sand forest supports two special antelope species—the suni and the red duiker.
Guests are treated to two game drives a day where exceptional sightings are always on offer. Keen birders relish in sightings of some of the 436 bird species. Safaris are led by experienced field guides teamed up with zulu trackers.
Phinda Game Reserve offers a range of unique experiences including sleeping out under the stars and tracking black rhino on foot.
The nearby coast allows for scuba diving and ocean adventures as well as seasonal turtle hatching tours. There are six luxury lodges on the reserve, including a private villa.
Londolozi Game Reserve
Although its set in the very heart of the Sabi Sand Game Reserve, Londolozi is a truly special piece of African paradise and deserves to be mentioned in its own right.
Londolozi Game Reserve boasts a powerful combination of geography and wildlife. With its lodge situated along the Sand River, the reserve forms part of the Greater Limpopo Transfrontier Park, part of the Greater Kruger National Park.
Wildlife traverses freely between the vast area created by the neighbouring reserves. Large breeding herds of elephant and buffalo dominate throughout the reserve, while white rhino and lion density is among the highest in Africa.
However it's the leopards that make Londolozi the world famous reserve that it is. Intimate leopard sightings are frequent and memorably photographic opportunities are common.
Each of Londolozi's five breathtaking camps offer luxury accommodation, picturesque views, and exceptional cuisine.
Cover image: Londolozi
Join our community of keen travellers, wildlife enthusiasts and adventure seekers.