Planning a mediterranean vacation this summer? No trip would be complete without checking out some of the most beautiful beaches in Portugal!
Portugal is blessed with countless beaches, all of which equally as breathtaking as the next. The entire coastline is littered with pristine beaches and deep blue or turquoise waters, which look like a scene straight off Pinterest!
With a comfortable year-round climate, Portugal is an ideal destination or any time of year and the most popular destinations are situated in the north and south.
To help narrow down your search, we've made a list of the most beautiful beaches in Portugal – those you definitely have to check out while you're there! Not only are these great places to chill out and relax, but some even host epic water-sport activities.
The 10 Most Beautiful Beaches In Portugal
1. Falesia Beach
Falesia Beach is widely known as one of the most beautiful beaches in Portugal, and spreads out over up to 3.7 miles (6 km). The beach's picturesque golden-brown sands are a beautiful contrast to its deep blue waters.
The beach is protected by rugged cliffs of red and orange, which create a vibrant atmosphere paired with lush green vegetation at the summit. It is a very popular beach and is generally quite crowded, but you will always be able to find a spot to drop your towel and enjoy the sea vibe.
Falesia Beach is also the go-to place if you're looking for a luxury resort-based getaway; it is divided into two halves with the eastern part home the famous Vilamoura Resort, while the western part has equally great 5-star resort options for you to check out.
2. São Rafael Beach
São Rafael Beach is where you can have it all in one, from exploring stunning nature areas to thrilling water-related activities.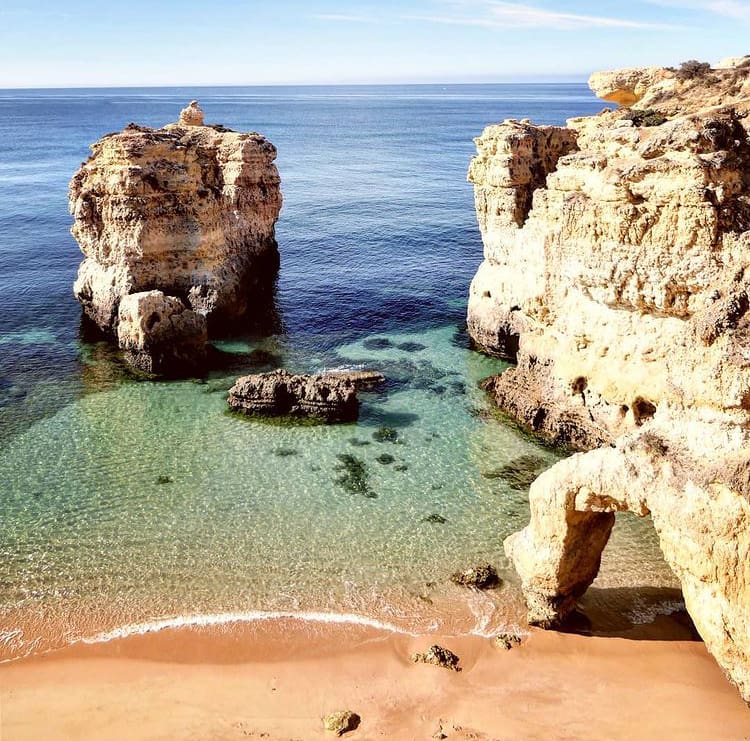 This lovely little beach is located in Albufeira, just a few miles away from the city. The beach is very accessible from the city, so is ideal for a day trip. Most people spend the day on São Rafael Beach and then head into the city to have dinner in one of its many restaurants.
At São Rafael, you'll find amazing rock formations and limestone cliffs. With the beach as their backdrop, these make for some awesome exploring, as natural caves have been formed. The Small Bridge, and the Shallow's Nest are well-worth a look!
You can also swim, snorkel and paddleboard in the crystal clear turquoise waters.
3. Nazare Beach
Another of the most beautiful beaches in Portugal is Nazare. The crescent-moon shaped stretch of sand is an extremely popular location, about 85 miles (130 km) from Lisbon.
Traditionally a fishing town, it is very common to see local men casting huge nets out into the water in hopes of a good catch, while women generally spend their days wearing traditional dress and selling dried fish on the beach.
Nazare Beach is also one of the most popular places to surf in Portugal. Big wave surfers flock from all around the globe to try their luck on the 100ft. (30m+) waves, which are pretty standard during the winter months.
The tourist high season is in the summer months, and both locals and tourists frequent the beach on warm, sunny days.
You can also experience the beauty of Nazare Beach from above by riding a cable car, which stops at O Sitio. Here you'll find an old temple, a chapel and local shops with quaint, handcrafted souvenirs.
4. Dona Ana Beach
With soft white sands, limestone cliffs and picturesque turquoise waters, Dona Ana Beach is another must-see beach in Portugal.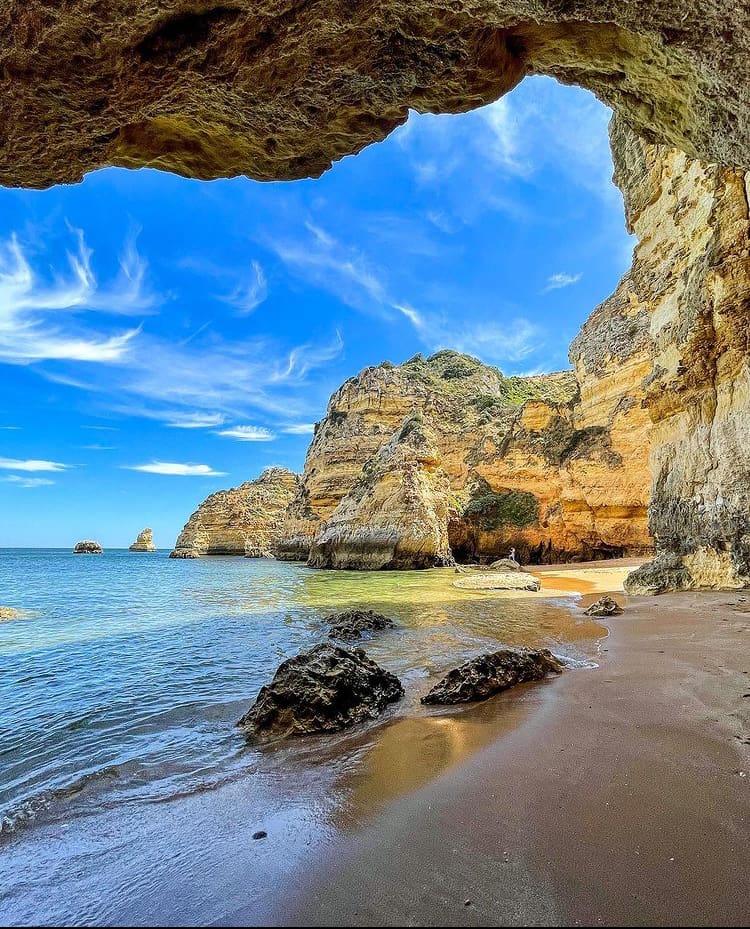 It is quite small in comparison to most other beaches in Portugal, but the spectacular views make it well worth a visit. The region isn't known for getting too hot, and the beach's relatively still waters make it ideal for families with small kids.
The path to Dona Ana Beach is through a narrow wooden staircase, so take care with children and elderly people. You can also rent beach chairs on site, so don't worry about bringing those with you!
5. Marinha Beach
Marinha Beach is another one of Portugal's most beautiful beaches, and was also declared one of the 100 most beautiful beaches in the world by the Michelin Guide!
The beach boasts golden-brown sands like most other beaches, and although it is comparatively small it has some of the most picturesque views of all. Particularly for those looking for some Instagram-worthy content.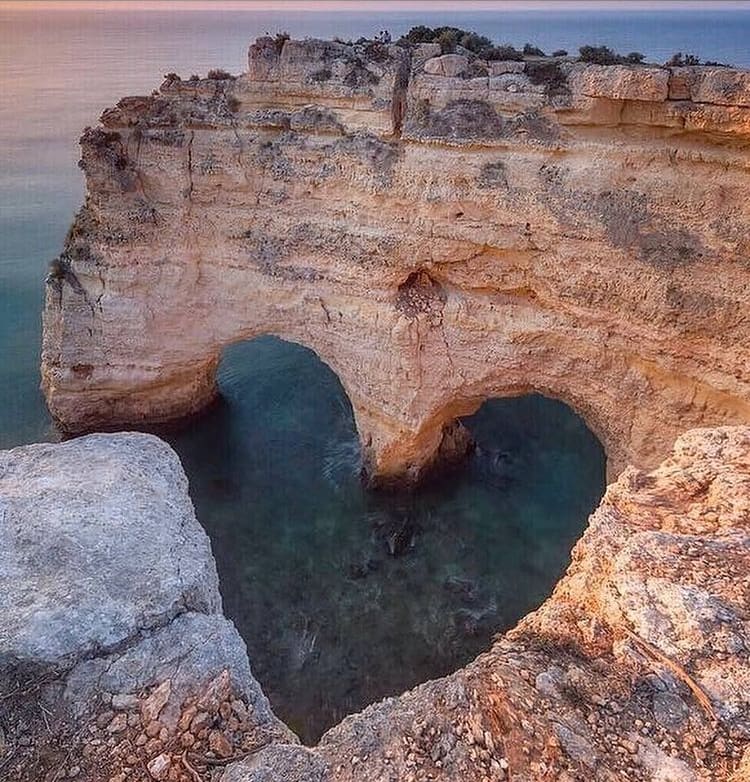 There is no better example than the heart-shaped rock formation on Marinha Beach. No visit is complete without a customary image or couples photo taken infront of the heart formation.
If hiking and exploring is not your thing, then do some snorkelling and look for starfish, sea anemones, sea urchins and a variety of other marine creatures! Alternatively chill out on the beach and work on your tan.
6. Camilo Beach
Camilo Beach is situated just a 10 minute drive from the famous town of Lagos in Western Algarve.
If you're traveling on foot then expect a 30 minute walk, ending with 200 steps down onto the beach. Sounds far from relaxing, but is well worth it once you arrive!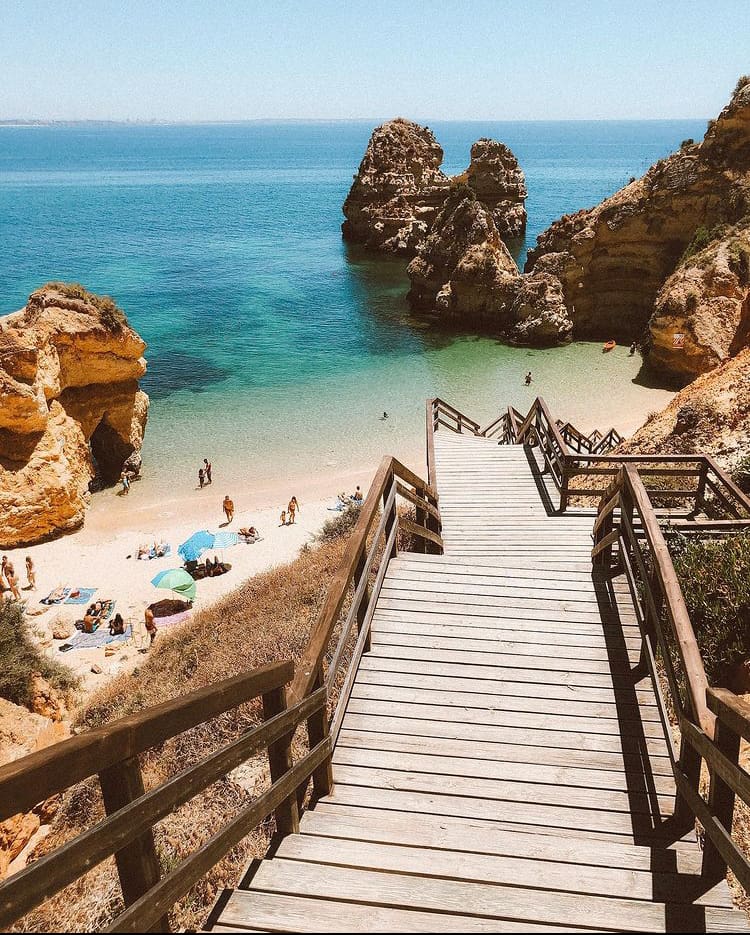 The white soft sands and the clear waters are perfect for a refreshing dip, and with gentle currents, are also suitable for the whole family. It is also well-shielded from the wind by sandstone cliffs and rock formations.
Here you can also dine at the restaurant on the cliffs, which is directly above the beach. Enjoy the beautiful scenery created by the blue-green-hued sea from a distance.
7. Rocha Beach
Rocha Beach was the first designated tourist spot in Algarve, and one of the most beautiful beaches in Portugal. Even today, the beach scene and lively night life is thriving. Located close to Portimao City, you can also explore the city centre, visit its museums, parks, food stalls etc. and add more adventure to your journey in Portugal.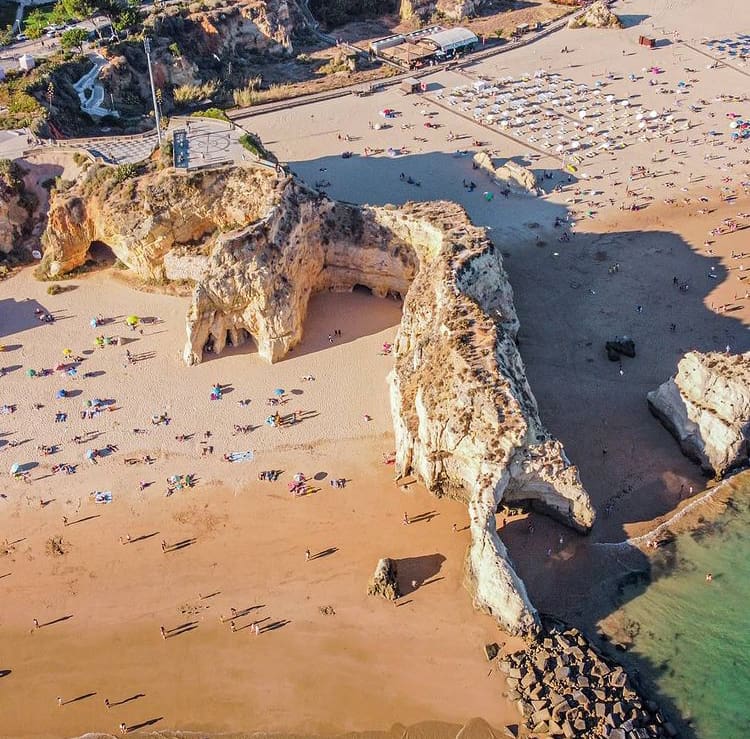 The beach itself is a 1.5 mile (2km) golden-brown strip with deep blue waters, and orange-red hued rock formations protecting the beach from strong coastal winds. The beach can get particularly crowded in the summer season, with both tourists and locals.
For the more lively traveler, one of the best things you can do here is to dance with cocktail in hand to the upbeat music playing from the beach venues.
You can also visit the Santa Catarina Fort which is located on the eastern side beach when you are here.
8. Guincho Beach
Guincho Beach is located a few miles away from the town of Cascais on the beautiful Lisbon coast. It is not the typical beach destination for those looking to kick back and relax on a sandy shore.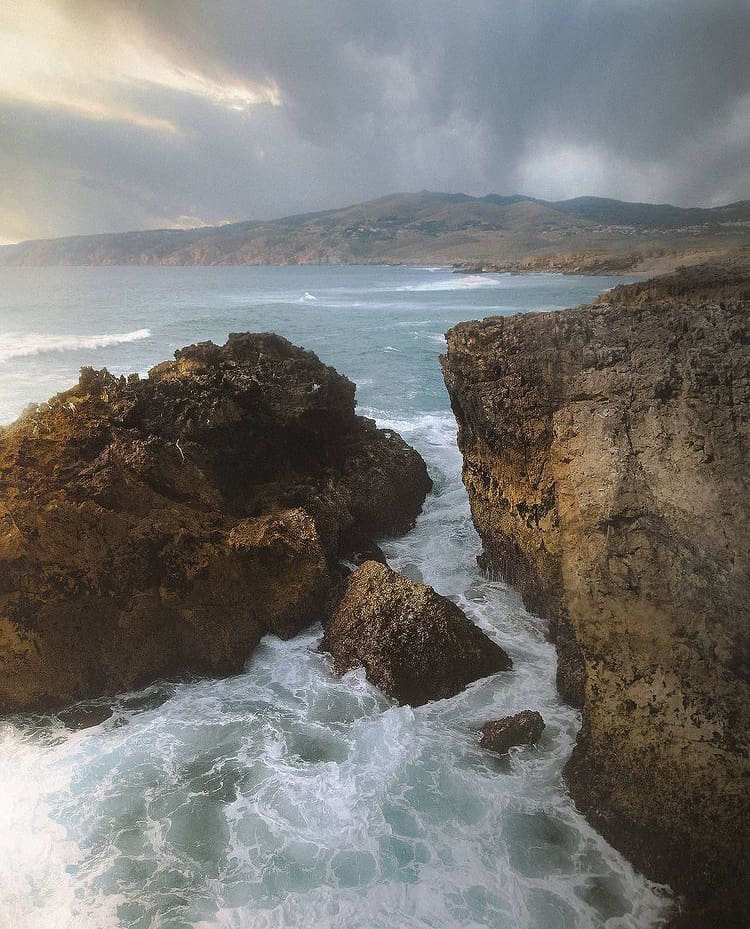 Instead it's more for the adventurous traveler, looking for an adrenaline filled experience like kitesurfing or windsurfing.
Yep, that's right! Guincho beach is one of the top places in Europe for kitesurfing because the winds are really strong and the waves are incredibly powerful.
The beach also hosts annual surf competitions, so you'll often find pro surfers out riding the waves. Due to the rough conditions, it is not recommended to do swim or snorkel on Guinco Beach.
9. Carcavelos Beach
Carcavelos Beach, located around 30 minutes from Lisbon, is another one of the most beautiful beaches in Portugal.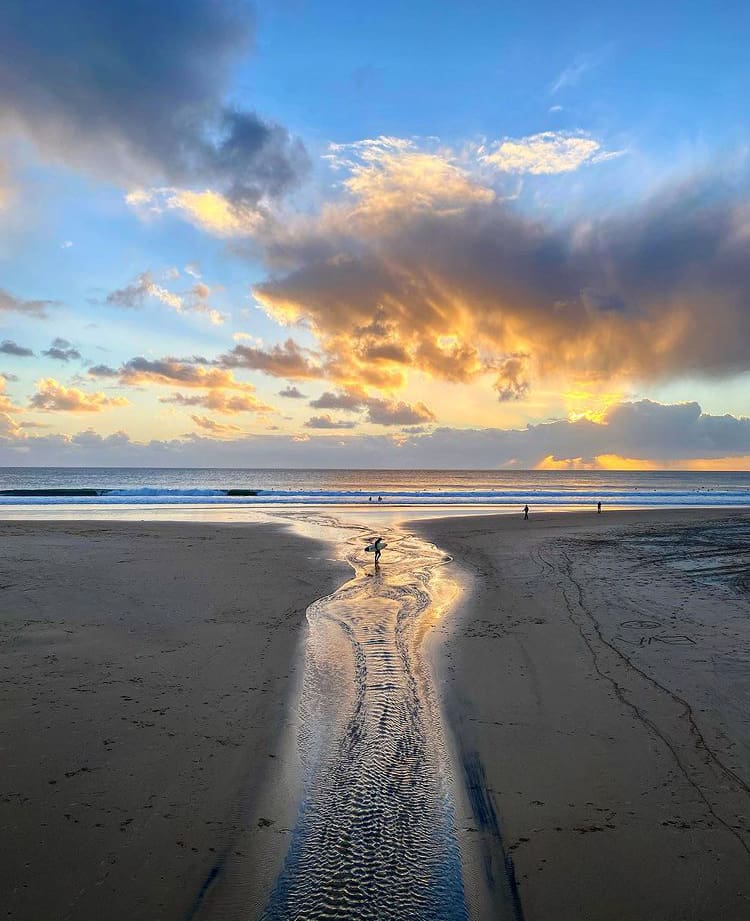 The flawless white, sandy beach stretches for about 1.5 miles (2 km) with deep blue waters and amazing surf conditions for all skill levels. It is insanely crowded in the winter months as experienced surfers flock to the beach to shred on the best swells! If you're a beginner, you can also get yourself to one of the surfing schools on Carcavelos Beach and learn the basics.
It is also a great family-friendly beach destination; the crystal-clear waters are safe for swimming and in the summer months Carcavelos Beach allocates separate areas for surfing and swimming ( with lifeguards present).
You can also visit the São Julião da Barra Fort when you are here; it is a 16th-century fortification that proudly stands on the eastern side of the beach.
10. Almograve Beach
Almograve Beach is one of the lesser-known beach destinations in Portugal, but is the finest and biggest beach on the Alentejo coast.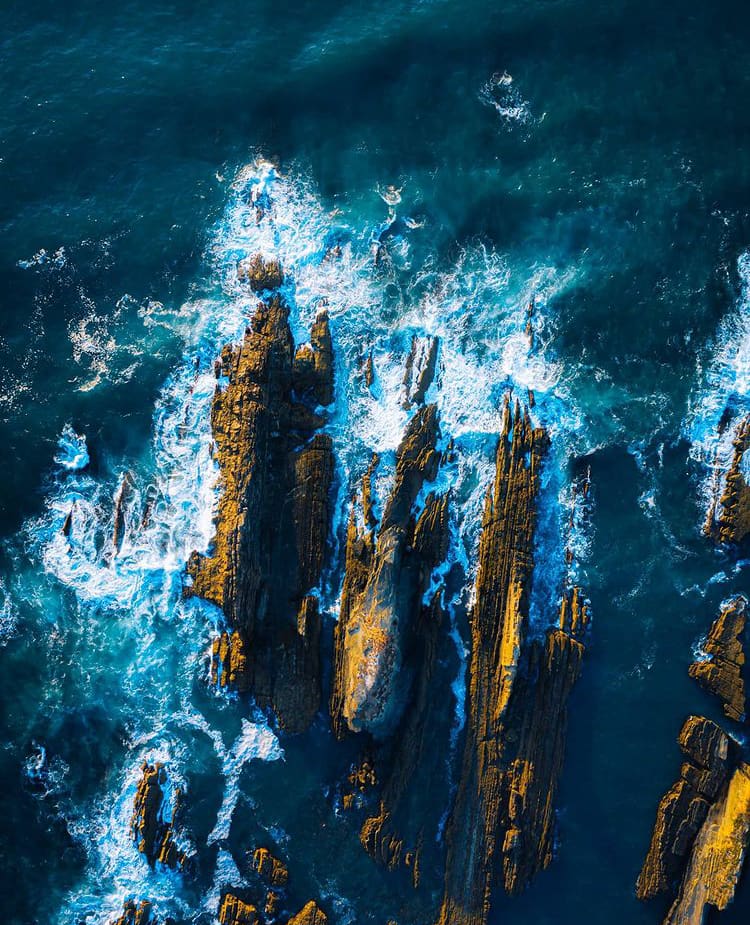 Located about 6.5 miles (10 km) away from the Vila Nova de Milfontes, the beach opens up to the majestic Atlantic Ocean with glorious white sands, deep blue waters, rugged cliffs and rock formations.
If you're looking for an isolated beach this might be the place for you. It is also a part of a protected national park, so there are little to no human activities going on within the coastal area. However, in the summer months, it does become a little crowded with surfers and families flocking to the beach.
Join our community of keen travellers, wildlife enthusiasts and adventure seekers.