Being an island country, Sri Lanka takes great pride in using a wide array of ingredients to make their food delicious. With almost every dish boasting a hint of coconut, and the use of spices like cloves, cardamom, coriander, nutmeg, and cinnamon, the food in Sri Lanka is incredibly rich in flavour.
And don't confuse it with Indian food, sure there are some South Indian influences but Sri Lanka has adopted their own kind of cuisine over the years.
So, we can't really categorize the best dishes because all of them are equally good, but since you will have only a limited time to indulge in the Sri Lankan cuisine, we have listed some food in Sri Lanka, especially 10 dishes you have to try on your vacation!
Trust me, you will keep wanting more of Sri Lankan food after trying these dishes because you will fall in love with them at the first bite.
10 Dishes You Have To Try While In Sri Lanka
1. Rice and Curry
Rice and Curry are actually the staple dish of Sri Lanka. In short, there is no home in Sri Lanka without rice and curry. Some locals have it for all three meals of the day since they like it so much.
In this dish, there is a small portion of well-cooked rice along with 4-5 curries. It will be usually served with papadum and fried chili.
Some of the famous curries are chicken curry, spicy fish curry, dahl curry, potato curry, pineapple curry, jackfruit curry, eggplant curry, beetroot curry, and green beans curry. You can also see it is accompanied by a green leafy vegetable too, such as Gotu kola pol sambal or manioc leaves.
Rice and curry dishes have the lowest price in restaurants, going low as LKR 250-300 but you can taste the best of it if you are in a homestay.
2. Milk rice
Another one of the must-try food in Sri Lanka is milk rice.
It is also known as Kiri bath by the locals, and it is made on special occasions such as during the Sinhala and Tamil New Year, on January 1st of every year, birthdays, and on any other auspicious occasions like when leaving for an examination.
Milk rice is made by boiling the rice, and then coconut milk is added to make it creamier and softer.
It is usually served in a banana leaf as diamond-like pieces along with lunu miris.
You can also try it with fish ambul-thiyal curry or polos curry if you want a bit of spiciness in it. But if you like it sweet, you can try it with just sugar, kittul treacle, or seeni sambol (sweet onion relish).
3. Roast Paan
This is one of my personal favorites, and now if you are wondering what it is, this is the Sinhalese version of the Roasted Bread (Paan).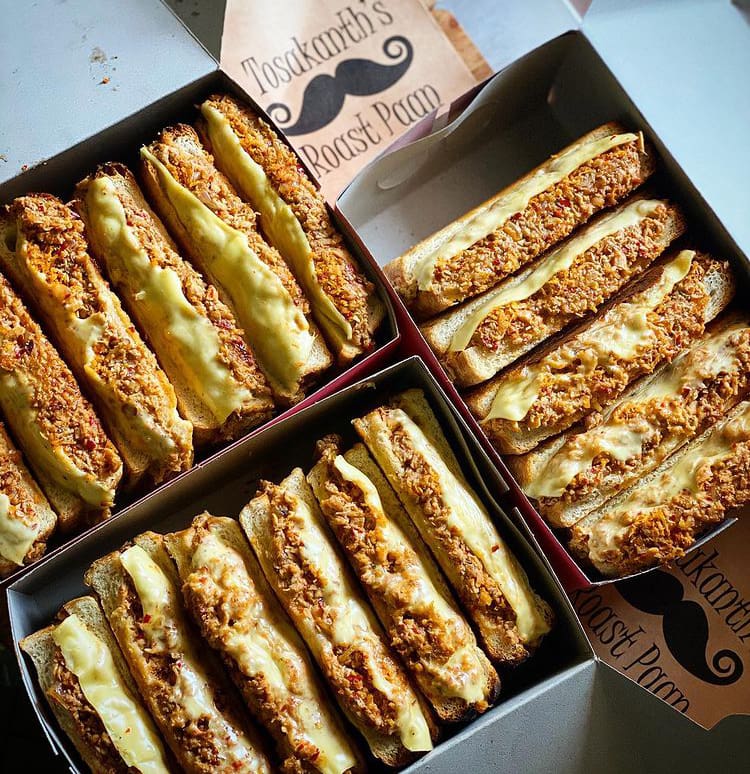 It is a very thin piece of bread when compared to a bread loaf and usually is crispy and soft at the same time. You can find them in small restaurants and in bakeries all around Sri Lanka.
Roast Paan is served with dhal curry and coconut sambol in most places. But you can also try it with chicken curry, fish curry or seeni sambol.
4. Coconut Roti
Another favorite food in Sri Lanka among the locals and the foreigners is Coconut Roti.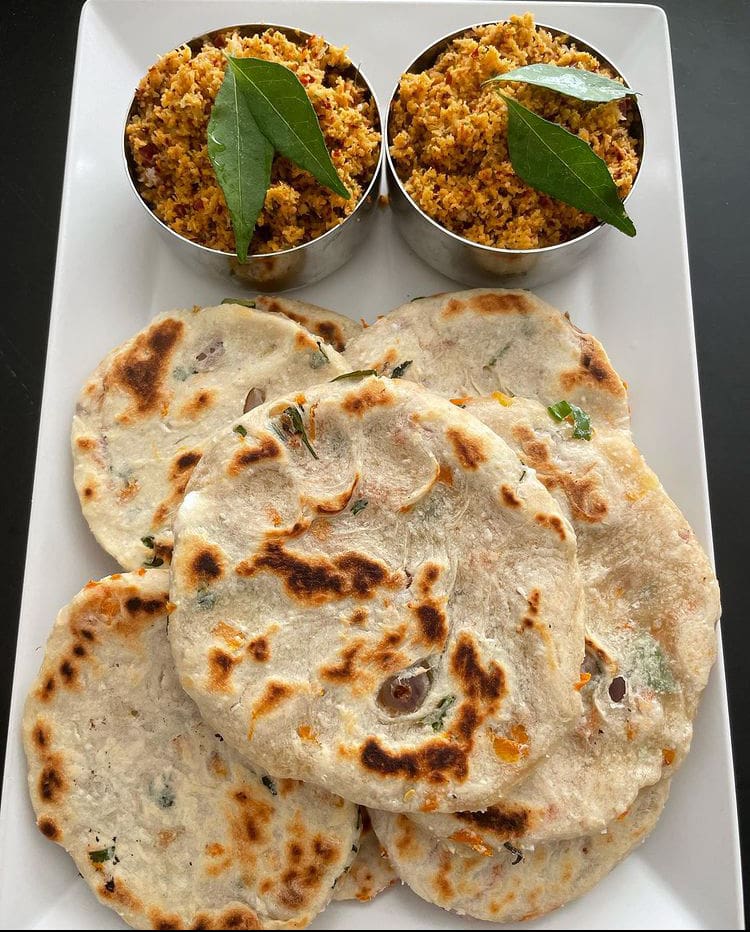 Locals know it as Pol Roti, and it is made with wheat flour and grated coconut. Similar to Roast Paan, Coconut Roti can be eaten with dhal curry or pol sambol. But in most restaurants, it is served with lunu miris.
You can also try it with chicken curry, polos curry, or marmite. Don't forget to order a hot cup of ginger tea when eating Coconut roti to make it a wholesome experience!
5. Boiled Manioc
Manioc, which is also known as cassava is another popular dish that you should try in Sri Lanka.
They are frequently seen in May/June at the 'Dansals' (which are street stalls giving free food, but of course, you have to wait in long queues until your turn comes).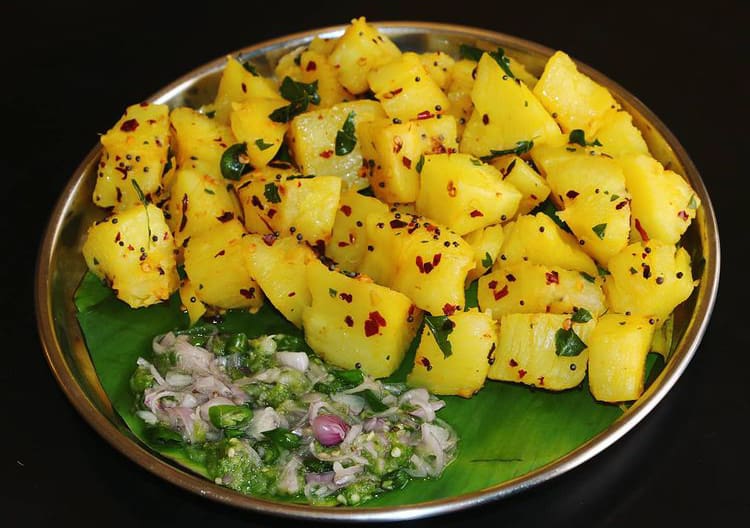 You can also see manioc dishes at restaurants, usually they are cut into tiny pieces, boiled, and then served with pol sambol on a lotus leaf. They are similar to potatoes, but are tastier and will fill your tummy after 2-3 bites! You will also see the manioc curry, especially in homestays, you can give it a try but trust me you will like it more when manioc is boiled.
6. Chickpeas
We have been talking about breakfast dishes for so long, you might be wondering when it is finishing. Here is another amazing food in Sri Lanka you have to try – chickpeas which come as two options; stir-fried and chickpea curry.
The stir-fried chickpeas are one of the main dishes in Sri Lankan weddings, and they are also served as a bite to go along with a few drinks.
It is cooked for a few minutes until the texture is nice and soft, then stir-fried by adding onions and red chili flakes. Sometimes, it is served as a breakfast dish with grated coconut.
The chickpea curry is usually served with rice – it is not very spicy and you will love the milky texture of it from the first bite.
7. Lamprais
Lamprais is another one of the dishes that you have to try in Sri Lanka.
It is originally a dish coming from the Sri Lankan Burgher population, and I must say that you will be truly impressed as to how such a dish can make wonders in your mouth!
The most unique thing about Lamprais is that it comes wrapped in a banana leaf. As it is kept wrapped like that for a few hours, the taste is authentic and very different from the rest of Sri Lankan food.
Lamprais has white samba rice, brinjal moju, fried ash plantain, meat (chicken, fish, beef, or pork), one cutlet, and sometimes a fried boiled egg with chili paste. So, it is a whole package of flavorsome goodness!
8. Hoppers
Hoppers, which are called "Appa" is the Sri Lankan version of the pancakes. It is very easy to find it anywhere in the country, from street food stalls to high-end restaurants. Therefore, it is another amazing food in Sri Lanka you shouldn't miss.
Hoppers have a soft inner core, crispy ends, and are shaped like a small bowl. They are usually found as a dinner meal but sometimes in high-end restaurants, you might find them for breakfast too.
If you are looking to eat at a street food stall, you will have to wait at least till 5.00 PM because that's when they start to make hoppers.
There are two types of hoppers you can choose from – plain hoppers and egg hoppers. The egg is runny in the egg hopper so don't worry about that; it will taste good. They are served with lunu miris, so don't forget to couple them with a cup of tea to add to the taste!
9. String Hoppers
Although they are called string hoppers, it is entirely different compared to the hoppers which we earlier spoke of.
Locals call string hoppers "Idi Appa", and this is a popular breakfast and dinner meal. String hoppers are made of rice flour, the dough is inserted into a device and then applied pressure from the hand to make thin strings that are flat and round. Then they are steamed and usually served with dhal curry and pol sambol.
You can also add salmon fish curry, chicken curry, or a sausage curry to make it more delicious. Or else, sometimes it is eaten with potato curry and boiled egg which is a divine combination.
10. Kottu
Kottu is another one of the must-try foods in Sri Lanka, and it is known as the Sri Lankan version of the hamburger because it is really popular among the locals.
Kottu is also available after 5.00 PM in the street food stalls and other high-end restaurants.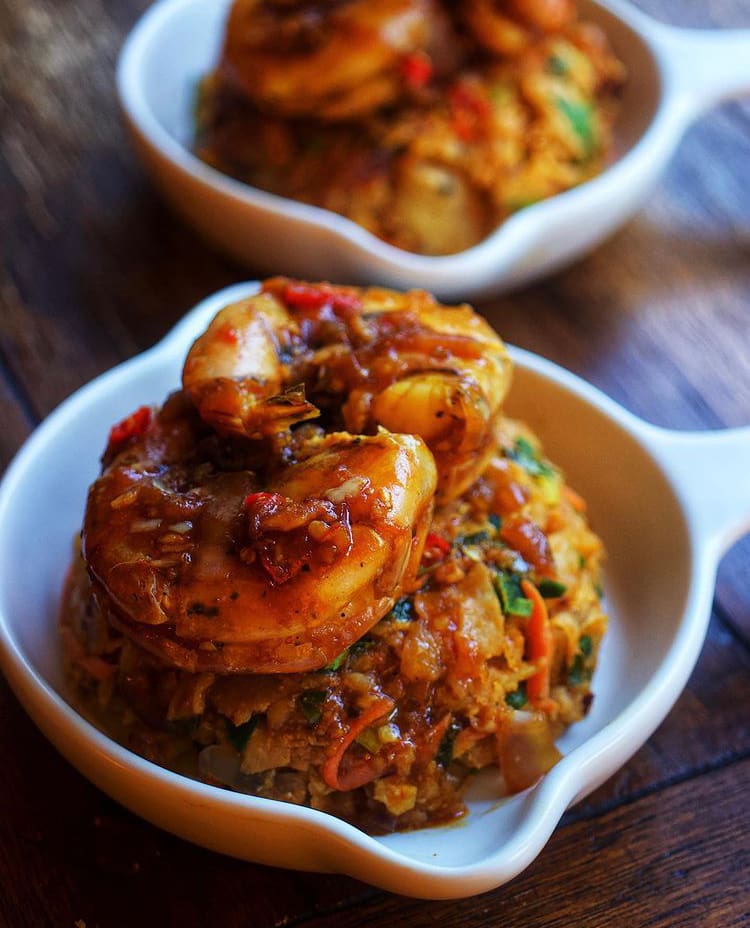 Here thin pieces of roti are mixed with egg, vegetables, and your required choice of meat on a grill, and large metal blades are used to cut the roti pieces and mix everything together. You can hear the chefs making it from a mile away because of the loud sound of the metal blades!
You can also ask them to add cheese to your kottu, this is pricier than the other options but is certainly worth it when all of those flavors melt in your mouth.
Make sure to let them know to add a little spice to your kottu, it will surely be a lot spicy even with the normal amount used by the chefs.
In some places you can find string hoppers kottu; instead of the regular roti pieces, they use string hoppers (about 15-20) to make one meal.
Join our community of keen travellers, wildlife enthusiasts and adventure seekers.