Huge Pregnant Python Tunnels Under Home In South Africa
A massive python was found living under the patio of a homeowner in Zimbali Eco-Estate, Kwa-Zulu Natal (KZN).
Earlier this week, a team of snake wranglers from KZN Amphibian and Reptile Conversation made their way to the home after it was suspected the python was protecting a nest of eggs..
One of the snake catchers said in a Facebook post:
'We suspected she may be guarding her eggs. Females come up to bask while protecting their eggs, get nice and hot, then go back down the burrow, wrap around the eggs, and incubate them. She was displaying this sort of behaviour. Should she be on eggs, that would make it a whole lot more difficult!

I had an experience like that back in January this year, also in Zimbali.'
Soon after arriving, the snake catchers discovered a tunnel beneath the patio.
'We dug a bit, and I stuck my phone, while recording a video. I checked the footage. No sign of it. So we went and dug on the other side of the step. That's when I could just see a bit of it in the video. It was about half-way in the step. So we started digging there,

We dug, and dug. It was a tricky situation. We had to dig down, but then under the step, was Earth, and basically a ledge on top of that. So we had to go down and up again.'
'Eventually, we dug a big enough hole where we could almost crawl in, and get a good look at her. I was in the hole, on my back, trying to see what soil I could move away. Suddenly, something stung me on my leg. I seemed to recall uttering a bad word. Then I looked down towards my leg, and saw bees! I pulled myself up, as Nick and Joelle seemed to be moving away at the site of the stinging insects. I started running, but within seconds, I received multiple stings. I was getting stung on my head, between my eyes, on my ear, neck, arms, legs- everywhere! Apparently, once bees sting someone, it gives off a pheromone that other bees go for. So I got chased! I ran out the driveway, and about 300 meters down the road – they were persistent! Multiple cars drove past me, covered in sand, bending over holding my throbbing head. Not one stopped to ask if I was okay! Sheesh, I would have been out my car to check on the person if it was me driving past. I suppose I looked a bit mad.'
Several others were also stung by bees, forcing a bee remover to be called as well. It was said that the bee remover made quick work of getting rid of the bees, and by the time the team were able to get back to work, the python had retreated deeper into her tunnel.
'We were quite relieved to find she wasn't on eggs, because getting them out safely with her guarding them would have been near impossible,

We chased her to one side of the step. From a second burrow we had dug, we could reach her with a stick. So we tried poking her with a stick, hoping she'd go towards the other burrow, a few meters down. It took a lot of effort, but she eventually did. Her head appeared, in front of me. Her head was huge! But she saw me, and reversed back into the middle. Back to square one.'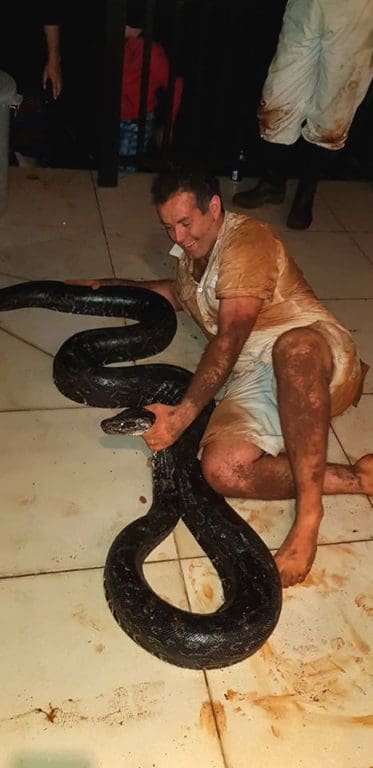 'Eventually, after some chasing around, we got her into a corner. She was up on the ledge. We had dug a heck a lot, and I could now nearly reach out and grab her. But, I couldn't just grab her. She was looking at us head on. If we reached out towards us, she'd strike out,

I was trying to pull her head closer to me with tongs, but you can imagine how well that worked. I've never used tongs on a python, because I know its useless. I was reminded of this, but I was desperate. Then, tired of being prodded, she came in my direction quickly! I tried grabbing her while reversing out at the same time, hoping to avoid a bite to the face! She then got across our excavation, and went along her burrow. The three of us grabbed her tail, but we were absolutely no match for her. She was immensely powerful. I moved along to the other excavation, and grabbed her head there. But again, she was too strong. While pulling back, I had to release her head to avoid injuring her.'
After a six hour ordeal, the snake catchers finally managed to get the snake free.
The python, which measured over 4-metres long, and weighed 33.1kilograms, was taken to the Dangerous Creatures section of uShaka Marine World.
Upon a veterinary examination, it was found that she was indeed pregnant, and full of eggs.
Picture: KwaZulu-Natal Amphibian and Reptile Conversation
SOURCE: GETAWAY
Join our community of keen travellers, wildlife enthusiasts and adventure seekers.