Whether you're travelling solo, as a couple or family, planning a safari holiday in Africa entails extensive decision-making throughout the process so having some guidelines to follow makes it that much easier. Depending on where you wish to travel, what wildlife you wish to see or other activities you want to do, along with where you would like to stay, will all help to narrow down your options.
Ask yourself these three questions as a starting point when you first sit down to plan your 2021 safari holiday:
Where does your compass point?
No two safari destinations are the same so you will need to narrow it down to the region before you even think of choosing the specific destination. Southern Africa and Eastern Africa safaris each offer spectacular albeit different safari experiences.
Southern Africa
Botswana, Namibia, Zambia, Zimbabwe and South Africa fall within Southern Africa, giving this region a variety of beautiful landscapes, wildlife drawcards like the Big 5 in many major parks, thrilling water sports and extreme activities for the adrenaline junkies along with indulgent lodges and camps. Here are two countries that show just how diverse this region is: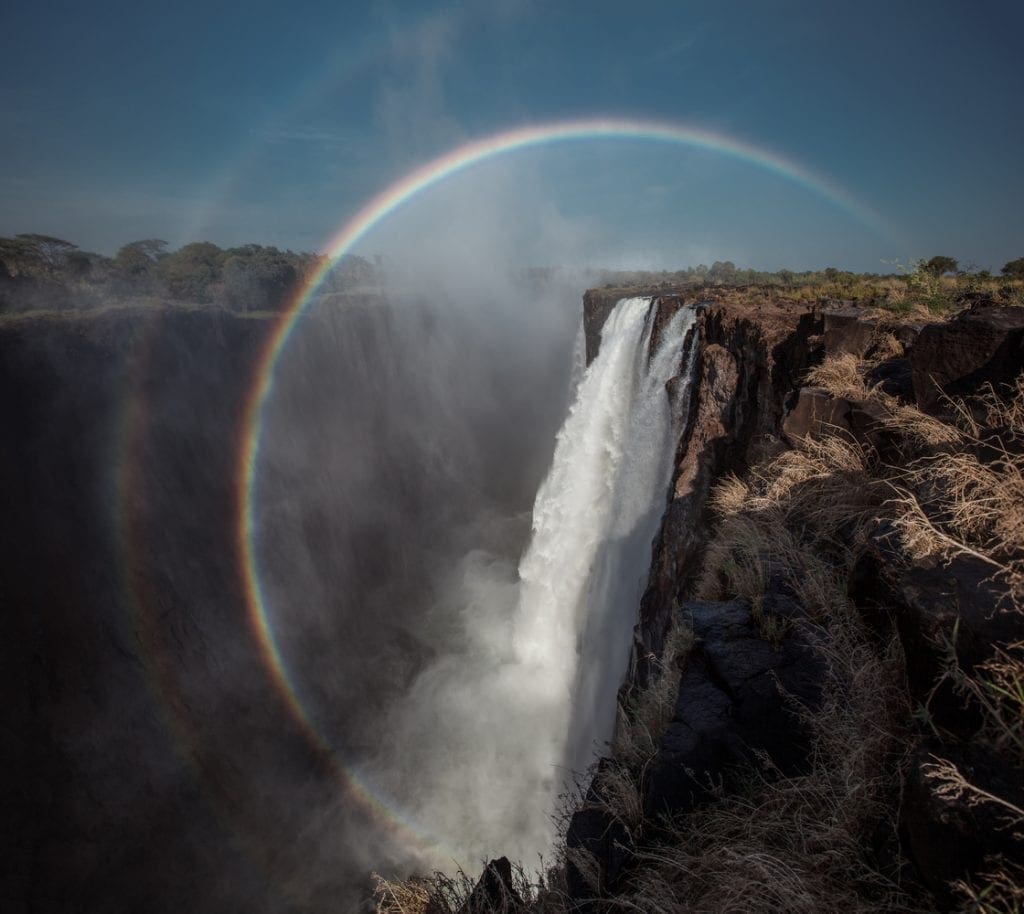 The jewel in Zambia's crown is undoubtedly the iconic 'Smoke that Thunders', Victoria Falls. Not only is this natural wonder a UNESCO World Heritage Site and one of the Seven Natural Wonders of the World, it is also the largest body of falling water on earth. Devil's Pool adjacent to Livingstone Island is nature's own plunge pool with views often highlighted by a misty rainbow. Nearby Mosi-oa-Tunya National Park offers a traditional wildlife safari experience, which together with the Falls, provides a diverse holiday.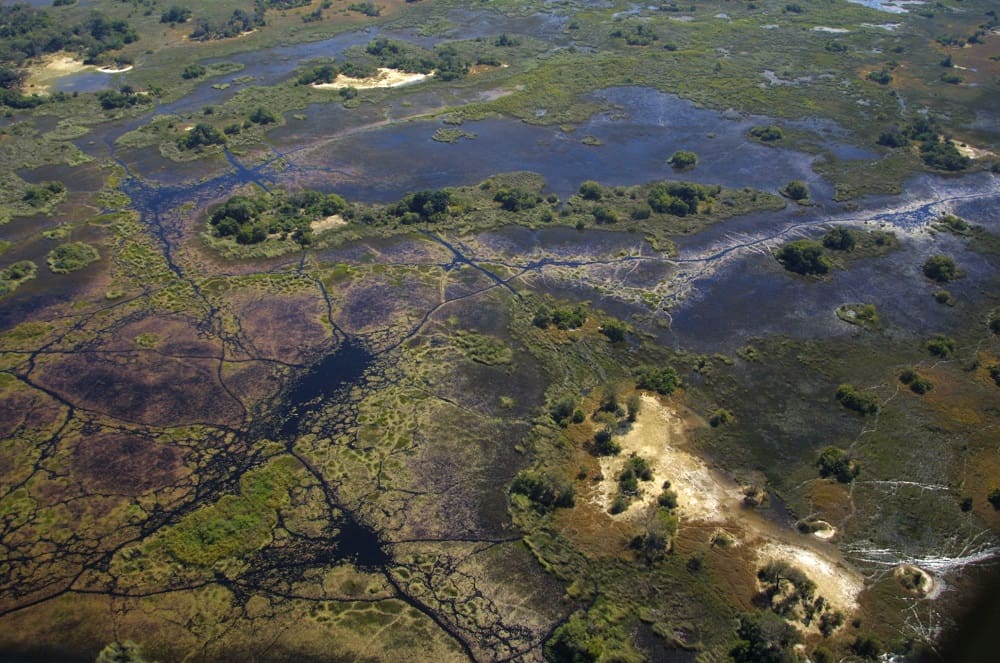 Botswana is a top safari destination in Southern Africa, and the Okavango Delta is one of the country's major hotspots. This is the land of vast grassy plains that flood seasonally, injecting life into the wildlife that thrive on the lush vegetation. This is contrasted by the dry lunar-like landscape of the Makgadikgadi Salt Pans that seem lifeless until you spend time exploring them. The Chobe River is a permanent water source for the wildlife of the Chobe National Park, particularly its large herds of elephants.
Eastern Africa
Encompassing Kenya, Tanzania, Uganda and Rwanda, East Africa safaris are all about witnessing the annual wildebeest migration and gorilla-trekking through misty mountains whilst staying in elegant tented camps and lodges.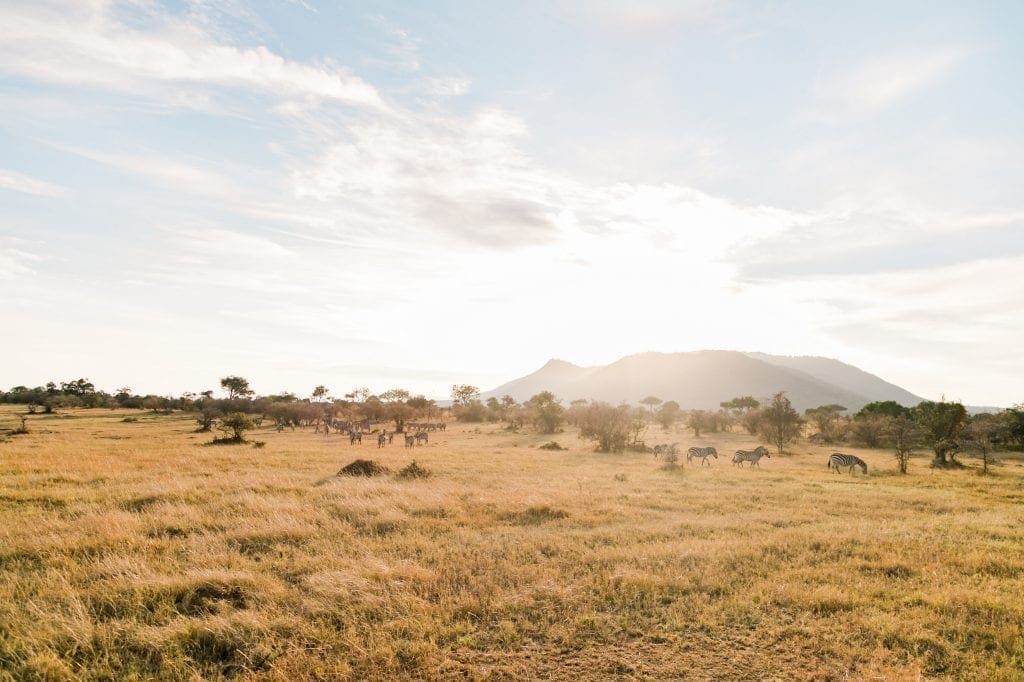 Many consider Kenya to be the place where the original concept of the safari was born, and it was for many years believed to be the classic safari destination by non-African visitors. The expansive savannah wilderness of the Maasai Mara National Reserve plays host to the largest wildlife spectacle in the world – the great migration of wildebeest, zebra and antelope. There are many ways to witness this amazing feat of animal endurance and there may be some predatory-prey interaction, as all three of Africa's big cats roam here.
There is also a particularly unique Eastern Africa safari waiting in Uganda and Rwanda. These two destinations are the best places to see families of gorilla in their natural habitat found in Bwindi Impenetrable Forest and Volcanoes National Park respectively. There are also opportunities to encounter other fascinating primate species such as chimpanzees, the black and white colobus monkey, and the golden monkey.
What's on your bucket-list?
As you go along thinking about your ideal safari, it is important to think not only of where you want to go but also what you want to while you are there. Your bucket-list might look different to your travel partners, which means you will then need to choose a special destination that caters to you both. Zambia is the perfect example that shows it is completely possible to enjoy a wide range of activities while you are on safari.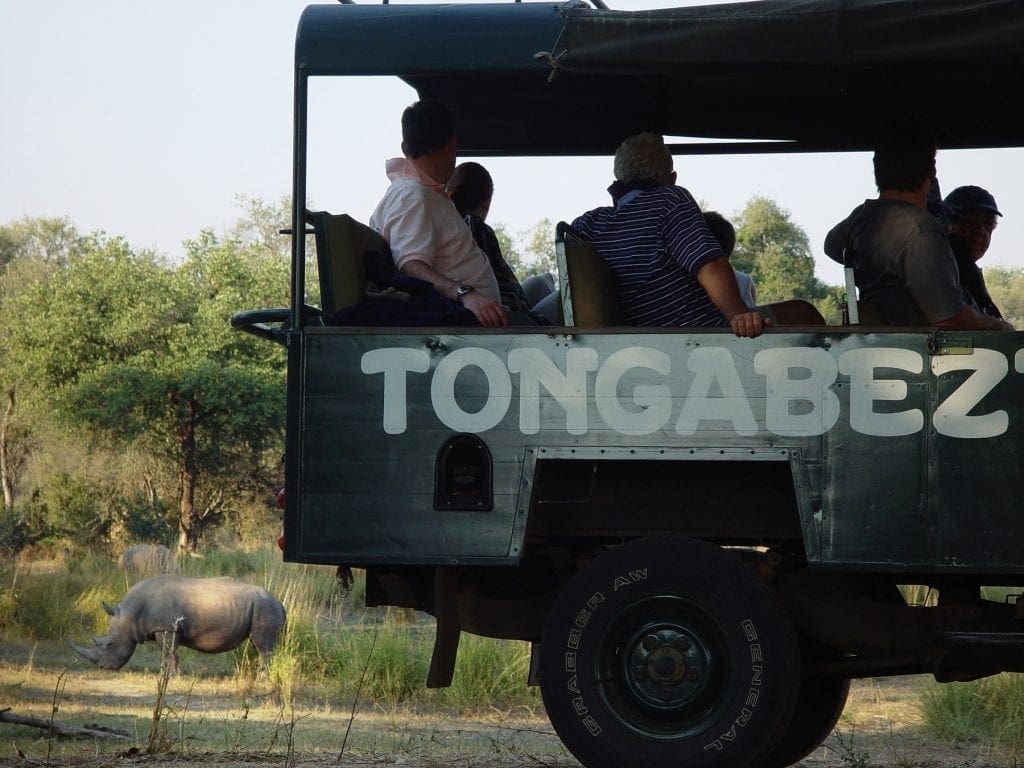 From exhilarating white water rafting along the Zambezi River rapids to flying over the Falls in a microlight or hiking down into the Batoka Gorge below the Falls, this part of Zambia is the perfect fit for all manner active travelers and thrill-seekers. For those looking for something more sedate, a cruise along the Zambezi or a picnic lunch on one of its sandbanks might be more your style. Then, get out of the water and go for a game drive in the national park, where you can spot elephants, hippos, white rhino and many other species of wildlife.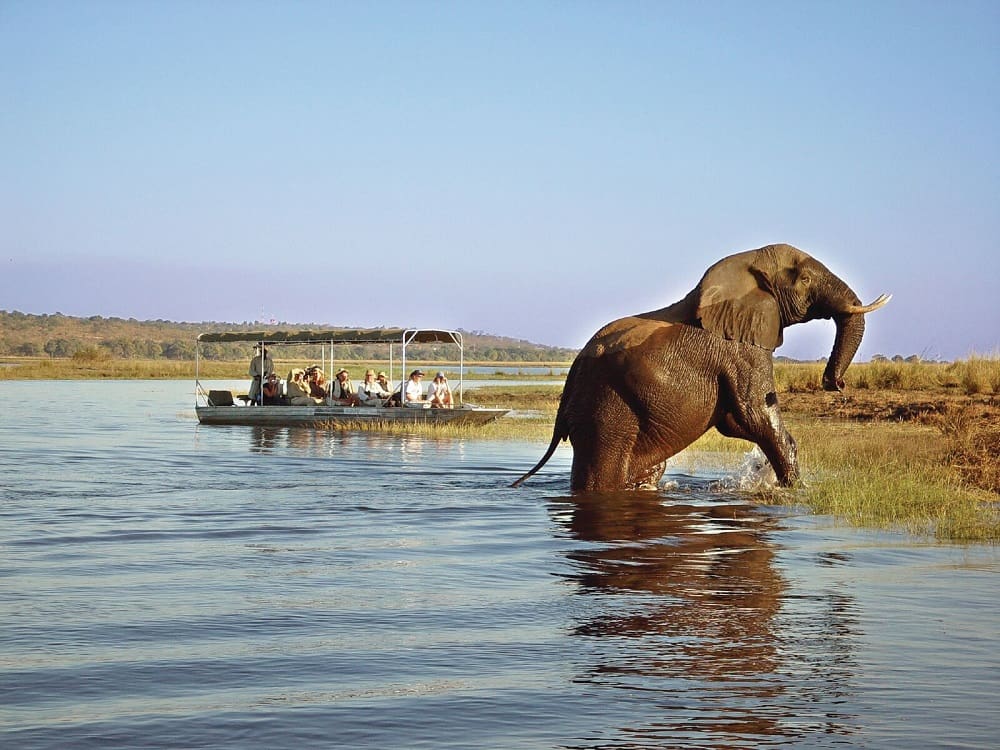 Fantastic water-based safari holidays can be had in the Okavango Delta on a mokoro (traditional dugout canoe) and along the Chobe River on a motorboat, while Botswana's private concessions and game reserves offer the best in game-viewing from land. Guided walking safaris, the more traditional game drives and even horseback riding safaris all offer distinct perspectives compared to floating across the water and you may see different types of animal and bird life according to how you move around.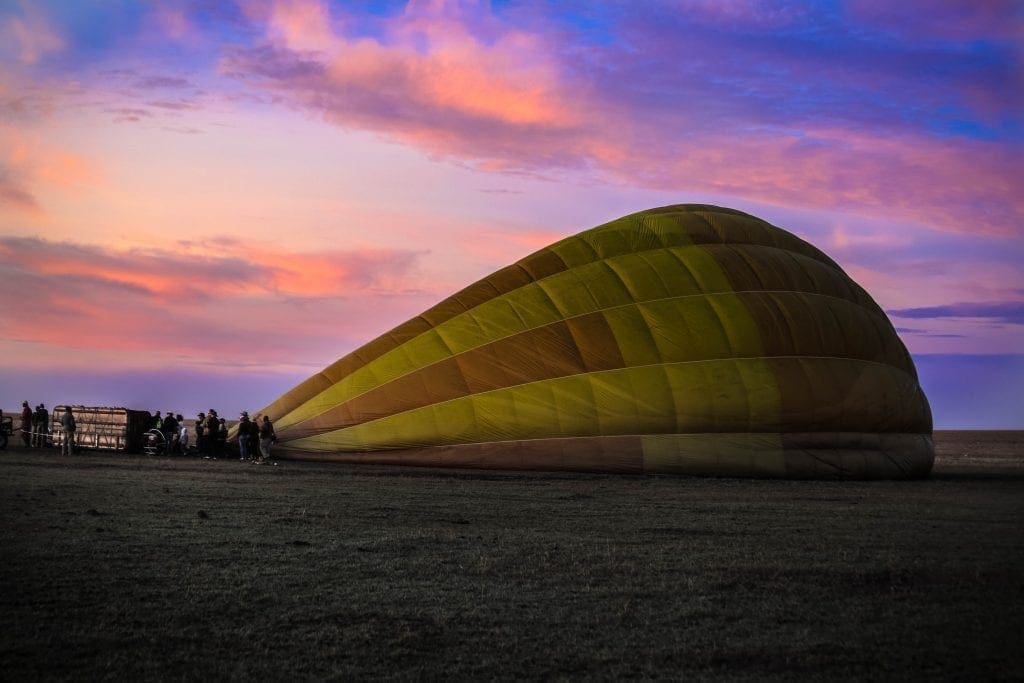 While there may not be any water-based activities in the Maasai Mara, there other brilliant ways to witness the greatest wildlife spectacle on earth and its beautiful scenery. Wake up before the sun and take flight in a hot-air balloon as it starts to peak above the horizon, covering the plains in a magical glow. A game drive and safari by foot will give you the opportunity to track wildlife and possibly come across a goosebump-worthy animal sighting.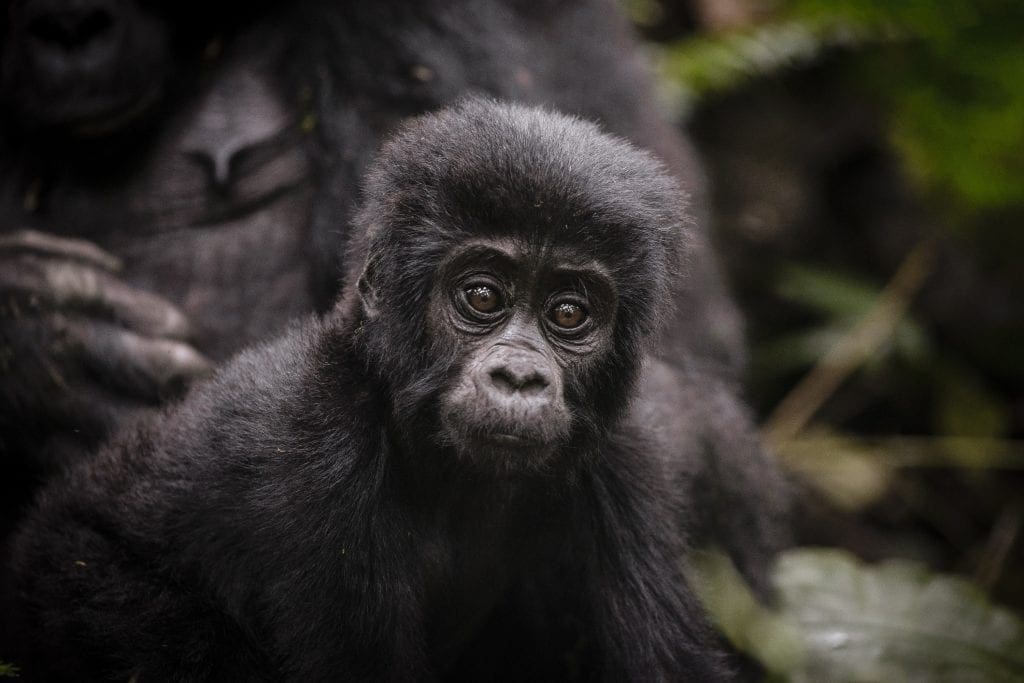 A certain level of fitness and resilience is needed to trek into the Bwindi Impenetrable Forest and Volcanoes National Park in search of the endangered gorillas. When you come across these magnificent primates, however, you will know that all that walking into the mountains or low-lying forests was completely worth the effort. Whether it's the first or third time, every encounter is a breath-taking one, which will never be forgotten.
How many zeros on your bank balance?
There are multiple small and intimate lodges that you can book into at most major safari destinations. They often offer fantastic game-viewing opportunities as many are located in a private conservancy that only allows access by guests.
Camps with traditionally styled tents or lodges that have four-walled suites with today's comforts are a great to experience the thrill of the wild whilst being more enclosed and enjoying little luxuries like 24 hour electricity and running hot water.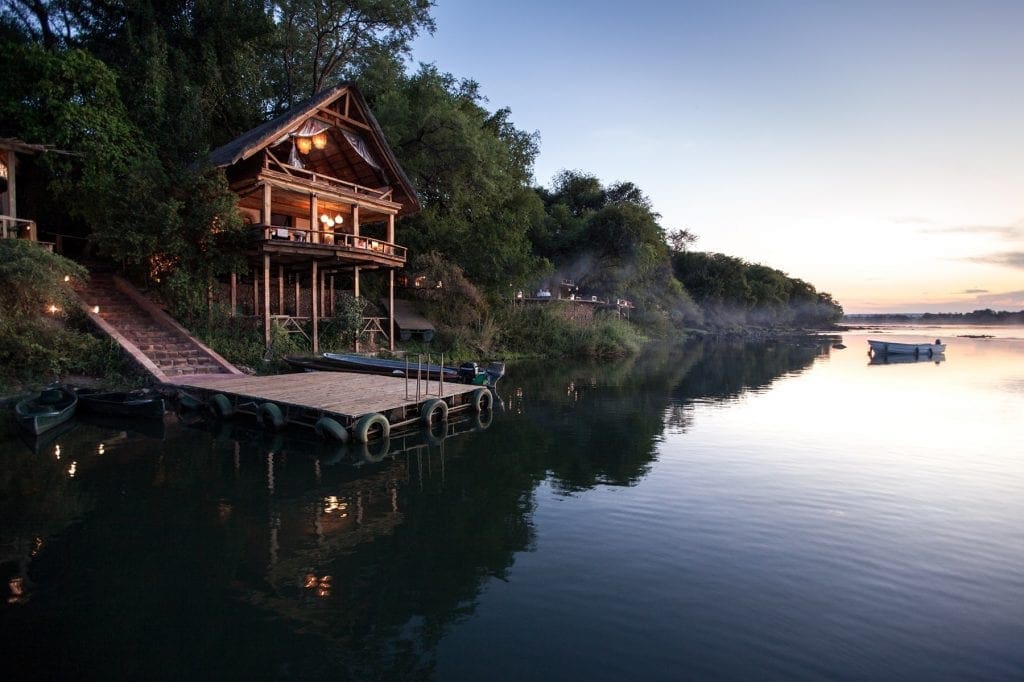 Tongabezi is a 5-star safari lodge that sits on a stunning spot on the banks of the Zambezi River. Guests bedding down in the well-appointed luxury cottages and houses are taken care of by a private valet and concierge. Many of the units are best suited for couples as special indulgences like a private plunge pool and open-air bath make Tongabezi the perfect retreat for newly weds.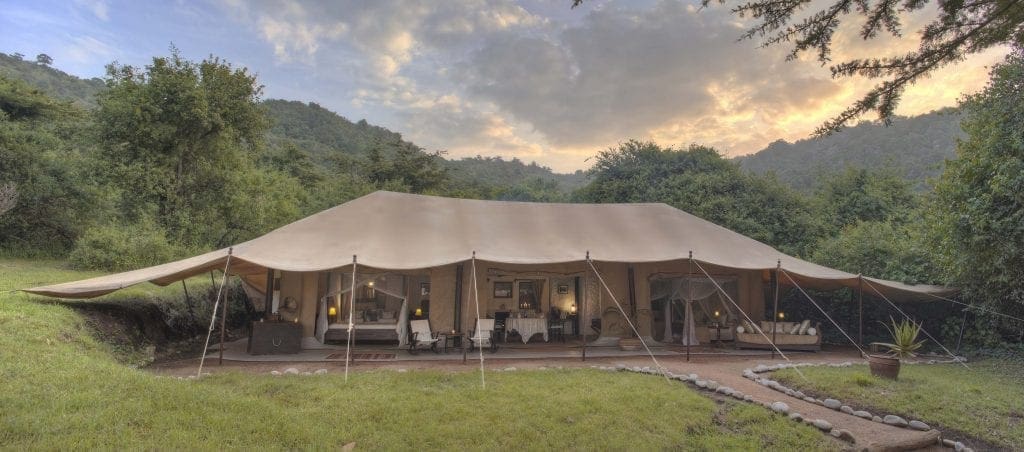 Cottar's 1920s Safaris knows how to do camping in Kenya's Maasai Mara with utmost elegance. It is camping with a twist, as the nine cream canvas tents are styled traditionally but with today's modern world travellers in mind. All tents are spacious and have en-suite facilitaties, family tents have living rooms with fireplaces, and a soak in the safari bath or shower can be arranged.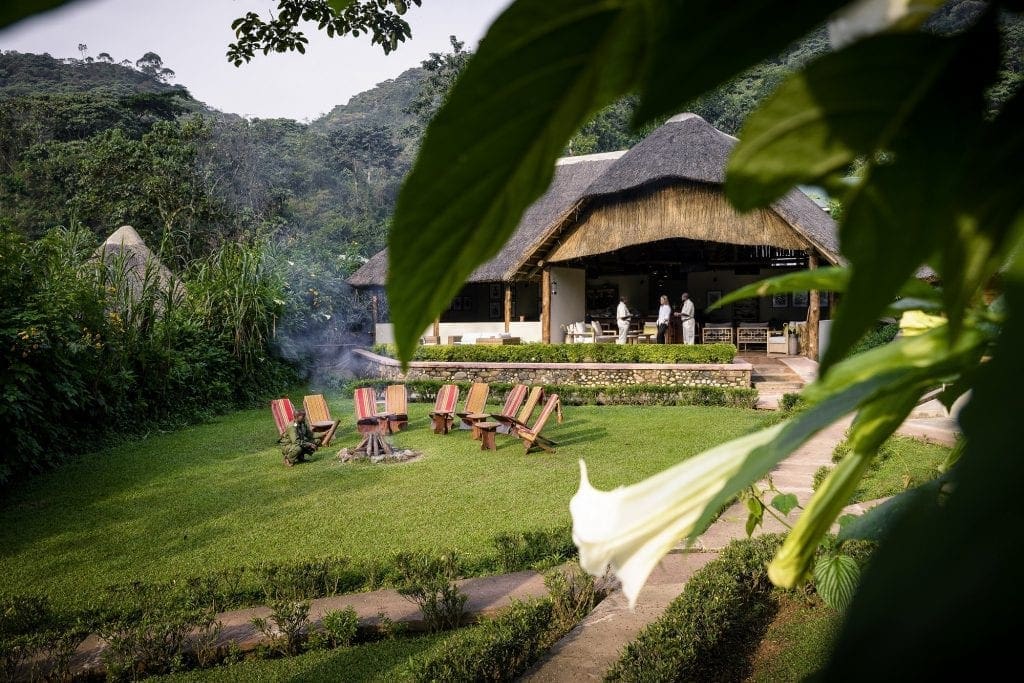 In Uganda, Gorilla Forest Camp by Sanctuary Retreats is an exclusive camp with just eight luxury tents set inside Bwindi Impenetrable Forest. This contemporary camp blends in seamlessly with the surrounding mountain landscape and is committed to environmentally-friendly practices and socio-economic development within the local communities.
The general rule of thumb is that when you're 'camping', you'll be bedding down in a tent. That in no way means you'll be boiling your own water, scrounging around for firewood or going for days without a shower.
Under One Botswana Sky really does justice to a safari experience in Moremi Game Reserve at Moremi Crossing Camp. Along with the 16 fixed luxury en-suite Meru-styled tents, Moremi Crossing offers more adventurous guests the unique opportunity to camp in the bush. This involves packing up a mokoro with camping equipment and going with a professional guide out into the Delta for a magical night or two.
Planning your dream safari holiday is not impossible. You just need to know what questions to ask to narrow things down before you get overwhelmed with so many options. Your choice should be made on the destination you want to visit, what you want to see and do in the time you have, and what budget you are working with.
Feature image courtesy of Tongabezi.
Join our community of keen travellers, wildlife enthusiasts and adventure seekers.