Are you planning to travel from the UK to France, but not sure which of the available routes makes the most sense for you? Well, you're in the right place because we've compiled a list of five different ways to travel to France from the UK.
Choosing how you want to travel between the two countries depends on a variety of factors, such as the time you have to spend in France, your budget and the number of people you're traveling with.
Whether you're adding a destination to your trip, or a local looking for a weekend getaway, with the right guidance from us, you'll be able to plan your travels without any headaches!
Here are 5 ways to travel from the UK to France:
Eurostar
The Eurostar is one of the easiest ways to travel to France from the UK, with the whole journey only taking around 2 hours and 30 minutes. This is a great way to travel when time isn't on your side.
The route begins in London St. Pancras International and ends at Paris Gard du Nord, and the Eurostar is known for its comfortable seating and access to food and beverages that make the trip all-that-much easier.
You can choose one of three types of tickets available; the Standard Class, Standard Premier, and Business Premier. The facilities on offer are determined by the type of ticket you choose, with variance in the food that is served, how much seating space you're provided, and how much luggage can you bring with you. For example, the Standard Premier Ticket includes food and the Business Premier allows each person to carry up to three pieces of luggage.
Prices for Eurostar train tickets are not fixed, and it depends on the date that you are traveling and how long in advance you have booked your ticket etc. But if you want a general idea, for a one-way trip from UK to France it can cost about $30 for a Standard Class Ticket and up to $300 for a Business Premier Ticket.
It's important to arrive at the gates of the Eurostar at least 40-50 minutes before departure , to allow sufficient time to go through security before boarding the train. If you are planning to buy tickets at the gate, arrive at least 1 hour before departure time because the ticketing office closes 30 minutes before departure.
Eurotunnel
If you plan to travel from the UK to France by car, the fastest way is to take the Eurotunnel. Shuttles operate frequently, sometimes up to four per hour even during peak times of the day.
The Eurotunnel Le Shuttle starts at Folkestone in Dover. You'll be able to board the Channel Tunnel Transport after going through security checks, and it allows you to sit back in the comfort of your vehicle for about 30 minutes, before emerging in the French port city of Calais. Once you reach Calais, you can leave the Eurotunnel and drive straight into Paris via the A26 and A1.
You can use any kind of vehicle from motorcycle to lorry or campervan, but standard cars are the most popular.
Ticket prices depend on the size of your vehicle and whether you'll be booking a return trip or not. Motorcycles are the cheapest mode of transport to cross the tunnel, with prices increasing relative to vehicle size. A one-way ticket will cost you around $80, while a return ticket is closer to $60.
As ticket prices are per vehicle and not influenced by the number of people, it is a great way to save money if you're traveling with family or a group of friends. It's also the most convenient way to travel if your pets are coming along!
It's very important to be aware of the driving rules and regulations when moving from one country to another. Particularly because people in France drive on the right side of the road, while in the UK people drive on the left. Another thing to be aware of is that all vehicles on the road in France must to have an Air Quality Emissions Certificate which you can get online.
Aeroplane
If travel by road or rail is not your thing, then flying might be your best bet!
Another great option if you've got limited time in France, flying is the ideal route for a weekend getaway or business trip. Flights from London to Paris only take around 1 and a half hours, and various airlines travel this route, such as: British Airways, Air France, EasyJet etc
That being said, its also important to factor in the time required to travel to the airport, as well as checking in and boarding etc. Depending on where you live, this might mean the Eurotunnel makes more sense.
There are two main airports in Paris; the Charles de Gaulle and Orly Airport for you to choose from when you are traveling from the UK.
If you're not looking to travel directly into Paris then you can also fly into Bordeaux, Marseille, Nice, Nantes, Perpignan, Lyon, and Biarritz Airports. This means you have access to most of France's beautiful cities!
Ticket prices depend on the airline, date of travel, ticket class, and how long in-advance you've booked your flights. For example you can get flight tickets between London and Paris for around $120, while sometimes budget airlines extend offers for the same route for just $35 per person. It's also import to consider any additional luggage costs linked to your ticket.
Other considerations should include the cost of transfer from the airport to your chosen accommodation in France.
Ferry
For the more adventurous traveler, taking a ferry is one of the most scenic ways to visit France from the UK.
Contrary to traditional foot-ferries, longer haul ferries now also take motorcycles and vehicles which means this is another option for you should you wish to bring your own method of transport along with you.
It is also a great way to travel when you have a pet with you. Please remember that any pets must be kept with you at all times, and should have the required documentation and vaccination certificates to be presented to the port authorities.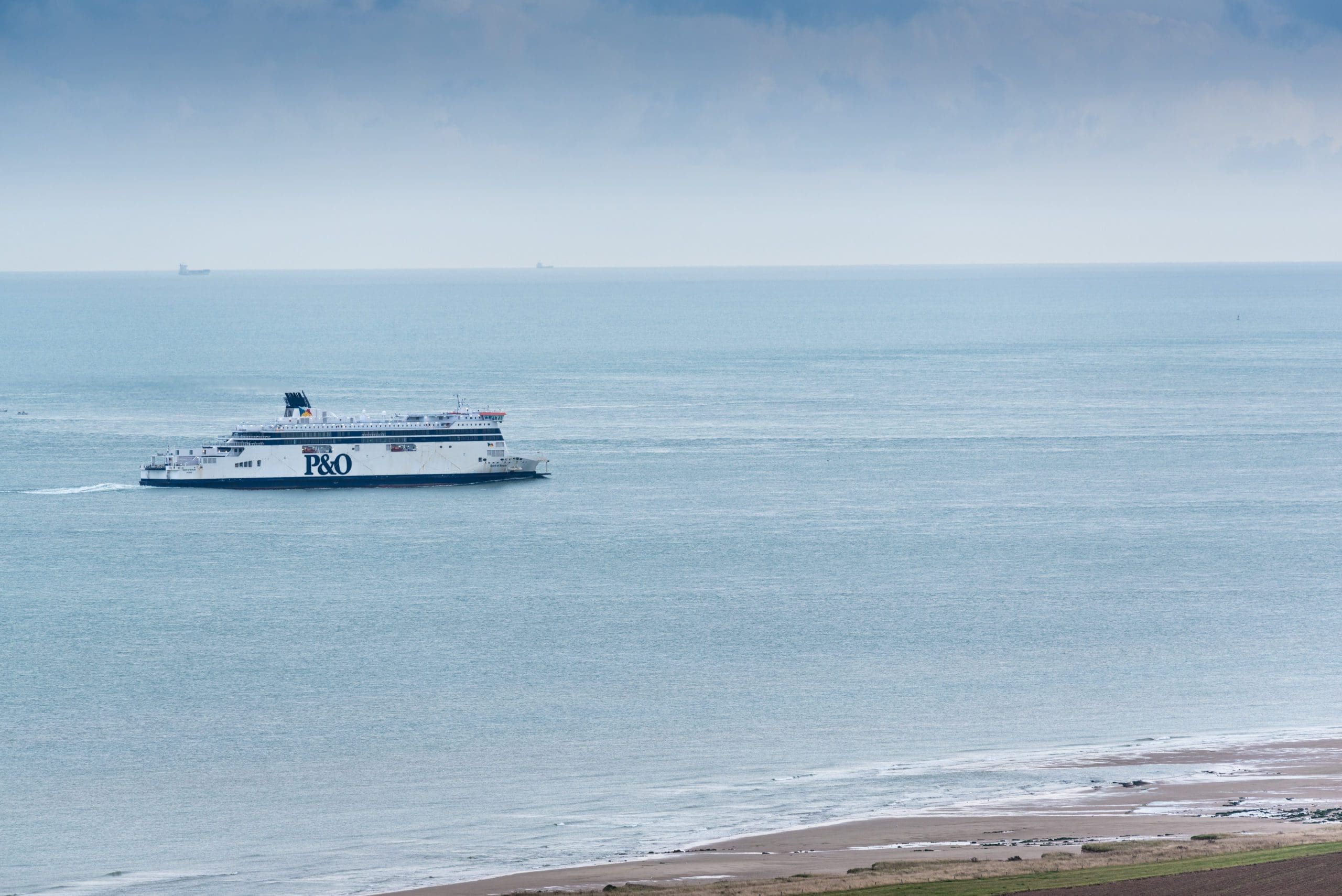 There are many ferry routes between the UK and France, with the most popular being the ferry from Dover to Calais which is the easiest route for those looking to travel into Paris.
Other ferry routes include Dover to Dunkirk, Newhaven to Dieppe, Portsmouth to Cherbourg, Portsmouth to Le Havre, and Plymouth to Roscoff. A departure from Portsmouth is suitable for those who are looking for an overnight ferry to France.
When looking at ticket prices, it's important to consider the time you'd like to travel – with peak tickets costing significantly more – as well as vehicle size (assuming you'll be traveling in a vehicle) as well as the additional costs for bringing pets along with you.
Once again, additional transfers will be required to and from the ports in each country, so these should also be taken into account. All in all you could be looking at around $100 per person when traveling from the UK to France by ferry.
Arrive at the port at least one hour before scheduled departure as it does take some time to go through the security processes.
Coach
The bus is one of the least considered UK to France travel options because the overall travel time is much longer than most other options. Coaches usually leave from Victoria Coach Station and stop at cities such as Paris (Bercy Seine Bus Station), Calais and Lille.
The main attraction for taking a bus is the price, and if you're traveling on a tight budget with time being no issue then taking the coach is likely the option for you. A trip from London to Paris, is likely to cost you no more than between $15 and $40 per person.
The journey takes 10 hours on average, between London and Paris, but can be slightly influenced by the weather. If you're someone looking to really take in the gorgeous French scenery then a longer journey is ideal, you might even be able to get to know other travellers along the way!
Most modern, long haul coaches now provide various entertainment facilities and Wifi which can help make the hours go by a bit quicker.
One of the most popular European destinations for UK travellers, we hope this guide helps you choose the best travel option for you!
Join our community of keen travellers, wildlife enthusiasts and adventure seekers.