A Giant Jellyfish has been spotted off the coast of Cornwall, England.
Ever been stung by a jellyfish and thought that it was the worst pain you've ever felt? Well it could have been a lot worse!
Lizzie Daly, the diver, came across this huge Barrel Jellyfish while diving near Falmouth on Saturday (July 13), The Independent reports.
She said the sea creature was as big as her body (at least) and the largest jellyfish she had ever seen!
Lizzie, a biologist and wildlife presenter was diving as part of her Wild Ocean Week campaign, which aims to celebrate our oceans while raising money for the Marine Conservation Society.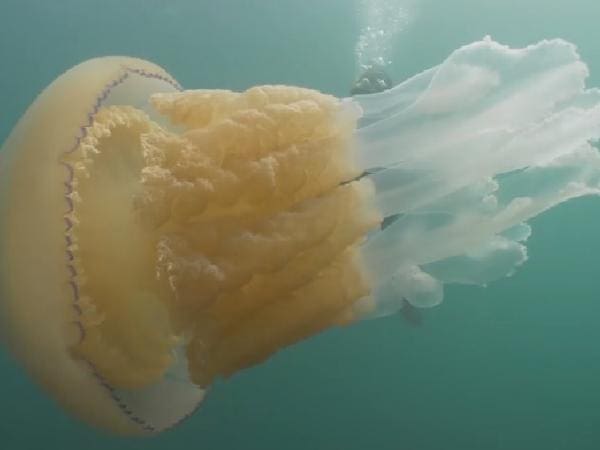 Woah!!!!! We went diving in Falmouth yesterday to finish off #WildOceanWeek and came across this GIANT barrel jellyfish! What a way to finish off this marine wildlife adventure!'

She stated on Twitter soon after diving with the creature.
The barrel jellyfish is the largest species of jellyfish found in Uk waters and the 5th largest species in the world.
They normally gravitate towards the warmer coastal waters in late spring and often wash up on British beaches in May or June, which is the only way most people ever get to see them says The Wildlife Trusts.
"I want to bring the audience on the journey with me so I will be uploading videos and updates live as it happens throughout the week. Diving with seals, swimming with blue sharks and generally celebrating our coasts #WildOceanWeek is about showcasing how you can immerse yourself with diverse wildlife right on your doorstep and most importantly, supporting those on the forefront of conserving our marine environments"

Lizzie said in a statement about her thrilling experience
Barrel jellyfish aren't considered a threat to humans, but they do possess the ability to sting so it's advised not to approach them when they are alive, or if they have washed up on a beach. As with all species of jellyfish, they can still sting when dead.
Join our community of keen travellers, wildlife enthusiasts and adventure seekers.