With over 1,860 miles of coastline, there's no wonder that South Africa is a hot spot for diving. Each diving site has its own specialty that makes it stand out from the rest. From coral reefs to getting up and close with marine life, there is something for every diver. Even the beginners!
South Africa is known for its large Great White Shark population. So, if you are an adventurous spirit, diving in South Africa is a must! Don't worry, not every dive site is filled with sharks. But most of them have an array of marine life from small seahorses to dolphins. There are so many great diving spots, but this post is going to cover the best 8 dive destinations in South Africa.
Best Time to Visit
The best time to go diving in South Africa is during the summer months, October to February. Since the dive destinations in the country are so diverse, expect the water temperatures to differ as well. Waters can be as warm as 80°F (27°C), or as cold as 57°F (14°C).
For the diver that is visiting South Africa specifically for the sharks, it is best to go during November through June. Most other marine life can be seen at any time of the year, so try and choose a time that fits your wants and needs. Regardless of when you go, there will be many dive resorts to guide you in your diving process.
Tips on Your Diving Trip
There is no need to be a professional diver to enjoy the amazing dives of South Africa. Look for a dive site or resort that helps beginners through the process of diving.
Think carefully about what diving suit to wear. As previously mentioned, the water temperatures can differ significantly between diving sites. Look ahead at what kind of diving suit will work best for each dive site's water temperature.
These days, there has been some controversy with some diving tours. Search for companies that focus on preservation of the local marine life, especially of the Great White Shark population.
The Best Places to Dive in South Africa:
Cape Town
Likely one of the most well-known dive destinations in South Africa, Cape Town is a unique blend of marine life. Due to its location, the warm currents of Agulhas and the cold currents of Benguela collide here. This creates rich and diverse ecosystems like the famous Kelp Forests in False Bay. Similar to its name, the Kelp Forest is an underwater area that has heaps of different kelp species. Together, they form an area that looks like an underwater forest.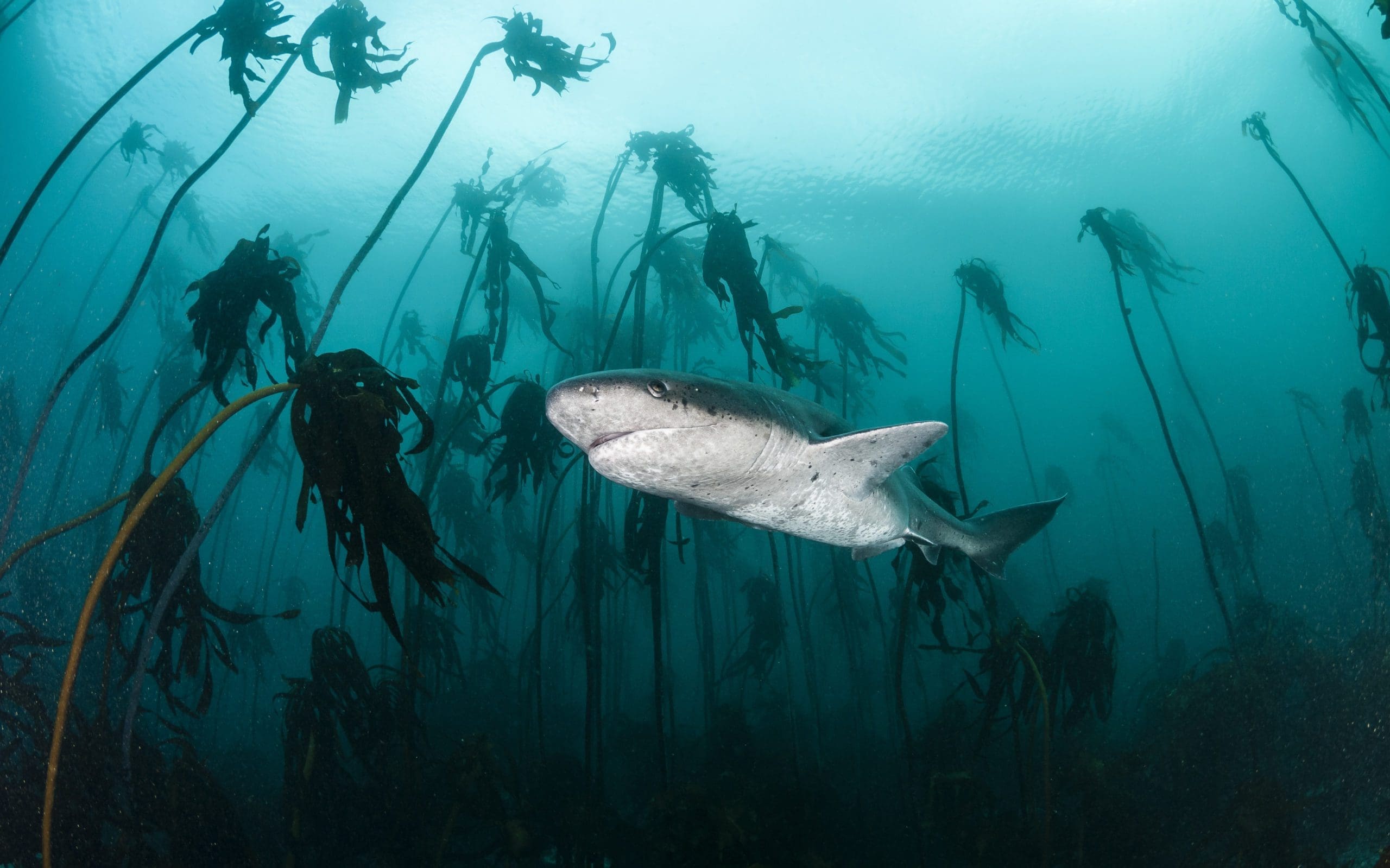 The Kelp Forest is not all you will find diving in Cape Town. While swimming around, you may catch a glimpse of the pyjama shark, the Cape fur seal, or even old shipwrecks. Water temperatures here tend to be around 57°F to 68°F (13.8°C to 20°C).
Gansbaai
Only two hours from Cape Town, you can find another one of the best dive destinations in South Africa, Gansbaai. This diving spot is especially known for its cage diving, so divers can see the Great White Shark up close and personal. Cage diving may differ from scuba diving, but it is much more accessible for beginner divers. It is a great way to safely see the Great White Shark in their natural habitat.
Try to find a dive tour that takes you to Shark Alley. This narrow gap is known to house a plethora of sharks. If you're a shark lover, you have to check out Shark Alley. Some other marine life you may encounter are: copper sharks, Cape fur seals, African penguins, and more!
Port Elizabeth
Port Elizabeth is Eastern Cape's largest city, so it is bound to have some amazing dive sites. Some famous dive sites are in Algoa Bay and Cape Recife, to name a few. The waters in this area can get a bit cold, but diving in Port Elizabeth is an unforgettable experience. There are so many sea animals to see while exploring the waters of Port Elizabeth.
Depending on what season and area you go in, you may have different experiences while diving in Port Elizabeth. From November to April, you will likely encounter Sand Tigers (also known as ragged-tooth sharks). In the winter, you may see humpback whales migrating while you travel between diving destinations. During April and May, you will likely witness the Sardine Run that passes through these waters.
Port St. Johns
Wanting a unique dive experience? Then head over to Port St. Johns and watch the incredible Sardine Run. Every year, large populations of sardines swim through the waters as they migrate from the Cape. Over a billion sardines swim through Port St. Johns attract lots of marine life like dolphins, whales, seals, and sharks. To experience this once in a lifetime event, you should visit Port St. Johns during late May to early July.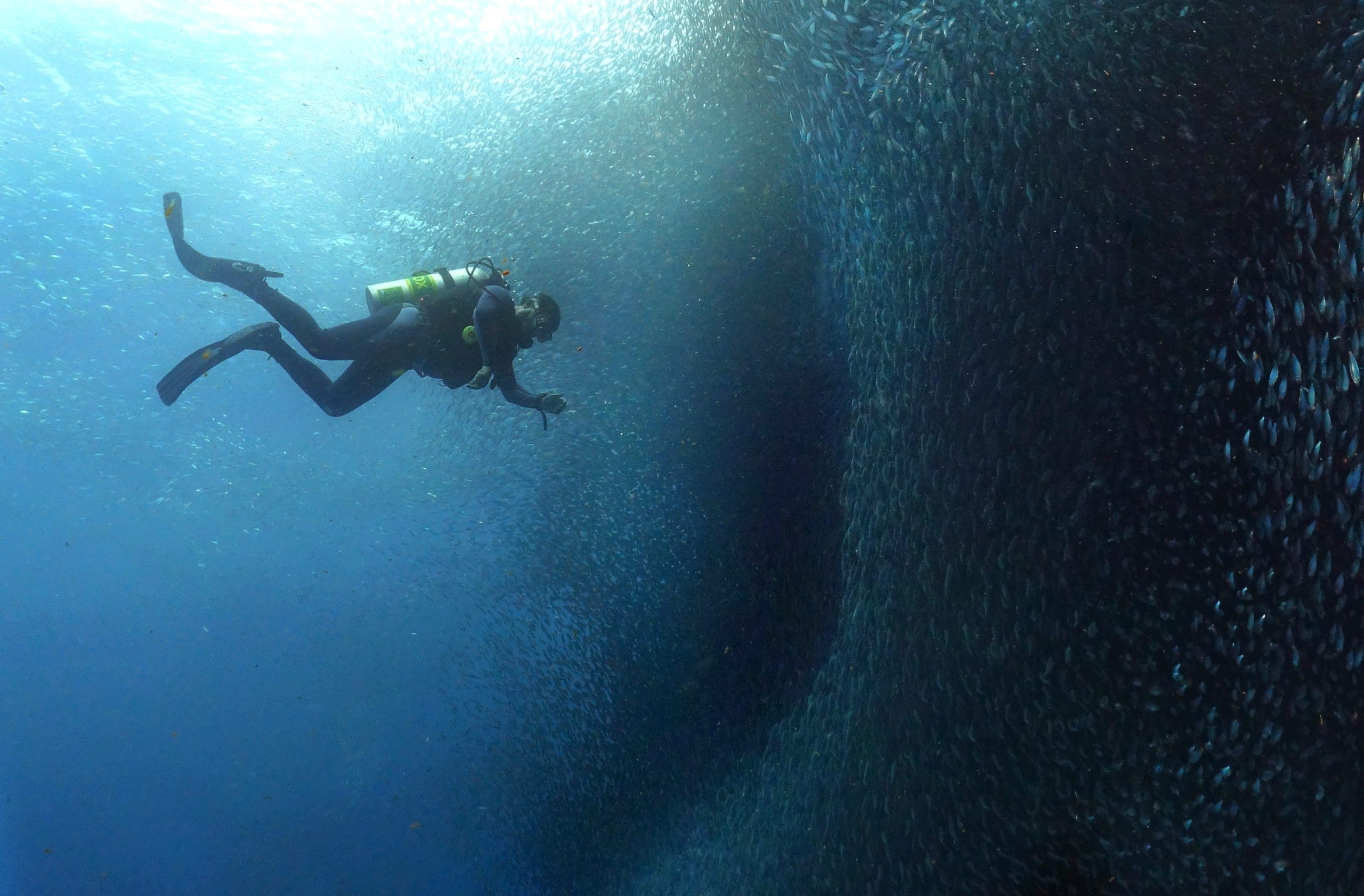 Dive boats from all across South Africa meet up at the Umzimvubu River, hoping to see the sardines come through. This is a large migration that goes through many parts of South Africa. However, if you want to get the best view, then your best bet is at Port St. Johns.
Sodwana Bay
For the beginner diver, Sodwana Bay is the best dive destination in South Africa. The water temperatures are quite warm, ranging from 68°F to 86°F (20°C to 30°C). But more importantly, Sodwana Bay has many areas with shallow waters for an easier diving experience. Visit the diving spots in iSimangaliso Wetland Park to see gorgeous reefs, manta rays, turtles, whale sharks, and more.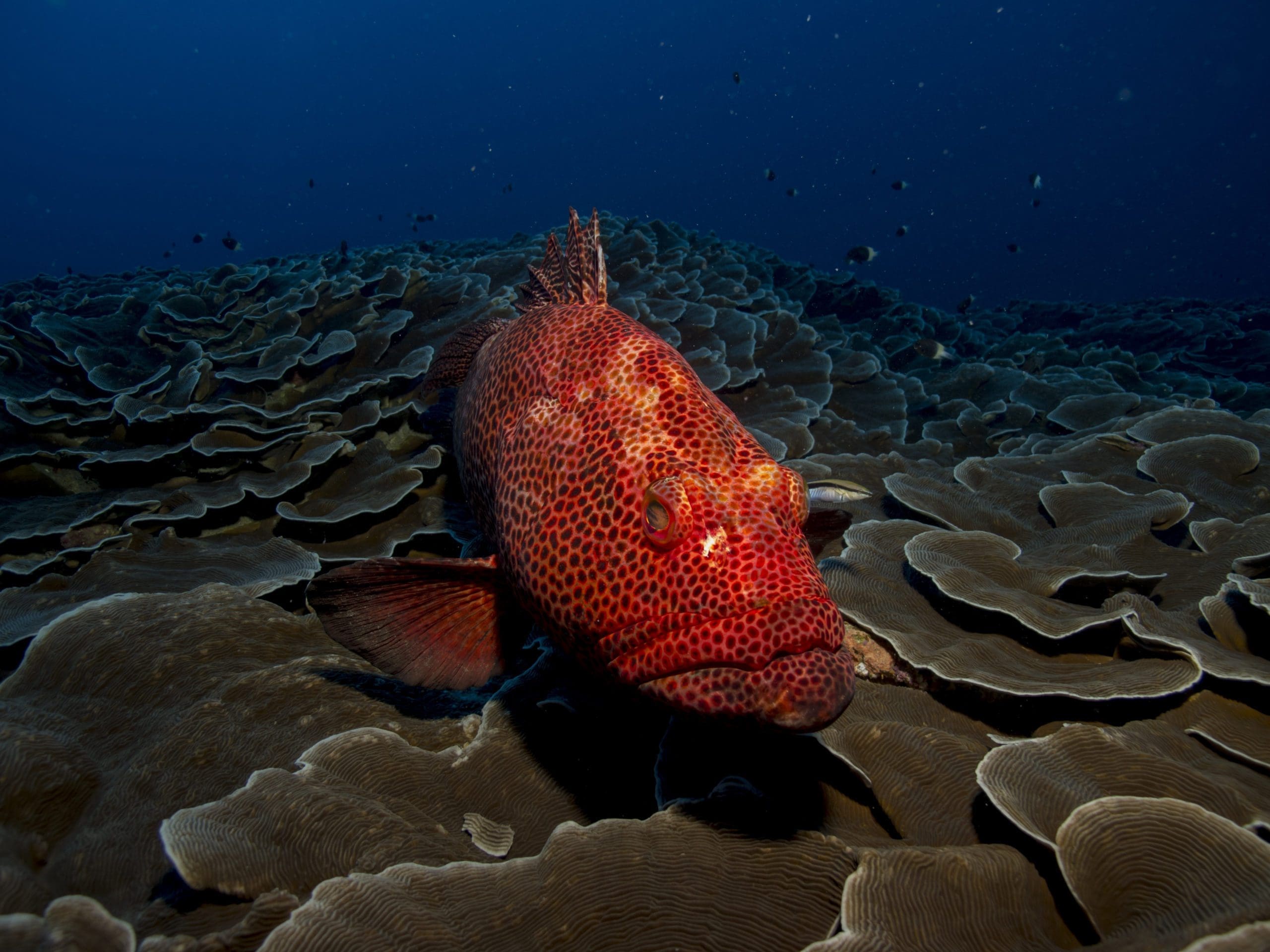 If that's not enough, try diving at night in Sodwana Bay. It is one of the few South African dive destinations where you can have this experience. Depending on what season you visit Sodwana Bay, you may even be lucky enough to see turtles hatching right on the shore.
Aliwal Shoal, KwaZulu-Natal
Aliwal Shoal is a sand dune near Durban that has a variety of marine life – especially larger predators. Between the months of July and November, the Grey Nurse Shark (another name for Ragged Tooth Sharks) come to this area. This area is known as the Raggies Cave, and is filled with these sharks. Some other marine animals you may find in Aliwal Shoal are mantas, eels, turtles, stingrays, and coral fish.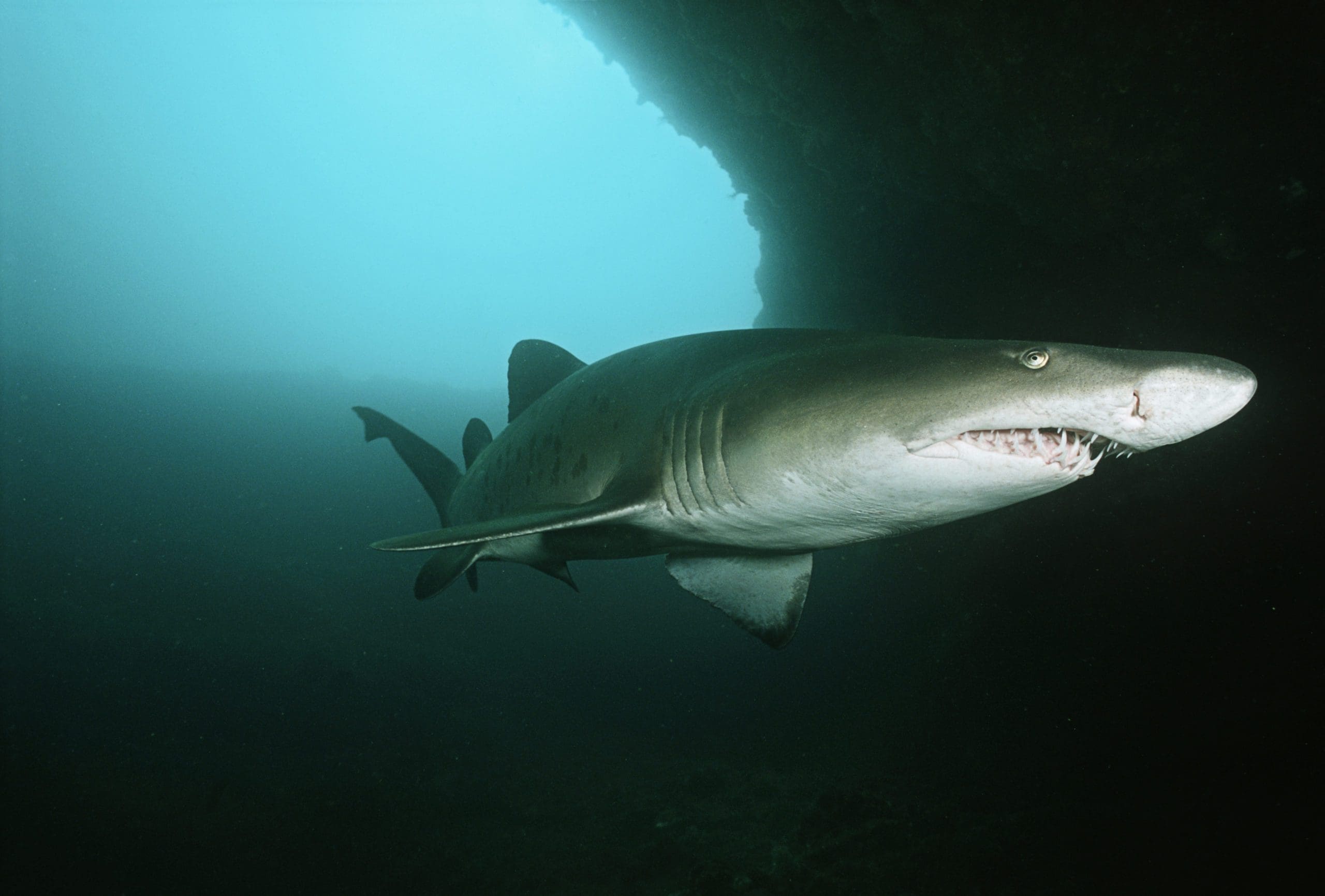 The coastal region of KwaZulu-Natal is not only known for Aliwal Shoal. It is filled with gorgeous beaches and mountains. When you finish exploring the animals in the sea, try exploring the animals on land too! Some famous sites in Aliwal Shoal to explore are the North and South Sands, Manta Point, and Pinnacles. These are just a few of the hot spots in Aliwal Shoal, but there is much to explore in this dive destination in South Africa.
Storms River Mouth, Eastern Cape
Diving in Storms River Mouth is a wonderful experience. Not only because of the amazing dive spots, but for the area itself. Located in Tsitsikamma National Park, divers can come across historical forests, mountains, breathtaking nature views, and see numerous bird species. But as beautiful as the land is, Storms River Mouth is all about diving.
Dive into the river and discover a colorful array of coral, fish, sea anemones, and nudibranchs (a unique and colorful mollusk). You may even come across sand sharks, Grey Nurse sharks, and even stingrays while exploring Storms River Mouth. There are many creatures that live in Storms River Mouth, so take your time while diving to see what marine life you can discover.
Mossel Bay, Garden Route
Mossel Bay is one of the most beautiful dive destinations in South Africa. There is something to be enjoyed by everyone, even those in your group who are not too keen on diving. The town itself is beautiful, but there are also many spots on land to explore. However, you are likely reading this post because you are interested in diving! There are many different diving experiences to have while in Mossel Bay.
While diving, take a close look at the colorful coral. It houses a variety of extraordinary fish species. Or, go diving at night to see all the unique marine life that comes out of hiding when the sun goes down. For the more adventurous diver, there are also cage-diving experiences to get up and personal with the famous Great White shark. No matter what kind of diving experience you want, you can find it at Mossel Bay.
Conclusion
Thanks to South Africa's extensive coastline, there are so many incredible and diverse diving spots. From seeing Great White sharks to sardines to coral, there is a lot of marine life to see while diving here. Whatever your level of diving expertise, South Africa has a place that fits your needs. There is no need to feel uncomfortable or worried when diving in one of these diving destinations in South Africa.
This list covers the most famous dive spots in South Africa, but there are many more areas to explore. So, grab your most adventurous friend and visit South Africa. You will not regret diving in one of these amazing 8 dive destinations in South Africa.
Join our community of keen travellers, wildlife enthusiasts and adventure seekers.