For those outside of the United Kingdom, when hot beach destinations are discussed, Cornwall tends to be left off the list. Hopefully after reading this article you will feel a little different. Cornwall has incredible beaches hidden among striking cliffs that are fantastic for swimming and surfing. From remote beaches to more popular spots, there is something for every beach goer.
It is best to visit Cornwall from June to September as beaches are more enjoyable in the heat. June and September have less crowds than other months for the traveler that wants a bit more space. The wonderful beaches of Cornwall are slowly gaining international attention, so visit one of the best beaches in Cornwall on this list before the world discovers these hidden gems!
Here are 15 of the best beaches in Cornwall
Sennen Beach
Over the hills of Land's End, you can find the alluring Sennen Beach. The beach is long and is great for both swimmers and surfers. Even if you are not a professional surfer, there are many surf lessons on Sennen Beach if you want to try a new adventure.
When the tide is low, the beach stretches out further creating a long line of bright gold sand. No matter how crowded it gets, there is always enough space for everyone to enjoy some fun in the sun at Sennen Beach.
Praa Sands Beach
Praa Sands Beach is definitely one of the best beaches in Cornwall for families, or travelers who want to enjoy more than just the beach. The waves of Praa Sands are quite gentle, so they are ideal for swimming and for children. But the lovely deep blue waters are not the only things to enjoy while here.
Only a few steps away from Praa Sands, you can find plenty of shops and cafes to explore as well. If you love staying at this Cornwall beach, there are campsites as well for a lovely night gazing at the stars while listening to the ocean waves.
Kingsand Beach
Despite the small size of Kingsand Beach, it is a popular spot for beach goers who want to relax. The road above the beach is car-less, so you will not have to deal with loud sounds or exhaust fumes while here. Sit back and relax on the sands, or splash around in the clear blue waters.
Kingsand Beach is close to Cawsand Beach, so if you want to visit two beaches in one day, this is a great place to start. For the history buff, Kingsand is also home to the famous Kingsand clocktower. The clocktower was constructed in honor of King George V. Do not underestimate this beautiful Cornwall beach!
Kynance Cove
Every beach on this list is gorgeous, but Kynance Cove is not only one of the best beaches in Cornwall, but it is one of the best in the world! When you arrive at Kynance Cove, you will feel like you have been transported into a fairytale. The aquamarine waters crash against the powder-white sands, and are surrounded by towering moss-covered rocks. It is an absolutely stunning beach.
Go for a swim in the gentle waves, or just lay down in the soft sands and take in the breathtaking views that surround you. When the high tide rolls in, the beach portion is cut off, but you can still appreciate the gorgeous views of Kynance Cove. Right above this gorgeous Cornwall beach, you can find plenty of cafes to sit back and watch the sunset in.
Porthpean Beach
Going to the beach does not have to be all about relaxing and swimming. It can be action-packed and filled with heart racing water activities, too. If that sounds more like your cup of tea, take a trip to Porthpean Beach. Windsurfers and kayakers love to visit Porthpean and explore its hidden caves.
There is an outdoor center at Porthpean filled with any water equipment you may want or need. When you want to wind down after an action-packed day, take a stroll through the charming village of Charlestown. Walk down its cobbled streets and watch the stunning sunset views from its famous port.
Porth Joke Beach (Polly Joke)
Getting to Porth Joke Beach is a bit difficult, but it is well worth the trek. Hidden away in a deep cove, lies golden sands and clear blue waters. The waves are perfect for a great surf, but without all the people. Even in Cornwall's peak season, you will find tons of space to rest and surf.
There are not many facilities on the beach, but when you have all that beach to yourself you don't mind as much.
Porthcurno Beach
Not only is Porthcurno Beach loved by locals, but many tourists regard it as one of the best beaches in Cornwall. The golden beach is nestled between tall cliffs that protect it from the strong Cornwall winds, and it is incredibly easy to get to (which can be quite rare for a Cornwall beach!). Right by the gentle waves, natural pools form which are a great spot for kids to splash around in safely.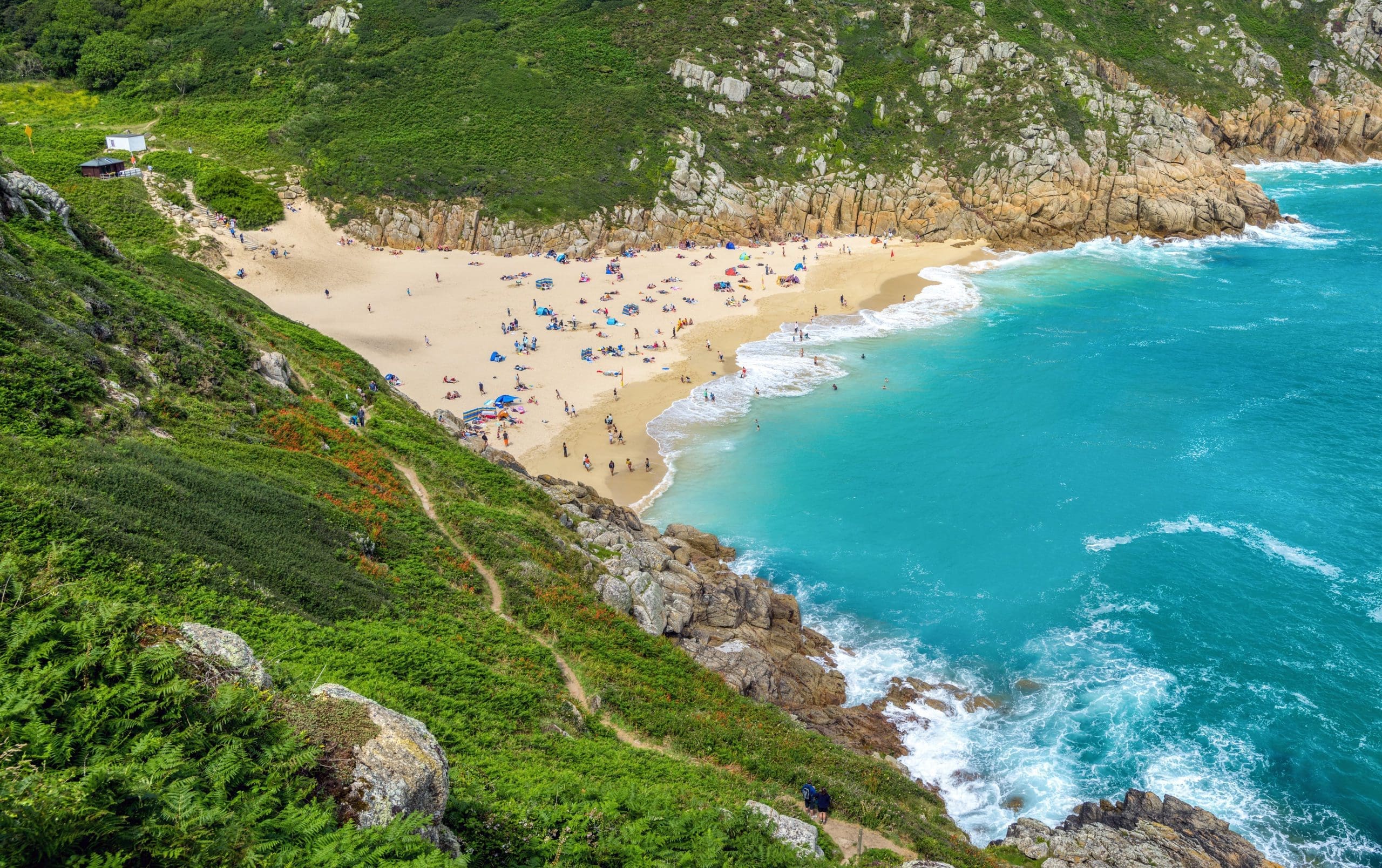 But wait, there's more! Right by the glistening turquoise waters, watch a show at the Minack. An open-air theater that hosts classic Shakespeare plays with the breathtaking Porthcurno beach as a background. For the traveler that prefers museums, there is the Porthcurno Telegraph Museum. It teaches visitors all about the submarine communications station that was set up right there on Porthcurno Beach. With so much to do you will feel like you do not have enough time to explore it all.
Summerleaze Beach
A trip to Summerleaze Beach is perfect for the adventurous spirit. It has a range of activities to enjoy all year, but is well loved by thrill seekers. The intense waves at Summerleaze are ideal for surfing and kayaking, but the cliffs are perfect for those that love climbing.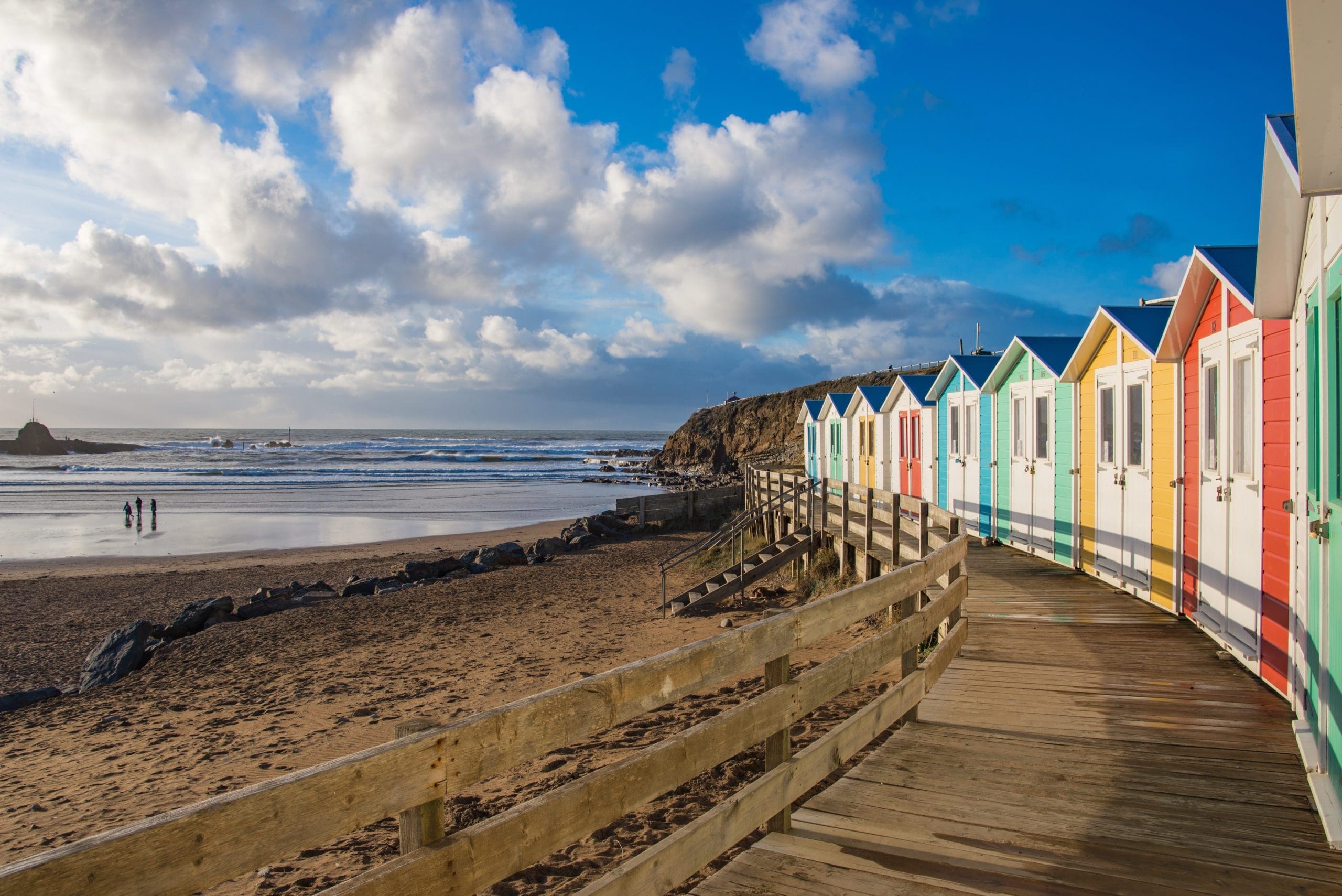 If you're going with someone who is not as into water sports as you, no worries. On the beach lies a pool from the 1930's that fills with seawater, creating the perfect swim spot for the partner that just wants to relax.
Perranporth
This charming beach is one of the best beaches in Cornwall for those that want a little bit of everything. Perranporth is a long stretch of golden sands and turquoise waters, wonderful for both swimming and surfing. Lifeguards patrol the waters during the summer months, and there are assigned swimming areas, so you know you and your family will be safe.
After a relaxing stay at Perranporth, walk along the beach to find delightful cafes, restaurants, and pubs. Enjoy a nice drink and snack to help you cool off from the hot summer weather. Even though Cornwall is in England, summers here get surprisingly hot.
Porthmeor
In the charming town of St. Ives, you can find plenty of lovely beaches, but one of the most popular has to be Porthmeor. Its crystal-clear waters and powder white sands make you forget that you are in England, and transport you to a tropical wonderland. Surrounding Porthmeor are gorgeous green hills that contrast with the spectacular beach.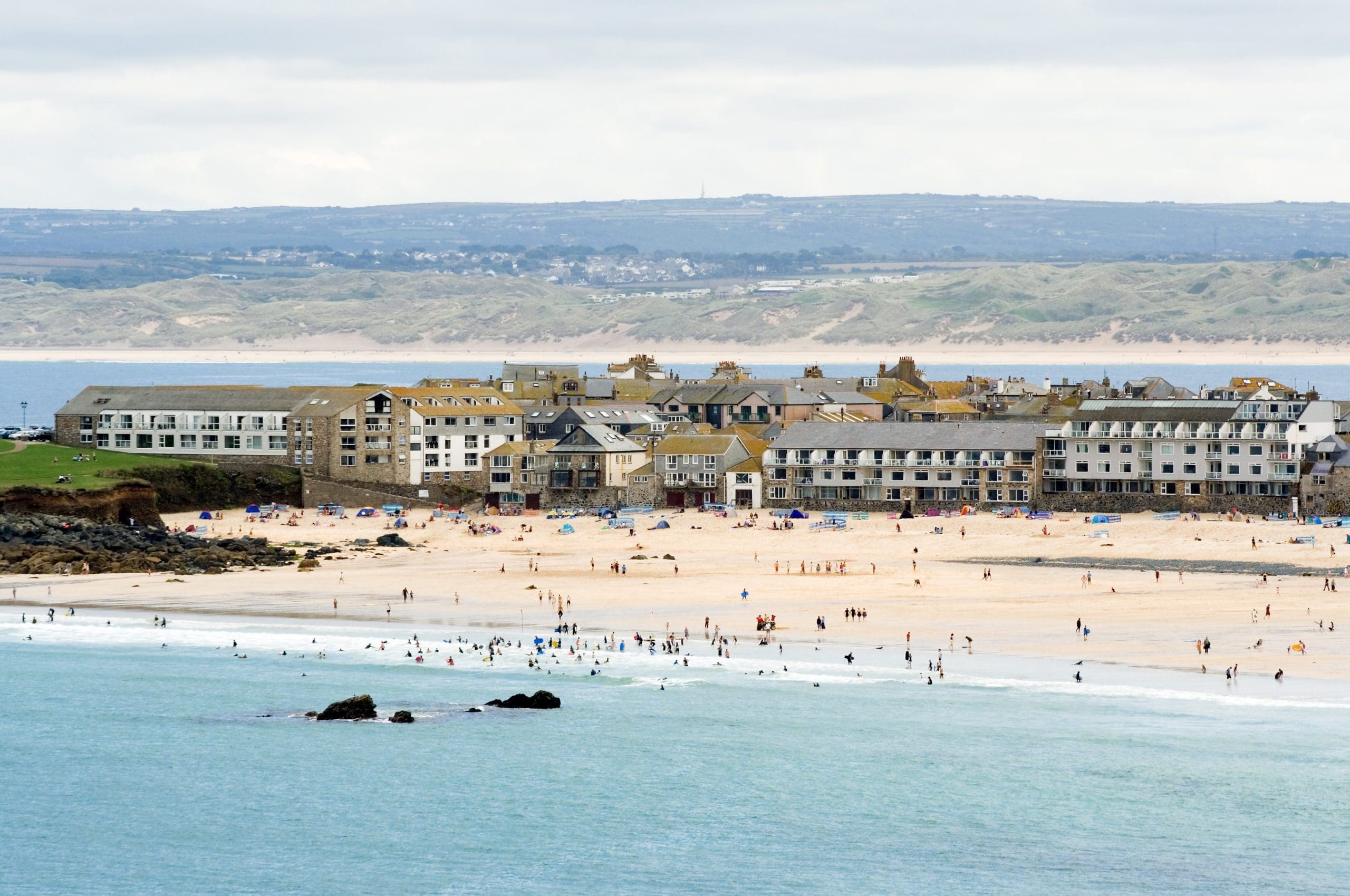 The town is right behind the beach, so you can easily access anything you may need. Or, just go for a lovely stroll and through the town of St. Ives. It is a picturesque town with lots of instagrammable spots for the photo-savvy traveler.
Porthcressa Beach and Hugh Town, Isles of Scilly
This beach is a little outside of Cornwall, but visiting Isles of Scilly is a fantastic day trip when visiting Cornwall. With just a short ferry ride you can find numerous gorgeous beaches on this small island. Choosing just one may be difficult, but Porthcressa Beach is likely the most popular. Porthcressa is near the islands' largest settlement, so there is a lot to do around this beach. Its soft sands and clear blue waters are great for a swim, but the town is a great place to explore as well.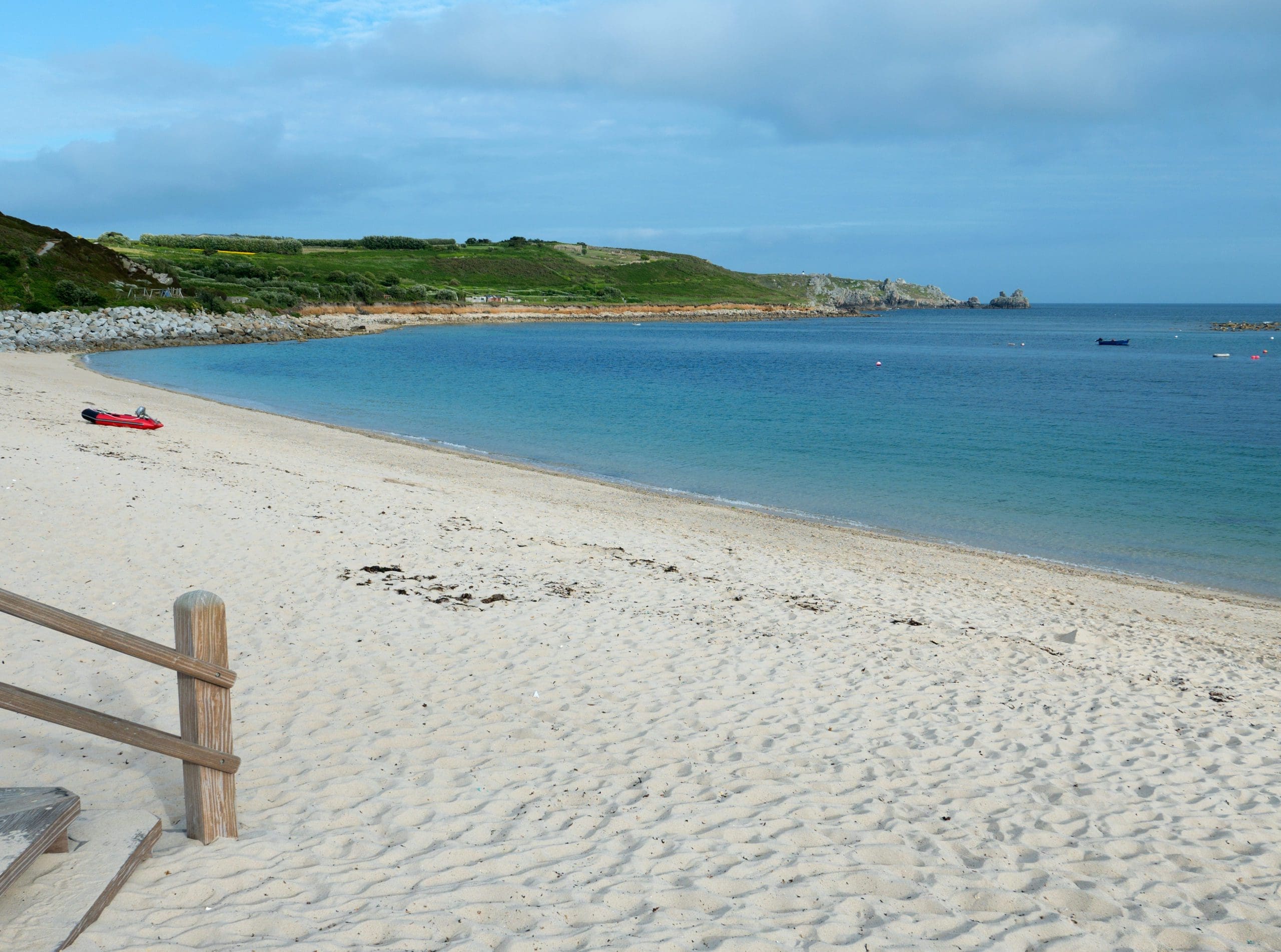 Hugh Town is another popular beach in Isles of Scilly, known for its marine life. Take a trip to this beach and snorkel through the clear waters. See what marine life you can find!
Pedn Vounder Beach
The Pedn Vounder Beach is difficult to get to, but it is so worth it. The secluded cove is hidden under a rugged cliff, so you have to carefully climb down to arrive at Pedn Vounder. It may seem intimidating, but if you are careful and wear the right shoes, you can reach the beach just fine.
Due to the complicated trek, Pedn Vounder is quite the hidden gem. You will not find many people on this beach, so you will get to enjoy this slice of paradise with few others. Pedn Vounder is full of talcum-white sands and the water is a clear turquoise color. The views of the water crashing against the towering cliffs is just breathtaking.
Marazion Beach
There is so much to do at Marazion Beach, that it is difficult to write it all in a few sentences. The charming beach is perfect for relaxing and swimming, but it is a wonderful spot for windsurfing, jet skiing, sailing, and other water activities. Around the harbor you can find rock pools for a good soak without all the waves.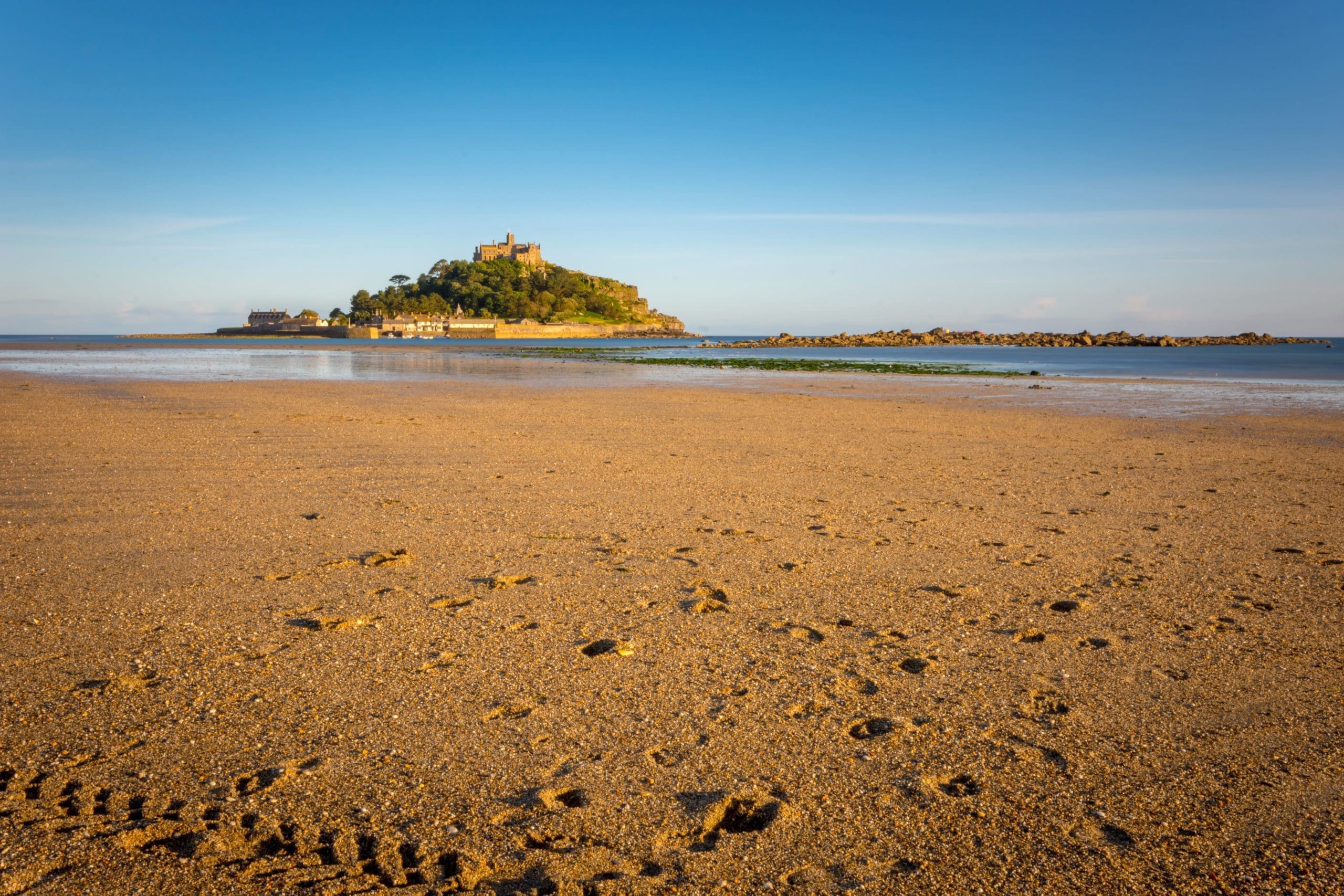 The coolest part of Marazion Beach though, has to be St. Michaels Mount Castle. When the tide is low, you can actually walk across a granite causeway to reach this magical castle and its gardens. During high tide, you would have to take a ferry! St. Michaels Mount Castle is open to visitors, so you can explore all the wonderful castle has to offer.
There are so many places that are known for their beaches, and Cornwall is usually ignored on these lists. Hopefully after reading this list of the best beaches in Cornwall, you will add this charming city to your list of must-go beach destinations. From white sand beaches to historical castles, there is something for everyone to enjoy. Visit one of these magnificent Cornwall beaches on your next summer vacation!
Join our community of keen travellers, wildlife enthusiasts and adventure seekers.