The majestic symbol of freedom and strength, the bald eagle, stands as an emblematic figure deeply ingrained in the hearts and minds of people around the world. As one of the most recognizable and revered birds of prey, the bald eagle commands respect for its remarkable beauty and captivating prowess.
With its striking white-feathered head contrasting against a dark brown body, this iconic avian species has captured the imaginations of many, becoming a powerful cultural and national symbol.
In this article, we delve into the captivating world of the bald eagle, unraveling its remarkable facts, dispelling common myths, and exploring its significance in both nature and human culture. Join us on this journey as we uncover the fascinating story of the bald eagle.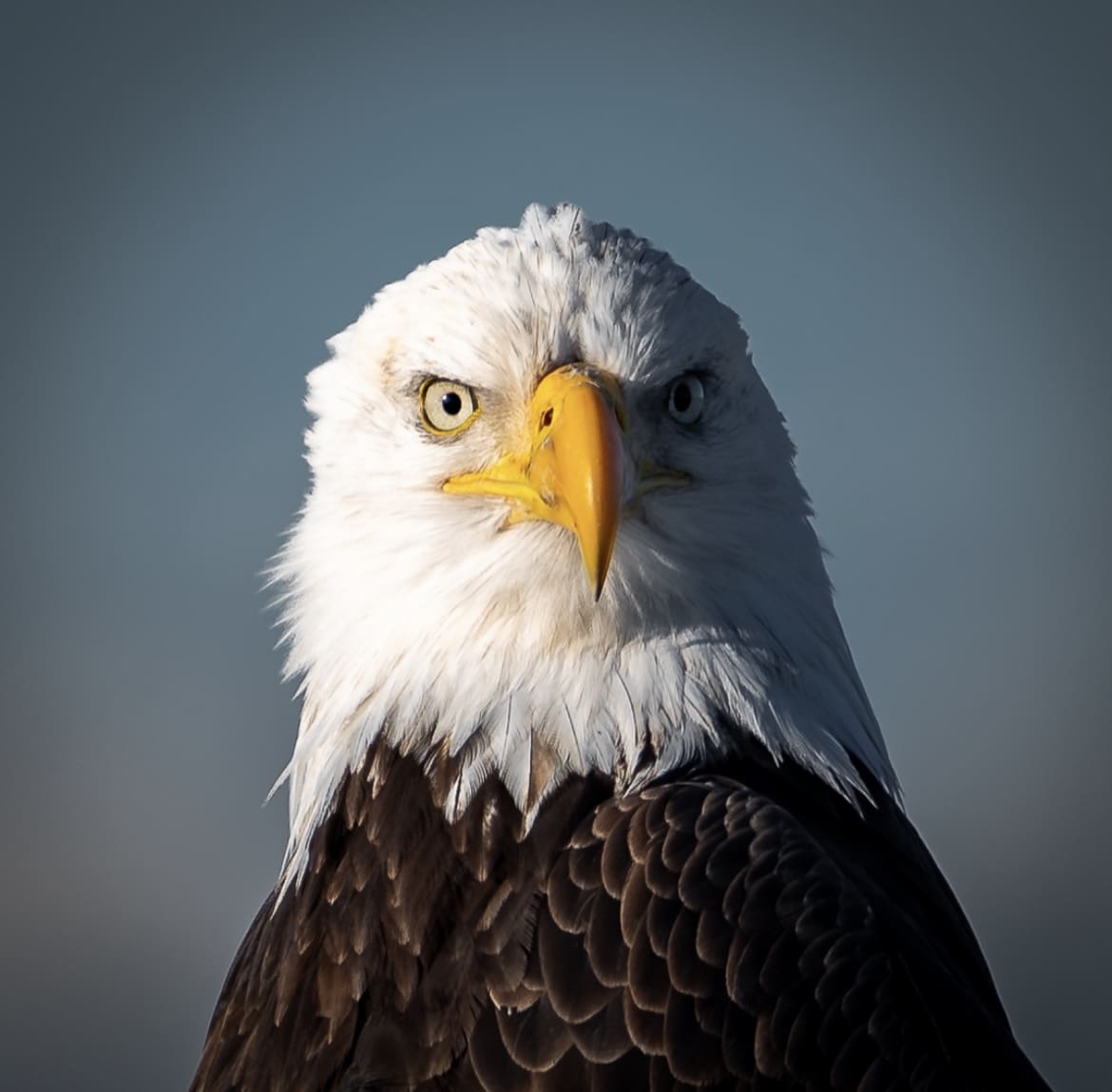 What is the bald eagle?
The bald eagle (Haliaeetus leucocephalus) is a large bird of prey found primarily in North America. It is known for its distinctive appearance. Considered a sea eagle, the bald eagle is primarily associated with aquatic habitats such as coasts, lakes, and rivers, although it can also inhabit forests and open grasslands.
The bald eagle holds significant cultural and symbolic importance. In 1782, it was officially designated as the national emblem of the United States, representing strength, freedom, and resilience. This iconic bird has since become a cherished symbol, adorning flags, seals, and various national emblems throughout the country.
Appearance
What do bald eagles look like?
Bald eagles possess distinct physical characteristics that make them instantly recognizable.
Contrary to their name, bald eagles are not actually bald. They have a plumage that consists of dark brown feathers covering most of their body. The head, neck, and tail, however, are adorned with pure white feathers, creating a stark contrast against the rest of their body.
The bald eagle's most distinguishing feature is its white-feathered head, which stands out prominently. Adults develop the characteristic white head after reaching maturity at around 4-5 years of age. Their beak is large, hooked, and yellow in color. It is powerful and sharp, designed for tearing and capturing prey.
Bald eagles have bright, yellow eyes that are highly focused and incredibly sharp. Their exceptional eyesight allows them to spot prey from great distances, both in the air and water.
Bald eagles possess strong, yellow feet equipped with sharp talons. Their talons are used for grasping and catching prey while hunting and provide a firm grip on branches or other perches.
Juvenile bald eagles have a different appearance compared to adults. Young bald eagles exhibit a mottled brown plumage overall, with patches of white on the underwing and tail. They gradually acquire their adult plumage over a period of several years.
How big is the bald eagle?
Bald eagles are large birds with a wingspan that can reach between 6 and 7.5 feet (1.8 to 2.3 meters).
They have a sturdy build with a stocky body and long, broad wings, allowing them to soar and glide effortlessly through the air.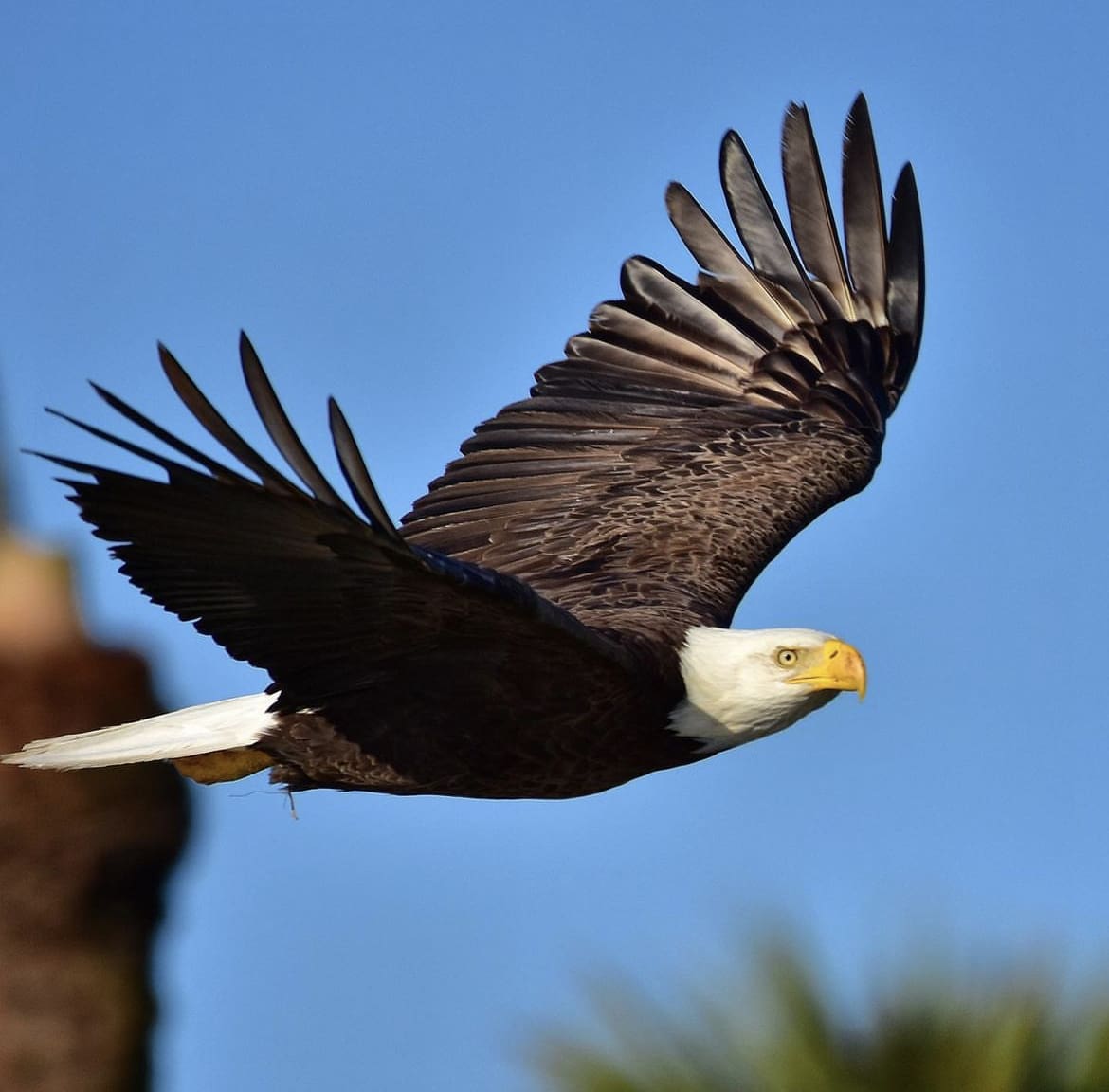 Behavior
What do bald eagles eat?
Bald eagles have a diverse diet that primarily consists of fish, but they are opportunistic predators and will consume a variety of prey.
Fish: Fish make up a significant portion of a bald eagle's diet. They are skilled hunters and often target fish near the water's surface. They may catch fish such as trout, salmon, herring, catfish, and more. Bald eagles use their sharp talons to snatch fish from the water or steal them from other birds, such as ospreys.
Waterfowl and Birds: Bald eagles are known to prey upon waterfowl like ducks, geese, and coots. They may also take smaller birds such as gulls, grebes, and shorebirds. They typically capture birds by swooping down from the air or ambushing them near the water's edge.
Small Mammals: Bald eagles occasionally feed on small mammals, particularly when other food sources are scarce. This can include rabbits, squirrels, muskrats, and even young deer.
Carrion: Bald eagles are opportunistic scavengers and readily consume carrion. They may feed on dead animals, including fish, birds, mammals, and even roadkill. Carrion provides an important food source, especially during winter or when live prey is limited.
Reptiles and Amphibians: Although less common, bald eagles may prey on reptiles and amphibians. This can include turtles, snakes, frogs, and salamanders, particularly in habitats where these species are abundant.
How do bald eagles hunt?
Bald eagles employ various hunting techniques and strategies to capture their prey. Their hunting methods can vary depending on the availability of food sources and the specific target they are pursuing.
Perch Hunting: Bald eagles often perch on trees, cliffs, or other elevated vantage points near bodies of water. From these strategic positions, they scan the surroundings using their keen eyesight, searching for potential prey such as fish or waterfowl. Once they spot a suitable target, they may dive down swiftly, using their sharp talons to snatch the prey from the water's surface or grab it directly from the ground.
Aerial Hunting: Bald eagles are skilled aerial hunters. They may engage in soaring flights, circling high in the sky while scanning for prey below. When they spot a potential meal, they descend rapidly in a stoop, using gravity and their powerful wings to accelerate. This allows them to surprise and catch agile birds or snatch fish from the water in a swift and precise manner.
Scavenging: While bald eagles are proficient hunters, they also scavenge for carrion. They keep a keen eye out for opportunities to feed on dead animals, including fish, birds, and mammals. They may actively search for carrion or take advantage of readily available carcasses, such as those found near water bodies or roadkill.
Piracy: Bald eagles are known to engage in piracy, where they steal prey from other birds, particularly from ospreys. When an osprey catches a fish and begins to fly back to its nest, a bald eagle may give chase, intimidating the osprey and forcing it to drop the fish. The eagle then swiftly swoops down to catch the stolen meal before it hits the water.
Bald eagles demonstrate remarkable hunting skills, utilizing their powerful flight, acute eyesight, and sharp talons to secure their prey. Their adaptability allows them to employ different hunting techniques depending on the circumstances, making them formidable predators in their ecosystems.
Bald Eagle Nesting and Reproduction
Bald eagle nesting and reproduction are fascinating aspects of their life cycle. Here is an overview of how bald eagles reproduce and raise their young:
Courtship and Pair Bonding: Bald eagles form monogamous breeding pairs that typically last for life. During courtship, which often occurs in early spring, the eagles engage in elaborate displays to strengthen their bond. These displays involve soaring and swooping flights together, vocalizations, and aerial acrobatics. The courtship rituals help establish and reinforce the pair's commitment.
Nest Building: Bald eagles build large nests known as aeries, often situated in tall trees near bodies of water. The nests are constructed using sticks, branches, and other materials. The pair continually adds to and refurbishes the nest year after year, resulting in substantial structures that can reach several feet in diameter and weigh hundreds of kilograms.
Egg Laying and Incubation: After courtship and nest building, the female bald eagle lays one to three eggs, usually a few days apart. Both the male and female take turns incubating the eggs, with the incubation period lasting around 35 to 40 days. The parent on the nest covers the eggs with their body to provide warmth and protection.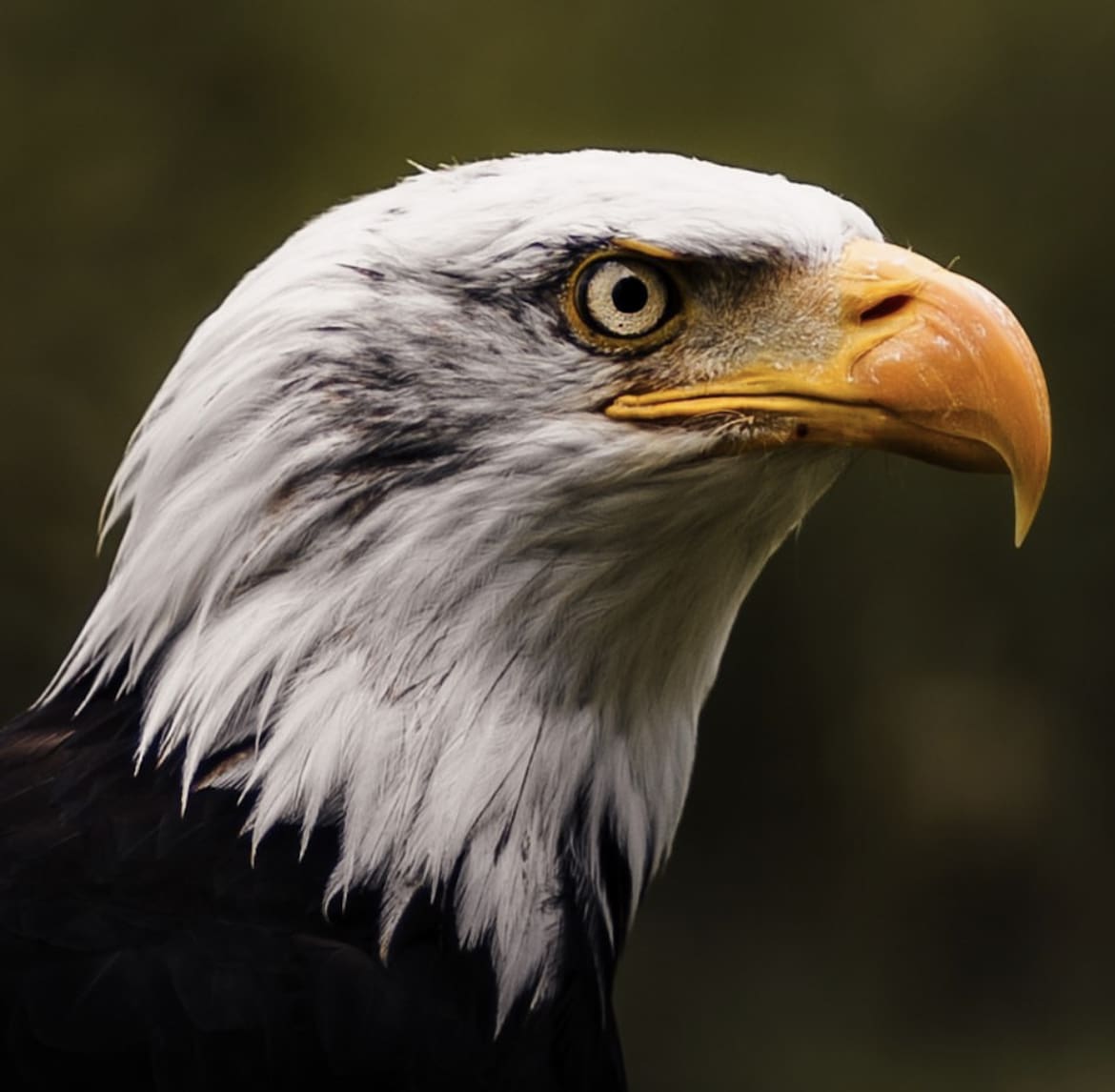 Parental Care: Once the eggs hatch, the parents continue to provide dedicated care to their young. The nestlings are initially weak and dependent, and the parents ensure they are fed and kept warm. The adult eagles tear small pieces of food and feed them to the nestlings. As the chicks grow, the parents gradually introduce larger prey items, teaching them to eat independently.
Fledging and Independence: After about 10 to 12 weeks, the young eagles, known as fledglings, begin to develop their flight feathers and become more active in the nest. They exercise their wings and engage in short flights within the nest area. Around 10 to 14 weeks after hatching, the fledglings are ready to leave the nest, a process called fledging. The parents continue to provide food and guidance to their offspring during this transition period.
Juvenile Stage and Maturity: Once the young eagles fledge, they enter the juvenile stage, where they gradually gain independence and develop their hunting skills. During this period, which can last several months to a few years, the juveniles explore their surroundings, learn to catch prey, and further refine their flying abilities. They acquire their adult plumage, including the iconic white head and tail feathers, as they reach sexual maturity at around 4 to 5 years of age.
Habitat & Range
Where do bald eagles live?
Bald eagles are primarily found in North America, spanning a wide range of habitats across the continent.
United States: Bald eagles are distributed throughout the United States, from Alaska and Canada down to the southern states. They can be found in various habitats, including coastal areas, large lakes, rivers, and wetlands. States such as Alaska, Florida, Washington, and Minnesota are known for their significant bald eagle populations.
Canada: Bald eagles inhabit several regions of Canada, including coastal areas, forests, and freshwater ecosystems. They are found in provinces such as British Columbia, Alberta, Ontario, and Nova Scotia. Many Canadian lakes, rivers, and coastal regions provide suitable habitats for nesting and foraging.
Alaska: Alaska is home to a significant population of bald eagles. Its vast wilderness, diverse ecosystems, and abundant fish populations make it an ideal habitat for these majestic birds. The coastal regions, islands, and interior waterways of Alaska provide important nesting and feeding grounds for bald eagles.
Coastal Areas: Bald eagles are commonly associated with coastal areas, including both oceanic and inland coastal regions. They are often observed near shorelines, estuaries, and marine environments, where they can feed on fish, waterfowl, and carrion. Coastal habitats offer an abundant food source and nesting sites.
Lakes, Rivers, and Wetlands: Bald eagles thrive in freshwater habitats as well. They can be found near lakes, reservoirs, rivers, and wetlands that support diverse ecosystems and provide opportunities for hunting fish, waterfowl, and other prey species. These habitats offer suitable nesting sites, roosting areas, and ample food resources.
Conservation
How many bald eagles are there in the wild?
The population of bald eagles in the wild has made a remarkable recovery since their near-extinction in the mid-20th century. According to estimates from the U.S. Fish and Wildlife Service, there were over 316,000 bald eagles in the United States and Canada combined in 2019. This number represents a significant increase from the estimated population of about 417 nesting pairs in the lower 48 states in the early 1960s.
It's important to note that the population of bald eagles can vary across different regions, and the numbers provided are approximate. Conservation efforts, habitat protection, and restrictions on harmful substances like pesticides and lead ammunition have played a vital role in the successful recovery of bald eagle populations.
Are bald eagles endangered?
Bald eagles are not considered endangered. The bald eagle population has made a significant recovery over the years, thanks to conservation efforts and the banning of harmful pesticides, such as DDT, which had a detrimental impact on their reproduction.
In the United States, the bald eagle was removed from the endangered species list in 2007 and is currently listed as a species of "Least Concern" by the International Union for Conservation of Nature (IUCN). This designation indicates that the species is not currently facing a high risk of extinction.
Safari
Where to see bald eagles in the wild?
Bald eagles can be observed in various locations across North America, particularly in areas where suitable habitats and food sources are available. Here are some popular places where you can potentially see bald eagles in the wild:
Alaska: Alaska is known for its abundant bald eagle population. The Chilkat Bald Eagle Preserve near Haines, the Kenai Peninsula, Kodiak Island, and the Copper River Delta are some of the prime locations to spot bald eagles in Alaska.
Pacific Northwest: Coastal regions of Washington and Oregon, including the Olympic Peninsula and the Columbia River Gorge, provide excellent opportunities to see bald eagles. Look for them near large rivers, estuaries, and along the coast.
Florida: The Sunshine State is home to a sizable population of bald eagles. Places like the Everglades, Lake Okeechobee, and various wildlife refuges, such as Merritt Island National Wildlife Refuge, offer good chances of spotting these majestic birds.
Great Lakes Region: The Great Lakes, including Lake Superior, Lake Michigan, and Lake Ontario, attract bald eagles during the winter months when they congregate near open water for fishing. Look for them near the lakeshores and surrounding areas.
Mississippi River Valley: The Mississippi River and its tributaries, such as the Upper Mississippi River National Wildlife and Fish Refuge, are popular bald eagle habitats. They provide both nesting sites and wintering grounds for these birds.
National Wildlife Refuges: Numerous national wildlife refuges across the United States are known for their bald eagle populations. Some notable examples include the Klamath Basin National Wildlife Refuge Complex in Oregon and California, the Upper Mississippi River National Wildlife and Fish Refuge, and the Chincoteague National Wildlife Refuge in Virginia.
When visiting these areas, keep in mind that bald eagles are sensitive to disturbances. It's important to observe them from a respectful distance and avoid any actions that may disturb their behavior or nesting sites.
Local birding groups, nature centers, or wildlife organizations in the region can provide more specific information on the best locations and times to spot bald eagles in the wild.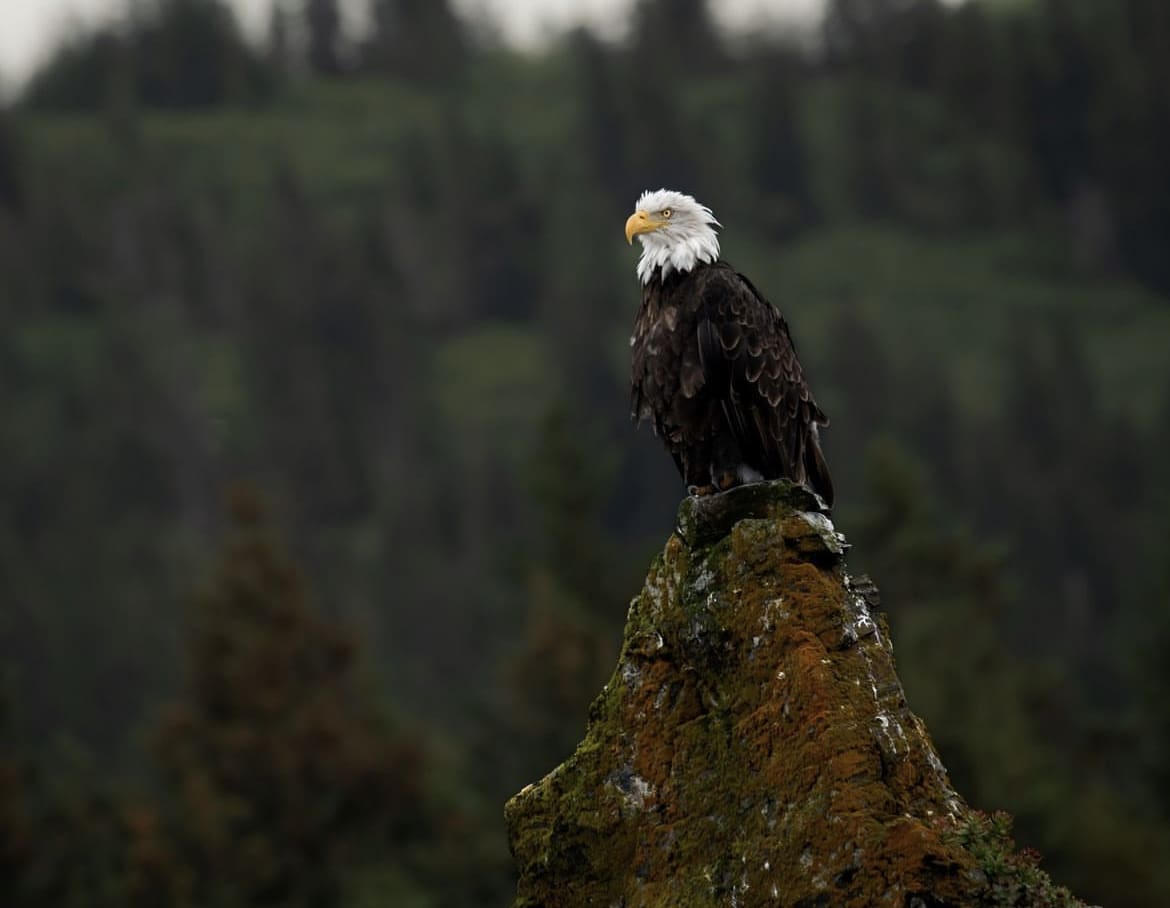 Tips for spotting bald eagles in the wild
1. Research the Habitat: Learn about the preferred habitats of bald eagles in the specific region you plan to visit. They are commonly found near bodies of water, such as lakes, rivers, coastlines, and wetlands. Look for areas with a combination of water, trees or cliffs for perching, and suitable prey sources.
2. Timing: Bald eagle activity can vary depending on the time of year. In many regions, they are more abundant during winter months when they gather near open water bodies for fishing or during the breeding season in spring. Research the seasonal patterns and plan your visit accordingly.
3. Scenic Overlooks: Look for scenic overlooks or observation points that provide a wide view of the surrounding landscape. These vantage points can offer a better chance of spotting bald eagles soaring, perching, or hunting in the distance.
4. Scan the Skies and Treetops: Bald eagles have a distinctive silhouette with their white heads and tails, making them easier to spot against the sky or tree branches. Use binoculars or a spotting scope to scan the skies and treetops for any signs of perched or flying eagles.
5. Learn their Behaviors and Calls: Familiarize yourself with bald eagle behaviors and vocalizations. They have distinctive calls, including high-pitched whistles and a variety of chirps, which can help you locate them in the vicinity.
6. Seek Local Guidance: Reach out to local birding groups, nature centers, or wildlife organizations in the area you plan to visit. They can provide valuable information about known eagle habitats, recent sightings, and any specific tips for spotting bald eagles in the region.
7. Patience and Observation: Spotting wildlife, including bald eagles, often requires patience and keen observation. Spend time in areas with potential eagle habitat, stay still, and quietly observe your surroundings. Look for any movement, large nests, or signs of activity, such as other birds mobbing an eagle.
8. Join a Guided Tour: Consider joining a guided birding or wildlife tour led by experienced naturalists or birding experts. They can provide expert guidance, knowledge, and increase your chances of spotting bald eagles in the wild.
Facts about the bald eagle
1. US National Bird: The bald eagle is the national bird and symbol of the United States of America, representing strength, freedom, and resilience.
2. Scientific Name: The scientific name of the bald eagle is Haliaeetus leucocephalus, where "Haliaeetus" means sea eagle and "leucocephalus" translates to white head.
3. Plumage: While the name "bald eagle" might suggest a lack of feathers, it actually refers to the Old English word "balde," meaning white-headed. Adult bald eagles have a distinctive white head and tail, with a dark brown body and wings.
4. Wingspan: Bald eagles have an impressive wingspan that can range from 6 to 7.5 feet (1.8 to 2.3 meters), enabling them to soar and glide efficiently through the air.
5. Symbol of Strength: Bald eagles are known for their powerful flying abilities. They can reach speeds of up to 40 miles per hour (64 kilometers per hour) during level flight and can dive at speeds exceeding 100 miles per hour (160 kilometers per hour) when hunting.
6. Excellent Vision: Bald eagles have exceptional eyesight, estimated to be four to eight times better than that of humans. Their keen eyesight allows them to spot prey from great distances while soaring high in the sky.
7. Diet: Bald eagles are primarily fish-eaters, and fish make up a significant portion of their diet. However, they are opportunistic hunters and scavengers, and their diet also includes waterfowl, small mammals, carrion, and occasionally, turtles and other birds.
8. Nesting Sites: Bald eagles build large nests called aeries, usually in tall trees near bodies of water. These nests are often reused and can become massive structures, weighing several hundred kilograms and measuring several feet in diameter.
9. Mating and Lifespan: Bald eagles typically mate for life, forming long-lasting partnerships. They can live up to 20-30 years in the wild, with some individuals living even longer.
10. Conservation Success: The bald eagle population has made a remarkable recovery. From being on the brink of extinction, conservation efforts and protective measures have helped their numbers rebound. They were removed from the endangered species list in the United States in 2007, demonstrating the success of conservation initiatives.
Myths about the bald eagle
1. Bald Eagles Only Eat Fish: While fish are a significant part of the bald eagle's diet, they are opportunistic hunters and scavengers. Bald eagles are known to eat a wide variety of prey, including waterfowl, small mammals, carrion, and even other birds. They have a diverse diet that varies based on the availability of food in their habitats.
2. Bald Eagles Steal Fish from Other Birds: It is often believed that bald eagles primarily steal fish from other birds, such as ospreys. While bald eagles may opportunistically take advantage of another bird's catch, they are skilled hunters and prefer to catch their own fish. They are more likely to scavenge carrion or pursue their own prey rather than rely solely on stealing from other birds.
3. Bald Eagles Mate for Life and Never Separate: While bald eagles do form long-term partnerships and often mate for life, there are cases where individuals may separate or find new mates. Factors such as death of a partner, nest failure, or territorial disputes can lead to the dissolution of a pair bond. However, most bald eagles do exhibit strong fidelity to their mates and nesting sites.
4. They Are Bald: This myth stems from the name "bald eagle," which can be misleading. Bald eagles do not have a bald head; instead, they have a white-feathered head and tail, contrasting with their dark brown body and wings. The name "bald" actually comes from an old English word meaning "white."
5. Bald Eagles Migrate South in Winter: While many bald eagles do migrate to some extent, not all individuals or populations undertake long-distance migrations. Some bald eagles reside year-round in areas with ample food sources, while others may migrate shorter distances or altitudes within their local range in search of suitable wintering grounds.
Join our community of keen travellers, wildlife enthusiasts and adventure seekers.