Nestled in the eastern part of the Democratic Republic of Congo, Virunga National Park stands as a majestic testament to the beauty and diversity of Africa's natural wonders.
This comprehensive guide aims to equip travelers with the necessary information for an unforgettable and successful trip to this extraordinary destination. From safety advice and thrilling activities to practical tips and transportation options, let us unlock the treasures of Virunga National Park together.
Safety Advice
Before visiting Virunga National Park, it's important to know that the park is considered one of the most dangerous in the world. Civil unrest, the Rwandan Genocide and the two Congo wars have led to various rebel groups now residing within the parks boundaries. Confrontations between park rangers and rebels are commonplace.
Consult Travel Advisories: It is crucial to stay updated on the current security situation in the region. Check travel advisories issued by your government, or other reputable sources. These advisories will provide valuable information regarding any potential risks or concerns at present.
Engage a Local Guide: When visiting Virunga National Park, it is highly recommended to hire a local guide who is familiar with the area and its surroundings. Local guides have extensive knowledge of the park, its wildlife, and can provide valuable insights while ensuring your safety. They are experienced in navigating the park's terrain and are well-versed in handling any potential challenges that may arise.
Follow Park Regulations: To ensure both your safety and the preservation of the park's ecosystem, it is essential to respect and adhere to the rules and regulations set by the park authorities. These regulations may include guidelines for behavior around wildlife, restricted areas, and camping or trekking restrictions. By following these rules, you contribute to the protection of the park and enhance your overall safety.
Travel in Groups: Exploring Virunga National Park in a group can significantly enhance safety. When traveling with others, you have added support and assistance if needed. Additionally, traveling in groups can act as a deterrent to potential security risks and provide a sense of security.
Stay Informed on Wildlife Behavior: Before embarking on any wildlife encounters or activities such as gorilla trekking, it is essential to familiarize yourself with the behavior of the park's wildlife. Understanding how to interact respectfully and responsibly with the animals can help mitigate risks and ensure a safe experience for both you and the wildlife. Follow the guidelines provided by the park authorities and your guides regarding maintaining a safe distance, staying quiet, and refraining from direct eye contact.
Things to Do in Virunga National Park
1. Wildlife Safaris: Virunga National Park is home to a rich diversity of wildlife, including elephants, hippos, buffaloes, and numerous bird species. Embark on thrilling game drives across the park's vast savannahs and explore the different ecosystems to witness these magnificent creatures in their natural habitat. Experienced guides will help you navigate the park, ensuring optimal wildlife viewing opportunities.
2. Boat Excursions: Discover the stunning beauty of Virunga National Park from the water by taking a boat excursion. Cruise along Lake Edward or venture along the winding rivers that flow through the park. These boat trips offer breathtaking views of the surrounding landscapes, an opportunity to spot wildlife along the banks, and a chance to witness the daily activities of local communities living in harmony with nature.
3. Nature Walks: Immerse yourself in the park's lush rainforests by embarking on guided nature walks. These walks allow you to explore the diverse flora and fauna of Virunga National Park up close. Knowledgeable guides will lead you through winding trails, pointing out unique plant species, explaining their medicinal uses, and revealing the fascinating secrets of the forest ecosystem. Keep an eye out for primates, colorful birds, and other small creatures that call this remarkable habitat their home.
4. Cultural Experiences: Engage with the local communities surrounding Virunga National Park to gain insight into their traditions, music, and way of life. Visit nearby villages, interact with locals, and learn about their customs and heritage. Participate in cultural performances, where rhythmic drumming, traditional dances, and storytelling will transport you to the heart of Congolese culture.
5. Hiking and Trekking: Virunga National Park offers various hiking and trekking opportunities for outdoor enthusiasts. From scenic walks along the park's trails to more challenging treks, there is an adventure for every level of fitness and interest. Explore the foothills of the Rwenzori Mountains, traverse volcanic landscapes, or ascend to higher altitudes to witness panoramic views of the park's breathtaking scenery.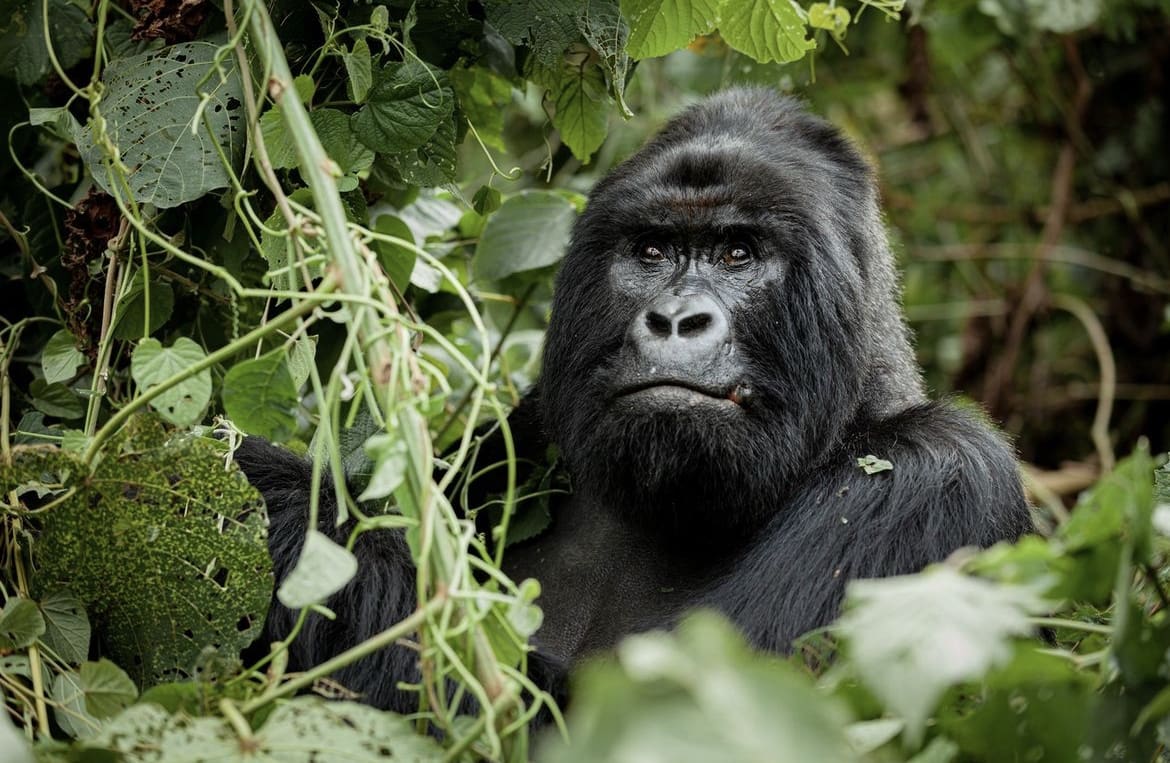 Gorilla Trekking in Virunga National Park
Virunga National Park is home to a significant population of mountain gorillas, with approximately 1,000 individuals remaining in the wild. Remarkably, a third of these magnificent creatures reside within the park's boundaries. Among them, nine gorilla troops have undergone habituation, enabling them to tolerate the presence of humans. This presents an extraordinary opportunity for visitors to witness one of our closest living relatives in their natural habitat. The main highlight of a trip to Virunga is the unforgettable experience of gorilla trekking, guided by armed rangers.
During a gorilla trek, visitors are assigned to a specific gorilla troop. Depending on various factors, such as the location of the troop and the prevailing conditions, the trek can involve up to three hours of challenging hiking through the park's rugged terrain. The effort and perseverance are rewarded with the awe-inspiring encounter of spending up to an hour in the presence of these majestic great apes. After this remarkable experience, trekkers make their way back to the base camp.
Additionally, visitors staying at Mikeno Lodge have the unique opportunity to visit the Senkwekwe Center, where rescued gorilla orphans are cared for. This heartwarming encounter provides a chance to learn about the conservation efforts in place to protect these incredible animals and witness the dedication of the park's staff in ensuring their well-being.
Gorilla trekking in Virunga National Park offers a once-in-a-lifetime chance to observe and connect with mountain gorillas in their natural habitat. This extraordinary experience contributes to the ongoing conservation efforts aimed at protecting these critically endangered creatures and their fragile ecosystems.
Tips for a memorable gorilla trekking experience:
Obtain permits in advance: Secure your gorilla trekking permit well in advance, as they are limited and in high demand.
Follow park guidelines: Adhere to the rules and regulations during gorilla treks, including maintaining a safe distance, staying quiet, and refraining from direct eye contact.
Physical fitness: Be prepared for moderate to strenuous hiking through rugged terrain, and ensure you are in good physical condition.
Dress appropriately: Wear long-sleeved shirts, long pants, sturdy hiking boots, and bring rain gear, as weather conditions can be unpredictable.
Respect the gorillas: Avoid touching or disturbing the gorillas and maintain a respectful distance to protect their well-being and minimize disease transmission risks.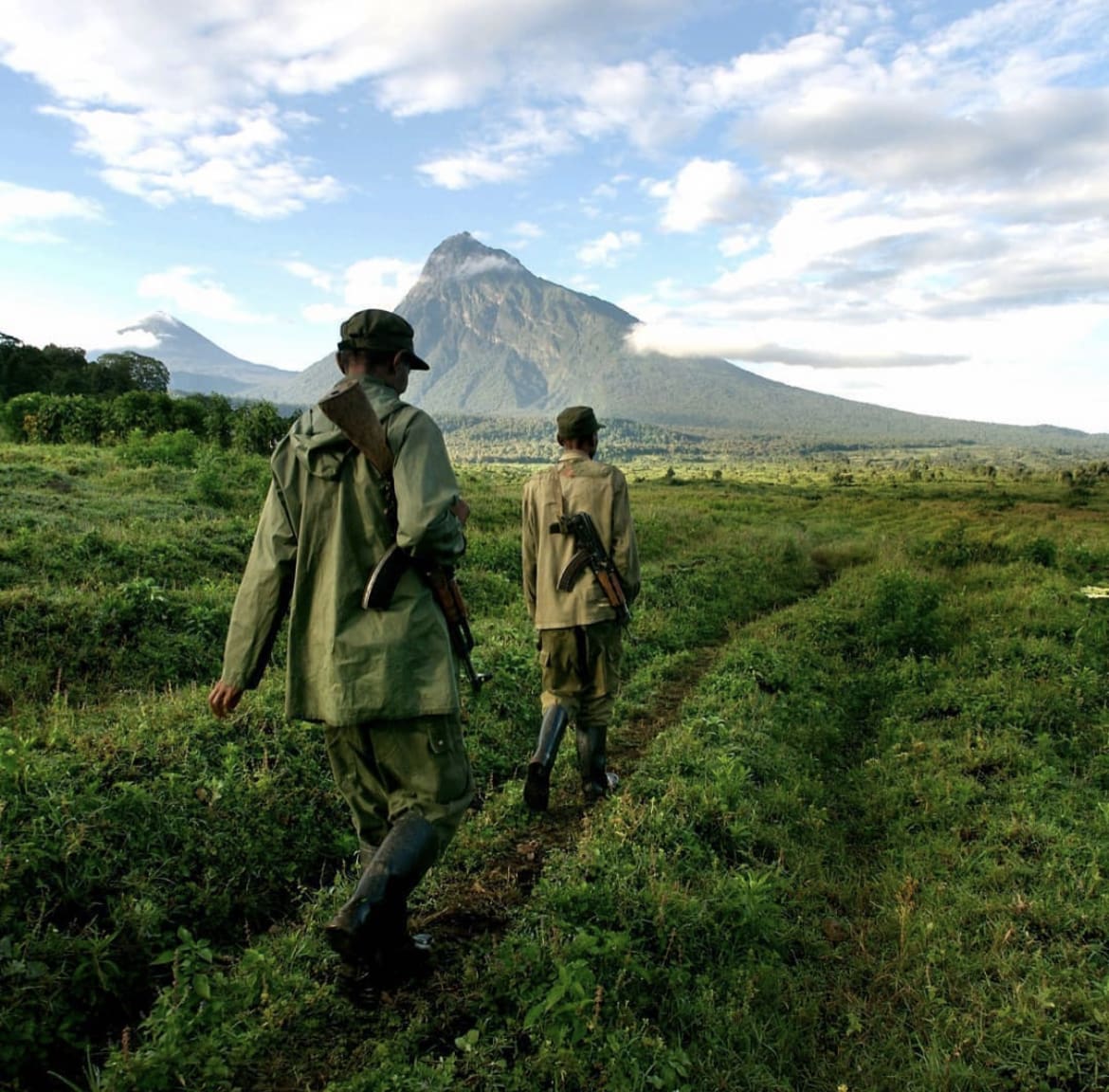 Nyiragongo Volcano Trek
A thrilling and unforgettable experience awaits those who embark on the Nyiragongo Volcano Trek in Virunga National Park. This active stratovolcano, located within the park, offers a once-in-a-lifetime opportunity to witness the mesmerizing power and beauty of nature.
At the heart of the volcano lies the world's largest lava lake, providing a mesmerizing sight. The guided trek begins at the Kibati Ranger Post, situated at an elevation of 6,135 feet above sea level. Over the course of approximately 4 miles, hikers ascend to the summit, reaching an impressive height of 11,385 feet. The journey typically takes around four to five hours, during which participants traverse through five distinct habitats.
As you embark on the Nyiragongo volcano trek, you'll pass through a variety of environments, including lush forests on the lower slopes, where you may encounter wildlife such as chimpanzees, monkeys, and bushbuck. As you ascend, you'll traverse old lava flows and venture into high montane forests. This diverse range of habitats adds to the captivating experience of the trek.
To fully appreciate the Nyiragongo volcano, an overnight stay at a mountain shelter is included. This allows you to witness the breathtaking sunset from the summit, creating a truly magical and memorable moment. Nyiragongo backpacks are available for purchase, priced at $100. These backpacks provide you with all the necessary equipment for your time on the volcano, including a sleeping bag, warm clothing, and meals.
It is important to note that you will be responsible for carrying your backpack unless you opt to hire a porter from the ranger post. Porters can assist with carrying up to 33 pounds of your belongings for a fee of $25 per bag.
Tips for hiking the Nyiragongo Volcano Trek
Prepare for the climb: The trek to Nyiragongo Volcano is demanding. Ensure you have appropriate gear, including sturdy hiking boots, warm clothing, and a good sleeping bag.
Acquire necessary permits: Obtain the necessary permits well in advance, as they are limited and subject to availability.
Seek a guide: A knowledgeable guide is mandatory for the Nyiragongo trek due to its challenging nature and potential hazards.
Check activity status: Prior to your trek, confirm the volcano's activity status with park authorities to ensure safety.
Where to Stay in Virunga National Park
There are several accommodation options available in Virunga National Park, to suit various preferences and budgets. Here are some of the accommodation choices within or near the park:
Mikeno Lodge
Located within Virunga National Park, Mikeno Lodge offers a luxurious and comfortable stay amidst the park's stunning natural surroundings. The lodge features spacious cottages with en-suite bathrooms, a restaurant serving delicious meals, and a lounge area where guests can relax and enjoy panoramic views. Mikeno Lodge provides an ideal base for exploring the park and participating in various activities.
Bukima Tented Camp
Situated near the starting point for gorilla trekking, Bukima Tented Camp provides a unique and immersive experience. The camp offers comfortable canvas tents with beds, private bathrooms, and solar-powered lighting. It provides an authentic wilderness experience, allowing guests to feel closer to nature while being in close proximity to the gorilla trekking activities.
Kibumba Tented Camp
Another option near the gorilla trekking starting point is Kibumba Tented Camp. The camp provides comfortable tents with basic amenities and en-suite bathrooms. It offers a rustic and intimate setting, allowing guests to enjoy the tranquility of the park and soak in the surrounding natural beauty.
Goma
Goma, a city located near Virunga National Park, offers a range of accommodation options for visitors. From budget guesthouses to mid-range hotels, there are choices to suit different budgets and preferences. Staying in Goma provides convenience for accessing the park, especially for those arriving from Rwanda or other nearby areas.
Lake Kivu
Lake Kivu, located near Virunga National Park, offers a scenic setting with a range of accommodation options. From luxury resorts to budget-friendly guesthouses, there are choices along the lakeshore to enjoy the serene beauty of the area. Staying near Lake Kivu allows you to combine your park visit with relaxing lakeside activities and breathtaking views.
When choosing your accommodation, consider factors such as proximity to the park, amenities offered, comfort level, and the overall experience you desire. It is advisable to make reservations well in advance, especially during peak travel seasons, to secure your preferred accommodation and ensure a seamless and enjoyable stay in Virunga National Park.
How to Get to Virunga National Park
Virunga National Park is located in the eastern part of the Democratic Republic of Congo (DRC). Although reaching the park may require some logistical planning, there are several transportation options available:
Air: The most common entry point for international visitors is through Kigali International Airport in Rwanda. From Kigali, you can arrange a road transfer to the border of the DRC. Goma International Airport in Goma, DRC, is another option for reaching the park. Several airlines offer domestic flights to Goma from major cities in the DRC.
Road Transfer: Once you arrive in either Kigali or Goma, you can arrange a road transfer to the park. This can be done through a private hire car or by taking a shared taxi. It is recommended to hire a reliable driver or use the services of a reputable tour operator who can arrange transportation to the park's entry points.
Border Crossing: If you are traveling from Rwanda to the DRC, you will need to cross the border. Ensure you have the necessary travel documents and visas for both Rwanda and the DRC. It is advisable to check the current border crossing regulations and any travel restrictions in advance, as they may change.
Local Transportation: Once you reach the DRC side of the border, you can arrange local transportation to the specific area of the park you plan to visit. This may include hiring a driver or taking public transportation, such as shared taxis or buses, depending on the distance and accessibility of your chosen destination within the park.
Accessibility
Regrettably, Virunga National Park and its various activities are not equipped to cater to visitors with mobility issues. The park does not currently have specific provisions or infrastructure in place to accommodate disabled guests. However, for those with mobility challenges, there are alternative options available in nearby countries.
Both Rwanda and Uganda, neighboring countries to the Democratic Republic of Congo where Virunga National Park is located, have implemented measures to provide access for guests with limited mobility. These countries offer the option of using ladders to transport visitors with mobility challenges to view the habituated gorilla troops. This alternative approach allows individuals with restricted mobility to still have the opportunity to observe and appreciate these incredible creatures in their natural habitat.
While Virunga National Park may not be suitable for visitors with mobility issues at present, exploring the possibility of visiting the gorillas in Rwanda or Uganda, where accessibility measures are in place, can provide an alternative solution. It is recommended to contact local authorities or tour operators in Rwanda or Uganda to inquire about the specific arrangements and accommodations available for guests with mobility challenges.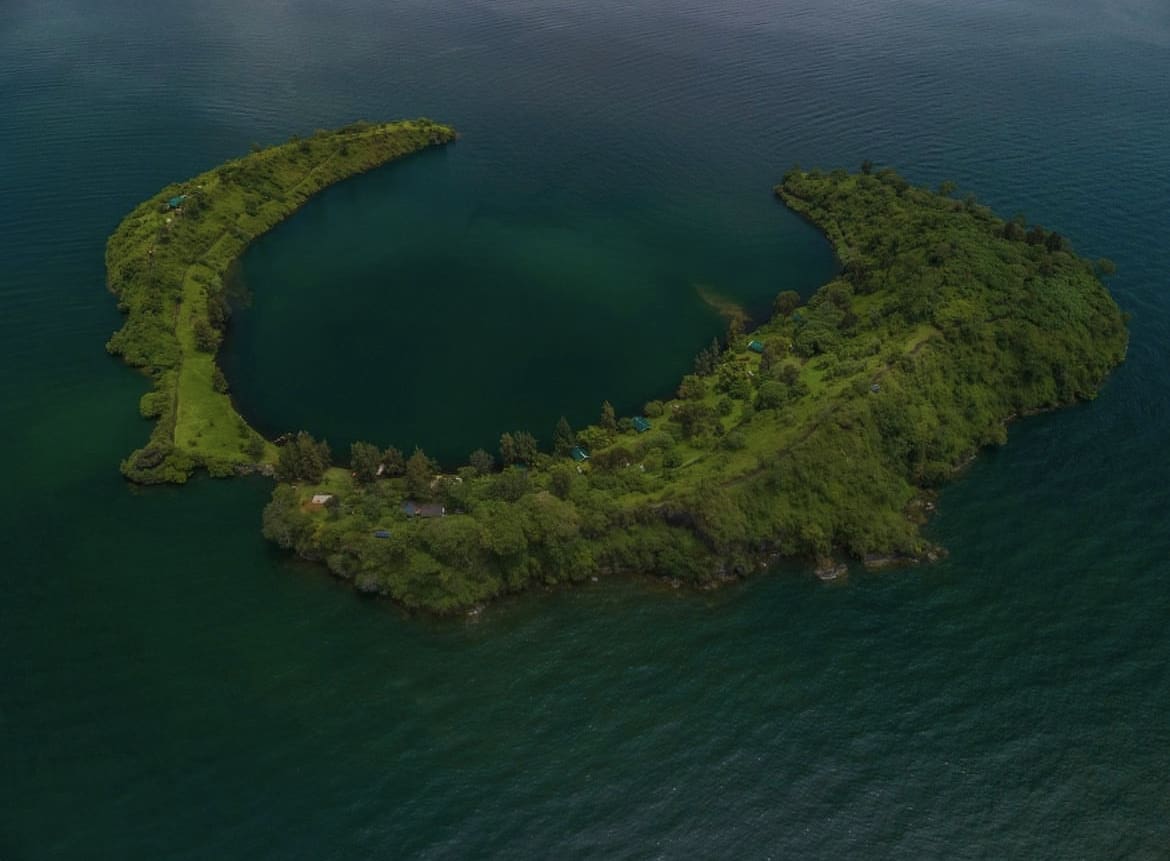 Tips for Your Visit
1. Plan in Advance: Virunga National Park is a popular destination, so it's essential to plan your visit well in advance. Make reservations for accommodations, obtain necessary permits for activities like gorilla trekking or volcano treks, and arrange transportation. By planning ahead, you can ensure a smooth and well-organized trip.
2. Follow Safety Guidelines: Virunga National Park is located in a region that has had security concerns in the past. Stay updated on the current security situation and follow the advice of local authorities and park staff. Engage the services of reputable tour operators or guides who are familiar with the area and can provide guidance and assistance.
3. Pack Appropriately: Pack appropriate clothing and gear for your activities and the climate of the park. This may include comfortable hiking shoes, rain gear, insect repellent, and layers of clothing to accommodate changing weather conditions. Don't forget essentials like sunscreen, a hat, and a reusable water bottle to stay hydrated.
4. Respect Wildlife and Environment: When encountering wildlife, particularly during activities like gorilla trekking, maintain a safe distance and follow the instructions of your guides. Avoid touching or disturbing animals, and never feed them. Respect the environment by sticking to designated trails, disposing of waste properly, and minimizing your impact on the delicate ecosystems.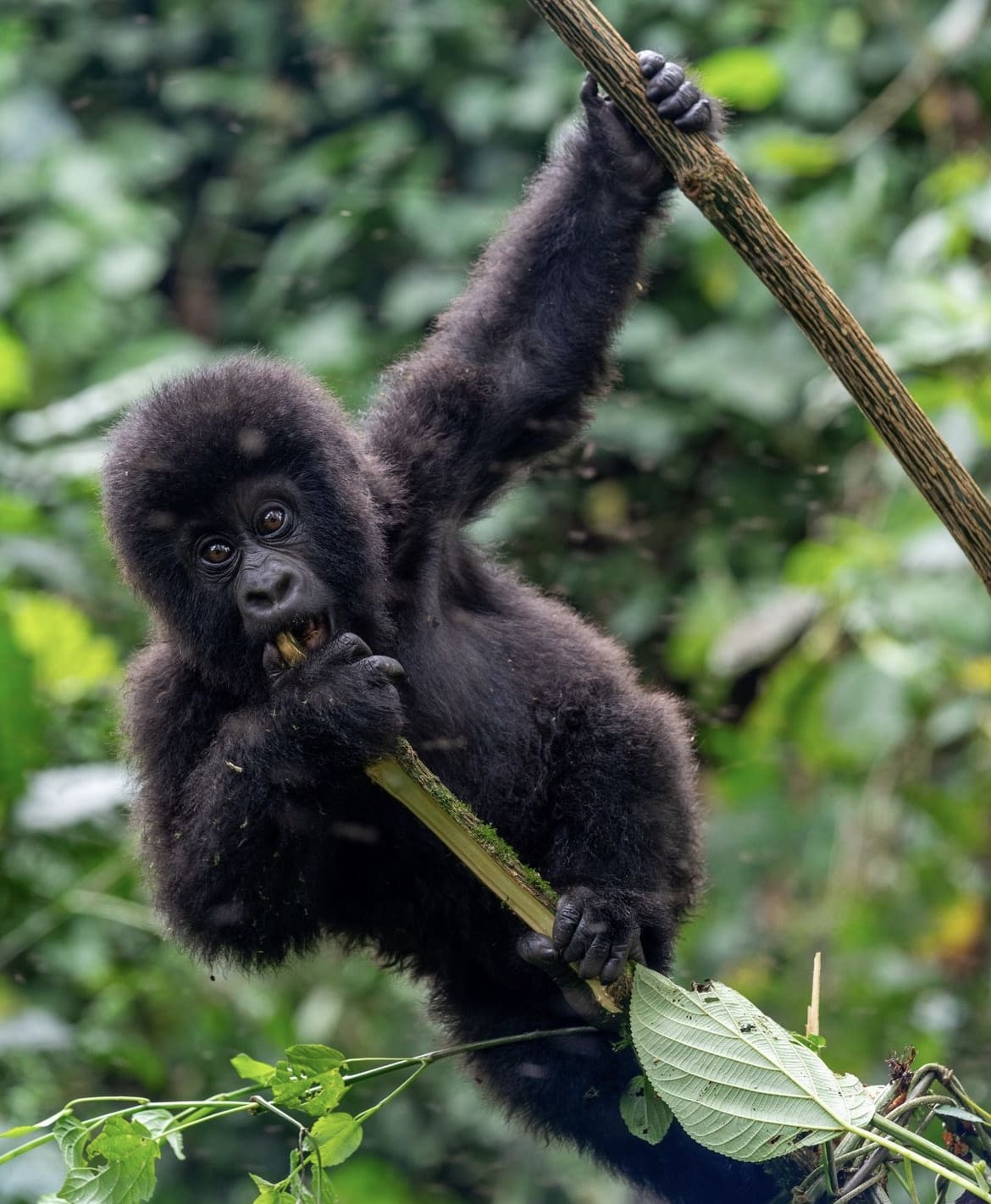 5. Engage with Local Communities: Take the opportunity to learn about the local communities living around Virunga National Park. Respect their customs, traditions, and privacy. Engaging with locals can provide insights into their way of life, culture, and the challenges they face in conservation efforts.
6. Support Conservation Efforts: Virunga National Park plays a vital role in wildlife conservation and the local communities' livelihoods. Consider supporting the park by purchasing local crafts or products that contribute to conservation initiatives. Respect park regulations and guidelines to help preserve the park's natural beauty for future generations.
7. Stay Physically Fit: Many activities in Virunga National Park involve walking, hiking, or trekking in challenging terrain. Build your stamina and physical fitness before your trip to fully enjoy these activities. Consult your healthcare provider if you have any health concerns or physical limitations that may affect your ability to participate in certain activities.
8. Embrace the Experience: Virunga National Park offers extraordinary opportunities to witness incredible wildlife, stunning landscapes, and unique cultural experiences. Embrace the adventure, be open to new experiences, and savor every moment. Keep an open mind, interact with fellow travelers, and create lasting memories in this remarkable destination.
With this comprehensive guide, you're now equipped to embark on an incredible journey through Virunga National Park, where the wonders of nature and remarkable wildlife await.
Remember to respect and protect this natural gem, ensuring its preservation for generations to come. Safe travels!
Join our community of keen travellers, wildlife enthusiasts and adventure seekers.