Arguably the most beautiful of all big cats, seeing a leopard in the wild is one of the most incredible experiences you can have while on safari in Africa. Their shy and elusive nature only adds to this and every sighting is special, for first timers and bush veterans alike.
A member of the Big Five, they are a solitary species that prefers dense woodland areas with rocky outcrops and lots of trees. Never forget to look up when scanning the bush for leopards. They are the most widespread of the big cats and found all across Africa, but the largest populations are found in Southern Africa and Kenya.
Despite their wide distribution, leopards are currently listed as Vulnerable on the IUCN Red List. This is primarily due to habitat-loss for agricultural use, which sees wild leopards often wandering onto farms where they face danger of being shot by farmers trying to protect their livestock.
Here are the best places to see leopards in Africa:
1. Sabi Sands Game Reserve, South Africa
Situated on the western edge of the Greater Kruger National Park, Sabi Sands is widely known as the best place in the world to see leopards in the wild.
The 65,000-hectare game reserve shares an unfenced border with Kruger and wildlife is allowed to move freely between the two.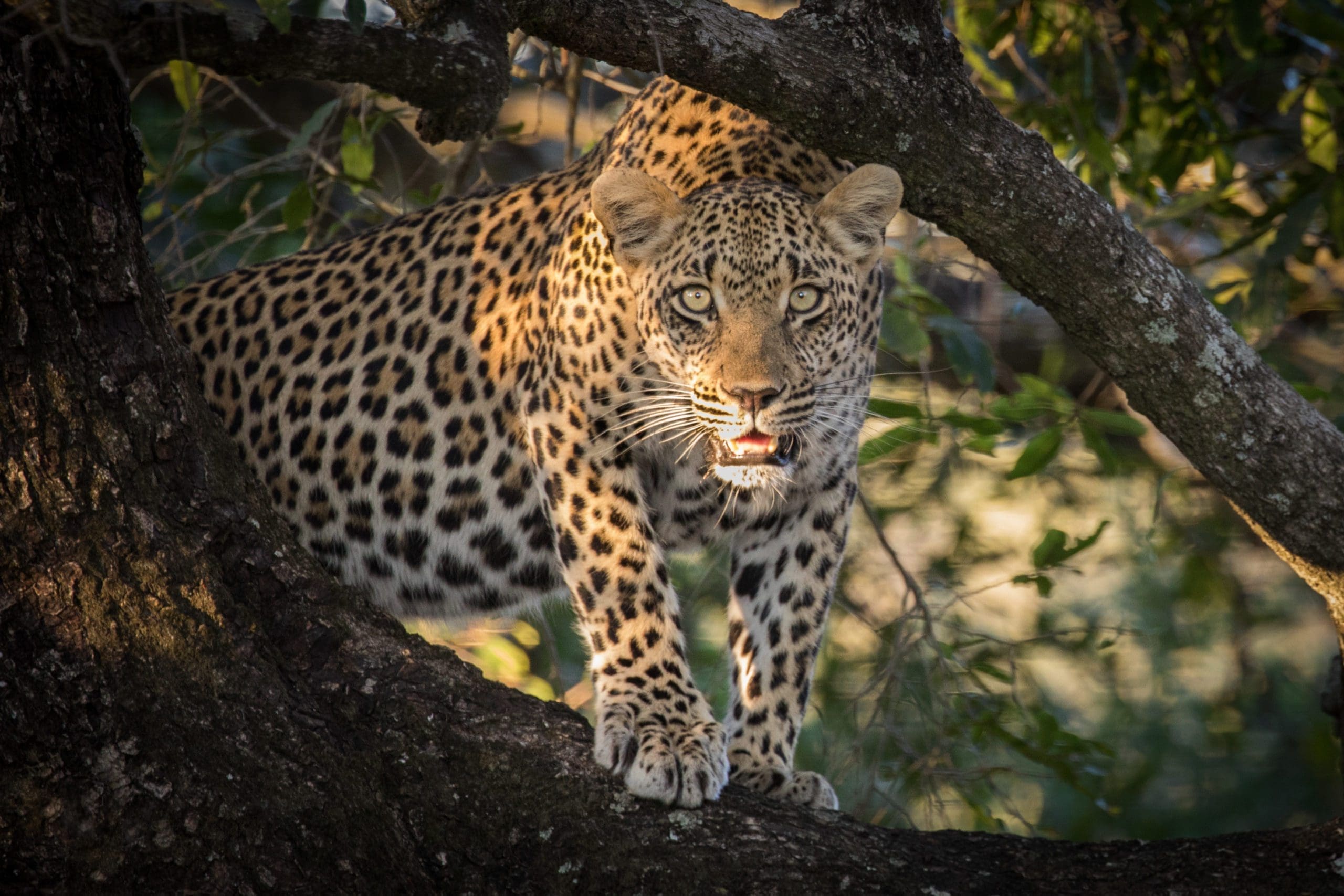 Londolozi Lodge, in the heart of Sabi Sands, has been involved in studying the region's leopards for more than 40 years and rangers are even able to recognise certain cats individually. Londolozi have 20 resident leopards on their database but have recorded more than 50 individuals in the area over an 11-month period. This includes nomads visiting from neighbouring reserves like Kruger.
The ranger's in-depth knowledge about each leopard's habits and territories gives you a very good chance of a close encounter. The best sightings happen at sunset and sunrise, and when a leopard is spotted, rangers are able to go off-road to get into the best possible position.
2. South Luangwa National Park, Zambia
Located in the Luangwa Valley in east Zambia, South Luangwa National Park is also known as the Valley of the Leopard. This couldn't be more appropriate as the region boasts Africa's highest concentration of the beautiful spotted cats. Estimates suggest there is one leopard for every two square kilometres.
South Luangwa is ideal leopard territory for a multitude of reasons. These are primarily its incredible abundance of prey animals, and the dense woodland topography that provides the necessary cover for ambush hunters like leopards.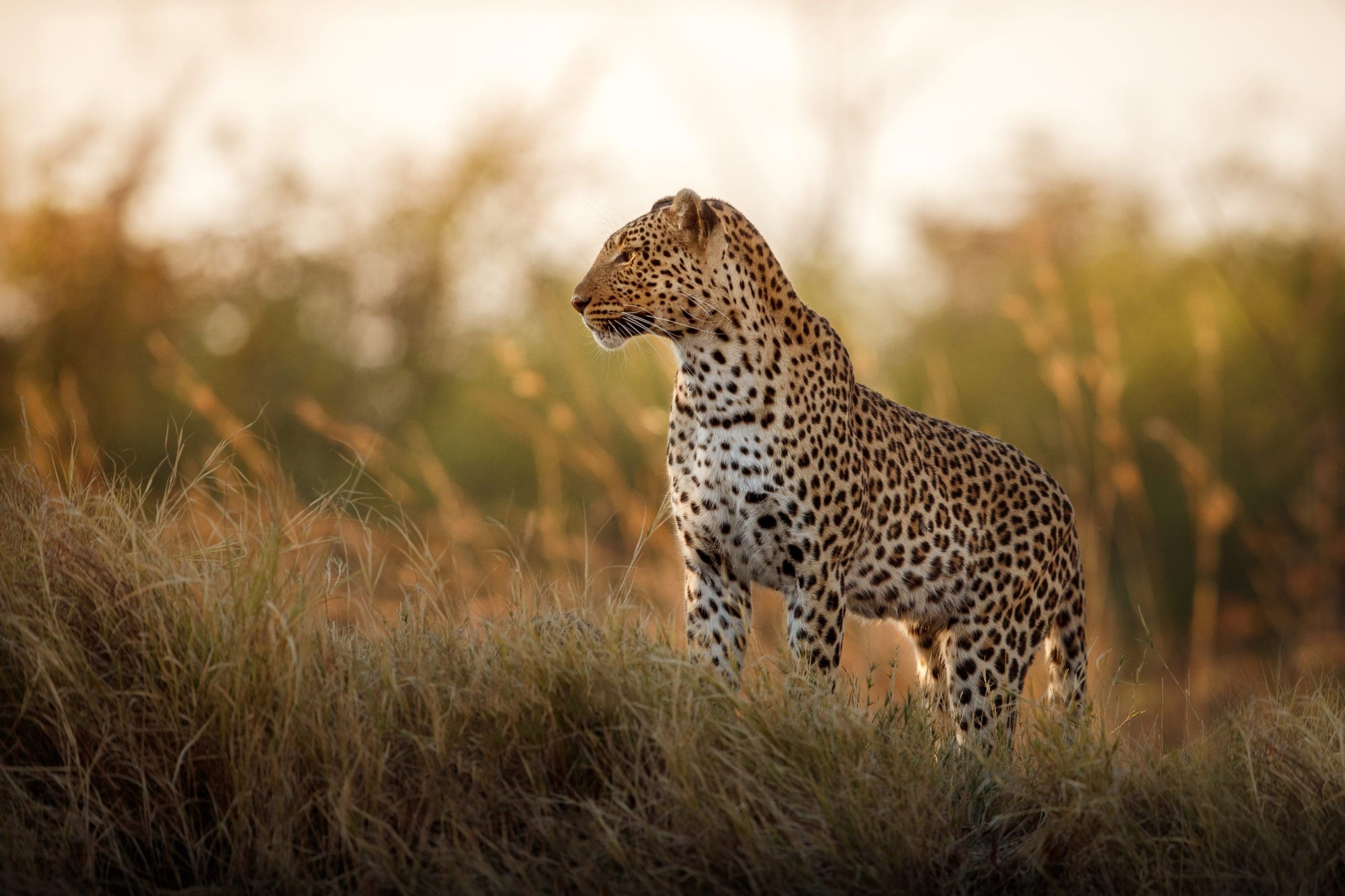 The leopards of South Luangwa are famously bold compared to more elusive populations elsewhere in Africa. These leopards can often be seen out in the daytime, resting in trees or even hunting in clear sight of safari vehicles. Some leopards have even been known to hide behind vehicles while hunting.
Unlike most other national parks (excluding those in South Africa) South Luangwa offers nighttime safaris, thereby increasing your chances of seeing a leopard in action. The park is also famous for its exceptional walking safaris.
The best time of year to see leopards in South Luangwa is the dry season (August to October) when animals congregate near waterholes and big cats are easiest to find.
3. Moremi Game Reserve, Botswana
Botswana is a wildlife super-destination, with many excellent places to spot leopards. The best of which are located around the border of the Okavango Delta.
These include the Savuti and Linyati reserves, situated in between the Delta and Chobe National Park. But for many experts, the single best destination is Moremi Game Reserve.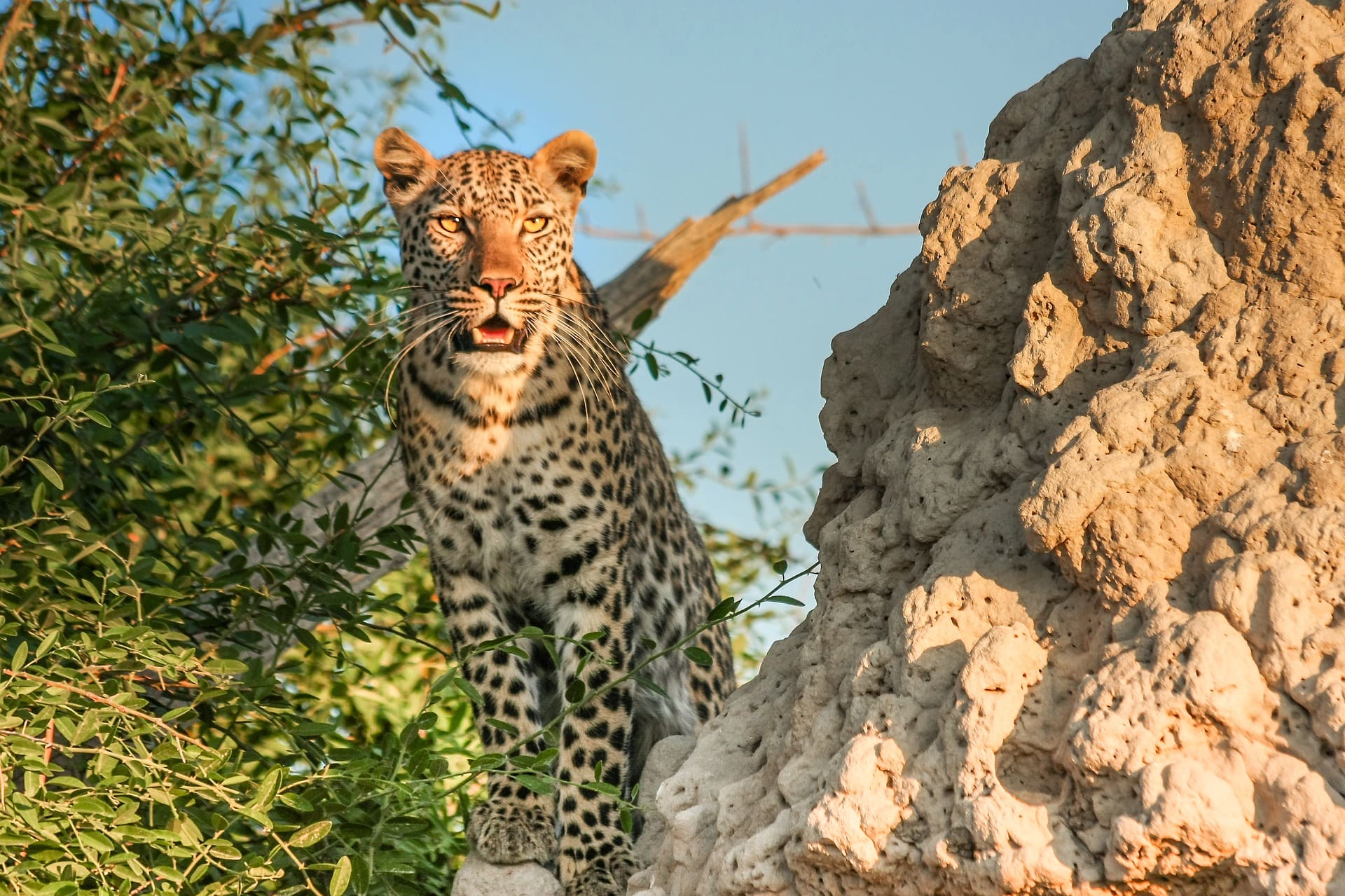 Situated in the eastern section of the Okavango Delta, Moremi is home to the Khwai River Region, where permanent pools of water attract an abundance of game and dense woodland allows leopards to stalk their prey undetected.
Leopard are so prominent in Moremi that daytime sightings are practically commonplace. If you do want to experience a night safari, you'll need to stay outside the reserve on a private concession. At least one night drive is a must! The thrill of scanning the dark for a pair of eyes shining in the spotlight is an unforgettable experience.
Moremi Game Reserve and its surrounding concessions are also home to other large predators like lion, cheetah and wild dog.
4. Masai Mara National Reserve, Kenya
Tradtionally known for its lion prides, the Masai Mara National Reserve in Kenya is no slouch when it comes to leopards!
To see them, avoid the open grasslands as these are dominated by lions with leopards generally choose to stay well away. Instead head to the region's wooded riverine areas, where dense bush and trees provide the perfect leopard habitat.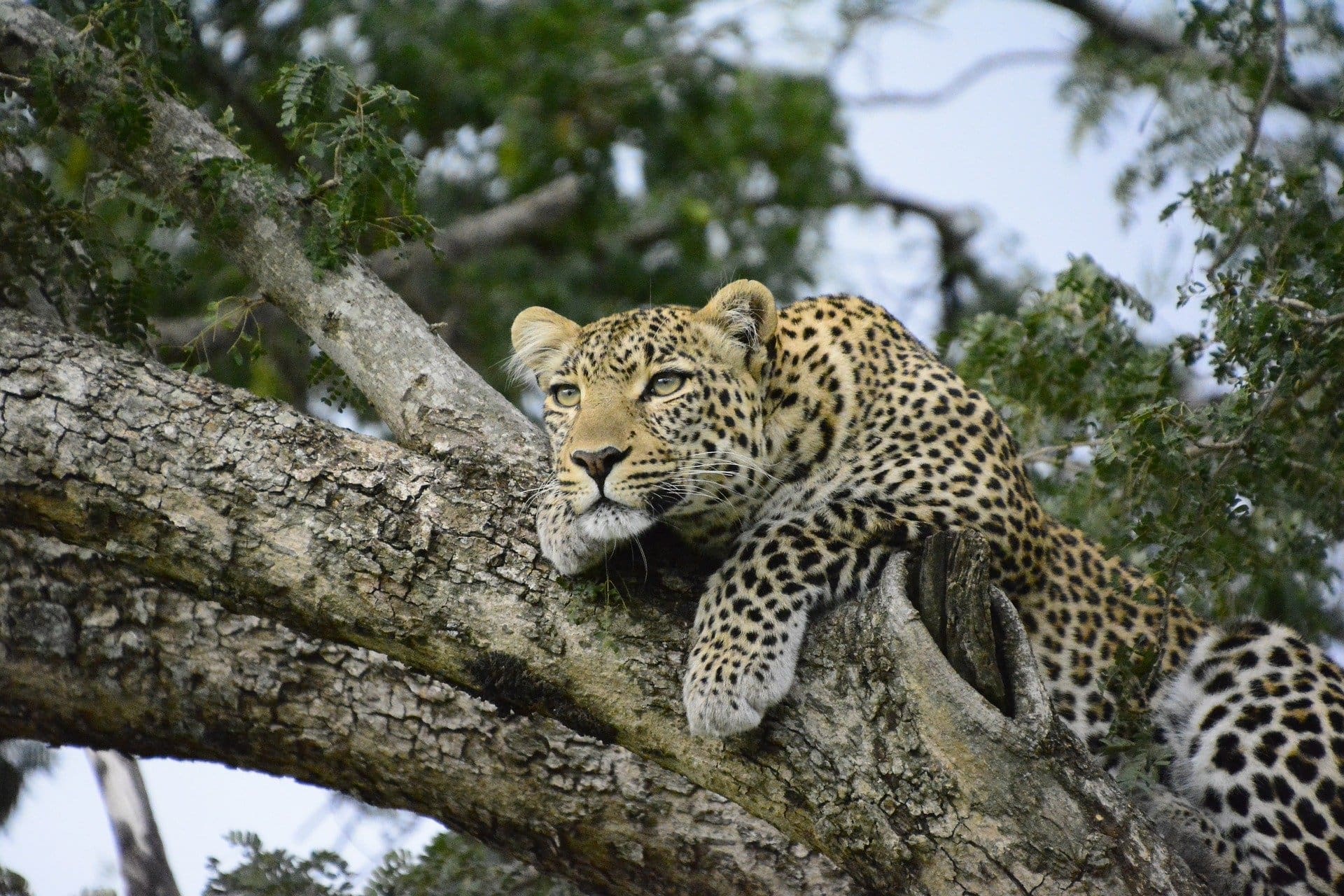 All predator sightings increase between July and November, when millions of wildebeest and zebra migrate northwards from the Serengeti National park into the Mara Triangle. Young and sick members of the herd make easy pickings for hungry leopards and full hunts are often witnessed while out on safari.
Like Moremi, the Masai Mara itself does not allow nighttime game drives. For after-dark leopard spotting book a few nights in a private conservancy.
5. Kruger National Park, South Africa
The most elusive of all the big cats, a leopard sighting is one of the most sought-after in Kruger National Park. Leopards are solitary cats, which are never seen in groups unless you're lucky enough to spot a mother and her cubs or a mating pair.
These big cats feed on a wide variety of prey items such as wildebeest, birds, baboons and even fish, but most of their diet comes in the form of impala. And if you've ever been to Kruger you'll know that a herd of impala is never far away!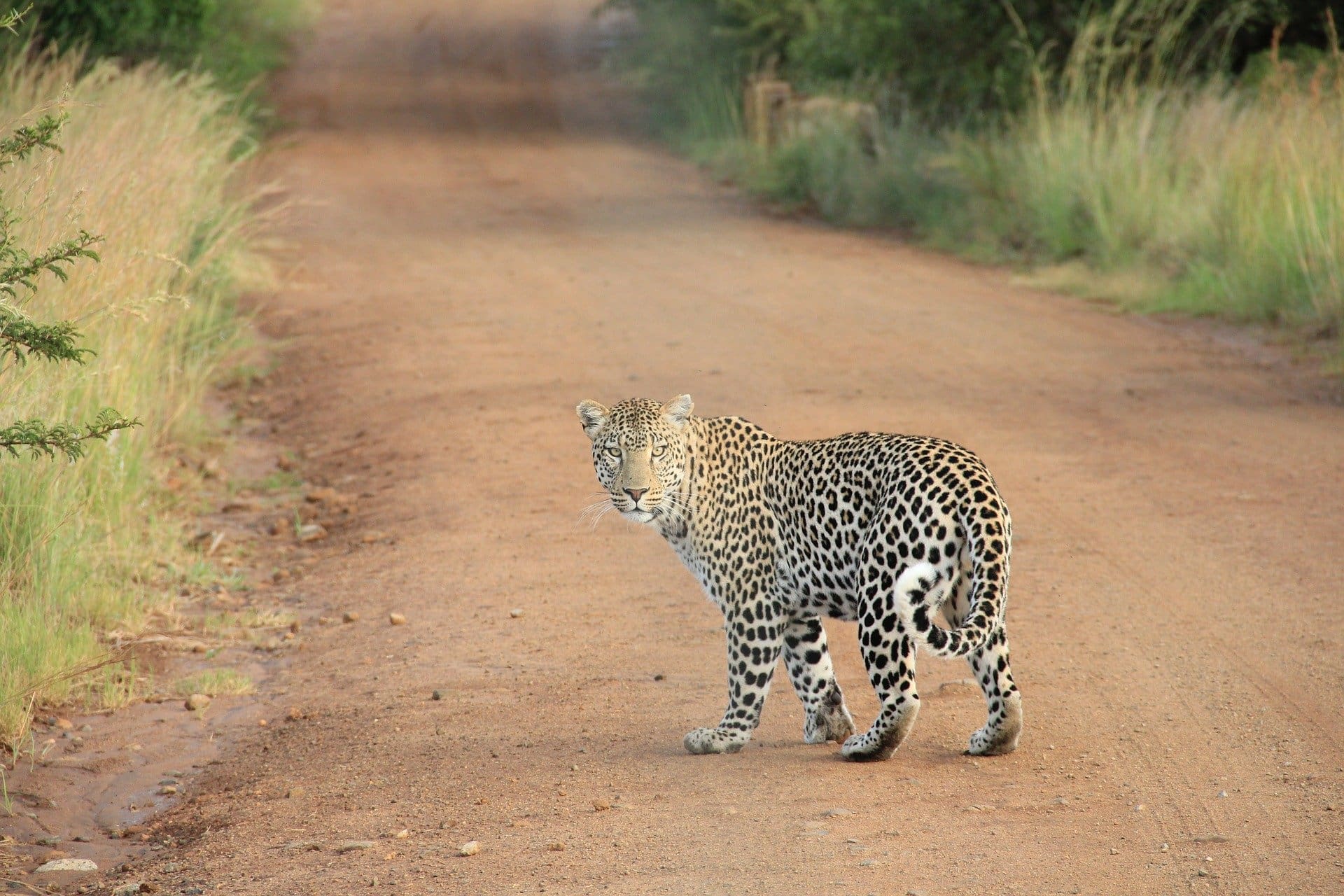 The luscious vegetation of southern Kruger National Park provides excellent habit for leopards, and this is where these shy predators are seen most often. Along with the more mountainous and tree-covered northern parts near Letaba and Shingwedzi.
The roads between and around Lower Sabie and Skukuza rest camp are a hotspot for leopard sightings, just be prepared to battle it out for a spot with loads of other vehicles.
Join our community of keen travellers, wildlife enthusiasts and adventure seekers.