The private game lodges inside Kruger National Park are often overshadowed by their famous counterparts in the surrounding Greater Kruger, in reserves like Sabi Sands and Timbavati, however they are still among the finest in Africa.
Private Game Reserve vs National Park
Aside from the breathtaking luxury and second-to-none service, private game lodges offer a variety of benefits when compared to the public camps within Kruger's core:
Private lodges are situated on private concessions with exclusive traversing rights, which means game viewing is intimate and unobstructed by the hundreds of cars on Kruger's main roads
Guides are usually permitted to drive off-road to get more up close and personal and gain access to sightings not possible from the main roads
Private concessions are usually located in the most wildlife-rich regions within Kruger National Park
Small, intimate luxury lodge settings mean that will never be surrounded by more than a couple dozen other safarigoers at a time
Guided bush walks are available at most private lodges, where guests are accompanied by knowledgable game rangers, to experience the African bush on foot
Here are the 13 best private game lodges in Kruger National Park:
Imbali Safari Lodges
Imbali lodge lies at the centre of the 10,000 hectare Imbali Concession, nestled discreetly between a canopy of Jackalberry and Tamboti trees. Built on the site of a 400-year-old African settlement that yields evidence of an ancient culture such as: clay pots, bone tools and grinding stones, the lodge continues safari traditions of a bygone era.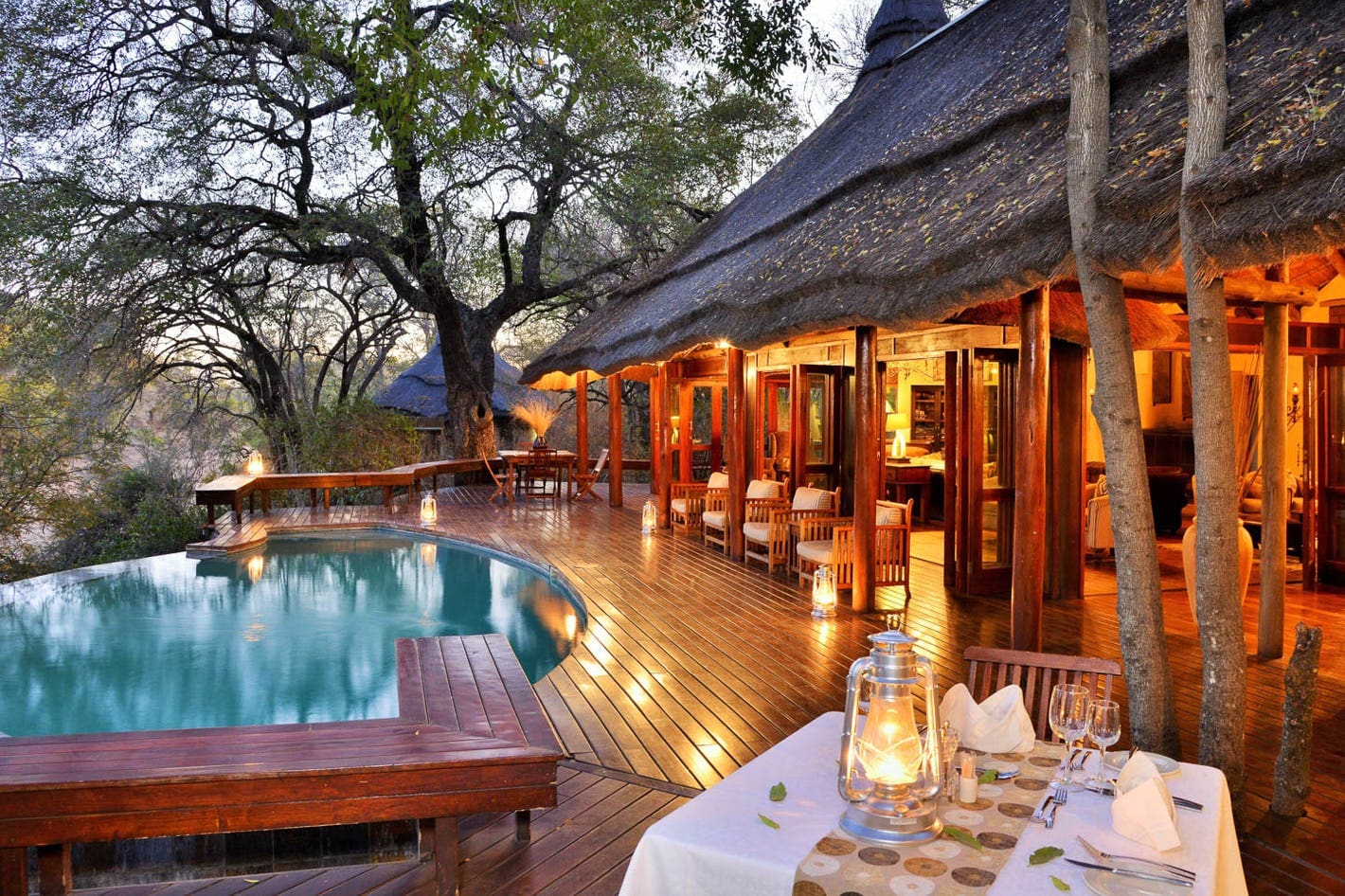 The lodge offers luxury accommodation in 12 spacious and private suites, each of which is complemented with the finest furniture and imported linen. Each suite boasts exquisite views from a large wooden deck, fitted with a private plunge pool or jacuzzi overlooking the Nwatsitswonto riverbed and the vast plains beyond.
Guests are treated to twice-daily game drives in open 4×4 vehicles and guided bush walks are available on request. You can also enjoy massage treatments in the comfort of your own room
Hoyo Hoyo Safari Lodge
Along the banks of the Mluwati River, in Kruger National Park, the breathtaking Hoyo Hoyo Safari Lodge features a unique blend of ethnic luxury, boasting both warmth and style.
Distinct thatched peaks, peeping over the lush leadwood treeline, signal your arrival at Hoyo Hoyo lodge, an intimate bushveld escape with six circular, luxury suites, all of which are air conditioned and fitted with king size beds, en-suite bathrooms with a stone bath, outdoor showers and private game viewing decks.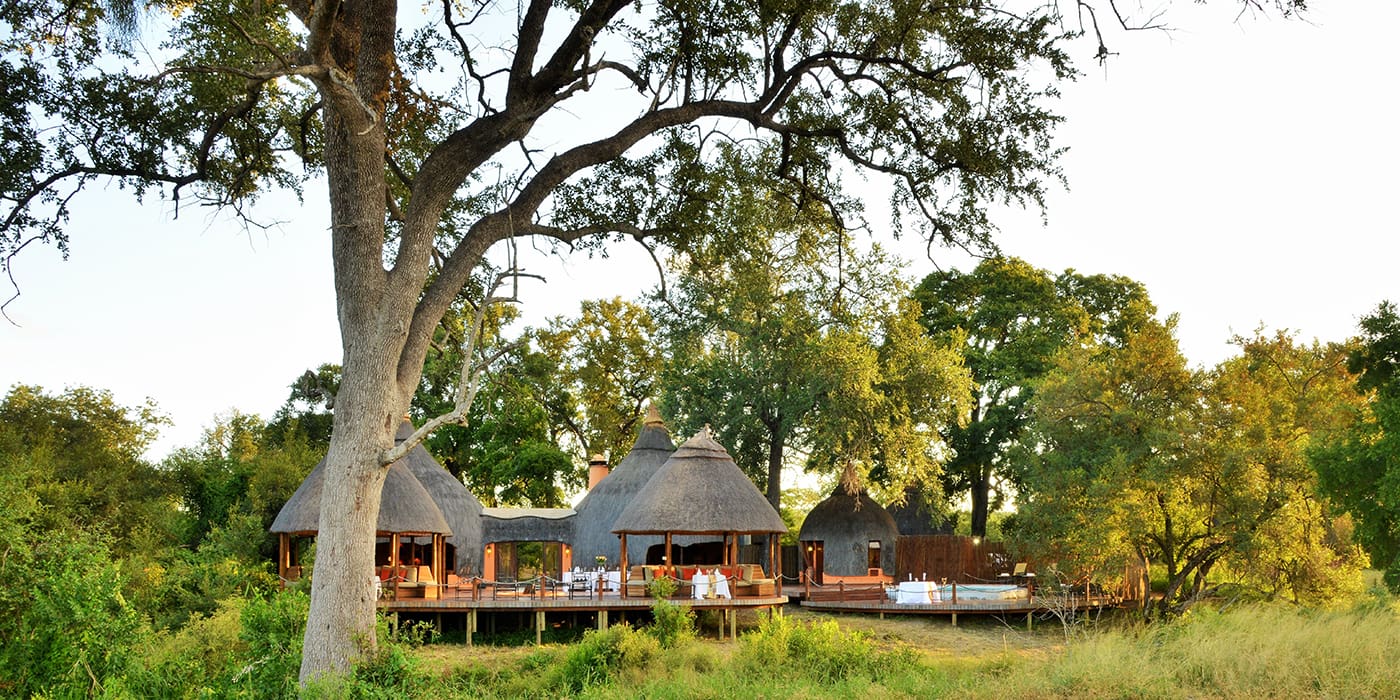 The main area is centred around a sunken fire pit, and circular timber decks which offer picturesque views over the waterhole and surrounding plains.
Experienced field guides take guests out on daily safaris into the surrounding wilderness where game viewing is superb with magnificent herds of game abounding.
Hamilton's Tented Camp
Situated on a 10,000 hectare private concession within the borders of Kruger National Park, Hamilton's Tented Camp reflects an adventure of the early twentieth century, where an African safari was the epitome of luxury travel.
Named after Colonel Stephenson Hamilton, one of the original pioneers in establishing the Kruger Park, Hamiltons Tented Camp offers a true luxury experience, while being submerged in the sights, sounds and smells of the African bush.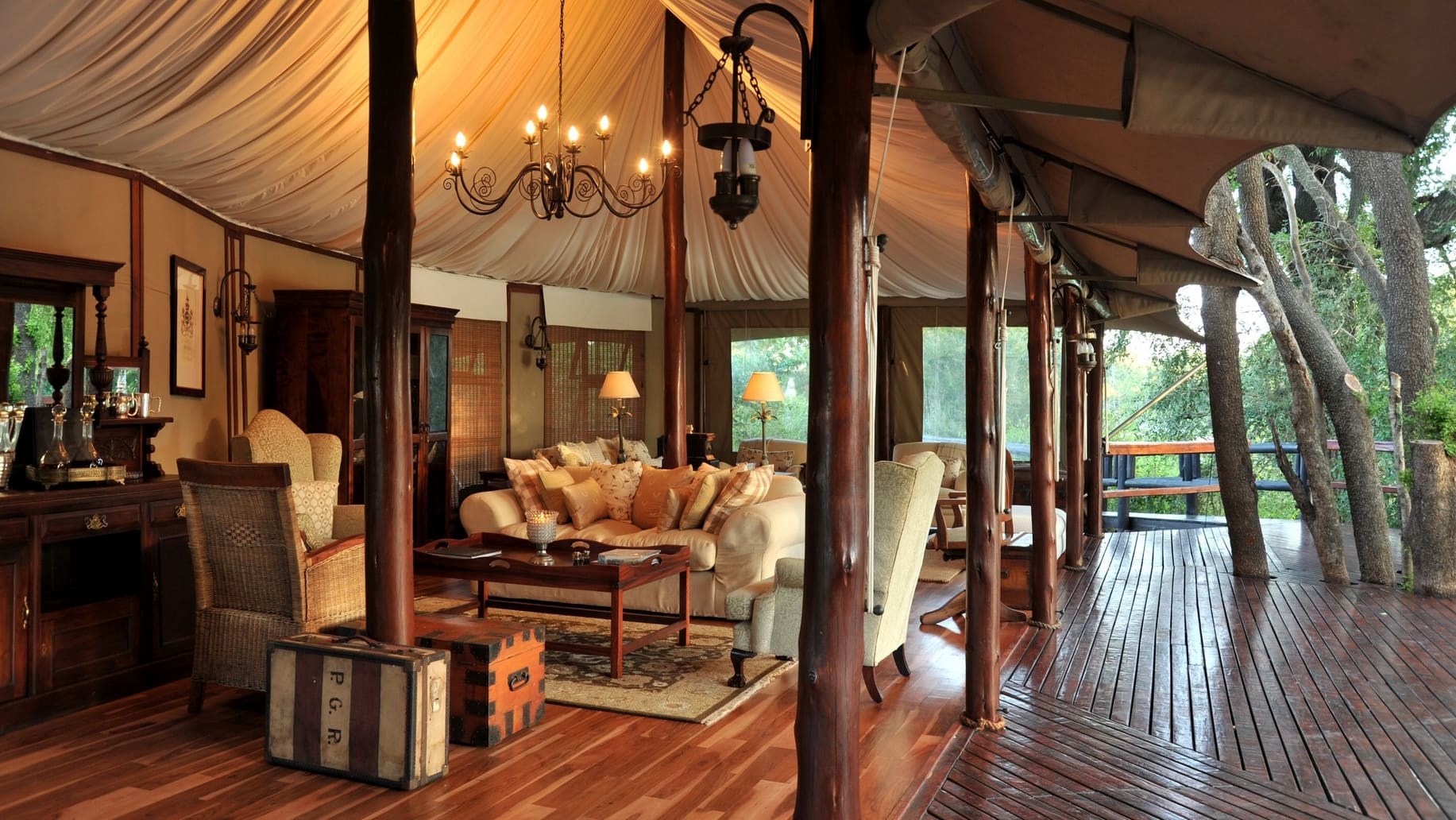 Six intimate canvas tents complete with teak floorboards, dreamy mosquito nets, slipper baths, outdoor showers and unparalleled views over the seasonal river are linked to the main lodge area by raised timber walkways, which wind through ancient Jackalberry trees.
Daily activities include morning and afternoon game drives and guided bush walks are available on request.
Jock Safari Lodge
Situated in the Southwestern corner of Kruger National Park, Jock Safari Lodge was the first private concession to be established within the park's borders.
Found at the meeting point of the Mitomeni and Biyamiti rivers, the lodge offers 6,000 hectares of exclusive traversing rights in an area of the park which is celebrated for its big five game viewing.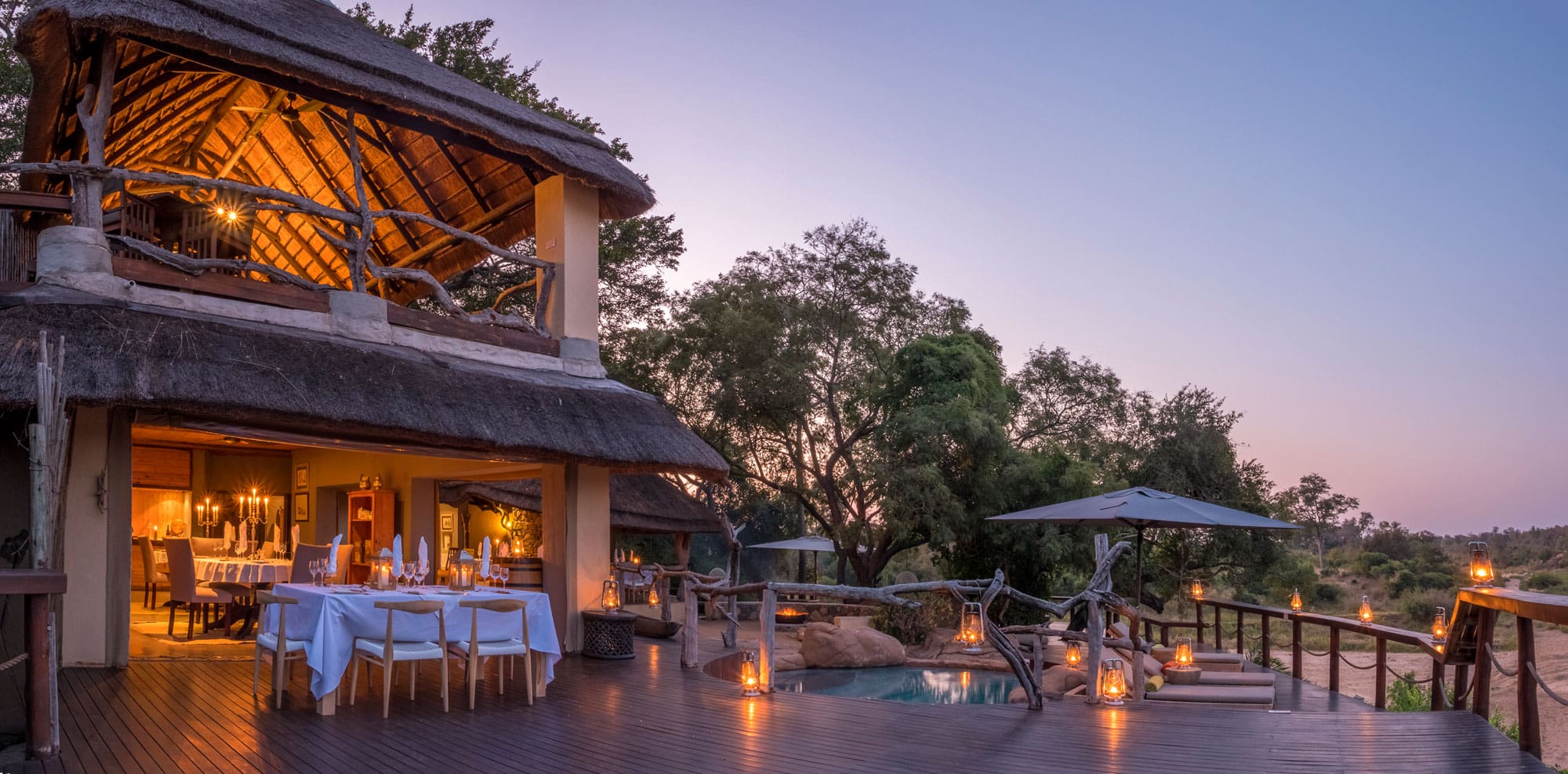 There are 2 separate lodges at Jock Safari lodge, both of which offer guests the opportunity to experience a taste of old-world elegance surrounded by unspoilt landscape.
The main Jock Lodge provides a luxury experience in pure harmony with the natural surroundings. Twelve secluded thatched suites offer total privacy, leading onto a private deck with plunge pool and a day bed, all with a spectacular view of the riverbed.
Apart from exceptional game viewing, facilities at Jock include a Relaxation Retreat with steam room, sauna and exercise room. There is also a Gift Boutique, heated pool with deck, in and outdoor dining facilities and a library.
Kruger Grande
About an hour from Skukuza, and within the borders of Kruger National Park, Kruger Grande is a tented camp that offers a 'luxury under canvas' themed wilderness experience.
Each canvas tent is epitomised by true African elegance with comfy spacious interiors, luxurious linen and en-suite bathrooms with hot showers, all blended together seamlessly to create a real bucket-list experience.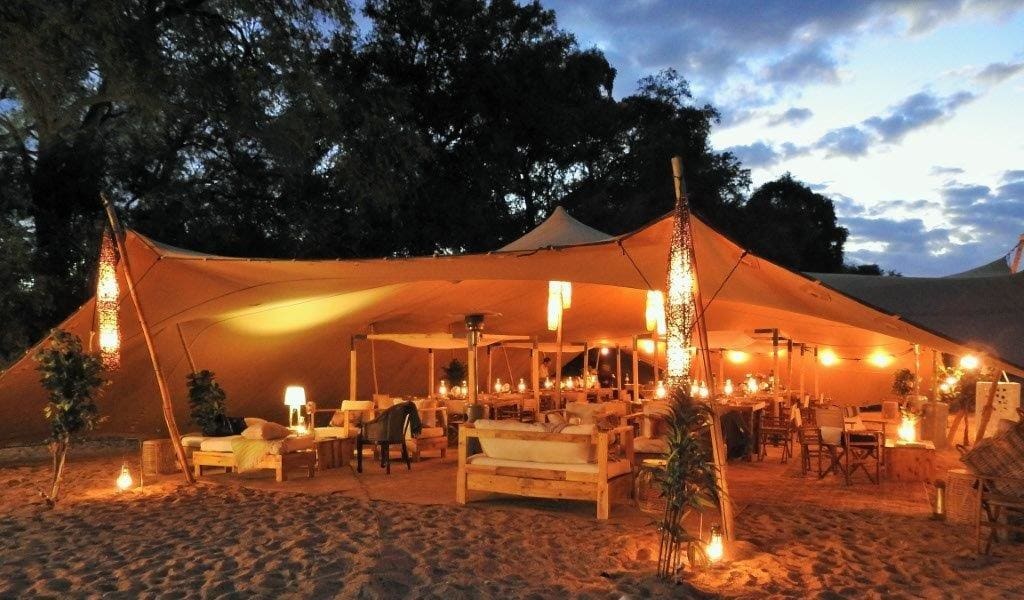 Renowned for exquisite African inspired cuisine, best accompanied by award-winning wines, Kruger Grande is the perhaps the greatest culmination of raw, rugged bush and extravagant luxury.
Daily activities include guided game drives into the game rich bushveld of Kruger's southern region, which is prime Big Five territory.
Lukimbi Safari Lodge
Lukimbi Safari Lodge is a 5-star luxury camp in the southern portion of the Kruger National Park, on the 15,000 hectare Lwakahle concession.
The lodge is decorated with carved plaster panels showing intricate portrayals of mystical creatures and African patterns.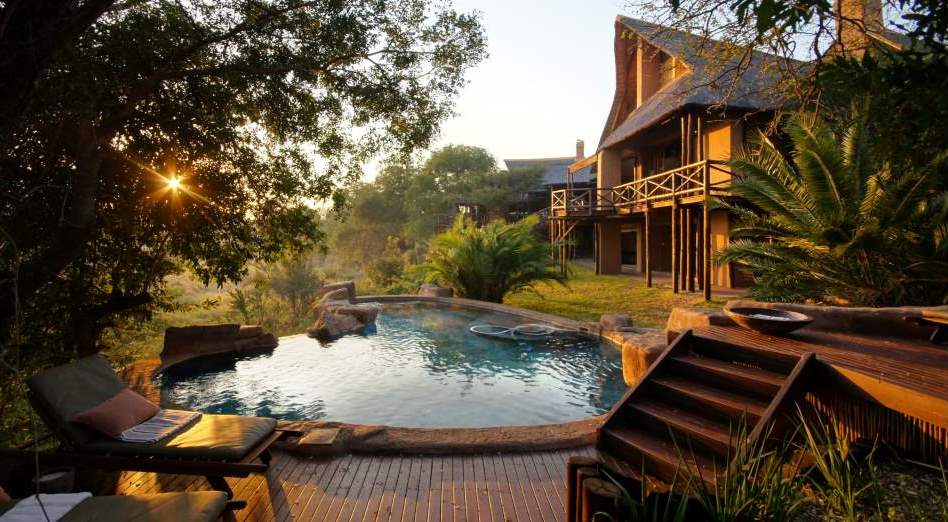 The lodge features 14 luxury suites with an additional two considered as 'ultra-luxury'. Each suite is fitted with both indoor and outdoor showers, en-suite bathrooms and a private deck overlooking the river and its surrounding plains. The premier suites have private splash pools that provide some much need respite from the African summer heat. The lodge also offers conference facilities, a private chapel, a gym and a library.
Activities include guided walks, and two safaris per day in open game-viewing vehicles – one in the morning and one in the late afternoon – through 123 kilometres of private roads.
Rhino Post Safari Lodge
Situated on a 12,000 hectare private concession in Kruger National Park, Rhino Post Safari Lodge shares a 15 kilometre unfenced border with the famous Mala Mala and Sabi Sands Game Reserves. The concession is well known as an exceptional game viewing location as the animals move freely between each reserve. Sightings of the Big Five are extremely common.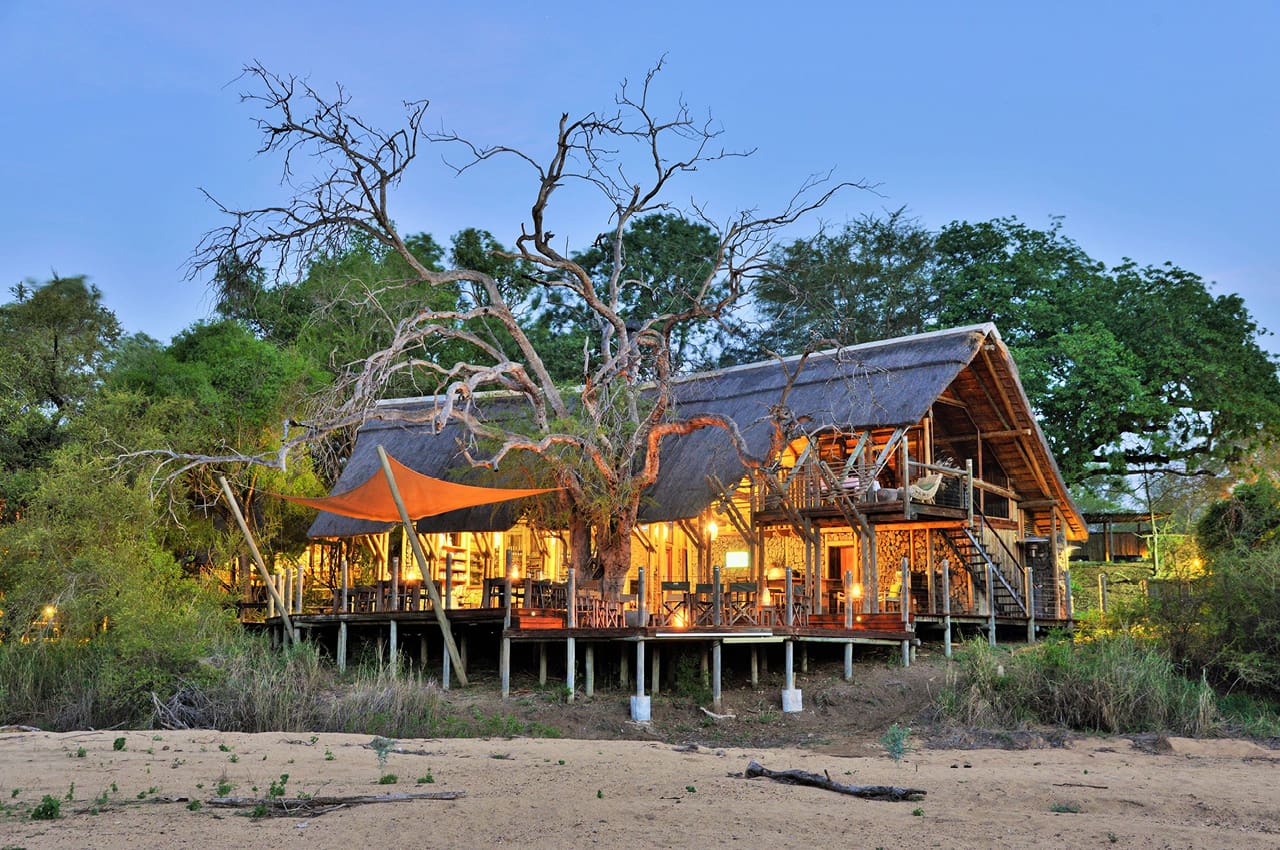 The lodge is set on the dry Mutlumuvi Riverbed, under the magnificent Tamboti trees and has been expertly put together with natural materials – stone wood, thatch and canvas – providing an authentic wilderness ambience. Each of the 8 suites offer views over the riverbed, a hotspot for wildlife activity!
After one of the twice-daily game drives, guests can cool off in the swimming pool or take in the spectacular views from the shaded patio, looking on as wildlife make their way down to drink at the waterhole. The camp's outdoor dining area, set beneath the trees, provides a dreamy scene for a romantic dinner while the lounge, with its extensive wine cellar, cosy fireplace and bar, is the ideal winter spot.
Shishangeni Private Lodge
Shishangeni Private Lodge is situated on a 15,000 hectare private concession in the southeastern section of Kruger National Park, bordered by the Crocodile River to the south and Mozambique in the east.
The lodge is comprised of three main camps, Shishangeni Lodge, Camp Shawu and Camp Shonga, each of which offers a slightly different experience while keeping the focus on nature and luxury.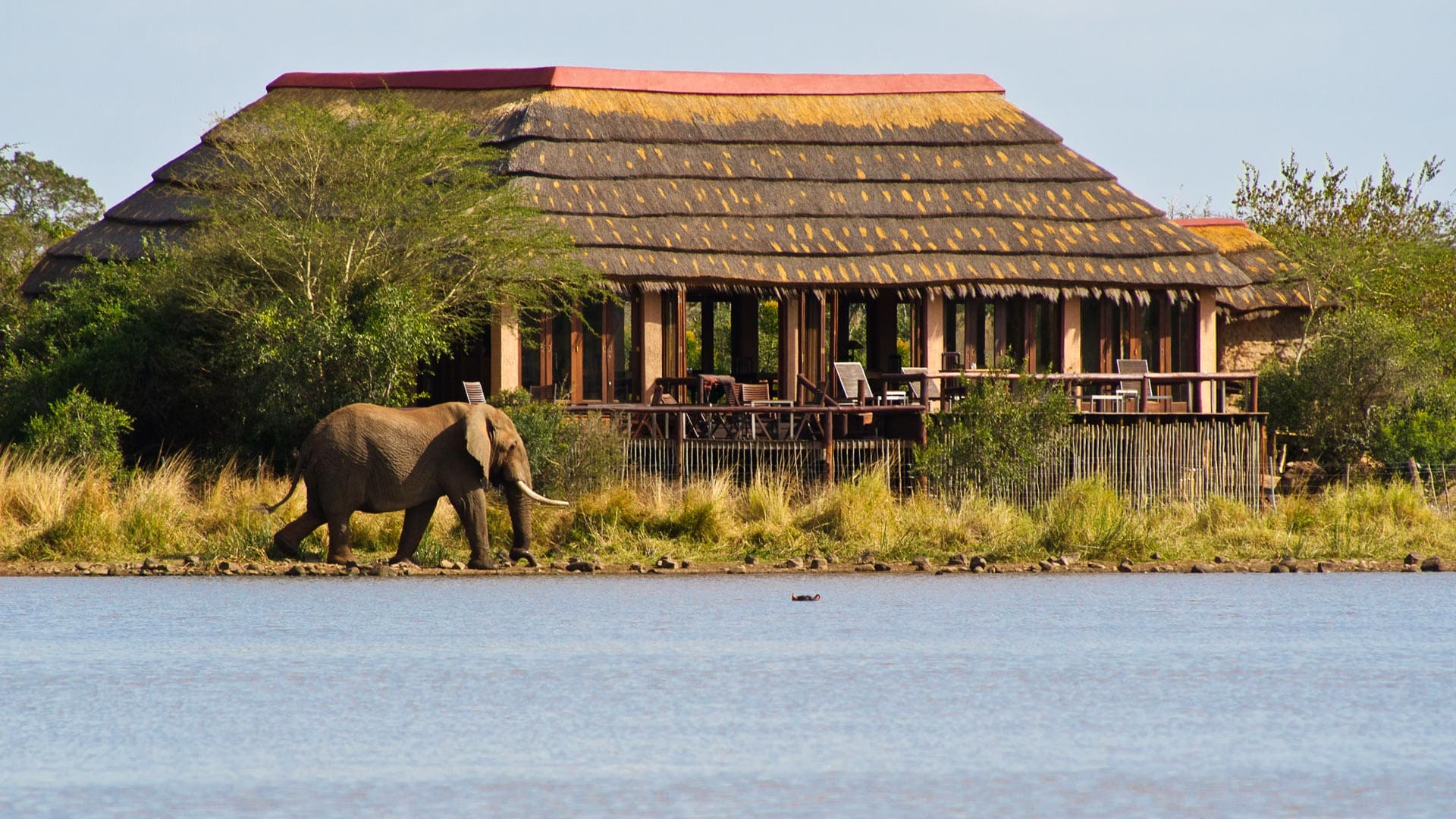 The main lodge accommodates 44 guests in 22 individual chalets, all equipped with en-suite bathrooms, outdoor showers, air conditioning, fireplace and private timber decks.
Guests are treated to daily game drives, with frequent Big Five sightings, and fireside boma dinners or spa days are also on offer.
Singita Lebombo Lodge
The unique Singita Lebombo Lodge is comprised of 13 glass-walled suites, suspended above the N'Wanetsi River, and providing some of the most breathtaking views of any of the private game lodges inside Kruger National Park. These light-filled structures, seemingly float between river and sky, and were inspired by the many eagles nests built into the cliff face on the river bank.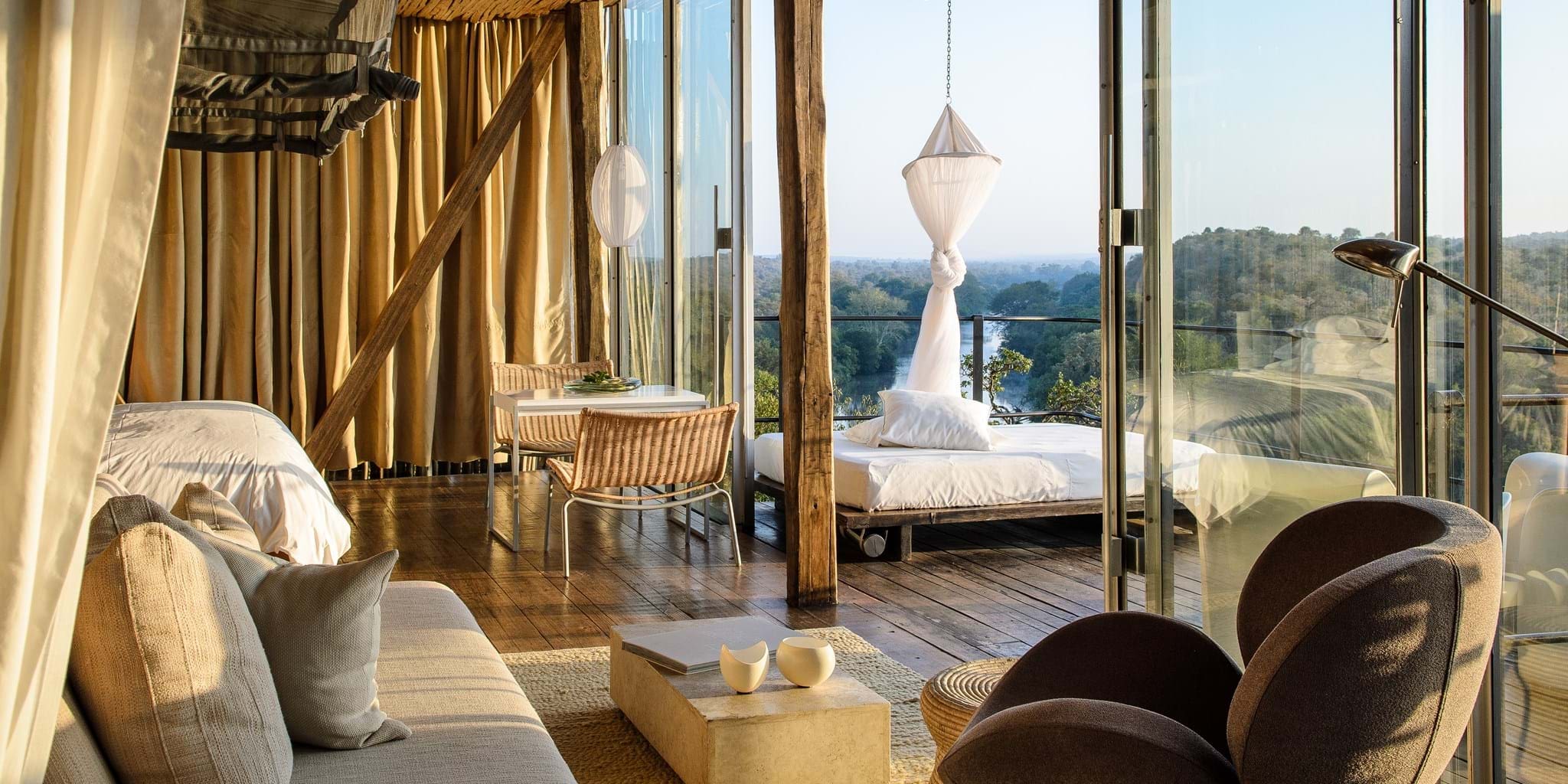 The 13,000 hectare Singita concession provides a richly diverse habitat that teems with wildlife, beneath endless African skies. Aside from the 13 contemporary suites, the private villa is the most exciting feature of the lodge. Set apart from the main lodge, it features a pair of 2-bedroom suites, each with a private pool, that link together to create a spectacular four-bedroom offering.
Activities include daily game drives, guided walking safaris, stargazing, spa days and looking for game while lounging around the pool.
Singita Sweni Lodge
Tucked into the banks of the Sweni River, the intimate Singita Sweni Lodge is a hidden gem of the bushveld that provides an African context to contemporary design, architecture and cuisine. The lodge's seven suites – with the addition of a family pool suite – are hidden amongst a canopy of trees, each of which features open plan interior with two bathrooms and an outdoor shower that overlooks the river. Each unit is constructed almost entirely of wood and glass.
Guests have access to a 33,000 acre private concession within the Kruger National Park, which is excellent game viewing territory as the area holds the highest densities of game and bird life in the park.
Along with a comprehensive wine cellar stocked with the finest selection of South African wines, guests are treated to exceptional cuisine with traditional African ingredients that combine simplicity with an abundance of flavour.
Activities include daily game drives, guided walking safaris, stargazing, spa days and wildlife spotting as the animals come down to the river to drink.
The Outpost
In the northernmost part of Kruger National Park, The Outpost lies in a vast wilderness called the Makuleke region, bordered by the Limpopo River and Zimbabwe in the North and Crooks Corner and Mozambique in the East.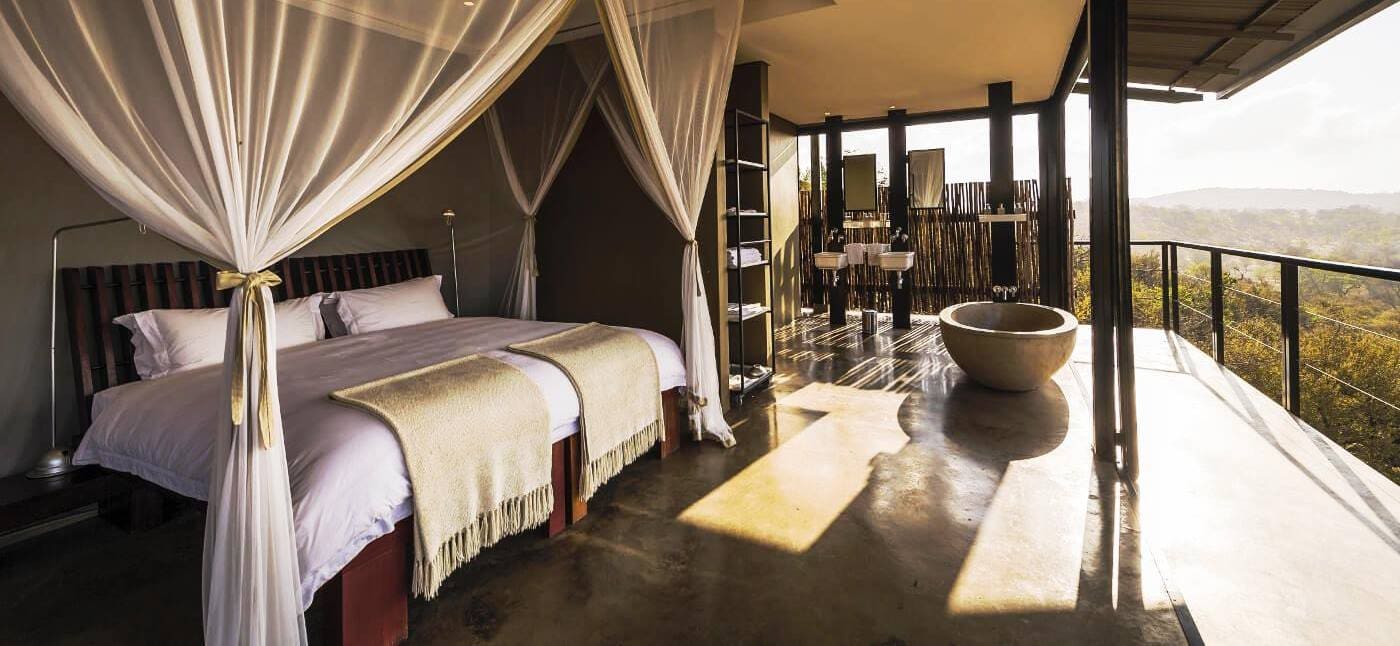 The lodge comprises of one large main building with twelve stand-alone living spaces set on the side of a hill overlooking the Luvuvhu River. All are connected by a 500 metre long wooden walkway.
The contemporary design of each unit is added to with retractable screens that open to provide a 180 degree view of the Luvuvhu River valley. The living area comprises of an outdoor terrace with daybed, indoor lounge and bedroom with king size bed, beautifully positioned under mosquito netting and an en-suite bathroom with award winning views of the valley below.
Lion Sands Kruger
Situated in one of the most wildlife rich regions of Kruger National Park, Lion Sands Kruger lies on the banks of Sabie River, which is home to the highest density of leopards anywhere in Africa and one of the highest number of predators.
Lion Sands' twin lodges, Tinga and Narina, each boast nine luxury suites, each of which are well spaced to ensure exclusivity, and are equipped with a private heated plunge pool and viewing deck with an unobstructed view of the Sabie River. The river is the lifeblood of Kruger's southern region and many visitors have been treated to spectacular sightings from the decks of their suites.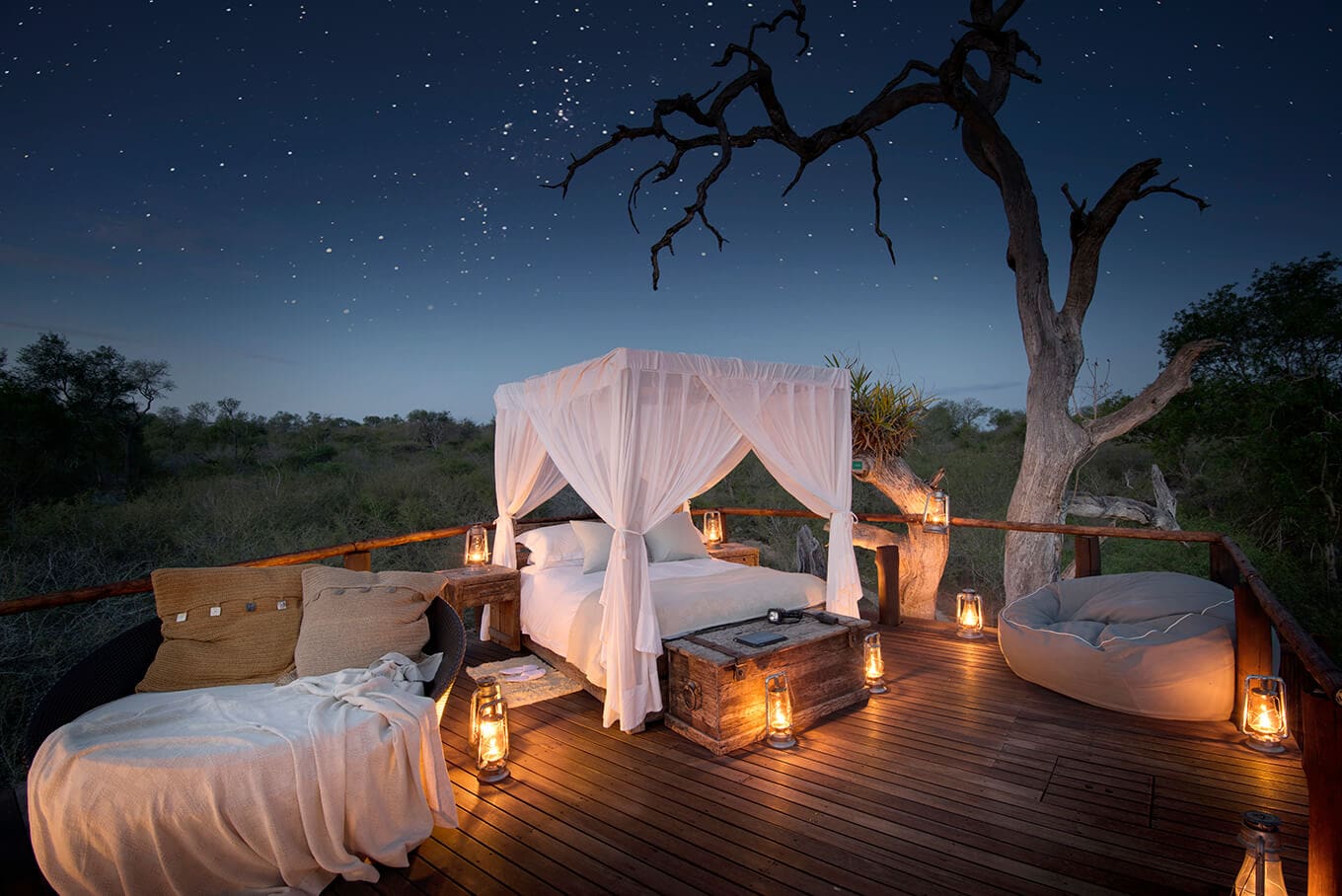 The lodge sits within an exclusive 5,000 hectare private concession, where guests can enjoy searching for wildlife on game drives or bush walks, whilst accompanied by experienced field guides, and away from the hustle and bustle of the park's public roads.
However, Lion Sands vehicles do also have access to the entire Kruger road network, which means guests can view the areas of historical significance and aesthetic beauty outside of the concession should they wish to do so.
Pafuri Luxury Tented Camp
Pafuri Luxury Tented Camp is situated in the Makuleke Contract Park in the north of the Kruger National Park. The luxurious tented accommodation stretches along the Luvuvhu River on raised wooden walkways.
The remote 24,000 hectare concession is the largest and most biodiverse in Kruger with many species found no further south than Pafuri. As much as 75% of the park's total biodiversity occurs here in an area only slightly more than 1% of its total size.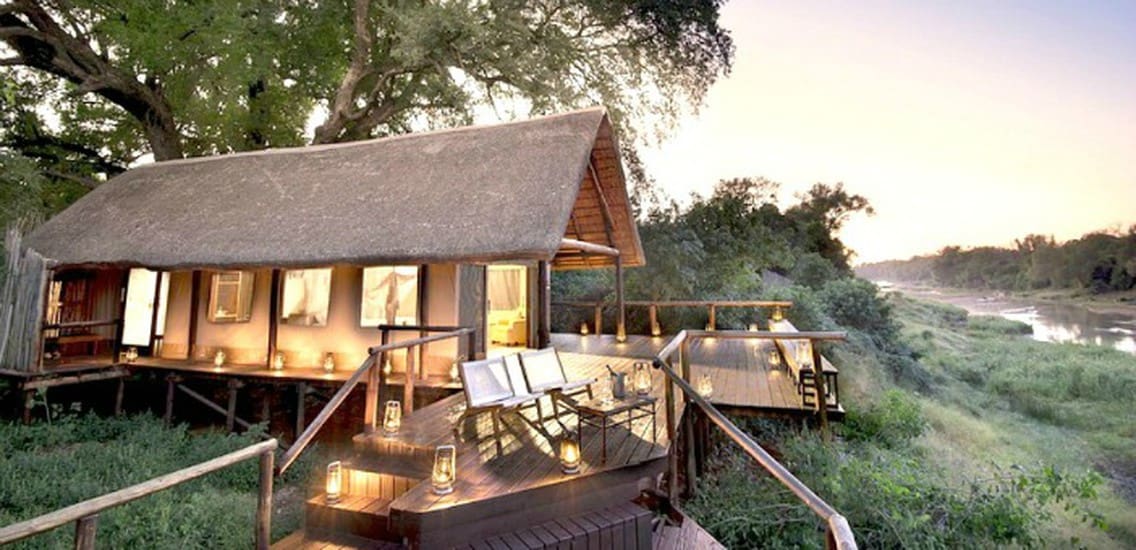 The camp features 19 designer tents with en-suite bathrooms and both indoor and outdoor showers. There are seven 'family tents' that sleep families of four and each tent offers stunning views over the river. A bush bar, swimming pool and al-fresco dining area make up the everyday entertainment, and there's plenty of space to unwind beneath the branches of the giant trees embracing the camp.
Three meals are served each day and guests are invited to take advantage of professionally guided morning and afternoon game drives to experience the extraordinary biodiversity, scenic splendour and history for which the Pafuri region is renowned. More adventurous guests can opt for bush walks, where guides will reveal many of the intimate secrets of the African bush. Close encounters with animals, both large and small are commonplace.
Join our community of keen travellers, wildlife enthusiasts and adventure seekers.