One of the most highly sought after sightings on an African safari is the cheetah, and millions of tourists swarm to east Africa every year to catch a glimpse of these beautiful cats where viewing is best.
What is the Cheetah?
The cheetah is one of Africa's big cats and one of the continent's most iconic species. They are a large, slim, spotted cat and
They are the fastest land animal on earth, able to reach speeds of up to 70 miles/120 kilometres per hour. They are exceptional hunters and historically were even called the 'hunting cat'.
Cheetah vs Jaguar
All the spotted big cats are commonly confused because at first glance they can look quite similar. However the cheetah and the jaguar are entirely different species, found on completely different continents.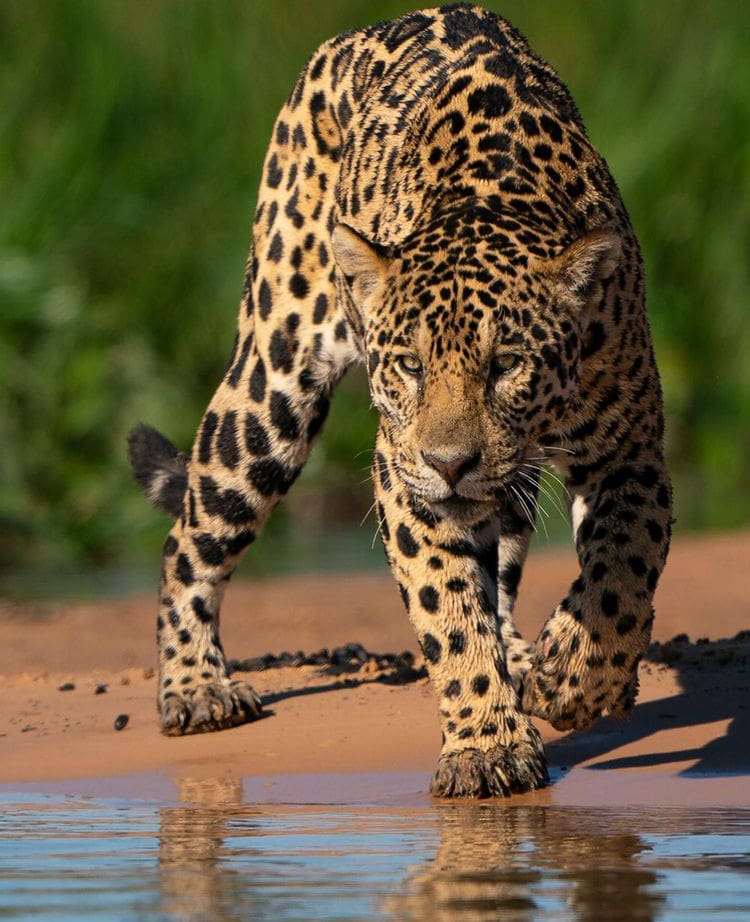 The jaguar lives in the jungles of south America, while the cheetah thrives on the plains of Africa. Jaguars are short, stocky cats with a large head and powerful jaws. They are extremely aquatic and famous for hunting caiman straight out of the Amazon river. The cheetah couldn't be any more opposite – here's how!
Appearance
How big do Cheetahs get?
The cheetah is a tall, slender cat with long legs relative to their body. The typical adult stands between 2 and 3 ft. (60-95cm) at the shoulder, and males are slightly bigger than females.
They are a slim species with a narrow waist, built for speed rather than power. Not very muscular, adult cheetah range between 50 and 180lbs. (35-75kg) on average depending on age and geographic location.
Cheetah spots
A cheetah's golden-brown coat features one of the most amazing patterns in the animal kingdom. They are entirely covered in small, solid black spots. These spots create a pattern as unique to each individual as fingerprints are to humans. They do not have spots on their underbelly, but they do have spots on their tail – which ends if a white tuft tip.
The purpose of these spots is to help the felines camouflage as they move through the bush, by offsetting their shape against the surroundings.
How long is a Cheetah's tail?
The cheetah has a long, muscular tail that acts as a rudder during high speed chases on the savanna. Averaging between 24 and 32 inches (60-80cm) long, their tail stabilises and counterbalances movements as they mimic the zig-zag running pattern of the fleeing animal in-front of them. This allows for sudden bursts speed and rapid change of direction.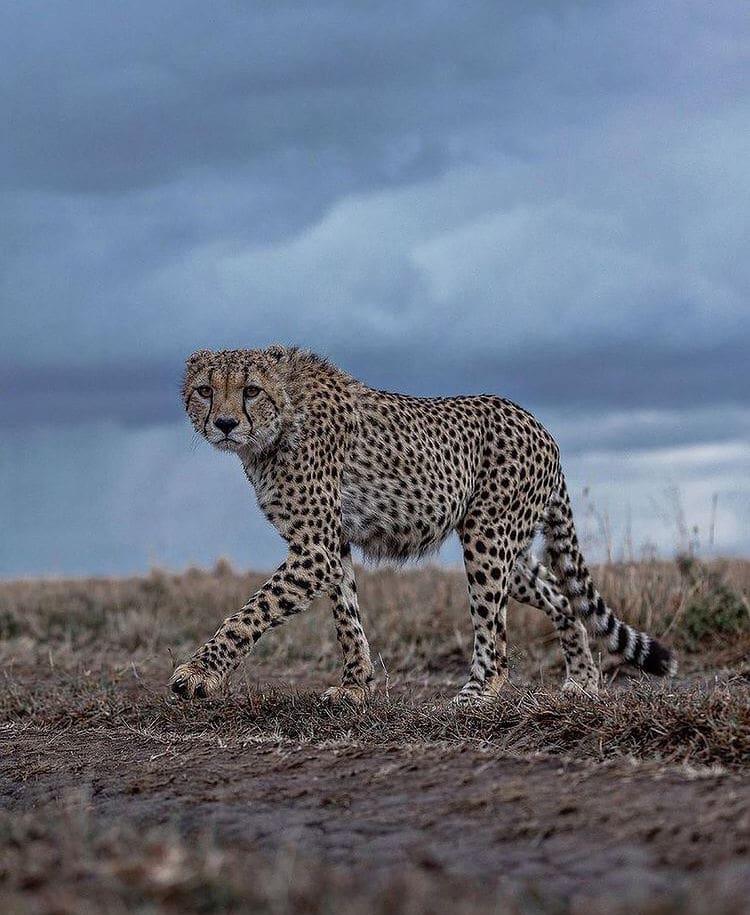 Do cheetahs have retractable claws?
Unlike most cats, a cheetah's claws are only semi-retractable. Their footprints show small tips on the edge of each toe pad and appear more like dog spoor than cat tracks.
Their claws are blunt and curved, and act like running spikes. They also have ridges running along their foot pads, which along with their claws, allow for increased traction while running through the grasslands.
Why do cheetahs have tear marks?
One of the cheetah's most iconic physical features are the black 'tear' markings on its face. These are stripes that run from the corner of each eye down either side of their nose.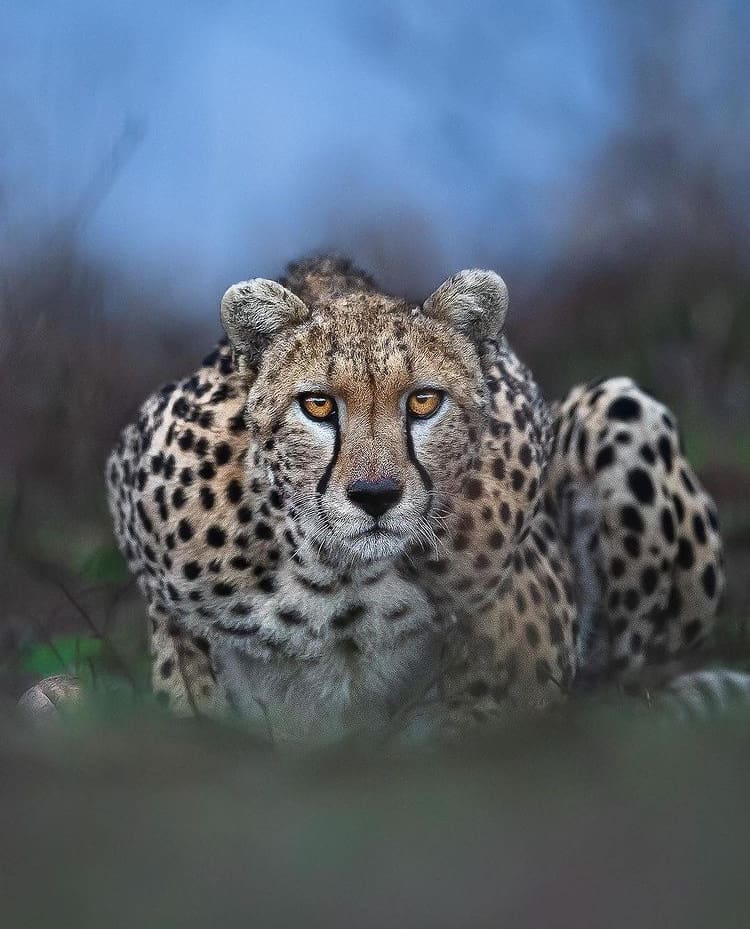 The origin of these 'tear marks' is shrouded in much mystery and fable. However scientists believe that these markings protect the animal's eyes from the sun's glare. Acting like a rifle scope, they help the cheetah focus on their prey items from long distances.
Behaviour
What do cheetah eat?
The cheetah is a carnivore that hunts and kills for their food.
Prey items vary between location, but commonly they feed on; gazelle, springbok, impala, rabbits, birds and wildebeest.
How do Cheetah hunt?
Speed is the cheetah's primary hunting tool. Before beginning the chase, a cheetah will use camouflage and stalking tactics to approach their prey from downwind. The aim is to get as close as possible.
Once they're happy with the distance, the high speed chase begins. A typical chase only lasts between 20 and 60 seconds, and cheetah hunts are only successful 50% of the time. Unlike other cat species, cheetah are diurnal and predominantly hunt during the day.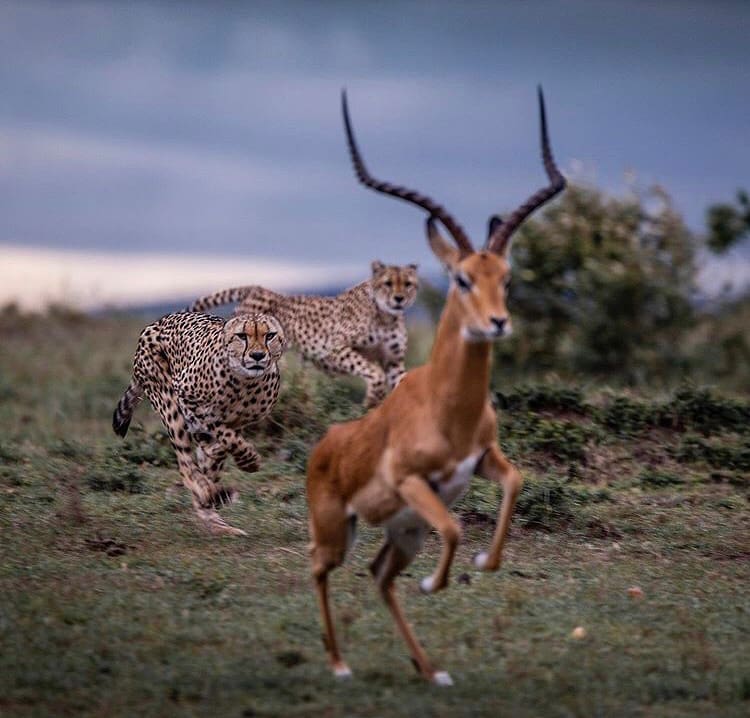 How fast can Cheetahs run?
The fastest land mammal on earth, the cheetah can reach speeds of up to 70 miles an hour (120km/h) for up to 60 seconds at a time.
They generally cannot maintain this speed for too long and if they aren't able to pin down their prey relatively quickly, they will abandon the hunt. Previously this was thought to be to prevent overheating, but this has recently been proven untrue.
Cheetah Social Structure
Cheetah have a unique social structure among big cats. Adult females live solitary lives, while males are known to be more social.
Males and females only come together to mate, and females raise their cubs alone. Cubs are born looking strikingly different from their ultimate adult appearance, with thick blond mohawks running down the length of their backs.
Cubs stay with their mother for around 18 months, during which time they're taught how to hunt and look after themselves.
Males form bachelor groups, in which they live and hunt together. With a joint effort, they're often able to take down larger prey items like wildebeest or zebra.
Instead of having a specific 'den' or nest site that they frequently return to, adult cheetahs will claim a home range or territory. These can be quite large depending on the availability of natural resources within an area, and can range from 5 to 370 square miles (13-958 sq km).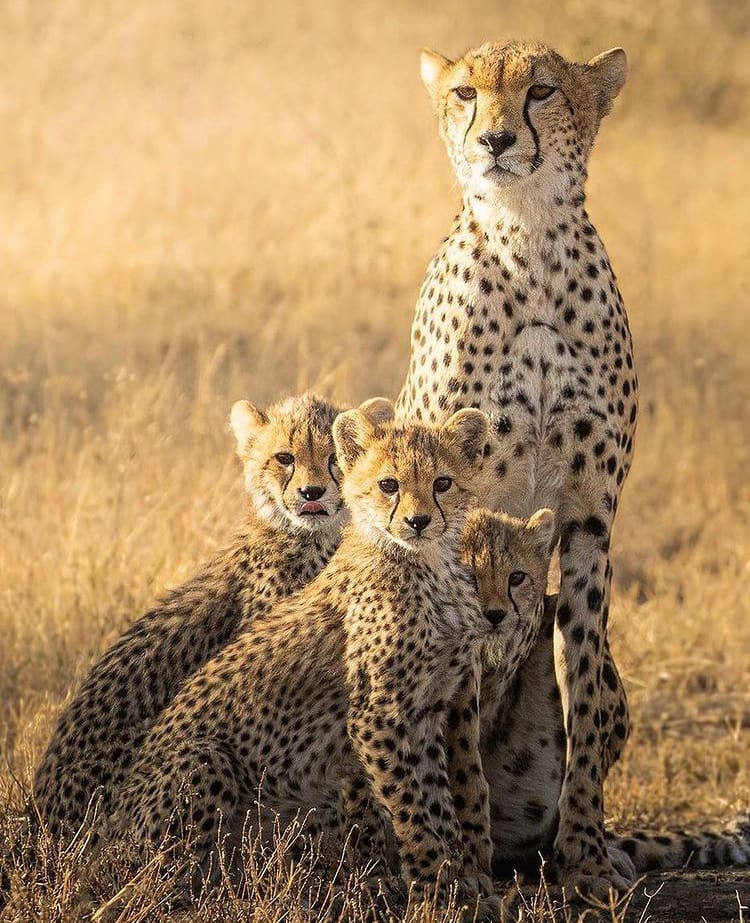 Habitat & Range
Where do cheetah live?
Cheetah prefer expansive spaces like open savanna, woodlands, scrub forests and dry grasslands. They seek out areas with abundant prey items, a water source and free from other predators.
They were once found all over the world, including Asia and parts of Europe. Today they are most common in sub-Saharan Africa with a tiny populations left in north African and Iran.
While their population is on a decline, cheetah can still commonly be seen in a number of countries across Africa.
These are: Algeria, Angola, Botswana, Central African Republic, Chad, Ethiopia, Kenya, Malawi, Mali, Mozambique, Namibia, South Africa, South Sudan, Tanzania, Uganda, Zambia and Zimbabwe.
Conservation
How many Cheetah are there in the wild?
Estimates suggest that there are only between 6,500 and 7,500 cheetah left living in the wild across Africa and the Middle East.
Are cheetah endangered?
Cheetah are listed as 'Vulnerable' on the IUCN red list, as their population is decreasing and is at risk of becoming endangered.
Threats to the cheetah in the wild
The main threats facing cheetah in the wild today are habitat loss and human-conflict.
One leads into the other, and as habits are destroyed or fragmented, cheetah are forced into conflict with humans as they're forced to venture out in search of food.
Often cheetah find themselves on the wrong end of a farmer's gun after having killed livestock. Cheetah populations are also very vulnerable to other predators and with less space to roam, the threat of being killed by other predators is also greater.
Sadly, a current trend has seen cheetahs become a symbol of affluence in some middle eastern states where rich people are now frequently purchasing them as pets. A new emerging threat is poaching of wild cubs to be smuggled out the horn of Africa.
Safari
The best places to see cheetah
The best places to see a cheetah while on safari are private game reserves and national parks in the southern and eastern parts of Africa.
Most commercial reserves offer guided safaris with knowledgeable field guides, self-drive safari facilities or a combination of both. It is also quite common for reserves to place on emphasis on cheetah conservation, with initiatives in place to help support wild populations.
Here are some of the best places to see cheetah in Africa:
Serengeti National Park, Tanzania
Central Kalahari Game Reserve, Botswana
Tips for spotting cheetah in the wild
Cheetah are timid animals, not quite as bold as the other big cats in Africa. They will avoid lions at all costs, and generally prefer to keep away from busy (tourist) areas.
Scan the open plains – Cheetah generally like to hand out in open woodlands and grasslands with good visibility. Get your binoculars out and patiently scan the plains.
Focus on termite mounds – Cheetah like to find a higher vantage point to help them see further, and in wide open areas these are usually ant hills or termite mounds.
Go on a guided game drive – As mentioned above, safari parks who operate guided game drives will have a network of rangers who communicate with each other and share the locations of previous sightings and animal tracks. Having more eyes on the road is a big help.
Look for tracks – Along with looking up, it is also a good idea to look down. As you drive along sand roads, be sure to glance down and look out for fresh cheetah tracks.
Network – If you're self-driving in one of Africa's more commercial national parks like Kruger, a great idea is to stop and ask others what they've seen and in which area. This way, if any cheetah are around you may be able to pinpoint there exact location instead of having to start from scratch.
Facts about the Cheetah
Scientific Name – Acinonyx jubatus
Speed – the cheetah is the fastest land animal on earth and reaches speeds of up to 120km/h.
Stamina – when hunting, the cheetah's greatest asset is its speed. However its greatest downfall is its stamina. They're unable to run at full sprint for longer than 60 seconds, and then need to rest immediately to allow their bodies to recover.
Chita – the name cheetah was derived from the Hindi word 'chita' which means spotted one.
Hunter hunted – cheetah lose at least 10% of their kills to larger predators and scavengers who muscle in on them.
Thirst – the cheetah has become amazingly-well adapted to living in arid conditions and only needs to drink every 3-4 days.
Mortality Rate – 95% of cheetah cubs die before reaching adulthood due to the threat of other predators.
Myths about the Cheetah
Overheating – one of the most common myths about the cheetah is that their lack of stamina is due to overheating. It has long been thought that they abandon hunts early to allow their bodies to cool down. This has recently been found and untrue, and in fact scientists have determined that a cheetah's body temperature actually rises after a successful hunt, and stays that way for an extended period of time.
Tears – the stripes down either side of the cheetahs face have long been a topic of mystery in Africa. The legend says that the tear marks originated from one cheetah. A mother with two young cubs. She had to hunt constantly in order to feed herself and her growing cubs, and was observed by a lazy human hunter. One day she went off in search of food, and the human stole her cubs. On her return, she found her cubs missing and proceeded to cry for months on end resulting in the two permanent tear marks. Later in life she had more cubs, all of which were born with the same markings.
Join our community of keen travellers, wildlife enthusiasts and adventure seekers.