Africa is home to some of the most dangerous animals on earth, including some of the world's deadliest snakes. These range from the legendary black mamba to the enchanting gaboon viper.
One of the most common questions asked when in discussion about the deadliest snakes in Africa is 'which one is the most poisonous?'. Most snakes are not poisonous but venomous. Poisonous substances take effect through being eaten or making contact, whereas snake venom needs to be envenomated into the blood stream in order for it to carry out its desired effect. This means that, assuming you have no major throat lacerations or open internal wounds, you can safely swallow snake venom with no ill effect.
The continent is home to a wide variety of snake species, the majority of which pose no threat to humans. That being said all snakes encountered in the bush should be treated with respect and observed at a safe distance, as even snake experts can sometimes wrongly identify a venomous snake as one of their harmless cousins.
Here are the 10 deadliest snakes in Africa:
Black Mamba
The black mamba is the most feared serpent in Africa and one of the deadliest snake species in the world.
The fastest of all African snakes, black mambas are notoriously aggressive and can move at 20 kilometres an hour (12 mph). They are known to strike out when cornered and are the only snake species known to have actively chased after humans.
The black mamba has well-developed vision and is active both during the day and at night. Their methods of hunting vary between ambush and pursuit, with repeated strikes releasing a neurotoxic venom directly into their victim's bloodstream. They are also the largest venomous reptile in Africa, reaching lengths of up to 4.2 metres (14ft).
Black mambas inject enough venom in a single bite to kill 10 fully-grown men. The venom triggers an almost immediate onset of symptoms including asphyxiation and cardiovascular collapse. When untreated, the human death rate is 100% after a black mamba bite, and usually occurs in less than seven hours.
Contrary to their name, these fearsome serpents are not black. Rather their skin is a grey/brown/olive colour. The name comes from the inside of their mouth, which is inky black and used as a sign of aggression when threatened.
They are usually found in savannahs, woodlands, scrub and tree hollows, and are widespread across East, Central and Southern Africa.
Puff Adder
While not as venomous as the black mamba, the puff adder is one of the most widespread reptiles in Africa and is thought to be responsible for the most human deaths of any species.
Along with their distribution throughout the continent, what makes the puff adder one of the deadliest snakes in Africa is their prevalence in areas of high human density as well as their methods of camouflage.
When threatened, puff adders will rather lie still than flee, in order to avoid detection, and most bites occur when people accidentally step on them. Mortality rates are quite low with the majority of deaths occurring as a result of inadequate medical treatment. However these still add up to nearly 32,000 fatalities per year.
Puff Adders are a short, heavy-bodied species that averages at around 1 metre (3.5ft) in length. They're equipped with long fangs and a potent cytotoxic venom.
Their skin colour varies based on location, which ranges across the whole of Africa, with the only exceptions being the rainforest and Sahara regions.
Boomslang
Found only in sub-Saharan Africa, the boomslang is widely known as one of the most venomous snakes on the continent.
They are a tree-dwelling species, which is where their name was derived (Boomslang means 'tree snake' in Afrikaans – a South African language). These intriguing serpents vary in colour, with males being typically light green with black or blue scale edges and females being most often brown. The boomslang sports large eyes and reaches an average length of 1.5 metres (5ft).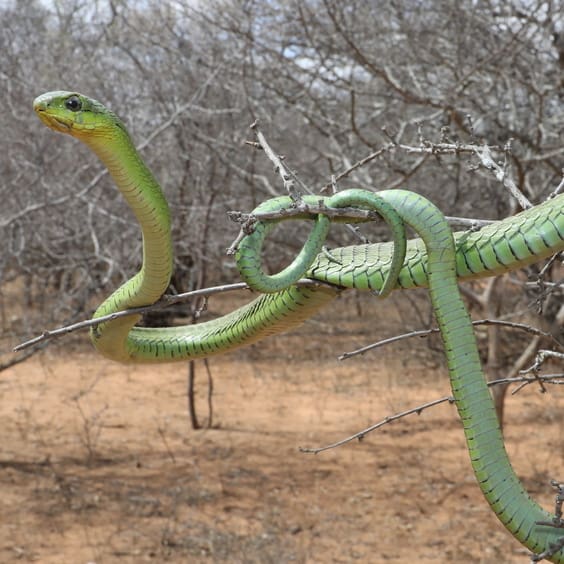 The boomslang's venom is haemotoxic, which means it works by shutting down the body's blood-clotting mechanism while simultaneously triggering uncontrollable internal and external bleeding. The slow-acting venom often lures victims into a false sense of confidence, assuming that they don't need to seek treatment as the symptoms slowly present themselves over several hours. This can increase the severity of the eventual damage.
Human fatalities are rare despite the potency of the boomslang's venom, as the timid species prefers to flee into the trees when threatened, rather than attacking.
Gaboon Viper
The Gaboon viper is one of the most enchanting and mesmerising snakes in Africa. They also possess the longest fangs of any snake, reaching 5 centimetres (2 inches) in length.
As if the impressive weaponry wasn't enough, it is also one of the snakes with the highest venom yield, and packs a strong punch with every bite.
The heaviest snake in the viper family, Gaboon's appear short and chunky, despite growing to a length of over 1.5 metres (5 ft). They can weigh over 15 kilograms (30 lbs) with a full belly.
They boast a characteristically large, triangle-shaped head similar to those of other viper species, and are most often found in heavily forested areas in west and central Africa as well as certain regions in the east and south of the continent. Mesmerising skin patterns, with detailed diamonds and stripes along the length of the snake's back help provide incredible camoflauge among the messy leaf litter on the forest floor, where they lie in wait ready to ambush their next prey item.
Although their venom is not particularly toxic in comparison to that of the other deadliest snakes in Africa, a single bite can still be lethal.
Gaboon vipers are slow-moving and sluggish snakes that rarely bite unless provoked or stepped on.
Egyptian Cobra
One of the largest cobra species in Africa, the Egyptian Cobra can reach lengths of almost 2 metres (6.5ft).
Mostly found throughout North Africa, above the Sahara, and in parts of East and West Africa, the Egyptian cobra's colouration can vary greatly from a copper-red to almost entirely black.
It wields a potent neurotoxic venom, stored in glands behind its eyes and released through a large set of fangs with each vicious bite. Unlike some other African cobra species, the Egyptian cobra does not spit venom.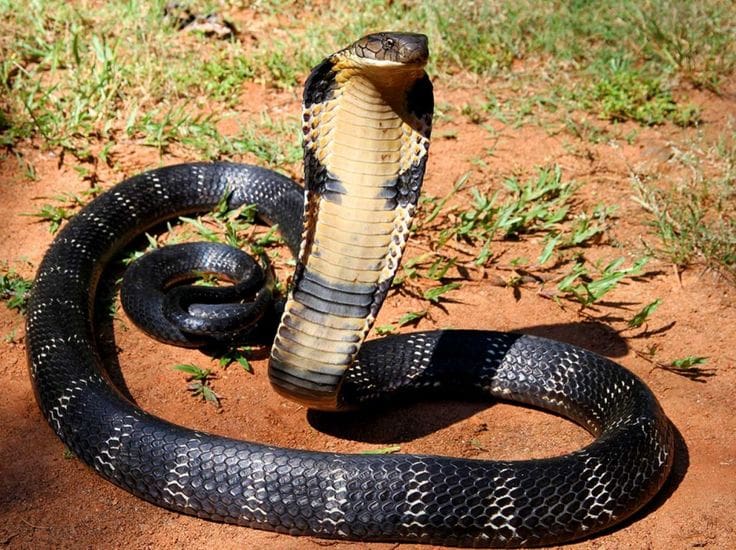 Neurotoxic venom directly attacks the nervous system and slowly causes the body to start shutting down with the most common cause of death being respiratory failure.
Egyptian cobras are usually docile unless threatened, in which case they assume the characteristic upright posture and spread their cobra hood as the final warning before striking.
It is thought that the method in which Queen Cleopatra allegedly committed suicide would most likely have been by Egyptian cobra bite.
West African Carpet Viper
Known also as the ocellated carper viper, the West African carpet viper is endemic to West Africa and is strangely responsible for the some of the highest number of snakebite related fatalities on the continent, despite having a relatively small natural range.
The West African carpet viper is a small serpent, that only reaches an average total length of around 45 centimetres (1.5 ft). They are thick and heavy-bodied relative to their size and have a characteristically 'viper' diamond shaped head.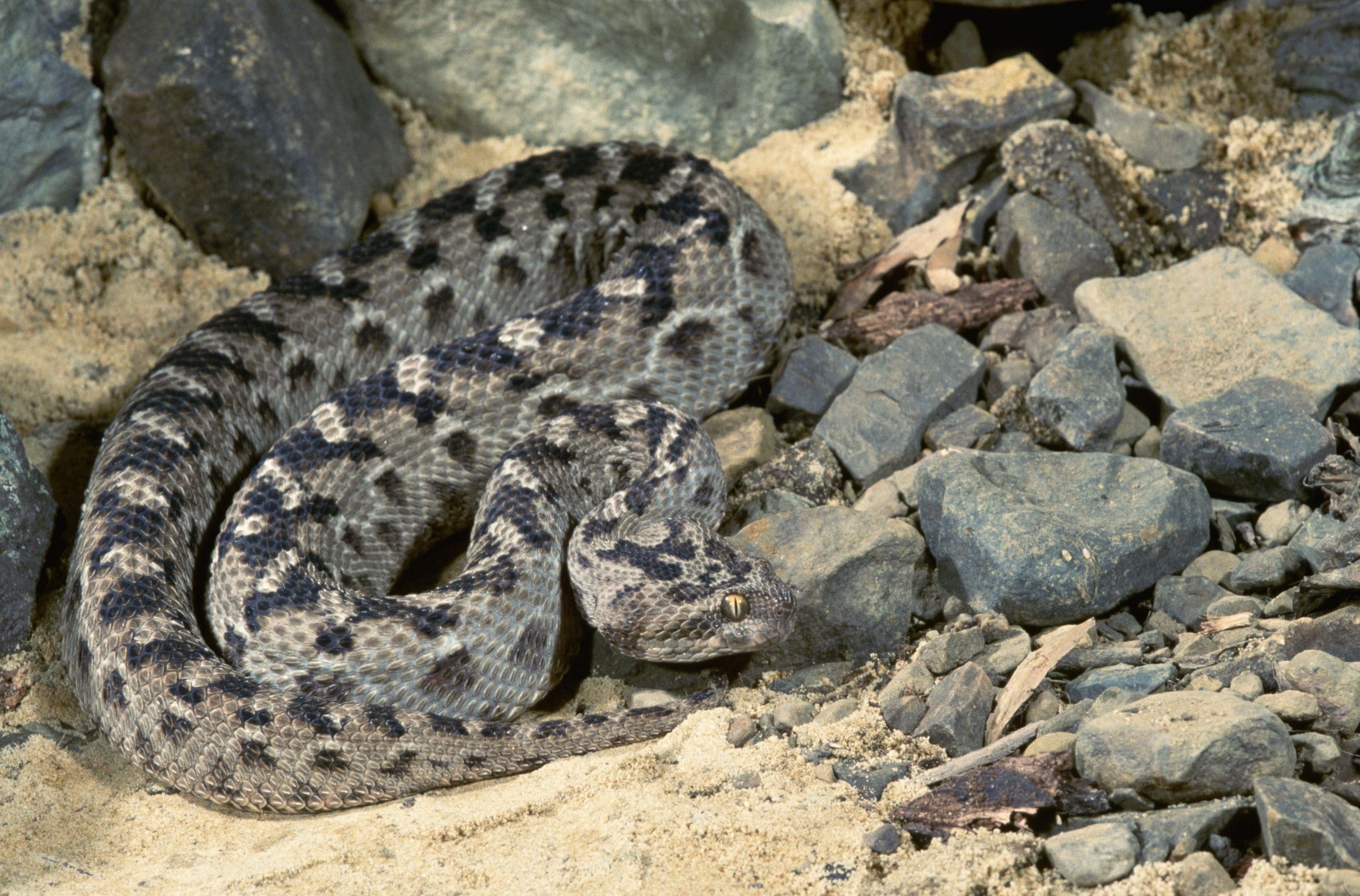 Their skin is detailed with a yellowish-brown color, and distinctive eye-like spots along the length of their bodies. These spots are designed to confuse potential predators, who prefer to attack from behind. On the rare occasion when camouflage and confusion fails them, the carpet viper has a distinctive threat display, which involves rubbing its coils together to create a loud sizzling sound.
Like the boomslang, the carpet viper's venom is haemotoxic, and causes spontaneous internal bleeding and the collapse of the circulatory system, sometimes even days after the bite has occurred.
Cape Cobra
The Cape cobra is native to Southern Africa and typically favours dry areas like arid savannahs, woodland and desert regions. They are a medium-sized species, growing to around 1.5 metres (5 ft).
Sometimes known as the yellow cobra, they actually come in a variety of colors, including golden-yellow, brown, and even black.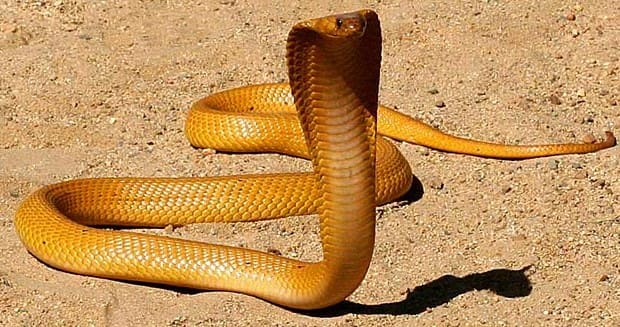 It is a diurnal species, active throughout the day, and feeding on a wide variety of animals including rodents, reptiles, birds and even other snakes. They are particularly known for raiding weaver bird colonies.
The Cape Cobra is an aggressive species and will readily strike when threatened. They are particularly dangerous thanks to a tendency to enter human settlements. Although the exact mortality rate for untreated bites is unknown, it is thought to be high with death usually occurring inside 10 hours as a result of respiratory failure.
Green Mamba
The green mamba is a striking, venomous snake related to the highly dangerous black mamba.
Predominantly found in coastal forests throughout Southern and East Africa, the green mamba spends most of its life in the trees. It is a long, slender species that reaches an average of around 2 metres long.
As its name suggests, green mambas are a striking jewel-green in color in full bloom, while juveniles are typically a darker blue-green. They are spectacularly well-camouflaged in the dense forest canopy and despite being active during the daytime, are rarely seen.
They are an inherently skittish species, typically avoiding human activity and usually only striking out under severe provocation.
Green mambas are known for delivering multiple bites, injecting high quantities of venom with each one. When untreated, mortality rates are high and symptoms include swelling, dizziness, nausea, and ultimately death as a result of respiratory paralysis.
Mozambique Spitting Cobra
Usually found throughout southern and eastern Africa, the Mozambique spitting cobra is the most common savannah dwelling cobra species in its range. They can be found from KwaZulu-Natal in South Africa, all the way up to the Tanzania-Mozambique border.
Reaching an average length of 90 centimetres (3 ft), the Mozambique spitter is a relatively small snake that varies in color from slate blue to olive or tawny brown on top. The pink or yellow-purple underbelly features distinctive black bars on the throat.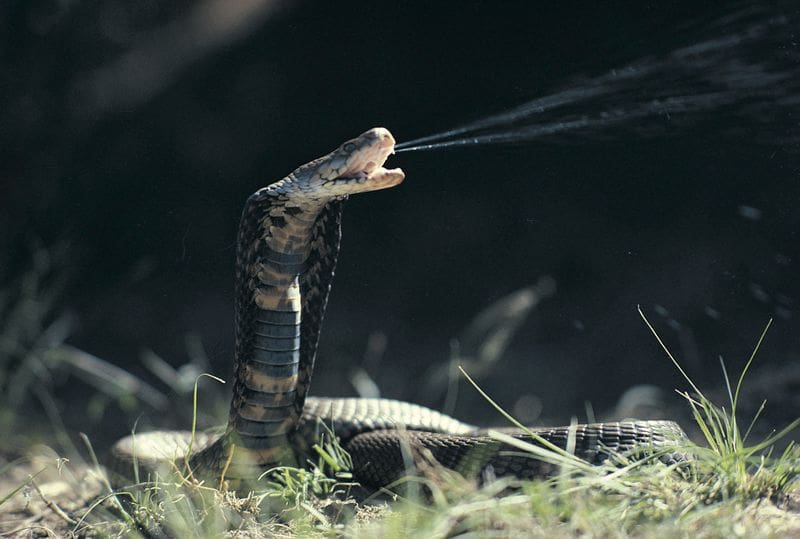 The Mozambique spitting cobra preys on frogs, small mammals, birds, and even other snakes on occasion. They can spit venom with incredible accuracy over 3 metres (10ft).
It is nervous in temperament and quick to defend itself against perceived threats. When spitting venom into the threat's eyes isn't deterrent enough, these cobras will unleash a nasty bite, injecting a strong cytotoxic venom which causes pain, swelling and tissue damage.
Mozambique spitters account for the majority of serious snakebite cases in Southern Africa, although fatalities are rare. If anti-venom isn't administered promptly, victims may be disfigured for life.
Rinkhals
Also known as the ring-necked spitting cobra, the rinkhals is not a true cobra despite its flared hood and threatening upright posture.
This species is endemic to Southern Africa, and is found only in South Africa and eastern Zimbabwe, and is one of few snake species that gives birth to live young.
The rinkhals prefers grassland and fynbos habitats and is common around wetland areas. It preys predominantly on toads and other small amphibian and reptile species.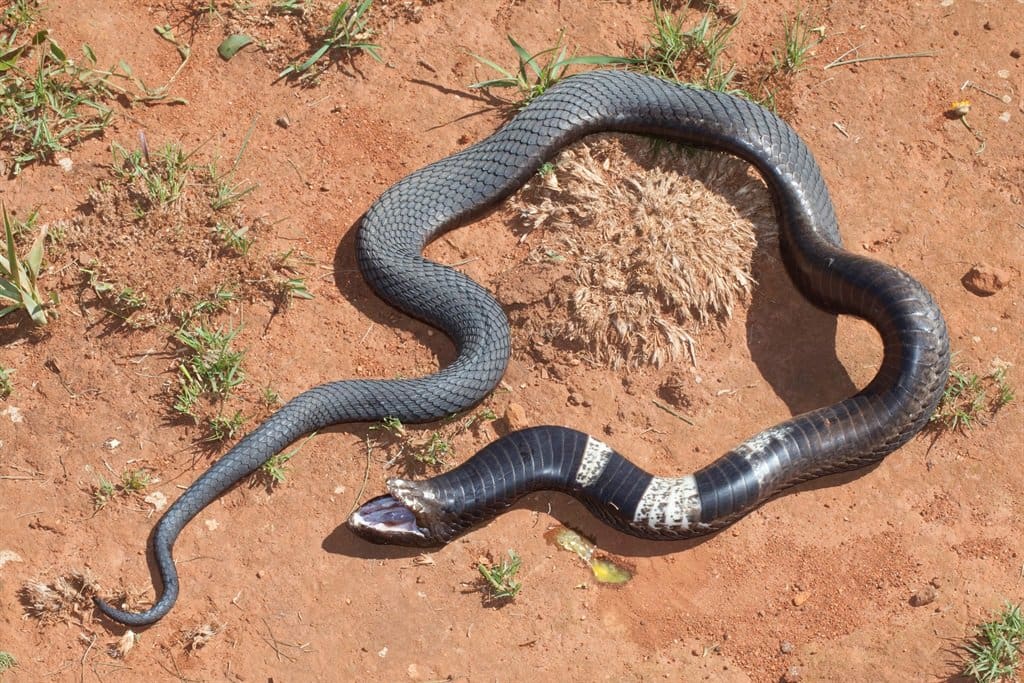 Reaching an average length of 1.2 metres (4 ft) their colour can vary greatly, but the light-coloured bands are always distinguishable.
Rinkhals possess a number of tricks in their arsenal. They are able to spit venom up to 2.5 metres and are also known to play dead when threatened. Humans have been known to pick up what they think is a dead snake and be met with a nasty surprise.
Despite this and its potent cytotoxic venom, human attacks and fatalities are rare.
What to Do in the Event of a Snake Bite
If you or someone you know are bitten by a snake in Africa, here's what you should do according to the African Snakebite Institute:
Get the victim to a hospital immediately. Call ahead to notify hospital staff about the victim's condition, the location of the bite, and any information regarding the species of the snake. If you are unsure then take a picture if possible, but be sure to keep a safe distance.
While waiting for an ambulance or transporting the victim to hospital, keep them as calm and still as possible to slow the spread of venom. If you can, get them to lie down and elevate the bitten area slightly above heart level.
If the bite occurred on the hand, arm, foot, or lower leg, remove any tight jewelry, clothing, or shoes to allow for inevitable swelling.
If you suspect that the victim was bitten by a mamba or Cape cobra, try to apply a pressure bandage to the affected area. In order not to waste time getting to the hospital, this should be done in transit.
If the victim is having difficulty breathing, or stops breathing completely, begin mouth-to-mouth resuscitation.
Do not try to remove the venom by cutting or sucking the wound. Similarly, you should not apply electric shock therapy, tourniquets, ice, hot water, or any other medication. Anti-venom should only be administered by a professional in a hospital environment.
Cover image: Gaboon Viper – Paul Starosta/Getty Images
Join our community of keen travellers, wildlife enthusiasts and adventure seekers.