From the popular, to those hardly ever heard of, there is an incredible abundance of national parks in Zimbabwe.
The country once known as 'the bread basket of Africa' has seen political unrest over the years and the conflict has unfortunately had a direct impact on its wildlife and the areas in which they live. Severe poaching has seen elephant and rhino numbers drop dramatically, and rhino are still not found in certain locations.
However, wildlife is making an incredible comeback in some of Zimbabwe's national parks and game reserves, some of which are still among the finest in the world and well-worth a visit!
How many national parks are in Zimbabwe?
Zimbabwe is home to some of the most abundant wildlife populations in Africa. Along with numerous protected areas and private farms, there are 11 national parks in Zimbabwe.
Many of these are world-renowned and feature luxury lodges with 5-star accommodation.
Here are 10 amazing national parks in Zimbabwe:
Hwange National Park
Founded in 1928, Hwange is the oldest national park in Zimbabwe. It is also the most popular thanks to having the highest density of elephant of any wildlife reserve in Africa. It also boasts over 100 mammal species and 400 species of bird.
Hwange National Park was named in honour of a respected leader of the local Nhanzwa tribe, and gives life to an abundance of animals who thrive within its unique ecosystem of forests at the edge of the Kalahari Desert.
Along with the elephants – large herds of buffalo, eland, sable, roan and zebra all the thrive in the park, and so do the predators who prey on them. Lion, cheetah, leopard and wild dogs are readily seen in Hwange.
Unfortunately, Hwange has suffered severe poaching in recent years, including the tragic death of Cecil the lion – who was baited and killed by an American trophy hunter.
The primary attraction is safari and eco-tourism, which can be enjoyed either in a classic safari vehicle or by walking side-by-side with what are possibly the finest guides on the continent.
Mana Pools National Park
Situated just below Lake Kariba, Mana Pools National Park is considered to be one of the very best national parks in Africa.
The UNESCO World Heritage Site, is a particular favourite for keen photographers in search of iconic wildlife in a unique setting.
Large herds of impala, eland, elephant, zebra, buffalo, waterbuck and kudu can be found in Mana Pools and of course these attract predators like lion, leopard, wild dog and hyena.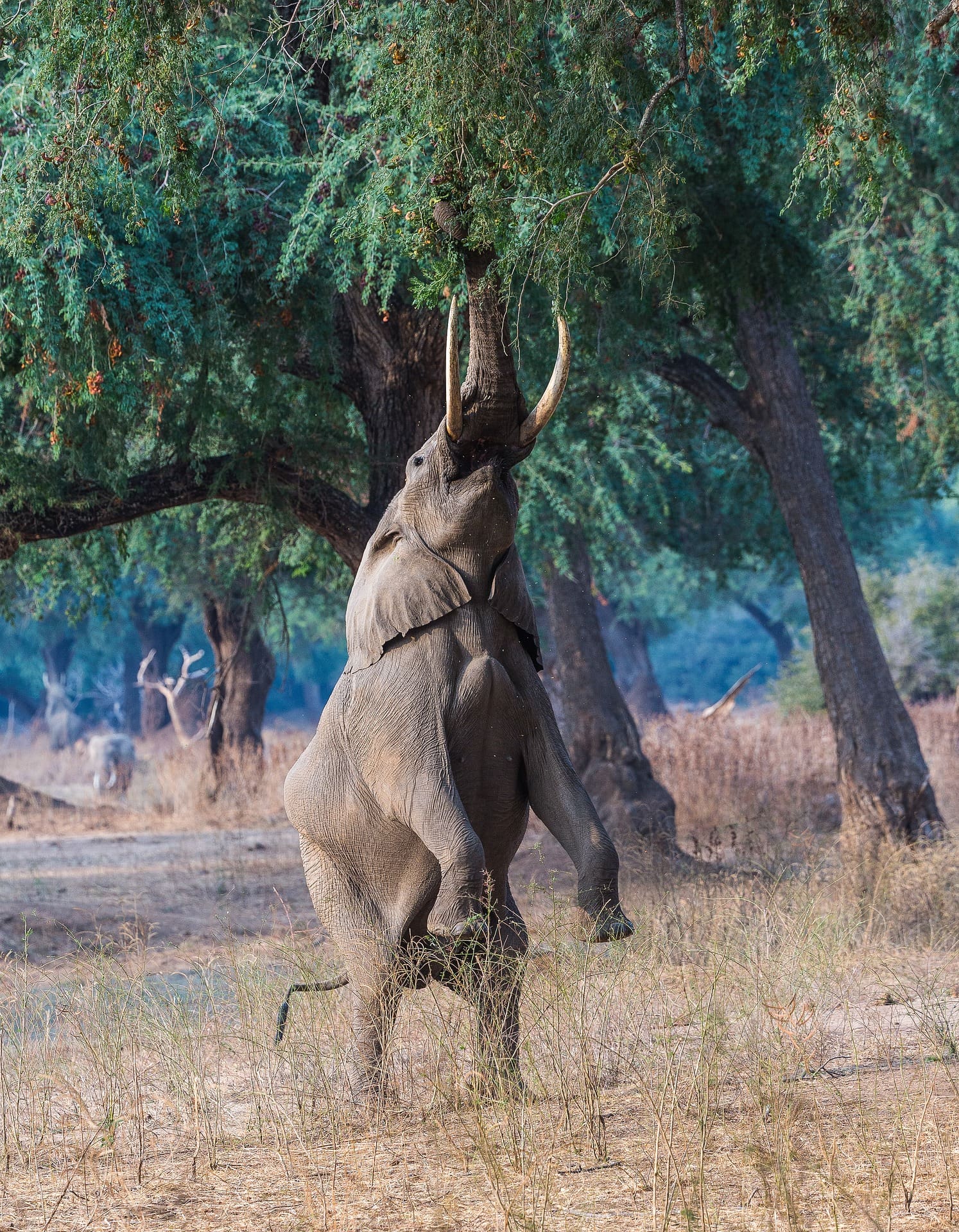 With more than 70 kilometres (43 miles) of the Zambezi river running through the park, the name 'Mana Pools' was inspired by pools of water formed in abandoned river channels.
During the dry season, animals gather around these inland pools in search of water, making for incredible wildlife sightings as cunning predators lie in wait. Another unique drawcard to Mana Pools are their population of elephants who can readily be seen standing up on their hind legs, reaching for fruit high up in the forest canopy.
Mana Pools is a must-visit national park for birders. Fish eagles, heron, scarlet carmine bee-eaters, Pels Fishing Owl and the African Skimmer are all known to frequent the water ways.
All accommodation is unfenced, and bush walks provide a wilderness experience like no other.
Victoria Falls National Park
Home to the mighty Victoria Falls – one of the seven natural wonders of the world – the national park is one of the most unique regions in Africa.
While Vic Falls is neither the highest nor the widest waterfall in the world, it is classified as the largest, based on its combined width of 1,708 metres (5,604 ft) and height of 108 metres (354 ft).
This results in the world's largest sheet of falling water, roughly twice the height of Niagara Falls.
At only 2,300 hectares, Victoria Falls National Park is far from the most impressive national park in Zimbabwe, however it is without doubt the most unique. The park is home to an incredible rainforest, which is the only place in the world where it continuously rains, all day every day. This is the result of water vapour rising directly from the falls.
This spray typically rises to over 400 metres (1,300 ft), and is visible from up to 48 kilometres (30 miles) away. Various trees grow within the spray of the falls, including: ferns, palms, liana vines, and a number of trees such as mahogany which are not found anywhere else in the park.
The park is home to a variety of wild animals with the most notable species being elephant, buffalo, white rhino, hippo, eland as well as a variety of other antelope. If you're lucky, you may even be able to spot a few nile crocodiles as they bask along the banks of the Zambezi river.
Matobo National Park
Situated just outside Bulawayo, Zimbabwe's second largest city, Matobo National Park is more than just a wilderness area.
The 43,200 hectare reserve is one of the country's most important heritage sites, with the graves of both Cecil Rhodes and King Mzilikazi – after which its name is inspired. The similarity between the smooth granite whaleback boulders (dwalas) and the clean shaven heads of his warriors led Mzilikazi to the name amatobo – 'the bald ones'.
Mind-boggling rock towers, contain numerous smooth-walled caves, many of which feature ancient bushman rock art of incredible diversity and animation. Below these lie vast savannah plains, woodlands and grassy marshes.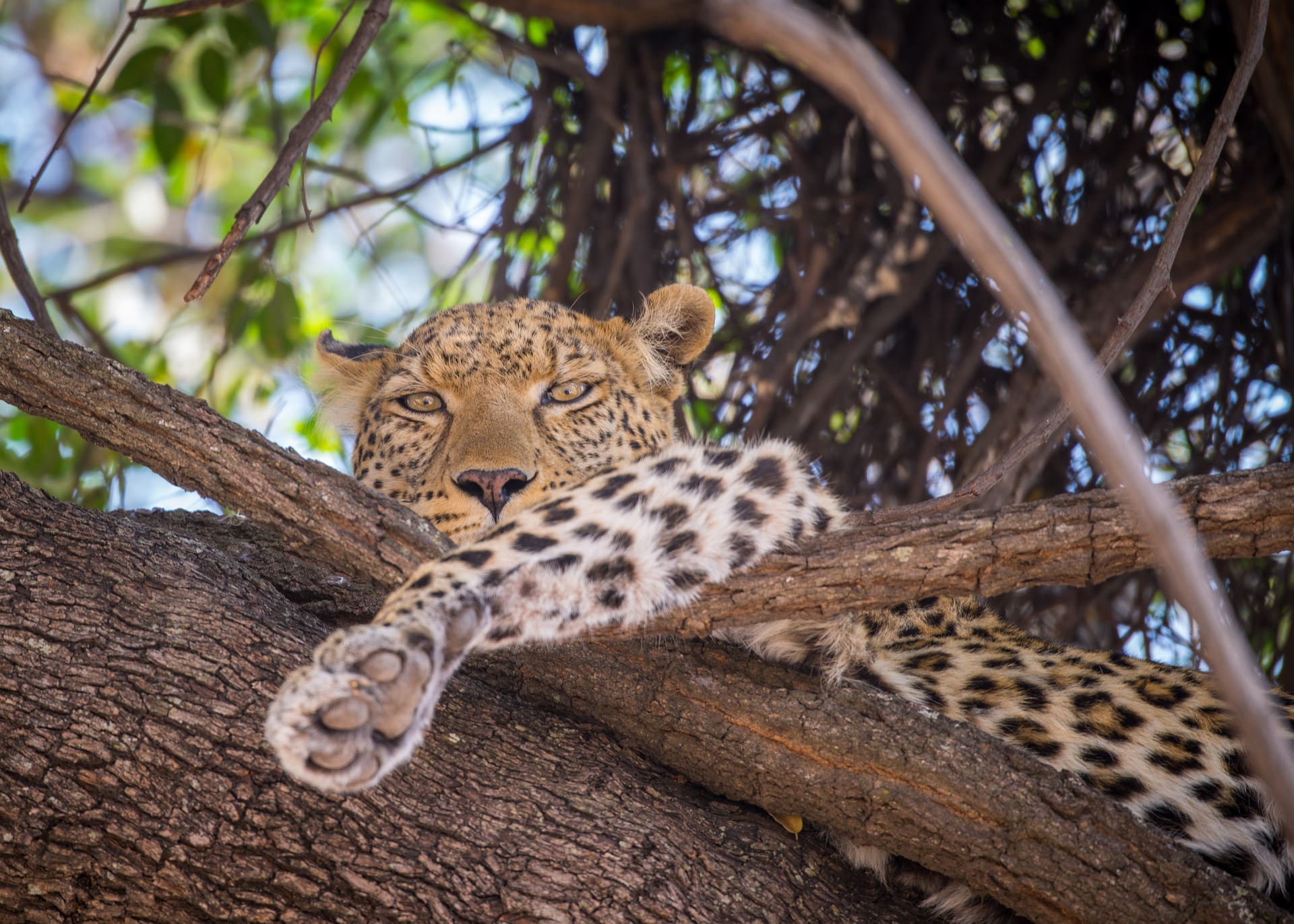 Matobo is one of the most wildlife-rich national parks of Zimbabwe with 88 mammal, 175 bird, 39 snake and 16 fish species.
Here you'll find Africa's highest concentration of Black eagles, and a strong contention for the highest leopard density. The park's borders also protect both endangered rhino species, while hosting a variety of others including: zebra, giraffe, leopard, wildebeest, hyena and many kinds of antelope.
The absence of dangerous game means that guests are offered unique experiences like hiking and horse-riding among the hills. Matobo is also of the only national parks in Zimbabwe where self-drive safaris are allowed.
Zambezi National Park
Located only a few kilometres upstream from Victoria Falls, the Zambezi National Park, together with the Vic Falls National Park, covers 56,000 hectares with 40 kilometre frontage on the mighty Zambezi River.
The park offers thrilling nature experiences both on land and water. Most of Zimbabwe's game species are found here in great numbers.
Lion, leopard, elephant, buffalo, zebra, giraffe, sable, eland and waterbuck call the park's mopane woodlands and savannah grasslands home.
The Zambezi itself is home to 75 species of fish—including tigerfish and bream— the popular game fish species that draws fishermen from around the globe. Hippo and crocodile are also ever-present.
The river passes over several rapids in the basalt rockbed and the mostly dry tributaries of several streams cross the parks' Kalahari sands. Big trees and Ilala palms flank the Zambezi.
Popular activities in the area include safari's, fishing, boat cruises, and moon/stargazing.
Gonarezhou National Park
Sharing borders with Mozambique's Limpopo National Park and Kruger National Park in South Africa, Gonarezhou National Park is one of the most spectacular in Africa. Together the three make up the Great Limpopo Transfrontier Park.
Due to heavy poaching throughout Zimbabwe's turbulent past, wildlife densities have historically been quite low, but have been actively increasing in size over the last few years.
The word 'Gonarezhou' translates into 'place of elephants', inspired by its large population of elephants.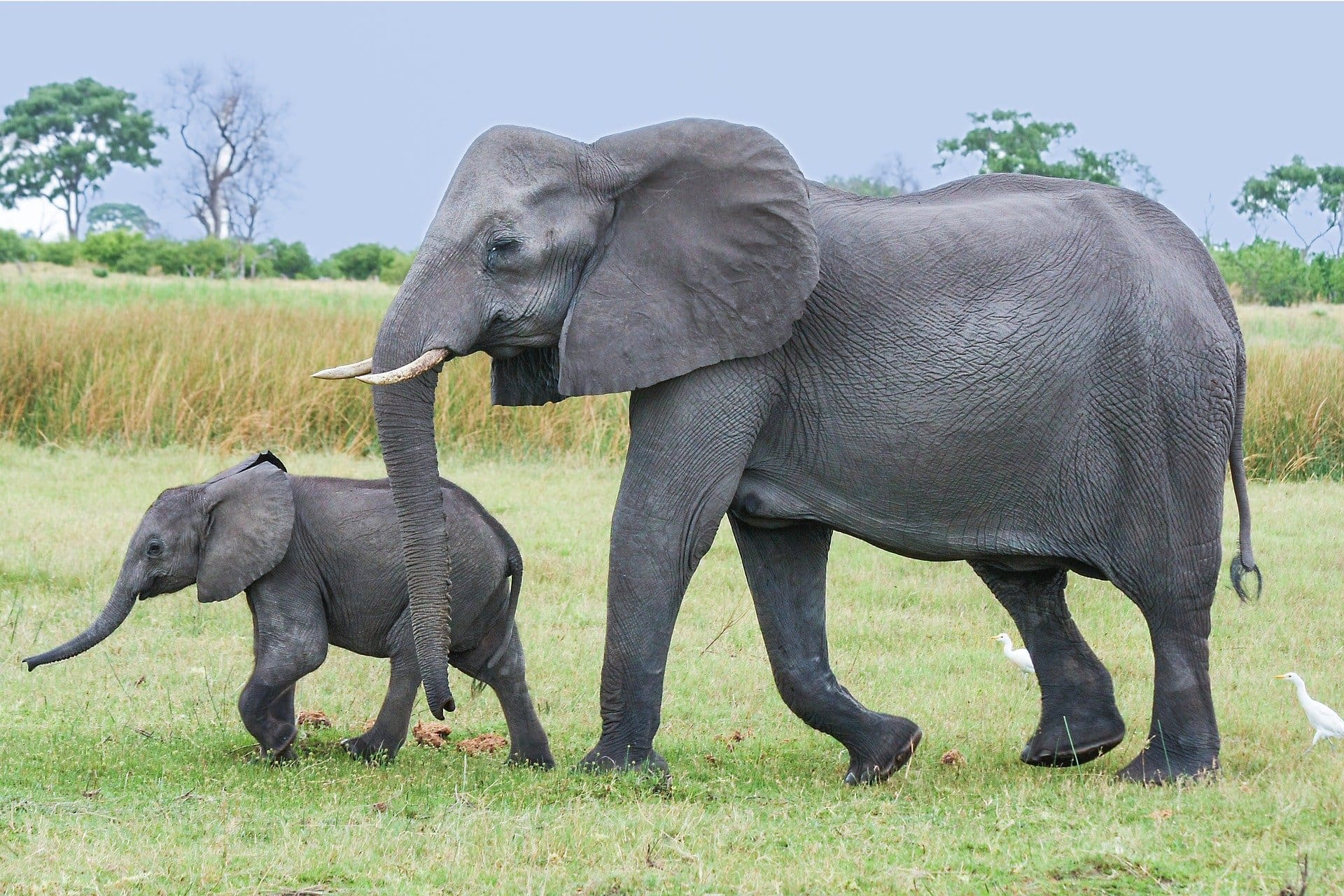 After Hwange, Gonzarezhou is the second largest national park in Zimbabwe and its beautiful scenery is made up of vast stretches of combretum and mopane woodland, which protects swathes of mahoganies, ironwoods and tall acacia albida trees. The Runde River valley is overlooked by the red sandstone Chilojo cliffs.
The park is home to all of the Big Five – lion, leopard, rhino, elephant, and buffalo – however rhino are few and far between. Due to its open borders with the Great Limpopo Transfrontier Park, animals can freely migrate between the reserves and rhinos prefer to spend their time in Kruger National Park's slightly safer borders.
Gonarezhou is a great location for seeing some of the more unusual antelope species, including nyala, suni, roan, sable antelope. The nearly-threatened king cheetah is believed to occur in the park, however no confirmed sightings have been recorded in recent times. The park is also known as an excellent birding destination.
Nyanga National Park
Situated in the Eastern highlands of Zimbabwe, the 47,000 hectare Nyanga National Park is a place of rolling hills, open vistas, mountain peaks, rivers and waterfalls.
Nyanga is not a classic wildlife destination, but rather its main attractions are it's scenery and archeological sites – including ruins of Iron Age villages.
Mammals are scarce, but Nyanga is one of best destinations in Zimbabwe for birding. Over 300 individual species have been recorded, several of these are near-endemic, and the park is part of the globally important Eastern Zimbabwe Mountains Endemic Bird Area (EBA).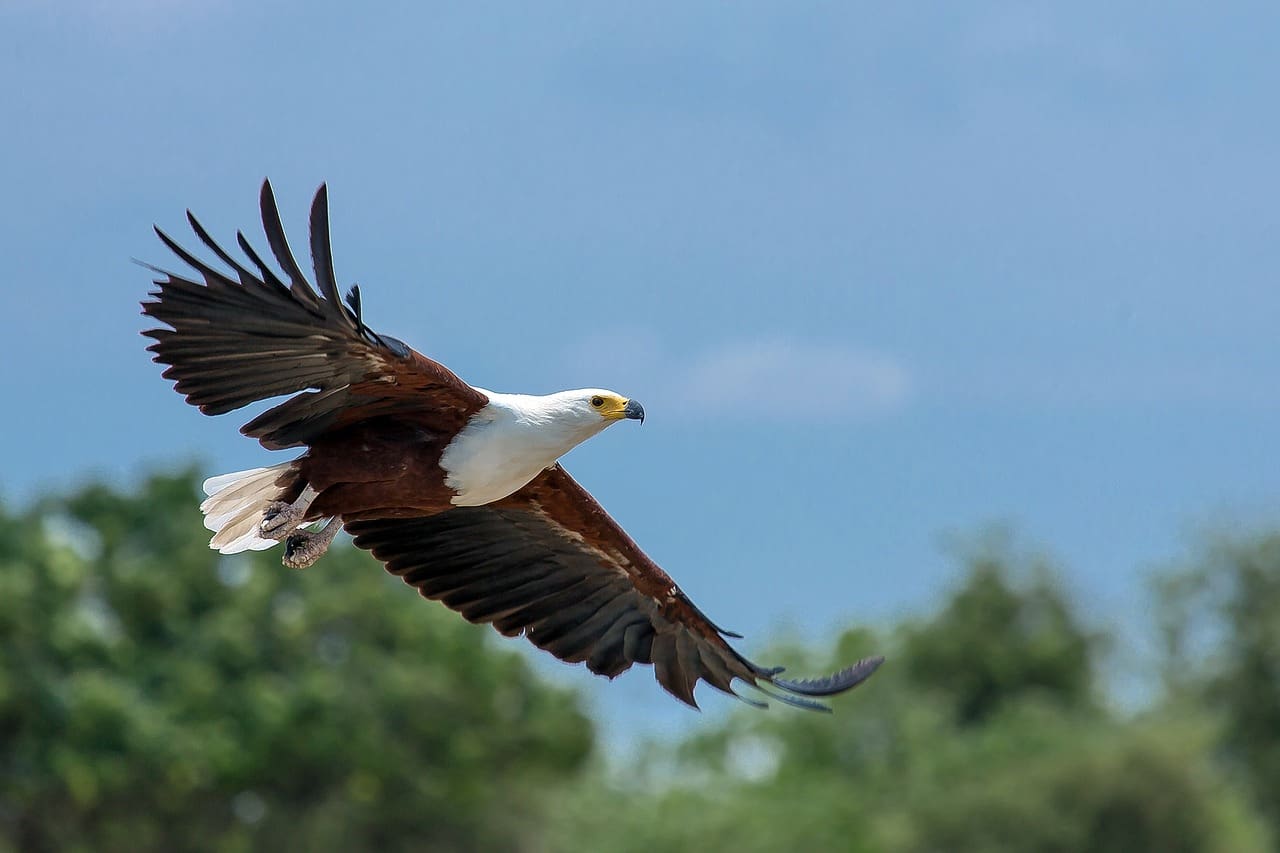 The landscape is dominated by vast rolling hills, studded with giant, round granite whaleback outcrops, towering over steep gorges and wide valleys.
The Pungwe and Honde rivers run through the valleys below the escarpment, with Matarazi Falls – Zimbabwe's highest waterfall – dropping 762 metres into the Honde Valley. Indigenous trees remain but most hillsides are now covered with exotic species such as: pine, eucalyptus and wattle. Aloes, proteas, wild flowers and lichen thrive.
Nyanga offers a variety of activities for adventure seekers, including swimming in the falls, climbing Mount Inyangani (from where the national park's name was inspired) as well as horseback riding along forest trails, fly fishing and golf.
Matusadona National Park
Best reached by boat, Matusadona National Park is a remote, 1,407 square kilometre reserve, encompassing the most beautiful southern shorelines of Lake Kariba.
The area is cut by the rugged Zambezi escarpment and its many riverlines and tributaries, and bounded by verdant valleys created by the Ume and Sanyati Rivers – both of which are partly flooded by Lake Kariba's waters.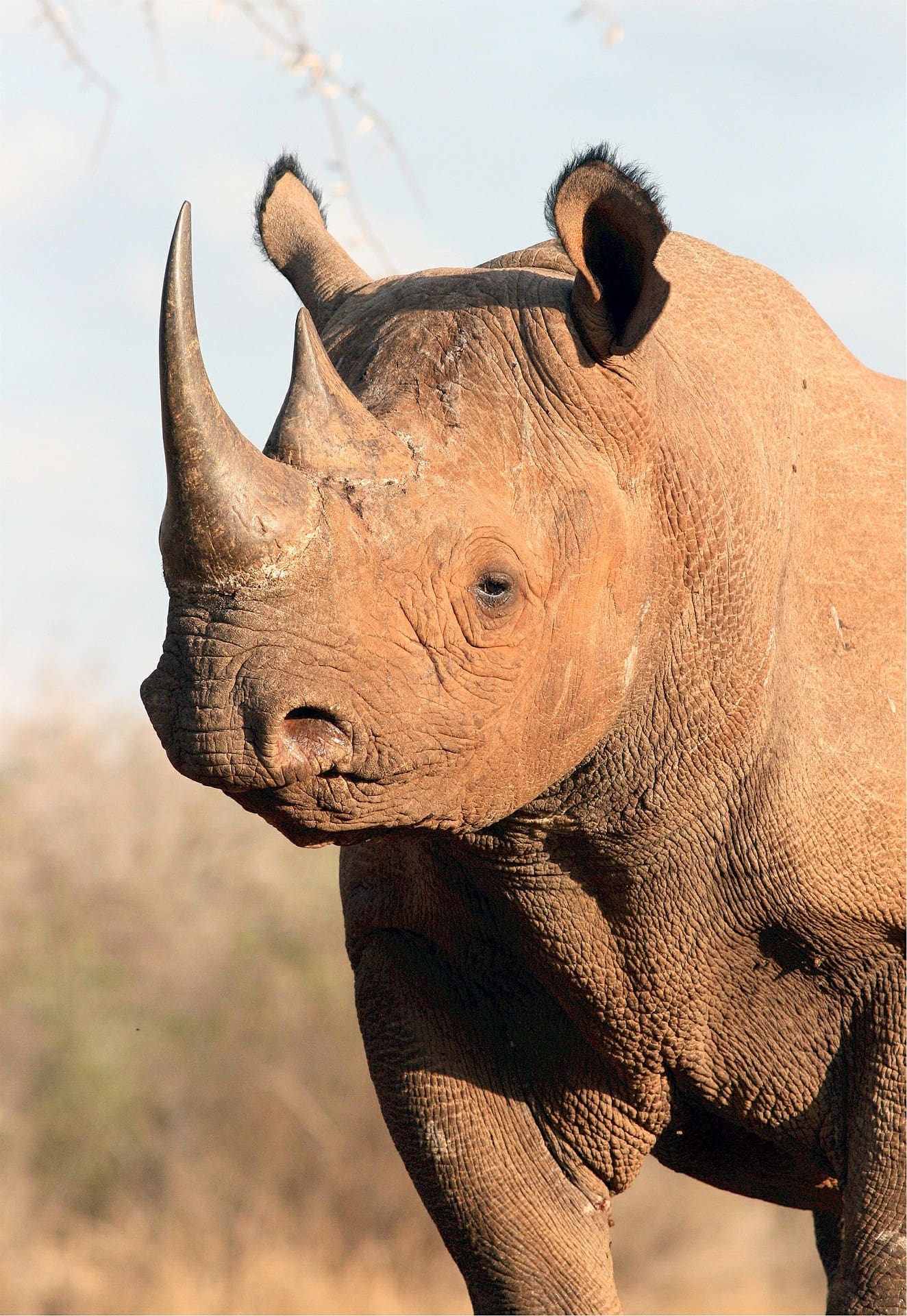 The plateau is covered by expansive, mixed woodland, jesse bush and plains with swards of torpedo grass.
Many of the animals rescued from the rising waters of the newly-formed Lake Kariba by conservationist Rupert Fothergill and his team during the much-publicised Operation Noah in 1958 were released into the Matusadona National Park and today the wildlife thrives.
Common sightings include the Big Five as well as hippo, crocodile, cheetah, zebra, 240 bird species and at least 20 species of angling fish. The park is an Intensive Protection Zone for the black rhino and one of the few remaining places in Southern Africa where these magnificent animals can be found in the wild.
The region also offers some of the finest Tigerfishing of any game reserve in Zimbabwe.
Chizarira National Park
Although lion, elephant, buffalo and leopard are present in Chizarira National Park – animal densities aren't huge compared to the other national parks of Zimbabwe. Its main attraction is its enormous wilderness appeal.
Hidden behind the msasa-wooded Zambezi escarpment, Chizarira was declared as a national park in 1975, and is considered as the most remote national park in Zimbabwe, covering 192,000 hectares – 50 kilometres southeast of Lake Kariba.
The park encompasses seven different ecological zones, from lowveld valley savannah to highveld broadleaf woodland with lush pockets of vegetation, fed by natural springs found in the valleys between mountain ridges.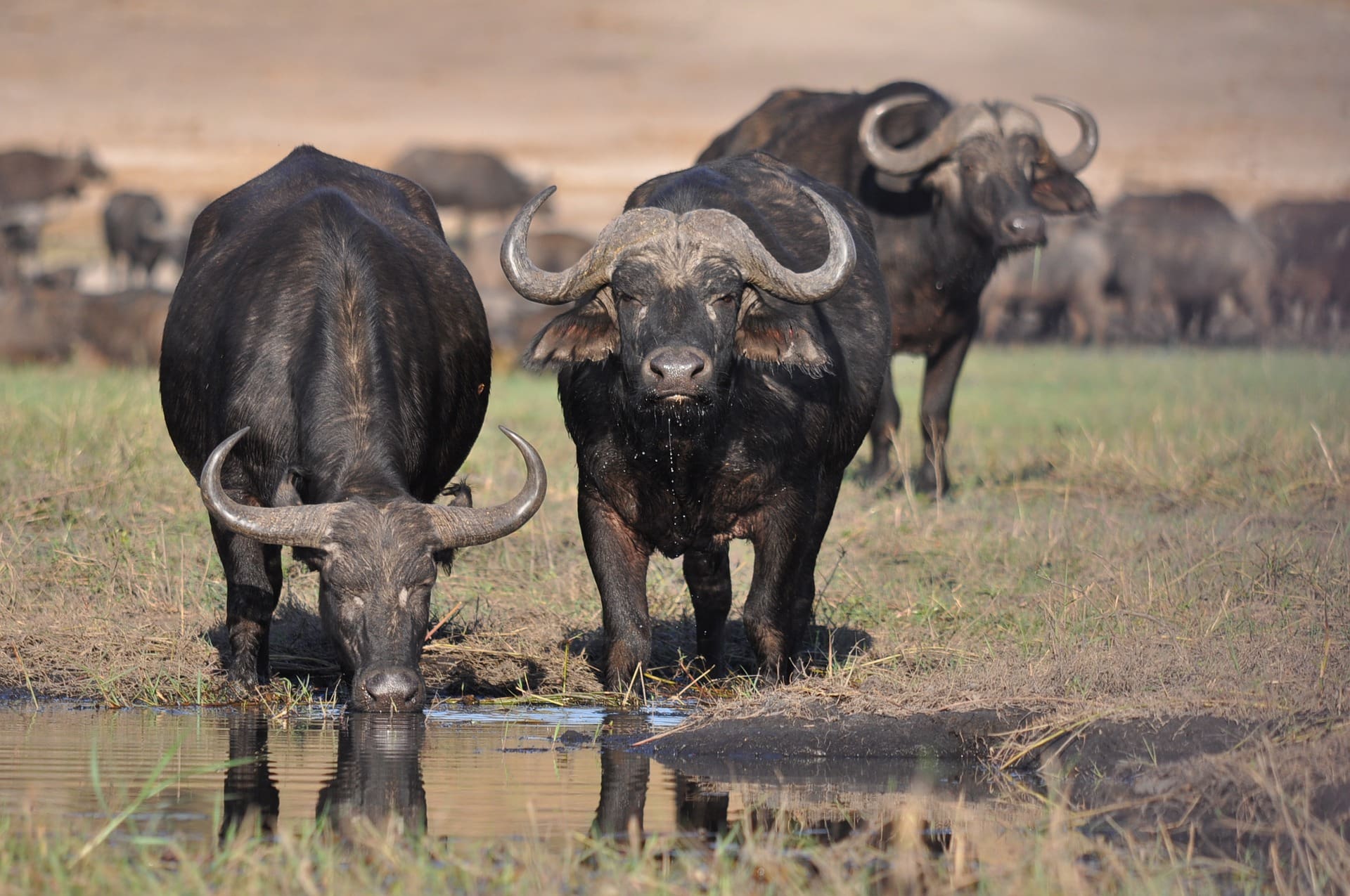 Flood plains dominate the Busi Valley to the south and are the richest Big Five territory in the park with about 12,000 elephant, herds of 200 – 400 buffalo and a variety of antelope including: klipspringer, impala, kudu, roan and tsessebe.
Notable bird species include: the Bat hawk, Livingstone's flycatcher and the elusive Taita falcon. The terrain is excellent for leopard, who are the primary predators along with lion, spotted hyena and the nile crocodiles who dot the shoreline.
There is no accommodation in or near the park, only camping facilities. Walking safaris are a big part of the experience at Chizarira and guides are among the most knowledgable wildlife experts in the world.
Kazuma Pan National Park
Northwest of Hwange, on the Botswana border lies Kazuma Pan National Park, one of the more remote and least visited of all the national parks in Zimbabwe.
The large, open and grassy Kazuma Pan is its central feature and appears fully flooded during the rainy season. The landscape is characterised by open bushveld, resembling the savannah plains of East Africa, natural pans, Kalahari sands and small Mopane tree forests.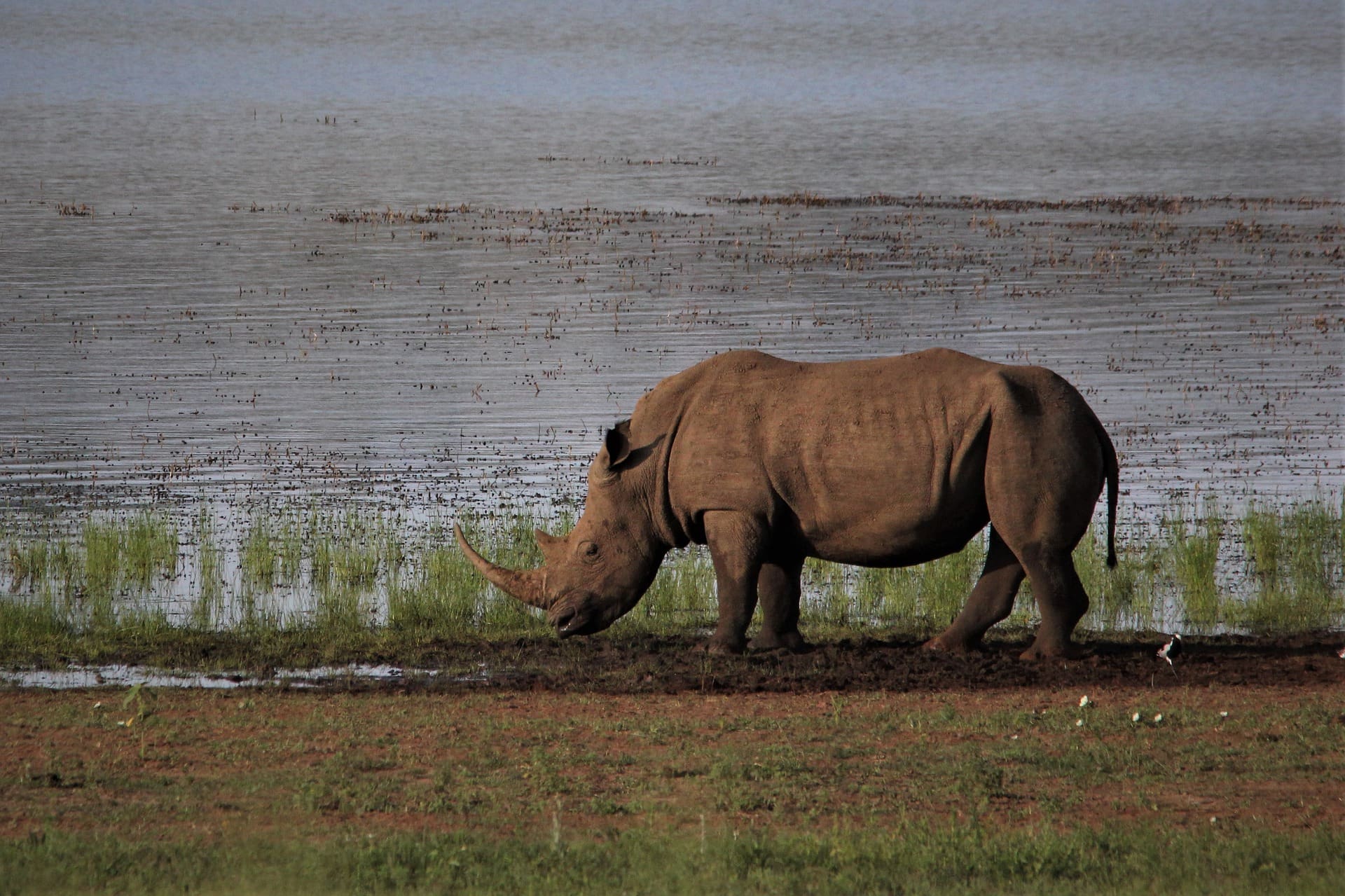 Originally developed as a refuge for wild animals in the area during hunting season, Kazuma is home to a wide variety of wildlife and the unspoilt wilderness known is known for having large numbers of buffalo, elephant, zebra and giraffe, as well as Zimbabwe's only naturally occurring gemsbok and oribi.
Lion and cheetah are also found here in good numbers and a wide variety of waterfowl species frequent the pans.
As a form of wildlife protection, there are visitor restrictions, and Kazuma is closed to the public during the wet season in January and February. After being proclaimed a National Park in 1949, Kazuma lost its status in 1964 after a lack of development, however, it was reinstated again in 1975.
Join our community of keen travellers, wildlife enthusiasts and adventure seekers.