One of the most feared animals on the planet, the hippo is the arguably the most dangerous animal on the African continent.
These giant mammals are very unpredictable and will charge without any warming. They are responsible for the most human deaths of any wild animal species.
This might come as a surprise to some, as the hippopotamus generally seems pretty unassuming. Particularly as it lazily wallows in the shallows all day.
However there is much more than meets the eye when it comes to these giants of water ways!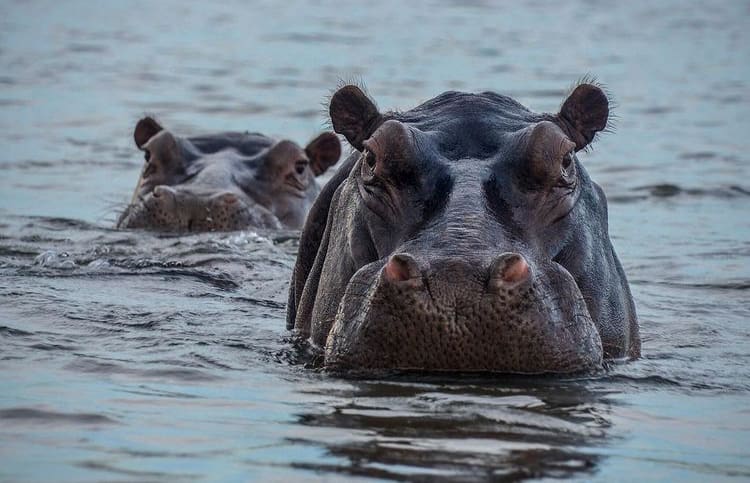 A typical hippo sighting | @tongabezi by Alicia Erickson
What is the Hippo?
The common hippo is the third largest living land mammal after the elephant and the white rhino. It takes second place when it comes to weight, as the bulk of an adult hippo is generally heavier than an adult rhino.
Hippo's are aquatic mammals, also known as the 'River Horse'. They are superbly adapted to a life in the water, and despite being able to walk and feed on land, they are largely dependant on the water to survive.
Hippo vs Rhino
Among those who don't spend all their time watching Nat Geo documentaries, and aren't so familiar with wildlife, the hippo and rhino are often confused.
However, to those in the know, the differences are very obvious.
The rhino is characterised by its iconic horn, short neck and hunched-over stature. The white rhino has a flat, square lip and a large hump on its neck. Despite being of similar size, a hippo's body looks quite different. They have a solid, barrel-shaped torso, large head, huge mouth and short, stubby legs.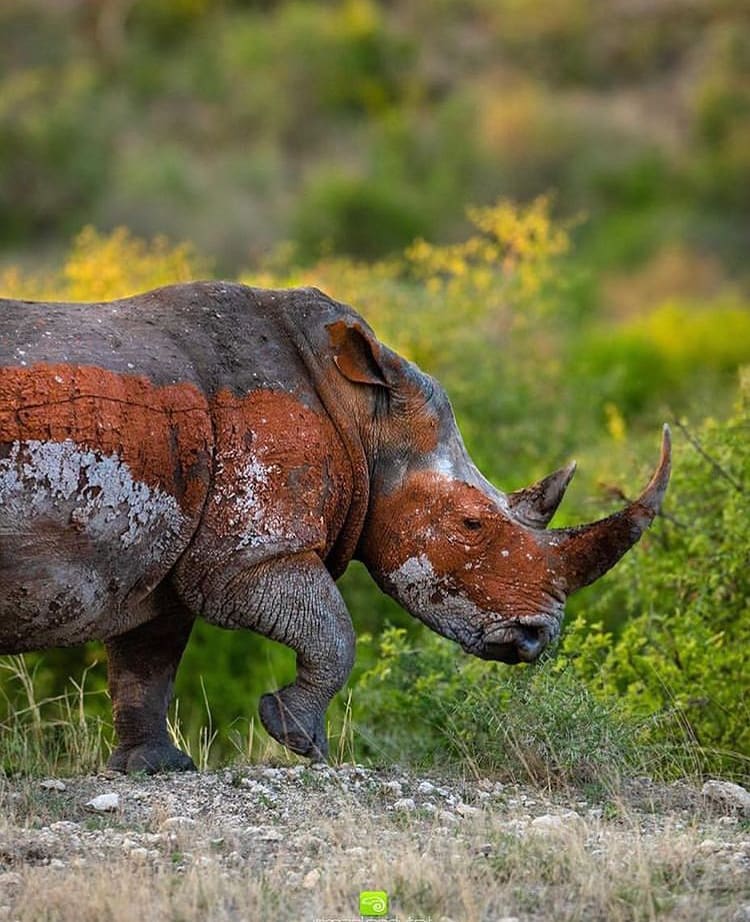 Appearance
What do hippos look like?
The hippo is a very large, solidly built animal. They have a barrel-like body with a huge head and four short legs. Their eyes, ears and nostrils are located high up on their heads which allows for them to sit submerged while still able to breath.
Hippos are entirely covered in purple-grey skin. They are completely hairless apart from the thick bristle-like hairs on their tails and heads. While their skin is extremely thick, the outer layer is quite thin and very susceptible to damage during territorial fights or conflict with predators.
They don't have true sweat glands, instead they recreate a thick, red substance known as 'blood sweat'. This is a natural form of sun protection, and helps prevent the animal from getting burnt by the harsh African sun.
Unlike most herbivores, hippos have more than just plant-crushing molars. Instead, they also boast large canines. These impressive 'tusks' can grow to more than a foot (30cm) long and are entirely uses as weapons in fights with other members of the species.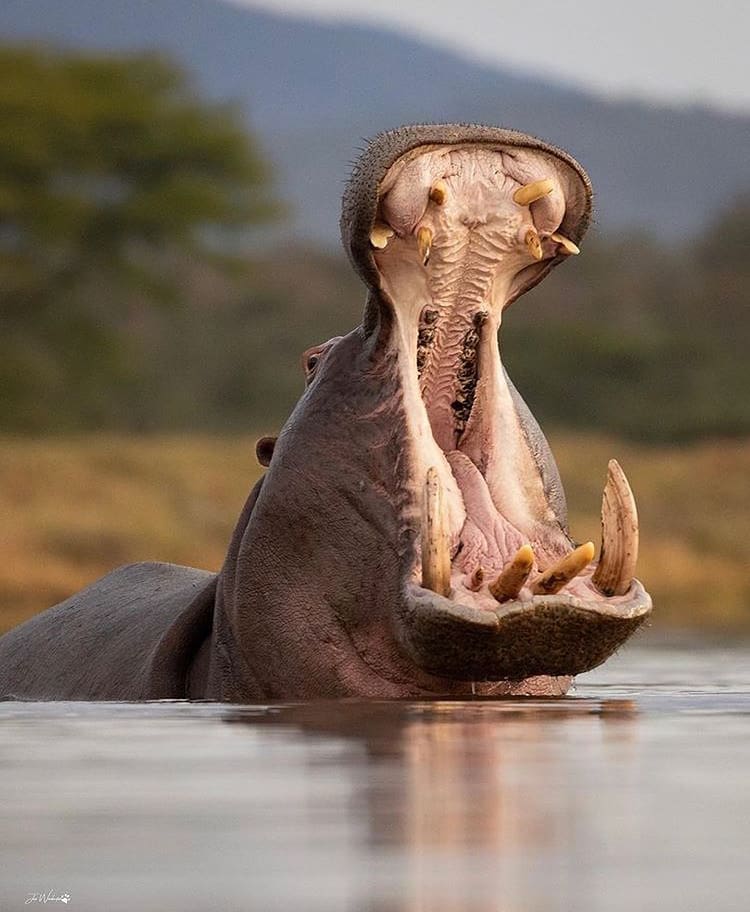 These teeth are deeply set within their massive jaws. A hippo's jaws can open to an impressive 180 degrees wide, and clamp down with an immense bite force. Open mouth displays are a common show of dominance and can easily be seen when observing a pod of hippos in the water.
Hippos have a short, paddle-like tail which males use to violently fling faeces around during territorial displays.
How big are hippos?
As the third largest animal in Africa, the hippo grows to an incredible size. An adult stands at around 5 ft. (1.5 meters) at the shoulder, and can be between 7 and 15 foot in length (2-5 meters) long from mouth to tail.
A large male (bull) can grow to 7,000lbs (3,000 kilograms), while females are usually substantially smaller at around 3,000lbs (1,500kg).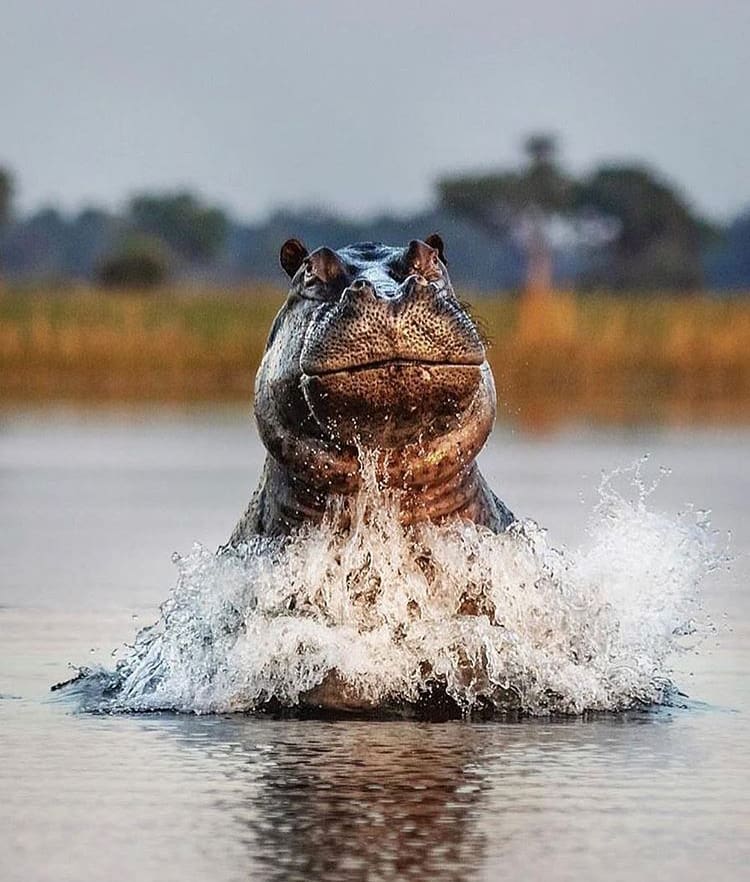 The Beach Master | (@jackjeplant)
Behaviour
What do hippos eat?
Hippos are herbivores, and require large amounts of food to support their massive bulk. They leave the water under the cover of darkness and will usually spend four to five hours grazing.
During this time they will eat around 65 to 90 pounds (30-40 kilograms) of vegetation before returning to the safety of the water, the same way they exited.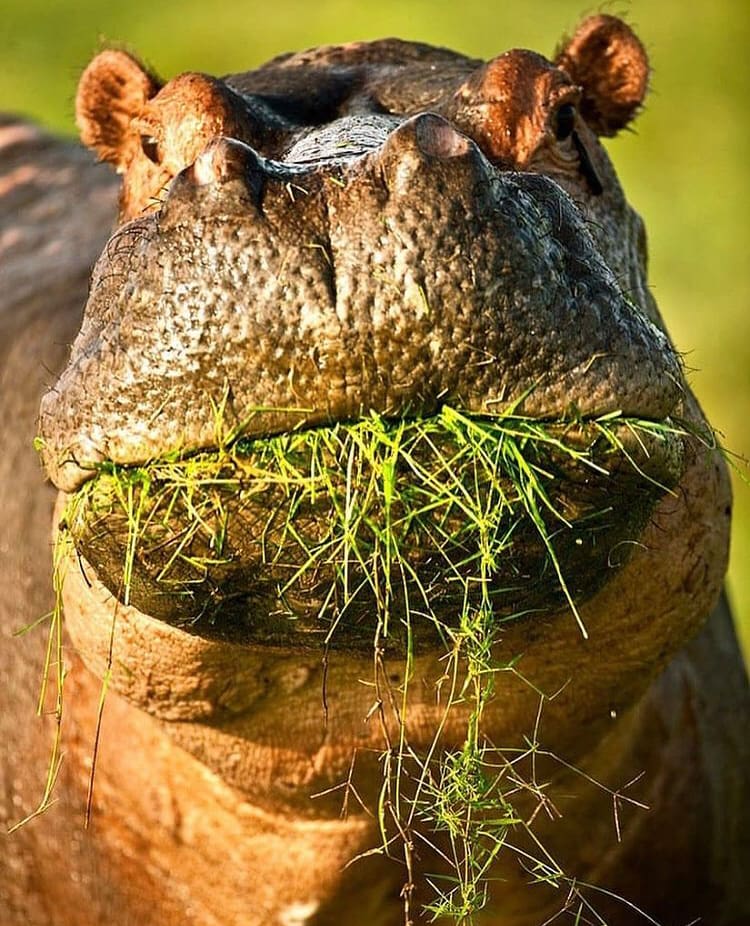 Their diet is modest when compared to Africa's other giant mammals, and this is down to their sedentary lifestyle. They expend very little energy wallowing in the water all day.
A hippo's teeth are not used during feeding. Instead they graze by grabbing grass with their tough, wide lips and a jerk motion of their head.
Hippo social structure
Hippos are highly social animals that live in large groups. These are called a 'pod' or a 'bloat'.
The typical pod ranges between 10 and 50 individuals, but can be much larger depending on location. The pod consists of small family groups, reigned over by a dominant bull.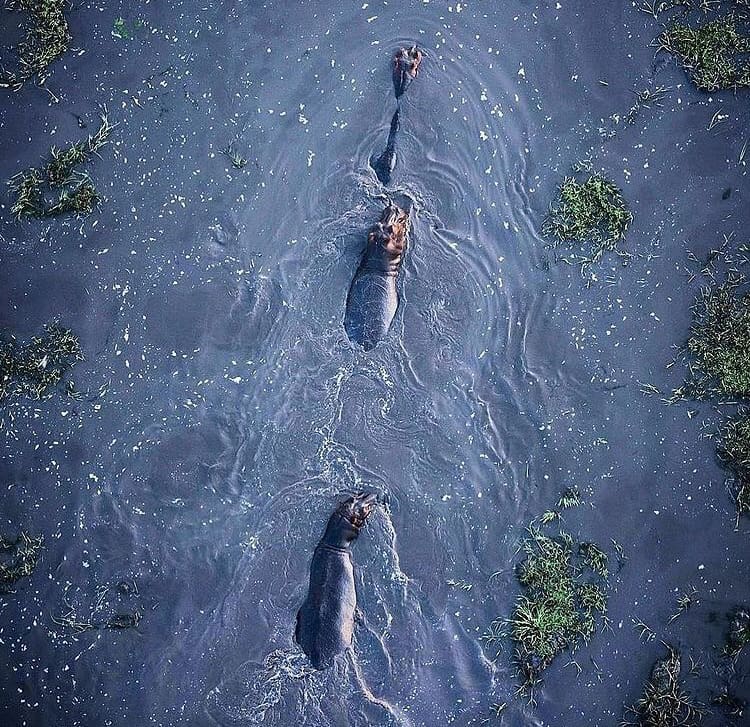 Dominance is determined by brutal and bloody fights. The alpha will tolerate the presence of subordinate males, as long as they act submissively and keep a distance from the females. Any breach of the unwritten rules will result in a savage attack, ending in the competition males being driven out of the group.
Do hippos have a territory?
A bull's territory will vary in size depending on the geographical location. These can range from an entire pond, to a section of river. Males don't tolerate the presence of rivals at all, and any intruders will be met with direct confrontation.
When hippos fight, they will bite and gore each other their large teeth. Injuries are often fatal.
Habitat & Range
Where do hippos live?
Hippos spend the vast majority of their lives in the water. Their ideal habitat includes shallow yet vast waterways, with easy access to land and vegetation. They can be found in rivers, estuaries, dams, lakes, ponds, wetlands and swampy marshes.
The common hippo is very common across east and southern Africa. They are plentiful in all of the region's wild waterways. While wild populations are under increasing pressure, groups can still be found in parts of west Africa.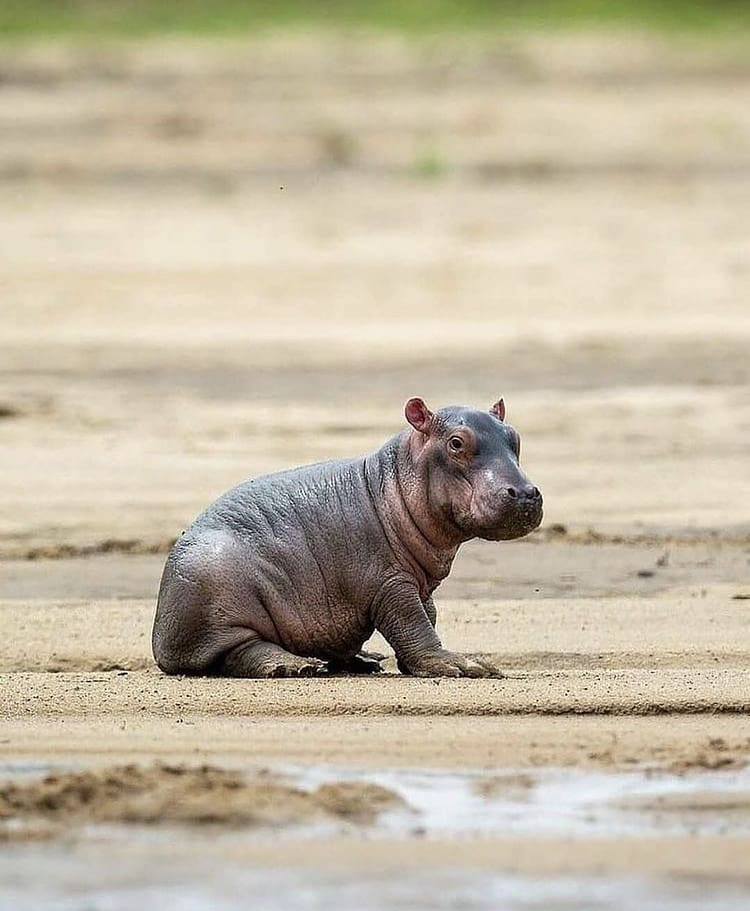 Baby hippo on the river bank | Will Burard-Lucas (@willbl)
Which countries do hippos live in?
Hippos can be found in: Angola, Benin, Burkina Faso, Burundi, Cameroon, Central African Republic, Chad, Equatoreal Guinea, Ivory Coast, Mali, Niger, Nigeria, Somalia, Sierra Leone, Togo, Mozambique, South Africa, Namibia, Botswana, Kenya, Tanzania, Uganda, Ethiopia, Zambia, Zimbabwe, Malawi, Rwanda, Democratic Republic of Congo and Sudan.
Conservation
How many Hippo are there in the wild?
Estimates suggest that there are currently between 115,000 and 130,000 common hippos in the wild today. The majority of these live in sub-Saharan Africa.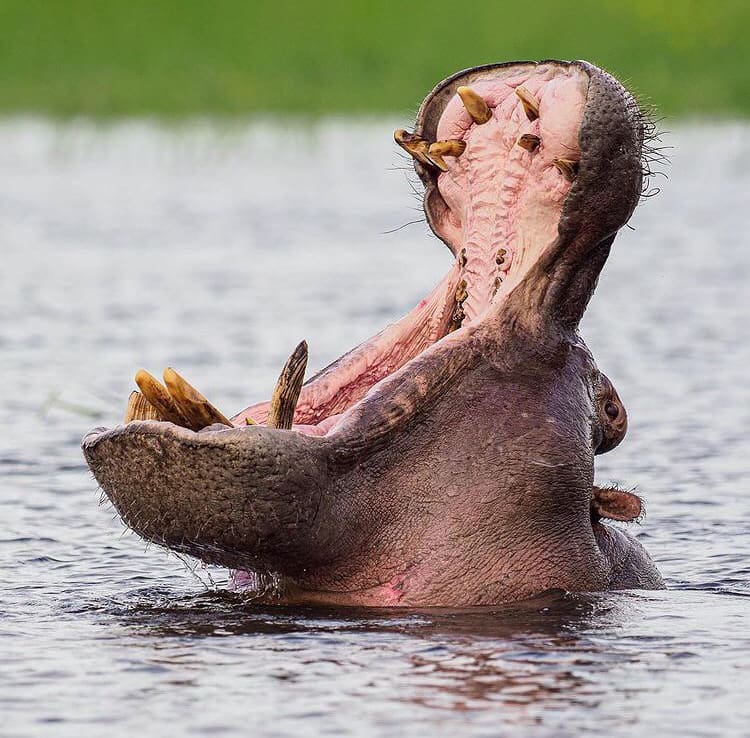 Hippo with jaws wide spread | Joe Knapman (@joeknapman)
Is the hippo endangered in Africa?
The common hippopotamus is currently listed as 'Vulnerable' on the IUCN red list, which means the population is at risk of becoming threatened.
Threats to the Hippo in the wild
Adult hippos have no natural predators in the wild due to their massive size and aggressive nature. On very rare occasions, large prides of lion have been seen hunting hippo on land, but these are rare and isolated incidents. The main predatory threat to young hippos are crocodiles and lions.
Humans are the primary threat to wild hippo populations, through habitat destruction and poaching.
Safari
The best places to see hippo while on safari in Africa are national parks in the eastern and southern parts of the continent.
Most commercial game reserves offer guided safaris with knowledgeable field guides, self-drive safari facilities or a combination of both.
Here are some of the best places to see hippo in Africa:
Kruger National Park, South Africa
St. Lucia Estuary / iSimangaliso Wetland Park, South Africa
Serengeti National Park, Tanzania
Chobe National Park, Botswana
Queen Elizabeth National Park, Uganda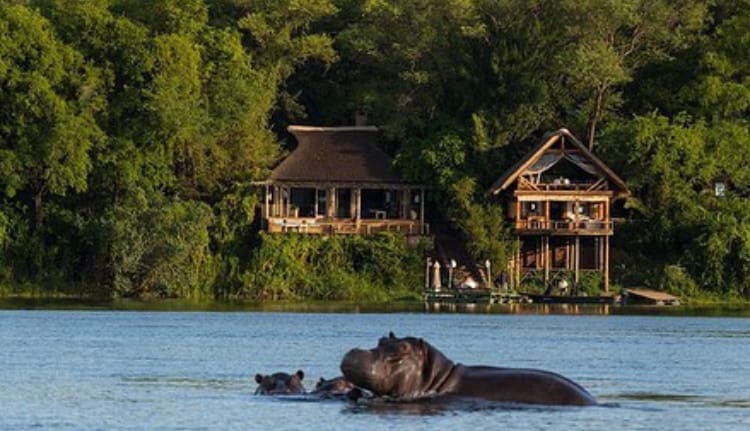 Hippos wallowing infront of Tongabezi Lodge | (@gerbenvanderwaals)
Tips for spotting a hippo in the wild
The common hippo is plentiful in most of Africa's national parks, and because of their size, they're generally very easy to see!
Look for water – Being a semi-equatic species, hippos depend on the water for their survival. Therefore the best and easiest way to see one is to find water. Depending on the park you're visiting, your best bet is to search for a dam or river and search the surface movement. If you're lucky, you'll see a hippo outside of the water and gauge its true size. However the most common sighting is the head or top half of the hippo, sticking out the water.
Go on a guided safari – Safari lodges who operate guided game drives will have a team of rangers communicating with each other and sharing the locations of sightings. They will also know the exact location that animals like to frequent, which is very helpful in the larger national parks.
Be respectful – Hippos are extremely temperamental animals and have been known to charge vehicles. Please always allow a safe distance and treat wild animals with respect.
Facts about the Hippo
Calves can suckle under water – Hippo calves are able to suckle milk from their mother's underwater. They do this by holding their breath and simultaneously closing their ears and nostrils.
They can hold their breath for five minutes – Adult hippos can hold their breath for up to five minutes at a time and will often spend time fully submerged. New borns can hold their breath for around 60 seconds and can be seen bobbing up and down next to their mothers.
Bite force – A hippo's bite can generate more than 2,000 pounds per square inch, enough to bite a crocodile or human clean in half.
Cocaine Hippos – An invasive population of hippos is living and thriving in the wild in Columbia after escaping Pablo Escobar's private zoo. The original pod were the drug lord's pets and lived on his property after being imported from Africa.
Myths about the Hippo
They Swim – Contrary to popular belief, hippos do not actually swim. Their bodies are so dense that they actually sink to the bottom and walk along the surface.
They're slow – Despite their massive size, hippos are very fast on land. On flat ground they can reach speeds of up to 30km/h. In the water they are obviously a lot slower, but can still move at an impressive five miles (8km) per hour.
Join our community of keen travellers, wildlife enthusiasts and adventure seekers.