The eternal enemy of the lion, and one of the most misunderstood animals in Africa, the spotted hyena gets a pretty bad rap!
Depicted as the cowardly, sly villain in The Lion King and most wildlife documentaries, the species generally doesn't find itself near the top of most people's favourite animals lists.
However there is so much more than meets the eye when it comes to hyenas. They are one of the most incredible and most important animals on earth.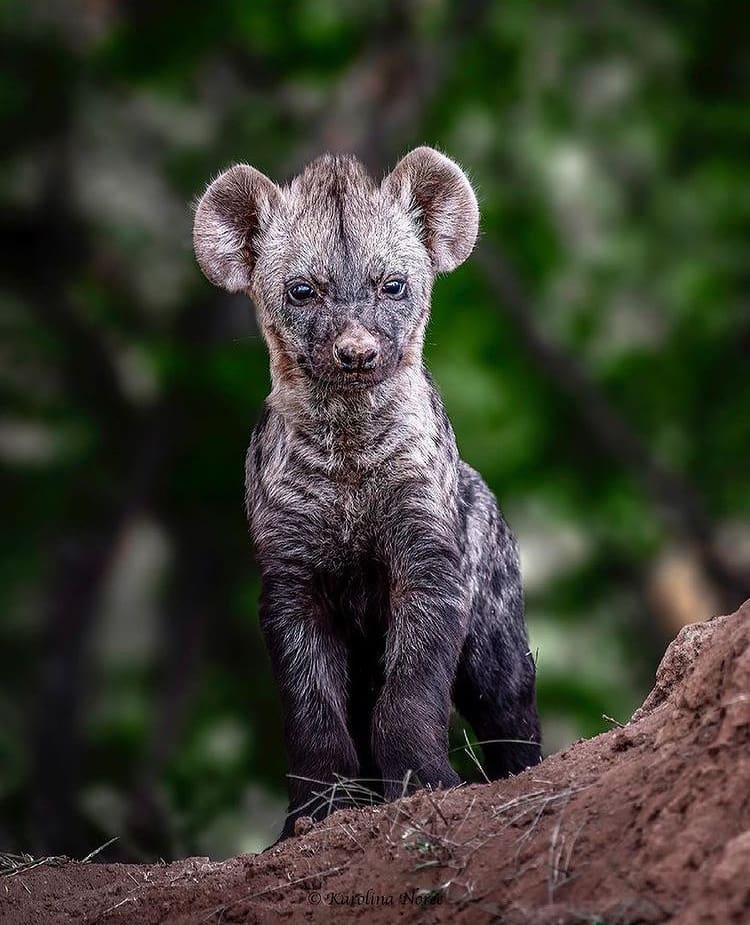 What is the Spotted Hyena?
The Spotted Hyena is the most common, and largest of three hyena subspecies found throughout Africa. They are particularly prevalent in Kruger National Park, Masai Mara National Reserve and Serengeti National Park.
Strictly speaking, they are neither dogs nor cats but are their own species entirely. Despite their appearance though, hyeanidae are more closely related to cats.
Appearance
What does the Spotted Hyena look like?
To many, the spotted hyena is one of the ugliest animals in Africa. So much so, that the species has even landed itself in The Ugly Five.
As with most babies, hyena pups are very cute. However as they mature, they grow into their ominous appearance.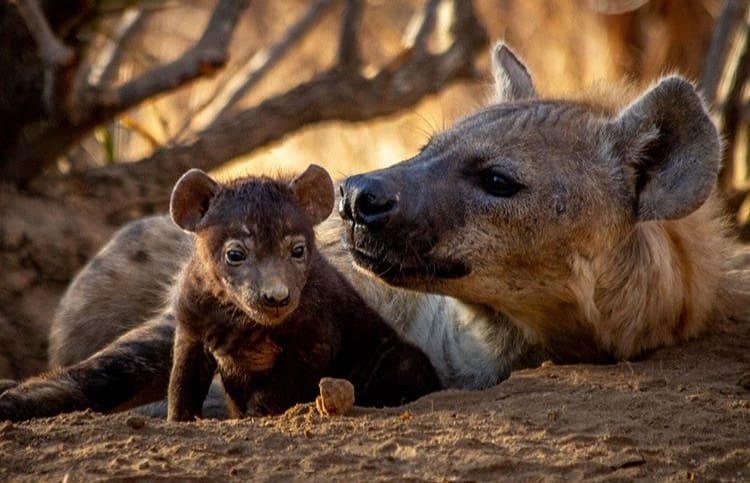 They are characterised by often mangy-looking brown fur, relatively short torsos with low hindquarters and sloping backs. Wide, strong jaws with many large teeth also add to an overall aggressive appearance. They also have large, rounded ears with exceptional sense of hearing.
The spotted hyena's skin is entirely covered in short, spotted fur. They lack the spinal 'mohawk' which is present on both other subspecies. Their fur changes colour with age, from a dark grey or black as cubs, to a dull brown as adults. The spotted pattern on their fur is unique to each individual, as are the sizes of each spot.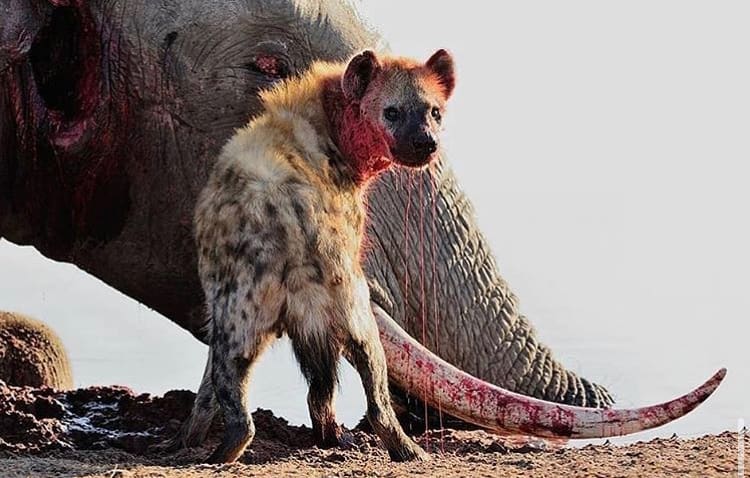 They have a relatively short tail, around 10-14 inches, which is covered in coarse brown fur and a black tip. As with dogs, the tail is a quite way to gauge hyena communication. A tail extended over the animal's back signals excitement, while a nervous hyena will tuck its tail between its legs.
How many teeth do spotted hyenas have?
Spotted hyenas have 34 teeth in total, with one of the strongest jaws in the entire animal kingdom. Their short, powerful canines protrude towards the front of their jaw, while sizeable carnassials sit further back. They also have a set of conical premolars that are specifically designed to crack and crush bones.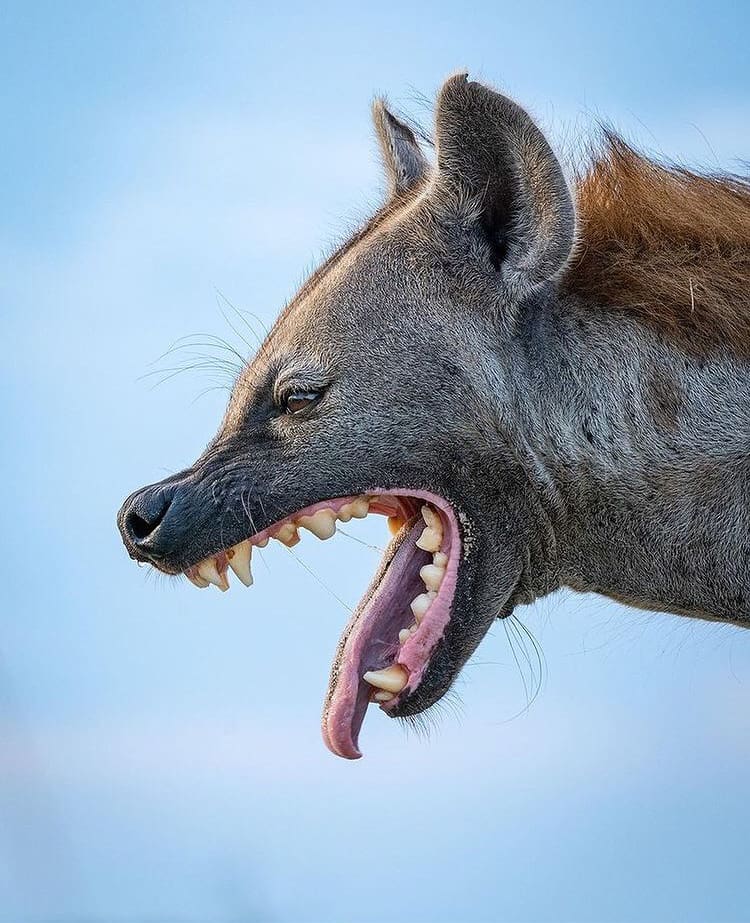 How big is the spotted hyena?
Adult spotted hyenas are large, stocky animals. A mature individual stands at between 2 and 3 foot (70-90cm) at the shoulder, and around 5ft. (1.5m) in length, from snout to tail.
Adults have thick, muscular bodies and grow to around 100 – 160lbs (50-70kg).
Behaviour
What does the spotted hyena eat?
Spotted hyenas are an entirely carnivorous species which feeds on meat, cartilage, carrion and even bones. They are avid scavengers and readily seek out the kills of other predators. They have an exceptional sense of sight and smell and are attracted to kills miles away.
Depending on who they're up against, they will attempt to muscle in and steal the carcass for themselves. Their success rate is quite high competing with leopards or cheetah, but it takes a very large group to fight off lions or a pack of wild dog.
Their primary food sources include: wildebeest, impala and other antelope. They have also been recorded eating snakes and lizards, and will scavenge on anything.
Do spotted hyenas hunt?
Contrary to popular belief, spotted hyenas do, in fact, hunt for themselves. They are not strictly scavengers. Interestingly, they are actually said to be more proficient hunters than lions, with higher success rates on attempted hunts.
With strong jaws and an advanced digestive system, they're very well-adapted to fully finishing off a carcass – bones included! Hyena faeces is quite easy to distinguish due to the calcium deposits left after digesting bone.
Their hunting strategy involves using their incredible endurance to run their victim down to exhaustion before killing them. Although, they are opportunistic and will take advantage of any opportunity for an easy meal.
Spotted hyena social structure
Spotted hyenas are a highly social species that live in family groups called 'clans'. The typical clan consists of between five and fifty members, although in some parts of Africa, clan sizes can be much larger.
Hyenas follow a strict social pecking order, with females being the dominant sex. The clan is led by an alpha female, supported by elder females. When the head female dies, her eldest daughter will generally take over.
Interestingly, both male and female spotted hyenas have prominent genitals, with those of a female very closely mimicking that of the male. This means the two genders can be quite hard to tell apart at first.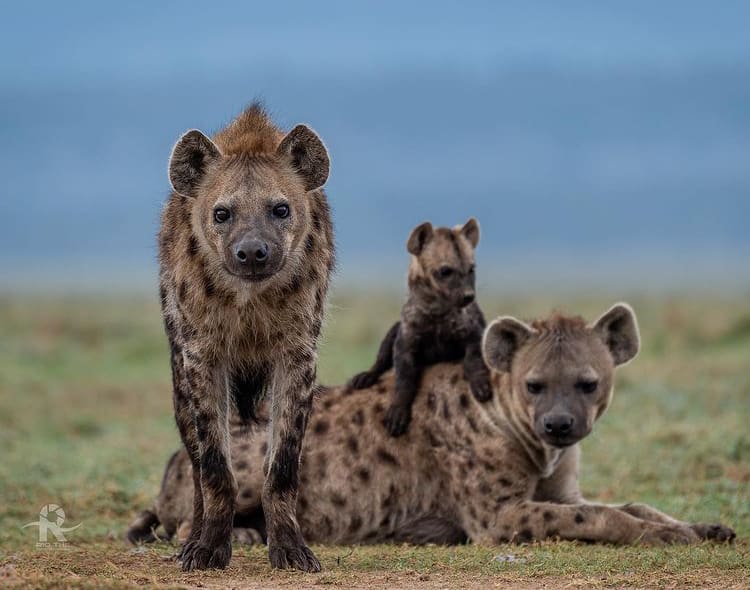 Do spotted hyenas have their own territory?
A spotted hyena clan will claim and protect a territory, or home range. The strongest clan will lay claim to the best feeding grounds, with access to plentiful prey species and water sources.
The size of a clan's territory ranges between location, and can be 40 square kilometres in Ngorongoro Crater or 1,000 square kilometres in the Kalahari, for example.
Habitat & Range
Where do spotted hyenas live?
Spotted hyenas are highly adaptable creatures, able to withstand incredibly tough living conditions. They are found in savannas, woodland, forests, open grassland and even high-altitude mountain regions.
They are common all across sub-Saharan Africa and are a dominant species in all of the region's national parks. They are very widespread, and due to their scavenging nature, have often been branded as pests.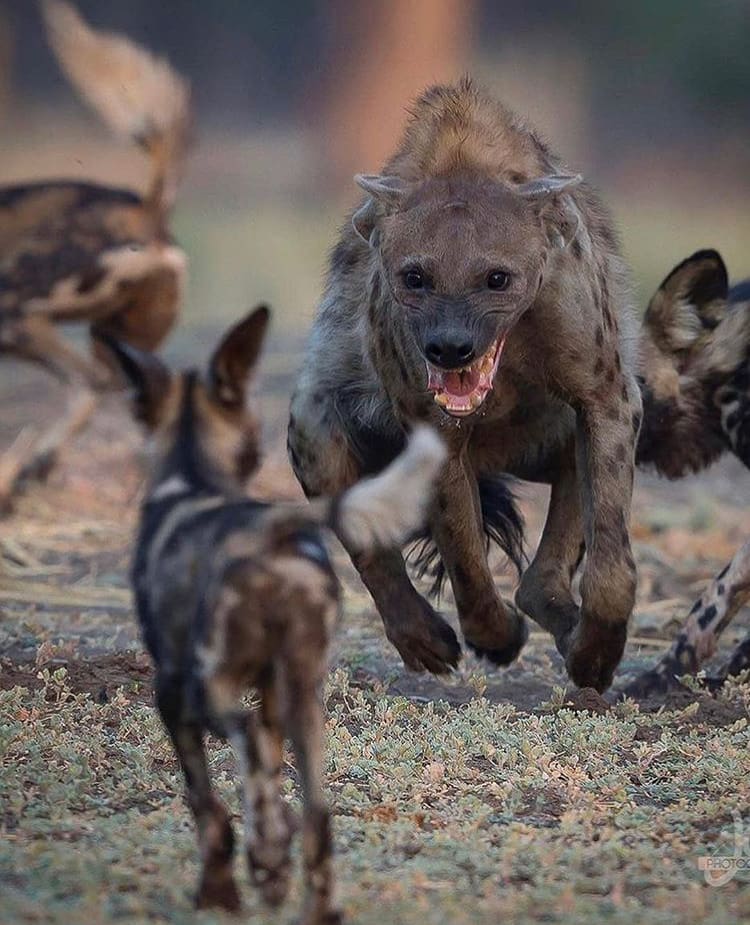 Which countries do spotted hyenas live in?
Spotted hyenas can be found in: Angola, Benin, Botswana, Burkina Faso, Burundi, Cameroon, Central African Republic, Chad, Congo, DR Congo, Cote d'Ivoire, Djibouti, Equatorial Guinea, Eritrea, Ethiopia, Gambia, Ghana, Guinea, Guinea-Bissau, Kenya, Malawi, Mali, Mauritania, Mozambique, Namibia, Niger, Nigeria, Rwanda, Senegal, Sierra Leone, Somalia, South Africa, South Sudan, Sudan, Swaziland, Tanzania, Uganda, Zambia, Zimbabwe, Algeria, Togo, Gabon.
Conservation
How many spotted hyena are there in the wild?
Current estimates suggest there are between 30,000 and 50,000 spotted hyenas living in the wild in Africa today.
Is the spotted hyena endangered in Africa?
Due to its widespread distribution across the continent, the spotted hyena is currently listed as 'Least Concern' on the IUCN red list. However, decreasing population sizes could lead them to becoming vulnerable.
Threats to the spotted hyena in the wild
Spotted hyenas have no natural predators, despite their constant conflict with lions and other big cats.
The primary threats facing hyenas are those of the human kind. These include: deforestation, hunting and human conflict.
Nomadic hyenas often make their way out of national parks and onto private farmland where they pick off vulnerable livestock and are treated as pests.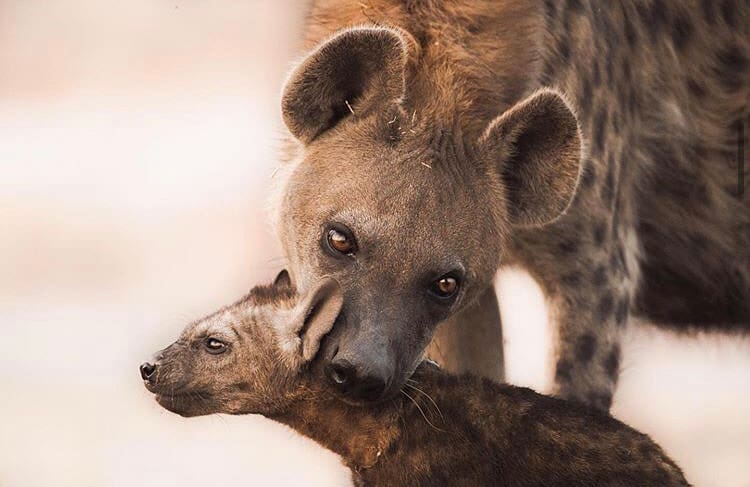 Safari
The best places to see a spotted hyena while on an African safari are private game reserves and national parks in the southern and eastern parts of the continent.
Most of these offer guided safaris with knowledgeable game rangers, and self-drive safari facilities.
Here are some of the best places to see spotted hyenas in Africa:
Kruger National Park, South Africa
Serengeti National Park, Tanzania
Chobe National Park, Botswana
South Luangwa National Park, Zambia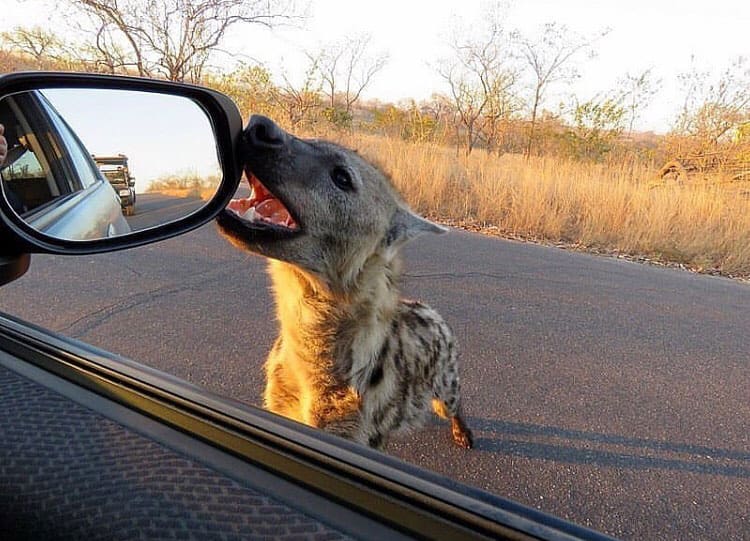 Tips for spotting the spotted hyena in the wild
Spotted hyena are pretty common in most national parks in sub-Saharan Africa, and if you know what to look for, they can be fairly easy to see!
Scan the skies – Hyenas are scavengers by nature and have exceptional senses for seeking out fresh kills. They're not the only scavengers in the bush, and circling vultures are often a great sign of a carcass beneath. If you're lucky enough to find a relatively fresh kill then you'll almost definitely see a hyena or two. Not to mention the predator who made the kill in the first place.
Find the den – Hyenas make use of underground dens to shelter their cubs. If you can find one of these dens, you'll no doubt be treated to the sight of a couple gorgeous youngsters and the adults who look after them.
Look down – In well-developed national parks like Kruger, hyenas make use of the intricate network of dirt roads to move around more easily. Scan the road as you drive and look for hyena tracks, these will help give you and indication of any in the area. A hyena track two lobes on the main pad, while the toes are all very close together.
Join a guided safari – Hotels and lodges that operate guided game drives have teams of rangers who communicate with each other and share the location of previous sightings, den sites etc. This is a sure fire way of pin pointing they hyenas you want to see!
Be respectful – Hyenas are very dangerous animals and are capable of killing humans. Please always allow a safe distance and treat wild animals with respect.
Facts about the spotted hyena
They're fast – Spotted hyenas are very fast, capable of reaching speeds of up to 60km/h at full sprint. They also boast incredible endurance and can maintain speeds for several kilometres.
They enjoy swimming – Hyenas enjoy spending time in water and are strong swimmers. On hotter days, they can readily be seen spending time relaxing in a shallow, crocodile-less pool of water.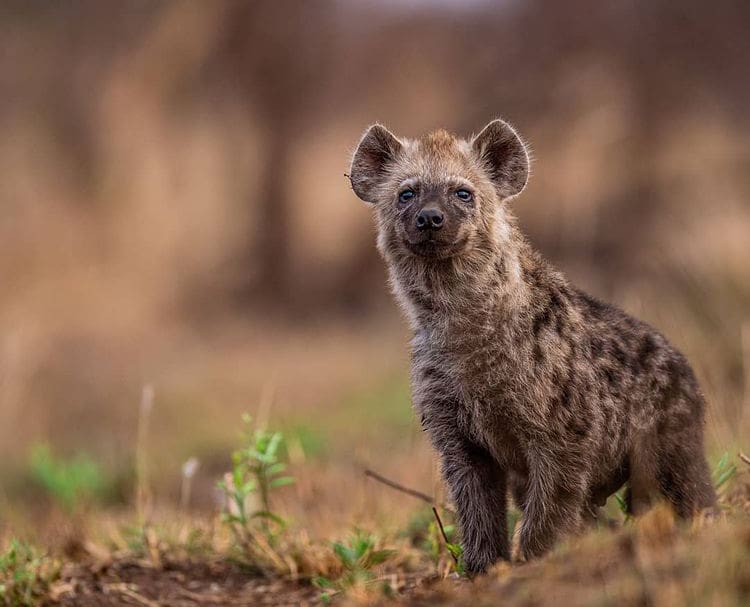 Myths about the spotted hyena
They don't hunt – Hyenas are believed to be scavengers who only spend their time stealing food from other predators. While they do in fact scavenge, they are also highly successful hunters.
They're cowards – Hyenas are not at all cowardly, and will readily face off with other predators. They are understandably weary around lions, but with a big enough number advantage they will take a small group.
They imitate voices of people – Middle eastern fables tell stories of hyenas mimicking the voices of people to lure humans and pets out of safety to be killed. This is, of course, untrue.
Join our community of keen travellers, wildlife enthusiasts and adventure seekers.