In the vast and untamed landscapes of North America, a formidable creature roams the rugged terrain, commanding both respect and awe. The grizzly bear, with its immense size, incredible strength, and iconic presence, has long captivated the imagination of humans throughout history. Revered by indigenous cultures and feared by early settlers, this magnificent beast has become the symbol of untamed wilderness, embodying the spirit of both beauty and danger.
In this article, we embark on a journey into the world of the grizzly bear, exploring the fascinating facts, dispelling myths, and uncovering the remarkable characteristics that make it one of the most intriguing creatures on Earth. From its distinctive physical features to its complex social behavior, we will delve into the depths of its existence, shedding light on the true nature of this iconic species.
What is the Grizzly Bear?
The grizzly bear, scientifically known as Ursus arctos horribilis, is a subspecies of brown bear native to North America. It is one of the largest and most powerful land mammals on the continent, renowned for its immense size, strength, and distinctive appearance.
The name "grizzly" derives from the grizzled or silver-tipped fur that gives the bear a distinct and formidable appearance.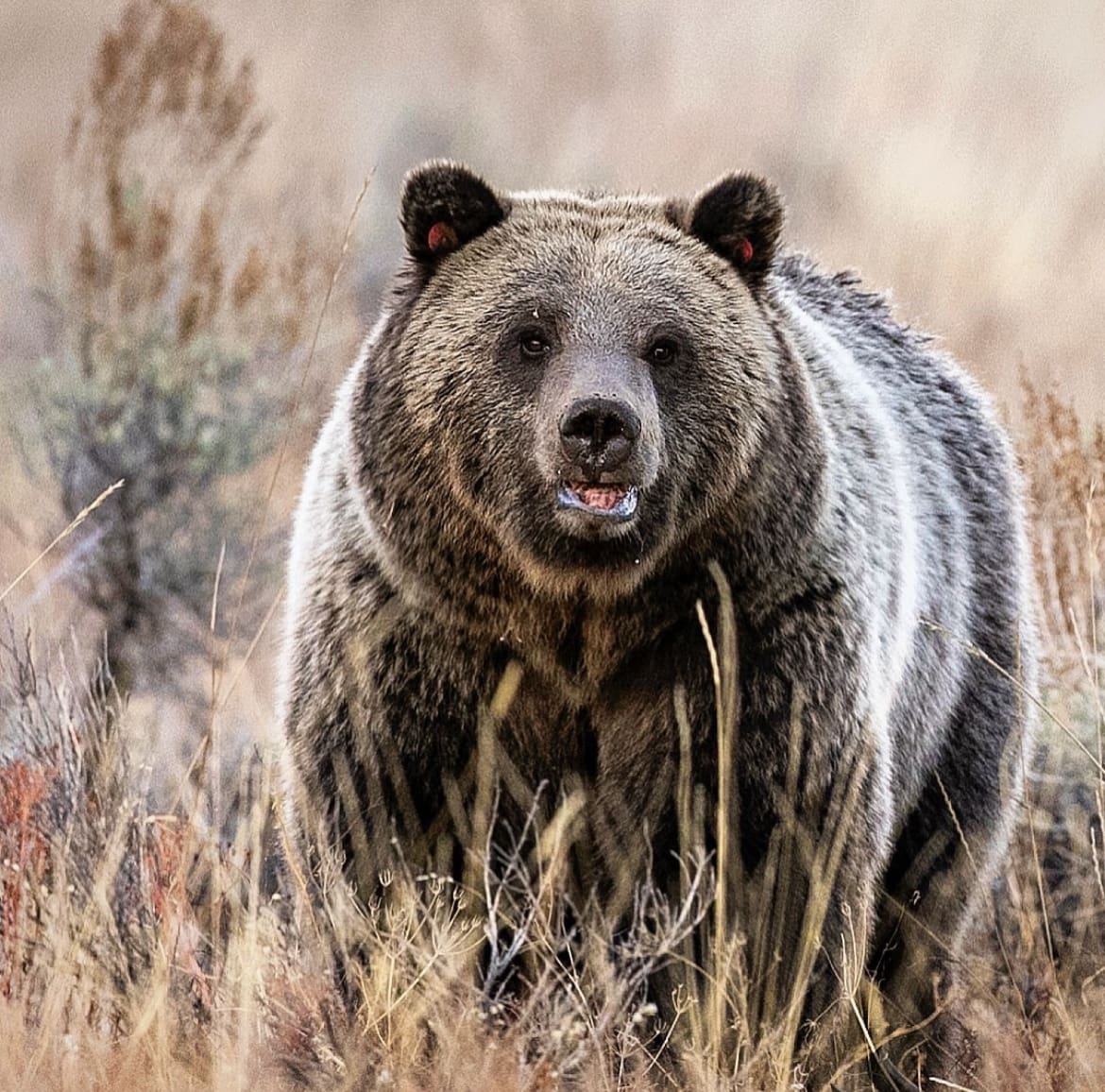 Appearance
What does the grizzly bear look like?
The grizzly bear is a large and powerful mammal with distinct physical features that contribute to its awe-inspiring appearance.
Grizzlies have a muscular build with broad shoulders and a humped appearance due to powerful muscles in their front limbs. They have a strong and robust frame, suited for their active lifestyle.
The grizzly bear's coat varies in color, ranging from blond, light brown, reddish-brown, to almost black. The fur has a grizzled or silver-tipped appearance due to a mixture of light-colored and dark-colored hairs. The fur can be long and shaggy, especially during colder months.
Grizzlies have a large head with a prominent forehead and a pronounced snout. Their ears are relatively small and rounded.
The face of a grizzly bear often showcases a concave or dished facial profile. They have small eyes, a wide nose, and a strong jaw. Their lips are mobile and used for manipulating food.
One of the most striking physical features of a grizzly bear is its long, curved claws. These claws can grow up to 10 centimeters (4 inches) in length and are incredibly sharp. Grizzlies use their claws for various purposes, including digging, climbing, and catching prey.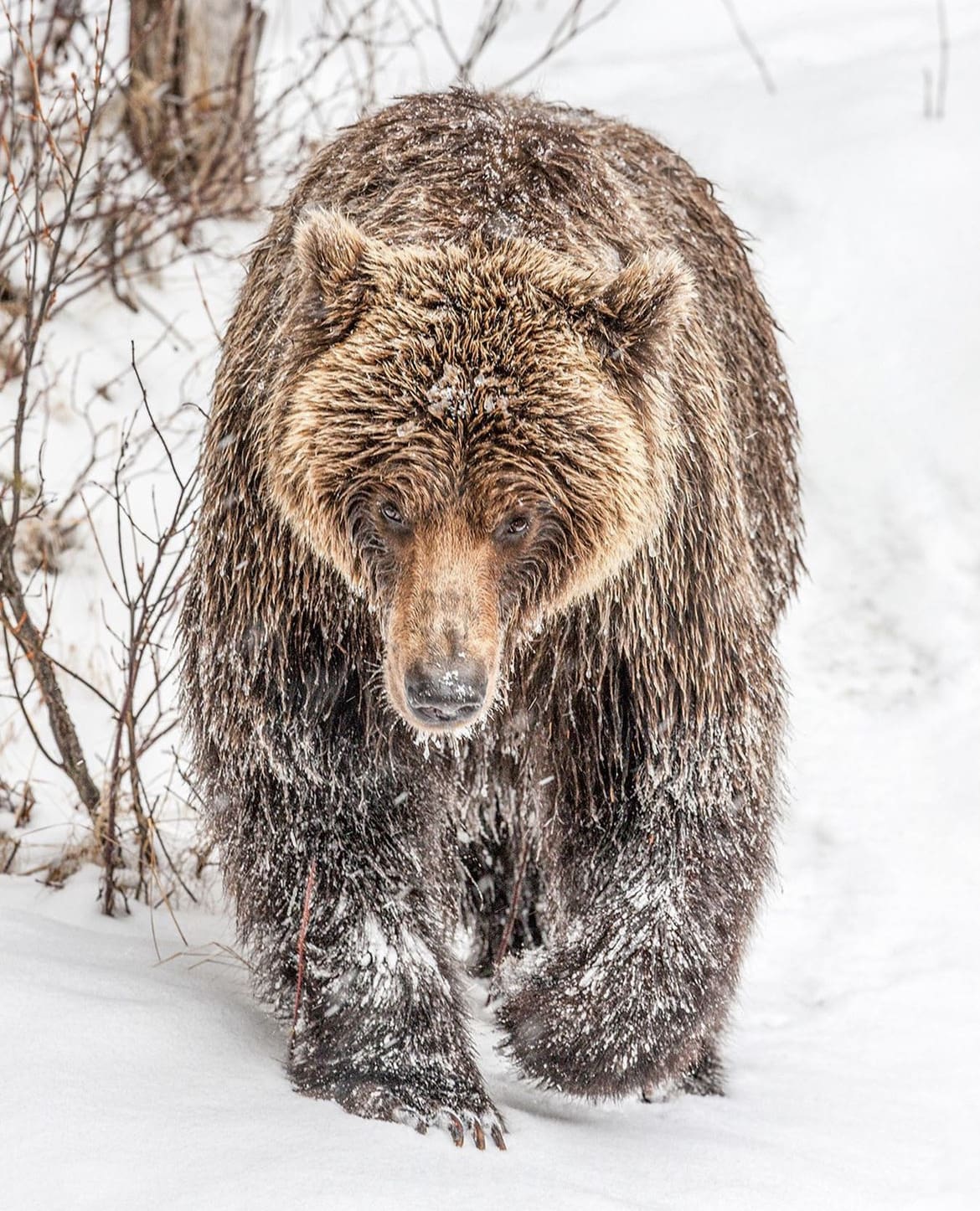 How big is the grizzly bear?
Adult male grizzly bears can reach a height of up to 2.5 meters (8 feet) when standing on their hind legs, while females are generally smaller, although still formidable. Males typically weigh between 400 to 1,200 kilograms (880 to 2,650 pounds), while females are generally smaller, weighing between 200 to 450 kilograms (440 to 990 pounds) on average. Both sexes possess a powerful and intimidating presence in their respective sizes.
It's important to note that the appearance of grizzly bears can vary slightly depending on their location and individual characteristics. However, their immense size, shaggy coat, powerful build, and distinctive grizzled fur are consistent features that contribute to their iconic and recognizable look.
Behaviour
What do grizzly bears eat?
Grizzly bears are opportunistic omnivores, meaning they have a diverse diet that consists of both plant matter and animal protein. Their eating habits can vary depending on the season and the availability of food sources.
1. Vegetation: Grizzlies consume a significant amount of vegetation. This includes grasses, sedges, herbs, leaves, buds, and shoots. They often graze in meadows and open areas to forage for these plant materials.
2. Berries and Fruits: Grizzly bears have a keen sense of smell and are particularly adept at locating and consuming a wide range of berries and fruits. They eagerly feed on berries such as huckleberries, blueberries, blackberries, cranberries, and raspberries. These sweet and nutritious fruits are an important food source during the summer and early fall.
3. Roots and Tubers: Grizzlies are capable of digging with their long claws, allowing them to unearth roots and tubers from the ground. They feed on the roots of plants such as horsetail and ground squirrels' caches of roots.
4. Nuts: Grizzly bears have a fondness for nuts and will consume them when available. They may feed on various nuts, including acorns, hazelnuts, and pine nuts.
5. Fish: Grizzlies are adept fishermen, and their diet often includes fish, especially during the salmon spawning season. They can catch fish using their powerful paws or by waiting at waterfalls and streams for salmon to leap or swim by.
6. Insects: Grizzly bears are known to eat insects, particularly during the summer months when insects are abundant. They may consume ants, bees, wasps, and other insects found in their habitat.
7. Small Mammals: While not a primary food source, grizzlies occasionally prey on small mammals such as ground squirrels, marmots, voles, and rodents.
8. Carrion: Grizzly bears are opportunistic scavengers and will consume carrion, which refers to the remains of dead animals. They may feed on carcasses of large animals like elk, deer, or bison.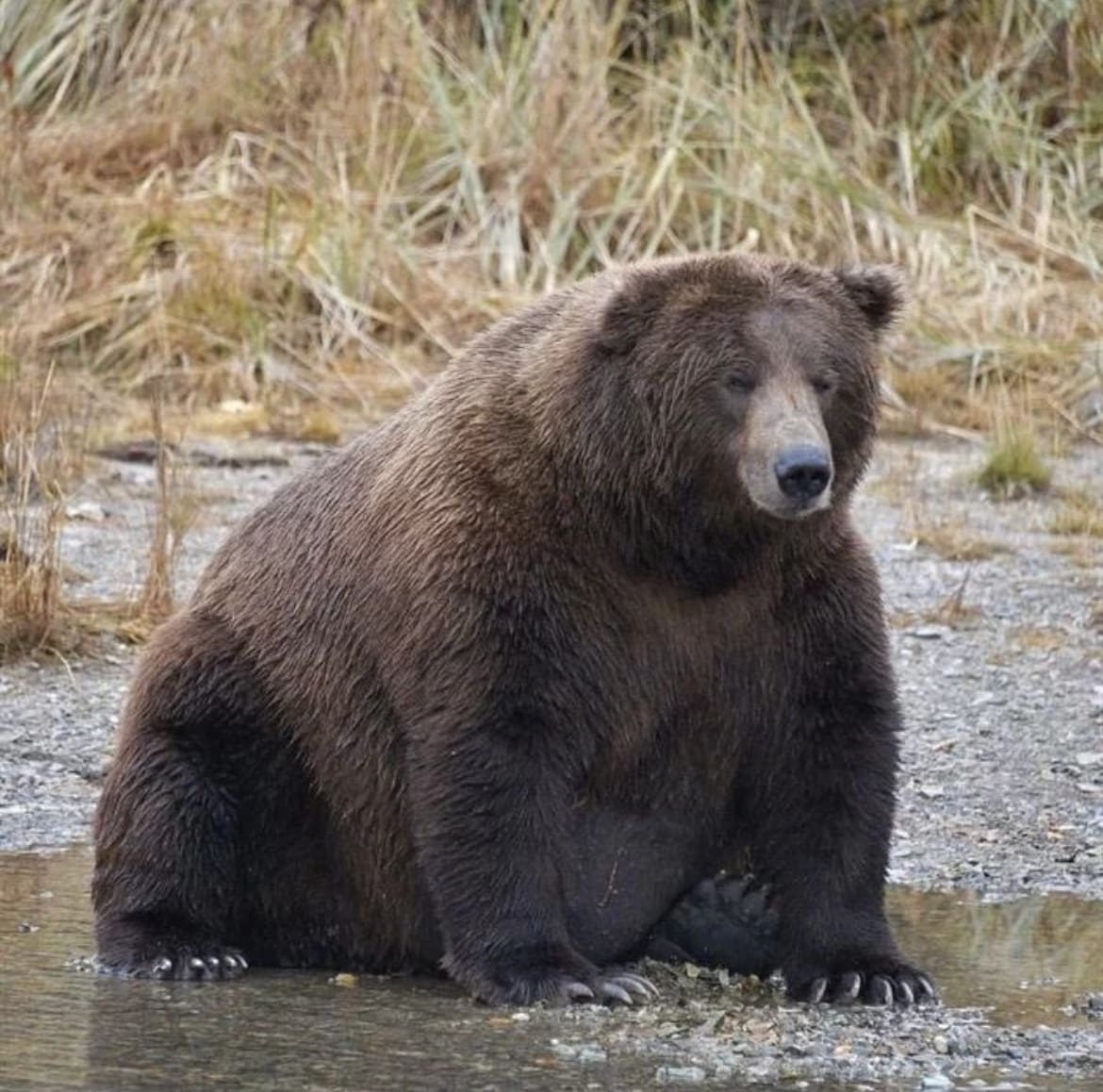 Do grizzly bears hunt?
Grizzly bears are skilled hunters, although they primarily rely on their omnivorous diet. Their hunting behavior is more prominent in certain regions and during specific seasons when prey is available. Here are some key points about grizzly bear hunting:
1. Fish: Grizzly bears are known for their fishing prowess, particularly during the salmon spawning season. They will wait at waterfalls, riverbanks, or other strategic locations and use their sharp claws and jaws to catch fish such as salmon. This fishing behavior is an essential part of their diet, especially in coastal areas and regions with abundant fish populations.
2. Small Mammals: While grizzly bears primarily rely on vegetation and other food sources, they occasionally hunt small mammals. Ground squirrels, marmots, voles, and rodents are among the small mammals that may be preyed upon by grizzlies.
3. Ungulates: Grizzly bears have been known to prey on larger ungulates, such as elk, moose, deer, and caribou, particularly when these animals are vulnerable, such as during calving season or when they are weakened by injury, illness, or old age.
How fast does the grizzly bear run?
Grizzly bears are impressive runners despite their large size and bulk. They are capable of reaching considerable speeds for short distances and are able to reach topspeeds of up to 30-35 miles per hour (48-56 kilometers per hour) in short bursts. This speed is remarkable considering their weight and muscular build.
While their top speed is not as high as some other animals, grizzly bears exhibit agility and maneuverability, allowing them to navigate through different terrains efficiently. Their powerful limbs and muscular bodies enable them to cover ground quickly, particularly in open areas.
How do grizzly bears reproduce?
Grizzly bear reproduction involves a combination of mating rituals, courtship behaviors, and a period of gestation before the birth of cubs.
1. Mating Season: The mating season for grizzly bears typically occurs in the spring, usually from May to July. During this time, male grizzly bears, known as boars, actively search for receptive females, called sows.
2. Courtship and Mating: When a boar encounters a sow, courtship rituals begin. The boar may engage in various behaviors to attract the female, including vocalizations, posturing, and physical interactions. Sows may also display receptive behaviors, such as rolling on the ground or approaching the male. Mating itself is a relatively brief event, lasting only a few minutes.
3. Delayed Implantation: Grizzly bears exhibit a reproductive phenomenon known as delayed implantation. After mating, the fertilized egg does not immediately implant in the sow's uterus. Instead, it undergoes a period of delayed development, allowing the female to delay pregnancy until conditions are favorable.
4. Pregnancy and Denning: If conditions, such as sufficient food availability, are favorable for the sow, the fertilized egg will implant and begin developing. The gestation period for grizzly bears is approximately 6 to 8 months. During this time, the pregnant sow will start preparing a den, usually in a secluded area like a cave, hollow tree, or dense vegetation.
5. Birth of Cubs: Grizzly bear cubs are typically born during winter hibernation, between January and February. Sows give birth to one to four cubs, with two cubs being the most common. Newborn cubs are small, blind, and completely dependent on their mother for nourishment and protection.
6. Maternal Care: The sow provides extensive care to her cubs. She nurses them, protects them, and keeps them warm within the den. The cubs will remain in the den with their mother until spring when they are strong enough to venture out into the world.
7. Family Bond and Independence: Grizzly bear cubs stay with their mother for about two and a half years, during which time she teaches them essential survival skills, such as foraging, hunting, and avoiding threats. This period of maternal care and learning is crucial for the cubs' development and eventual independence.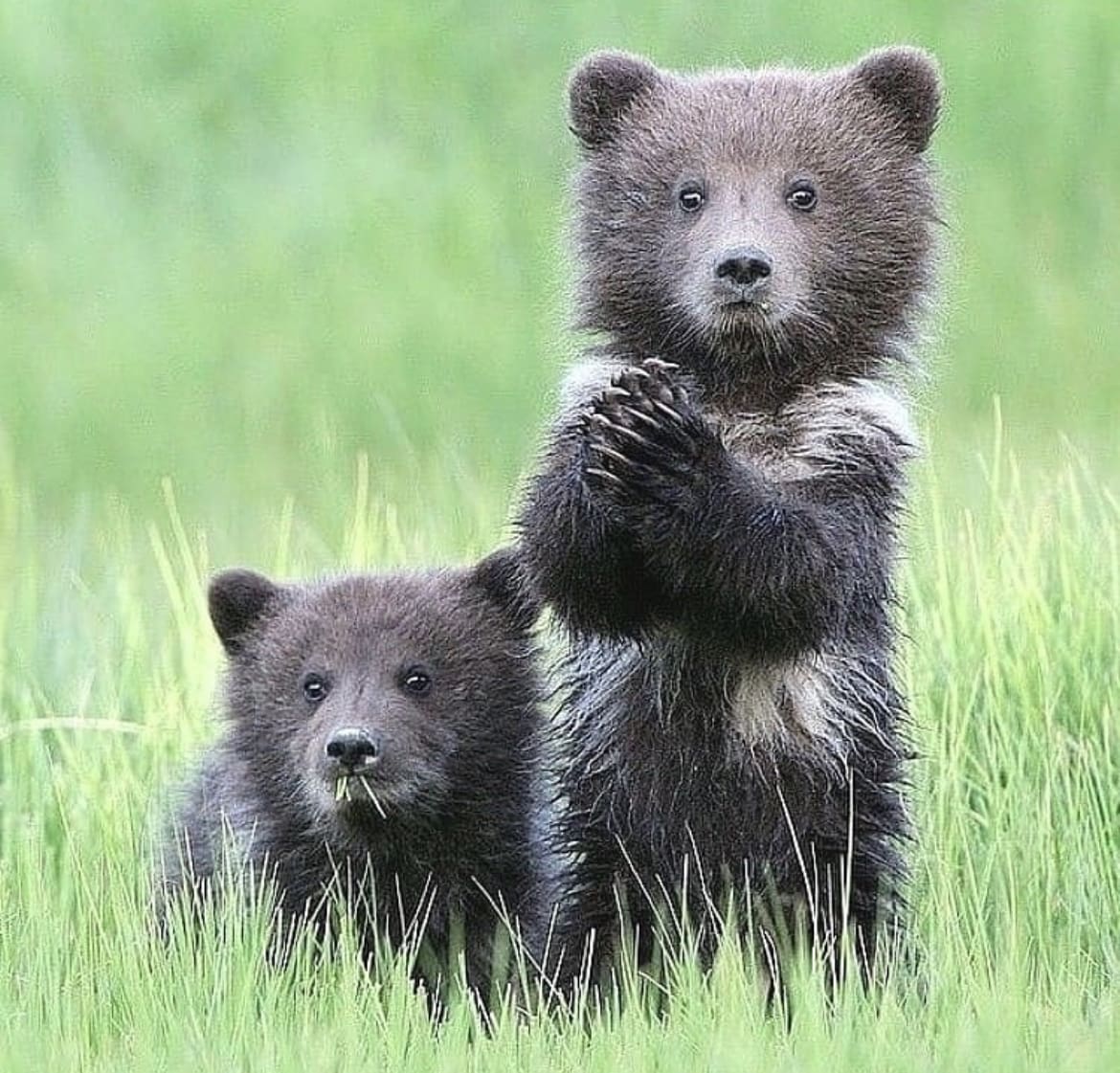 Habitat & Range
Where do grizzly bears live?
Grizzly bears are primarily found in North America, specifically in regions of Alaska, western Canada, and parts of the northwestern United States.
1. Alaska: Alaska is home to a significant population of grizzly bears. They can be found throughout the state, including coastal regions, mountainous areas, and forests. The state's vast and diverse wilderness provides ample habitat for these bears.
2. Western Canada: Grizzly bears have a wide distribution across western Canada. They can be found in the provinces of British Columbia, Alberta, Yukon, and the Northwest Territories. The Rocky Mountains, coastal rainforests, and boreal forests are some of the habitats where grizzlies thrive in this region.
3. Northwestern United States: In the United States, grizzly bears are primarily found in the northwestern states, particularly Montana, Wyoming, Idaho, and Washington. These bears inhabit mountainous areas, including national parks such as Yellowstone and Glacier National Park.
Conservation
How many grizzly bears are there in the wild?
Estimating the exact number of grizzly bears in the wild is challenging due to various factors such as their wide distribution, remote habitats, and varying population densities. Grizzly bear populations have also experienced fluctuations over time due to factors like habitat loss, human conflicts, and conservation efforts. Here is some information on the approximate population estimates:
1. Alaska: Alaska is believed to have the largest population of grizzly bears in North America. Estimates suggest that the state is home to around 30,000 grizzly bears.
2. Canada: In Canada, the estimated population of grizzly bears is approximately 26,000. The majority of these bears are found in the western provinces of British Columbia and Alberta.
3. United States: In the lower 48 states of the United States, the population of grizzly bears is significantly smaller. The Greater Yellowstone Ecosystem, which includes parts of Wyoming, Montana, and Idaho, is home to an estimated 700-1,000 grizzly bears. In the Northern Continental Divide Ecosystem in Montana, there are approximately 1,000 grizzlies. Smaller populations can also be found in the Cabinet-Yaak and Selkirk ecosystems.
Are grizzly bears endangered?
Grizzly bears are considered to be a species of conservation concern but their conservation status varies depending on the specific region or population being considered. I'll provide an overview of the conservation status of grizzly bears in different areas:
Overall, while grizzly bears are not classified as endangered species globally, specific populations or subpopulations within their range face conservation challenges and are protected under various conservation frameworks.
Conservation efforts focus on habitat preservation, reducing conflicts with humans, managing populations, and raising public awareness about the importance of grizzly bear conservation.
Safari
What are the best places to see grizzly bears in the wild?
If you're interested in observing grizzly bears in their natural habitat, there are several regions known for their grizzly bear populations and opportunities for wildlife viewing. Here are some of the best places to see grizzly bears in the wild:
1. Katmai National Park, Alaska: Katmai National Park in Alaska is renowned for its population of coastal grizzly bears. Brooks Falls, in particular, offers a unique opportunity to witness grizzlies fishing for salmon as they leap up waterfalls. Katmai National Park provides guided tours and viewing platforms for visitors to observe these magnificent creatures.
2. Denali National Park, Alaska: Denali National Park is another excellent location for grizzly bear sightings. The park's vast wilderness and varied habitats support a healthy population of grizzlies. Visitors can take guided bus tours or explore designated hiking trails while keeping a safe distance to observe these bears in their natural environment.
3. Great Bear Rainforest, British Columbia, Canada: The Great Bear Rainforest in British Columbia is home to a significant population of grizzly bears. This pristine coastal rainforest offers opportunities for wildlife tours, bear-watching excursions, and boat trips to observe grizzlies in their natural habitat.
4. Yellowstone National Park, USA: Yellowstone National Park is known for its diverse wildlife, including the famous grizzly bears. The park's Lamar Valley and Hayden Valley are popular areas for grizzly bear sightings. Visitors can join guided tours, go on wildlife-watching drives, or participate in ranger-led programs to increase their chances of seeing these magnificent creatures.
5. Knight Inlet, British Columbia, Canada: Knight Inlet, located along the central coast of British Columbia, is known for its high concentration of grizzly bears. Wildlife tours and lodges in the area offer opportunities to view grizzlies fishing for salmon and exploring their coastal habitats.
6. Kamchatka Peninsula, Russia: The Kamchatka Peninsula in Russia is home to a significant population of Kamchatka brown bears, a subspecies of grizzly bears. This remote and wild region provides opportunities for guided wildlife expeditions to observe these impressive bears in their natural habitat.
When planning a trip to observe grizzly bears, it's essential to prioritize safety and follow guidelines and regulations for wildlife viewing.
Consulting local authorities, wildlife experts, or tour operators can provide valuable information and enhance your experience while ensuring minimal disturbance to these magnificent animals.
Tips for spotting grizzly bears in the wild
Spotting grizzly bears in the wild can be an exciting and memorable experience. Here are some tips to increase your chances of seeing grizzly bears while ensuring your safety and minimizing disturbance to the animals:
1. Research and Choose the Right Location: Start by researching the best regions and parks known for their grizzly bear populations. Focus on areas with a high likelihood of bear sightings and established viewing opportunities.
2. Time Your Visit: Grizzly bear activity can vary depending on the time of year. Consider visiting during the spring and early summer when bears are active and visible as they forage for food or during the salmon spawning season when bears gather at rivers and streams to feed.
3. Join Guided Wildlife Tours: Engaging the services of experienced guides or wildlife tour operators who are familiar with grizzly bear habitats can significantly enhance your chances of spotting bears. They can provide valuable knowledge, insights, and ensure your safety during the viewing experience.
4. Be Patient and Observant: Grizzly bears can be elusive, so patience is key. Spend time in areas known for bear activity and be observant of your surroundings. Look for signs of bear presence, such as tracks, scat, claw marks, or overturned rocks. Binoculars or spotting scopes can help you scan the landscape for bears at a distance.
5. Respect the Bears' Space: Keep a safe distance from grizzly bears. It's crucial to respect their space and never approach them. Use binoculars or a telephoto lens to observe them from a distance that does not disturb their natural behavior.
6. Stay Alert and Make Noise: While observing bears, remain vigilant and make noise to alert them to your presence. This helps avoid surprising them, as surprising a bear can lead to defensive behavior. Clap your hands, talk calmly, or carry bear bells to make noise as you move through bear country.
7. Follow Park Regulations and Guidelines: Familiarize yourself with the rules and regulations of the area you're visiting. National parks and wildlife reserves often have specific guidelines for wildlife viewing and bear safety. Follow these guidelines to ensure the well-being of both bears and visitors.
8. Be Prepared for the Outdoors: When venturing into grizzly bear country, be prepared with the appropriate gear. Carry bear spray, which is a specialized deterrent designed to deter bears in case of a close encounter. Dress appropriately for the weather, wear sturdy footwear, and bring essential supplies like water, food, and insect repellent.
Remember, grizzly bears are wild animals, and their behavior can be unpredictable. Observing them from a safe distance and with respect for their habitat is crucial for both your safety and the well-being of the bears. Enjoy the experience of witnessing these majestic creatures in their natural environment.
Facts about the grizzly bear
1. Impressive Size: Grizzly bears are one of the largest land mammals in North America. They can reach a height of up to 3.3 feet (1 meter) at the shoulder and can weigh between 400 to 1,200 pounds (180 to 540 kilograms), although some individuals have been recorded to weigh even more.
2. Distinctive Physical Features: Grizzlies are known for their muscular build, humped shoulders, and long, curved claws adapted for digging and capturing prey. They have a prominent shoulder hump made up of muscles, which helps them generate power and strength.
3. Varied Diet: Grizzly bears are omnivores, meaning they have a diverse diet that includes both plants and animals. They feed on a wide range of foods, such as berries, nuts, roots, grasses, insects, fish, small mammals, and occasionally larger prey like elk or moose.
4. Habitat and Range: Grizzly bears inhabit various ecosystems, including forests, mountains, tundra, and coastal areas. They are primarily found in Alaska, western Canada, and parts of the northwestern United States.
5. Hibernation: Grizzly bears are known for their ability to hibernate during winter. They enter a state of dormancy, slowing down their metabolism, and living off stored body fat. During this time, they retreat to dens, usually in secluded areas like caves or hollow trees.
6. Parental Care: Female grizzly bears, called sows, provide extensive care and protection to their cubs. Cubs typically stay with their mother for about two and a half years, during which time she teaches them important survival skills.
7. Conservation Status: Grizzly bears are considered a species of conservation concern. While their exact conservation status varies depending on the specific population and region, they face threats such as habitat loss, human conflicts, and climate change. Efforts are underway to protect and preserve their habitats and ensure their long-term survival.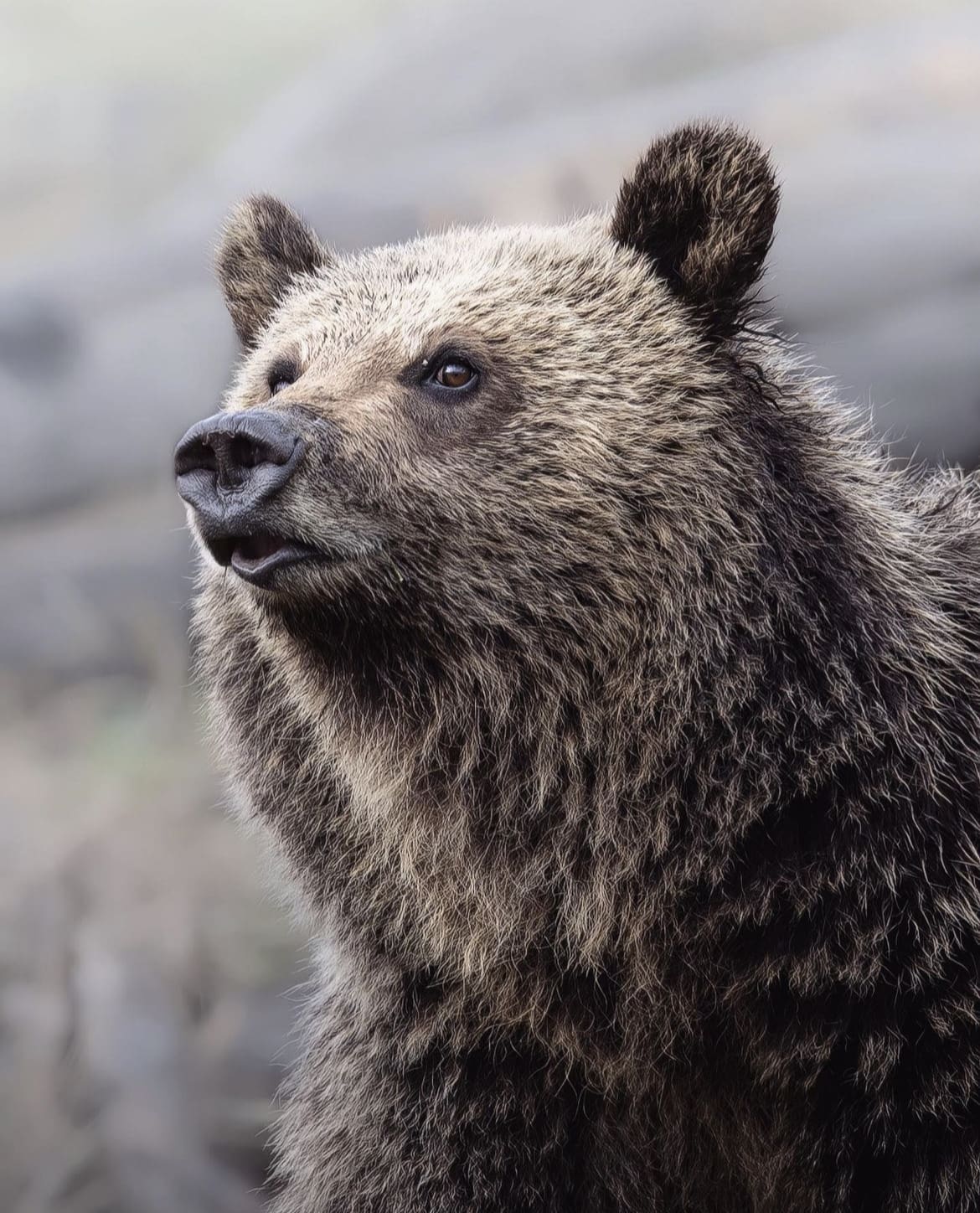 Myths about the grizzly bear
Several myths and misconceptions have been associated with grizzly bears throughout history. Here are a few common myths about grizzly bears:
1. Grizzly Bears are Fierce Man-Eaters: One prevalent myth is that grizzly bears are aggressive and pose a significant threat to humans. While grizzly bears are large and powerful animals, they are generally not inclined to attack humans unprovoked. Human-bear conflicts often arise due to misunderstandings, habitat encroachment, or food-related issues.
2. Playing Dead is the Best Defense: It is commonly believed that if you encounter a grizzly bear, playing dead is the best defense strategy. However, playing dead is recommended only in specific situations, particularly during defensive attacks by female bears protecting their cubs. In other encounters, it is generally advised to use bear spray, make noise, and slowly back away.
3. Grizzly Bears are Always Brown: Many people assume that all grizzly bears are brown. While brown is a common color variation, grizzly bears can range in color from blonde to dark brown, even appearing almost black. The coloration can vary based on the region and individual genetics.
4. Grizzly Bears are Slow and Clumsy: Contrary to popular belief, grizzly bears are surprisingly agile and can move quickly when necessary. They are capable of running at speeds of up to 35 miles per hour (56 kilometers per hour) for short distances, making them formidable predators.
5. Grizzly Bears Hibernate in Caves: Although grizzly bears do hibernate, they don't necessarily use caves exclusively. They may seek out various types of dens, including natural caves, hollow trees, or simply digging a burrow into a hillside. The choice of den can vary depending on the availability and suitability of the habitat.
6. Grizzly Bears are Solitary Animals: While grizzly bears are generally solitary animals, they are not strictly solitary. Female bears will often have cubs and raise them for a couple of years, and bears may congregate in areas with abundant food sources, such as salmon spawning grounds.
Join our community of keen travellers, wildlife enthusiasts and adventure seekers.