The wild dog of Africa – also known as the African wild dog, hunting dog, African painted dog or painted wolf – is one of the most enchanting and elusive mammals in the African bush.
Their canine appearance, beautiful colouration and playful nature means they are high up on most people's safari bucket list and always make for thrilling sightings.
What Are The Wild Dogs of Africa?
The wild dog is the most successful predator in Africa and sadly, also the most endangered. They are a canid species as their name suggests, and are native to sub-Saharan Africa.
These incredible animals are highly social and live in groups called 'packs'. They have one of the most sophisticated social structures of all wildlife species.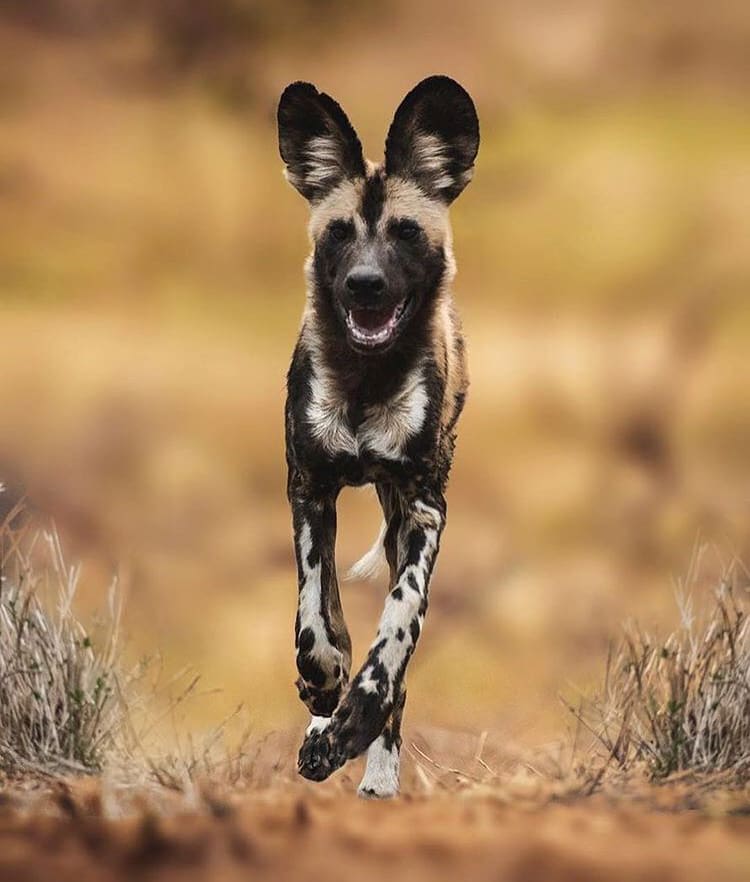 Appearance
What do African wild dogs look like?
The wild dog has a typical canine appearance. They are tall with a slender build, designed for endurance rather than power or speed. They have a short yet shaggy coat that is detailed with a brilliant, patchy pattern that perfectly blends hues of black, white, brown and grey. These are formed from stiff bristle-like hairs and no underfur. Their coat gradually falls off with age, and very old individuals can be almost bald.
Their pattern varies significantly and can be used as a means of identification. Colouration also varies according to geographic location with northeastern species being almost black with slight patterning, and southern African species being brightly coloured. Much of their patterning occurs on their body and legs. A black muzzle with brown cheeks and forehead is pretty standard.
Other defining features include large bat-like ears and a bushy, white-tipped tail that acts as a flag during coordinated pack hunts.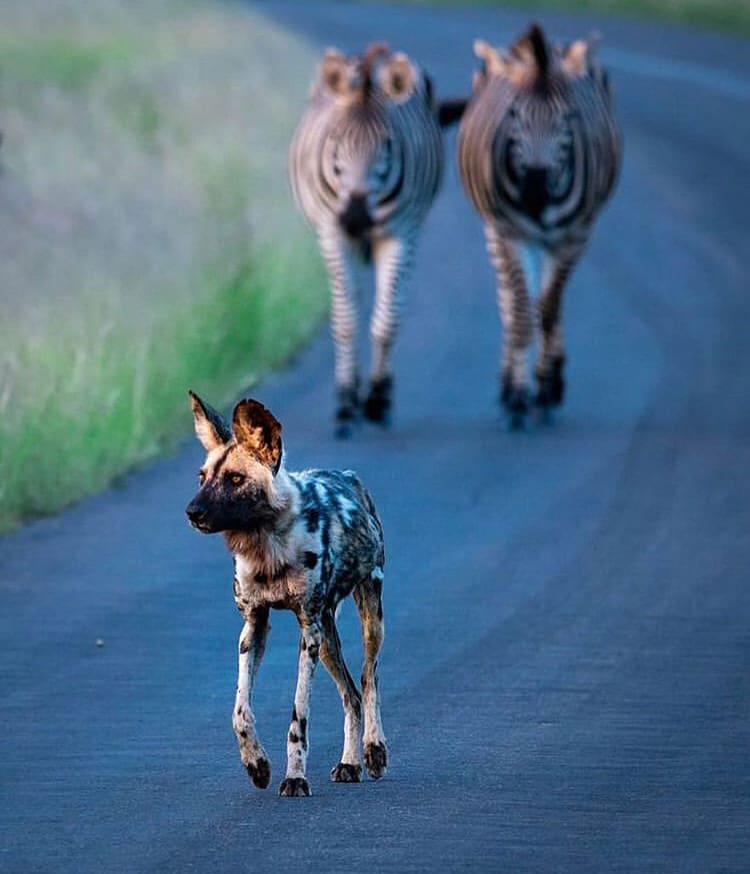 How big are wild dogs in Africa?
The African wild dog is the most solidly built canine on the continent. They are also the bulkiest, although this doesn't really stack up to much when it comes to the canine species.
Mature adults stand between 24 and 30 inches (60-75 centimetres) at the shoulder, and will weigh between 40 to 80lbs (18-36 kilograms).
They will measure 28 to 60 inches ( 70 -140 centimetres) in length from head to tail.
Behaviour
What do African wild dogs eat?
The wild dogs of Africa are fully carnivorous and prey on a range of mammal species. Although they are opportunistic hunters, their diet mainly consists of impala, wildebeest, gazelle, springbok, kudu, warthogs and baboons.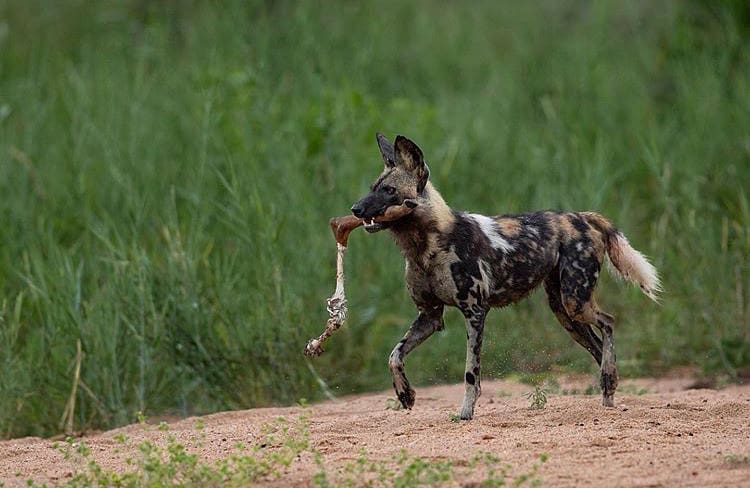 Why are they called the hunting dogs of Africa?
They were honoured with this name due to their incredible hunting success rate, as well as the technique they use and the frequency of hunts.
Wild dogs are specialized pack hunters, and among the most efficient hunters in Africa. Prey targets very rarely escaping. Especially without intervention of other predators.
They are built for endurance, and can maintain speeds of 35 miles per hour (56 kilometres per hour) for huge distances without stopping. Their primary hunting tactic involves quietly approaching their intended target, before chasing them to exhaustion before attacking as a pack.
The pack will overwhelm its victim with charges from all angles. Larger animals will be bitten on the belly, legs and rump repeatedly until they stop running. Smaller animals will simply be pulled down and ripped apart. The stripping of a carcass can happen within minutes and often the pack will begin feeding while the animal is still alive. Along with the cheetah, wild dogs are the only predominantly diurnal predators in Africa.
Pack Structure
The African wild dog is a highly social species that builds very strong social bonds between pack members. Even more so than lions and spotted hyenas.
They live in packs of between 2 and 30 members on average, and solitary living or hunting is almost never witnessed. Historically, it is believed that packs would join together in the hundreds during the migration of springbok herds through southern Africa.
Like with wolves, the pack is led by an Alpha pair. These are usually the oldest female, and a dominant male. Each gender follows its own hierarchy and the dominant pair will hold monopoly on breeding.
Contrary to most other social animals, males are the gender who tends to remain with the pack for life, while females will readily move off. These dispersing females will seek out other packs and push out its existing females and so the cycle goes on, thus preventing inbreeding. Males also tend to outnumber females by 3:1 in most packs.
Are wild dogs territorial?
African wild dogs are territorial, and will claim a home range of between 200 and 700 square kilometres. Territories are marked with faeces and urine, and will be physically defended in fights with invading packs.
Within their territory, a wild dog pack will use several den sites. These are predominantly used to house mothers and very young pups. The ideal den site is sheltered with only one entry and exit point. Often times packs use abandoned burrows, rock crevices or drain pipes in more developed national parks like Kruger.
Mothers will remain in the den with their pups for around three to four weeks when they're old enough to start eating solid food. At this point they will begin to leave the den and become fully weaned at around five weeks. For the next few weeks, pups will be fed regurgitated food from other pack members and at 10 weeks old the pack will abandon the den and the youngsters will fully integrate into pack life.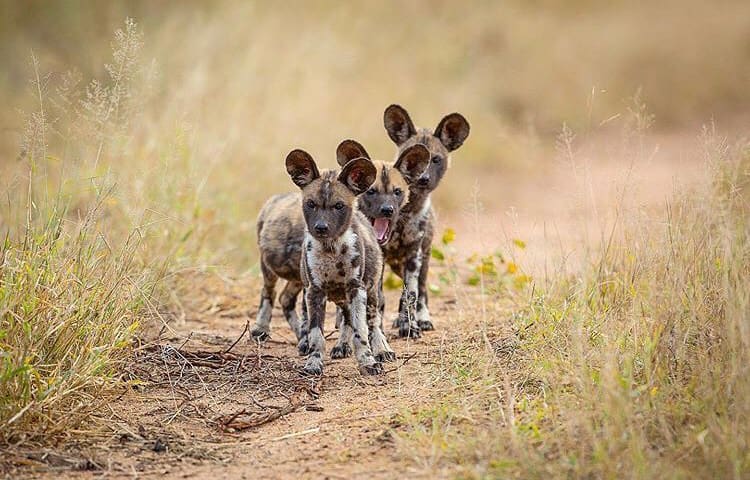 Range & Habitat
Where do African wild dogs live?
Wild dogs are most commonly found in savanna or woodland landscapes in arid or semi-arid areas. They usually tend to avoid overly forested or dense areas, however packs have been seen living in these areas on occasion. Due to their hunting habits, they generally prefer wide open spaces with little to impede vision or obstruct during a chase.
The species is native to sub-Saharan Africa with primary strongholds in east and southern Africa.
Wild dogs can be found in: Angola, Benin, Botswana, Burkina Faso, Central African Republic, Chad, Ethiopia, Kenya, Malawi, Mozambique, Namibia, Niger, Senegal, South Africa, South Sudan, Sudan, Tanzania, Zambia, Zimbabwe.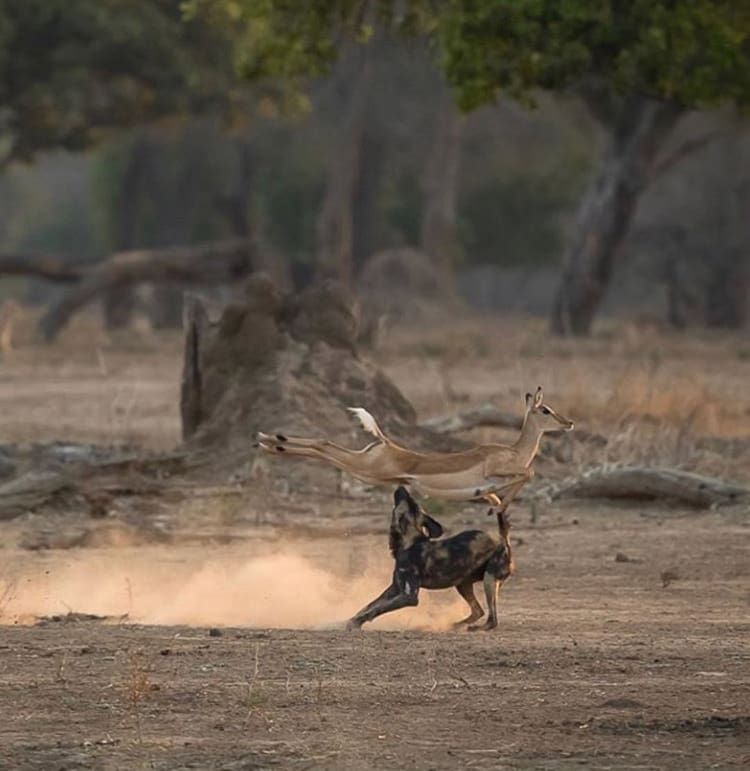 Conservation
How many wild dogs are there in Africa?
At present there are an estimated 6,600 African wild dogs left in the wild today. The majority of these are found in northern Mozambique, Tanzania and southern Africa.
Is the African wild dog endangered?
The African wild dog is currently listed as 'Endangered' on the IUCN red list, with populations declining and at risk of becoming critically endangered.
Threats to wild dogs in Africa
The primary threats facing wild dogs in Africa come in the form of human contact. Due to the vast amount of space they need to live and hunt, habitat loss brings wild dogs into contact with humans very frequently. This often results in packs preying on livestock and being killed in revenge hunts or poisoned. Wild dogs are also susceptible to contracting diseases from domestic dogs, therefore any interaction with human settlements can be detrimental to wild populations.
Safari
The best places to see wild dogs in Africa
Although they are endangered, wild dogs are present in many of Africa's large national parks. While sightings are never guaranteed, even in regular hot spots, a visit to any of the below definitely puts the odds in your favour.
Here are some of the best places to see wild dogs in Africa:
Kruger National Park, South Africa

Luangwa Valley, Zambia

Mana Pools National Park, Zimbabwe

Okavango Delta, Botswana

Madikwe Game Reserve, South Africa
Tips for spotting wild dogs in Africa
Wild dogs are not easy to see in the wild. Due to the vastness of their territories and their propensity to never stop moving, any sightings in the wild are an incredibly privilege.
Here are a few tips to help you spot a pack of wild dogs in Africa:
Drive slowly – Its important to always maintain a slow and steady pace while driving through any national park or wild space. The reasoning is two-fold. One, because it helps assure the safety of the animals in the park who often walk along roads or cross roads. And two, because animals like wild dogs are designed for camouflage and can be very hard to spot in the bush. Driving slowly puts the odds slightly more in your favour.
Scan the plains – Wild dogs tend to live in open savannah or woodland areas which allow them space to roam and hunt. Find these open areas and look for sharp movements or large ears bouncing around in the long grass.
Go on a guided safari – Commercial safari lodges offer guided safari drives where knowledgeable rangers guide you through the bush and help you search for iconic animals while sharing unique insight into the African wilderness.
Be respectful – African wild dogs can be quite skittish, and will not hang around for long if they feel threatened. If you are self-driving and are lucky enough to spot a pack, approach with caution and do not stress the animals. Please always allow a safe distance and treat these wild animals with respect.
Facts about the wild dogs of Africa
Scientific name – Lycaon pictus
Prolific hunters – Wild dogs are the most successful hunters in Africa with an approximately 80% kill rate on attempted hunts.
They will even hunt in water – Adding to their fearless reputation, wild dogs have even been recorded chasing their prey into damns and competing with crocodiles for their cornered victims.
Patterning – Each individual African wild dog has a unique coat pattern which can be used to identify and differentiate between them.
Myths about the wild dogs of Africa
Wild dogs actively kill livestock because its 'easier' – Wild dogs do not actively seek out domestic animals for prey. It's more a matter of coincidence. As wild habitats decrease, wild dog packs are forced to roam outside of national parks in search of food. It's during this that they stumble upon livestock which are largely defenceless against large predators.
Wild dogs are related to hyenas – While some might believe they are similar in appearance, African wild dogs and hyenas are entirely different species from entirely different taxonomical classifications. In fact, hyenas are actually more closely related to cats.
Cover image by @giuliagiorgini.wildlife
Join our community of keen travellers, wildlife enthusiasts and adventure seekers.