Mallorca, the biggest among the Balearic Islands situated in Spain, is widely acclaimed for its breathtaking coastlines that draw in tourists from around the globe. Boasting transparent azure waters, glistening sandy shores, and picturesque environs, Mallorca presents a beach encounter that is unparalleled.
Whether you seek a tranquil oasis or a lively atmosphere, Mallorca's beach clubs cater to all tastes and preferences. In this article, we take a look at 10 of our favorite beach clubs in Mallorca, each offering a unique experience that will elevate your beachside getaway to new heights.
Where is Mallorca?
Mallorca, also known as Majorca, is an island located in the Mediterranean Sea. It is part of the Balearic Islands, an archipelago off the eastern coast of Spain. Mallorca is the largest island among the Balearics and is situated approximately 170 kilometers east of the Spanish mainland. It is positioned between the islands of Ibiza to the southwest and Menorca to the northeast.
Palma de Mallorca, the capital city of the Balearic Islands, is located on the southwestern coast of Mallorca. The island is a popular tourist destination known for its stunning beaches, picturesque landscapes, and vibrant nightlife.
The 11 Best Beach Clubs in Mallorca
1. Nikki Beach Mallorca
Nikki Beach Mallorca, located in Magaluf, combines Mediterranean beauty with a vibrant atmosphere. This world-renowned beach club offers luxurious sunbeds, cabanas, and a poolside restaurant, all set against the backdrop of breathtaking ocean views.
Expect live music, themed parties, and an energetic ambiance that will keep you entertained from day to night.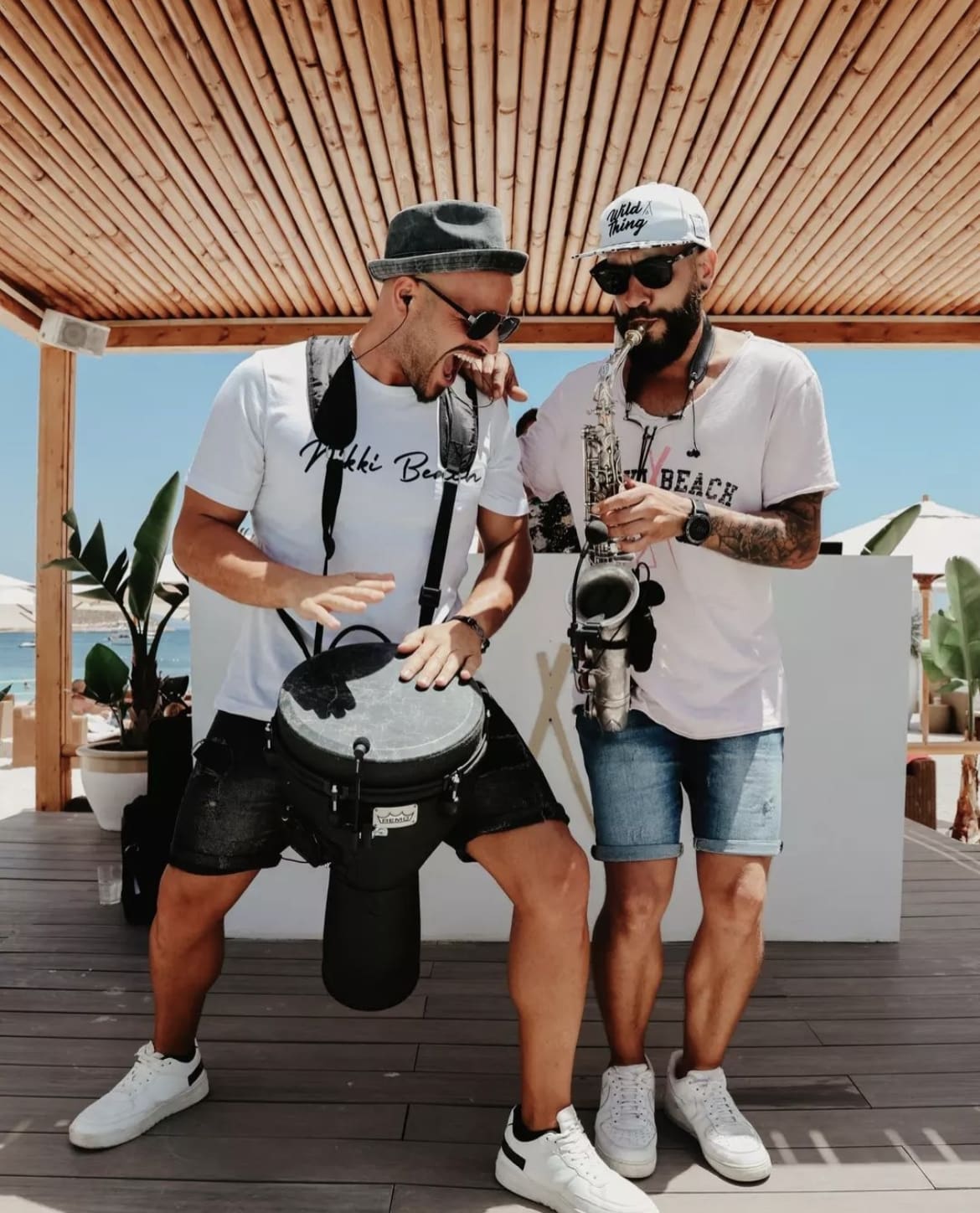 2. Purobeach Palma
Situated in Cala Estancia, Purobeach Palma provides an elegant and sophisticated beach club experience. This chic venue boasts a stylish infinity pool, comfortable daybeds, a relaxing spa, and a delectable restaurant.
Enjoy delicious cocktails while soaking up the sun and reveling in the tranquil atmosphere.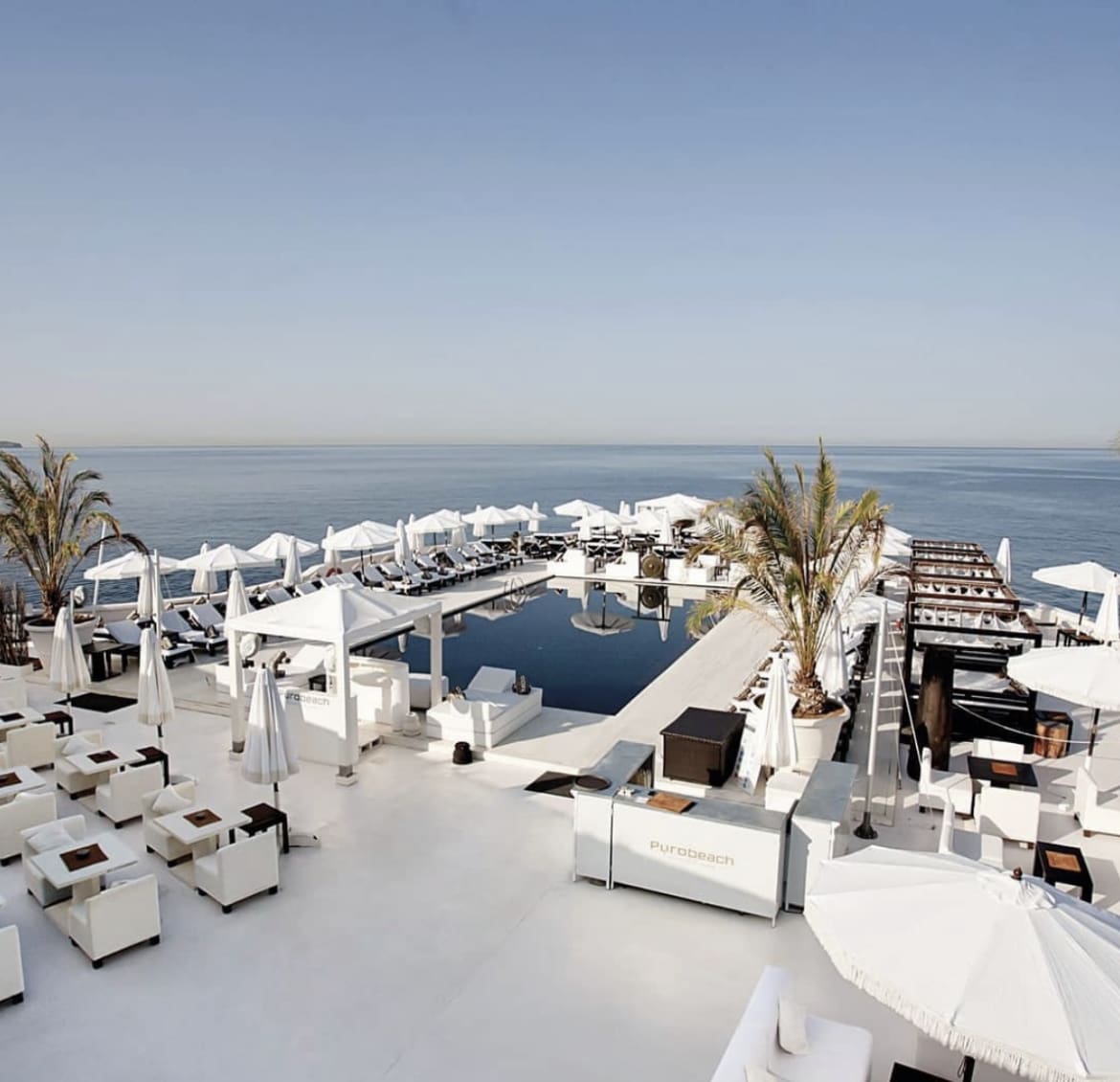 3. Mhares Beach Club
Located in Puigderrós, Mhares Beach Club offers a secluded escape with panoramic sea views. Indulge in the club's infinity pool, Balinese beds, and beachfront terrace.
The club also features a top-notch restaurant serving Mediterranean cuisine made from locally sourced ingredients.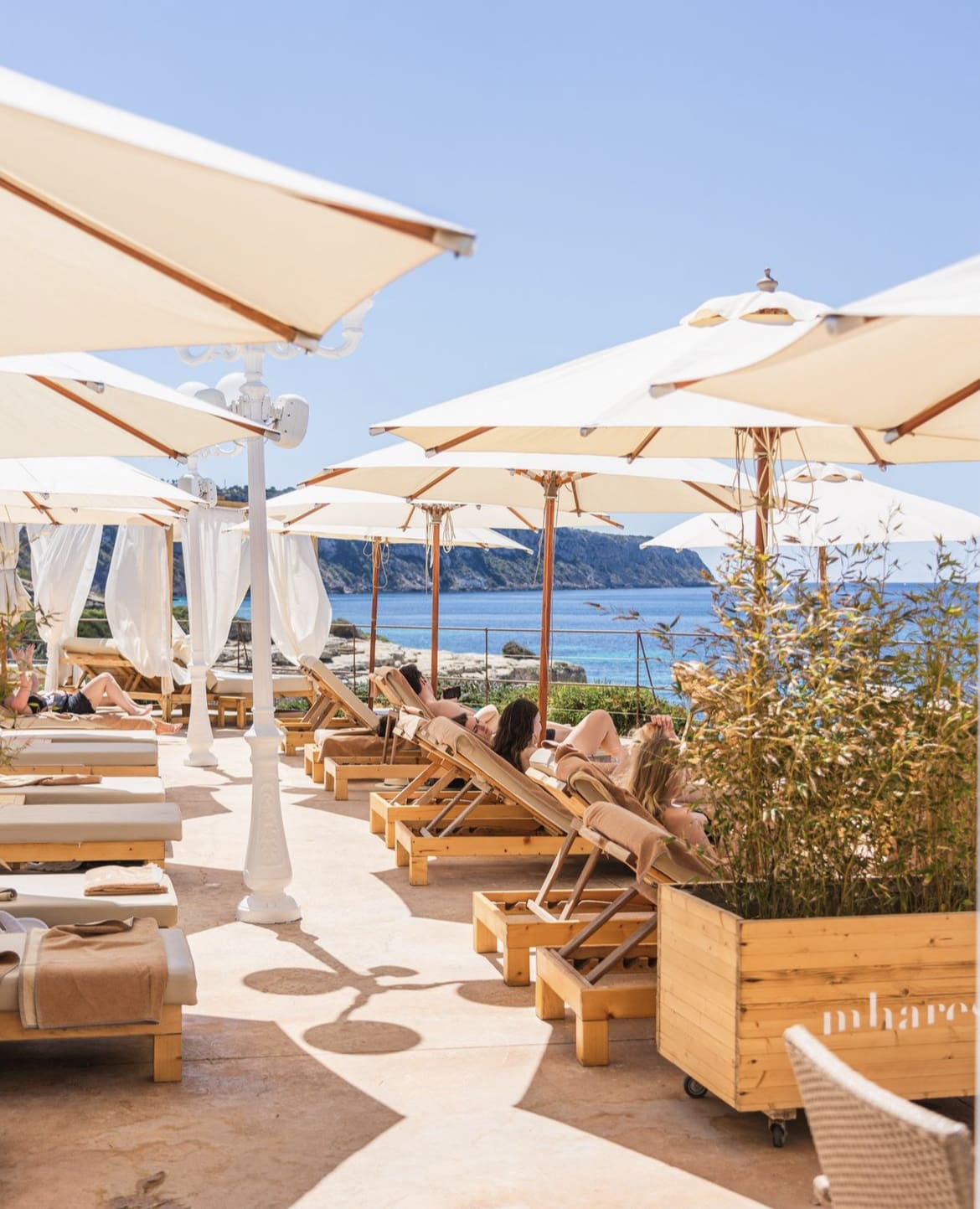 4. Nassau Beach Club
Situated in Palma de Mallorca, Nassau Beach Club offers a fusion of Balearic and Asian influences. Its stylish beachfront setting, comfortable loungers, and palm tree-lined pool create a tropical paradise. Delight in its gourmet cuisine, refreshing cocktails, and live DJ performances.
5. Anima Beach Club
Nestled in Cala Blava, Anima Beach Club is an idyllic retreat boasting pristine white sands and turquoise waters. This exclusive venue offers luxurious sunbeds, a swimming pool, and a beachfront restaurant serving tantalizing Mediterranean and Asian-inspired dishes.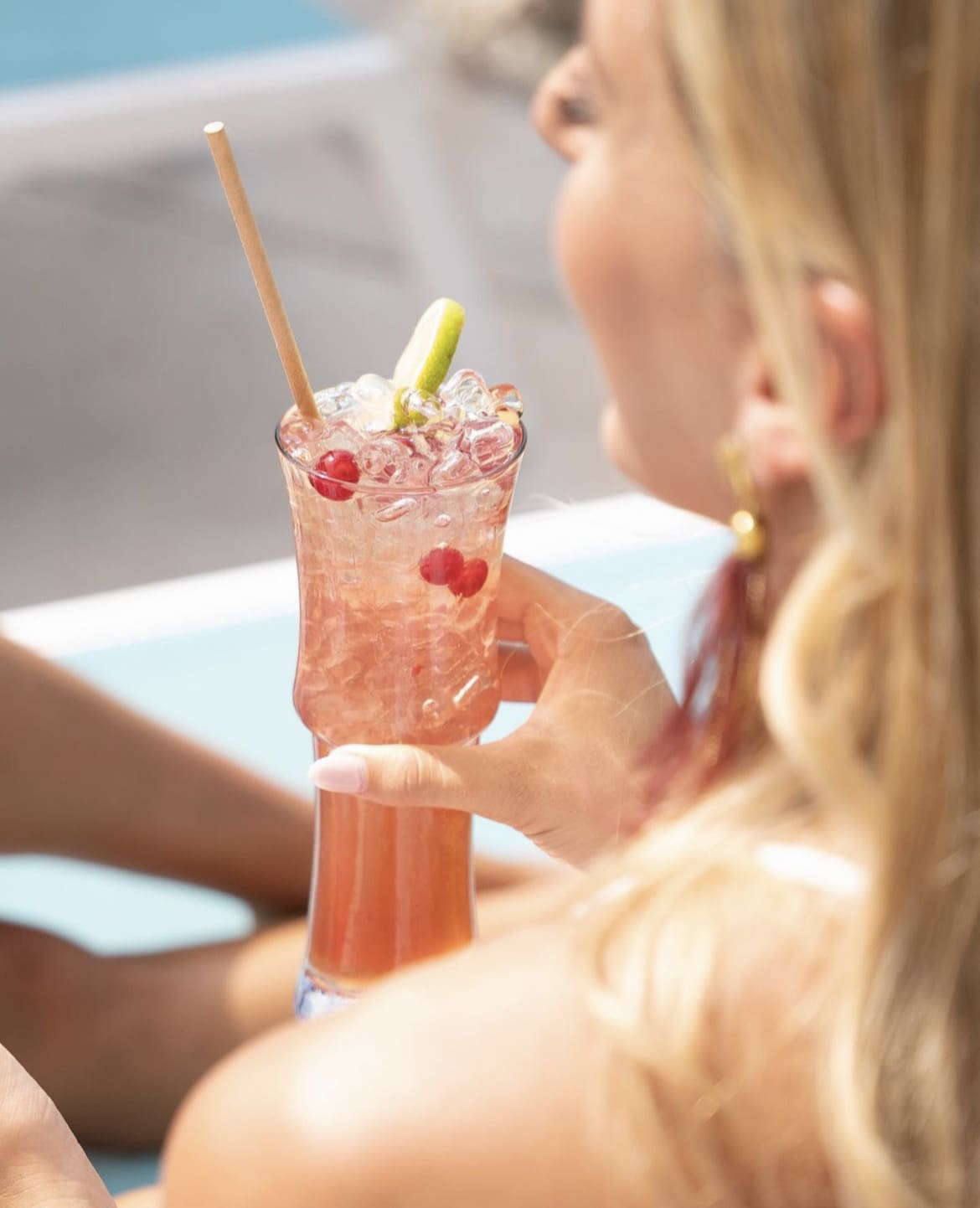 6. Gran Folies Beach Club
Located in Cala Llamp, Gran Folies Beach Club captivates with its breathtaking cliffside location. Embrace the natural beauty while lounging on sunbeds overlooking the crystal-clear waters.
The club also features a charming bar and restaurant offering a delightful fusion of local and international flavors.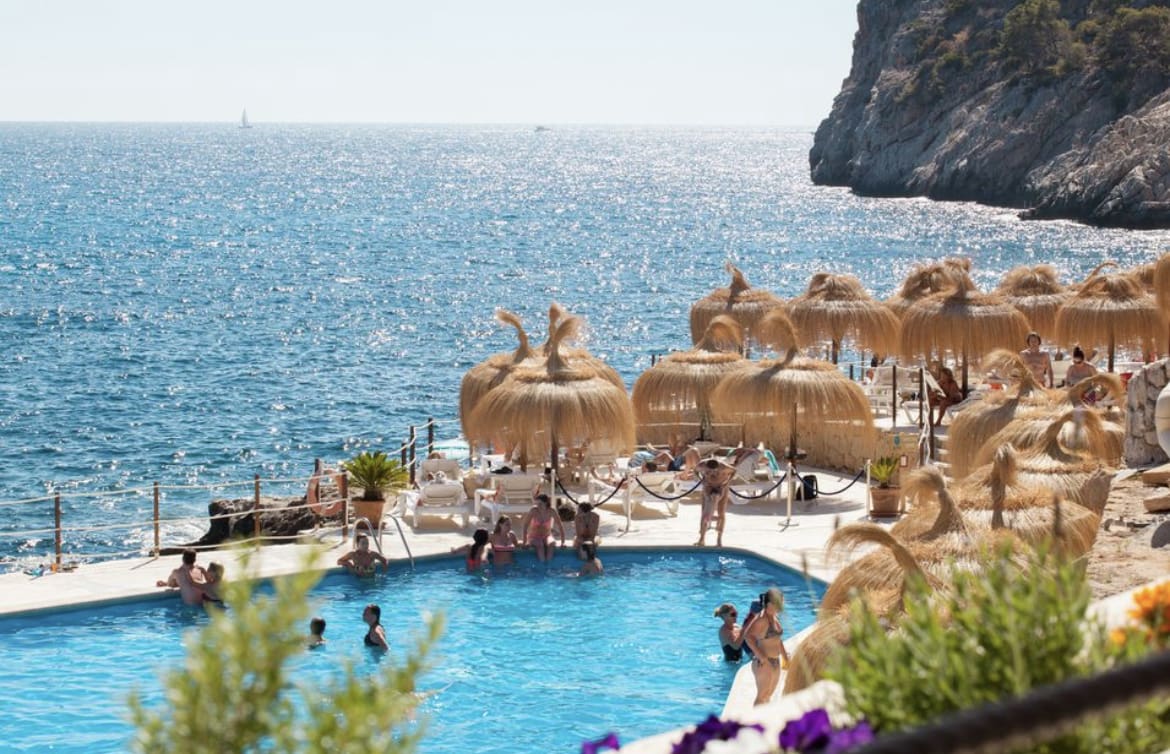 7. Beach Club Marea
Situated in Port Adriano, Beach Club Marea impresses with its contemporary design and stunning panoramic views of the Mediterranean Sea. Lounge by the infinity pool, savor the Mediterranean cuisine at the restaurant, and enjoy a lively atmosphere accompanied by live music.
8. Zhero Beach Club
Perched in Calvià, Zhero Beach Club combines an upscale beachfront experience with modern aesthetics. Its trendy pool area, luxurious sunbeds, and a fusion restaurant create an inviting ambiance. The club also hosts regular DJ performances and themed events.
9. Roxy Beach Club
Located in Portals Nous, Roxy Beach Club boasts an elegant setting with a chilled-out atmosphere. Relax on its sun-drenched terrace or indulge in a massage at the spa. The club's menu offers a variety of international and Mediterranean dishes to satisfy your taste buds.
10. Mood Beach Club
Situated in Costa d'en Blanes, Mood Beach Club showcases a modern and elegant design. Lounge by the pool, unwind in the outdoor jacuzzi, and savor the gastronomic delights prepared by skilled chefs. Live music performances and themed events add to the club's vibrant ambiance.
Mallorca's beach clubs provide an unparalleled blend of luxury, relaxation, and entertainment, making them the perfect destinations for a memorable beachside experience. Whether you seek a lively party atmosphere or a tranquil oasis, these 10 beach clubs cater to diverse tastes.
From Nikki Beach Mallorca's energetic vibe to Purobeach Palma's sophisticated ambiance, each club offers a unique experience that will leave you rejuvenated and craving for more.
So, pack your swimsuit, grab your sunglasses, and embark on a journey to discover the best beach clubs in Mallorca for an unforgettable vacation.
The Best Time To Go To Mallorca
The best time to visit Mallorca largely depends on your preferences and what you want to experience on the island. Mallorca has a Mediterranean climate, characterized by hot summers and mild winters. Here are some ideas for each season:
1. Summer (June to August)
This is the peak tourist season in Mallorca when the island experiences the highest temperatures and the busiest crowds. If you enjoy vibrant beach scenes, lively nightlife, and warm waters for swimming and water sports, summer is the ideal time to visit. However, be prepared for higher prices and crowded tourist areas.
2. Spring (April to May) and Autumn (September to October)
These shoulder seasons offer pleasant weather with warm temperatures, fewer crowds, and more affordable accommodations. It's an excellent time to explore the island's natural beauty, go hiking, and visit cultural attractions without the intense summer heat. The sea is still warm enough for swimming during the spring months.
3. Winter (November to March)
Mallorca experiences mild winters compared to many other European destinations. While it may not be beach weather, the island offers a quieter and more authentic experience during this time. You can explore historic sites, enjoy outdoor activities such as cycling or hiking, and take advantage of lower prices. Winter is also a great time for birdwatching enthusiasts.
Mallorca's climate can vary, and occasional rainfall can occur throughout the year. It's always a good idea to check the weather forecast before planning your trip.
Ultimately, the best time to go to Mallorca depends on your personal preferences and the type of experience you seek. Consider the weather, crowd levels, and activities you want to engage in to choose the season that aligns best with your interests.
Join our community of keen travellers, wildlife enthusiasts and adventure seekers.