Kruger National Park stands out as one of – if not the – safari destination to visit when in South Africa.
A stronghold of all of Africa's Big 5 (lion, leopard, elephant, buffalo and rhino) together with other diverse animal and bird life, makes it a big hit for safari-goers visiting from all over the world.
In fact, last year's festive season (December 2018 to January 2019) saw over 194 000 visitors to the Kruger; that is a lot of vehicles on the roads even in a two million ha park.
During these high-traffic parts of the year, it could be advisable to look for a safari outside of Kruger.
While Kruger may be the poster child for Big 5 safaris in South Africa, there are some well-kept secrets in the form of private nature and game reserves across the country.
While they might be pricier than the government owned and managed Kruger, they come with some undeniable perks that can greatly improve your safari experience.
The Top Five Safaris Outside of the Kruger National Park
1. The Greater Makalali Private Nature Reserve
There is something incredibly thrilling – and a little indulgent – knowing that you are part of just a handful of people in a wilderness area. The Greater Makalali Private Nature Reserve near Hoedspruit, Limpopo is one such area in South Africa.
At 22'000 ha (60'000 acres) it is a relatively small reserve in comparison to its close neighbour, Kruger.
Combining this with private-ownership and it being fenced, there is a sense of intimacy which replaces the wild vastness of the Kruger.
The real highlight of a smaller reserve like the Greater Makalali is that your chances to see greater numbers of game improve dramatically.
If the Big 5 are at the top of your wildlife bucketlist, then this is the reserve where you are likely to see them all. Possibly even on one day!
Other wildlife includes ungulates like greater kudu, zebra and giraffe along with endangered species like cheetah and African wild dog.
The natural backdrop to these animal and bird sightings will be rolling hills and viewpoints that look over acacia bush, savanna grassland and the Makhutswi River.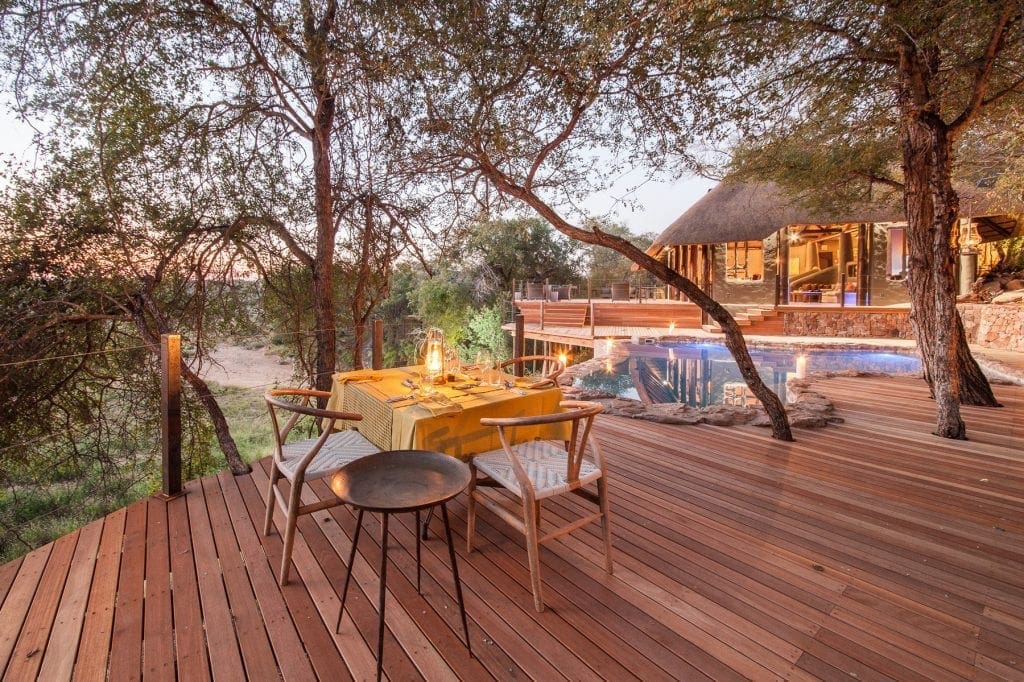 The safari experience in the Greater Makalali Private Nature Reserve is a well-balanced one as it combines the right amount of adventuring through the bush as it does soulful relaxation back at your camp.
At a luxury safari camp like Garonga, you can enjoy the thrill of trekking through the bush on foot in the morning, cruising along comfortably in the game drive vehicle in the late afternoon, and even enjoy a spa treatment or dip in the plunge pool in between activities.
This is a holistic safari experience, good for the mind, body and soul!
2. Manyoni Private Game Reserve
An eight-hour drive south into north-eastern Zululand will put you at Manyoni Private Game Reserve, another wild playground of the Big 5.
Only slightly bigger than the Greater Makalali, it is one of the largest privately-owned reserves in Kwa-Zulu Natal.
A special part of visiting a reserve like Manyoni is that the restricted number of tourists enable strong control and management of wildlife conservation, ecosystem protection and community empowerment.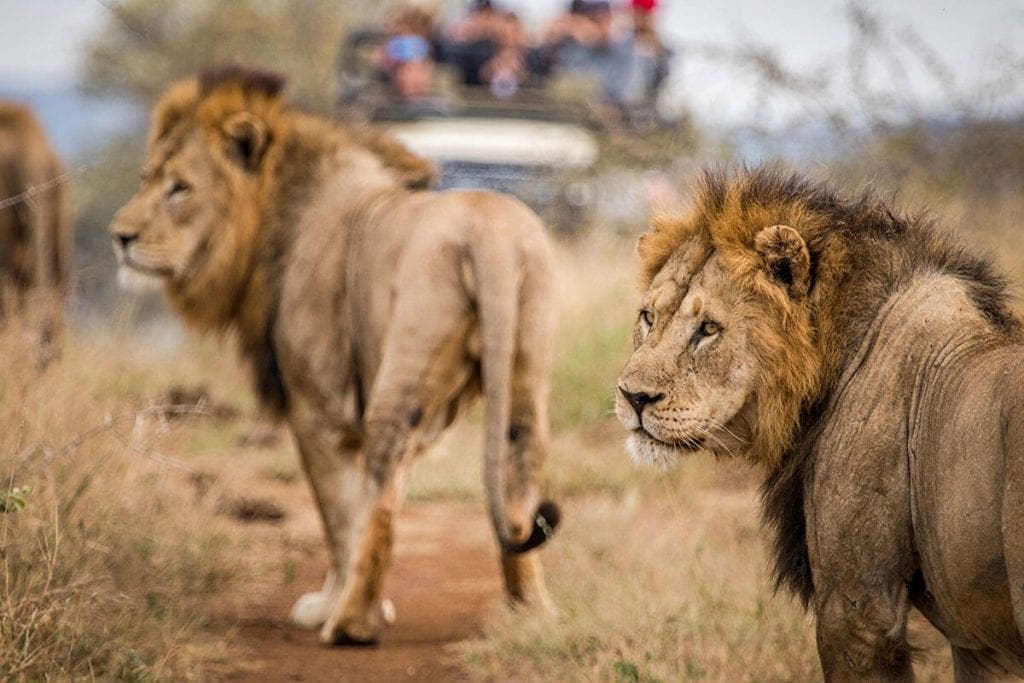 Since less people are permitted into Manyoni compared to a national park, there is better chance of a more private and authentic safari experience that can be more sustainable and ethical. Manyoni has from the start been a leader in wildlife conservation in South Africa.
In 2005, in the newly established reserve, a founder population of black rhino were released into their new home as part of the WWF Black Rhino Range Expansion Project. This ethos of responsible species reintroduction has continued with cheetahs and African wild dogs now also calling Manyoni their home.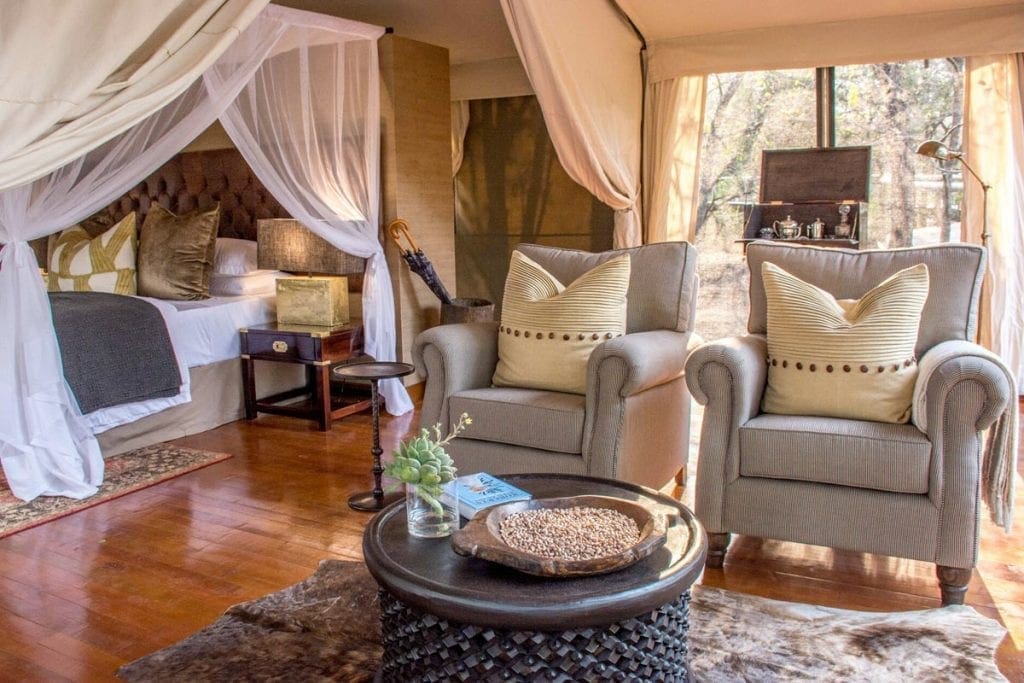 Since there are generally no crowds in a private game reserve, wildlife sightings are undisturbed and can be enjoyed for as long as desired.
It also means that, while journeying into the bush on your game drive from a luxury tented camp like Rhino Sands, you can stop under a giant Marula tree for a coffee and tea break in the morning or watch the sun set on the reserve as you sip on a refreshing gin and tonic.
These are the moments in the tranquillity of the wilderness that will stay with you forever while on a safari in a reserve like Manyoni.
3. Private Game Reserve in Waterberg
West of Kruger National Park lies the Waterberg region and within it, a private game reserve owned and run by the Baber family of The Ant Collection, a pair of homely yet luxury houses in the middle of South Africa's bushveld.
The Waterberg region is about 80% the size of the Kruger and is largely a conservation area, providing a haven for the Big 5 along with antelope species like the sable and roan.
The Marakele National Park is also found in this region, which makes the Waterberg a good option if you want to do both a private game reserve and national park in one trip.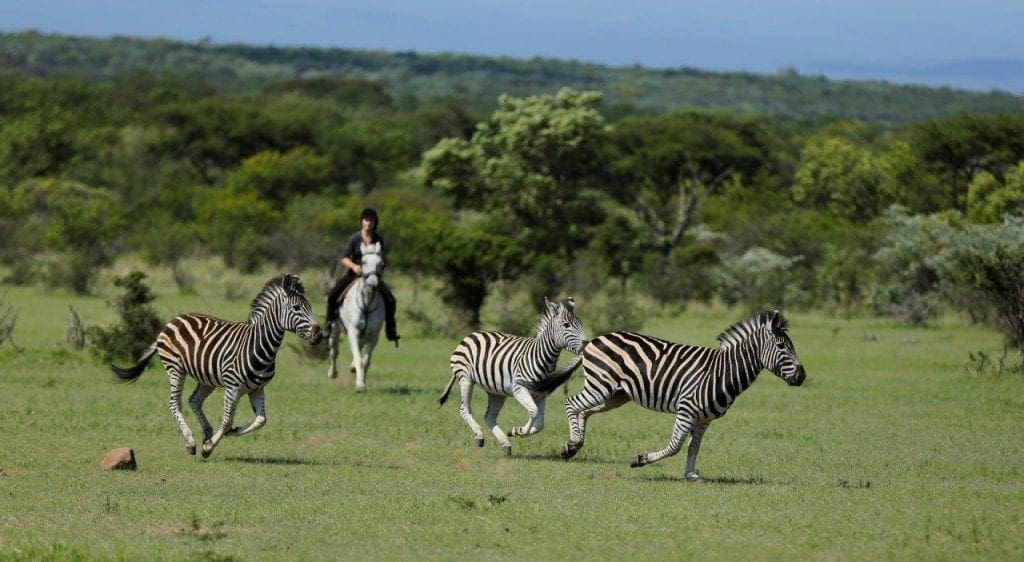 Interestingly, the 12500 acres of reserve has been awarded World Biosphere status by UNESCO and is the only savannah biosphere in the world. Its diverse typography lends it to hosting a wide variety of game as well as over 300 bird species.
The Baber family has championed the sable antelope, which is one of the most conservation-dependent antelopes in South Africa, having gradually established a healthy population and viable breeding herd within the reserve.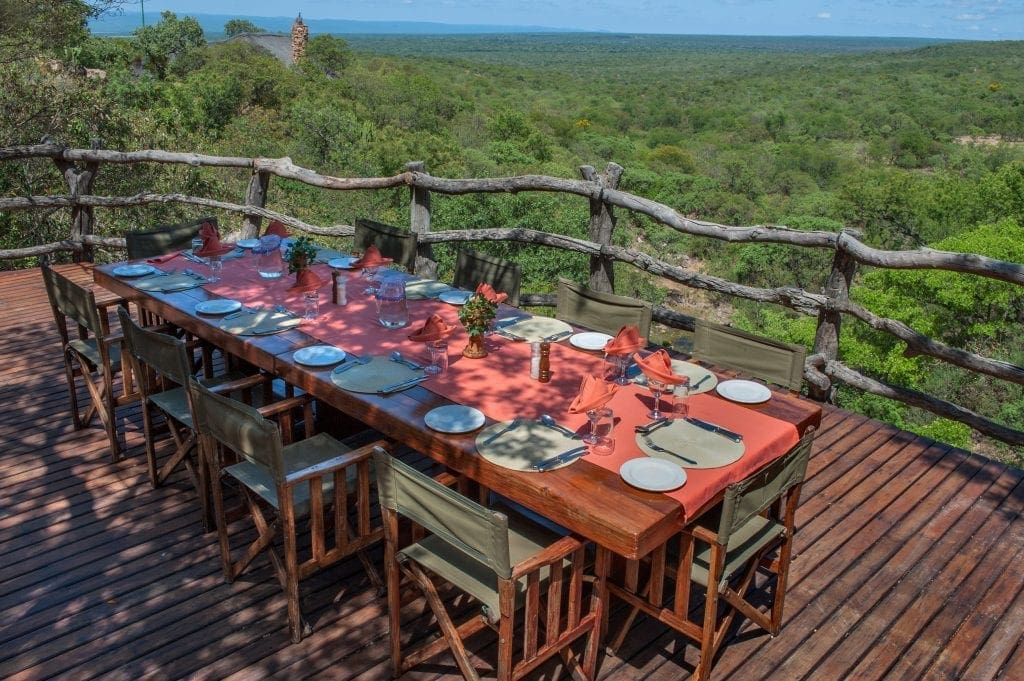 A safari in a national park can be more restrictive in terms of how you can experience the wilderness as walking safaris, night drives and off-road driving are often not permitted.
Furthermore, camps may not be family-friendly and age restrictions on certain activities higher, without any alternatives to keep the kids busy.
At family-oriented safari houses like Ant's Hill and Ant's Nest , the experience is truly about getting off the beaten track on horseback, walking and even mountain-biking safaris.
A wider variety of activities means that everyone in the family gets a chance to be part of the wildlife action.
4. iSimangaliso Wetland Park
On South Africa's east coast in the KwaZulu Natal-Province, lies a UNESCO World Heritage Site called the iSimangaliso Wetland Park.
So naturally splendid is iSimangaliso that is has 10 jewels in its wilderness crown – coastal forest, Cape Vidal, False Bay, Kosi Bay, Lake Sibaya, Lake St Lucia, Maphelane, Sodwana Bay, uMhkuze and Charters Creek.
All of these unique ecosystems interlink to create a sanctuary for a wide array and abundance of terrestrial, water and airborne creatures.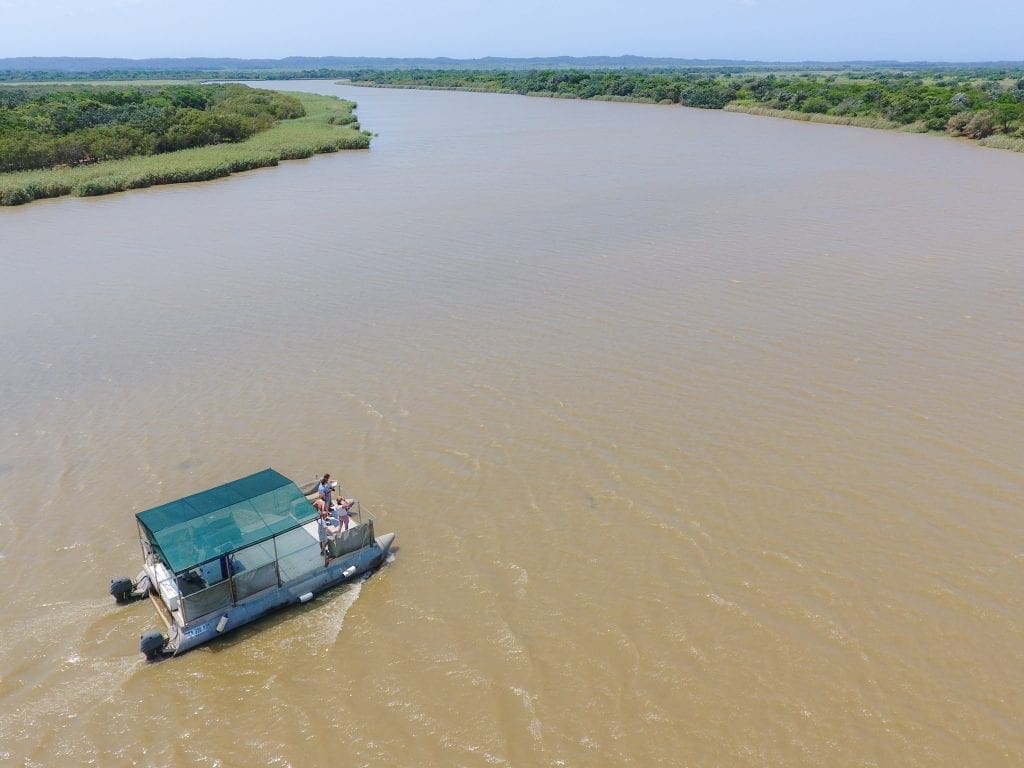 The park and its ecological variety make it a unique wilderness destination as you can take a game drive in the morning and a cruise on St Lucia in the afternoon. Lake St Lucia is Africa's largest estuarine system and is known as the heart that sustains the wonder of iSimangaliso.
Eighty kilometres long length and with a 23km width, St Lucia is a comfortable home for 50% of all water birds in the province, 155 fish species, 2180 species of flowering plants and, of course, abundant game like hippo, waterbuck, kudu and nyala.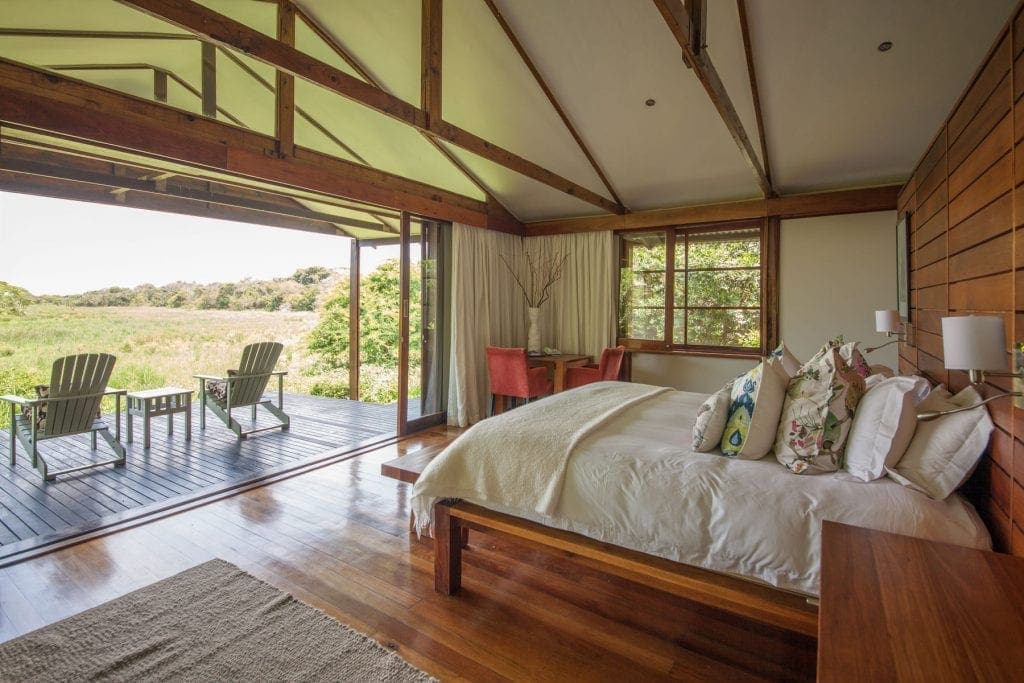 With all these beautiful protected environmental zones coming together in one place, it would be a shame to have to share them with hordes of other people.
As the only privately-owned and owner-managed game lodge within iSimangaliso, the well-appointed Makakatana Bay Lodge ensures exclusivity and serenity. This makes the most of the spectacular view of the St Lucia wetlands and any wildlife visitors that may pass by.
Boat cruises on the lake are, of course, the epitome of a stay here and there are also other activities, like game drives in the iSimangaliso bush as well as the possibility of watching dolphins and whales in the Indian Ocean.
5. Oceana Beach and Wildlife Reserve
In South Africa's Eastern Cape, near to the small beach town of Port Alfred, is the Oceana Beach and Wildlife Reserve.
Aptly named the Sunshine Coast, this part of the country enjoys more daylight hours, which in turns mean more time to experience this breath-taking private coastal reserve.
As it is privately-owned and -managed, this reserve upholds an ethos of individuality, authenticity and freedom in all aspects of the safari experience. It also offers that perfect combination of beach and safari; it is where the wilderness of the bush meets the vibrant waters of the Indian Ocean.
The traditional bush wilderness of this reserve homes more than 220 bird and 30 animal species, including giraffe, zebra and elephant, which may be encountered on daily game drives that will not be overcrowded due to the limited nature of the reserve.
The ocean aspect of the reserve entices you to explore the 7km of pristine unspoilt beach; head down to the shoreline at dawn to watch the shoreline and dip your toes in the warm water or take a stroll at dusk to soak up the last of the sun's rays.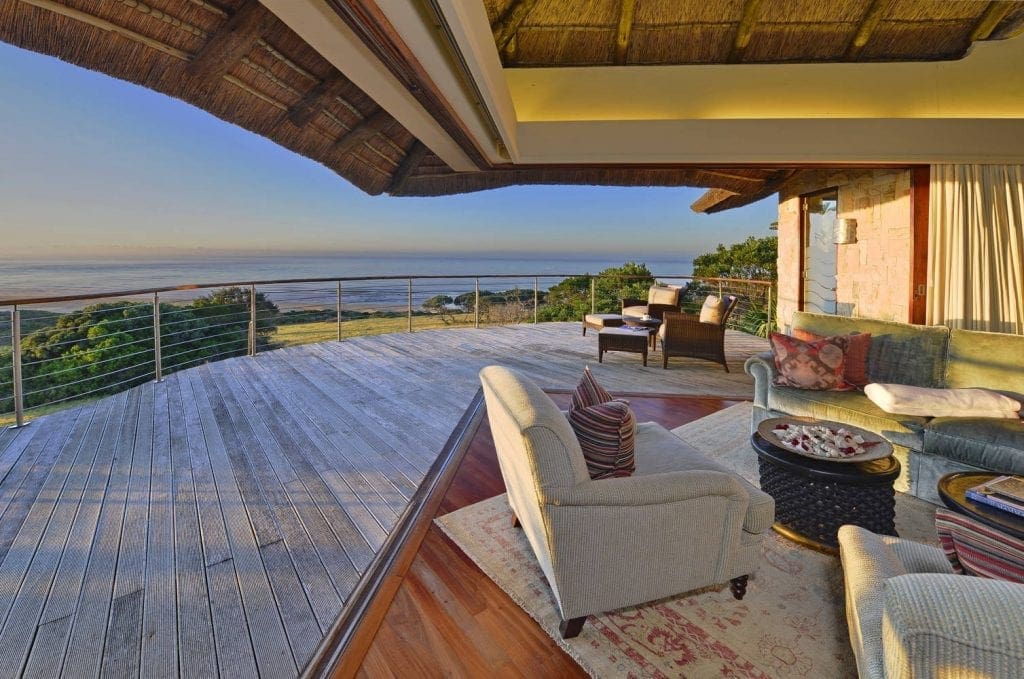 Such a special reserve deserves equally special accommodation. The boutique hotel of Oceana, which of course is responsible for both the name and management of the reserve, blends in with its natural surrounds and in many ways reflects it in its interior design.
There are also many activities nearby to Oceana so fun day trips out of the reserve are also a possibility if you want to explore the area more.
Cover image © Carmen Berdeguer at Garonga Safari Camp
Join our community of keen travellers, wildlife enthusiasts and adventure seekers.