The Elephant is one of the most awe-inspiring and majestic animals on earth, and the African Savanna Elephant is the most well-known of them all.
What many consider to be the true 'King of the Jungle", savannah elephants are the gentle giants of the African bush and a modern day version of the ancient mammoths, from which they directly descend.
The sheer size of these incredible animals is enough to leave anyone lost for words. Getting close to an elephant on safari is the closest thing we'll ever have to a Jurassic Park experience!
What is the African Savanna Elephant?
The African savannah elephant is the largest land mammal on earth, and a firm favourite among tourists and safari-goers visiting Africa.
Elephants are large mammals which are found all across the continent. They are a keystone species and one of the most important animals in Africa.
Appearance
What does the African elephant look like?
Elephants are fully covered in thick, grey and robust skin. Their skin is also covered with very fine hairs, which gradually fall off with age.
They have very large ears which mimic the African continent in shape, and are often seen flapping these giant ears to help cool their bodies. Ear flapping is also used as a means of threat against would-be challengers.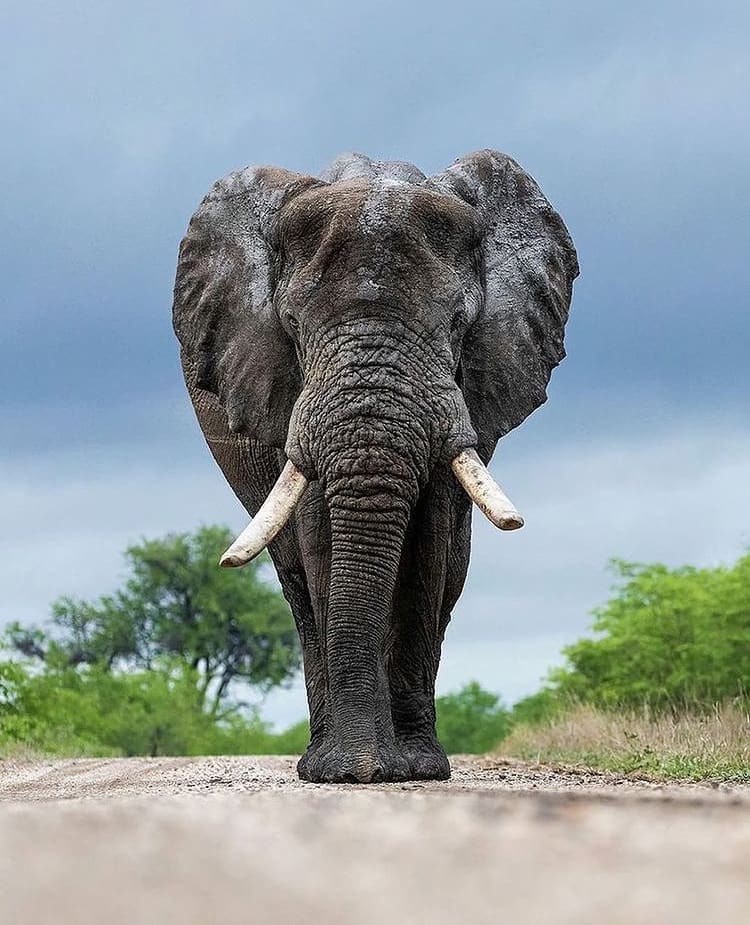 How big is the African elephant?
The African elephant is the largest land mammal on earth. A mature bull elephant can stand at 12ft. (4m) at the shoulder and is definitely an awe-inspiring sight! Females are slightly smaller than males, but still cut an impressive figure. A large female stands at around 10ft. (3m).
An African elephant's weight is equally as impressive with males growing to around 8 tonnes, which equates to around 4 average-sized cars. Again, females are slightly smaller and tip the scales at around 5 tonnes on average.
African elephant trunk
The elephants most iconic feature is its trunk. This amazingly adapted appendage is propelled by hundreds of thousands of individual muscles and nerves, which allows them the highest level of control. The trunk is one of the African elephants most important means of interacting with the world, and is one of its most sensitive body parts.
Elephants use their trunks for almost everything; breathing, collecting food from the ground or trees, drinking water, communicating and showing affection.
African Elephant Tusks
Elephant tusks are one of the species' most impressive and unique features, however they have also proven to be one of its greatest downfalls. Tusks are essentially elongated teeth that grow outside of their mouths. Their tusks are rooted deeply in their skulls, and one third of the tusk is not visible. Much like any other teeth, elephant tusks are made of dentine, covered in a layer of enamel.
Their tusks are one of their most grandiose and impressive features, especially in old bulls whose tusks can be more than 7ft. (2m) long.
They use their tusks to dig, gather food, lift objects, and as a measure of protection. Territorial bulls will use their tusks in fights with other elephants.
Behaviour
What does the African Elephant Eat?
African elephants need an average of around 440 to 550 lbs. (200-250kg) of food per day to keep their massive bodies functioning healthily. They spend at least 18 hours a day foraging for food and are known to cover large distances in search of the sweetest spoils. It is not uncommon for a herd to walk over 20 miles (30km) in a single day, despite the arid African climate.
Elephants are herbivores, and their preferred food sources are tree bark, leaves, grasses, roots, flowers and fruit.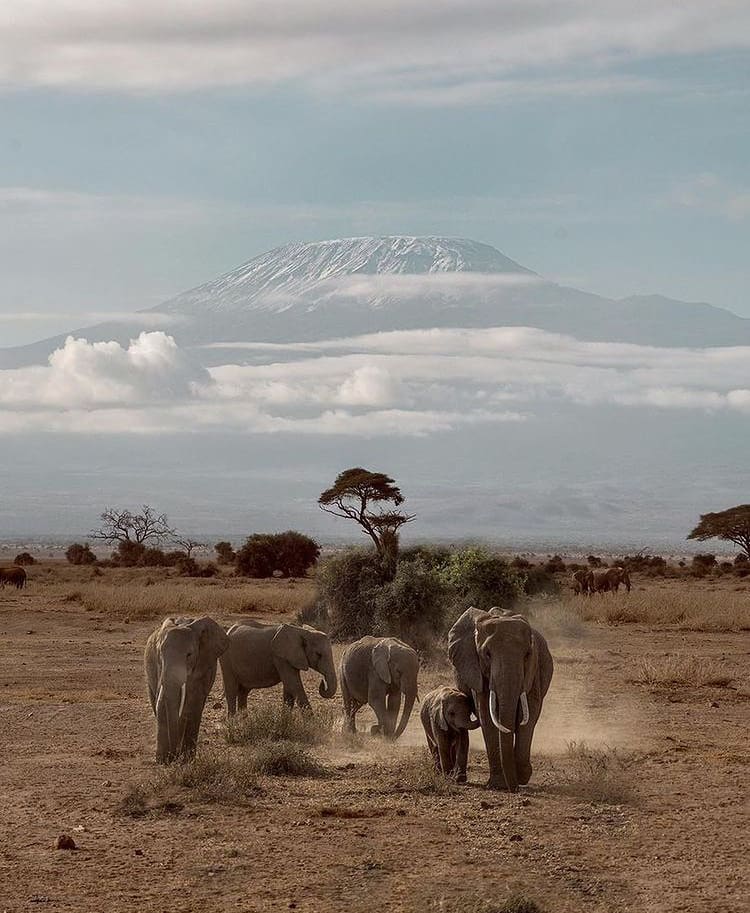 Scientists have discovered that if elephants digested just 80% of the food they eat, they would grow to much larger sizes. However, a fundamental inefficiency in their digestive system means they're generally only able to digest around 40%. The rest simply passes through, and if you've ever been to a national park in Africa, you'll have seen evidence that a lot passes through!
Elephants have 13 pairs of teeth, and unlike other mammal species – humans included – which have their teeth replaced only once, elephant teeth replace themselves constantly throughout their lives. This is needed because persistent grinding wears their teeth away over time.
Along with food, elephants also need to drink a large amount of water everyday. They tend to stay close to water as much as possible, even when on the move, and the average adult can drink more than 50 litres a day. Their trunks are incredibly well adapted to assist them with drinking. Rather than acting as a straw through which water is inhaled, water is sucked up into their truck and then squirted back out into their mouths.
African Elephant Herd Structure
African elephants live in complex family groups called 'herds'.
A herd usually comprises of between 30-100 individuals, and is made up of females and their offspring. The herd is led by the oldest female, known as the Matriarch. Females will stay with the herd for life, while males move off on their own once they reach their teenage years.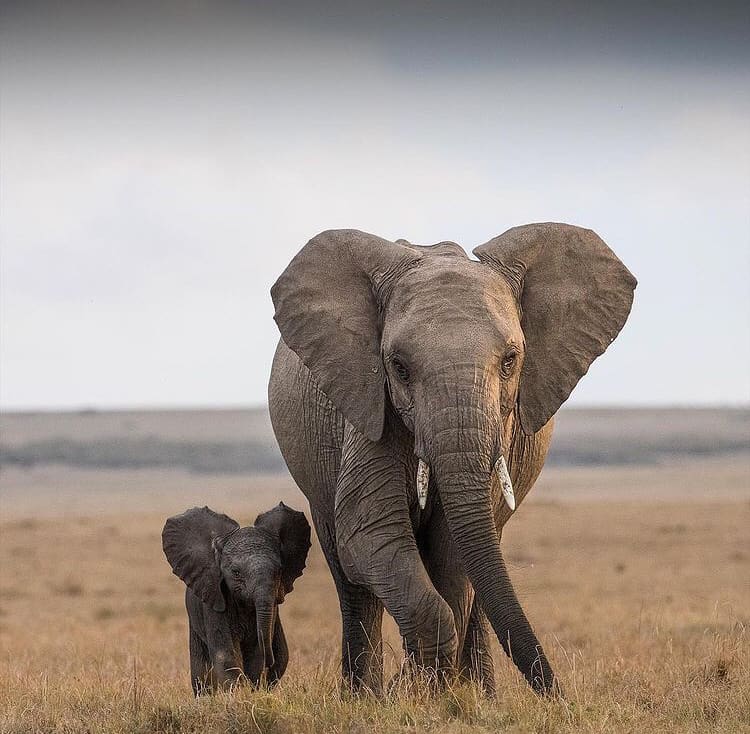 Males generally aren't as social as females, however it is not uncommon to see small bachelor groups living together.
Like all social animals. elephants have developed a sophisticated means of communication. They emit low-frequency grumbles that are inaudible to humans and most other animals. These sounds can be heard by other elephants from 2.5 miles (4 km) away, and allows them to pin point each others exact location.
Musth in African Elephants
Male elephants go through a yearly hormonal cycle called musth. This is when their testosterone levels are highest, and their behaviour is dramatically affected.
Males in musth will often challenge each other, leading to fights of various degrees. Young males will play fight and size each other up during this time, but older bulls often engage in long, brutal fights to establish dominance.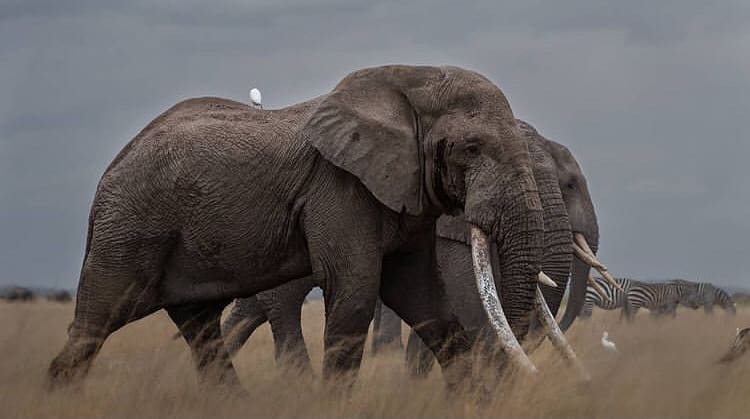 It's also not uncommon for young bull elephants to pick fights with other animals during musth. Often these are other large mammals like rhinos or buffalos. Aside from herd females protecting their young, a bull in musth is when elephants are most dangerous to humans.
It's extremely important to approach with caution and respect, and never get close to any elephant let alone a male in musth. You would not be the first person charged, gored or to have your car flipped and trampled.
Males in musth secrete water from glands in their ears. They can also be seen flamboyantly gesturing and waving their ears and trunks around as a means of announcing their presence. They also have a tendency to confidently display their impressive genitals for all to see.
Habitat and Range
Where do elephants live in Africa?
African elephants are found all across the continent, however they are much more prominent in sub-Saharan Africa. Savanna elephants live in 23 different countries across Africa, with the largest populations being in the east and south in South Africa, Kenya, Zambia, Botswana, Tanzania, Namibia and Zimbabwe.
Given the wide variety of foods they consume, elephants can survive in many different habitats. From grassy savannas to fever tree forests or deserts, elephants thrive in most eco-systems, but don't stick around for long.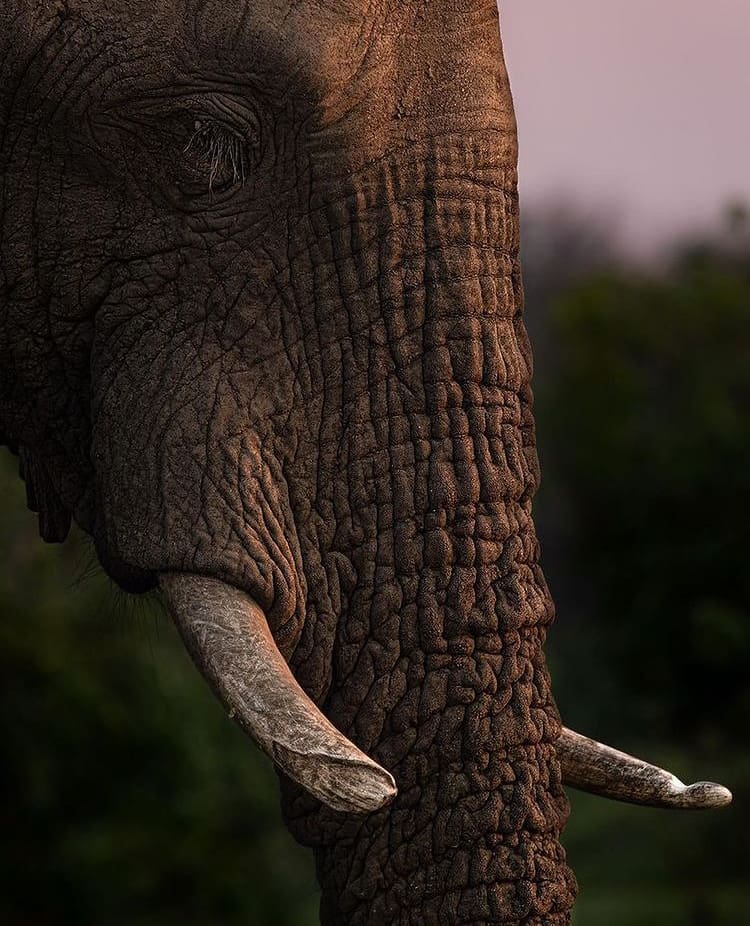 African elephant migration
African savanna elephants cover large distances every day, and in some parts of the continent herds can walk more than 150 miles (200km) per day. However the average for most is around 20 miles (32km).
These migrations are led by seasonal weather changes, and the matriarch leads the herd nearer to water sources and more plentiful feeding grounds. As the weather patterns roll back, the herd will return to its native land during the rainy season, usually from October to December.
The migration of African savanna elephants is extremely beneficial for the ecosystems in which they live. This is because their movement out of a specific area allows the vegetation to grow back and flourish.
They also act as pollinators along the way as the herds leave behind hundreds of pounds worth of dung, filled with undigested nutrients and seeds. Because of this elephants are affectionately known as the 'architects of the bush'.
During their travels, elephant herds have been known to break through park fences into neighbouring reserves or private farms. Often they clash with farmers after entire crop fields have been stripped. To prevent this, many private reserves in Africa have electrified fences, although there isn't much that can stop an 8 tonne bull from getting where he wants to go.
Conservation
How many African elephants are there in the wild?
With visibility not being a challenge, it is fairly easy to track and tally the number of savanna elephants living in the African bush. While this is still no easy feat, various conservation organisations work together in order to get as accurate information as possible.
Recent surveys estimate that there are currently around 415,000 elephants in Africa.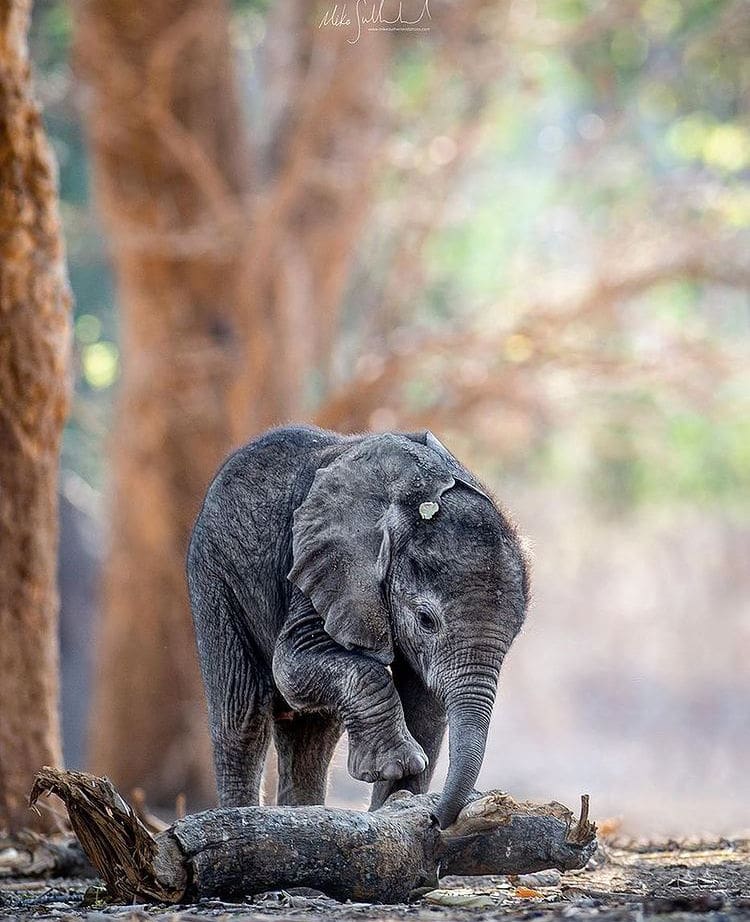 Are savanna elephants endangered?
In 1930, there were approximately 10 million elephants roaming the wild in Africa. Decades of poaching, political unrest and deforestation have led to the decimation of the wild population.
Today, savanna elephants are listed as endangered on the IUCN red list.
Threats to elephants in Africa
While elephant poaching is currently on a downward trend, it is still a very real threat to wild elephant populations all over Africa. Poachers target elephants for their ivory tusks, and brutally hack these out of the animals skull after killing or paralysing the animal first.
Along with poaching, the primary threats facing savannah elephants are habitat loss and human-conflict, which are in direct correlation.
Safari
Where to see elephants in Africa?
The best places to see Elephants while on safari in Africa are national parks in the southern and eastern parts of the continent. The big-name safari destinations are famous for a reason, and offer spectacular wildlife viewing, especially when it comes to African savanna elephants.
Most destinations offer guided safaris with experienced field guides, self-drive safari options or a combination of both.
The destination you choose should also be influenced by what you want to see, for example; Amboseli is the home of Africa's last great tuskers, Mana Pools is the best place to see elephants standing on two legs while reaching into the treetops for fruit, and the Okavango Delta is the best place to see savanna elephants walking through swamps and marshlands.
Below are some of the best places to check out if you're hoping to see African savanna elephants in the wild:
Amboseli National Park, Kenya
Mana Pools National Park, Zimbabwe
Addo Elephant National Park, South Africa
Okavango Delta, Botswana
Facts about african savanna elephants
What is a Tusker? – Tusker is the name given to giant bull elephants with the largest tusks
Pushing down trees – Large elephants routinely push down trees to get to get access to the leaves that aren't reachable from the ground. Once uprooted, savannah elephants will also feed on the trees succulent roots.
Elephant tusks are shrinking – poaching of wild elephant populations has brought about a gradual decrease in the size of tusks. Individuals with the most impressive tusks are those usually targeted by poachers, and along with the animal dies its large tusk genes. Naturally those with smaller or no tusks are left to breed and reproduce more smaller-tusked elephants.
Emotion, Memory & Intelligence – Elephants are known to be incredibly sentient and emotional animals. They have been recorded mourning the death of family members, sometimes returning to the site even years later. Savanna elephants will also frantically help another in distress, and share the same emotions as each other. Wild individuals are thought to survive so long because of how good their memories are.
Gestation period – savanna elephant mothers carry their unborn babies for 22 months before giving birth to a 220 lb. (100kg) calf.
Elephants poop the weight of 2 grown men everyday – it goes without saying that with the amount they eat, and the fact that they only digest a small percentage, African savannah elephants poo a lot! An average-sized adult will defecate around 330 lb. (150kg) worth of dung everyday.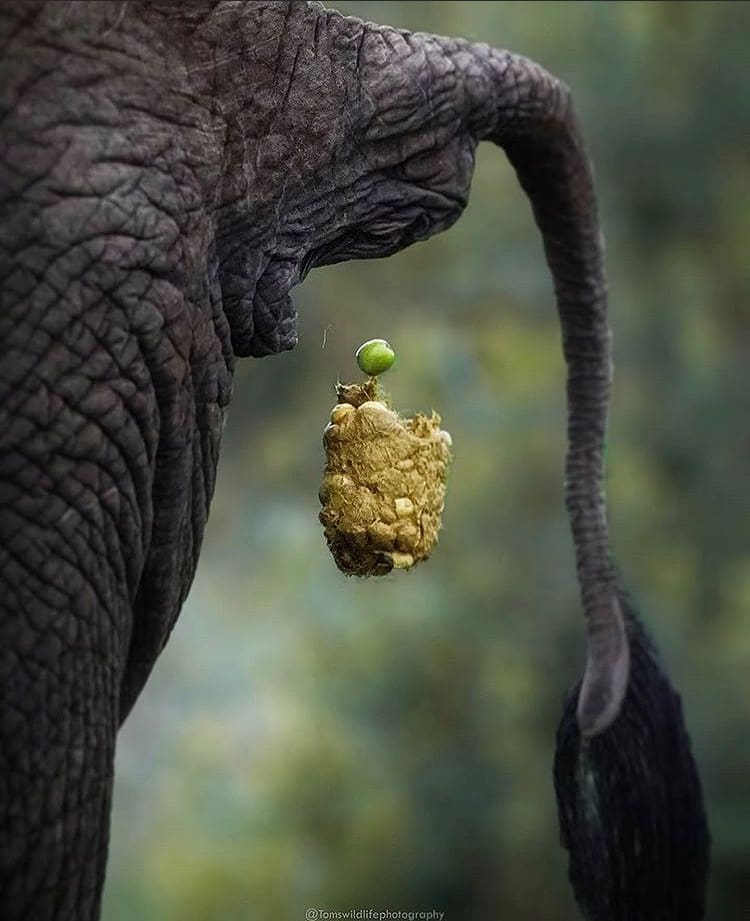 myths about african savanna elephants
Elephants are afraid of mice – Other than those of the cartoon form, there is currently no evidence that suggests elephants are scared of mice. Savanna elephants generally show now fear around any other species as they have no natural predators.
Elephants drink through their trunk – A very common myth about elephants is that they use their trunk as a straw to drink water. Instead they use their trunk as a form of vacuum and hose combination. They suck water up into their trunk, before firing it back out into their mouths. Drinking elephants are usually a great watch for safari goers as its very common for them to become playful and spray themselves and other herd members with water while drinking.
Elephants eat peanuts – Another Disney inspired elephant myth. Peanuts do not occur in the wilds of Africa where elephants live, and even if they did, to get their recommended daily allowance an elephant would need to eat around 2 and a half million peanuts a day!
Cover image – © James Kidd (@jameskydd)
Join our community of keen travellers, wildlife enthusiasts and adventure seekers.