Australia is home to a plethora of weird and wonderful attractions, from cuddly kangaroos and koalas to scary snakes and spiders.
In most cases, lakes aren't the bodies of water you'd plan to see when planning a travel itinerary for your journey down under. But unbeknownst to most, Australia is home to an extraordinary natural phenomena – pink lakes!
The Pink Lakes of Australia have become a viral sensation since the Instagram age and rightly so. There's something about a shocking pink body of water that boggles the mind. You almost have to visit and see it in person, to truly believe that it's real.
WHY ARE SOME OF AUSTRALIA'S LAKES PINK?
It was a complete mystery for some time, but the case has finally been cracked. Scientists discovered that pink bodies of water like the pink lakes in Australia, all contain a combination of Halobacteria and a species of algae known as Dunaliella salina. Both of which thrive in salty environments like the pink lakes.
The carotenoid red pigments secreted by both substances combine with the salts and create the bright pink color. These same algae also flourish in the Dead Sea.
THE MOST POPULAR PINK LAKES OF AUSTRALIA:
1. LAKE HILLIER, WESTERN AUSTRALIA
Lake Hillier, located on Middle Island in Western Australia, is arguably the most famous and Instagram worthy of all the pink lakes.
Being only 600m wide, Lake Hillier is relatively small in comparison to its body-of-water counterparts.
However it creates an unparalleled view from above with the contrast of bubblegum-pink water next to the deep blue Indian Ocean, surrounded by a lush green forest. Its a truly surreal sight.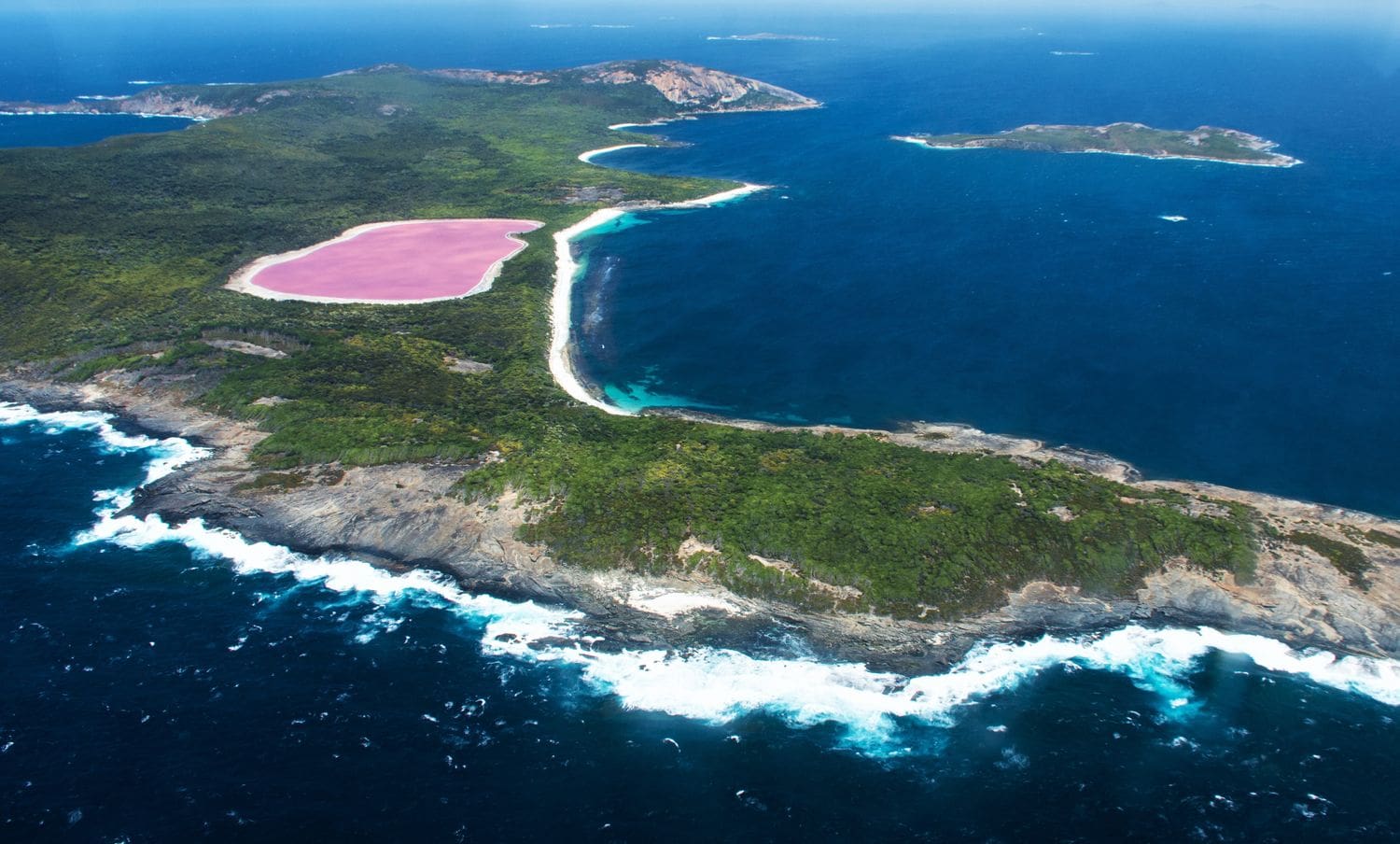 Unlike some of the other pink lakes in Australia, Lake Hillier maintains its vibrant, strawberry-milkshake shade all year round. This is believed to be a result of extremely high salinity.
The lake is best seen by air but can also be viewed by boat, while cruising through the picturesque wilderness around the Recherche Archipelago. If you do chose the boat tour option, you'll also be allowed to explore the ruins of Australia's only ever pirate, Jack Anderson's camp, which dates back to the 1830's.
Roughly an eight-hour drive from Perth and about 130 kilometres (70 miles) from Esperance, the best way to find Lake Hillier is to plan a road trip along Western Australia's colourful coast.
2. LAKE HART, SOUTH AUSTRALIA
Set in the rugged outback of South Australia, Lake Hart is equally beautiful by night as it is by day. This shallow pink lake was at one time, one of Australia's most main salt deposits. The salt concentration is so high that salt crystals are created under the pastel water. The location of this outback oasis is in prime stargazing territory but by day the lake is equally as impressive as grains of salt sparkle in the sun.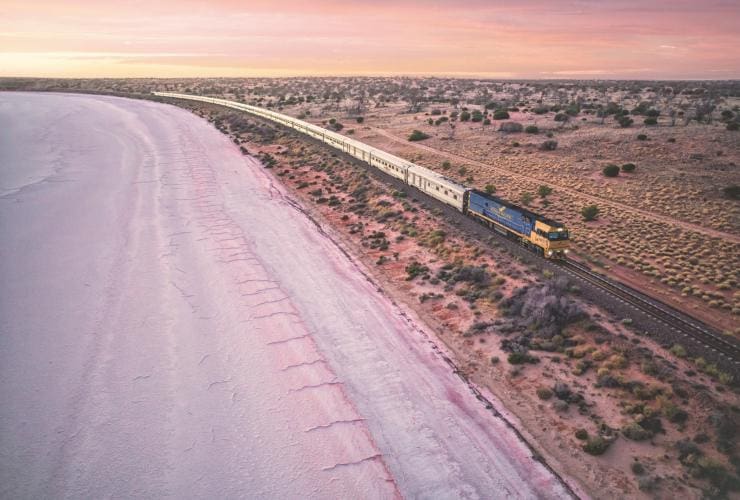 Woomera's Lake Hart is less than 6 hours from Adelaide and the best ways to visit are onboard the Indian Pacific, a world-class train journey between Sydney and Perth, or a good old fashioned road trip through the outback.
3. HUTT LAGOON, WESTERN AUSTRALIA
Western Australia's Coral Coast is renowned for its brightly coloured, vivid scenery, from its red cliffs to the bright blue waters. Just a five and a half hours north of Perth lies Hutt Lagoon, a 70km pink beheamouth which has become one of the regions top attractions.
Hutt Lagoon's appearance is quite variable and tends to be affected by time of day, weather pattern and seasonal changes – the lake readily changes from red to pink, lilac purple or even silver at times.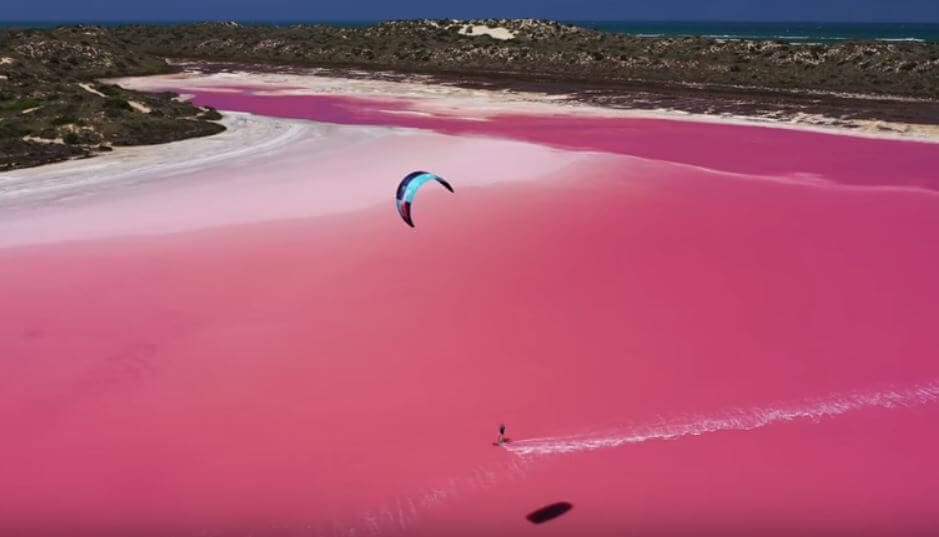 The best time to visit is mid-morning or around sundown as this is generally when the lake reveals the prime of its colourful spectrum. The lake is easily accessible by car, along the George Grey Drive, but can also be seen by air.
Thanks to its striking appearance, Hutt lagoon has been a firm favourite for location scouts working for fashion houses like Lancôme and Myer. But more than just a location, the lake's waters also function as a 'farm' for cosmetic products and food dye. This is of course due to its colour-producing properties which are a result of the algae that live in the water. When exposed to sunlight, the algae produces beta-carotene, the same red pigment found in carrots and other vegetables, which leaches though the lake and paints its colourful appearance.
3. LAKE EYRE, OUTBACK SOUTH AUSTRALIA
The pale pinks and hues of orange and yellow that make up Lake Eyre are textbook South Australia. Just a six-hour drive or 1.5-hour flight from Adelaide, the lake is usually a dry salt pan with blinding white salt plains that glisten in the harsh Australian sun. It's a sight to behold in its own right, but the real magic happens every few years when the lake floods with water.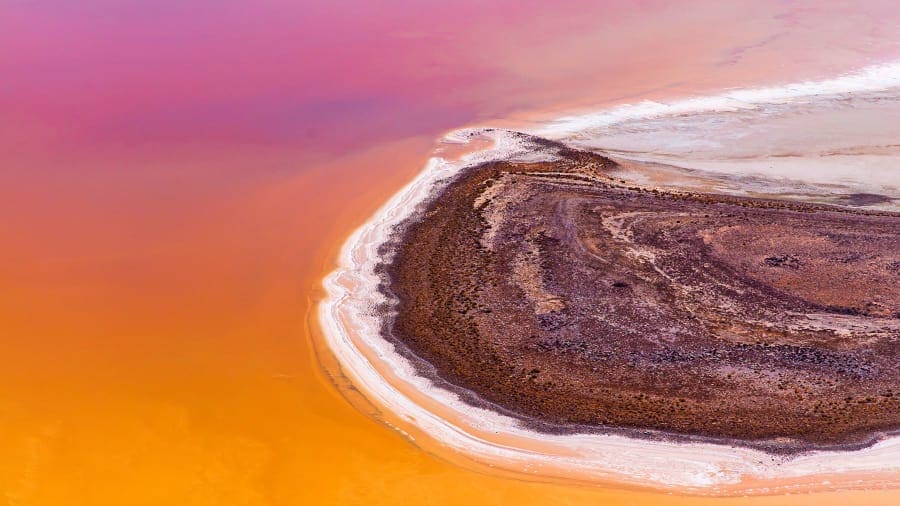 The flood brings the pan to life, with lush greenery, flocks of birds and a lake turned dreamy shades of pink and orange. Unfortunately these floods only occur every 3-10 years.
Due to its location, Kati Thanda-Lake Eyre is best experienced from the air.
4. LAKE BUMBUNGA, SOUTH AUSTRALIA
A mere two-hour drive from Adelaide, Lake Bumbunga is one of Australia's most accessible pink lakes and also one of its most photogenic.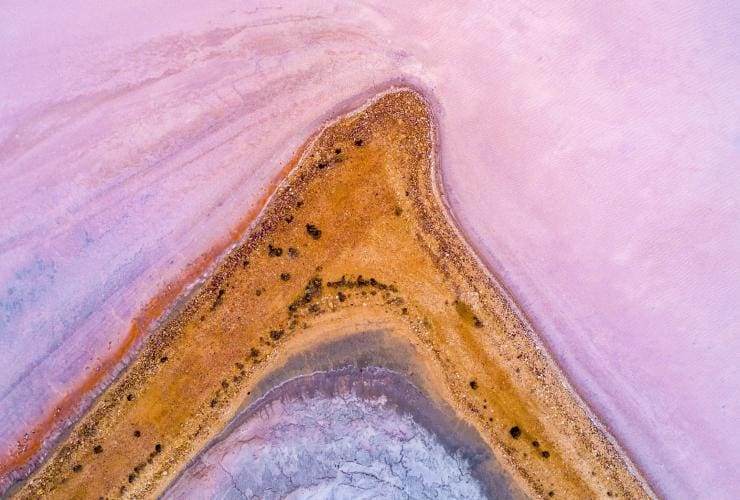 It's bubblegum shores draw Instagrammers and professional photographers alike, who spend hours wading through the shallow hues of pink, white and blue – the colour depends on the salinity of the water at any given time. A short one hour drive north-east and you'll find South Australia's famed Clare Valley, where you can Quench your thirst with a large glass (or two) of one of the region's signature wines.
5. LAKE MACDONNELL, SOUTH AUSTRALIA
With bright and contrasting colours of pink, blue and green its no surprise that Lake MacDonnell has become one of Australia's most popular pink lakes. Located in South Australia's pristine Eyre Peninsula, Lake Macdonnell is one of the country's most intensely pink lakes – which as we now know – is due to the extreme salt content.
Previously a functioning salt mine, Lake MacDonnell is now the largest gypsum mine in the southern hemisphere and can produce more than one million tonnes of gypsum in a single year.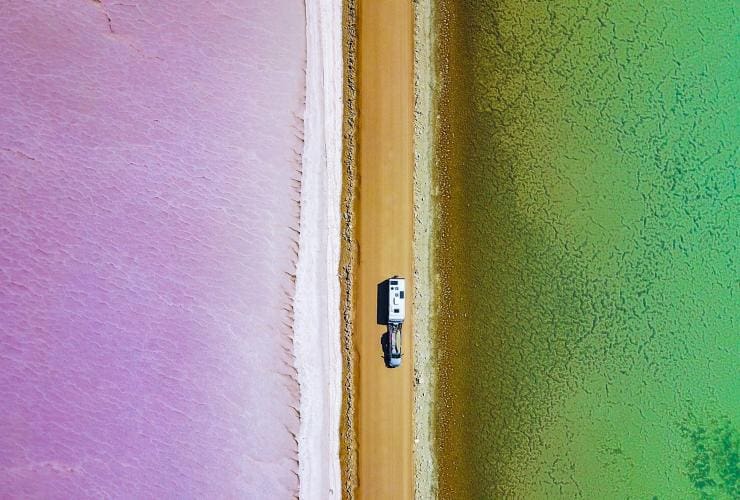 Lake Macdonnell is a good nine hour drive from Adelaide which is a fair journey just for a photo-op, but oh so worth it! The road that lies in between the lake and its neighbouring blue-green waters is the holy grail for drone pilots and creative photographers. And as a bonus, at the end of the road you'll find Cactus Beach – a surfer's paradise with is powerful breaks and ocean swells.
Carry on your journey a tad further and you can indulge in some of the countries finest seafood at Coffin Bay. If a road-trip isn't your thing then you can have the pleasure of a quick one and a half hour flight fro Adelaide.
7. THE PINK LAKES, VICTORIA
The Murray-Sunset National Park offers unparalleled stargazing experiences and rugged landscapes, but its leading attraction is its four Pink Lakes – Lake Crosbie, Lake Becking, Lake Kenyon and Lake Hardy. Located in the endless landscape of north-west Victoria, these lakes alternate between brilliant pink and glistening white, and are often their most vibrant on overcast days.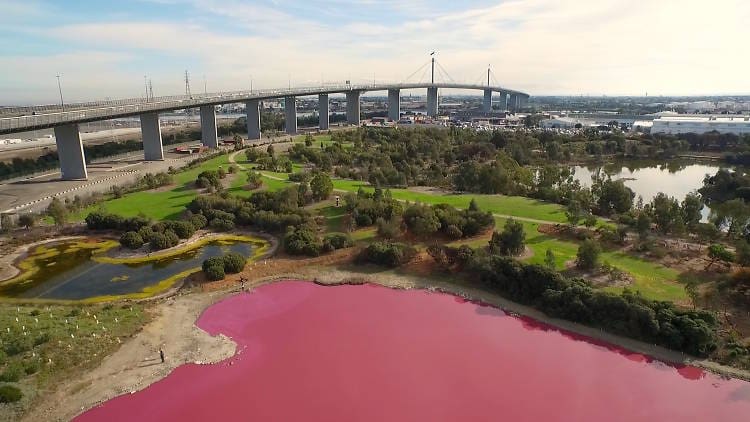 Although they're not as famous as Western and Southern Australia's pink lakes, these four are most definitely still worth a mention.
The Pink Lakes are about a five-hour drive from Melbourne and if you plan to spend more than a day here in the area you'll also find great walking tracks as well as private camp sites near the lakes.
8. LAKE ALBERT, FLEURIEU PENINSULA
Found along the mighty Murray River lies a stunning pink paradise. Lake Albert owes its incredible colour to the millions of tiny micro-organisms that produce beta-carotene, turning it pink. This area is also a gateway to the Coorong National Park – a mirage of wetlands, salt pans, sand dunes and wild beaches that stretch over 150 kilometres (90 miles) from the Fleurieu Peninsula to the Limestone Coast.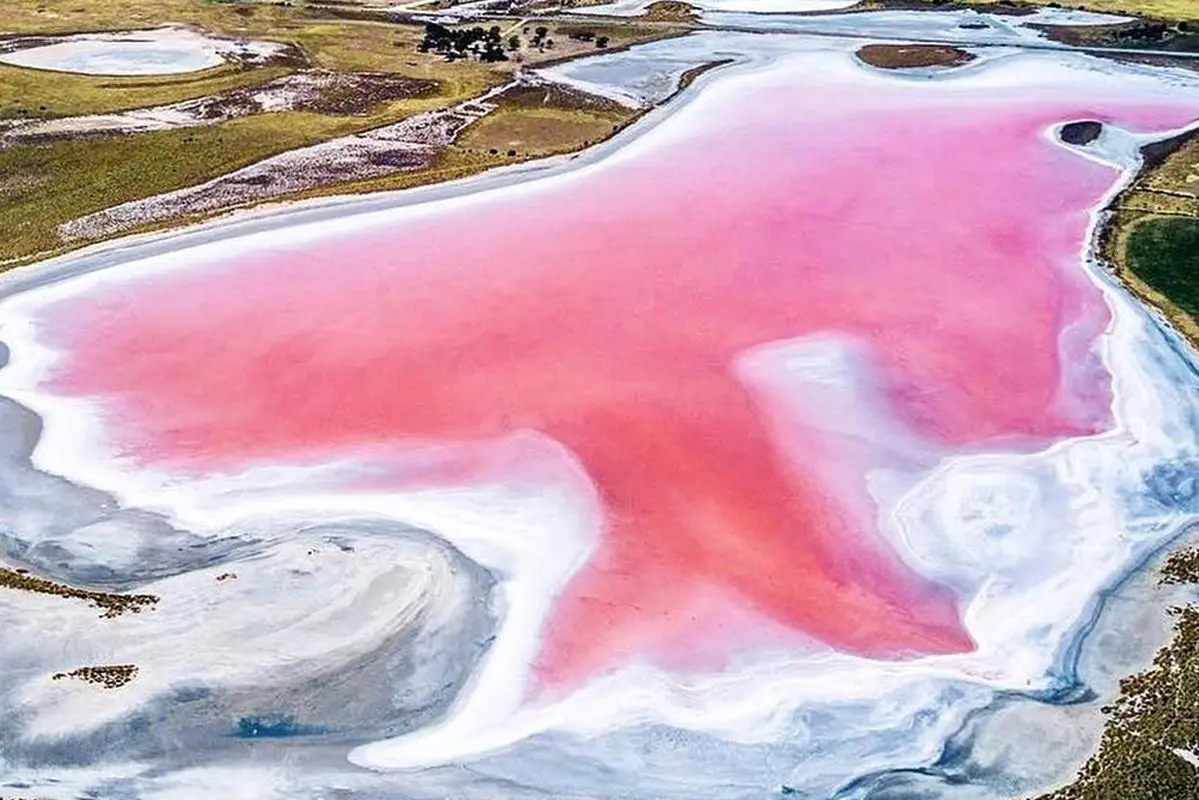 Less than two hours from Adelaide, along the Princes Highway, Lake Albert is a must-see destination.
Aside from the pink waters the surrounding area offers various activities like: hiking, canoeing, fishing and four-wheel-drives along beach.
Join our community of keen travellers, wildlife enthusiasts and adventure seekers.