Elephants are arguably the most awe-inspiring animals on earth. Not only because of their immense size, but because of their complex level of consciousness and intelligence that is unmatched by the most of the animal kingdom. Elephants are a keystone species in Africa, which means they play an important role in maintaining the biodiversity of the ecosystems in which they live.
They are a species that commands respect from all those who share a home with them, and many Africans battle a constant love/hate relationship with elephants. Love in the form of a deep connection built over generations of living side by side. And hate in the form of the constant battle for those who live in close proximity to elephants, who have to deal with life threatening situations and crop-raiding.
Seeing an elephant in the wild for the first time is a humbling experience, and watching large family herds interact and go about their daily lives is one of the most enjoyable things you can do on a safari in Africa. Each individual elephant has its own distinct personality, from the protective matriarch to the bolshy teenage males and playful babies who are often the most entertaining. To watch them interact in their natural environment is an experience that few people will forget in a hurry.
Elephants are found across 37 countries in Africa however poaching and habitat loss have led to the shrinking of elephant populations at a worrying rate. Fortunately, however, most of the continent's most popular safari destinations all still have healthy population sizes and you're likely to spot elephants in most major parks in Tanzania, Kenya, South Africa and Botswana.
Here are the 7 best places to see elephants in Africa:
1. Amboseli National Park, Kenya
Located on Kenya's southern border with Tanzania, Amboseli National Park is nestled in the shadow of Mount Kilimanjaro – the highest free-standing mountain in the world.
Amboseli's primary attraction is the herds of elephant that call the national park home, with large herds numbering hundreds of individuals. These gentle giants are encouraged to stay in the park all year round by the abundance of water available in Amboseli's natural swamplands fed by the melting snows of Kilimanjaro.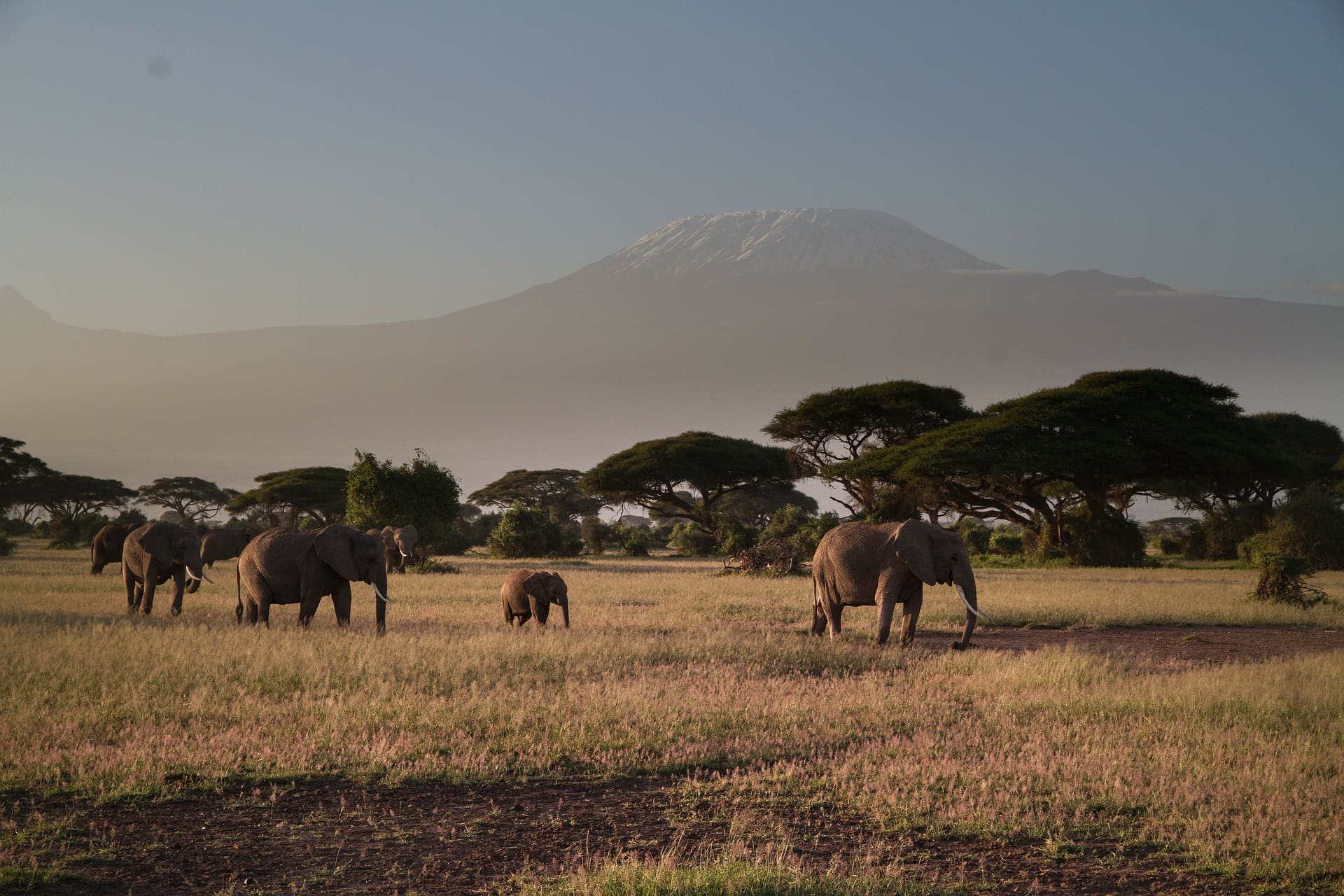 Mount Kilimanjaro's snow-capped peak makes for a breathtaking backdrop for elephant sightings and some of the greatest wildlife photographs ever have been taking against the majestic mountain. Amboseli's vast grasslands also attract older male, bull elephants with huge tusks. These giants, known as 'Tuskers', need to feed on softer grasses as their teeth wear down with age.
Amboseli is the location where world-renowned conservationist Cynthia Moss runs her highly regarded Amboseli Trust for Elephants. The park is also home to many predators including lion, cheetah, and leopard.
2. Chobe National Park, Botswana
In the northwest region of Botswana lies Chobe National Park, a magnificent wilderness area renowned for its high density of elephants.
Chobe is home to an estimated 120,000 elephants in total, most of which live in large family herds and spend their days providing exceptional sightings for safari goers. Elephants in the region are known for swimming across the Chobe River at sunset, prodding their little ones forward on a family march through the dry landscape, and nonchalantly stripping the bark and pushing over giant trees.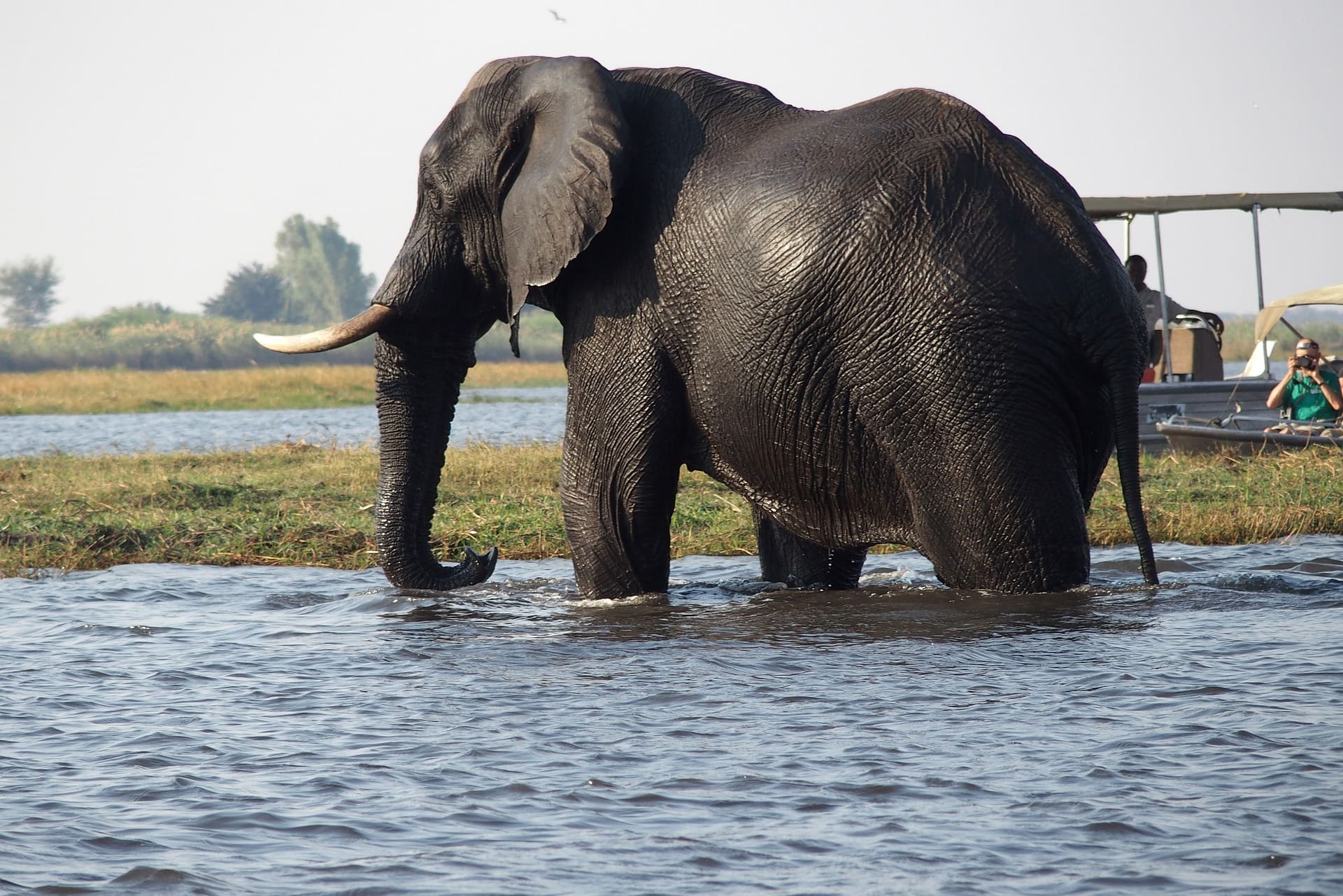 Along with Chobe National Park, its neighbouring wildlife reserves, Savute and Linyanti, also provide the ideal habitat for elephants. During the dry season in particular, elephants come to visit from neighboring Zimbabwe and Namibia. Many lodges and camps in this area overlook rivers, marshes and watering holes and you'll likely see elephants coming to drink or cool themselves down right from camp.
3. Okavango Delta, Botswana
The Okavango Delta is a unique wildlife oasis in the centre of the harsh Kalahari Desert. The Okavango River flows through the centre of the Kalahari and gives life to a unique inland water system that acts as a valuable source of water in an otherwise arid landscape. This intern attracts huge densities of birds and animals, including a large numbers of elephants.
Visiting the Delta is a unique experience because much of its wildlife can be viewed from the water – usually on a traditional canoe called a mokoro. Each year the delta floods cover over 16,000 square kilometers, and created the marshland scenes that Botswana is famous for.
The best time to see elephants in the Okavango Delta is during peak flood season (which is ironically during the May-October dry season). During this time wildlife is more concentrated on the delta islands, and much easier to spot. There are numerous lodges and luxury safari camps, many of which offer walking safaris.
The are two Sanctuary camps (Baines' and Stanley's) that offer an unparalleled "living with elephants" experience. Here you will get to meet habituated elephants that you can touch, smell and physically interact with while learning all about them.
4. Tarangire National Park, Tanzania
Certainly not the most famous national park in Tanzania – a title which has always been held by the Serengeti (and probably always will) – Tarangire National Park is the sixth largest in the country and a firm favourite among elephant lovers.
Tarangire is home to the largest elephant population in northern Tanzania, with large herds boasting hundreds of members.
The best time to visit is during the dry season, when the Tarangire River provides the only reliable source of water for kilometres around, and sees up to 10,000 elephants migrating into the park from the surrounding wilderness areas.
Although water is always present somewhere along the Tarangire river's network, others in the surrounding areas dry up completely during the dry season. Tarangire's elephants have developed a unique behavior to deal with drought. Using receptors in their trunks, they can locate water running under the surface, then dig down to it using their tusks. This is known as "sand-drinking".
If the elephants weren't enough, large herds of buffalo and giraffe are common in the park and a variety of rare species such as: the fringe-eared oryx, greater kudu and Ashy Starling – all of which can be seen nowhere else in Tanzania.
5. Addo Elephant National Park, South Africa
Addo Elephant National Park was established in 1931 with the aim of, as its name suggests, saving the local population of African elephants from the brink of extinction after a large-scale cull.
Located in South Africa's Eastern Cape province, the national park has grown its herd from just 11 individuals initially to over 600 today.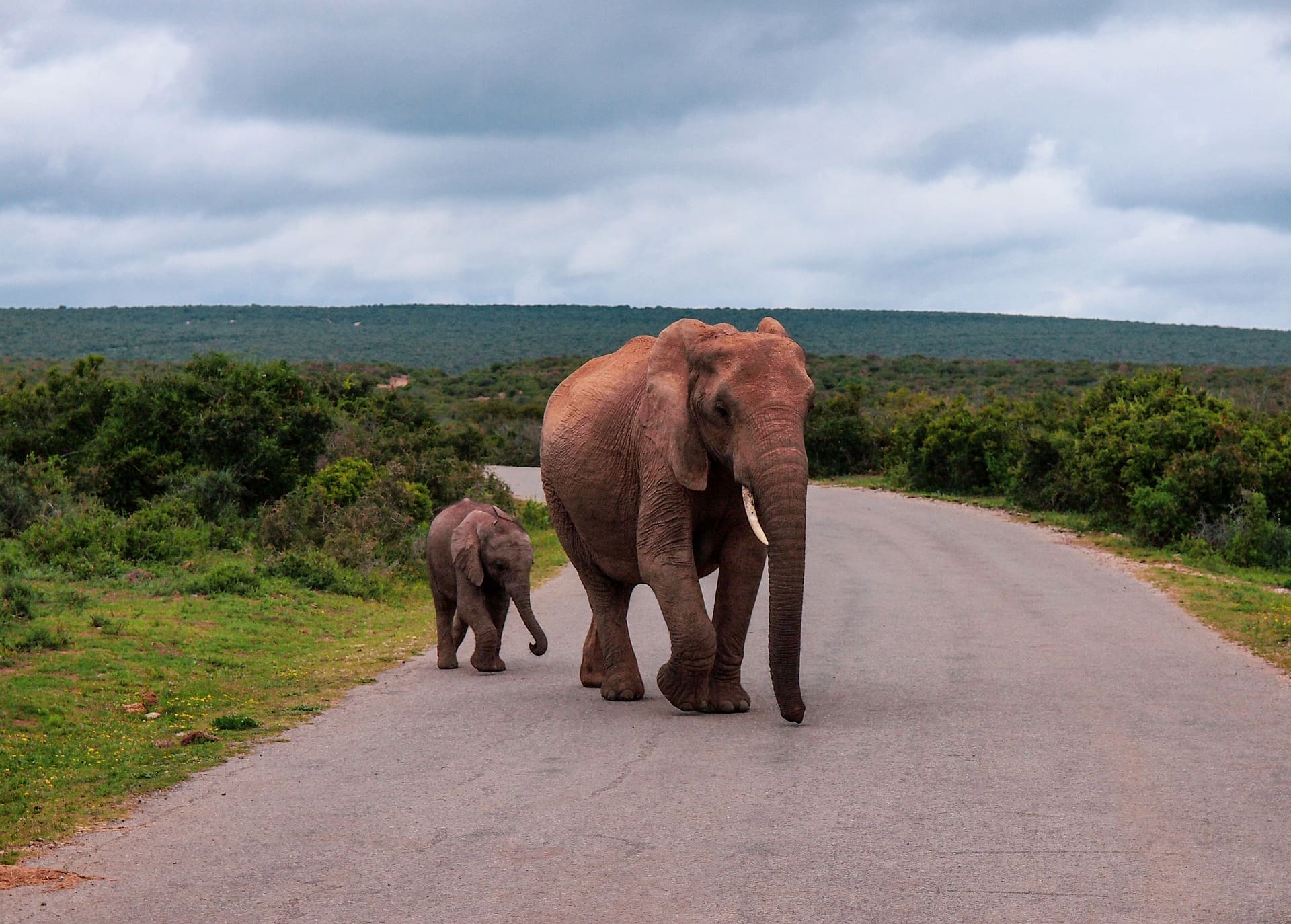 The relatively small size of the park makes it one of the best places to see elephants in Africa as they are easy to spot as they go about their lives, especially on hot days when they congregate in huge numbers around water sources.
Visitors are treated to amazing sightings as adult elephants wallow in the water and spray themselves, while the babies push and shove each other in the muddy shallows.
Addo is easily the most accessible national park on this list and is reachable it in just over 30 minutes from Port Elizabeth, and self-drive safaris are both easy and amazingly affordable.
6. Mana Pools National Park, Zimbabwe
Located near Lake Kariba, Mana Pools National Park is considered to be one of the finest national parks in Africa.
The UNESCO World Heritage Site, is popular among keen photographers in search of iconic wildlife in a unique setting, and herds of impala, eland, elephant, zebra, buffalo, waterbuck and kudu are found in large numbers. As is common throughout Africa, wherever there are herds there are predators and Mana Pools is a great location for sightings of lion, leopard, wild dog and hyena.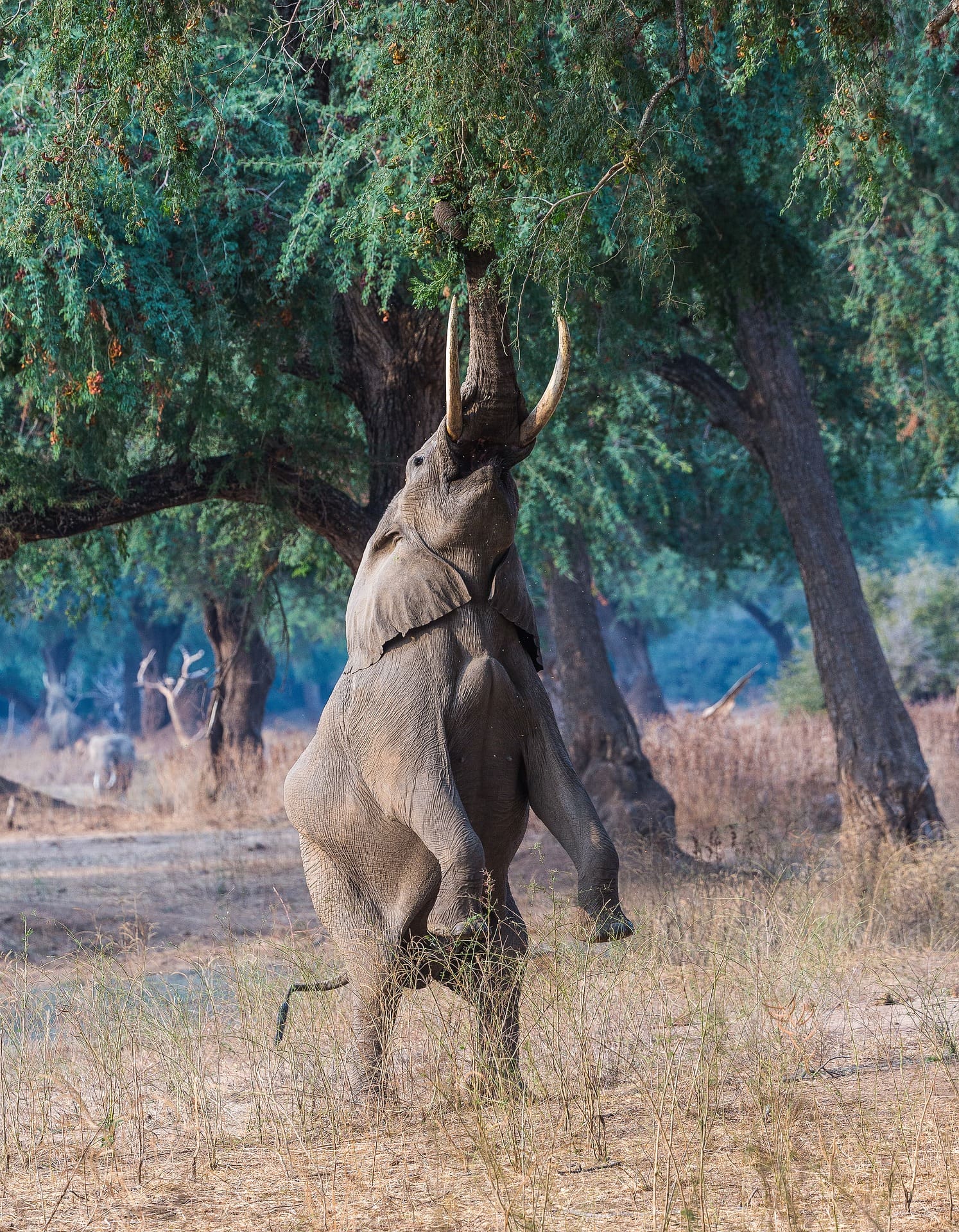 With more than 70 kilometres (43 miles) of Zambezi river frontage, the name 'Mana Pools' was inspired by large pools of water that form in abandoned river channels. During the dry season, large densities of animals gather around these inland pools in search of water, making for incredible wildlife sightings as cunning predators lie in wait. Another unique drawcard to Mana Pools are their population of elephants who can readily be seen standing up on their hind legs, reaching for fruit high up in the forest canopy.
Mana Pools is a must-visit national park for birders. Fish eagles, heron, scarlet carmine bee-eaters, Pels Fishing Owl and the African Skimmer are all known to frequent the water ways.
All accommodation is unfenced, and bush walks provide a wilderness experience like none other.
7. Hwange National Park, Zimbabwe
Founded in 1928, Hwange is the oldest and most popular national park in Zimbabwe. It's popularity is thanks to the reserve having the highest density of elephants of any park in Africa, alongwith over 100 mammal species and 400 species of bird.
Hwange National Park was named in honour of a respected leader of the local Nhanzwa tribe, and plays host to an abundance of animals who thrive within its unique ecosystem of forests at the edge of the Kalahari Desert.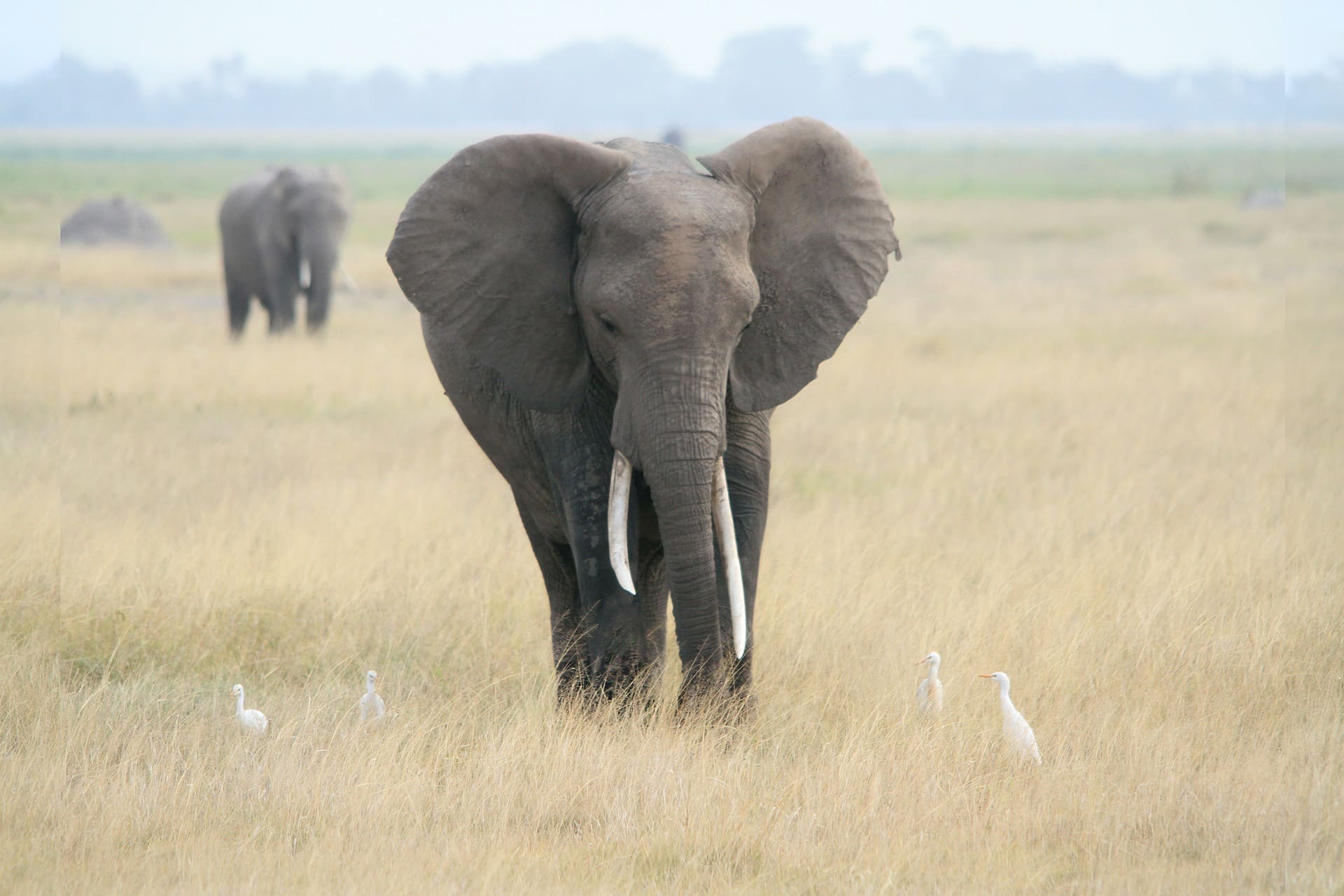 Along with the elephants – large herds of buffalo, eland, sable, roan and zebra are all found in the park, and so do the predators who prey on them. Lion, cheetah, leopard and wild dogs are readily seen in Hwange.
The main attraction is safari and eco-tourism, which can be enjoyed either on a classic 'game drive' or by walking side-by-side with what are possibly the finest guides on the continent.
Join our community of keen travellers, wildlife enthusiasts and adventure seekers.