Compiling a shortlist of the most beautiful beaches in Australia is no easy feat. It is a country renowned for its incredible natural beauty. Especially when it comes to picturesque turquoise waters fringed by white sand beaches.
While many people's first thoughts about Australia may be more to do with its endless list of deadly snakes and spiders, the continent boasts some of the most beautiful coastal locations anywhere in the world.
How many beaches are in Australia?
Australia is one of the most aesthetically gifted countries in the world. The island-continent is home to over 37,282 miles (60,000km) of coast line and nearly 12,000 beaches. All of them are post-card ready and a varying degree of wild!
From the Gold Coast to the Whitsundays and Great Barrier Reef, here are 15 of the most Breathtaking Beaches of Australia:
1. Lizard Beach, Lizard Island, Great Barrier Reef
Lizard Island on the Great Barrier Reef is the epitome of spectacular island getaway. Its not the most budget-friendly beach destination in Australia, but with over 23 picturesque white beaches to choose from, the remote northern island is well worth splashing out.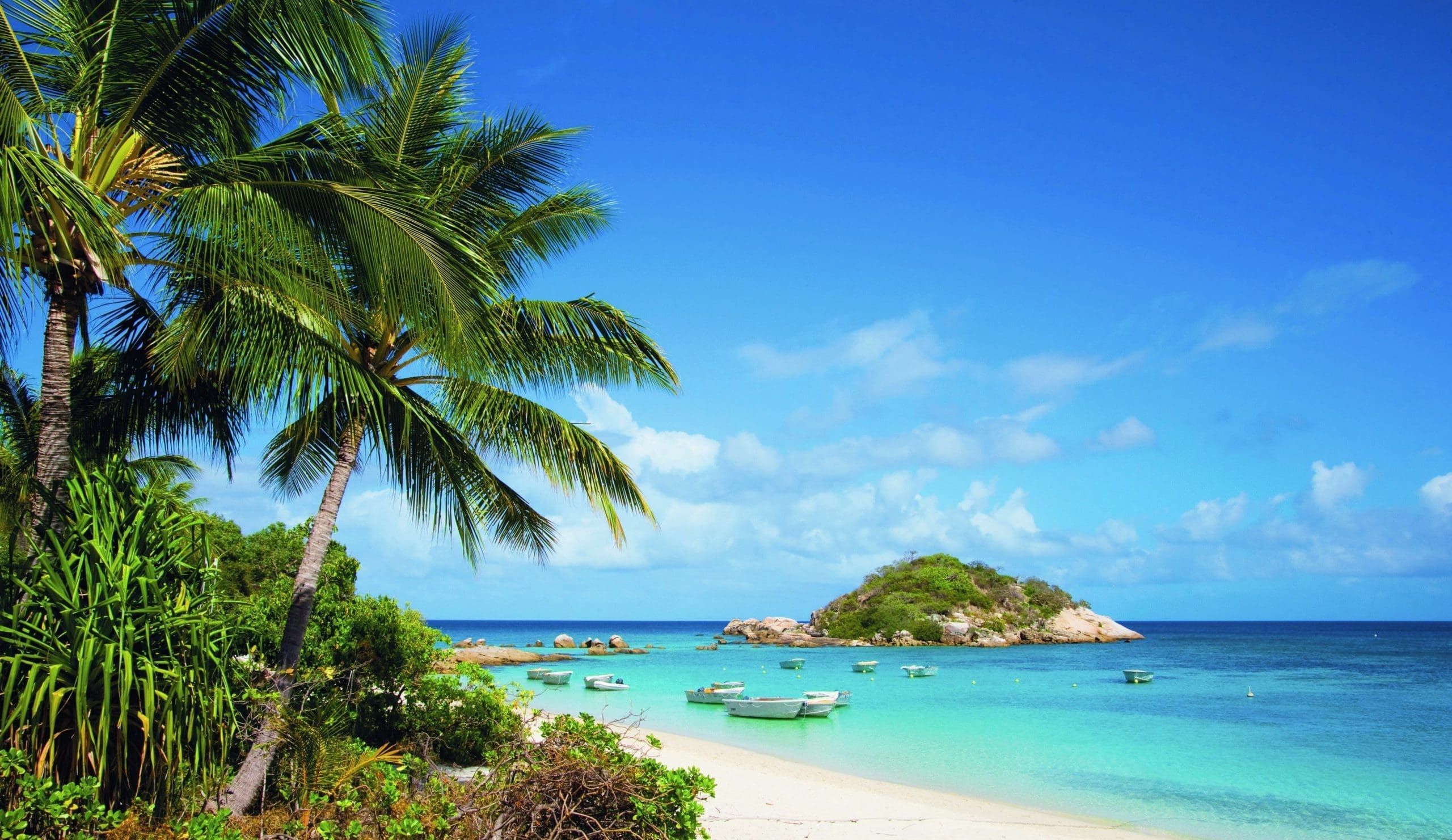 Stunning private villas are littered across the island, and set an incredible scene for lazing around the pool. They also provide exclusive access to some of the most amazing beaches in Australia, with incredible diving and snorkelling spots.
Aside from the beaches, Lizard Island is a National Park that spans 1000 hectares and hosts a variety of wildlife species such as goannas and a plethora of birdlife.
2. 75 Mile Beach, Fraser Island
It's pretty self-explanatory to determine how this marvel got its name. A keen beach enthusiast measured the beach and discovered that it was 75 miles long.
Apart from its length, there are many other impressive things about this rugged stretch of coast, east of Fraser Island. It is also a gazetted highway, from which you'll discover fishermen casting their lines and camper's huddling in the dunes.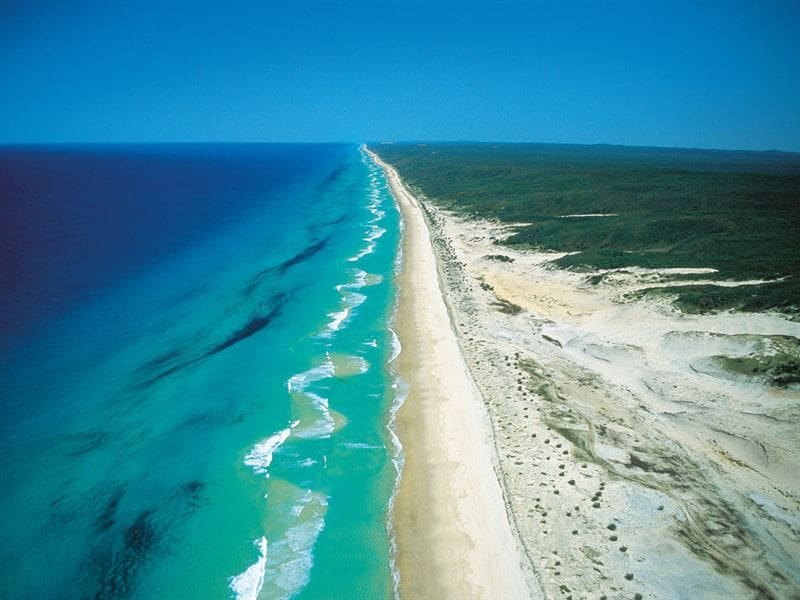 This 'sand road' – for 4WD vehicles only – leads to some of the island's most notable attractions such as the SS Maheno shipwreck, cast out onto the beach in 1935, as well as the colorful sand and rock formations of The Pinaccles and Red Canyon.
The beach itself is not considered a safe place to swim due to its dangerous currents and large population of sharks, but if a dip is in order then check out Eli Creek, or Champagne Pools at the northern end of the beach.
3. Whitehaven Beach, Whitsundays, Queensland
Images of the iconic white sands and crystal clear waters are what immediately come to mind when visitors think about the Whitsundays where, unlike some other tropical locations, reality is just as spectacular as photographs.
The fine-grained silica sand is extremely pure and soft to touch and, combined with the vivid blue waters, create a magical experience.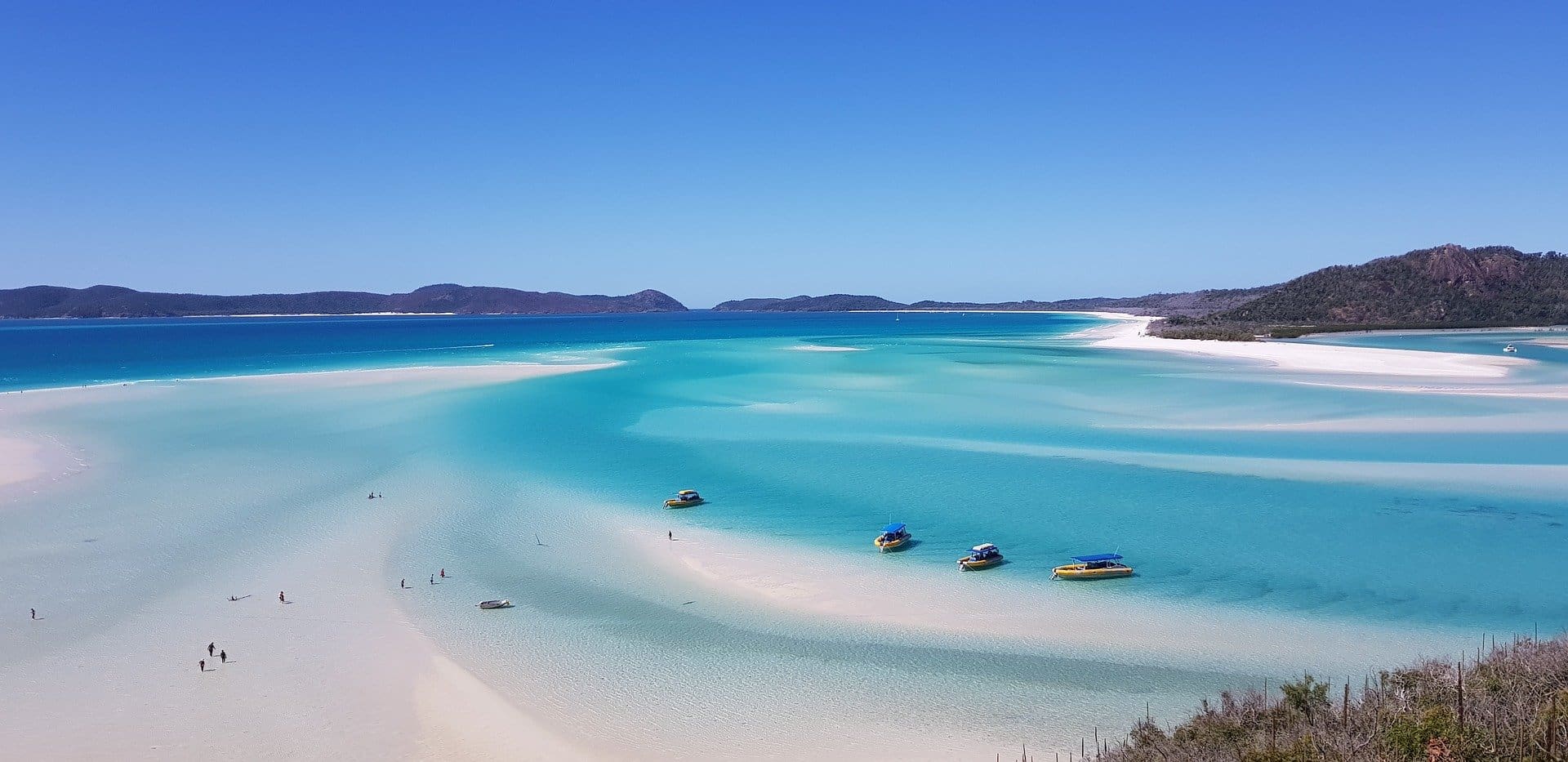 Whitehaven Beach spans 7 kilometres along the coast and even in peak season, is rarely crowded enough to ruin the serene atmosphere. There are a myriad of coves, lagoons and inlets with scenic lookouts littered in the surrounds and add to the mystique of the island.
4. Lucky Bay, Esperance, Western Australia
With vast unspoilt stretches of coastline, who can blame the herds of sunbathing kangaroos for picking these perfect white shores to kick back and relax!
It's not hard to see why Lucky Bay is rated as one of the best beaches in Australia, its pure white sand, crystal clear turquoise water and perfect swimming conditions, make it the ideal location for some family fun in the sun. Lucky Bay offers pristine oceanside camping in one of Western Australia's most idyllic national parks – Cape Le Grand National Park.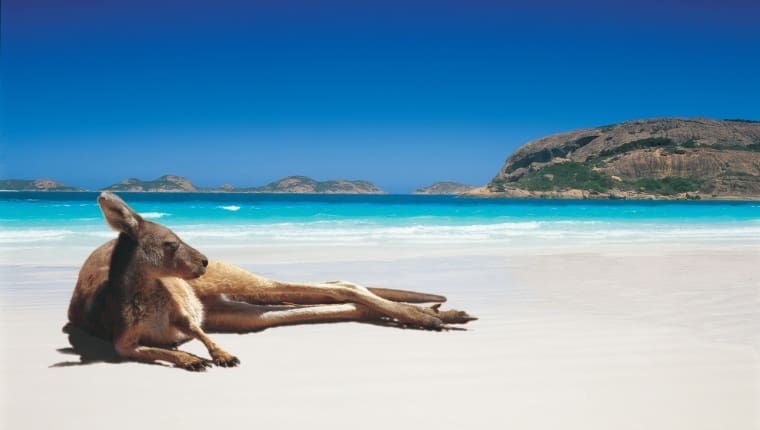 Lucky Bay stretches for five kilometres, which means a peaceful and quiet spot is always available somewhere along the beach.
There are some excellent coastal bush walks with breathtaking views over the many surrounding islands, and if you're lucky, you may even be able to spot pods of migrating whales.
Lucky Bay is about a 40 minute drive from Esperance.
5. Cossies Beach, Cocos (Keeling Islands)
Heralded as the best beach in Australia in 2017, the recently named Cossies Beach is ironically also the nation's most remote.
Cossies beach is found on Direction Island, a remote piece of paradise nestled in the Cocos (Keeling) islands, a distant Australian territory in the Indian Ocean. The island is one of 27 in a remote atoll, rising out of the Java Trench.
The sublime Cocos Islands are surrounded by picturesque aquamarine waters and offer unique tropical island experiences found nowhere else on Earth. Get close to phenomenal coral reefs brimming with green and hawksbill turtles, learn about the fascinating local Cocos Malay people, or simply relax on some of the world's most exquisite beaches.
Closer to Indonesia than mainland Australia, Cossies beach is certainly not the easiest to reach, but is well worth the 4.5 hour flight from Perth, according to beach expert Brad Farmer.
Charles Darwin certainly agreed, declaring the beach "heavenly" when he landed The Beagle there in 1836.
6. Nudey Beach, Fitzroy Island, Far North Queensland
Voted Australia's best beach in 2018, Nudey Beach is a spectacular white coral beach with a long and colourful history.
Its idyllic location, nestled within the Great Barrier Reef makes Nudey Beach the ideal location for snorkelling. The area is teeming with tropical marine life and colourful coral, just a few metres from the beach, which also makes it the ideal location for children or learner swimmers to experience the Great Barrier Reef.

Onshore you'll find pristine white sand, lined by tropical rainforest and views of Cairns hinterland.
Contrary to what its name might suggest Nudey Beach isn't a nude beach, but instead a relaxed, family-friendly location, so make sure you pack your swimming costume if you plan to take a dip.
7. Moonee Beach, Coffs Harbour, New South Wales
Moonee Beach is low-key and unpatrolled stretch of coast, extremely popular among surfers and fishing enthusiasts.
Moonee Beach Reserve, where Moonee Creek meets Moonee Beach, is the best spot for a safe swim except during outgoing tides when strong currents make conditions too dangerous for the average swimmer.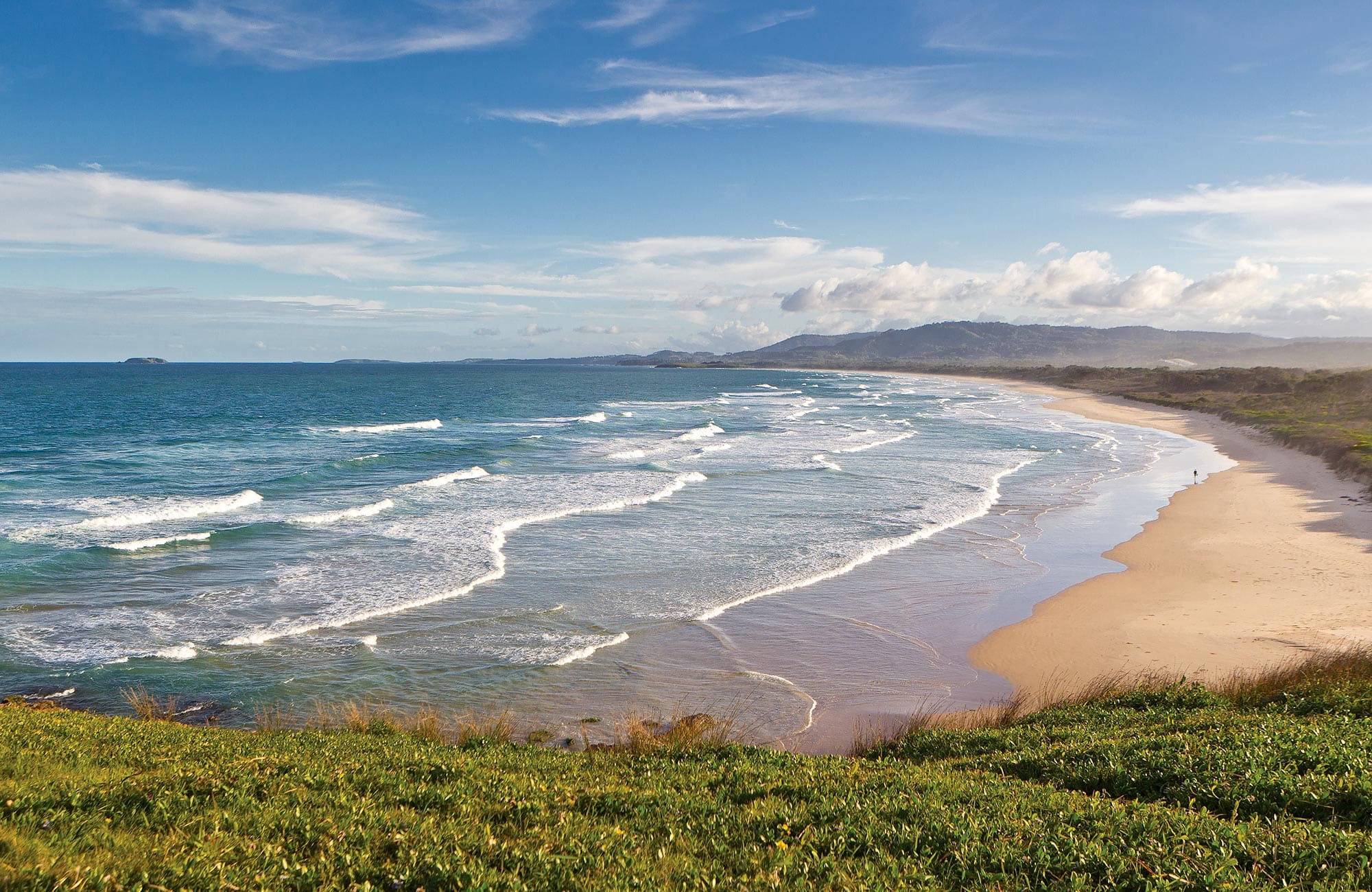 The reserve also boasts a variety of picnic and holiday facilities with all amenities available as well as pet-friendly accomodation.
The Solitary Islands Coastal Walk totems direct visitors along the bush path, through picturesque rainforest to breath taking ocean views and Moonee Creek estuary is perfect for kayaking and paddling with plenty of marine and bird life.
8. Turquoise Bay, Coral Coast, Western Australia
Turquoise Bay is one of the prime examples of why Australia is said to be home to the most beautiful beaches in the world.
Located along Western Australia's Coral Coast in the Cape Range National Park, the beach is characterised by turquoise waters, soft, white sandy shores and stunning coral reef gardens just a couple metres from the shore.
Lying in the shallows of the Ningaloo Marine Park, the beach boasts crystal-clear waters and vibrant living corals. Unlike the Great Barrier Reef, the Ningaloo Reef is easily accessible just 50m-100m offshore, making the spot ideal for snorkelling.
Enter the water at the southern end of the beach and let the current take you through the coral, and be sure to exit the water before you reach the north point of the sandbar.
9. Burleigh Heads, Gold Coast, Queensland
Halfway along the 40km stretch known as the Gold Coast, lies a combined National Surfing Reserve and a National Park known as Burleigh Heads.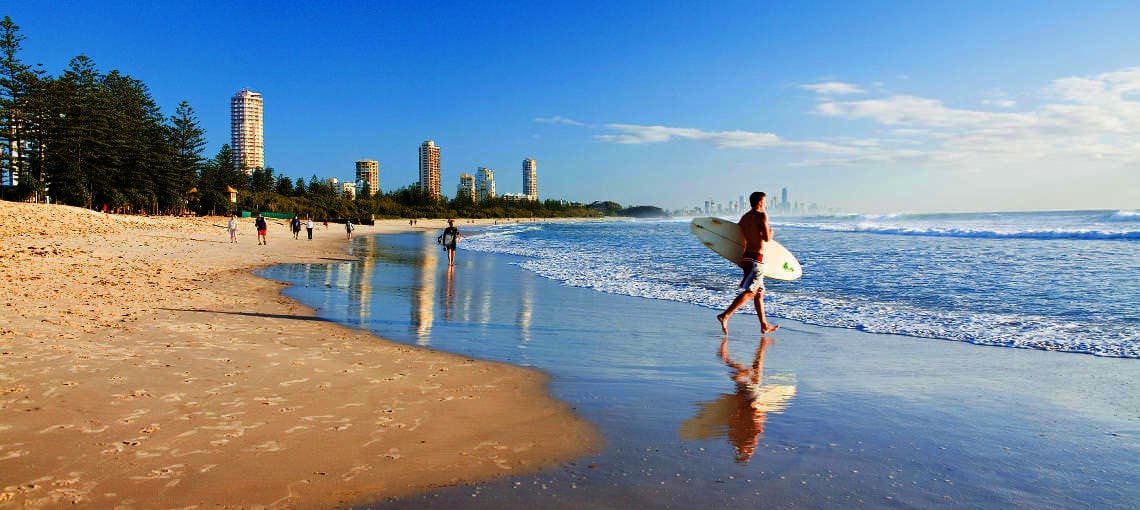 Aside from the impressive surf conditions, Burleigh Heads National Park boasts various walking trails with spectacular viewpoints for whale watching, and is home to an abundance of rainforest, pandanus, mangrove and marine life.
Referred to as the bohemian cousin of Surfer's Paradise Beach, the area surrounding the beach is home to boutique shops, cafes, and a laid back vibe that the locals love. It is a great place for strolling along the beach hand-in-hand or taking in the swell.
10. Sufer's Paradise, Gold Coast, Queensland
Easily the most famous on the Gold Coast, this iconic beach is a playground for water sports enthusiasts and tourists alike.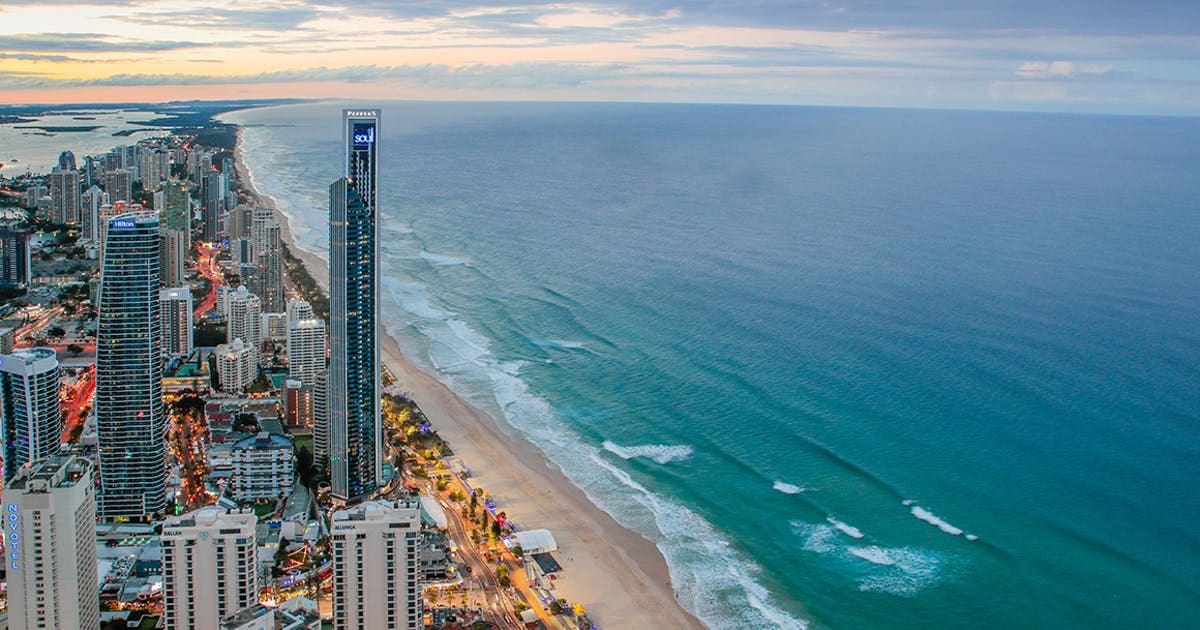 This world-class surfing hotspot lies just 100 metres from a buzzing hub of entertainment, bars, high-rise holiday apartment buildings and an abundance of restaurants, which makes it the perfect location for holiday makers to laze away in the sun or enjoy the excellent swimming conditions.
Surfers Paradise has something for everyone and will keep the fun rolling from beach to bar to boutique.
11. Bondi Beach, Sydney, New South Wales
No list of beaches in Australia would be complete without mentioning the country's most famous, Bondi Beach.
Often the spot to find a variety of celebrities, paparazzi and the occasional film crew, Bondi is also home to the world's first Surf Life Saving Club that was established over 100 years ago.
Bondi is a quintessential icon of Australian beach culture and the setting for the bathing suit protests of the 1900's that paved the way for the bikini to be embraced by popular culture.
The beach welcomes locals and tourists alike to its shores all year round, and it's popularity is owed to the fact it is easily accessible from the city, surrounded by a trendy café precinct and it is just so damn gorgeous. The atmosphere is electric with people from all walks of life mingling together.
You haven't truly experienced Sydney until you have paid a visit to Bondi Beach.
12. Byron Bay, New South Wales
Byron Bay is famous for being a small 'hippy' town with modern resorts and a selection of Bohemian cafes and boutiques. However the true highlight of the area is the quality and quantity of beaches on offer.
Byron Bay is situated on the most easterly point of mainland Australia in Northern New South Wales, and features an iconic lighthouse at Cape Byron.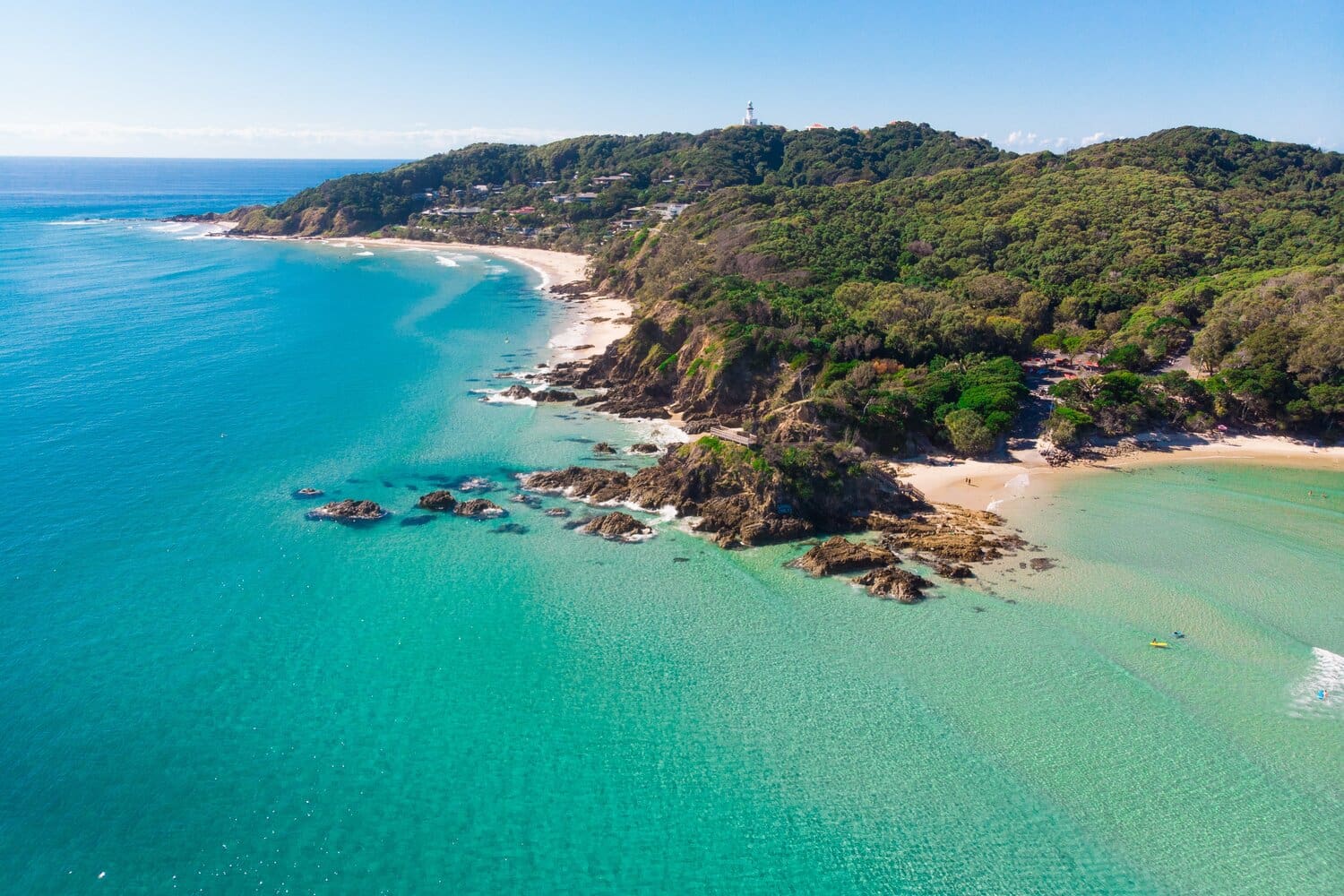 The quality of the swells are conducive to some epic ocean breaks, drawing surfers from across the globe, and the location of the town in proximity adds to the overall vibe.
The lovely, long stretch of coastline is a short trip from the Gold Coast and the powder-like sand beaches are a treat for those looking for a less crowded alternative over the border.
13. Mandalay Beach, Western Australia
Often overlooked by travellers opting in favour of the East Coast, Western Australia is home to some of the country's most spectacular beaches and Mandalay Beach is the perfect example.
Located south of Perth near the town of Walpole, the isolated location of the beach excentuates its untouched beauty. Rocky headlands and untamed wilderness make Mandalay Beach quite different to most others on this list.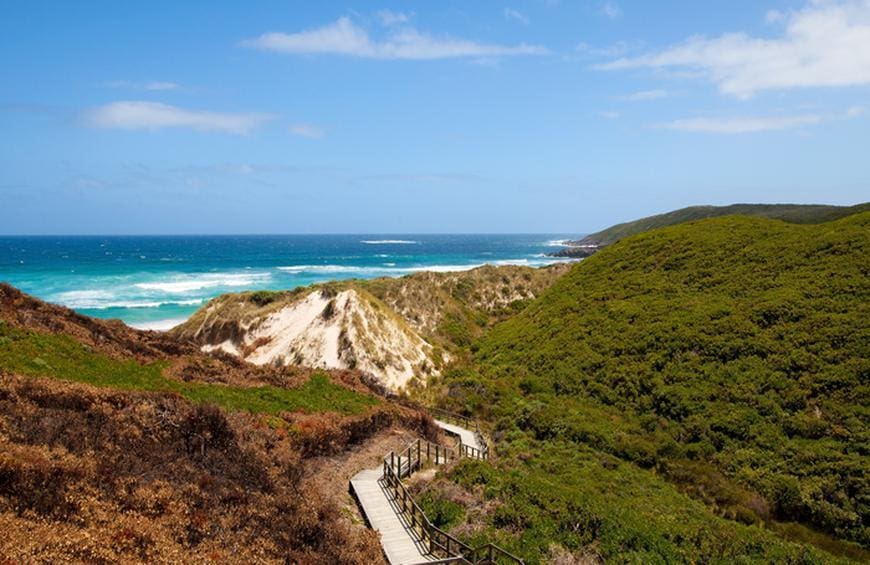 Chatham Island, just a few miles off the coast, is a highlight of the area with its spectacular greenery contrasting against the white crests of breaking waves.
The journey is well worth it to experience one the most unique beaches in Australia.
14. Noosa Main Beach, Sunshine Coast, Queensland
Without a doubt the standout among the plethora of stunning beaches on the sunshine coast, Noosa Main Beach is popular for its golden sands and warm waters.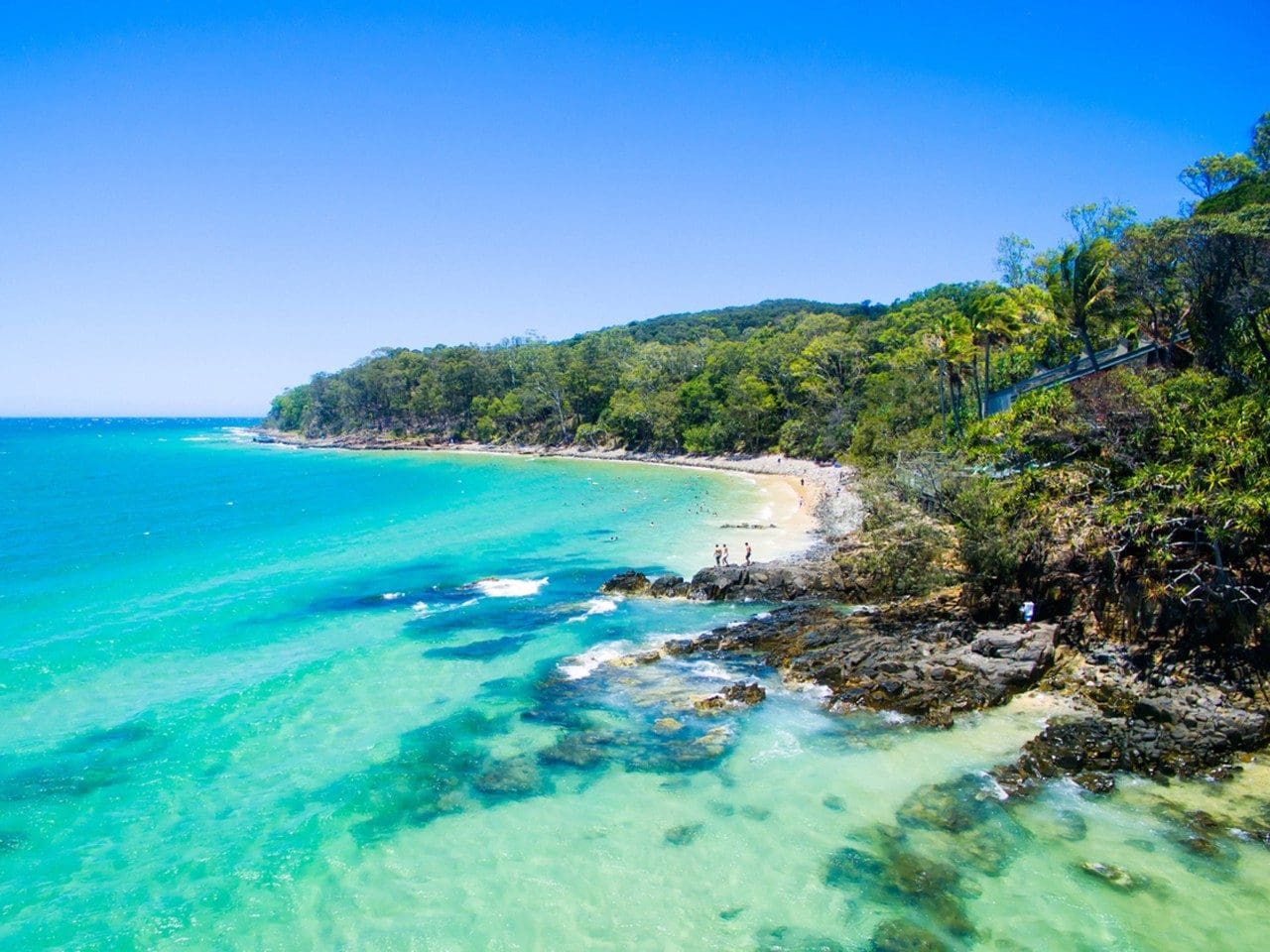 The patrolled waters are not only popular among swimmers for their beauty, but because being joined by pods of dolphins is a common occurrence at Noosa beach, and humpback whales can be spotted in the distance during their annual migration.
The beach is surrounded by the famous Hastings Street which features world class shopping and dining. The vibrant strip is popular among socialites and is said to be the place to be on the Sunshine coast.
15. Apollo Bay, Victoria
One of the most impressive stops along Victoria's coastal route, Apollo Bay is a paradise for water sports with exceptional conditions for swimming, diving, paddling and surfing.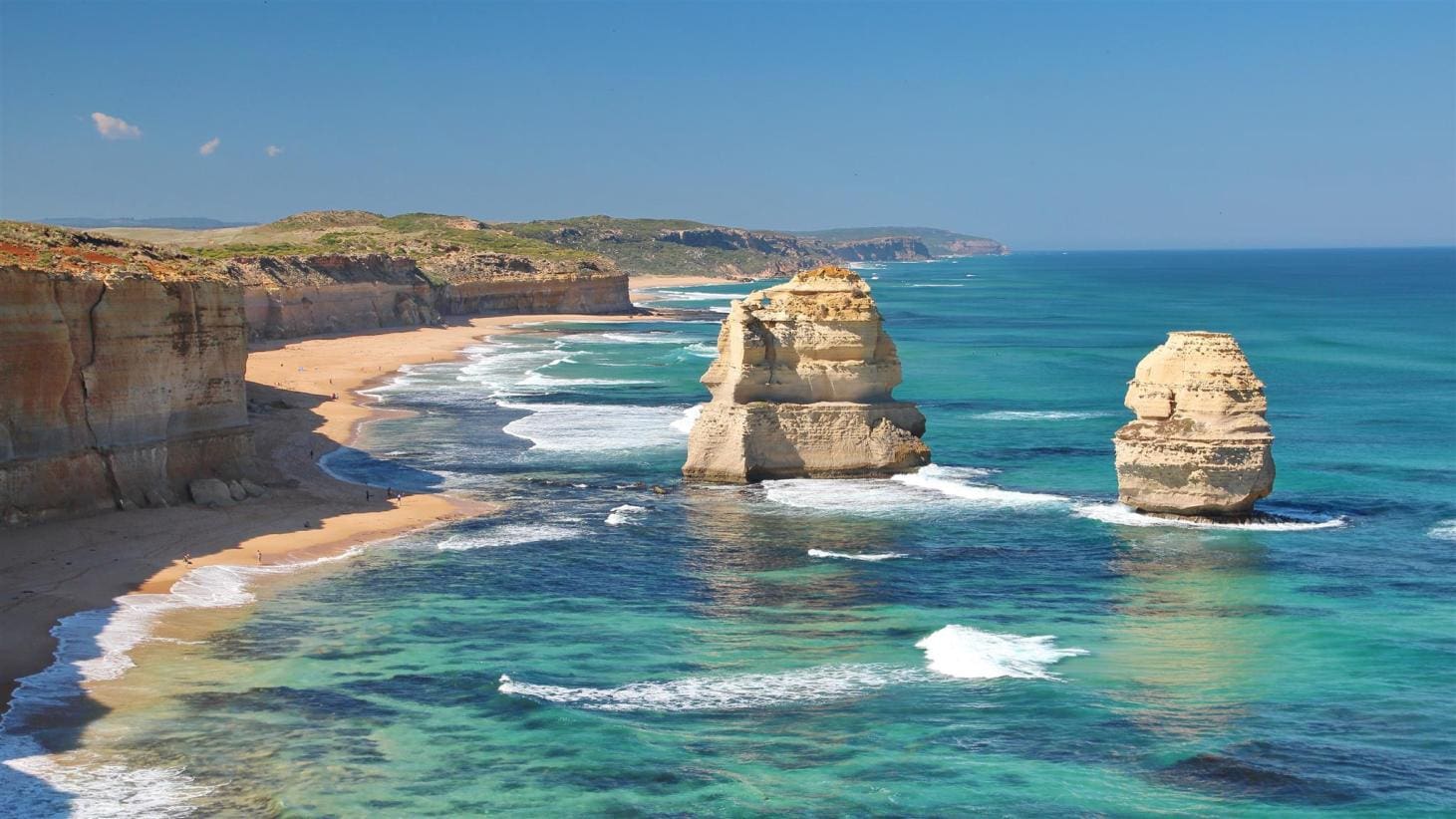 If you prefer a land-based adventure then the Great Otway National Park offers a wide variety of hiking trails where you may be lucky enough spot a koala or maybe even the elusive platypus in the serene Lake Elizabeth.
The saturday foreshore market is a popular attraction for weekend travellers with a variety of crafts, delicious street food and fresh produce on offer.
Join our community of keen travellers, wildlife enthusiasts and adventure seekers.