There's nothing quite like a tropical summer holiday to properly relax and unwind after months of the usual grind, especially for those living in countries with harsh winter climates. Typically when planning a beach vacation, one tends to search for the most pristine tropical locations with sugar white sand and crystal clear waters. However there's a breathtaking alternative that you may have never seen or even heard of – black sand beaches.
These black sand marvels are the result of volcanic remnants which have been broken down by the ocean over centuries. All black sand beaches provide a unique experience with locations ranging from warm, tropical climates – suitable for lounging and sunbathing – to winter climates where the dark sand paired with the surrounding scenery will make you feel as if you're on another planet.
But where to find these wonders of nature? We've sifted through them all and created a shortlist.
Here are the best black sand beaches in the world:
1. Vik Beach, Iceland
Iceland, an unexpected destination for beach goers, is home to breathtaking black sand beaches formed from 130 volcanoes. The country's most famous beach, Reynisfjara or Vik Beach, is famous for its impressive basalt columns, cliff formations, caves, and lava structures.
Despite its stunning beauty, this beach, named after the southern village of Vik, is not ideal for swimming due to the rough Atlantic waves. But its breathtaking scenery makes it a dream location for photographers.
The black sand of Vik Beach was created by the 1918 eruption of the nearby Katla volcano, located beneath the Myrdalsjokull glacier. This makes the area vulnerable to future eruptions and flash floods.
Visitors to Reynisfjara Beach can explore the fascinating basalt columns, created by cooling lava, and see the rugged cliffs, including the famous Reynisdrangar sea stacks.
The beach also has several fascinating caves to explore, including the Halsanefshellir cave, which is one of the largest lava tubes in the country. The black sand and unique geological features of Reynisfjara Beach make it a must-visit destination for nature and geology enthusiasts.
With its dramatic landscapes, it is easy to see why this beach is one of the most popular tourist attractions in Iceland. Whether you're interested in geology, photography, or simply enjoying a unique beach experience, Reynisfjara Beach is not to be missed.
2. Black Sands Beach, California
Black Sands Beach is a unique and captivating destination located on the Lost Coast of Northern California. This 5.5 km long beach is the only black sand beach on the North American continent, making it a must-visit for tourists.
Despite its stunning beauty, Black Sands Beach is not the best place to swim or lounge, as the waters are often too dangerous to enter. Visitors typically admire the waves from a safe distance, taking in the breathtaking scenery and rugged terrain that make this beach so special.
The beach is popular among hikers who are looking for a unique landscape to explore. Its rugged terrain and stunning beauty make it a great spot for nature lovers and photographers. Additionally, there are tide pools in the area that are a real treat for those who like to explore and collect sea creatures. One of the highlights of a visit to Black Sands Beach is the opportunity to collect silver dollars, which can often be found washed up on the shore.
The best time to visit Black Sands Beach is between September and January, as this is when gray whales are known to swim along the breakers. This provides visitors with an incredible opportunity to witness the beauty of these magnificent creatures in their natural habitat.
Overall, Black Sands Beach is a unique and awe-inspiring destination that is definitely worth a visit. Whether you are looking to hike, explore, or simply admire the beauty of nature, this beach has something to offer everyone.
3. Perissa Beach, Greece
Perissa Beach in Greece is truly a magnificent sight. This black sand beach is one of the most unique settings on this list and stands out with its bold, jet black sand against the bright blue water and gleaming white houses that make Santorini such a renowned destination.
The beach is lined with bars and dotted with shade loungers, making it the perfect place to relax and unwind on a hot afternoon. Visitors can lounge and sip on a cold drink while taking in the breathtaking views of Mount Vouno, home to the ruins of the ancient city of Thira.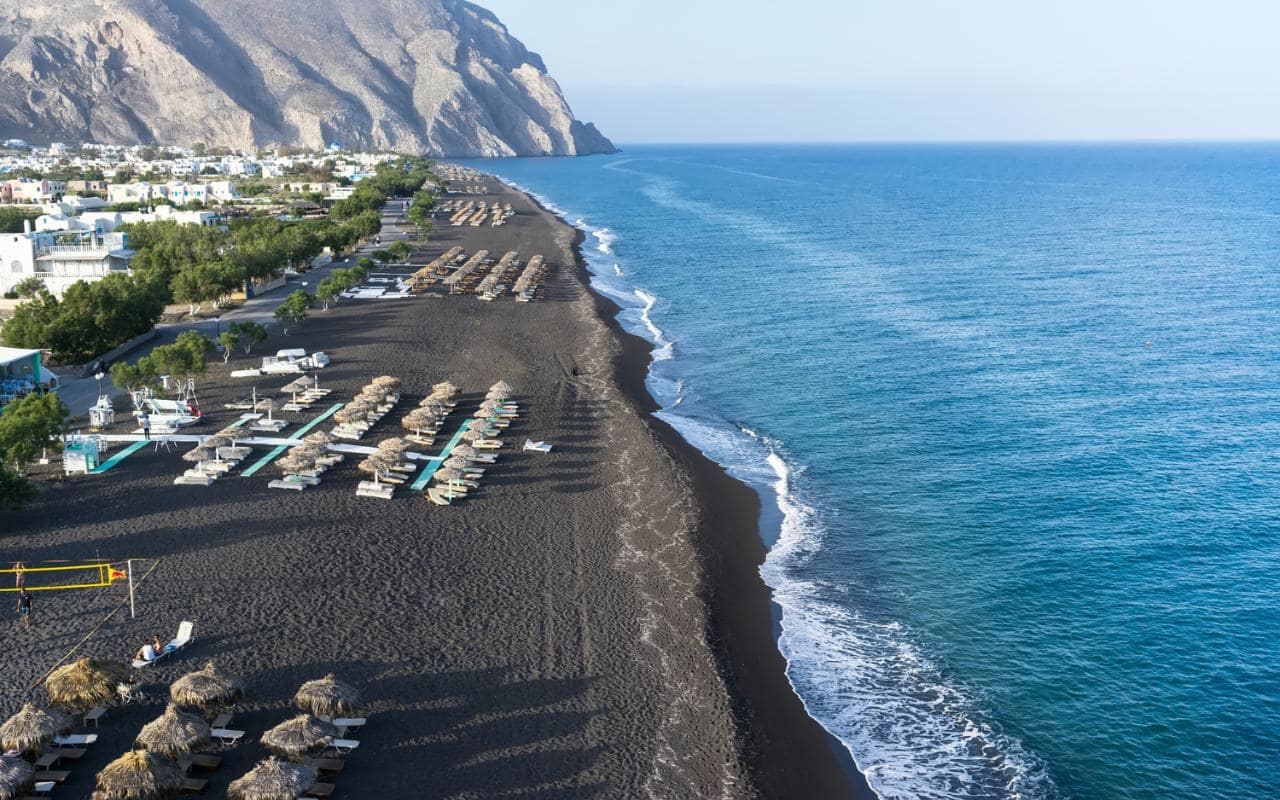 Thira, the ancient city on Mount Vouno, is a must-visit for those interested in history and archaeology. It is believed to have originally been a Spartan colony and is now home to impressive ruins that visitors can explore.
This ancient city provides a glimpse into Greece's rich history and is an attraction in its own right.
Perissa Beach is a must-visit destination for anyone looking to relax and soak up the sun while admiring some of Greece's most breathtaking scenery. With its unique setting, tranquil atmosphere, and historical attractions, this beach is sure to leave a lasting impression on all who visit.
4. Playa Jardin, Tenerife
Playa Jardin is an exceptional beach that truly stands out. Unlike most beaches which are naturally designed, Playa Jardin was created by the talented artist, Cesar Manrique. In the 1990s, Manrique set out to create the ultimate relaxation spot, and with its lush gardens, palm trees, and glistening black sand, he succeeded in creating a true paradise.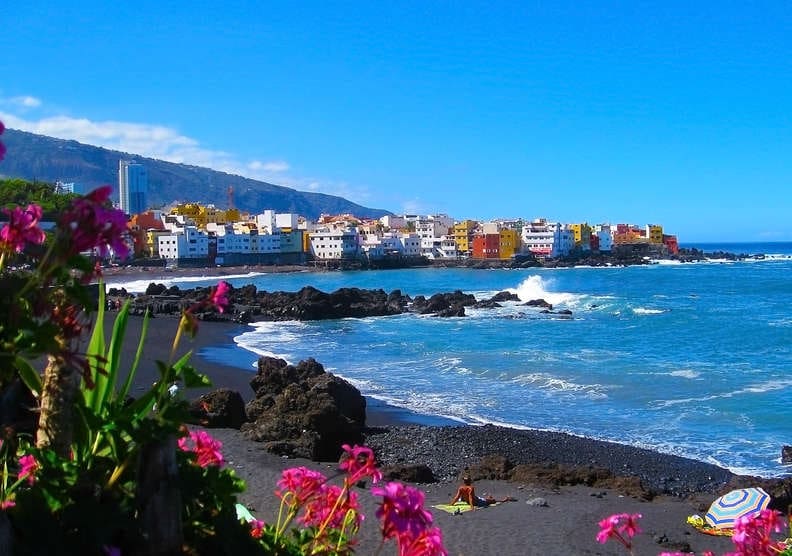 As you make your way to the beach, you will be transported through a lush garden filled with local plants and cascading waterfalls. This pathway sets the tone for a tranquil and serene afternoon on the black sand beach. Above the gardens, you will find a two-tiered promenade that is teeming with cafes and restaurants.
The artist's vision of creating a peaceful and picturesque environment has been brought to life at Playa Jardin, making it a must-visit destination for anyone looking for a relaxing and rejuvenating experience.
Whether you want to lounge on the black sand, explore the lush gardens, or dine at a local cafe, Playa Jardin has something for everyone.
In short, this beach is a true masterpiece and an outstanding example of what can be achieved when creativity and beauty are combined.
5. Papenoo beach, Tahiti
Papenoo Valley is an undiscovered gem located in the remote regions of Tahiti. Its lush, tropical jungle and volcanic black sand beaches provide a stark contrast to the typical, picturesque images often associated with the island.
The valley leads to Papenoo Beach, a serene and secluded stretch of sand that is a surfer's paradise. Despite its lack of modern amenities like restrooms and cafes, visitors are welcome to bask in the sun and enjoy the breathtaking natural beauty of the region.
To avoid the crowds, it is recommended to visit on a weekday.
Papenoo Valley offers a unique adventure to nature lovers, with its lush green mountains, verdant valleys and numerous hiking trails that lead to breathtaking waterfalls such as Topatari, Puraha and Vaiharuru.
The region is the perfect destination for those seeking a peaceful escape from the busy city life, and to immerse themselves in the breathtaking natural beauty of Tahiti.
6. Miho no Matsubara, Japan
Miho Beach in Japan is a unique and breathtaking destination, offering a combination of black sand and lush, ancient pine trees that are listed as a World Heritage site.
Spanning over 6.5 kilometers (4 miles) along the coast, the beach offers awe-inspiring views of the iconic Mount Fuji and is a popular destination for outdoor enthusiasts.
From kayaking and windsurfing to diving and fishing, there is something for everyone to enjoy.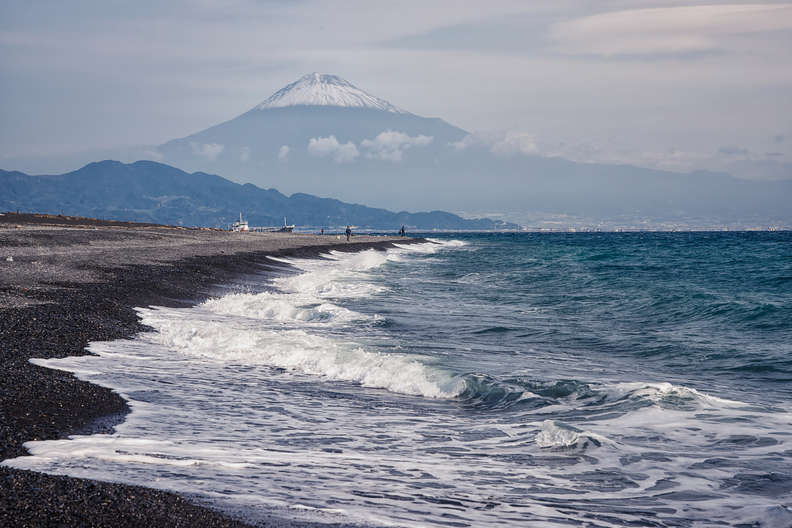 The beach's black sand was formed from volcanic rock which was exposed during the construction of a nearby train line. This black sand replaced the traditional white sand that once covered the shoreline.
Miho no Matsubara, as the beach is known locally, is famous in folklore for its skinny-dipping angel, and attracts many visitors during the summer months.
In addition to its beautiful scenery, Miho Beach was also the inspiration for the traditional woodblock prints by the renowned artist Utagawa Hiroshige.
This combination of natural beauty and artistic inspiration makes Miho Beach a must-visit destination for those seeking to experience the unique culture and history of Japan.
7. Punalu'u Beach, Hawaii
Punalu'u, also known as Black Sand Beach, is a stunning and well-known black sand beach located on Hawaii's Big Island.
The black basalt sand, which covers the beach, was created by volcanic lava flowing into the ocean and exploding as it cooled. While the water conditions may not be ideal for swimming, visitors can still enjoy a variety of other activities.
The beach is a home to endangered species like the Green Sea turtle and the Hawksbill turtle, which can often be seen basking on the black sand. It's also a popular spot for viewing spinner dolphins and humpback whales.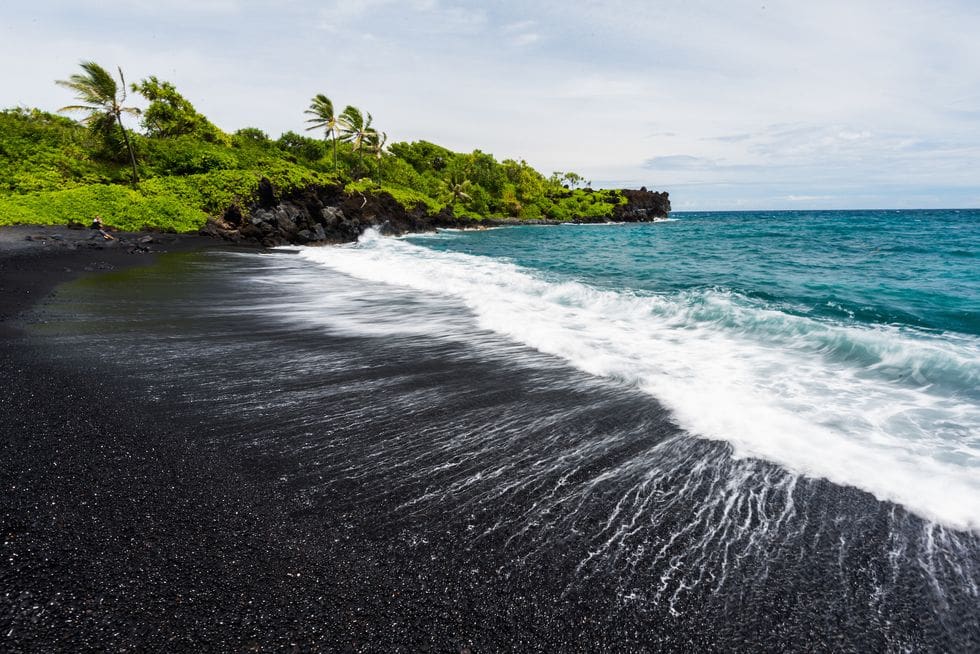 For those interested in hiking, the nearby park area offers a range of cultural artifacts to discover, such as petroglyphs and remnants of the ancient Ala Kahakai trail.
Alternatively, visitors can take a short walk to Ninole Cove for snorkeling. With its unique beauty, Punalu'u is a must-visit for beach lovers and wildlife enthusiasts alike.
8. Karekare Beach, New Zealand
Karekare Beach, located in the Waitekere Ranges Regional park near Auckland, New Zealand, once held the title of being the most famous black sand beach in the world due to its appearance in the Oscar-winning film, "The Piano."
Despite the film giving the beach some notoriety, it has since returned to relative obscurity, often overshadowed by the more popular Piha Beach. However, Karekare Beach offers some of the best surfing in New Zealand and its towering cliffs provide a dramatic backdrop for the black sand.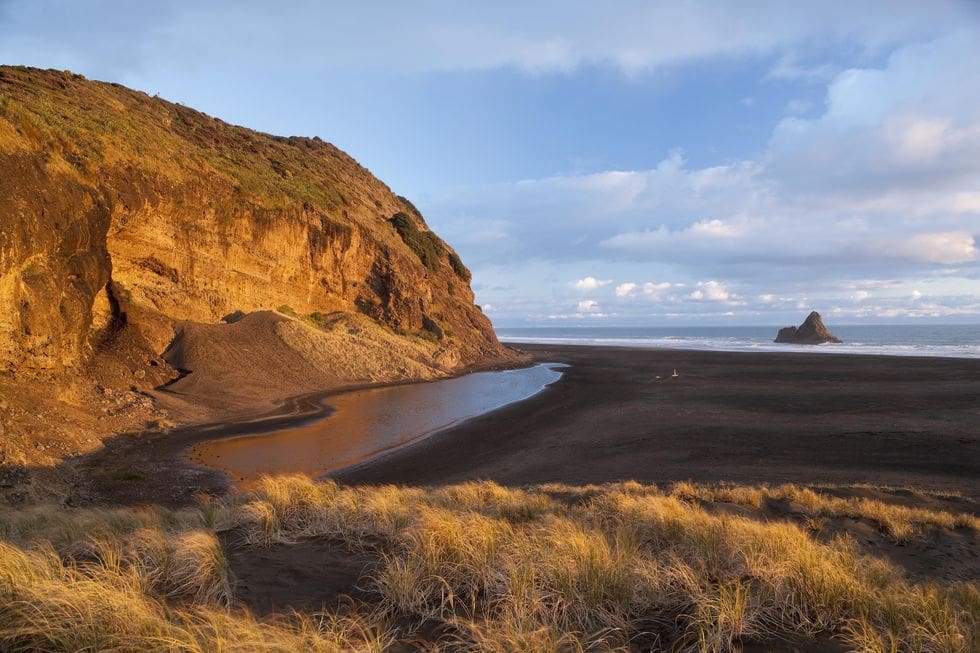 Surrounded by breathtaking scenery in a country renowned for its natural beauty, Karekare Beach still manages to stand out and make a lasting impression on those who visit it.
9. Black Bay, Grenada
Black Bay Beach in St. John, Grenada, is a hidden gem that exudes raw beauty and wild exoticism. Its remote location, which can only be reached by a 20-minute hike from the main road, adds to the allure of this black sand paradise.
Surrounded by lush greenery and turquoise waters, this secluded beach is an ideal spot for swimming, picnicking or simply taking in the breathtaking scenery.
For those who love to explore, Black Bay Beach is a true adventure.
At the southern end of the beach, you will find the Black Bay Cave, where you can see ancient Amerindian markings that date back many years. This cave is a testament to the rich history of the island and provides visitors with a unique and fascinating glimpse into Grenada's past.
Whether you are a nature lover or a history buff, Black Bay Beach is an unforgettable experience that is not to be missed.
10. Stokksnes Beach, Iceland
Stokknes Beach, located in the southeast region of Iceland, is an awe-inspiring black sand beach that boasts vast landscapes of black dunes and towering cliffs.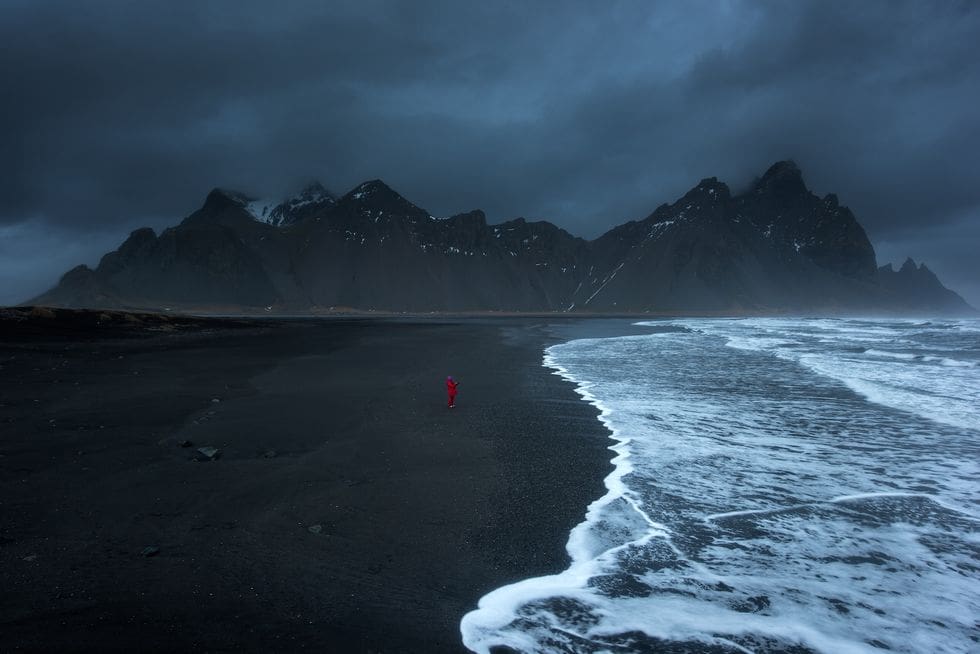 Set beneath the majestic Vestrahorn Mountain, the beach is surrounded by peaks that reach up to 454 meters and offers breathtaking views at sunrise and sunset. The shifting dunes of the area constantly change its appearance, making for endless photographic opportunities.
A 20-minute drive from the town of Hofn, Stokknes is conveniently located near the famous Vatnajokull glacier and provides a unique and dramatic setting for a day at the beach.
Whether you're interested in capturing stunning photographs or simply taking a swim, Stokknes Beach is a must-visit destination in Iceland.
11. Playa Negra, Puerto Rico
Playa Negra, a secluded black sand beach in Puerto Rico, is a unique and stunning destination that changes its appearance depending on the season.
At times, the beach may appear as a solid sheet of black, while at other times, it can resemble a marble cake due to the mix of black and white sand brought in from the cliffs that line the beach.
Reaching Playa Negra requires a hike, but the journey is well worth it. The trail is surrounded by stunning natural beauty and leads to a shallow stream bed that is perfect for horseback riding.
The fine, extra-soft black sand on the beach can be a bit of a challenge to deal with as it can easily get everywhere and be difficult to remove, and also has the potential to leave stains.
While Puerto Rico is home to many beautiful white sand beaches, Playa Negra is a unique and equally stunning destination that should not be overlooked.
12. Point Venus Beach, Tahiti
The French Polynesian island of Tahiti is renowned for its black sand beaches and for good reason. With its rugged, mountainous landscape and crystal clear waters, it offers some of the best black sand beaches in the world.
As the largest island in the Windward Islands, it's no surprise that it's made up of a lot of coastline and an array of black sand beaches for visitors to choose from.
From the luxurious Lafayette Beach to the half-mile long Plage de Toaroto, and Point Venus Beach, famous for its lighthouse and as the location where Captain James Cook observed the transit of Venus in 1769.
The vibrant coral reefs and shimmering black sand make Tahiti an ideal destination for snorkelling, free diving and beach-goers alike. Point Venus is particularly popular for picnics, with a snack bar and souvenir shops available on site.
13. Lovina Beach, Bali
Lovina beach, a black sand paradise located in the northwest region of Bali, is a prime destination for those seeking a more relaxed and tranquil experience on the island.
As you wander around the surrounding rice paddies, you'll quickly discover why Lovina is the perfect getaway from the bustling crowds of southern Bali's white sand beaches. This serene paradise owes its distinct black sand to the cooled lava that once flowed from the imposing Mount Agung, a nearby active volcano.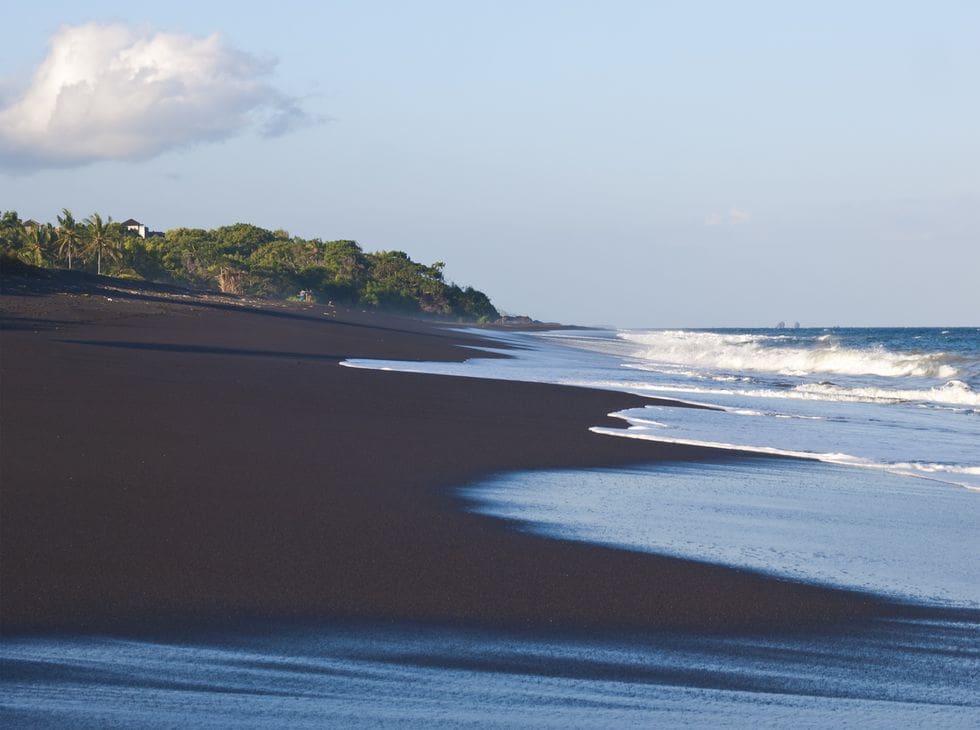 The clear and protected waters surrounding Lovina make it an excellent spot for snorkelling, as you'll have the opportunity to explore the vibrant coral reef and possibly catch a glimpse of dolphins playing in the waves. Not only is Lovina beach a delight for swimming with its calm tides and gentle waves, but it's also a popular location for dolphin watching, whether you prefer to observe from the shore or join a guided boat tour.
In addition to its stunning beach, Lovina also offers visitors the chance to experience the traditional way of life in local villages and to relax in the nearby volcanic hot springs. So, whether you're looking for a peaceful retreat or an action-packed adventure, Lovina beach is sure to provide a memorable experience.
14. Rosalie Bay Beach, Dominica
Rosalie Bay Beach in Dominica is a magnificent black sand beach that perfectly embodies the charm and allure of the Caribbean. The island, known for its captivating beauty and unique landscapes, was even chosen as one of the filming locations for the popular movie "Pirates of the Caribbean."
The beach is fringed with palm trees and is one of the longest black sand beaches in the Caribbean, making it perfect for long walks and beachcombing. Visitors can admire the stunning views of the Atlantic coast from the beach.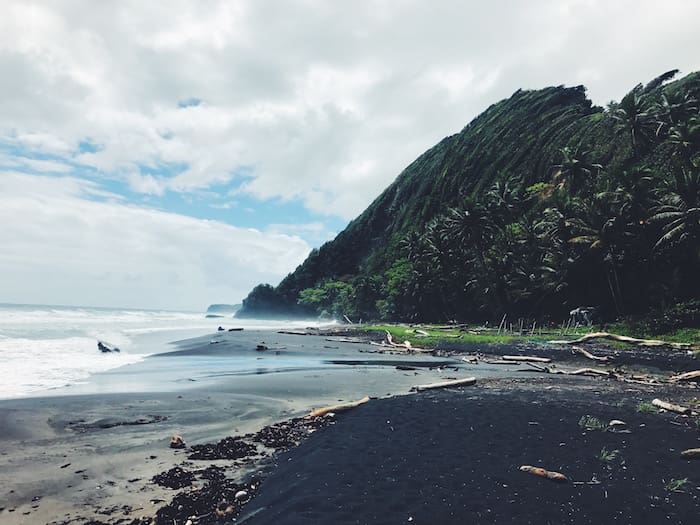 Nature enthusiasts will love this location, with its lush green surroundings and reputation as a popular nesting ground for sea turtles. The beach's secluded location and stunning scenery make it an ideal spot for those seeking a peaceful escape, surrounded by natural beauty and wildlife.
15. Diamond Beach, Iceland
The Diamond Beach, located on the South Coast of Iceland, is a unique and captivating stretch of black sand along the banks of the renowned Jökulsárlón glacier lagoon. It belongs to the greater Breiðamerkursandur glacial plain. In recent years, the Diamond Beach has become a popular tourist destination and a famous subject of many Instagram posts, largely due to its spectacular beauty and its name.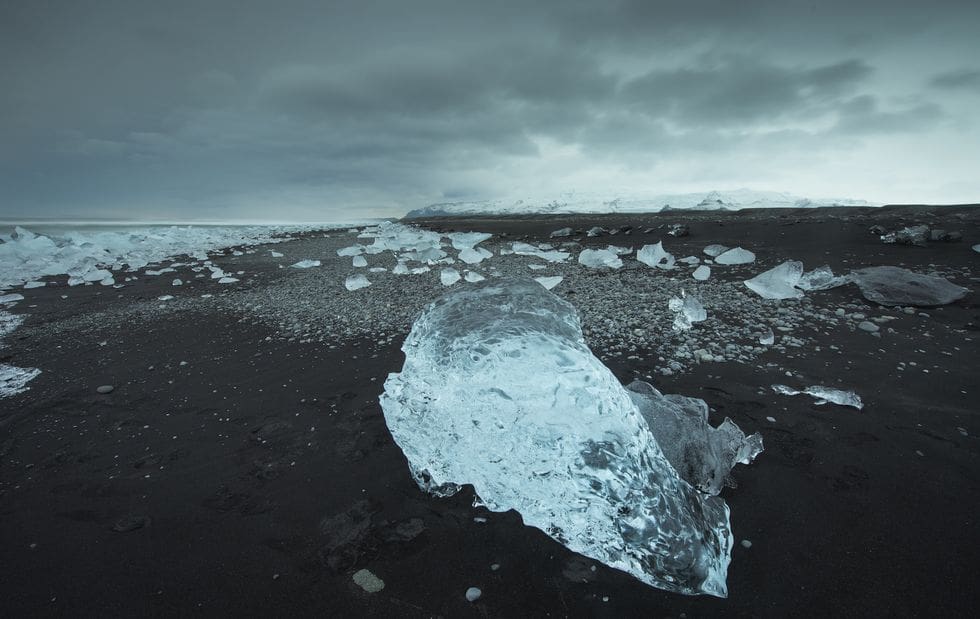 The name "Diamond Beach" comes from the hundreds of sparkling iceberg formations scattered along the black volcanic sand. These icebergs are actually fragments of the Breidamerkurjokull Glacier that have broken off and floated onto the shore, creating a mesmerizing landscape that is truly one-of-a-kind.
In addition to the captivating ice formations, the beach is also a popular destination for wildlife enthusiasts, who flock to the area to observe the seals and orcas that call the beach home.
For those looking to experience the magic of Iceland's most popular black sand beach, the Diamond Beach is a must-visit. Make sure to wear a brightly colored coat and be prepared to capture some amazing photos for your Instagram feed.
Join our community of keen travellers, wildlife enthusiasts and adventure seekers.