The anaconda is a generic term commonly used to refer to large, non-venomous snakes belonging to the genus Eunectes. These reptiles are renowned for their size, strength, and unique hunting abilities.
They are primarily found in the tropical rainforests, swamps, and rivers of South America, particularly in the Amazon basin.
What Is The Anaconda?
Anacondas have captivated the human imagination for centuries, featuring prominently in local folklore, legends, and popular culture. They continue to be a subject of fascination, scientific study, and conservation efforts, as their populations face threats from habitat loss, illegal hunting, and the exotic pet trade.
The anaconda's impressive size and remarkable adaptations make it a true marvel of the natural world, evoking both awe and respect for these magnificent creatures.
The most well-known species of anaconda, is the green anaconda (Eunectes murinus). It is the largest snake species in the world.
While the green anaconda is the most famous species, there are actually 3 entirely separate anaconda species. Each has its own distinct characteristics and occupies specific regions within South America.
Species of Anaconda
The term "anaconda" is often used as a catch-all name for several species of large, non-venomous snakes belonging to the genus Eunectes.
Yellow Anaconda (Eunectes notaeus): The yellow anaconda is slightly smaller than its green counterpart, typically reaching lengths of 10 to 15 feet (3 to 4.5 meters). It is found in the wetlands and rivers of South America, including parts of Brazil, Paraguay, and Argentina. As its name suggests, this species has a yellowish coloration with dark blotches or spots along its body. While less studied than the green anaconda, the yellow anaconda shares many similar behaviors and ecological roles.
Dark-Spotted Anaconda (Eunectes deschauenseei): The dark-spotted anaconda, also known as Deschauensee's anaconda, is a relatively recently discovered species. It was formally recognized in 2009 based on genetic and morphological differences from the green anaconda. This species is endemic to northeastern Colombia and is considerably smaller than its green relative, with lengths averaging around 9 feet (2.7 meters). It has distinct dark spots on its body, which differentiate it from other anaconda species.
Bolivian Anaconda (Eunectes beniensis): The Bolivian anaconda, also known as the Beni anaconda, is the most recently discovered species of anaconda. It was officially described in 2002 and is known only from a small region in the Beni Department of Bolivia. This species is relatively small compared to other anacondas, with individuals typically measuring around 6 to 9 feet (1.8 to 2.7 meters) in length. Its coloration consists of dark brown or black with small yellowish spots, providing effective camouflage in its natural habitat.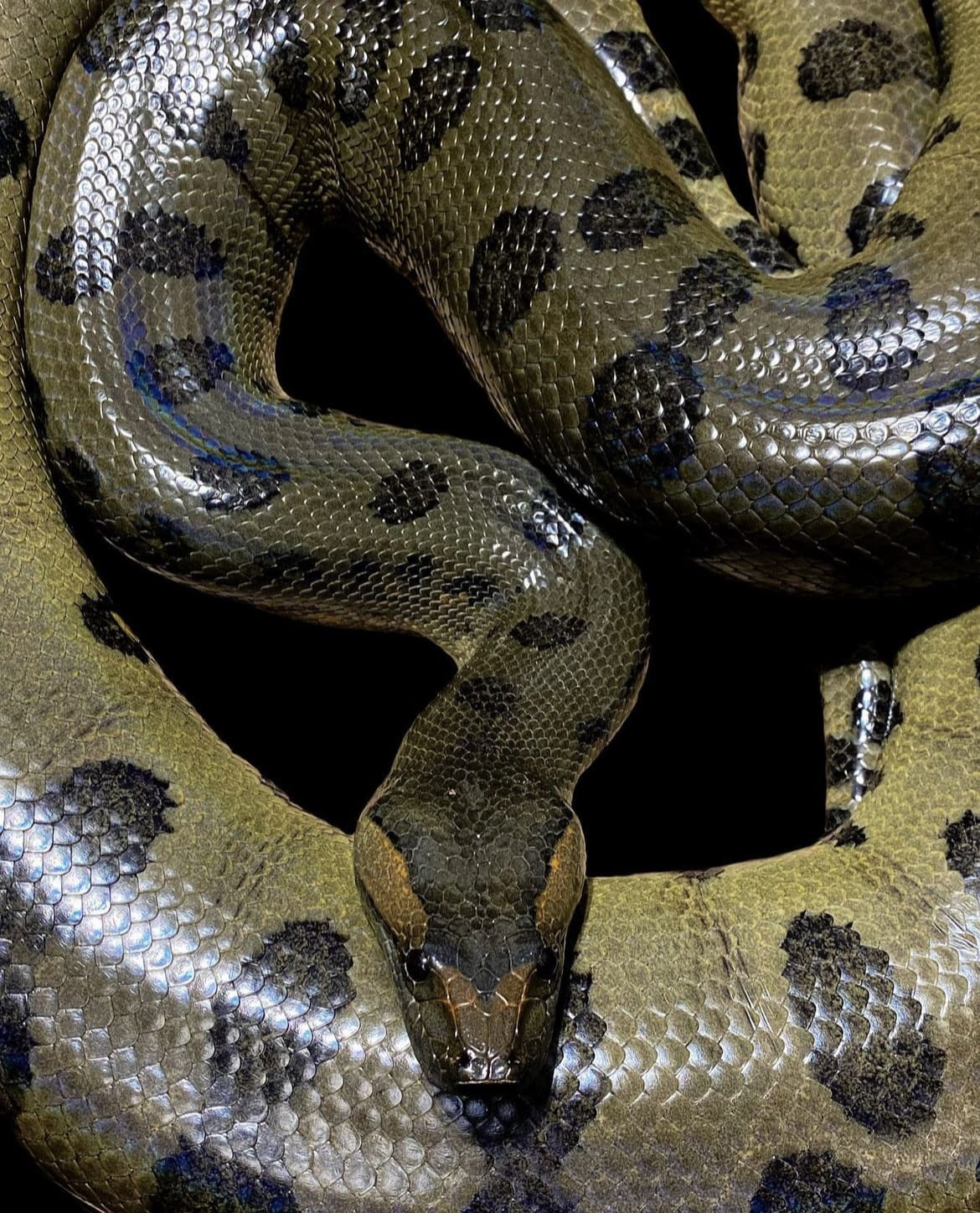 Appearance
What does the green anaconda look like?
The green anaconda is an impressive and iconic species, known for its sheer size and powerful build.
Despite their name, green anacondas do not possess a vivid green hue throughout their bodies. Instead, their skin has a dark greenish-brown or olive coloration, which helps them blend in with the dense vegetation and murky water of their natural habitat. Their undersides are generally yellowish or cream-colored.
Along the length of their bodies, green anacondas have a pattern of dark, rounded blotches or spots that contrast against their base color. These blotches are usually black or brown and can vary in shape and size. The spots tend to be more prominent towards the anterior section of the snake and become smaller and less distinct toward the tail.
The head of a green anaconda is large, flattened, and somewhat triangular in shape. It is distinct from the neck and features two eyes positioned on the top of the head, allowing the snake to remain concealed while keeping an eye on its surroundings. Their eyes have vertical pupils. They also possess nostrils that protrude upward to enable breathing while partially submerged in water.
Green anacondas have muscular bodies that are thick and cylindrical. Their skin is smooth to the touch, covered in scales that provide protection. The scales themselves are not particularly prominent or noticeable, giving the snake a sleek appearance.
How big is the green anaconda?
Green anacondas are the largest snake species in the world. On average, they can grow to lengths of 15 to 20 feet (4.5 to 6 meters).
However, exceptional individuals have been recorded reaching lengths of up to 29 feet (8.8 meters), making them truly massive snakes. In terms of weight, they can exceed 550 pounds (250 kilograms), making them heavy-bodied reptiles.
Females tend to be larger and heavier than males, which is a characteristic known as sexual dimorphism. Female green anacondas can grow significantly longer and bulkier than their male counterparts.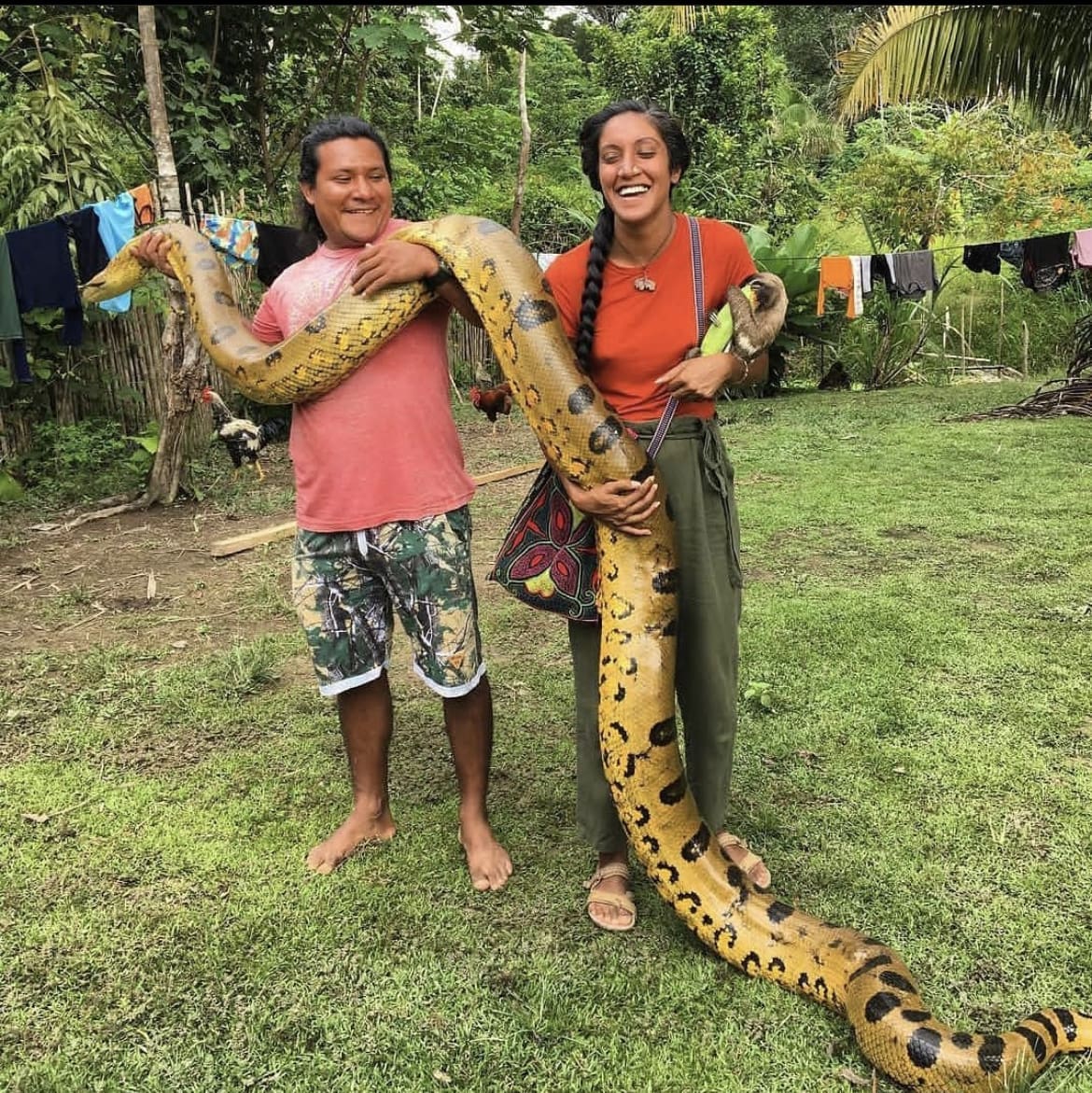 Behaviour
Green anacondas exhibit fascinating behaviors that are adapted to their environment and hunting strategies. These snakes are primarily semi-aquatic, spending a significant amount of time in or near bodies of water. They are powerful swimmers, using their flattened tails and partially webbed hind limbs to navigate through water with ease.
What does the green anaconda eat?
Green anacondas are formidable predators with a diverse diet that reflects their size and adaptability. As opportunistic feeders, they consume a wide range of prey, often opting for animals that are abundant and readily available in their habitats. The primary food sources for green anacondas include:
1. Aquatic and Semi-Aquatic Animals: Fish form a significant portion of the green anaconda's diet. They hunt and consume various species of fish, using their stealth and powerful strikes to capture them. Additionally, they feed on other aquatic creatures like turtles, caimans, and waterfowl, which they ambush near the water's edge.
2. Amphibians and Reptiles: Green anacondas also prey on amphibians and reptiles such as frogs, toads, lizards, and smaller snakes. They are capable of capturing these animals both in and out of the water.
3. Birds: Birds, including water birds and terrestrial species, are targeted by green anacondas, particularly when they are nesting or roosting near water bodies. The snakes can strike with impressive speed and accuracy to capture their avian prey.
4. Mammals: Although less common, green anacondas occasionally feed on mammals. Their prey can include rodents, capybaras (the world's largest rodent), deer, peccaries, and even large ungulates that venture near water sources.
The size and strength of green anacondas allow them to tackle relatively large prey. They are known for their ability to swallow animals that are much larger in girth than their own heads, thanks to their highly elastic jaw ligaments and stretchable skin.
How does the green anaconda hunt?
The green anaconda uses a stealthy and patient hunting strategy, taking advantage of its size, strength, and aquatic habitat to capture its prey. Here's an overview of how green anacondas hunt:
1. Ambush Predation: Green anacondas are primarily ambush predators. They rely on their excellent camouflage and the cover provided by water and vegetation to lie in wait for unsuspecting prey to approach.
2. Selecting a Strategic Location: Green anacondas often position themselves in or near bodies of water, such as swamps, rivers, and marshes, where prey is abundant. They may choose spots near riverbanks, submerged logs, or vegetation, where they can remain partially concealed.
3. Patiently Awaiting Prey: Once in position, the anaconda remains motionless for extended periods, sometimes for hours or even days, waiting for an opportunity to strike. Its ability to blend in with its surroundings makes it virtually invisible to potential prey.
4. Powerful Strikes: When a suitable prey item, such as a fish, bird, or mammal, comes within striking distance, the anaconda rapidly lunges forward. It uses its long, muscular body to coil around the prey and delivers a swift bite, seizing it with its jaws.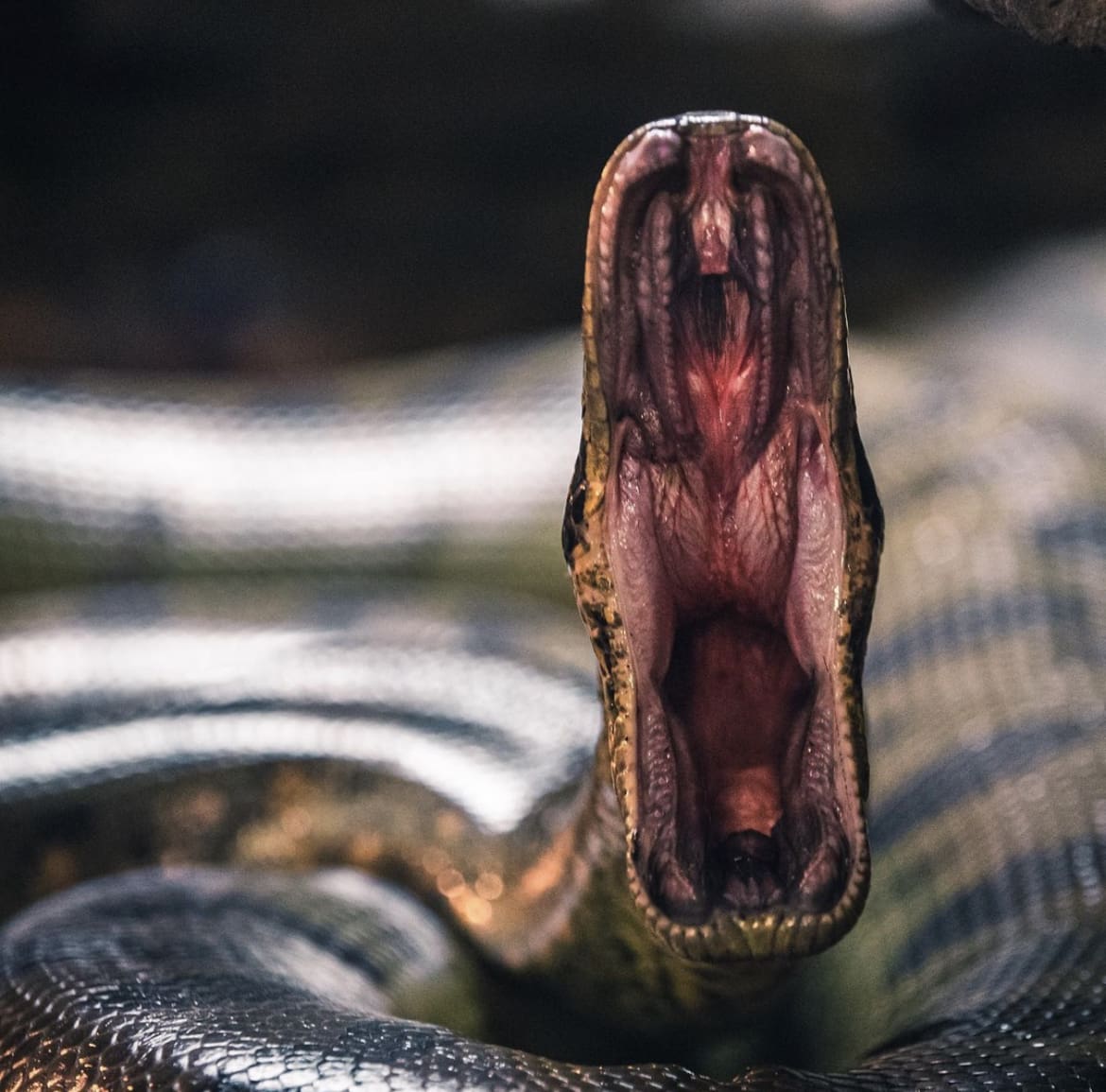 5. Constriction: Once the anaconda has successfully grasped its prey, it employs its immense strength to constrict the victim. It coils its body tightly around the captured animal, progressively squeezing it to restrict its breathing and blood flow. This process causes asphyxiation and immobilizes the prey.
6. Swallowing Whole: After the prey has been subdued, the green anaconda will begin the process of swallowing it whole. Its jaws can dislocate, allowing the snake to open its mouth wide enough to accommodate prey much larger in size than its own head. The prey is gradually ingested, with the anaconda's highly flexible body and stretchable skin accommodating the meal.
7. Digestion: Following a successful hunt, the anaconda's powerful digestive system takes over. It produces potent enzymes and stomach acids that break down the prey's tissues, allowing for efficient absorption of nutrients. The digestion process can take several days or even weeks, during which time the anaconda may remain relatively sedentary.
Green anacondas are skilled swimmers and are capable of pursuing prey both in water and on land. Their semi-aquatic nature gives them access to a diverse array of potential prey, making them highly adaptable hunters in their unique habitats.
Is the green anaconda fast?
While the green anaconda is not known for its speed in the traditional sense, it possesses impressive bursts of agility and strength when striking at prey. The anaconda's ability to strike quickly and accurately is a crucial element of its hunting strategy.
In terms of locomotion, anacondas are not exceptionally fast movers. They typically move in a slow and deliberate manner, utilizing their muscular bodies and strong belly scales to propel themselves forward. This slower movement allows them to conserve energy and remain concealed within their environment.
However, when it comes to striking at prey, green anacondas exhibit remarkable speed and precision. When an opportunity presents itself, such as a fish swimming by or a bird landing nearby, the anaconda can swiftly lunge forward with lightning-fast strikes. In these instances, the snake's powerful muscles propel it with remarkable force and accuracy, enabling it to capture its prey with efficiency.
Is the green anaconda poisonous/venomous?
No, the anaconda is not venomous. Anacondas are large constrictor snakes, meaning they kill their prey by constriction rather than using venom.
Constrictor snakes like anacondas capture their prey by coiling their muscular bodies around them and squeezing tightly. This constriction restricts the prey's breathing and blood flow, leading to suffocation and ultimately immobilizing the animal. Once the prey is subdued, the anaconda swallows it whole.
It's worth noting that while anacondas are not venomous, they still possess a set of sharp, backward-curving teeth. These teeth are used to grasp and hold onto their prey during the constricting process. While anaconda bites can be painful and cause injury, their bites do not inject venom as venomous snakes do.
It's important to distinguish between venomous snakes, which possess specialized venom-delivering fangs and venom glands, and constrictor snakes like the anaconda, which rely on their physical strength to overpower and kill their prey through constriction.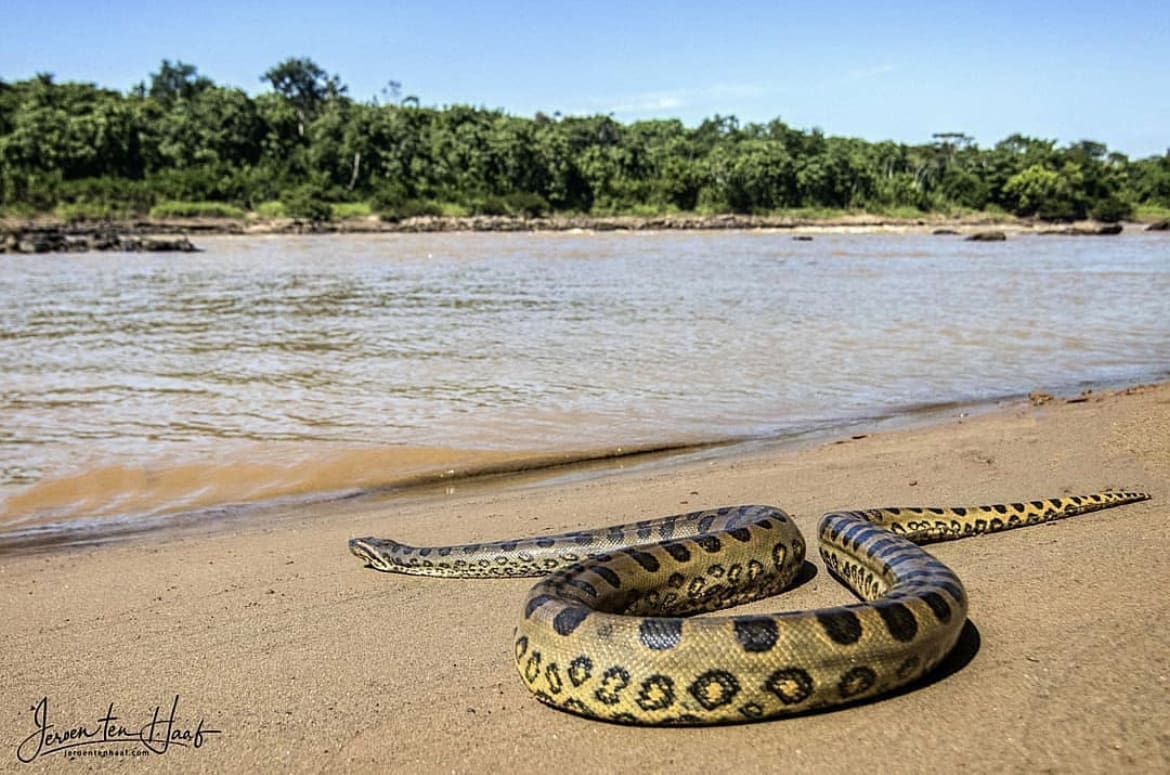 How do anaconda's reproduce?
Anacondas, including the green anaconda reproduce through sexual reproduction, involving the mating of male and female individuals.
1. Mating Season: Anacondas have a breeding season that typically occurs during the wet season when there is an abundance of food and favorable environmental conditions. The exact timing of the mating season can vary depending on the region and specific population.
2. Male Competition: During the mating season, multiple male anacondas may compete for the opportunity to mate with a female. These competitions can involve various behaviors such as combat, in which males intertwine their bodies and attempt to overpower one another. The dominant male generally gains mating access to the female.
3. Courtship Rituals: Once a male anaconda successfully courts a female, courtship rituals occur. These rituals involve elaborate displays and movements, including rubbing against the female's body, intertwining, and swimming together. These behaviors help establish a connection between the male and female anaconda.
4. Copulation: Once courtship is successful, copulation takes place. The male anaconda has paired reproductive organs called hemipenes, which are inserted into the female's cloaca, facilitating the transfer of sperm. Anaconda copulation can last for several hours.
5. Gestation and Birth: After successful fertilization, the female anaconda undergoes a gestation period that lasts around six to seven months. During this time, the embryos develop within the female's body. Anacondas are ovoviviparous, which means the eggs develop and hatch internally, and the female gives birth to live young. A female anaconda can give birth to a large number of offspring, with litter sizes typically ranging from 20 to 40, but sometimes even more.
6. Maternal Care: Female anacondas exhibit a form of maternal care. After giving birth, the mother remains with her newborns for a period of time, providing some protection and guidance. However, this period of maternal care is relatively short-lived, and the young anacondas soon become independent and fend for themselves.
Habitat & Range
Where do anaconda's live?
Anacondas are primarily found in tropical regions of South America, inhabiting various aquatic habitats such as swamps, marshes, slow-moving rivers, and flooded forests. They are specifically native to the Amazon rainforest and the surrounding areas, including countries like Brazil, Venezuela, Colombia, Ecuador, Peru, and Bolivia.
Within their range, anacondas prefer areas with abundant water sources and dense vegetation, as these provide both camouflage and opportunities for hunting. They are well-adapted to semi-aquatic environments and spend a significant portion of their lives in or near water.
Specifically, green anacondas are commonly found in the lowland areas of the Amazon basin and its surrounding regions. However, other species of anacondas, such as the yellow anaconda and the dark-spotted anaconda, have more restricted ranges within South America.
Anacondas are tropical reptiles and are not found in regions outside of their natural range unless they are kept in captivity.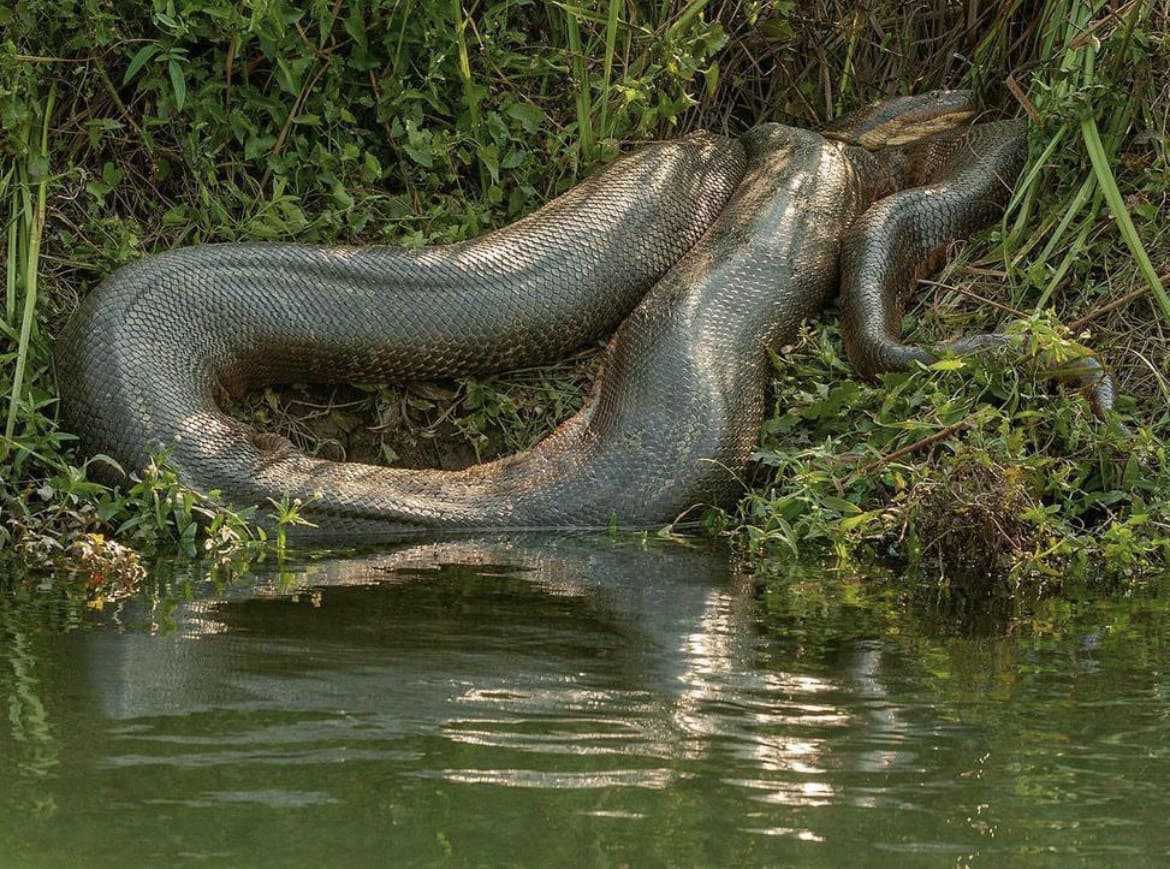 Conservation
How many green anaconda's are there in the wild?
Estimating the exact population size of green anacondas in the wild is challenging due to the secretive nature of these snakes and the vastness of their habitat. Additionally, conducting comprehensive surveys across their entire range is logistically difficult.
Efforts to assess anaconda populations often focus on specific regions or protected areas. For example, some studies have been conducted in the Amazon rainforest and other parts of South America to estimate population densities and monitor the status of green anacondas in those specific areas.
Is the green anaconda endangered?
The green anaconda is not classified as endangered according to the International Union for Conservation of Nature (IUCN). The IUCN currently lists the green anaconda as a species of "Least Concern" on their Red List of Threatened Species.
Conservation efforts, including the protection of their natural habitat, regulation of hunting practices, and raising awareness about the importance of these species, are crucial to ensure the long-term survival of green anacondas and maintain healthy population levels throughout their range.
Threats to the green anaconda
However, it is important to note that local populations of green anacondas may face threats and localized declines due to habitat loss, poaching, and human activities such as deforestation and habitat fragmentation.
These factors can negatively impact anaconda populations in specific regions.
Safari
The green anaconda is primarily found in the tropical regions of South America, particularly in the Amazon rainforest and its surrounding areas. While spotting green anacondas in the wild can be challenging due to their elusive nature, there are a few places where the chances of encountering them may be higher:
1. The Amazon Basin: The vast Amazon rainforest, spanning countries such as Brazil, Peru, Ecuador, Colombia, and Venezuela, is one of the best places to search for green anacondas. Within this region, remote areas with dense vegetation and water bodies offer suitable habitats for these snakes.
2. Pantanal Wetlands: The Pantanal, located primarily in Brazil but also extending into parts of Bolivia and Paraguay, is the world's largest tropical wetland. Its diverse ecosystems, including marshes, rivers, and flooded areas, provide favorable conditions for green anacondas.
3. The Orinoco River Basin: The Orinoco River Basin, encompassing parts of Venezuela and Colombia, is another potential area to encounter green anacondas. This region consists of extensive river systems and associated wetlands where anacondas can thrive.
4. Yasuni National Park, Ecuador: Located in the Ecuadorian Amazon, Yasuni National Park is renowned for its exceptional biodiversity. It is home to various species, including the green anaconda. Guided tours and wildlife expeditions within the park can offer opportunities to observe these snakes.
When visiting these areas, it is recommended to seek guidance from local naturalists, tour operators, or experienced guides who are knowledgeable about the region and the habits of green anacondas. They can increase your chances of spotting these magnificent snakes while ensuring your safety and respecting the conservation of their habitats.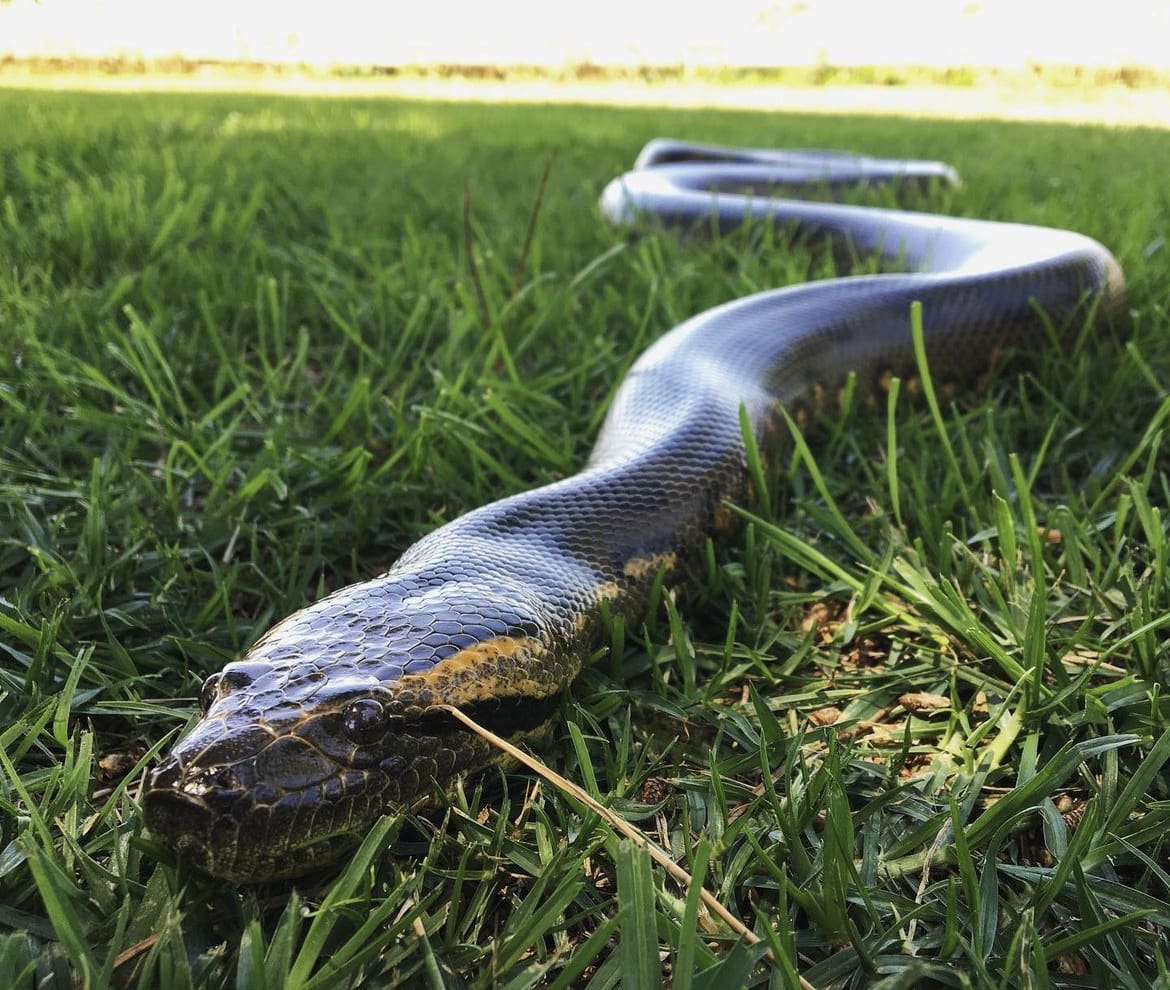 Tips for spotting a green anaconda in the wild
Spotting an anaconda in the wild can be a thrilling and rewarding experience. While these snakes are known for their elusive nature, here are some tips that may increase your chances of spotting them:
1. Seek Expert Guidance: Engage the services of experienced local guides or naturalists who are familiar with the habitat and behavior of green anacondas. Their knowledge and expertise can significantly enhance your chances of locating these snakes.
2. Choose the Right Time: Green anacondas are more active during the wet season when water levels rise and prey availability increases. Plan your visit during this time, as it may heighten your chances of encountering anacondas.
3. Explore Suitable Habitats: Anacondas are semi-aquatic snakes and tend to inhabit areas with abundant water sources, such as swamps, marshes, and slow-moving rivers. Focus your search on these types of habitats and areas with dense vegetation, where anacondas can find cover.
4. Be Patient and Observant: Anacondas are masters of camouflage and can blend seamlessly with their surroundings. Take your time, be patient, and carefully scan the environment for any signs of movement or shapes that resemble the snake's body.
5. Observe from a Distance: Once you spot a green anaconda, maintain a respectful distance to avoid disturbing or stressing the snake. Use binoculars or a camera with a telephoto lens to observe the anaconda without encroaching upon its space.
6. Quiet and Stealth: Move slowly and quietly, minimizing noise and sudden movements. Anacondas are sensitive to vibrations and disturbances, so adopting a non-disruptive approach increases the chances of observing their natural behavior.
7. Focus on Water Sources: Anacondas rely on water bodies for hunting and thermoregulation. Pay close attention to riverbanks, edges of ponds, and areas with floating vegetation, as these are favored spots for anacondas to bask and ambush prey.
8. Look for Prey Activity: Keep an eye out for signs of potential prey, such as fish splashing, birds gathering, or disturbances in the water. Where there is active prey, anacondas may not be far away.
Remember, encountering a green anaconda in the wild is a rare and privileged experience. Always prioritize the well-being of the snakes and their natural habitats by following ethical wildlife watching practices and respecting their space.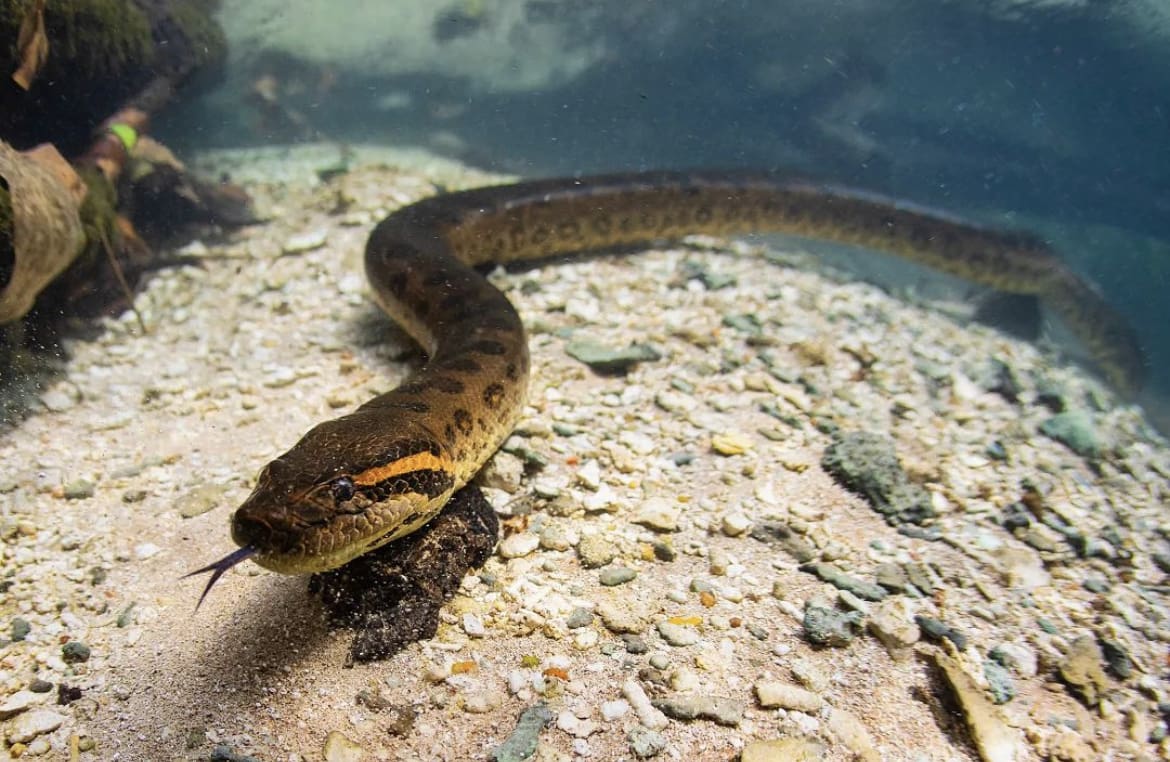 Facts about the green anaconda
1. Size and Weight: Green anacondas are one of the largest snake species in the world. They can reach lengths of up to 5.21 meters (17 feet) and weigh over 227 kilograms (500 pounds). Females are generally larger and heavier than males.
2. Semi-Aquatic Lifestyle: Green anacondas are well-adapted to their semi-aquatic habitat. They spend a significant portion of their lives in or near water, inhabiting swamps, marshes, slow-moving rivers, and flooded forests.
3. Constrictors: Green anacondas are powerful constrictors. They capture and subdue their prey by coiling their muscular bodies around them and squeezing tightly. This constricting action restricts the prey's breathing and blood flow, leading to suffocation.
4. Carnivorous Diet: Green anacondas are carnivorous predators. Their diet mainly consists of a wide variety of prey, including fish, birds, mammals (such as capybaras and deer), and even caimans. They have been known to consume large meals that can stretch their bodies to impressive proportions.
5. Solitary Behavior: Green anacondas are generally solitary animals, except during the breeding season when multiple males may compete for the opportunity to mate with a female. After mating, females provide minimal maternal care to their young.
6. Camouflage and Ambush Predators: Green anacondas have excellent camouflage abilities. Their dark green coloration, with black spots and patterns, helps them blend into their surroundings, making them highly effective ambush predators. They lie in wait for prey to come within striking distance.
7. Excellent Swimmers: Green anacondas are adept swimmers and can navigate through water with ease. They use their muscular bodies and flattened tails to propel themselves, often partially submerged, while hunting or traveling.
8. Long Lifespan: Green anacondas have a relatively long lifespan compared to many other snake species. In the wild, they can live up to 10-12 years, and in captivity, they have been known to live beyond 20 years.
9. Ecosystem Engineers: As top predators, green anacondas play an essential role in the ecosystem. They help control populations of prey species and influence the structure and dynamics of their habitat.
10. Cultural Significance: Green anacondas hold cultural significance in the regions where they are found. They are the subject of myths, legends, and cultural beliefs, often representing power, mystery, and respect for nature.
Myths about the green anaconda
1. Man-Eaters: One prevalent myth is that green anacondas actively hunt and consume humans. While anacondas are large and powerful predators, they do not specifically target humans as prey. They primarily feed on a variety of aquatic and terrestrial animals, and attacks on humans are extremely rare.
2. Huge Size Exaggeration: There are often exaggerated claims about the size of green anacondas, with some myths suggesting they can reach lengths of over 10 meters (30 feet) or more. While green anacondas are indeed large snakes, reaching lengths of up to 5.21 meters (17 feet), the extremely exaggerated sizes are not supported by scientific evidence.
3. Strangling with the Tongue: Another myth is that green anacondas can strangle or constrict their prey by using their tongue. In reality, the anaconda's tongue is used for scent detection and not for constriction. They use their powerful bodies and coiling technique to subdue their prey.
4. Unbreakable Strength: It is often believed that once an anaconda wraps around its prey, it becomes impossible for the prey to escape due to the snake's unbreakable grip. While anacondas are incredibly strong, their constriction relies on restricting the prey's breathing and blood flow rather than an unbreakable grip.
5. Venomous Bites: Some myths mistakenly portray anacondas as venomous snakes. In reality, green anacondas, like other species within the Eunectes genus, are non-venomous constrictors. They rely on their muscular bodies to overpower and suffocate their prey rather than injecting venom.
6. Aggression: Green anacondas are often portrayed as highly aggressive and dangerous creatures. While they can be defensive if threatened or cornered, they typically prefer to avoid confrontation and will retreat when given the opportunity.
Join our community of keen travellers, wildlife enthusiasts and adventure seekers.