With its vast diversity of terrain and many kilometers of coastline, Europe is home to many, many beaches. Whether you're more into the crowded party beach scene or a quiet and secluded escape, Europe has more than enough to offer….if you're tempted to go to the Caribbean for your next beach vacation, hear us out and see what the best beaches in Europe are.
With nearly 70,000 kilometers of coastline, Europe has more beaches than we can possibly cover in this article – by no means is this an exhaustive list of European beaches, but it definitely will give you plenty of ideas.
So, from the peaceful Cote d'Azur to the beautiful rocky beaches of Iceland and the secluded coastline of Greece, there's something for everyone—the adventurer, the sun-worshipper, the nightlife-lover, and anyone else — on our list of the best beaches in Europe.
The Best Beaches In Europe With Nearby Nightlife
Zlatni Rat, Croatia
A well-known postcard beach, and for good reason — for several years now, it's been known as one of the best beaches in Europe. Located on Brac Island, Croatia, this beach is best described by just looking at a photo; seen aerially, it has a stunning profile of a jutting point into the sea.
There are a bunch of marine activities to do there, so if you're an adventure bug, take advantage of the landscape and go snorkeling, paddleboard, windsurfing, and more. It's really popular and has become a bit of an image of Croatian coastline, but it's well deserved and worth the visit.
Navagio Beach, Greece
Navagio Beach on the Greek island of Zakynthos is an exposed cove that is absolutely stunning. Also known as Shipwreck beach, the site boasts enormous cliffs surrounding the turquoise water.
It does get pretty busy in the high season, for obvious reasons, so you can either be with the crowd in summer or try and plan your trip throughout the rest of the year.
In addition to housing some of the best beaches in Europe, there's also a beautiful lookout to view the whole area from; you might have to wait in a line because it's a popular tourist spot, but the high-up platform is worth the wait.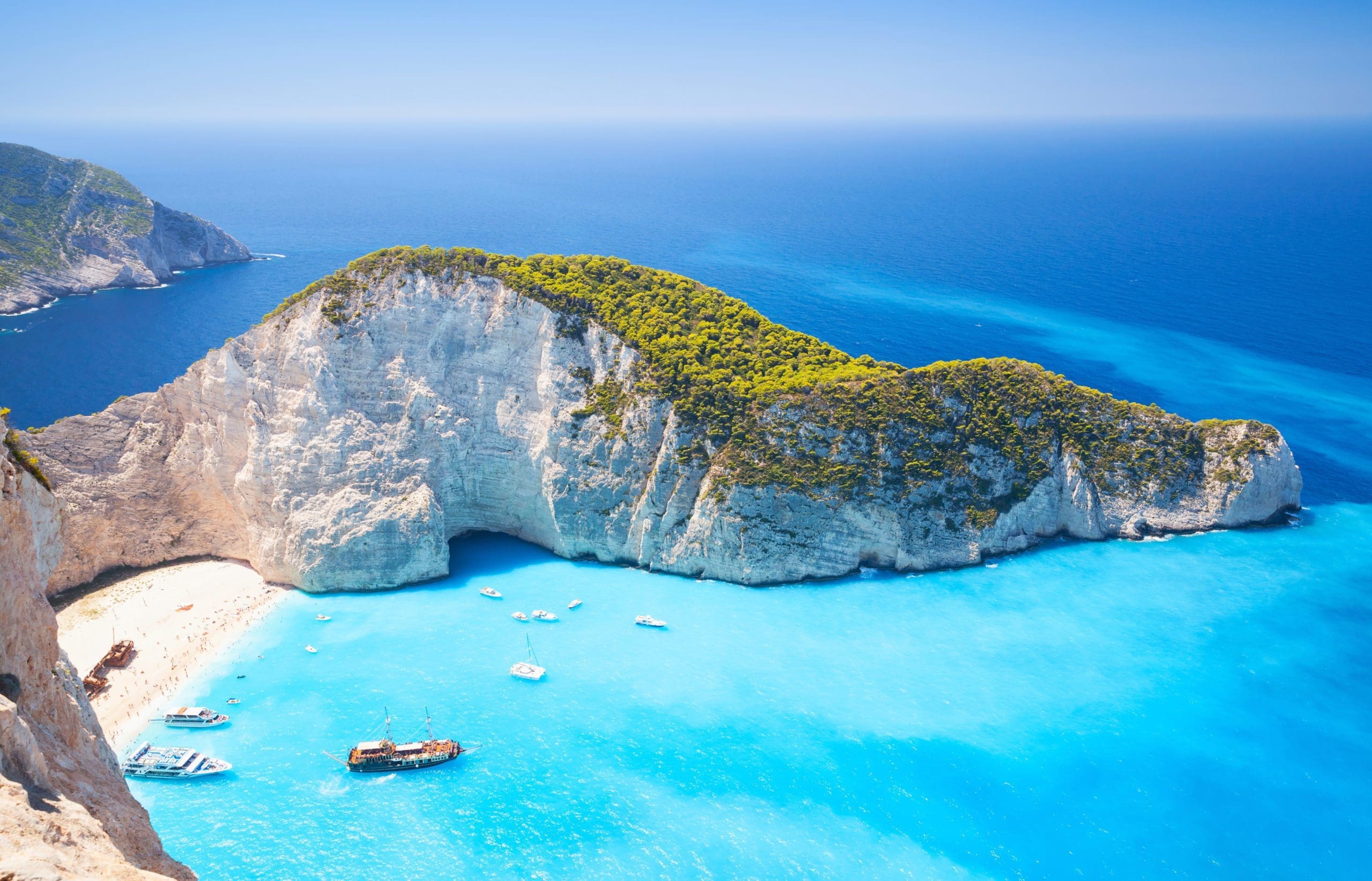 Nissi Bay Beach, Ayia Napa, Cyprus
A great mix between serenity and party, if that's possible. The beach itself is home to soft, pale sand, but the surrounding area is home to vibrant nightlife.
You're definitely going to run into fellow travelers there because it's such a social hub. So, if you're interested in spending a day under the sun and foam parties, DJ's, and bars to party your night away, this might be your place.
Nerja beach, Andalusia, Spain
A region with a smattering of beaches, some of which are straight and unsheltered, whereas others are bordered by dramatic cliffs. If you want to see a view of it all, you can climb up the mountain called 'El Cielo' which is the tallest mountain in the area.
The town of Nerja is a mix of old and new architecture situated on a rocky coastline—so, if you're not a complete beach bum, you can venture into town to do your own thing.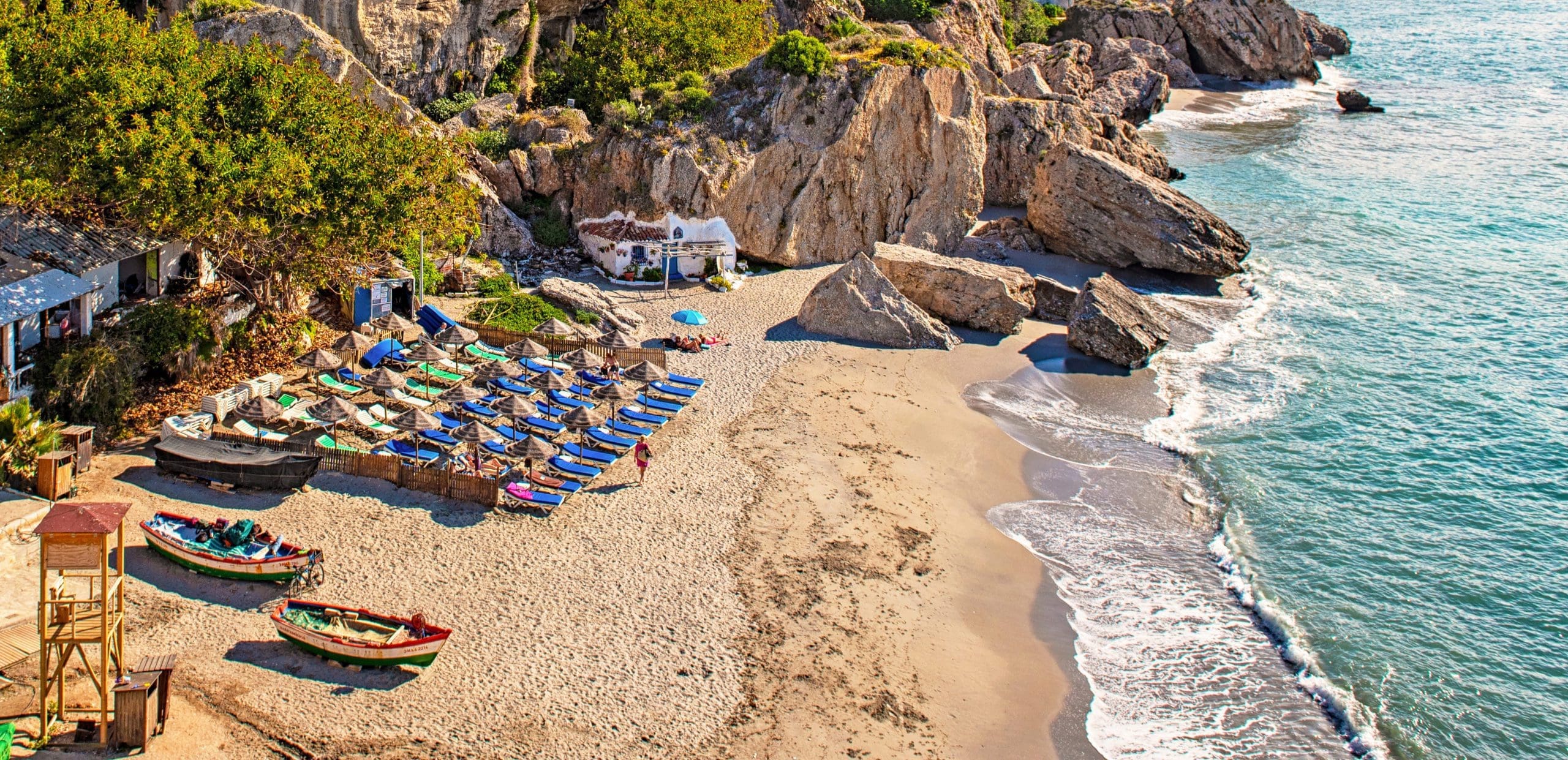 Numana Alta Beach, Ancona, Italy
As far as European beaches go, Numana Alta has it all. Italy's got a lot of beaches obviously so it's hard to mention just a few….but here, great restaurants to pick between, constant sun, a world-class beach, and yummy ice cream are waiting for you.
There are various beaches in the area to pick from, but Numana Alta is a bit quieter if you're looking for a more peaceful adventure still within reach of civilization.
Mamaia Beach, Constanta, Romania
This beach is for those of you who like to have plenty to do on your beach vacation beyond just laying in the sun.
Regarded by many social butterflies as one of the best beaches in Europe, it tends to get crowded because of its popularity—sometimes it is likened to Miami Beach in the USA, which has a definite vibe, so if this sounds like you, consider checking out this Romanian destination while seeking our European beaches.
Marina Grande, Positano, Amalfi Coast, Italy
One of Italy's more stereotypical postcard destinations, but it makes a lot of sense. Marina Grande is a beach that celebrities apparently frequent and can get extremely crowded in the high season, especially in August.
Once again, it's a bit of a Miami Beach or Las Vegas situation as far as European beaches go; if you want a beach destination with a vibrant party scene, Marina Grande is a place that should be on your list. Have fun!
La Concha, San Sebastián, Spain
A beach you should just look up a photo of right now because words can't really do it justice. There's a ton of drop-dead gorgeous Spanish beaches, and La Concha isn't necessarily the most pristine beach of the bunch—however, San Sabastian makes a beautiful one-of-a-kind city backdrop on top of a lovely beach.
It's also an excellent option for families; the beach is shallow, the waves aren't too rough, and it's not too party-crazy. San Sebastian offers fantastic gastronomy, too—if you're into fine-dining, the city has many Michelin-starred restaurants to choose from.
The Best Beaches In Europe for a More Peaceful Getaway
Calanque d'en Vau, Cassis, France
A secluded spot on the southern coast of France, and is the perfect option for adventure lovers—to reach the beach, you need to take a roughly two-hour hike or a boat ride to get there. However, it's well worth it because the shore is privately tucked between massive cliffs and provides an absolutely tranquil getaway, easily earning it the title of one of the most peaceful European beaches.
Rabbit Beach, Lampedusa, Italy
An insanely beautiful beach. It's relatively remote as it is roughly 100 miles off the Italian coast, but if you're looking for a breathtaking and serene setting to hang out in, this is your place. This stunning beach is relatively remote but well worth the effort to get there.
The water is calm and great for wading and snorkeling, and you might see sea turtles—in fact, this beach is one of the few nesting sites of the Loggerhead turtle, an endangered species.
Oludeniz Beach, Turkey
Aptly also known as the "blue lagoon." The water at Oludeniz beach is a stunning turquoise and really calm for all levels of swimmers to venture out in. It's not as overdeveloped as some of the nearby resort towns, but it still has the obviously necessary amenities like eateries and restrooms.
Access to the beach itself is technically free, however a lot of it is located within a National Park—part of why it makes it so stunning—and if you go within that area, you'll need to pay.
It's really popular with scuba divers, snorkelers, and paragliders due to the excellent visibility and the nearby gorgeous peak of Mount Babadag.
Porthminster Beach in St Ives, Cornwall, England
Located close to the center of St Ives, the beach offers a clear view of the Godrevy Lighthouse (which, if you're familiar, served as inspiration for Virginia Woolf's somewhat somber novel To the Lighthouse.
We know England isn't the first country that comes to mind when you think of "European beaches"— however, this one is located on the extreme southwest of England and is home to some quality sandy beaches. While you're in the area, go to one of the many small restaurants, art galleries, and boutiques in the artsy town of St Ives.
San Fruttuoso, Liguria, Italy
An idyllic getaway—we know, there's a ton of beaches in Italy to fall in love with—but this one is particularly beautiful. You can actually only reach it by hiking or by ferry, but you'll still be able to enjoy a beautiful medieval backdrop alongside the turquoise water once you get there! It's quite a small cove, but if you find yourself seeking one of the best quiet European beaches, put this on your list.
Elafonisi, Crete, Greece
A piece of paradise located on the extreme southwestern corner of the island of Crete—the island is a protected nature reserve which is partially responsible for its untouched feel. T
he water is beautifully clear and safe, making it an excellent option for families, and there is a bunch of free parking which is always awesome. You can get food at some beach huts and rent lounge chairs for a small fee. The sand has a beautiful pink hue underneath the clear water, and the shallow shore is ideal for kids.
Praia de Benagil, Algarve, Portugal
Just one beautiful beach among many off Portugal's coast; the thing that gets this one the title as one of the best beaches in Europe is the unique Benagil cave just a short way away. You can get to the beautiful cave by boat or kayak from the beach.
The beach is really popular mostly for the caves, so you can expect some crowds onshore. However, just paddle, kayak, or boat to the caves to see some crazy land formations while floating at sea.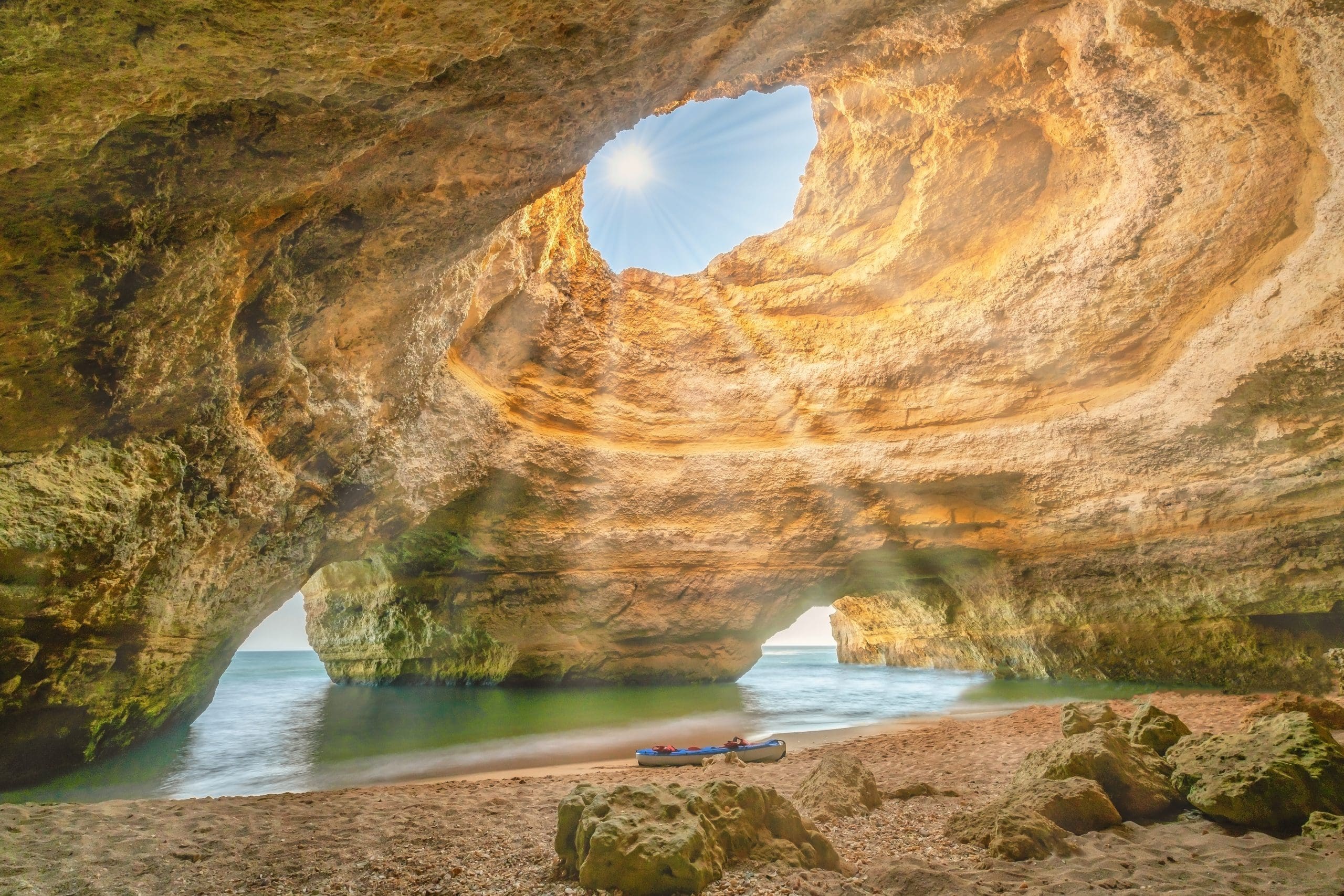 Argèles-sur-Mer, Languedoc, France
Situated alongside the Pyrenees on the very southern coast of France, making for a beautiful mountainous silhouette as you lay on the beach.
The town of Argèles-sur-Mer is an interesting blend of Catalan and French architecture, including a huge castle from the 17th century. The beach itself is long at roughly four miles, so there's a bunch of space even in high season. Argèles-sur-Mer is pretty laid back as far as atmosphere goes, so while you can get food at cafes in town you can still look forward to just unwinding on the shore.
People who've been frequenting this beach for years remark how the feel of the region has not changed since they've been visiting (one reviewer online said that it feels and looks the same from 14 years ago, which we think is saying a lot).
Santa Giulia, Corsica
One among many serene beaches in Corsica. In fact, Corsica could have an article all to itself since it is such a hotspot for some of the best beaches in Europe. That having been said, Santa Giulia is pretty popular with families because of the calm, clear, and shallow waters on the southern coast of the Mediterranean island.
It definitely gets pretty busy in the summer, but if you go later on in September you'll get the best of both worlds: a bit of personal space and beautiful warm waters. There are also tons of trees offering natural shade.
The Best Beaches In Europe For Something Different
Sun-drenched beaches are obviously amazing, but rocky and even arctic beaches offer something totally different. With the dramatic landscape of northern Europe, there are several beaches that are worth the visit for the more adventure-minded traveler.
Haukland Beach, Norway
Situated on the coast of the Norwegian Sea, Norway's northwest coast is the Arctic dream and is the setting of Haukland Beach—the midnight sun is truly something you need to just see in person, as are the Northern Lights—both of which you can see at Haukland Beach.
It isn't necessarily the destination for the sun-worshipper, but it offers stunning hikes and marine adventures like kayaking and paddleboarding. If you're feeling super adventurous and find yourself on the island in winter, taking a hike in the snow will be unforgettable (and challenging) but definitely beautiful.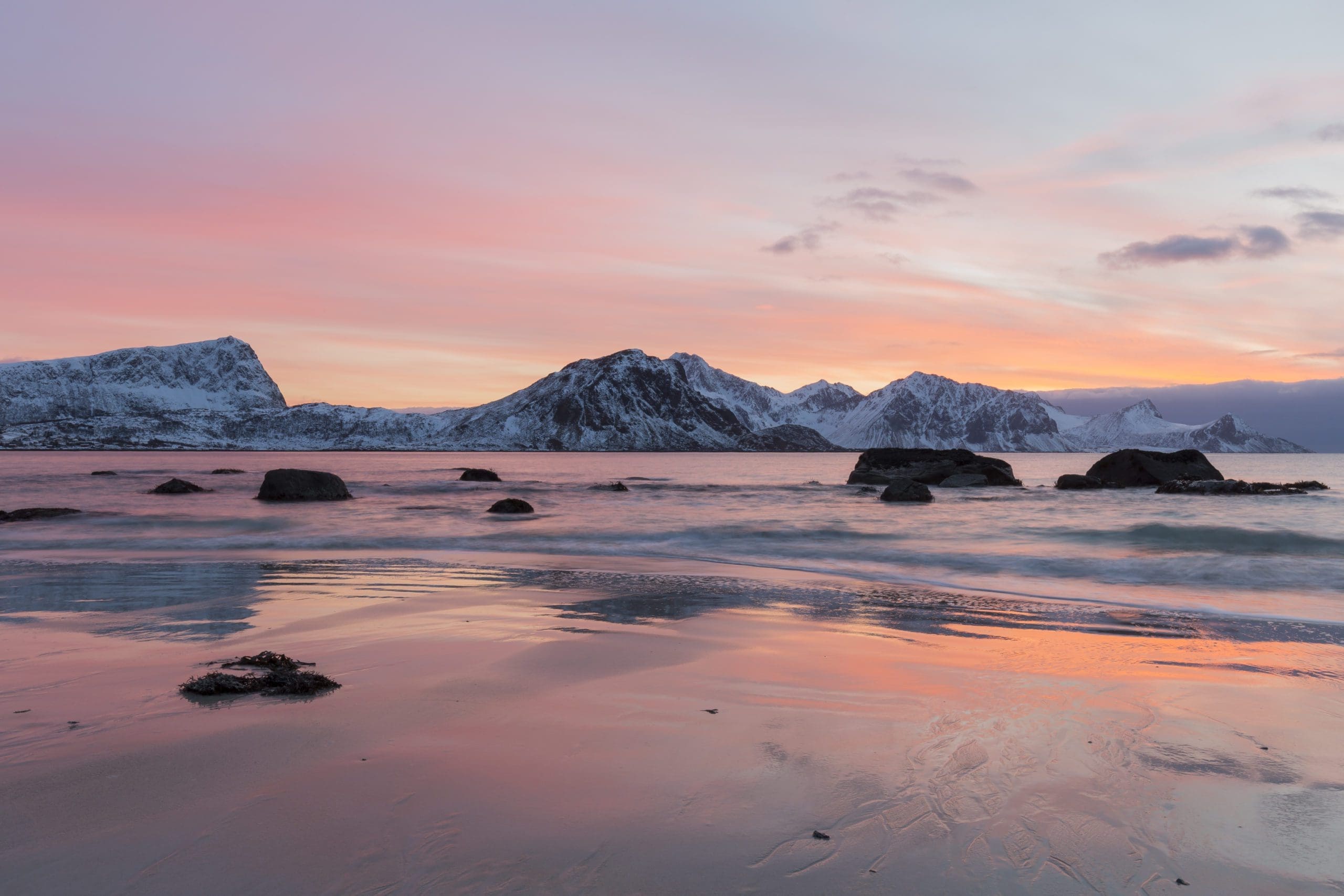 Rauðasandur Beach, Iceland
Rauðasandur Beach is in the very remote Westfjords of the island country. Also known as Red Sands Beach, Rauðasandur Beach is vast, empty, and beautiful and definitely not typically the best place to get your tan on. However, the rugged scenery gets it on the list of the best beaches of Europe.
The reddish sand gets its color from crushed scallop shells, although the long beach also has brown, orange, and yellow pigments throughout as well. Even getting to the beach, as many destinations in Iceland, is an adventure—you'll follow a winding gravel road down to the beach, so be careful!
Vik, Iceland
Vik is home to the "black sand beach." From the shore, you can see dramatic basalt rock formations emerging out of the often temperamental sea.
Like the first two beaches in this section, it might not be the destination for rest and relaxation but rather is oriented towards amazing nature, adventure, and wildlife.
There's a lot here, obviously, so hopefully you've got a bit to think about for your next European beach vacation.
The best beaches in Europe all have something different to offer depending on your vibe and mood—whether you go north or south, there's bound to be something idyllic for your travels.
Join our community of keen travellers, wildlife enthusiasts and adventure seekers.