Cape Town is a world-famous tourist destination for good reasons. Situated on the southern tip of Africa, it offers stunningly beautiful views and abundant activities to enjoy. From its famous beaches to its vibrant city life, there's something for everyone in Cape Town.
When people hear Cape Town, Safari is often one of the first things that come to mind due to its several excellent wildlife parks and reserves, making it the perfect place to go down and out. Let's check out some of Cape Town's best wildlife sanctuaries, how to get there, what to do, and where to stay.
Here Are The Best Places To Go On Safari Near Cape Town
Buffelsfontein Game Reserve
Buffelsfontein Game Reserve is family-owned that offers excellent value for money. It has first-class accommodations, and the game drives are conducted in open safari vehicles, which offer superb views. The best thing about Buffelsfontein Game Reserve is the guarantee to see Four of the Famous Big Five – Lion, Buffalo, White Rhino and Leopard – as well as Giraffe, and Zebra on your game drive.
And because it's a privately owned game reserve, the rangers take pride in providing a personalized experience.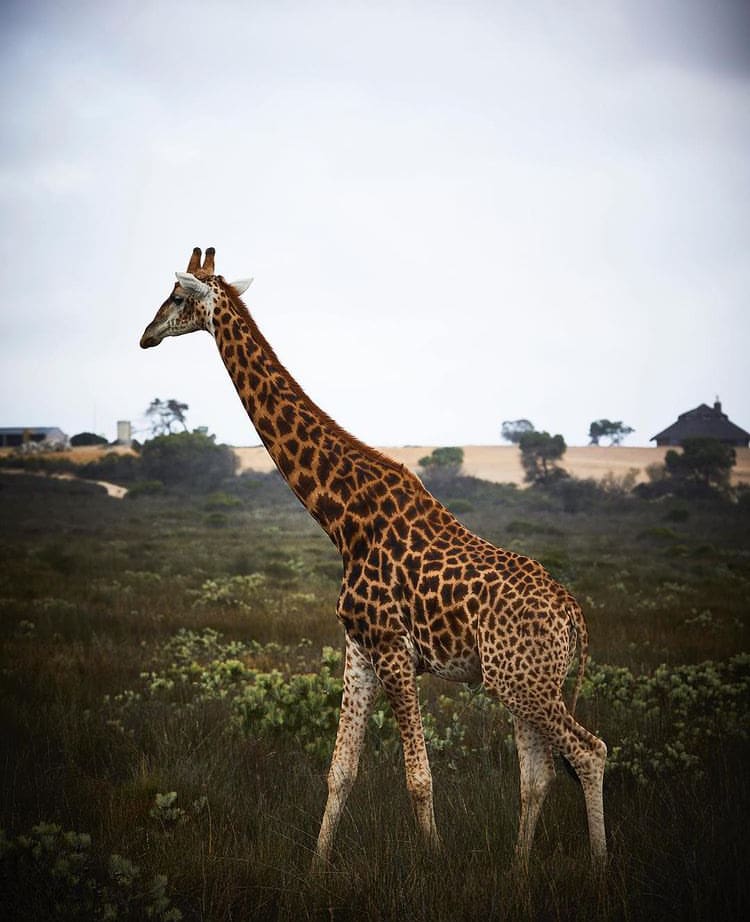 Getting there: Buffelsfontein is a two and a half hours drive from Cape Town International Airport, making it the perfect place for a weekend getaway or even a day trip. You can either rent a car or book a spot-on tour. You can also take a direct flight from Johannesburg or Pretoria, which takes just over an hour.
What to do: Game drives are conducted twice daily and run for at least three hours each. You can also book a walking safari, a great way to get up close and personal with the wildlife. In addition to daily game drives, you can also take part in a bush walk, go birdwatching, horse riding or unwind at the lodge and take in the stunning views.
Where to stay: Buffelsfontein has different accommodation options to suit all budgets. You can choose from luxury suites, chalets, and even camping sites. There's also a swimming pool, a bar, and a restaurant on-site.
Aquila Private Game Reserve
Aquila Private Game Reserve is a small, family-run reserve just two hours from Cape Town. It is one of the best places for a safari near Cape Town as it offers a first-class experience, with luxury accommodation and top-notch game drives.
It has one of the highest densities of wildlife in South Africa so you're almost sure to see the Big Five.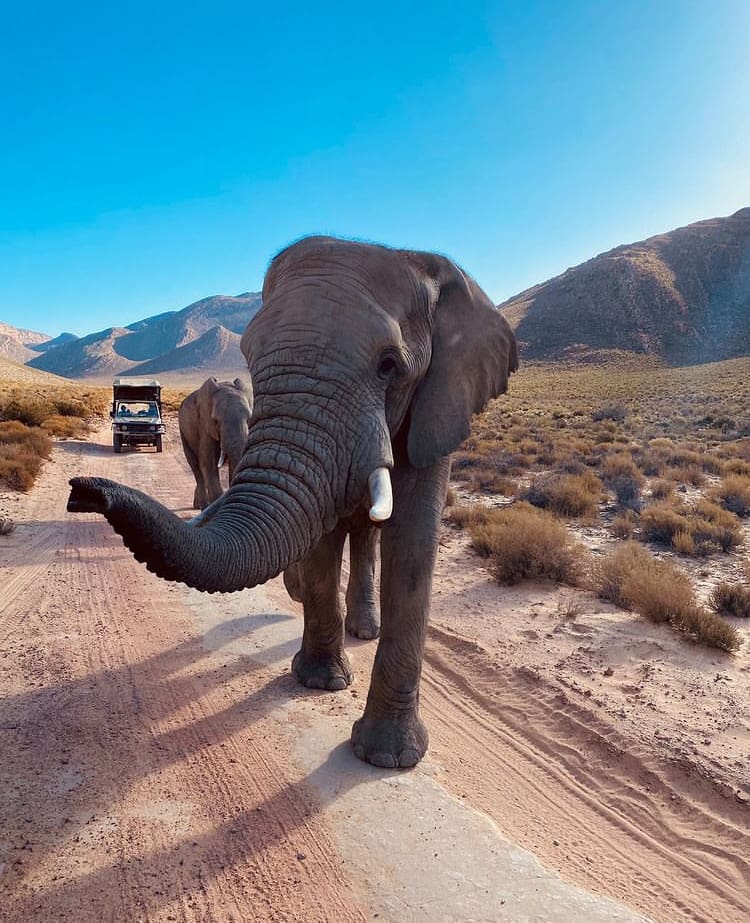 Getting there: Aquila is two hours away from Cape Town International Airport, making it the perfect place for a weekend getaway or even a day trip. You can either rent a car or book a spot-on tour.
What to do: Aquila Private Game Reserve provides an exciting safari tour through traditional 4×4 vehicles, quadbike outride, horseback outride, and a combination of traditional and extra outrides. It also promises a pampering African spa with its heated or cold indoor pool, steam room, nail bar, and sauna.
Where to stay: Aquila Private Game Reserve has a fancy, yet affordable suites which make your stay more comfortable. The suite has its patio, overlooking the waterhole where animals often come to drink. You can choose from standard, family, or premiere lodge rooms and cottages.
Sanbona Wildlife Reserve
Sanbona Wildlife Reserve is the largest privately owned game reserve in South Africa. It's approximately 270 kilometres from Cape Town so it's an excellent place for a week-long stay. The reserve is home to the Big Five as well as rare and endangered species.
Sanbona Wildlife Reserve shares its unique safari destination, diverse ecosystem, and raw, untamed beauty with its breathtaking landscapes, including the Little Karoo Desert and the Warmwaterberg Mountains.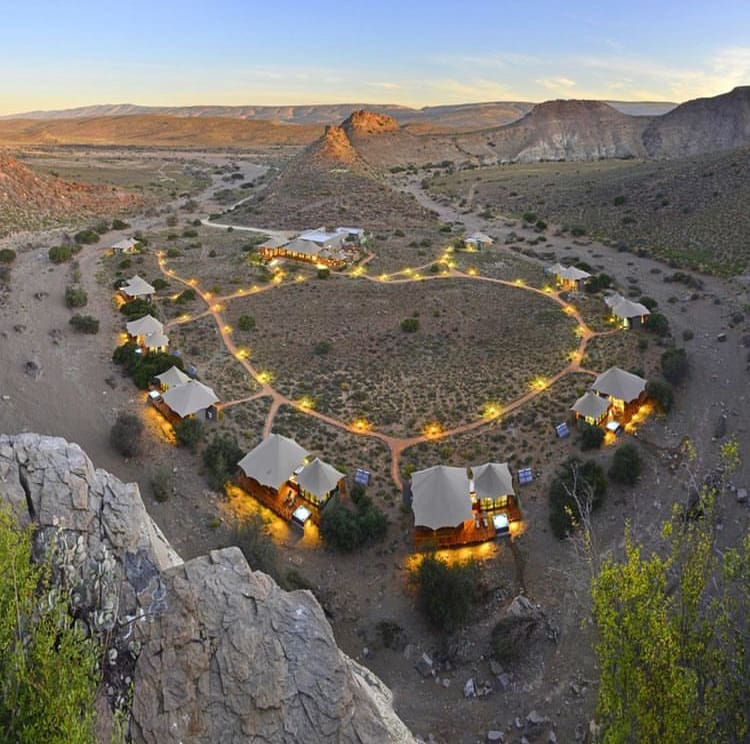 Getting there: Sanbona is three hours away from Cape Town. It would be easier to rent a car, but if you have to drive, you can take the N1 Highway to Paarl. Drive through the tunnel and take the second right turn to Worcester. Go to Robertson (R60) and then to Ashton (R62). Carry on through Kogmanskloof and Montagu then turn left to Die Vlakte and the Sanbona Wildlife Reserve sign. After 7 kilometers, you will reach the main entrance.
What to do: Sanbona Wildlife Reserve offers game drives, bird watching, walks in the wilderness, rock art, star-gazing, and relaxation retreats. You can also go horseback riding, mountain biking, or take a hot air balloon ride. A range of activities is also there to experience, from the on-site spa to archery, clay pigeon shooting, and yoga.
Where to stay: Sanbona Wildlife Reserve has adorable open lodges where you can often spot wildlife. From a historical Tilney Manor with six spacious suites to a more modernly furnished Dwyka Tented Lodge, you can have a surreal experience. If you're looking for something even more unique, you can stay in one of their family lodge or explorer camp.
Inverdoorn Game Reserve
Another home of the Big 5, Inverdoorn Game Reserve is the perfect place to get away from the hustle and bustle of city life. The game reserve is over 10,000 hectares and is located in the Karoo which is 2 1/2 hours away from Cape Town.
Inverdoorn is known for its Cheetah Conservation program as well as its luxury lodges. The game reserve highlights the introduction of elephants to the reserve as well as the accompanying of lions, rhinos, African buffalos, and leopards, which began in early 2012.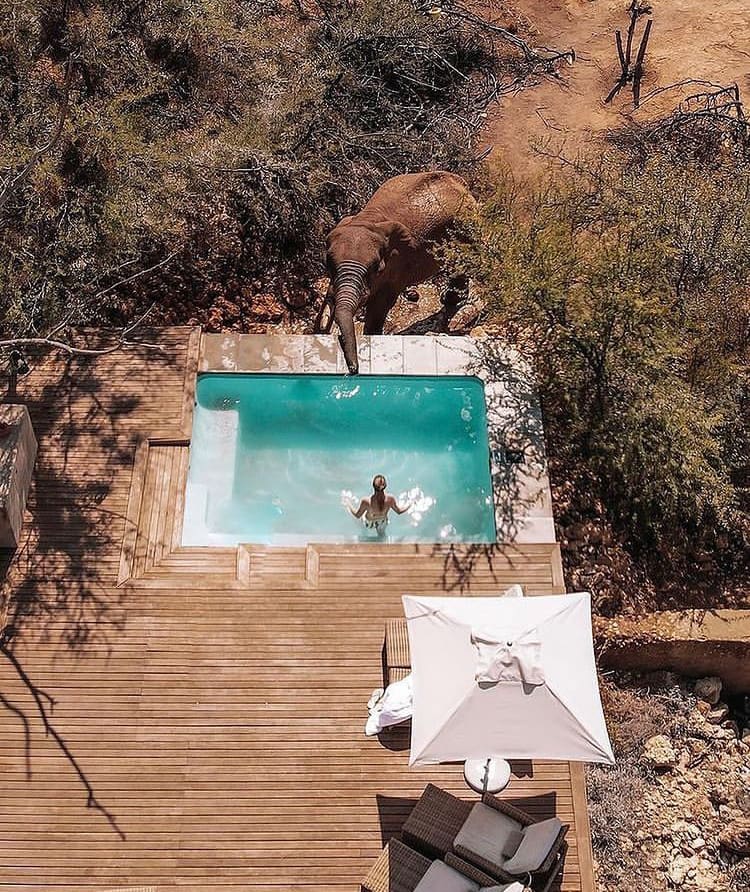 Getting there: There are three ways to travel from Cape Town to Inverdoorn Game Reserve. You can take public transportation which is 4 hours via bus and 2 hours via taxi, or drive via Bellville. There are different routes you can take but the most popular is the N1 Highway.
What to do: Aside from game drives and bush walks, Inverdoorn wants you to have a unique experience where you can get up close and personal with cheetahs, giraffes, and even a baby rhino. You can also go on a star-gazing safari or take a dip in their infinity pool. They have a delicious buffet set up under the trees served with South African wine.
Where to stay: Inverdoorn has different lodges you can choose from, each with its unique charm. You can choose the dreamy Tankwa Chalet that can accommodate singles sharing, the romantic Ambassador suite, or the warm layout of the family lodge.
Grootbos Private Nature Reserve
Grootbos is the Floral Kingdom located 2 1/2 hours away from Cape Town. The nature reserve spans over 3,500 hectares of botanical treasure and wilderness with over more than 100 endangered species of plants. Grootbos is also home to Dolphins and Southern Right Whales which you can often see from June to November. It is home to a variety of birds, antelopes, and bonteboks.
Grootbos Private Nature Reserve is a combination of luxury and nature, combining fancy accommodation for the mountain, forest, and sea venture.
Getting there: You can take a direct flight from Johannesburg to Cape Town and then to Franschhoek Airport. From there, it is an hour's drive to Grootbos. You can also drive from Cape Town which is a 2 to 2 1/2 hour drive. Another option would be to fly into Harmanus Airport and then take a 45-minute drive to Grootbos.
What to do: Grootbos becomes one of the best places for a safari near Cape Town because here is where you can go on game drives, whale watching, flower safaris, horseback riding, shark cage diving, exploring marine and coastal safari and so much more. You can also check out the caves, take a dip in the infinity pool, or relax in the spa. For those who want to get involved, you can volunteer in their Green Futures Horticultural Training program which helps with the conservation of the reserve.
Where to stay: Grootbos has different lodges you can choose from depending on your preference. You can pick the Garden Lodge, a five-star feels lodge overlooking the Atlantic Ocean, or Bosjes Chapel, a unique and modern chapel with a fairytale twist. You can also go for the more rustic and intimate setting of Forest Lodge with contemporary design and decor, as well as private villas for those who want a home-away-from-home ambiance served by your own private chef, butlers, and nature guides.
Shamwari game reserve
Shamwari Game Reserve is a 25,000-hectare landscape located in the Eastern Cape. It is a combination of five distinct ecosystems embraced with rich wildlife and a promise to a closer interaction with nature.
Shamwari is also known for its commitment to the environment and social responsibility by having a wildlife rehab centre where they rescue, rehabilitate, and treat abandoned animals with the help of its VET team.
They also have an anti-poaching unit to prevent incidents while protecting the reserve and animal translocation and husbandry facilities to ensure the success of transfers of excess animals to other reserves.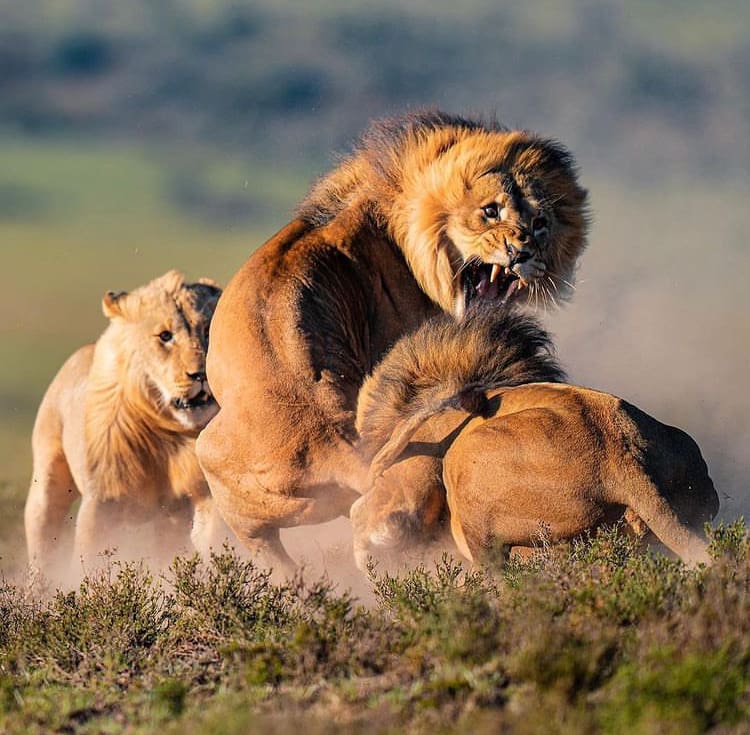 Getting there: The best way to get to Shamwari is to fly into Port Elizabeth Airport and then take a 45-minute to 1-hour drive to the reserve. If you want to self-drive, it would be a 5 to 6-hour ride from Cape Town and 8 hours from Johannesburg.
What to do: Shamwari offers different safari experiences such as game drives, bush walks, bird watching, and cheetah conservation experiences where you get to interact with the world's fastest land animal. You can also visit the Wildlife Rehabilitation Centre, go on a safari in an open 4×4 vehicle, or enjoy a romantic dinner in the bush. Kids will also be able to enjoy their Safari Programme where they will learn a couple about conservation first-hand from the rangers.
Where to stay: You can choose to stay at their luxurious tented safari lodge with a carefree view of the bush or go for their exclusive villas that offer a more private and intimate safari experience. Each room has its own fireplace, private plunge pool, and an en-suite bathroom and can fit a large group or family.
Tips and Treasures
Always do your research before you explore these best places for a safari near Cape Town, whether it be for what to pack or what to expect during your stay. Read reviews from other travellers and get recommendations from friends or family who have been to South Africa before.
When packing for your trip, remember to pack light and comfortable clothes as you'll be doing a lot of walking during game drives and safaris. It would also be wise to pack insect repellent, sunscreen, hats, and sunglasses to protect you from the harsh African sun.
Don't forget to bring your camera to capture all the amazing wildlife and landscapes you'll be seeing. If you don't have a camera, don't worry! Many lodges offer game drives with built-in cameras so you can still take pictures and videos of your African safari experience.
Trust and follow your ranger's lead as they are the experts in spotting animals in the bush. They also know the best points for picture-taking so you can get that perfect Instagram shot.
Even if you have all the chance to meet and greet the animals up close, remember to always keep your distance and never approach them. These are wild animals after all and they can be dangerous when provoked.
Don't forget to buy souvenirs for your loved ones back home. You can find African crafts, jewellery, and wood carvings in many of the lodges and shops in the area.
Lastly, have fun and enjoy! Remember to pack your sense of adventure as you'll be embarking on an unforgettable journey to one of the most beautiful and biodiverse countries in the world.
Final Thought
Cape Town is one of the most beautiful and biodiverse cities in the world. If you're looking for an unforgettable African safari experience, then be sure to check out some of the amazing game reserves near Cape Town. From intimate lodges, vast landscapes, and diverse wildlife to luxury resorts, the above-mentioned reserves are the best places for a safari near Cape Town and there's no surprise that many people flock to this place for a wildlife vacation. In Cape Town, there's something for everyone!
So what are you waiting for? Start planning your trip today!
Join our community of keen travellers, wildlife enthusiasts and adventure seekers.