As a South African expat who now calls the UK home, I don't get the chance to get out into the bush as often as I'd like anymore. With all the positives that come with living in Europe, like having access to a plethora of bucket-list travel destinations, comes the negative of less access to one of my favourite things in the world – African wildlife and safari.
We try and get back to South Africa as often as possible and will always look to find a few days for a trip to a game reserve or national park. This time round we chose to visit Pondoro Game Lodge, and what a fantastic choice it was!
Here's our experience of staying at Pondoro Game Lodge
Getting There
Unless you live within a couple hours, the easiest way to get to Pondoro is by flying into Hoedspruit airport. Connections are easy to come by from OR Tambo or Cape Town International, however these can sometimes come at a premium depending on the time of year.
We elected to rent a car and drive. It's a long way from Johannesburg (around 600km), but the scenery and quaint little towns along the way definitely make the drive worth it! If you chose to do the same, our favorite places for a pit-stop are Alzu Petroport and Dullstroom. I would also highly recommend pulling over and buying a bag of oranges from one of the many road-side vendors. I might be biased but I would argue that the oranges from this area are some of the nicest in the world!
Abel Erasmus Pass provides some amazing mountain views as the road winds around the curved hills. Don't take your eyes off the road for too long though, as these country roads can often be riddled with potholes. Particularly after a few weeks of good rain.



The Reserve
Pondoro Game Lodge is located within Balule Private Game Reserve, with an open connection to Kruger National Park and multiple other world-renowned private game reserves.
Balule was established around 30 years ago as individual land owners decided to pool resources and create a joint conservation area. Today, the reserve spans over 40,000 hectares and is home to hundreds of wild animal species, most of which have naturally made their way into the reserve from the surrounding areas.
We paid our conservation fees at the gate, and proceeded with the 17km journey to the lodge. The road network is all dirt/gravel roads, but the main roads are very well maintained and we had no troubles with our rental Volkswagen Polo Vivo.


The Lodge
Upon arrival at the lodge we were greeted by Licia with a warm smile and a couple glasses of refreshing lemonade. Exactly what we needed after a long drive! We were introduced to Marius (@mariuszeil) – our dedicated guide – before having our bags whisked away and being given a tour of our home for the week.
The lodge is immaculate! Situated on the banks of the Olifants River and sleeping just 16 guests, the property boasts a very intimate setting while still being incredibly spacious. The communal area at the heart of the lodge is the perfect example of this, with ample space for guests to get together and buzz about the day's sightings and various breakaway areas to enjoy a quiet drink should you wish to do so.
The outdoor dining area is like something out of a movie, set on a raised viewing deck adjacent to the main lodge, in and amongst the giant trees. It felt as if we were dining in a tree house, with exceptional views over the mighty river as it thundered past.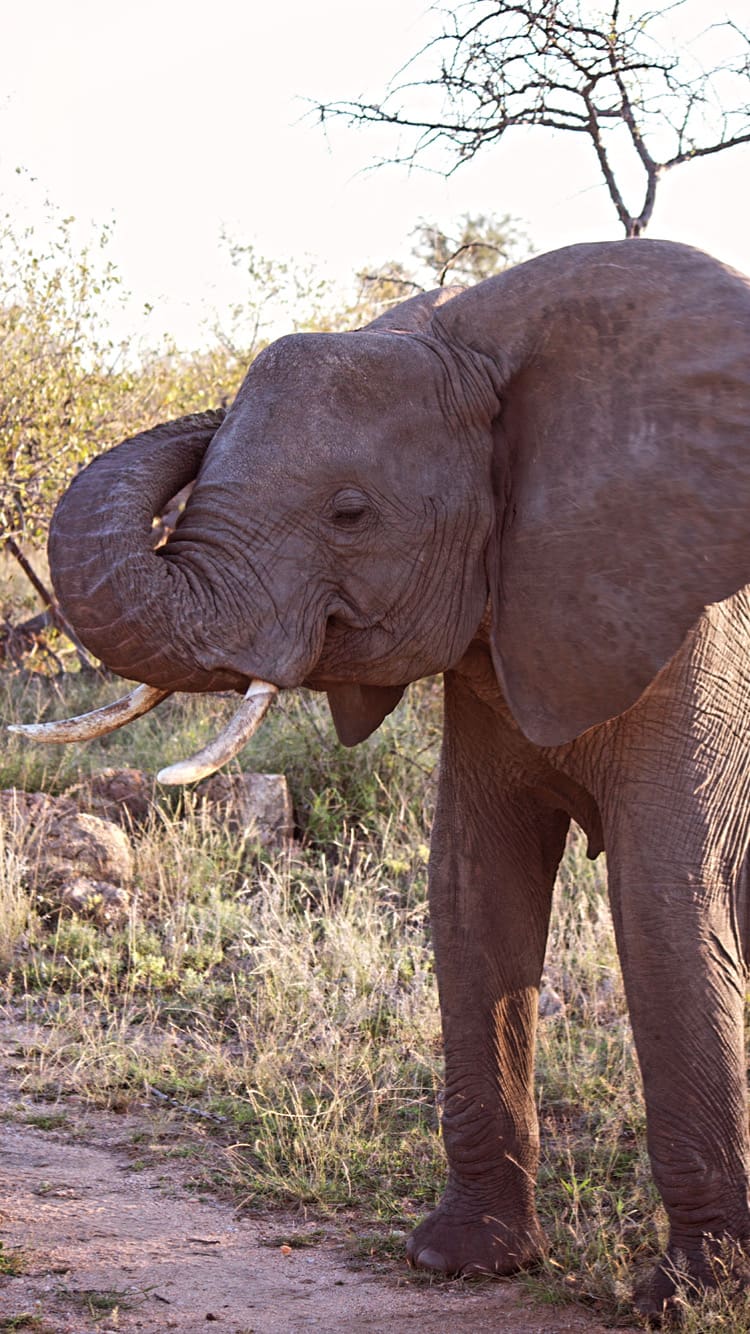 If you've ever been to a wild part of Africa, you'll know that primates are often quite a nuisance. One of our favourite lunch time activities was watching the vervet monkeys try their luck at getting in and around the food. Ever-persistent but unsuccessful as member of staff 'Remember' and his trusty slingshot were always two steps ahead.
Accommodation comes in the form of suites and chalets, each of which is uniquely named and designed. We stayed in the 'Tree' suite which I would highly recommend if you're a fan of river views and awesome bush landscape!
Sightings from our room included; elephant, hippo, crocodile, water buck, giraffe, warthog, impala, baboon, vervet monkey as well as a kingfisher and various other bird species.
On day three we were informed of the presence of a lone lioness across the river, directly opposite our suite. However this one I missed out on during one of my many rotations between our private jacuzzi and outdoor shower. Oops!

The Food
As a self-proclaimed foodie, a great menu is often all you need to get me excited about an experience!
Being a five-star lodge, we knew the food at Pondoro was going to be good. What we didn't know was how much variety there was going to be! The catering team worked tirelessly and left nothing to be desired with their menus, meal plans and snack options.
Our typical day's eating looked like this:
Coffee/Tea – 05:45: A quick pick-me-up before the first game drive of the day, every morning we were greeted with a huge spread of hot coffee, tea, fruit juices, biscuits, rusks and snacks.
Mid-safari coffee/tea – 08:00: For me, one of the of best parts of a game drive is pulling over for a quick stop to stretch your legs and enjoy a beverage as you take in the sights and sounds of the bush waking up. Once again, nothing was spared as Marius provided coffee, tea and a selection of biscuits and rusks.
Breakfast – 10:30: After a couple hours out in the bush, all the excitement usually leaves me starving (surely can't just be me?) and there's nothing better than coming back to a bespoke breakfast. The menu features the all-the-works, from cereals and fruits to muffins and cooked breakfasts. I tried something different every morning, but the Pondoro breakfast was definitely the winner!
Light lunch – 14:30: I have to say, I do feel the Pondoro team is being very moderate when they refer to these as 'light lunches'. With very healthy portions, a bread roll to start and a well laid out snack table to pick at after, there was nothing light about me after lunch. Excitingly, lunch is the only meal you go into 'blindly' and we were treated to quiche, beef wraps, burgers and a fantastic Bobotie, during our stay.
Mid-safari sundowner – 17:30: Sundowners are traditional in South Africa, and a special part of afternoon game drives. Marius always ensured to bring along everyone's favourite drinks and served them with a selection of snacks like biltong, dried fruit and chips. All of this while watching the most beautiful sunsets on earth (again, I might be biased) – this is what I'll miss the most.
Dinner – 20:30: We would typically arrive back at the lodge at around 19:30, and most guests headed straight to the bar where we would huddle around the fireplace and defrost before tucking into the lodge's impressive selection. This includes a large variety of local beer and wines, and multiple top-shelf spirits including Pondoro Game Lodge's very own gin! Dinner selections were made during breakfast and included a set menu from which you could choose your preferred starter, main meal and dessert options. Our mains choices included; fillet steak, lamb shank and ostrich fillet paired with a glass of red wine, however every evening also offer a fish and vegan option.

Things to do
Game Drives
Two game drives per day is customary during a stay with Pondoro. The morning drive leaves at 06:00 and the afternoon drive around 15:30. If you're like me – not a morning person – don't worry, one of the Pondoro team will head down to your suite to give you a wake up call around 05:15 before coming to collect you at 05:45.
Our game drives were led by Marius and a highly knowledgable tracker named Erik – you might recognise hime from one of the most viral pieces of safari content of recent times. Together they make an incredible team and their ability to find and spot animals in the bush is quite astonishing.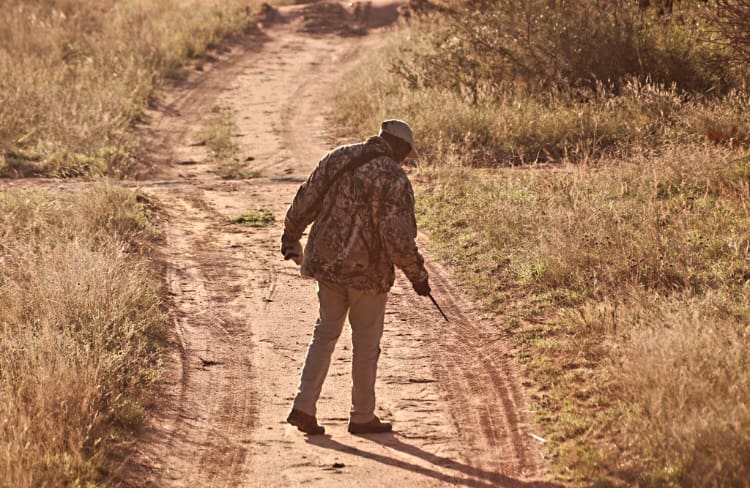 We were lucky enough to see the whole Big Five, despite the leopards really testing our resolve. It took 7 game drives before we eventually spotted one! Despite the frustration, it was incredibly thrilling to finally find them after hours of searching. Especially because we stumbled upon a mating pair!
Other highlight sightings included;
A pride of lions feeding on a giraffe carcass
A herd of elephant approaching and surrounding our vehicle
A huge herd of buffalo surrounding the vehicle as they moved through the bush
10 lion cubs cuddled up with a lioness
Lion cubs suckling, which is a first for me.



Bush Walk
Pondoro Game Lodge also offers on-foot bush experiences. Ours was hosted by Erik, who guided us along the Olifants River and shared some of his plentiful knowledge from a lesser experienced perspective. We didn't see much, other than a couple nile crocodile and a few vervet monkeys, however we did learn a lot about the many uses for elephant poop!
Spa
Only for sheer excitement at all the other actives on offer, we didn't actually get to enjoy a treatment at the Pondoro spa. We did however have a look at the spa menu before leaving on our last day and really regret not making some time for a massage!
Treehouse
One of our favourite experiences while at Pondoro Game Lodge was the afternoon picnic at the lodge's dreamy bush treehouse!
Here, we were treated to an amazing spread of picnic snacks and finger foods, laid out in the treehouse hide which overlooks a dam. Unfortunately we didn't see any big game animals come down for a drink, but it was a very relaxing afternoon and an overall great experience.
You can also choose to spend in a night in the treehouse should you wish to do so, which is definitely on my list for our next visit!
Check it out here.
Relax on your private deck
Each of the suites at Pondoro have a large, private viewing deck with sun loungers, a rock jacuzzi, outdoor shower and exceptional river views.
Although June is technically winter in South Africa, the Hoedspruit area never really experiences winter in the way some other parts of the country does. During the day time hours, temperatures rose above 25 degrees Celsius and made for the perfect environment for us to soak up some vitamin D.
The jacuzzi was conveniently fitted with both hot and cold taps, which made it really easy to adjust for comfort in accordance with the ambient temperature.

Dinner on the river bed
On our last evening, Ashlee and I – along with our fellow guests – were treated to a once-in-a-lifetime dinner on the bed of the Olifants River. Not only was the fire-lit setting exceptional, but we were treated to an amazing display of traditional song and dance by the Pondoro staff. This stunning display of South African culture made it impossible to not get goosebumps, even for a local!
Conclusion
Pondoro Game Lodge offered the perfect blend of luxury experience and African hospitality.
Thank you to Robbie and Lize, who along with their incredible staff made us feel incredibly welcome throughout the duration of our stay.
If the idyllic location, picturesque property and wildlife sightings weren't enough, the service at the lodge itself was second to none! We definitely felt like part of the family and would love to return one day.
Join our community of keen travellers, wildlife enthusiasts and adventure seekers.